Captain's Blog
Critter Notices
Critters Server is Dying has been Replaced
See important details here in my blog. Let me know if you find anything that isn't working right. (Manuscripts are now available for this week, FYI.)
How to Write SF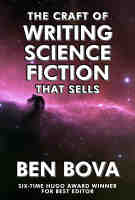 The Craft of Writing Science Fiction that Sells by Ben Bova, best-selling author and six-time Hugo Award winner for Best Editor. (This is one of the books your ol' Critter Captain learned from himself, and I highly recommend it.) (Also via Amazon)
Book Recommendation
THE SIGIL TRILOGY: The universe is dying from within... "Great stuff... Really enjoyed it." — SFWA Grandmaster Michael Moorcock
Announcing ReAnimus Press
If you need help making ebooks from manuscripts or print copies—or finding great stuff to read—look no further! An ebook publisher started by your very own Critter Captain. (And with a 12% Affiliate program.) [More]
~~~
FEATURED BOOK
~~~
error_reporting (E_ALL ^ E_NOTICE); if (!$name) { $name="Critters"; $textonly=1; } ?> if (!$newspage) include("/home/httpd/html/users/critters/notices.inc") ?>
Workshop Member Biographies
The members who have agreed to have their bios listed are presented below. Note that we have writers from a variety of backgrounds (beginners to Hugo-nominees, teenagers to retirees, from various continents, etc.); thus we tend to have at least someone who's an expert in every area.
For a quick run down of our members' recent accomplishments, click here for the Members' "Woohoo!s" page.
If you want to add/change your bio, click here.
In Memoriam to Critters who are no longer with us.
error_reporting (E_ALL ^ E_NOTICE); ?>