Captain's Blog
Critter Notices
Critters Server is Dying has been Replaced
See important details here in my blog. Let me know if you find anything that isn't working right. (Manuscripts are now available for this week, FYI.)
Space Travel for SF Writers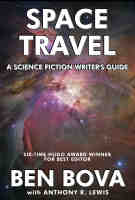 Hot off the presses from ReAnimus Press! Space Travel - A Science Fiction Writer's Guide— An indispensible tool for all SF writers that explains the science you need to help you make your fiction plausible. (Also via Amazon)
New Book from a Critter Member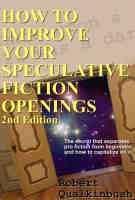 **NOW IN
PRINT EDITION
TOO!** Awesome new book,
HOW TO IMPROVE YOUR SPECULATIVE FICTION OPENINGS
, from a Critter member whose unearthed a shard of The Secret to becoming a pro writer. Really good piece of work. "...if you're at all concerned about story openings, you'd be nuts not to read what Qualkinbush has to say." —Wil McCarthy, author of BLOOM and THE COLLAPSIUM
Book Recommendation
THE SIGIL TRILOGY: The universe is dying from within... "Great stuff... Really enjoyed it." — SFWA Grandmaster Michael Moorcock
Announcing ReAnimus Press
If you need help making ebooks from manuscripts or print copies—or finding great stuff to read—look no further! An ebook publisher started by your very own Critter Captain. (And with a 12% Affiliate program.) [More]
~~~
FEATURED BOOK
~~~
How Many Crits Can the Critters Ship, if the Critters Ship out Crits?
Recent # of crits per story. If you see one that looks lonely from this week, feel free to, y'know, have a look at it. (How lonely is lonely? Well, 15-20 crits is about average, so anything less is "below average".)
Last updated: Thu May 23 18:10:01 2013
Based on last critique filed at: Thu May 23 17:48:14 MDT 2013
This is updated hourly from 8am to 11pm. You may have to do a reload to get your browser to update the page. Count is of number of emails received for a story, and thus the actual count may be even lower (if there were email bounces, duplicates, etc.).
The manuscripts page (if you want to read one of these) is here.
Ms.# ... #crits
#22569 ... 0 The Last Heart, Chapters 0-2 _RFDR_, by Jacob Steponaitis (F)

#22570 ... 4 Captain Alzheimer, by Chet Gottfried (SF)

#22571 ... 3 Won't Somebody Think of the Children, chapter 4, by Chris Kenworthy (SF)

#22572 ... 6 Sacrificing Mercy, by Henry McFarland (SF)

#22573 ... 0 J&R Rides Again Chap 2 and 3, by Sue Kesler (F)

#22574 ... 2 Making of the Mongoose, Chapter 2, by Christina Usher (F)

#22575 ... 3 The Value of a Life ch1-2, by Caitlin Seal (SF)

#22576 ... 1 Kikimora's Bond, by Armada Volya (H)

#22577 ... 5 The Jumper, by Brian Groover (SF)

#22578 ... 0 Gathering of the Gifts, Chapter 15, by Robert William Shmigelsky (F)

#22579 ... 3 Ghosts of the Future, by Josh English (F)

#22580 ... 0 The Plummet of Trusting Souls, by Brock T.I. Penner (F)

#22581 ... 1 Raise Your Weapon, by Josen Llave (SF)

#22582 ... 5 Yellow, by Linda Robbins (SF)

#22583 ... 3 Special Points, by Juan Hernandez (SF)

#22584 ... 6 Exclusion, by Neil W. Howell (SF)

#22585 ... 7 The Singularity Will Not Be Single-Payer, by Irene Ying (SF)

#22586 ... 5 Cloud on the Horizon, by Sarah Borroum (H)

#22587 ... 4 Ancianito and the Search for the Fountain of Youth, by Greg Jeffs (F)

#22588 ... 2 Hero or Villain, Chapter 1, by Chanala Weinreb (F)

---