Captain's Blog
Critter Notices
Preditors & Editors Changeover
With the very sad passing of Dave Kuzminski, who ran P&E, I've taken over the P&E duties. Lots of what I hope are improvements; check it out at pred-ed.com.
Free Web Sites
Free web sites for authors (and others) are available at www.nyx.net.
Space Travel for SF Writers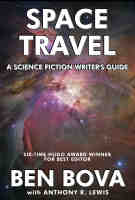 Hot off the presses from ReAnimus Press! Space Travel - A Science Fiction Writer's Guide— An indispensible tool for all SF writers that explains the science you need to help you make your fiction plausible. (Also via Amazon)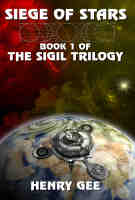 The Sigil Trilogy
If you're looking for an amazing, WOW! science fiction story, check out
THE SIGIL TRILOGY
. This is — literally —
one of the best science fiction novels I've ever read.
Critters Server is Dying has been Replaced
See important details here in my blog. Let me know if you find anything that isn't working right. (Manuscripts are now available for this week, FYI.)
Book Recommendation
THE SIGIL TRILOGY: The universe is dying from within... "Great stuff... Really enjoyed it." — SFWA Grandmaster Michael Moorcock
Announcing ReAnimus Press
If you need help making ebooks from manuscripts or print copies—or finding great stuff to read—look no further! An ebook publisher started by your very own Critter Captain. (And with a 12% Affiliate program.) [More]
~~~
FEATURED BOOK
~~~
error_reporting (E_ALL ^ E_NOTICE); if (!$name) { $name="Critters"; $textonly=1; } ?> if (!$newspage) include("/home/httpd/html/users/critters/notices.inc") ?>
A Mathematical Look at Critters Diplomacy
This is a reply to a Critter member whom I'd asked to review the Critters diplomacy standard. That didn't seem to do the trick, and they said they were mathematically inclined, so I explained the need for diplomacy -- and how phrasing is different from bad/good news itself -- in mathematical terms. So, I've linked this to the site just in case this helps anyone grasp what I'm getting at. (Their email is at the bottom, where you can see that my first attempt to explain the difference between bad news and how you deliver bad news didn't do the trick.)

From: Critters
Subject: Re: Crit tone

Well, I still think we're not quite on the same wavelength...
Since you're a math person, let me put it in mathematical terms.
There are three dimensions at play here:

X axis: Content -- what you want to say -- grammar is wrong here, this plot
	point doesn't work, etc.  x<0 is bad news, x>0 is good news.

Y axis: Form -- how you explain X --  y>0 is (generally) phrasing your
	x datapoint as your friendly opinion; y<0 is (generally) phrasing
	your comments as facts or other ways that I've found don't work
	as well.

Z axis: Author's reaction -- how the author of the manuscript reacts to
	your critique.  z>0 is good, they find your critique useful (even
	if x<0).  z<0 means they react negatively to your critique.

The z<0 case is the one I'm most concerned about.  We want z>0.  When z<0
you've not communicated to the author, so your time was, in a sense, wasted.

Now the common confusion is that x and y are related -- that y is a
function of x, like y=x.  What I found is that it isn't.  And it's
important that it isn't, because z _is_ a function of y, in a strong
way.  

I don't know what the true function z=f(x,y) is in this case, but my
experience is that it's just a teeny bit related to x (how bad your
news is) but it's dramatically related to y (how you phrase the bad
news).  Maybe z = (exp(x/100)-1) + (1-exp(-y))... ! 

That's probably not that far off, conceptually:  Negative content, x<0,
doesn't seem to upset authors (just a little).  Positive content makes
them feel better (naturally).  Whereas look at the effects of y!
Poor phrasing, y<0, makes z go VERY negative (like exponentially).
This correlates with the kind of email I get from authors.  

Here's what the 1-exp(-y) term looks like graphically:


| | |
| --- | --- |
| Receiver's Reaction | |
| | Diplomacy of Phrasing [Improperly diplomatic ... Properly Diplomatic] |
See how a slightly negative tone gives a very negative reaction... while a positive tone is fairly neutral (doesn't irritate the author). The point is to remove the irritant (by phrasing bad news better). The other problem is that big negative z (from y<0) closes their ears and they don't hear what you had to say; it masks the value of your x content. So -- please
go read the documents
I've written on how to deliver bad news in a way the recipient will process best. I've got a dozen years research on this. It's NOT, as the math shows, sugar-coating. x and y are orthogonal. Or like the title of that document, "It's not what you say, but how you say it." You can deliver bad news in a way they can grasp. I'm very serious about this, as it's the single biggest "customer service" issue I face in Critters. I have gone as far as making it mandatory in certain cases to read those documents I pointed you to... Which are, again, starting at www.critters.org/whathow.ht . I hope you'll see, via the math, that this isn't about soothing egos or lying. It's about writing for one's audience, and communicating effectively. Thanks -- and please let me know that you've taken a look at those docs. Andrew > No questions, and I do try to be nice. I however also do not try to soothe > a fragile ego. I will claim to be very far from as harsh, but I am also not > a liar. > > If the problem with a manuscript is major grammar issues, I will say so. I > will not be mean, but I will say so. This, truthfully, I have almost not > found to be a problem, and it will have to bad for me to mention it. I am > not a literature/grammar person, but math/science. Thus, if I consider a > text to have grammar problems, they are major. For me not to mention it > would be lying. > > I am math/science with a degree in Physics, many years of checking > educational software, writing software for businesses, and truthfully loving > scientific texts. I thus will mention problems in scifi texts. Again, I am > not attempting to be mean, just attempting to correct a problem before > others see a manuscript. I work hard to make my commentary come across as > friendly -- really. > > Finally, if I don't like something, I would be lying to say otherwise. > Again, I am not attempting to be mean. I will in fact boldly state that it > would be wrong to say something tactful that might cause another to think > that they had my full support in putting their faith behind their efforts. > I feel completely justified in saying that I don't like a manuscript. I > would be improper to say such in a mean fashion, but not to say it would not > be helpful. > > I will admit that I write the base review as I am reading. The manuscripts > are in text, and Notepad takes up little processor time. I thus have the > manuscript open in one window with another blank page in another window. As > I find problems, I copy the text and add my notes. If something offends ME, > I work to say why it offended me. If something displeased ME, I work to say > why it displeased me. I do NOT simply write hate mail, but try to put > rational reasons behind what I say. I finally reread my statements after > reading the document, and do work to edit it into a helpful (and I try to be > gentle) final submission. > > Really, I am not intending to be mean. Really, I have told many that I > liked their stories. Also, finally, really, the notes that I have received > from editors were simply blunt and not helpful. If I am blunt, I at least > try to say why. I am trying to help those that I read. > > Sorry that you received a poor report. I do not promise to not have that > happen again. Note that I hope whoever made that claim has a successful > future. error_reporting (E_ALL ^ E_NOTICE); ?>