Captain's Blog
Critter Notices
[It's Freebie Friday in the
Critters Store
...]
Network speeding up
I'm switching the connection over to a new, shiny 10X faster network because of all the load. There might be bits of downtime as your boxes learn new addresses and things. Should be brief. Let me know of any prolonged outages you see.
Preditors & Editors Changeover
With the very sad passing of Dave Kuzminski, who ran P&E, I've taken over the P&E duties. Lots of what I hope are improvements; check it out at pred-ed.com.
Free Web Sites
Free web sites for authors (and others) are available at www.nyx.net.
New Book from a Critter Member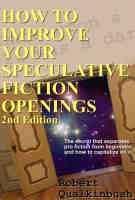 **NOW IN
PRINT EDITION
TOO!** Awesome new book,
HOW TO IMPROVE YOUR SPECULATIVE FICTION OPENINGS
, from a Critter member whose unearthed a shard of The Secret to becoming a pro writer. Really good piece of work. "...if you're at all concerned about story openings, you'd be nuts not to read what Qualkinbush has to say." —Wil McCarthy, author of BLOOM and THE COLLAPSIUM
How to Write SF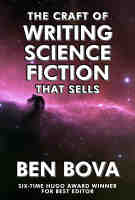 The Craft of Writing Science Fiction that Sells by Ben Bova, best-selling author and six-time Hugo Award winner for Best Editor. (This is one of the books your ol' Critter Captain learned from himself, and I highly recommend it.) (Also via Amazon)
Critters Server is Dying has been Replaced
See important details here in my blog. Let me know if you find anything that isn't working right. (Manuscripts are now available for this week, FYI.)
Book Recommendation
THE SIGIL TRILOGY: The universe is dying from within... "Great stuff... Really enjoyed it." — SFWA Grandmaster Michael Moorcock
Announcing ReAnimus Press
If you need help making ebooks from manuscripts or print copies—or finding great stuff to read—look no further! An ebook publisher started by your very own Critter Captain. (And with a 12% Affiliate program.) [More]
~~~
FEATURED BOOK
~~~
Set Your Email Preferences
Since some folks want emailed manuscripts ("mss."), and some don't, and some want emailed critiques, and some don't, and some want a certain mix of genres... there is this page.
There's no need to feel inundated by email from Critters! Set the values below to 0 mss. and no emailed critiques, and you'll get only one small message on Wednesday and one on Saturday, letting you know what's up. Beyond that, you can elect to receive literally dozens of large emails; or somewhere in between.
---
Also! If you changed your email address, you need to send me a new Bio form!