Captain's Blog
Critter Notices
Network speeding up
I'm switching the connection over to a new, shiny 10X faster network because of all the load. There might be bits of downtime as your boxes learn new addresses and things. Should be brief. Let me know of any prolonged outages you see.
Preditors & Editors Changeover
With the very sad passing of Dave Kuzminski, who ran P&E, I've taken over the P&E duties. Lots of what I hope are improvements; check it out at pred-ed.com.
Free Web Sites
Free web sites for authors (and others) are available at www.nyx.net.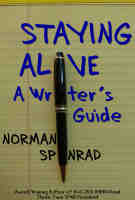 Stayin' Alive
If you want to make a career of SF writing,
STAYING ALIVE - A WRITER'S GUIDE
by three-time SFWA President Norman Spinrad, published by your Critter Captain's
ReAnimus Press
, is an indispensable guide to the inside workings of the SF publishing industry by an expert.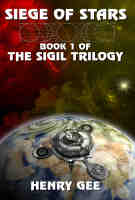 The Sigil Trilogy
If you're looking for an amazing, WOW! science fiction story, check out
THE SIGIL TRILOGY
. This is — literally —
one of the best science fiction novels I've ever read.
Critters Server is Dying has been Replaced
See important details here in my blog. Let me know if you find anything that isn't working right. (Manuscripts are now available for this week, FYI.)
Book Recommendation
THE SIGIL TRILOGY: The universe is dying from within... "Great stuff... Really enjoyed it." — SFWA Grandmaster Michael Moorcock
Announcing ReAnimus Press
If you need help making ebooks from manuscripts or print copies—or finding great stuff to read—look no further! An ebook publisher started by your very own Critter Captain. (And with a 12% Affiliate program.) [More]
~~~
FEATURED BOOK
~~~
Weekly Notes


Notes for 16-Apr-2014...



Thanks for the donations, folks! We are 10.3% of the way to the fund
drive goal with contributions from 28 donors, leaving about $4100 to go.
Thanks especially to

	Gail Marsella
	Matt Weber

for their recent donations to help keep Critters going. Much appreciated!

[See http://www.critters.org/donate.php for more information.]


                                   -+-
Woohoo!  Congratulations to...

	- Richard Viskovic, whose (Critter'd) short story, "The Electric
	Itch" is now out in the current issue of Aurealis.

	- Sean Green (writing as S. R. Algernon), who sold his short
	story, "Cargo Cult" to Nature. {Though this was not a Crittered
	submission, thanks to everyone for your other critiques!}

	- Vanessa Fogg, who sold her (Critter'd) short story, "Congress
	of Dragons" to Mirror Dance.

	- Dom Dulley, who sold his (Critter'd) short story, "Past
	Imperfect" to Bastion Science Fiction Magazine. {Thanks to
	everyone who took the time to critique this. Your comments were
	very valuable.}


Please report your Woohoo!s via the www.critters.org/telldaworld.ht web page.

                                   -+-

This week's Most Productive Critter award, for 10 critiques (at time
of judging), averaging over 600 words each, goes to...


	Darla Jackson

To redeem an MPC, visit:  www.critters.org/usempc.ht

Congratulations!  To everyone else -- Crit early and often!

(For an explanation of the MPC award, see the www.critters.org/award.ht page.)

                                   -+-

Recommended Reading...
One of the best writing books - Secrets from the 6-time Best Editor
Hugo Award Master, Ben Bova: THE CRAFT OF WRITING SCIENCE FICTION THAT SELLS 
http://ReAnimus.com/store?item=1144
----------------------------------------------------------------------
Critters Workshop
----------------------------------------------------------------------

This week we have... [get from http://www.critters.org/private/mss.php ]...
                                                 
     Title                      	Author
---------------------------------------------------------------------
Week of 16-Apr-2014 (Crits due 23-Apr-2014):
 F   The Clandestine Chapter 10         [mpc] Darla Jackson -#23564
 F   Lottchen                           P.E. Zimmerman -#23565
 F   Beast Coast Chapter 1              Rob Gilliam -#23566
 F   Warlock Chronicles: Lady Silver, Ch. 1-2  Bobbie Felder -#23567
 F   Shrouded Goddess, Chapter 10       Patricia Moussatche -#23568
 SF  Oldskin                            [@] Megan Hutchins -#23569
 SF  Gotta Have That Look               Chris Kenworthy -#23570
 SF  The Boarding                       Donna Burt -#23571
 SF  Antwerp                            Clem Taylor -#23572
 SF  Aquarius Rising: Blood Tide        Brian Burt -#23573
 SF  Long Live the Future Brigade       Madison Culler -#23574
 SF  The Telomere Blues                 Carlos Mano -#23575
 SF  The Dark Fissure, Chapters 1-2     Clancy Weeks -#23576
 SF  Remember                           Colleen Laughlin -#23577
 F   Salome's Hair                      Kati Ayers -#23578
 SF  Aurora and Tithonus                Reed Corrigan -#23579
 SF  Dreamthief                         Paul Thompson -#23580
 F   The Climb                          Steven Saunders -#23581

----------------------------------------------------------------------
Recommended books on writing:

THE CRAFT OF WRITING AND SELLING SCIENCE FICTION by Ben Bova
	ReAnimus Press Store: http://ReAnimus.com/store?item=1144
	Amazon: http://Amazon.com/dp/B006MAZPEI

HOW TO IMPROVE YOUR SPECULATIVE FICTION OPENINGS By (Critter member) Robert Qualkinbush
	http://ReAnimus.com/store?item=1184 | http://Amazon.com/dp/B007O272ZI

STAYIN' ALIVE - A WRITER'S GUIDE by three-time SFWA President Norman Spinrad
	How things really work in the art and commerce of publishing
	http://ReAnimus.com/store?item=1179 | http://Amazon.com/dp/B007SIC4I8

EXPERIMENT PERILOUS: THE 'BUG JACK BARRON' PAPERS by Norman Spinrad
	(A 99cent essay on SF and writing)
	http://ReAnimus.com/store?item=1180 | http://Amazon.com/dp/B007MF3MS8
 
Because you might enjoy it... STAR WATCHMEN by BEN BOVA
'Bova lets his imagination soar' - Locus
http://reanimus.com/store/?item=1157
----------------------------------------------------------------------
Pieces up for critique in other workshops...

In the lit workshop - http://critique.org/lit :
 L   Murder Under Western Skies         Charlene Hansom -#23560

In the mystery workshop - http://critique.org/mystery :
 AC  Connections                        Tony Lavely -#23561
 M   Mirror Man - Chapters 4-6          Jay Sauls -#23562

In the nonfiction workshop - http://critique.org/nonfiction :
 NP  Holding Down the Fort Chapter 1    Briana -#20954

In the script workshop - http://critique.org/script :
 SC  Psychelysis                        Russell Adams -#23124

In the kids workshop - http://critique.org/kids :
 YA  I'm a Lie                          Verena Willkomm -#23397

In the western workshop - http://critique.org/western :
 W   The Things a Puncher Does For Money  Frank Coombs -#22499

In the romance workshop - http://critique.org/romance :
 R   Dustriel's Blessing Draft 2, Chapters 6-8  Melanie DeWitt -#23563

In the video workshop - http://critique.org/video :
 VS  The Gallery of Henri Beauchamp     Jay DeTalente -#21424

In the music workshop - http://critique.org/music :
 MP  The Shade Riders and Nocturnal Ned song  Beth Zurkowski -#21675

In the photo workshop - http://critique.org/photo :
 PH  Dry Mud and Cinder Cone            Bill Wight -#19627

In the art workshop - http://critique.org/art :
 AO  Wild White Horse                   Fran Eisemann -#21370

In the website workshop - http://critique.org/website :
 WW  Powerscript Website                Ronald Hurst -#22230

In the critters workshop - http://critique.org/critters :
 F   The Clandestine Chapter 10         [mpc] Darla Jackson -#23564
 F   Lottchen                           P.E. Zimmerman -#23565
 F   Beast Coast Chapter 1              Rob Gilliam -#23566
 F   Warlock Chronicles: Lady Silver, Ch. 1-2  Bobbie Felder -#23567
 F   Shrouded Goddess, Chapter 10       Patricia Moussatche -#23568
 SF  Oldskin                            [@] Megan Hutchins -#23569
 SF  Gotta Have That Look               Chris Kenworthy -#23570
 SF  The Boarding                       Donna Burt -#23571
 SF  Antwerp                            Clem Taylor -#23572
 SF  Aquarius Rising: Blood Tide        Brian Burt -#23573
 SF  Long Live the Future Brigade       Madison Culler -#23574
 SF  The Telomere Blues                 Carlos Mano -#23575
 SF  The Dark Fissure, Chapters 1-2     Clancy Weeks -#23576
 SF  Remember                           Colleen Laughlin -#23577
 F   Salome's Hair                      Kati Ayers -#23578
 SF  Aurora and Tithonus                Reed Corrigan -#23579
 SF  Dreamthief                         Paul Thompson -#23580
 F   The Climb                          Steven Saunders -#23581
----------------------------------------------------------------------

You might also like... THE CRAFT OF WRITING SCIENCE FICTION THAT SELLS by BEN BOVA
Secrets from the 6-time BEST EDITOR Hugo Award Master!
http://reanimus.com/store/?item=1144

Standard notes:

HELP:
If you need help with anything, see http://www.critters.org/help -- there
are FAQs and a form to ask questions.

HELPING CRITTERS:
Critters is donation funded & volunteer run, so if you'd like to
help out with our current fund drive or otherwise, please visit
http://www.critters.org/donate.php -- Thanks!!

HOW TO SEND CRITIQUES:
Remember to send the critiques directly to me, critters@critique.org, so
I can forward them to the authors _and_ give you credit for your effort.
Please send only one critique per mail message (makes it easier to
archive).  Please make sure the "#" symbol and manuscript number are in
the email Subject: line, like Subject: #1234.  (Conversely, if you want
ol' Aburt to personally read the message, i.e., it's _not_ a critique,
don't put a "#" in the subject or I won't see it.  Also -- put my current
anti-spam code word in there: see http://www.critters.org/antispam.ht .)

You may also send your critiques via http://www.critters.org/webcrit.ht .

Note that all critiques will be available to everyone to read the next Saturday.

DIPLOMACY:
Remember, authors and critiquers, we're all friends here.  Be polite.  Be
considerate.  Be tactful.  You can say you thought a story was drivel in a
courteous way.  Try to point out the good and the bad; offer alternatives
if you can.  Never, ever, attack the author -- only the story.  Authors:
Remember that some reviewers may lack tact.  Try to be understanding,
but if you get any that you feel are just plain mean-spirited, too short
to be of any use, or too "feel good," let me know and I'll withhold the
reviewer's "credit" for that story and/or cajole them into something
more insightful.  See http://www.critters.org/diplomacy.ht for more...

CRITIQUE LENGTH:
If you want to send a short critique that you know is too short for
credit (200 words or less of your own meaningful content) please put
"NC#" in the Subject (NC=No Credit, like Subject: NC#1234) -and- say
something like "not for credit" inside your critique.  (Remember also that
for MPC purposes, a critique must be 300 words or more.)

CHATTING:
Comments -other- than critiques (such as discussion of the critiques,
or Woohoo! announcements, or chit chat) should be posted to one of the
official Critters newsgroups, found on the news server news.sff.net.
(See the http://www.critters.org/newsgroups.ht web page for full info,
guidelines, etc.)  Don't post stories or critiques (mail those to
critters@critique.org).

QUOTING:
Please pare the ms. down if critiquing in-line (don't quote the whole ms.!).
Other format rules are at http://www.critters.org/format.ht .

EVERYTHING'S ON THE WEB:
Past reviews are on the web page.  The current week's manuscripts are
also there, as are prior mss. and even some rewrites.  There's a Master
Page Index (site map) with tons of links to common items.

AUTHORS:
Authors for this week -- if you aren't getting email'd critiques from
me (as they come in) within a couple days -- ask me and we can verify
I'm sending them to the correct address.  (Send me a phone# in case I
can't get email to you.)  Check the format of your story ASAP to make sure
it's all there and readable.

EMAIL ISSUES:
If you want to change your email address or preferences (# mss. emailed,
SF/F/H type, or whether you get the huge critique batches at week's end),
point your browser to http://www.critters.org/admin.ht .  Please don't
ask me to do this by hand, it's quite a chore!  (E.g., if you're going
on vacation and want to suspend mail from me -- do this before/after
your trip.)

BACKUP SITE:
If you're unable to reach www.critters.org to get manuscripts, I've set up
an emergency backup site at http://backup.critters.org where you can get the
week's manuscripts (but not much of anything else :-).  Speaking of backups --
don't forget to back up your own manuscripts so you don't lose them!

QUITTING:
If you want to quit or go inactive, drop by http://www.critters.org/admin.ht
for your choices.

DONATIONS:
Critters is funded by donations, so visit http://www.critters.org/donate.php
if you'd like to help out.

Because you might enjoy it... THE MARS MONOPOLY by JERRY SOHL
One of the famous Ace Doubles, with the wonderful original cover, The Mars Monopoly still stands today as a great, fun story in the classic style.
http://reanimus.com/store/?item=1222