Captain's Blog
Critter Notices
Free Web Sites
Free web sites for authors (and others) are available at www.nyx.net.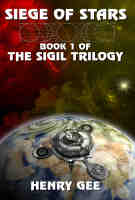 The Sigil Trilogy
If you're looking for an amazing, WOW! science fiction story, check out
THE SIGIL TRILOGY
. This is — literally —
one of the best science fiction novels I've ever read.
Critters Server is Dying has been Replaced
See important details here in my blog. Let me know if you find anything that isn't working right. (Manuscripts are now available for this week, FYI.)
Book Recommendation
THE SIGIL TRILOGY: The universe is dying from within... "Great stuff... Really enjoyed it." — SFWA Grandmaster Michael Moorcock
Announcing ReAnimus Press
If you need help making ebooks from manuscripts or print copies—or finding great stuff to read—look no further! An ebook publisher started by your very own Critter Captain. (And with a 12% Affiliate program.) [More]
~~~
FEATURED BOOK
~~~
Hmm!
If you're seeing this message then the system isn't sure which workshop's private area you want to visit. Click here to pick one.