Captain's Blog
Critter Notices
Critters Server is Dying has been Replaced
See important details here in my blog. Let me know if you find anything that isn't working right. (Manuscripts are now available for this week, FYI.)
Book Recommendation
THE SIGIL TRILOGY: The universe is dying from within... "Great stuff... Really enjoyed it." — SFWA Grandmaster Michael Moorcock
Announcing ReAnimus Press
If you need help making ebooks from manuscripts or print copies—or finding great stuff to read—look no further! An ebook publisher started by your very own Critter Captain. (And with a 12% Affiliate program.) [More]
~~~
FEATURED BOOK
~~~
News
Free Web Sites
Free web sites for authors (and others) are available at www.nyx.net.
How to Write SF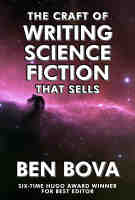 The Craft of Writing Science Fiction that Sells by Ben Bova, best-selling author and six-time Hugo Award winner for Best Editor. (This is one of the books your ol' Critter Captain learned from himself, and I highly recommend it.) (Also via Amazon)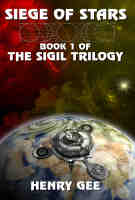 The Sigil Trilogy
If you're looking for an amazing, WOW! science fiction story, check out
THE SIGIL TRILOGY
. This is — literally —
one of the best science fiction novels I've ever read.
Free Ad for a Fellow Workshop Member:

The Critters Queue
Manuscripts themselves are here.

Queue of manuscripts out or to be sent (dates are estimated,
depending on number of mss. sent out, which depends on number of
members; probabalistically, the end of the queue is usually about
a month away):


     Title                      	Author
---------------------------------------------------------------------
Week of 4-Dec-2013 (Crits due 11-Dec-2013):
 F   God is a Parking Lot               [mpc] Fred Obermeyer -#23165
 SF  Star Killer                        Jeff Cates -#23166
 SF  Uncommonly Beautifulâ€"Painted By Him  Henry McFarland -#23167
 SF  Weighing Alien Love on a Kitchen Scale  Chris Kenworthy -#23168
 SF  Soul Peddling Down the Texas Byways  Gary Goodson -#23169
 SF  For the 100th Time, He Won't Be A Zombie President  Douglas Kolacki -#23170
 F   Dragon Marked                      Kaitlyn Whipple -#23171
 SF  Chloe-Chloe, My Raven Haired Rebel PART II  Elena Hayes -#23172
 F   The Ballads of Ealaidh: Second-Paw Mischief  Jennie Brass -#23173
 SF  Flashlight Crusade - RFDR          Jeffrey Wikstrom -#23174
 F   Shedding Skins                     Mary J. Daley -#23175
 F   What We Could Have Been            Aoife Farley -#23176
 SF  Apocalyptic Hangover Part 2        Chris DeSantis -#23177
 F   Determination                      Marc Quattromani -#23178
 SF  Exchange Student                   Dave Rogers -#23179
 F   Saffron's Blade, Prologue-Chapter 2  Megan McElhanon -#23180
 SF  The Queue                          Wongoon Cha -#23181
 SF  Brown Eyes in the Menagerie        Kelsey Snyder -#23182

Week of 11-Dec-2013 (Crits due 18-Dec-2013):
 F   Between Sea and Shore              Vanessa Fogg
 SF  Eternity in an Hour                Jack Calverley
 H   Planned Community                  J.A. Tolbert
 F   Stairs To The Sky: A Fragmentary Retrospective  Joanna Hoyt
 SF  Coetta's Clay                      Cody Sisco
 SF  Olympus Part I                     Neal Williams
 F   Kauai - Jared and Kinsley          Wayne Halm
 SF  A Hitch in His Getalong            Darin Ramsey
 SF  Little Pink Robot                  Adam vanLangenberg
 SF  Hyphae                             Will Milner
 SF  Abraham the Eskimo -- Part One     Carlos Mano
 F   Tormented Souls                    Lee Dailey
 F   Shrouded Goddess_chapters 2+3      Patricia Moussatche
 F   Silverdirt, Chapters 3-4           Brenna Raney
 SF  Pawprints in the Aeolian Dust      Eleanor Wood
 F   Monday Blues                       Valentina Buffetti
 SF  Concrete Jungle                    Nolan M. K. Kamitaki
 SF  Starship Epiphany: First Steps     Luke Beahan
 H   The Host with the Most             Nicholas Stella
 SF  Recall This Best to Mind           Vince Bonasso
 SF  The Anonymous                      Tran Serum

Week of 18-Dec-2013 (Crits due 25-Dec-2013):
 F   _Untitled_ - Prologue              Elizabeth Hiestand
 SF  The Centauri Survivors, Chapter 1  Andrew J Chamberlain
 F   Hand-Off, A Story of the Sorcerous Crimes division  Doug Scott
 F   Atlantean Speakeasy                Stephanie Boisvert
 F   Broken                             Carl Gable
 H   A Bullet With My Name On           Kit Power
 SF  Bloodlines,Chapter 1               Debra Crichlow
 H   The Not, Chapter 28                A. R. Braun
 F   The Swallow of 221B Baker Street   Irene Ying
 F   SPHERES: Whispers and Murmurs, Chapter 1 RFDR  Lynanne Carroll
 F   Striking Chains, Ch.1-2ish         Kris Schnee
 H   Saviors                            Ed Kratz
 F   A Devil in the Land of the Gods    P.E. Zimmerman
 H   Grundy                             Frank Oreto
 SF  Now                                Charles Hand
 SF  Contributing to the Delinquency of a Minor  Larry Rachman
 H   Harvester of Days                  Mav Skye
 F   Flotsam                            Rebecca Jay
 F   Seeing the Light                   Joe Walker
 F   Of That Alluring Fruit             Jonathan Byrne
 F   Sionn Chapter 1                    Nicole Nagelberg
 SF  Little Machines                    Rupan Malakin
 SF  Recursion                          Dom Dulley
 SF  Toy Soldier                        L Chan
 SF  Breathing Space                    Jenny Green
 F   The Mirren Stone, Chapters 1-2     Susan Boesger
 SF  Botany Bay                         Clancy Weeks
 SF  Secret Service: LA                 Ralph M. Ambrose
 SF  At the Sign of the Black Dog       Jon Hurwitz
 SF  The Eighth Tick                    Madison Culler
 F   The Lady's Secret Face -- Prologue and Ch. 1 -- RFDR  Tara Saunders
======================================================================
      (Note, if the last week above looks abnormally large, it probably
      needs me to add a new week, a task I do manually when I get around
      to it.  Future critique dates are approximate and subject to change.)

Symbols:

[@] - Pro [SFWA/HWA] author
[*] - Extra week(s) for holidays/aburt-out-of-town.
[mpc] - Most Product Critter Award winner
[!] - Special non-Wednesday dates because Critter Captain will be out of town
[ERROR!] - This means there is a problem and your manuscript will NOT be
     sent out - Contact the Critter Captain ASAP if you see this by your name.

Waiting to enter Queue (Will enter at end of queue on "[date]"):
 YA  Enchanter RFDR                     E. B. Pike [?]
 M   The Shot                           Zimbalist L. Odhams [?]
 M   The Shot                           Zimbalist L. Odhams [?]
 L   The Six Samurai Chapters 1-3       John Endris [?]
 F   Our Father, Chapter 1              Brandon Byes [?]
 SF  Terra Prime: Fall of a Federation [?]
 SF  Rats in Space [?]
 F   Dollhouse of the He, Chart [?]
 L   Violin Playing Robot               Chrissie Wranja [?]
 H   Sanctuary                          Adam vanLangenberg [18-Dec-2013]
 SF  The Lighthouse Keeper              Mary j. Daley [11-Dec-2013]
 F   Dad dad dad                        Will Milner [18-Dec-2013]
 SF  Abraham the Eskimo -- Part Two     Carlos Mano [18-Dec-2013]
 F   Daughter of the Wizard             Lee Dailey [18-Dec-2013]
 SF  The Refuse Hunter's Daughter       Will Milner [?]
 F   Tribute                            Lee Dailey [?]
 F   The Wind Demon - Prologue          Lee Dailey [?]
 F   Under Gear Market                  Will Milner [?]
 F   President Buchanan's Diary         Douglas Kolacki [11-Dec-2013]
 F   The Root Of The Matter, a Rhode Island Story  Douglas Kolacki [?]
 F   You Know You're A Vampire          Douglas Kolacki [?]
 F   Only The Whale Stands Between Me and England  Douglas Kolacki [?]
 F   Ballads of Ealaidh-The Final Candlemark  Jennie Brass [11-Dec-2013]
 H   The Macnever Report                Jeffrey Wikstrom [11-Dec-2013]
 F   Thus to All Scrooges and Grinches  Douglas Kolacki [?]
 SF  Olympus Part II                    Neal Williams [18-Dec-2013]
				-+-

Held until participation ratio improves (then out that week):
 F   The Apothecary's Curse: Prologue   Barbara Barnett [04-Sep-2013]
 SF  Salt                               Aaron S. Gallagher [04-Sep-2013]
 F   Book Riders, Chapters 1-3          Sylvie E. Leclerc [11-Sep-2013]
 F   The 37th, Chapter One              Seth Z. Herman [11-Sep-2013]
 F   Dark City                          Dick Romeo Matshaba [11-Sep-2013]
 F   The Prince That Time Forgot, Chapter 5  Robert William Shmigelsky [11-Sep-2013]
 SF  Jason Green Argo Chapters 2-4      Rich Masters [18-Sep-2013]
 SF  Full Knife Chapter 1               Chip Yde [25-Sep-2013]
 F   Electraa                           Kyrene L. Roy [02-Oct-2013]
 H   Basement                           Floyd Northrip [02-Oct-2013]
 F   The Pure One                       Teva McLaren [09-Oct-2013]
 H   A Little Help                      Linda Robbins [09-Oct-2013]
 SF  Prototype                          George Cotronis [23-Oct-2013]
 SF  Rose                               Jack Dowden [30-Oct-2013]
 SF  The Wasp and the Fly               Sandra Kellams [30-Oct-2013]
 F   Just Another Angel                 Jimmy Schaefer [06-Nov-2013]
 H   Animals                            Alastair D. Hileman [13-Nov-2013]
 F   Grafted, Chapter 1                 David Flood [20-Nov-2013]
 SF  Access Code                        Kaushik Ghose [27-Nov-2013]
 F   Puriwrinkle                        Maranda Hallinan [27-Nov-2013]
 SF  When Time Spies                    Scott Shipp [04-Dec-2013]
 F   Haunted Short STory                Mary Bennett [04-Dec-2013]
                                :::


>> Note 1:  Held manuscripts are removed after four weeks on hold and
>> must be resubmitted.

>> Note 2:  It is the *author's* responsibility to notify Aburt when
>> they have brought up their critique count and want their ms. sent out.



List of prior manuscripts:

     Title                      	Author
------------------------------------------------------------------------
Week of 11/22/95 (Crits due 12/6/95[*]):
     True Colors               		Andrew Burt

Week of 11/29/95 (Crits due 12/6/95):
     Saddam Hussein & the Lost Space Hippies / Julian Treadwell
     Cortech                   		W. J. Bland

Week of 12/6/95 (Crits due 12/13/95):
     The Link                  		Geoffrey Wiseman
     The Dark of the Moon      		John Riley

Week of 12/13/95 (Crits due 12/20/95):
     The Passenger             		James Dean
     The Merchant, Chap. 2 		C. Lomakin

Week of 12/20/95 (Crits due 1/3/96[*]):
     A Breath of Fresh Air     		Russell Hobby
     Eyes of Crystal Blue      		Carol Tompkins

Week of 1/3/96 (Crits due 1/10/96):
     Road Kill                 		Bill Toth
     Rails                     		Jerry Bryson

Week of 1/10/96 (Crits due 1/17/96):
     Tachyon Dreams            		Andrew Burt
     The Word                  		Tom Hooten

Week of 1/17/96 (Crits due 1/24/96):
     Nanosleep                  	Julian Treadwell
     The Duplicate War: A Review        David Lowe

Week of 1/24/96 (Crits due 1/31/96):
     Musings               		Geoffrey Wiseman
     The Lunar Viper			Riley	
     I Hear the Trumpets Call My Name   Lewis Butler

Week of 1/31/96 (Crits due 2/7/96):
     Through Evolition's Gate   	Jeremy Lakatos
     Night and Day			Carol Tompkins	
     The War Widow			D. Trommeshauser

Week of 2/7/96 (Crits due 2/14/96):
     Night of the Crash Test Dummies    Jerry Bryson
     Gateway, Chapter 1         	Monissa Whiteley
     Sic Transit Gloria Mundi   	Laura Blackwell

Week of 2/14/96 (Crits due 2/21/96):
     Troder                     	David Felts
     Hills like Micro-Pachyderms 	Tom Hooten
     The Pump                   	Dyna Lightfoot

Week of 2/21/96 (Crits due 2/28/96):
 SF  The Last Few               	W. J. Bland
 SF  Delta Pi				Andrew Burt
 SF  In The Beginning, God Created...   Robert Keating
 H   Shadow Dancer			Laura Lehman

Week of 2/28/96 (Crits due 3/6/96):
 F   Ragnarok                 		Dietmar Trommeshauser
 H   The Rescue				Loretta Lewis-Wells
 H   Immortal Kiss			Sam Liu
 SF  Hock Your Socks and Go		Riley

Week of 3/6/96 (Crits due 3/13/96):
 F   The Princess and the Pea		Catherine Shaffer
 SF  Temporal Dilation			Lewis Butler
 SF  Little Soldiers, Hungry Animals,
	and a Hell of a lot of Bullets  Elad Haber
 F   Regrettable Victory		Tom Palmer
 SF  Nocturnal Chess			J. W. Tyler

Week of 3/13/96 (Crits due 3/20/96):
 H   				Eugene Polonsky
 SF  El Flor Descabellado Hombre	Kevin Drake
 F   Jarim the Cat       		Frank Kowalkowski
 SF  The Final Game			Douglas Spurrell
 F   Autumn Leaves			K. M. Roberts

Week of 3/20/96 (Crits due 3/27/96):
 SF  Bleeding Mars			Tom Winstead
 SF  Light Beam Hunters			Jerry Bryson
 F   A Broken Frame, Chatper 1  	Jeremy Lakatos
 F   A Promise Kept            		Carol Tompkins
 F   Rebirth				Heather Mina
 SF  Feeders                       	David Felts

Week of 3/27/96 (Crits due 4/3/96):
 SF  Justice Delayed			Cecil Rose -#52
 SF  When the World Ends, What Next?	Tom Hooten -#53
 H   Dear Reader			Eric Stark -#54
 H   Organic Ice			Henry Lefevre -#55
 SF  To Free the Slaves of the Mind	Andrew Burt -#56
 SF  Eyewitness				Charles Jade -#57

Week of 4/3/96 (Crits due 4/10/96):
 H   The Pencil				Cameron Melin -#58
 H   Bad Choice				John Weaver -#59
 F   Gateway, Chatper 2			Monissa Whiteley -#60
 H   Confession is Good For the Soul	Loretta Lewis-Wells -#61
 H   Larry's Teeth			Dietmar Trommeshauser -#62
 H   Shara, Prologue			Steven Wedel -#63
 F   Neb				David Round -#64

Week of 4/10/96 (Crits due 4/17/96):
 SF  Deadmen and Zombies, Novel, Part I	Thomas Adams -#65
 SF  Avatara, Chapters 1-2		Linda Chapman -#66
 F   Intangibles			Geoffrey Wiseman -#67
 H   We Must Have Elves			Florence Ann Iapicca -#68
 SF  At the Setting of a Dying Sun	Ross Richey -#69
 SF  Tag 				Alex Zuckerman -#70
 SF  Untitled, prologue			K. M. Roberts -#71

Week of 17-Apr-1996 (Crits due 24-Apr-1996):
 F   The Sage and the Fool		Catherine Shaffer -#72
 F   Bloodlines         		Tom Palmer -#73
 SF  The Beginning			Dan & Eric Kinney -#74
 SF  Damocles, Chapters 1-5		Lee Fellows -#75
 H   Dreams of the Dead			Curt Wohleber -#76
 SF  To Scream				J. W. Tyler -#77
 F   Ethics Committee			Evan B. Sayers -#78

Week of 24-Apr-1996 (Crits due 1-May-1996):
 SF  Visitors at the Fishbowl		Dietmar Trommeshauser -#79
 SF  Power Outrage			E. L. McMahon -#80
 SF  Marie Running			David Lowe -#81
 SF  Stealing Sunlight			Richard Hobbs -#82
 H   Dance the Danse, Chapter 1A	Lori Saltis -#83
 SF  Double Trouble			James S. Reichert -#84
 F   Wayland's Way                     	David Felts -#85

Week of 1-May-1996 (Crits due 8-May-1996):
 F   A Broken Frame, Chatper 2  	Jeremy Lakatos -#86
 F   The Gerwog				Carol Tompkins -#87
 F   Chime of the Second Pain		Mike Totty -#88
 F   The Sign of the Spider, Chapter 1	Femmy Syahrani -#89
 SF  Germware				Brian Reiter -#90
 SF  Dragonsbane			Thomas Adams -#91
 F   Christmas Cards			John Williams -#92

Week of 8-May-1996 (Crits due 15-May-1996):
 SF  Though the Night is Cold,
	Morning Colder			Patrick W. Dobbin -#93
 F   Jarim the Shadow       		Frank Kowalkowski -#94
 SF  The Continuing Rule		Jerry Bryson -#95
 SF  Rags       			Henry Lefevre -#96
 SF  The Pretty Lady Rules, Chapter 1	Riley -#97
 SF  Yea, Verily I Say Unto You		Andrew Burt -#98
 H   Mother				Jeff Frent -#99
 F   Sixth Sense			Michael Omotayo Akinde -#100

Week of 15-May-1996 (Crits due 22-May-1996):
 F   Porthos				Andrew J. Mitchell -#101
 H   I-95				John Weaver -#102
 H   Vignettes from the Emerald Forest	Loretta L. Lewis-Wells -#103
 SF  XYZ and Sometimes T		Tom Winstead -#104
 SF  Ward				Geoffrey Wiseman -#105
 SF  Dreams of Men			Ross Richey -#106
 SF   - Prologue		David Spaar #107
 SF  The Search for Shmulie Schimmer	Philip M. Cohen #108

Week of 22-May-1996 (Crits due 29-May-1996):
 H   Playing Possum			Warren Newsom -#109
 F   Untitled, Chapter 1		Mike McNelly -#110
 SF  Gultegra's Glory			Dale Marsceill -#111
 SF  Avatara, Chapter 3			Linda Chapman -#112
 F   Seasons				Lea Docken -#113
 SF  Martian, Chapter 1			Glenn Anderson -#114
 SF  Freedom?				C. J. Honey -#115
 SF  Closure				Vesalian -#116

Week of 29-May-1996 (Crits due 5-Jun-1996):
 H   Bird Song				David Felts -#117
 H   Dance the Danse, Chapter 1B	Lori Saltis -#118
 SF  Loopback, Chapters 2-4		Dan & Eric Kinney -#119
 SF  The Etymological Journey of
	Egg-suckin-dog Through 2113 A.D.  Earl G. Cadenhead -#120
 F   Dreams				Monissa Whiteley -#121
 SF  My Boy				Dan Thompson -#122
 H   Hog Wild				Dietmar Trommeshauser -#123
 F   Where the Rose is Blown		David Round -#124

Week of 5-Jun-1996 (Crits due 12-Jun-1996):
 SF  The Heretic			Jim Reichert -#125
 SF  Arrow of Time			Thomas Adams -#126
 SF  Stalking a Job in the New Millennium Brian A. Reiter -#127
 SF  Untitled, Prologue			Carol Tompkins -#128
 H   Married Life			Barbara Walton -#129
 SF  By the Numbers			Doug Spurrell -#130
 SF  One Hundred Candles		Curt Wohleber -#131
 H   Pleasure Cruise			E. L. McMahon -#132

Week of 12-Jun-1996 (Crits due 19-Jun-1996):
 H   Bearing Gifts			C. Patrick Neagle -#133
 SF  Natural Law			Andrew Burt -#134
 SF  You Can't Read a Diamond		Henry L. Lefevre -#135
 F   The Tale of the Land without Shadows Frank Kowalkowski -#136
 F   Sixth Sense, Chapter 2		Michael Omotayo Akinde -#137
 SF  Can Opener				Mike Totty -#138
 SF  Enter Not				Lee Beagan -#139

Week of 19-Jun-1996 (Crits due 26-Jun-1996):
 H   The Baker Man			Barbara Hodges -#140
 SF  Site				David Felts -#141
 SF  Sunset				Diego Doval -#142
 H   Nightwalker			Warren Newsom -#143
 SF  The Happy Place			Elad Haber -#144
 F   Minor Violations			John Williams -#145
 F   One Empty Seat			Michael Higginbotham -#146

Week of 26-Jun-1996 (Crits due 3-Jul-1996):
 H   Mirror Image			Geoffrey Wiseman -#147
 F   Yellow Days			Lea Docken -#148
 SF  Avatara, Chapter 5-6		Linda Chapman -#149
 SF  The Role of Art in Modern Society	Richard Johnson -#150
 H   Even Exchange			Corie Ralston -#151
 SF  Primitives				Glenn Anderson -#152
 SF  Loopback, Chapter 1		Dan & Eric Kinney -#153

Week of 3-Jul-1996 (Crits due 10-Jul-1996):
 H   Tutu and Wichita Weaving, Ch.1-2	Dietmar Trommeshauser -#154
 F   Mageling				Rachael M. Lininger -#155
 SF  The Pretty Lady Rules, Chapter 3	Riley -#156
 H   Linda's Tavern			Greg Peterson -#157
 SF  Last Rites				Dan Thompson -#158
 SF  Paradox Lost			David DeGraff -#159
 SF  The Fist, Prologue & Chapter 1	W. Robinson Mason III -#160

Week of 10-Jul-1996 (Crits due 24-Jul-1996):
 H   Dance the Danse, Chapter 2		Lori Saltis -#161
 F   Invincible Troy			Laura Blackwell -#162
 SF  Gentlemen of Civilization and Honor   Cam Harne -#163
 F   Osaka Dreams			Jim Reichert -#164
 SF  Robita				Henry Lefevre -#165
 SF  The Watering Hole			Andrew Burt -#166
 H   Wilders				David Felts -#167
 SF  Devermen				Earl Cadenhead -#168
 SF  Some Giant Steps Along the Psycho Path   Philip Cohen -#169

Week of 17-Jul-1996 (Crits due 24-Jul-1996):

	-none-  Critter Captain on vacation

Week of 24-Jul-1996 (Crits due 31-Jul-1996):
 SF  The Evidence of Things Seen	Raymund Eich -#170
 SF  A Truly Hostile Takeover		Scott Rose -#171
 H   ...and the Plants who Love Them	Ellen McMahon -#172
 H   Eve of Charles II			Jesse Fletcher -#173
 SF  Pete				G. L. Schmitt -#174
 SF  Topeka				Jerry Bryson -#175
 F   Uncondemned			William Dennis -#176
 SF# The Ultimate Locked Room Mystery 	Michael A. Burstein -#177

Week of 31-Jul-1996 (Crits due 7-Aug-1996):
 H   Judy's Decision			Mike Wever -#178
 SF  2,376th Encounter			Hank Quense -#179
 SF  A Hundred Years of Servitude	David Lowe -#180
 F   The Gods in Time, Prologue 	Barbara E. Walton -#181
 F   A Lull in the Battle of C'nair Bothle 	T. N. Whittemore -#182
 F   Prophecy				Glenn Anderson -#183
 SF  Avatara, Chapters 7-8		Linda Chapman -#184
 H   The Tear				Rick Novy -#185
 F   Sainthood				Marjorie Manning -#186

Week of 7-Aug-1996 (Crits due 14-Aug-1996):
 SF  Chainsaw				Thomas K. Adams -#187
 SF  They Call Themselves The Harvesters   Elad Haber -#188
 F   Chains of Doubt, Chapter 1		Lorrie Kralka -#189
 SF  Afternoon Drive			Jerry Langan -#190
 SF  The Fist, Chapter 2		W. Robinson Mason III -#191
 H   Suicide is Painless		Dietmar Trommeshauser -#192
 SF  Details				Greg Peterson -#193
 SF  War Games				Alfredo Fortuna Ibarz -#194
 SF  The Deadlier of the Species	John Williams -#195

Week of 14-Aug-1996 (Crits due 21-Aug-1996):
 SF  Impressions			Geoffrey Wiseman -#196
 F   The Rain King			David L. Felts -#197
 F   Mightier than the Pen		Corey Kellgren -#198
 SF  Playing God			R. G. Riel -#199
 F   Caera's Song			A.J. Ariail -#200
 F   Princess				Lucy Cohen Schmeidler -#201
 F   Candida, or The Feast of Liars	Laura Blackwell -#202
 SF  The Last Space Probe		David DeGraff -#203
 SF  Marketing Abots			Henry L. Lefevre -#204
 H   The Challenge			Earl Cadenhead -#205

Week of 21-Aug-1996 (Crits due 28-Aug-1996):
 SF  Hotel Missouri			Andrew Burt -#206
 F   Gateway Between the Fogs		T. L. Stevens -#207
 SF  Travellore:  Byrth, Chapter 15	Shawn Schock -#208
 SF  The Professional			R. M. DiPalma -#209
 SF  Thicker than Water			Ian Sales -#210
 F   Masok and Ferrite			Tom Laurie -#211
 H   Dance the Danse, Chapter 3		Lori Saltis -#212
 H   Jack				Allen Gies -#213
 F   Peace Pipe				Moran Paldi -#214
 F   The Wizards of Llandwellyn, Ch. 1	Eric Wilson -#215

Week of 28-Aug-1996 (Crits due 4-Sep-1996):
 SF  Dumb Machines			Jon Conley -#216
 F   Enchantress			Sonja Castle -#217
 SF  Retrospect				Raymond Eich -#218
 SF  One Last Day			Kimberly Eridon -#219
 SF  A Taste of Fate			Alejandro Trujillo -#220
 F   Justice at Stake, Chapter 1	Loretta L. Lewis-Wells -#221
 F   Requiem For a Brother		Barbara Ann Fisher -#222
 SF  Golden				Katarina N. Braun -#223
 F   Loki's Gambit, Prologue & Ch 1-4	Jim Reichert -#224
 F   Rainbow Bridge			Hank Quense -#225

Week of 4-Sep-1996 (Crits due 11-Sep-1996):
 SF  The Strangers that Fell from the Sky	Glenn Anderson -#226
 SF  Avatara, Chapters 9-10		Linda Chapman -#227
 SF  Elite				Mike Totty (& David Felts) -#228
 SF  The Irony				Geoff Davies -#229
 SF  The Galileo Probe			Larry D. Smith -#230
 H   Moment of Terror			Michael Wever -#231
 F   A Tier Broken			Jonathan A. Watson -#232
 SF  Finality				Lorrie Kralka -#233
 SF  Killing Critters			Elad Haber -#234
 H   Stolen Goods  			Dietmar Trommeshauser -#235
 H   Essence Of A Nightmare		Allen Gies -#236

Week of 11-Sep-1996 (Crits due 18-Sep-1996):
 SF  Choices				Paul Nixon -#237
 H   Wolvenkind				Max Barry -#238
 SF  Paradise				Charlotte Babb -#239
 SF  This Year's Model			John Koloski -#240
 SF  Space Dust				Henry L. Lefevre -#241
 SF  Lines of Communication		Lucy Cohen Schmeidler -#242
 H   Stuck in the Gates of Hell		David DeGraff -#243
 F   Two Feathers			Dave Felts -#244
 SF  Ol Kas In Me Hoort, Chapters 4-6	Jerry Bryson -#245
 SF  Life Flow				Lee J. Lindauer -#246
 SF  The Perfect Job			Trevor Kearns -#247
 F # And Now Abideth These Three	Sherwood Smith -#248

Week of 18-Sep-1996 (Crits due 25-Sep-1996):
 SF  Reaching Beyond the Sandy Portal	Julian Hudson -#249
 SF  Point Nine C			A. J. Ariail -#250
 F   On the Information Cow Path	Ron Toth -#251
 F   The Gods in Time, Prologue, pt. 2 	Barbara E. Walton -#252
 H   The Knockamocca Stick		Earl Cadenhead -#253
 SF  Jitte				R. Matthew DiPalma -#254
 SF  Travellore:  Byrth, Chapter 1	Shawn Shock -#255
 SF  Vegas Reality			Andrew Burt -#256
 SF  Net Demon				Eric Wilson -#257
 H   Last Night				Moran Paldi -#258
 SF  The Role of Art in Modern Society, ch2	Richard Johnson -#259
 SF  Focussed				R. G. Riel -#260

Week of 25-Sep-1996 (Crits due 2-Oct-1996):
 SF  The Rescuer			Tom Sweeney -#261
 SF  Blue Lights and Fast Probes	Riley -#262
 F   Mine Eyes				Dominic Jesse -#263
 H   Laughter In The Bones		Christopher Reynaga -#264
 SF  Badlands				Lazette Gifford  -#265
 H   Visit From an Old Friend		Tor Tolander -#266
 SF  Puzzle Boy				Trevor Kearns -#267
 H   Crime Against Nature		Barbara Fisher -#268
 H   Monster's Club			Hank Quense -#269
 H   Dead Man's Hand			Adam La Rusic -#270
 H   Prime Suspect			Linda Wood -#271
 SF  Telesterion			Ernest Blair -#272

Week of 2-Oct-1996 (Crits due 9-Oct-1996):
 F   Time For a Change			Francine Taylor -#273
 F   The Salvation of the Dawn		Carla Hennes -#274
 H   Shadows Follow			Warren Newsom  -#275
 SF  The Long Weekend After the Apocalypse  Mike Coombes -#276
 H   The Reluctant Man			Lee Beagan -#277
 H   Hedges				Jennifer Busick -#278
 SF  The Hunt				Corey Kellgren -#279
 SF  Rescue				Larry D. Smith -#280
 SF  Avatara, Chapters 11-13		Linda Chapman -#281
 SF  Thinking me Temporary in the Vienna-time  Raymund Eich -#282
 SF  Collision Course			Lorrie Kralka -#283
 SF  Freedom				Henry L. Lefevre -#284
 H # The Gentle Brush of Wings		David Niall Wilson -#285

Week of 9-Oct-1996 (Crits due 16-Oct-1996):
 H   In The Beginning			David Waltz -#286
 H   Paper Children			Dave Felts -#287
 SF  Dead and DEAD			Elad Haber -#288
 H   The Red Cloud			Geoff Davies -#289
 SF  Oops!				Jim Reichert -#290
 F   A Knight of Purest Heart		Robert Goforth -#291
 H   Rewrite				David Lowe -#292
 H   The Angel of Vengeance, Chapter 1	Shawn Schock -#293
 SF  The Tripper's Jack Pot		Earl Cadenhead -#294
 SF  The Flight of the Sarah Mae	Andrew Burt -#295
 H   Perchance to Dream			Ron Toth -#296
 SF  Here Be Dragons			Julian Hudson -#297
 F   Ahunting We Will Go...		Thomas Rumley -#298

Week of 16-Oct-1996 (Crits due 23-Oct-1996):
 F   A Change of Identity		Keith Stiles -#299
 SF  Rogue Planet, Chapter 1		Victory Crayne -#300
 F   The Crystal Sword			C. A. Merritt -#301
 SF  Jenny, with the Stars in Her Hair	Amy Sterling Casil -#302
 SF  Some Conversations with Stan	Greg Peterson -#303
 F   Wizard's Heart, Chapter 0-2	L. E. Erickson -#304
 H   When Eyes of Wolf Don't See	Francine DeGrood Taylor -#305
 H   Kiss from a Rose			T. M. Laszl -#306
 SF  The Game				Ron White, Jr. -#307
 F   Ready or Not			John Williams -#308
 F   The Seduction			Hank Quense -#309
 SF  The Keeper				Trevor Kearns -#310
 F   The Eternal Horseman		Tom Sweeney -#311

Week of 23-Oct-1996 (Crits due 30-Oct-1996):
 SF  At Play In The Melts of Mare Imbrium  Don Willits -#312
 SF  No Blood for Antimatter		Dan Salas -#313
 SF  Maggie's World			Robert Marcom -#314
 SF  Limited Palette			Brad Nugent -#315
 SF  World Serious			Tom Alston -#316
 SF  Spin Cycle				Matthew Fetterman -#317
 SF  D46				Mike Coombes -#318
 SF  Avatara, Chapters 14-15		Linda Chapman -#319
 SF  Encoded				Lorrie Kralka -#320
 SF  Atlantis				Henry L. Lefevre -#321
 SF  Rite to Youth			Lee Beagan -#322
 F   The Unbelievable Dragon		Jennifer Busick -#323
 F   Elf Song				Lazette Gifford -#324

Week of 30-Oct-1996 (Crits due 6-Nov-1996):
 SF  The Eureka Factor			Gordon Coulson -#325
 H   A Little Peace and Quiet		Ed Luttrell -#326
 SF  Twenty-three Steps in the Rise of Power   Max Barry -#327
 F   The Wizards of Llandwellyn, Ch. 3	Eric Wilson -#328
 SF  Telesterion, Chapter 2 (revised)	Ernest Blair -#329
 H   The Magic of Music			Richard McKinney -#330
 F   For Love of Country		Frank Kowalkowski and Carol Tompkins -#331
 H   The Hummel Store			Christopher Minori -#332
 SF  The Diamonds			Elad Haber -#333
 SF  A Private Mutiny			Andrew Burt -#334
 H   Warning T/r/e/s/s/p/a/s/s/e/r/s/ Owners Will be Shot  Earl Cadenhead -#335
 H   The Wild Dance			Robert Goforth -#336
 SF  Lifers				David Felts -#337

Week of 6-Nov-1996 (Crits due 13-Nov-1996):
 SF  The Party				Michelle Cox -#338
 SF  Light				Diego Doval -#339
 H   To Tame the Beast, or Conquer It	Warren Newsom -#340
 SF  Dead Head				Don White -#341
 H   Mordant Creed			Michael Jones -#342
 SF  'Bye, Robot			R. G. Riel -#343
 SF  The Brief and Interesting History of the Zapper   Adam La Rusic -#344
 H   The Proposal, Chapters 1-2		Keith Stiles -#345
 F   The Age of Ilfs			Suzen Mackner -#346
 F   Swords of the Margrave, Chapter 1	Francine DeGrood Taylor -#347
 SF  Insomnia				Tom Sweeney -#348
 F   Initiation				Kathleene Young -#349
 H   The Dead-Beat Agency		Hank Quense -#350

Week of 13-Nov-1996 (Crits due 20-Nov-1996):
 SF  Carhinko's Child			Julian Hudson -#351
 SF  A Few Words Mr. Deets?		Greg Peterson -#352
 SF  D. M. V.				Christine Gallowitz -#353
 H   The House of Dreams		Hanna Tolander -#354
 F   The Cloud who Granted Wishes	Stevens R. Miller -#355
 H   Fallen from Grace			Sam A. Bell -#356
 SF  Ol Kas In Me Hoort, Part 3		Jerry Bryson -#357
 F   Without Angels			Sharon Mock -#358
 F   Stone Cold				Ron Toth -#359
 SF  Terwiliker, Time Trader!		Robert Marcom -#360
 SF  Funny Face				Henry L. Lefevre -#361
 H   Mississippi Jim and the Rastafarian Boatman   Mike Coombes -#362
 F   Skin Deep				Lorrie Kralka -#363
 H   	David Niall Wilson -#364

Week of 20-Nov-1996 (Crits due [*] 4-Dec-1996):
 SF  Nothing Personal			Lee Beagan -#365
 SF  At Play In The Melts of Mare Imbrium, pt2  Don Willits -#366
 SF  Zero-G Rats			Dan Salas -#367
 SF  Avatara, Chapters 16 & Novel RFR	Linda Chapman -#368
 F   The Beggar Baron, Chapter 1	Mike Coombes -#369
 SF  Revolt on Ilar			Chris Markwyn -#370
 F   Hunting, Chapter 1			Andrea Hosth -#371
 SF  Badlands, Chapter 2		Lazette Gifford -#372
 F   The Canal				Rich Leis -#373
 SF  Green Past Years			John Koloski -#374
 SF  You Bet Your Planet		Andrew Burt -#375
 F   The Wouldn't-Be Princess		Jennifer Busick -#376
 SF  The Mechanics of Grace		Gordon H. Coulson -#377
 H   Chopper				Dave Felts -#378
 SF  Zaki				Elad Haber -#379
 SF  The Most Important Job		Robert Goforth -#380
 F   The Wizards of Llandwellyn Ch. 4-5	Eric Wilson -#381
 SF  Vanguard				Ernest Blair -#382

Week of 4-Dec-1996 (Crits due 11-Dec-1996):
 SF  The Divinity Theory		L. G. Lee -#383
 SF  Lie Down with Dogs			Dave Laderoute -#384
 F   The Age of Ilfs, Chapter 1 rewrite	Suzen Mackner -#385
 F   The Trade Road			Hank Quense -#386
 F   Land of Never			Mike Jones -#387
 H   Wonders that will even Frighten	Warren Newsom -#388
 SF  Angel Fire, prologue		Loretta L. Lewis-Wells -#389
 SF  Shortwave				Corey Kellgren -#390
 F   A Bridge of Nightfall		Jonathan A. Watson -#391
 H   An Alien Beneath My Skin		Francine DeGrood Taylor -#392
 SF  To Swim With Sharks		Carol Tompkins -#393
 H   Letters to the Editor		Dan Thompson -#394
 SF  Carpe Millennia			Ken Comer -#395

Week of 11-Dec-1996 (Crits due 18-Dec-1996):
 SF  Dear Baby				Lucy Cohen Schmeidler -#396
 SF  Creacion				Marc Hertel -#397
 SF  Theme from an Imaginary Western	Tom Winstead -#398
 SF  Beta One				Robert Marcom -#399
 SF  The Prophet			Henry L. Lefevre -#400
 SF  Firing Patterns                    David Lowe -#401
 F   Magic's Gate, Chap. 1-2 & RFR      Beth Bernobich -#402
 SF  The Leviathan			Bill Bussone -#403
 H   111,111,111 x 111,111,111		Randy deVita -#404
 F   Wizard's Heart, Ch 0-2 (revision)	Lorie Erickson -#405
 F   Lies, Lies and Damned Lies		Leigh Kimmel -#406
 F   Out Standing in Her Field		Ron Toth -#407
 H   Little Heshe            Earl Cadenhead -#408

Week of 18-Dec-1996 (Crits due [*] 1-Jan-1997):
 F   I Ain't Afraid of No Ghosts        Lorrie Kralka -#409
 SF  Riemannia, Chapters 0-1            Marjorie Fergusson -#410
 F   Dragons and Molehills              Brad Nugent -#411
 SF  What Dreams May Come               Stevens R. Miller -#412
 F   Inheritance                        Larry D. Hols -#413
 SF  The Starwalking Man                Ralan Conley -#414
 SF  A.P.E.                             David L. Felts -#415
 SF  A Bird in Hand			Andrew Burt -#416
 SF  Jumping the Gun			Gordon H. Coulson -#417
 SF  Winter Games			Rich Leis -#418
 SF  In a Future Sky			Jennifer Busick -#419
 SF  mi dog goes WOOF                   Mike Coombes -#420
 SF  Avatara, Chapter 17                Linda Chapman -#421

Week of 1-Jan-1997 (Crits due 8-Jan-1997):
 F   Midnight Call                      Dan Salas -#422
 F   Dead People                        Russell William Asplund -#423
 SF  Jumpers                            Elad Haber -#424
 SF  History                            Dietmar Trommeshauser -#425
 F   Fairy Frogmother                   Charlotte Babb -#426
 F   Lucan                              Patti Miller -#427
 SF  There's One Born Every Minute      Tim Tanner -#428
 SF  Helen's Journey                    Jim Reichert -#429
 F   The Crystal Sword, prologue        Cheryl A. Merritt -#430
 F   Dream Flyers, chapter 1 & RFR      Dennis Allen -#431
 F   Finding Life in a Snowflake        Frank Kowalkowski (& Carol Tompkins) -#432
 H   A God Of Limited Dominion          Robert Goforth -#433
 F   Final Disposition			Ed Tankus -#434

Week of 8-Jan-1997 (Crits due 15-Jan-1997):
 SF  Badlands, Chapter 3 & Novel RFR    Lazette Gifford -#435
 SF  Overland Stage                     Tom Sweeney -#436
 F   The Meeting                        David T. Greis -#437
 F   The Age of Ilfs, Chapter 2 rewrite	 Suzen Mackner -#438
 SF  The Singing Taxi of New Orleans	Ken Comer -#439
 F   To Fly                             Carol Tompkins -#440
 SF  Facts are Slippery                 Raymund Eich -#441
 SF  Planning Your Life                 Grace B. Agnew -#442
 SF  Built to Order                     Mitchel Maltenfort -#443
 SF  Earth Son                          Thomas Chiverton -#444
 SF  Power Failure                      David Davisson -#445
 SF  The Emissary                       Emily Brunson -#446
 F   It's Hard to Get Good Help         John Williams -#447
 F   The Theft of Glwain Nedir, Prologue  John R. Alderson -#448

Week of 15-Jan-1997 (Crits due 22-Jan-1997):
 F   The Final Battle                   Andrea Hosth -#449
 SF  Revolution, prologue               Samantha Liu -#450
 F   The Fourth Date                    Rob Riel -#451
 F   Maidenspring                       Tracy Warner -#452
 F   Gates of Ashtoroth			Robert Marcom -#453
 F   Tehila                             Lucy Cohen Schmeidler -#454
 SF  Moon-Crystal, Inc.                 Henry Lefevre -#455
 H   The Shed                           Earl G. Cadenhead -#456
 H   Photo Finish                       Adam La Rusic -#457
 F   Oathbreaker                        Michael D. Parker -#458
 F   Wizards of Llandwellyn, Ch. 6-7   Eric Wilson -#459
 SF  Damocles                Lee Fellows -#460
 SF  The Quiet                          Mike Totty (& David L. Felts) -#461
 H   Wrestling with the Past            Rich Mehrenberg -#462

Week of 22-Jan-1997 (Crits due 29-Jan-1997):
 F   Hornet's Folly                     Katherine Dazazel -#463
 F   The Beginning, Chapter 0           Kimberly Eridon -#464
 H   Ibex                               Rich Leis -#465
 F   The Beggar Baron, Chapter 2        Mike Coombes -#466
 SF  Pooh Like Me			Andrew Burt -#467
 F   Technical Foul                     Brad Nugent -#468
 SF  Pronouncement of Guilt             Stevens R. Miller -#469
 SF  Death and Toil                     R.A. Conley -#470
 F   Soul Searching, Chapter 0   Lorrie Kralka -#471
 F   A Gift Of Light                    Jennifer Busick -#472
 SF  Maklorian                          Guy Salvidge -#473
 SF  Primary Research                   Hank Quense -#474
 F   Second Son                         Jodi A. Roosenraad -#475
 SF  Feeders                            David L. Felts -#476
 SF# The Millennium Bug                 Michael A. Burstein -#477

Week of 29-Jan-1997 (Crits due 5-Feb-1997):
 SF  A Loving Home                      Don White -#478
 SF  Shelby, I am                       Terry Gray -#479
 SF  Polaris Point, Chapters 1-2        Cheryl DuCoin -#480
 F   Magic's Gate, Ch1-3, Revised       Beth Bernobich -#481
 SF  Usenet                             Alfredo Fortuna Ibarz -#482
 F   Justice's Coffers                  Frank Kowalkowski -#483
 F   The Crystal Sword Chapter One      Cheryl A. Merritt -#484
 SF  Airborne Delta                     Dan Salas -#485
 SF  Unit One                           Ed Tankus -#486
 H   Boot Camp                          Dietmar Trommeshauser -#487
 H   Collections                        Randy deVita -#488
 SF  Robots R Us                        Simon Haynes -#489
 SF  Enigma                             Karel J. Driesen -#490
 SF  The Links at Marma Kish   Jerry Bryson -#491

Week of 5-Feb-1997 (Crits due 12-Feb-1997):
 SF  Something Like a Star              Scott J. Epstein -#492
 SF  Message in a Wormhole              Dennis Allen -#493
 F   Donnelly Tragedy, CH3   Patti Miller -#494
 SF  The Day the Universe Froze, Chapters 1 & 2  Noel Calvin -#495
 F   Miss Mabel's Cat                   Michelle Cox -#496
 F   A Reason For Religion              Robert Goforth -#497
 F   The Man with a Thousand Pockets    William Brown -#498
 F   One Chance to Trust                Francine DeGrood Taylor -#499
 SF  Sealed with a Kiss			Ken Comer -#500
 F   Gathering of the Light             David T. Greis -#501
 H   Form is Emptiness                  Grace B. Agnew -#502
 F   The Heart of Sun                   Carol Tompkins (and Frank Kowalkowski) -#503
 SF  The Clue                           Tom Sweeney -#504
 SF  Going Overboard                    Ian Sales -#505

Week of 12-Feb-1997 (Crits due 19-Feb-1997):
 SF  Rock Radio                         Mitch Maltenfort -#506
 SF  The Hiding Place                   Craig R. Thompson -#507
 SF  Pets                               Arnold Christianson -#508
 SF  To Be Free                         Elad Haber -#509
 SF  Revolution                         Nick Arlov -#510
 H   Bethany's Medicine                 David Davisson -#511
 H   Skin Deep                          John Donald Carlucci -#512
 F   Nightwinds                         Elizabeth Wood -#513
 SF  Maggie's World: The Hydrii Conspiracy  Robert Marcom -#514
 H   Affections of the Aid              Earl G. Cadenhead -#515
 SF  The News Singers: Ch. 1-2 and RFR  Lucy Cohen Schmeidler -#516
 F   An Intelligent Whore               Tracy Warner -#517
 SF  Blind Spots                        Henry L. Lefevre -#518
 H   They Only Come at Night            Jessica Grota -#519

Week of 19-Feb-1997 (Crits due 26-Feb-1997):
 H   Venetia, Chapter 1      Gary King -#520
 H   Inmates of Dover                   Shirlene and Warren Newsom -#521
 SF  Power Seven                        Craig R. Thomspon -#522
 F   I'll Be Back                       Ron Toth -#523
 SF  The Last Voyage of the 'Cristobal Martin'  Raymund Eich -#524
 SF  Rogue Planet, Chapter 0-2   Victory Crayne -#525
 F   The Color of Honor                 David L. Felts -#526
 F   Dragon in the Sky, Chapter 1 RDR   Katherine Dazazel -#527
 SF  Heisenberg's Canary		Andrew Burt -#528
 SF  Puppet Strings                     Brad Nugent -#529
 SF  Skipper and Jack                   Ralan Conley -#530
 F   PutuNiA to              Hank Quense -#531
 SF  A Point in Time                    David Laderoute -#532
 F   A Reign of Tears                   Jeff Cates -#533

Week of 26-Feb-1997 (Crits due 5-Mar-1997):
 F   Moss                               Corey Kellgren -#534
 F   PeaceHammer                        Matt Hiebert -#535
 H   Pinocchio, Joe, and the Velveteen Rabbit  Jennifer Busick -#536
 H   Things to Do                       Glen Engel-Cox -#537
 F   Never Trust a Statue               Jonathan L. Fesmire -#538
 F   Lost Souls                         Dan Salas -#539
 H   The Gig from Hell                  Cheryl DuCoin -#540
 SF  The Clock                          Terry D. Gray -#541
 F   Chameleon                          Beth Bernobich -#542
 SF  Root Beer                          Randy deVita -#543
 F   The Wailing Whispers               Frank Kowalkowski -#544
 SF  Tollbridge                         Nigel G. Mitchell -#545
 F   Mad World                          Alfredo Fortuna Ibarz -#546
 F   Of Bards and Blood                 John C. Prezas -#547

Week of 5-Mar-1997 (Crits due 12-Mar-1997):
 F   A Parody of Paradise, Chapter 1    Joe Wong -#548
 H   Decisions                          Tiffany James -#549
 H   A Therapeutic Relationship         Jeremiah Dwyer -#550
 SF  Virtually Family                   Robin A. NiDana -#551
 F   Ice Storm                          Leigh Kimmel -#552
 F   His Voice in My Head               Rochelle Mitchell -#553
 SF  Hills and White Minotaurs          Tony Urgo -#554
 F   Hunter's Oath                      Raechel Henderson -#555
 H   Confessional                       Grace B. Agnew -#556
 F   Out of the Oven and Into the Fire  Tom Sweeney -#557
 SF  High Ground                        William Brown -#558
 F   Dance in the Dew                   Michelle Cox -#559
 F   Something Precious                 Carol Tompkins -#560
 F   In the Caves of the Emerald Lady, Chapter 0  Cynthia Leigh -#561

Week of 12-Mar-1997 (Crits due 19-Mar-1997):
 SF  Missing Luggage                    Doan Kieu -#562
 F   Valentine Blues                    Karel Driesen -#563
 SF  Scarlet Frit                       Tom Riley -#564
 SF  The Horror of it All               Dennis Allen -#565
 SF  Maggie's World: The Argos Incident   Robert Marcom -#566
 F   Blue Raven, Chapter 1   Tracy Warner -#567
 SF  Whitecell                          Ian Sales -#568
 SF  As Luck Would Have It              Nick Arlov -#569
 SF  Future Past                        Craig R. Thompson -#570
 SF  Chrysalis                          Arnold Christianson -#571
 SF  Views                              Elad Haber -#572
 SF  Nineteen Years, Three Months, Two Days  Deirdre Saoirse-Savino -#573
 H # Iowa Typhoon                       Scott Sigler -#574
 SF  Osiris                             Karen Hancock -#575
 H   A Sliver of Hell                   Adam La Rusic -#576

Week of 19-Mar-1997 (Crits due 26-Mar-1997):
 F   Painted Eyes and Longing Heart     Lynda Hawkins -#577
 SF  When the Aliens Came               Max Barry -#578
 F   Fallenstone, Chapter 1             Tamara Yollick -#579
 SF  Barney                             N.J. Closson -#580
 SF  ...In a Rational Cost Structure    Don Willits -#581
 SF  Swirling Dust                      Andrew Burt -#582
 SF  Waking Up Is Hard To Do            Ralan Conley -#583
 SF  Bursting the Bubble                David DeGraff -#584
 SF  Tor's Folly                        Henry L. Lefevre -#585
 SF  When Glasses Won't Do              Paul Urayama -#586
 SF  Project: Link                      Steve Algieri -#587
 SF  Wild at Heart                      Dietmar Trommeshauser -#588
 F   Forever                            Beth Bernobich -#589
 SF  A Galactic Detective in King  Arthur's Court  Catherine Weaver -#590
 F   A Wound in the Back                Eric Van Jateman -#591

Week of 26-Mar-1997 (Crits due 2-Apr-1997):
 H   The Happy Glad Handler             Mark Anderson -#592
 F   What Lies Beyond the Valley?       John Aegard -#593
 SF  Logic Sings the Blues              Steven C. Klouser -#594
 SF  The Planet of Violent Sneezing     Dan Salas -#595
 H   The Hunter                         Cheryl DuCoin -#596
 F   Eruak and the Strangers            Jonathan L. Fesmire -#597
 F   Sword of the Ironskin              Matt Hiebert -#598
 F   Geranna's Rock                     Frank Kowalkowski -#599
 SF  Erasing Einstein                   Nigel G. Mitchell -#600
 SF  Sticks and Stones                  Arnold Christianson -#601
 F   Untitled                           John C. Prezas -#602
 F   Dragons in the Rain                Michael Akinde -#603
 SF# The Golem                          Severna Park -#604
 H   Passionfruit                       Joseph R. Andrews -#605
 SF  Evolution                          Tom Sweeney -#606

Week of 2-Apr-1997 (Crits due 9-Apr-1997):
 SF  Sky and Earth                      Rochelle Mitchell -#607
 F   The White Battleship               Leigh Kimmel -#608
 F   Won't you play me that Blue Jazz Daisy?  Raechel Henderson -#609
 F   The Dragon's Peace                 Carol Tompkins (and Frank Kowalkowski) -#610
 H   The Widow                          Roena R. Hensler -#611
 SF  The Korrs of it All                Guy Salvidge -#612
 SF  Aristides' Comet                   Dan Thompson -#613
 SF  Before War                         Elad Haber -#614
 F   A Slight Imperfection              Nick Arlov -#615
 F   Kiowa Nights                       Robert Marcom -#616
 SF  A Light In The Darkness            Ian Sales -#617
 F   The Duchess's Dress                Deirdre Saoirse-Savino -#618
 SF  Taken in on Trust                  Michael Whittle -#619
 SF  Away Support                       Andy Reynolds -#620
 H   Penny For Your Thoughts            Henry Snider -#621

Week of 9-Apr-1997 (Crits due 16-Apr-1997):
 F   Price                              Jon Hansen -#622
 SF  Nothing Succeeds Like SUKS-X       Ralan Conley -#623
 H   Mice                               Karen Hancock -#624
 F   Forever Firehawk (Whispers on the Wind)  Steve Algieri -#625
 F   Fairforest Road                    Beth Bernobich -#626
 SF  Brother                            Melissa Miles -#627
 SF  Poenitentia Interruptus            R. G. Riel -#628
 H   Solitaire, The Art of the Deal     Adam Palmese -#629
 SF  The First Casualties of the War    John Aegard -#630
 SF  Stretching Space                   Dan Salas -#631
 F   Serilla's Task                     Eric Van Jateman -#632
 SF# BirthMothers                       Severna park -#633

Week of 16-Apr-1997 (Crits due 23-Apr-1997):
 SF  Traditions                         Andrew Burt -#634
 F   Perfect Gift                       Jennifer Busick -#635
 SF  Change of State                    Robert Goforth -#636
 SF  Carol                              Katarina N. Braun -#637
 H   The Rescuer (rewrite)              Tom Sweeney -#638
 SF  Merelda's Journey, Chapter 1       Daniel R. Hawthorne -#639
 SF  Proximity                          Russell William Asplund -#640
 H   Window On A Nightmare              Kathleen Clough -#641
 H   Cabin 124                          Phoebe Lam -#642
 H   Record of a descent into hell	Ross Payton -#643
 F   Dragon Castle                      Peter H. Elliott -#644
 SF  Evil Sergeant                      William S. Frisbee -#645
 SF  The Wisdom of the Morii            Jonathon Sullivan -#646
 SF  On The Road From Galilee           Jim Reichert -#647
 F   Escaping the Eye                   Frank Kowalkowski -#648

Week of 23-Apr-1997 (Crits due [*] 7-May-1997):
 F   The Howling HIlls                  David L. Felts -#649
 SF  Through Strange Seas of Thought, Alone  Nick Arlov -#650
 F   Chelsia's Child                    Raechel Henderson -#651
 SF  To Love, to Regain                 Michael Whittle -#652
 SF  Dark Mistress                      Elad Haber -#653
 F   The Haunted Ship                   Leigh Kimmel -#654
 F   Project Dream                      Sandy Gostel Perkins -#655
 F   Sister's Arrow                     Carol Tompkins (and Frank Kowalkowski) -#656
 F   Wizards of Llandwellyn, Chapter 1  Eric Wilson -#657
 H   The Troubles of Dr. Del Redding    Dietmar Trommeshauser -#658
 F   Dragon                             Nancy Closson -#659
 SF  Angel Kisses                       Patricia Phillips -#660

Week of 7-May-1997 (Crits due 14-May-1997):
 SF  Tick Tock                          Dan Thompson -#661
 H   Arrest Me                          Roena R. Hensler -#662
 F   Magic's Web, Chapters 1-5          Patricia Kendall -#663
 F   Casual Magic                       Beth Bernobich -#664
 F   Holmgard                           Dan Salas -#665
 H   The Last March                     John Aegard -#666
 F   Faxton Science Center              Ralan Conley -#667
 H   The Prank                          Grace B. Agnew -#668
 SF  Reperfusion                        Jonathon Sullivan -#669
 F   Black Narcissus on Irish Streams, chapters 0-4  Jeremy Lakatos -#670

Week of 14-May-1997 (Crits due 21-May-1997):
 F   The Homecoming of Grimwolf the Fierce, King of Amorita  Jon Hansen -#671
 F   All That Glitter                   Michael J. Higginbotham -#672
 SF  Corpus                             Andrew Burt -#673
 H   Retro                              B. D. "Bob" Faw -#674
 F   Thorns                             D. K. "Cat" Kraft -#675
 SF  Aegis                              Ernie Blair -#676
 H   Everybody Loves Jello              Mark Anderson -#677
 SF  After Eight Days                   Rob Kengott -#678
 SF  The Loner                          Katarina N. Braun -#679
 SF  Minor Diversion                    C. W. Smoke -#680

Week of 21-May-1997 (Crits due 28-May-1997):
 F   Fairy Toads                        Karen Hancock -#681
 F   Bloodstone, Prologue and Chapter One  Diana L. Sharples -#682
 SF  two cubes (alien.sex.com)          Karel Driesen -#683
 SF  Living with Mark's Affliction      Paul K. Urayama -#684
 SF  No Accounting for Taste            Robin A. NiDana -#685
 F   The Price of Magic                 Steve Algieri -#686
 F   Spirit Wolf                        Raechel Henderson -#687
 SF  Jarak's Ride                       Leigh Kimmel -#688
 F   Corin, Chapters 0-4                Kimberly Eridon -#689
 H   Toll                               Eric Van Jateman -#690

Week of 28-May-1997 (Crits due 11-Jun-1997):
 SF  Merelda's Journey, Chapters 1-3    Daniel Hawthorne -#691
 H   Death Wind                         Jack Fisher -#692
 SF  Let There Be Peace                 William S. Frisbee -#693
 SF  Riemannia, rev. Chapters 0-1       Marjorie Fergusson -#694
 SF  The Price of an Earth Chit         Corie Ralston -#695
 SF  Her Own Heart of Darkness          Dan Salas -#696
 F   Magic's Gate, ch. 4-5, revised     Beth Bernobich -#697
 F   Reunion                            Roena R. Hensler -#698
 F   The Hordes of Iilbrm               Ralan Conley -#699
 SF  Wild Animals Never Kill For Sport  Andy Reynolds -#700
 SF  The Next Level, Chapters 1 & 2     C.W.Smoke -#701
 SF  A Form of Protest                  Michael Zadra -#702
 F   The Night Before I Left for Arizona  Adam La Rusic -#703
 F   A Private Wound                    J.G. Stinson -#704
 SF  A Work of Art                      Chris Markwyn -#705

Week of 11-Jun-1997 (Crits due 18-Jun-1997):
 SF  Congestion                         Andrew Burt -#706
 F   Happily Never After                Jennifer Andress -#707
 SF  Ashes on the Mantle                Jonathon Sullivan -#708
 F   Black Narcissus on Irish Streams, chapters 5-8  Jeremy Lakatos -#709
 SF  The Way She Should Go              David Lowe -#710
 SF  Talion IV, Chapter 1.   Colin Murphy -#711
 H   Worms                              Mark Anderson -#712
 F   The Stallion by the Sea            Robert Saunders -#713
 SF  A Tale of a Gem                    Catherine Weaver -#714
 F   Westwind Dreams                    John Williams -#715
 F   The Tower of Dreams     Claire Moylan -#716
 SF  A Shot                             Phil Smy -#717

Week of 18-Jun-1997 (Crits due 25-Jun-1997):
 F   Hunting Party                      Peter Elliott -#718
 F   Methods of Concealment             David J. Parker -#719
 SF  The Lady of Shalott                Mia Molvray -#720
 SF  Waiting Room                       Patricia Phillips -#721
 SF  All Gaia's Children                Robin NiDana -#722
 F   Suvassi                            Karen Hancock -#723
 F   Green Tomatoes and Dandylion Tea   Raechel Henderson -#724
 F   Forever Firehawk (Whispers On The Wind)  Steve Algieri -#725
 H   Moonlight Madness                  Earl Cadenhead -#726
 SF  Symbol                             Cam Harne -#727
 H   Paranoia                           J Daniel Valencia -#728
 H   In the Bag                         William J. Francis -#729
 SF  Out of Mind                        Lee Allison -#730
 SF  Night Eyes                         Lonnie McGhee -#731

Week of 25-Jun-1997 (Crits due 2-Jul-1997):
 SF  Dark Matters                       David DeGraff -#732
 SF  Time Enough                        Richard Lang -#733
 F   The Road to Carrava, Chapter 1     Christina Opalecky -#734
 SF  It Ended When You Said Goodbye     Cheryl DuCoin -#735
 F   The Changeling                     Grace B. Agnew -#736
 SF  Change                             Carol Tompkins (and Frank Kowalkowski) -#737
 SF  Ship's eyes                        Leigh Kimmel -#738
 F   Guard Duty                         Steven Potter -#739
 F   Artefacts from the Cathedral       Cameron Rogers -#740
 SF  The Gadget Trading Company         Lawrence W. Lanum -#741
 SF  The Return (Prolog and Chapter 1)  Ken O. Hinkle -#742
 SF  Green 100                          Andy Grover -#743
 SF  The Premonition                    Patricia Kendall -#744
 SF  Fermi's Slush Pile                 Eric Van Jateman -#745

Week of 2-Jul-1997 (Crits due [*] 16-Jul-1997):
 SF  The Return                         Julian Brown -#746
 H   Belinda                            Andy Reynolds -#747
 SF  Never Too Late                     Dan Salas -#748
 SF  Murder at the Front                Andrew Burt -#749
 F   Magic's Gate, ch. 6-7, revised     Beth Bernobich -#750
 H   Insane                             Jack Fisher -#751
 F   The Hordes of Iilbrm, Chapter 2    Ralan Conley -#752
 SF  Empty Repetitions                  Elizabeth Cameron -#753
 SF  By The Shores of Galilee           Melanie Fletcher -#754
 SF  Riemannia, Chapter 2               Marjorie Fergusson -#755
 H   Billy                              Kate Spofford -#756
 SF  Guardian, Chapter 1     Kevin L. McPherson -#757
 SF  Mise-en-scene                      Russell A. Miller -#758
 H   A Taste of Madness                 Selene Tan -#759
 F   The Train                          Michael Zadra -#760
 SF  Neither Centre Nor Central         Michael Whittle -#761
 SF  Acolytes of the Homeobox           Jonathon Sullivan -#762

Week of 16-Jul-1997 (Crits due 23-Jul-1997):
 F   The Windcatcher                    Frank Kowalkowski (and Carol Tompkins) -#763
 SF  The Incompetent Oracle             Rodney Culpepper -#764
 F   Age of Ilfs, prelude               Susan Gordon -#765
 F   Black Narcissus on Irish Streams, chapters 9-12  Jeremy Lakatos -#766
 F   Page Seventy-Five                  Stephanie Connolly -#767
 F   Sixth Sense, Chapters 0-1   Michael Akinde -#768
 SF  The Meridians                      Michelle Lopez -#769
 F   Sword for Hire                     J. G. Stinson -#770
 SF  The Hunter                         Philip Oakes -#771
 SF  The Dealer                         Claire Moylan -#772
 SF  Live at Five                       Mark Anderson -#773
 SF  An Act Of God                      Cheryl DuCoin -#774
 F   Climbing                           Tony Rust -#775
 F   Nor Waves the Cypress              Jennifer Mottram -#776
 H   The Critter Getter                 Earl Cadenhead -#777

Week of 23-Jul-1997 (Crits due 30-Jul-1997):
 F   Forest Healer                      Raechel Henderson -#778
 SF  A Hot Night In the City            Lonnie M. McGhee Jr. -#779
 SF  Nine Views of Transco Tower, by Iak/Sohu  Raymund Eich -#780
 F   Eyes Like Twins                    Jeanette Snyder -#781
 SF  Warning Earth                      S. E. "Monk" Napper -#782
 SF  Aftermath                          Robert McRae -#783
 SF  A Beacon in Time                   Thomas K. Adams -#784
 SF  Obedience                          Corey Kellgren -#785
 H   The Night Librarian                Jon Hansen -#786
 SF  Pride's Nightmare                  Alan Mayman -#787
 SF  The Globe               Bob Walker -#788
 SF  Safe Sex                           Robert C. Kengott -#789
 F   Another Road to Damascus           Richard Lang -#790
 SF  Iron and Blood, Part One           Eric Van Jateman -#791

Week of 30-Jul-1997 (Crits due 6-Aug-1997):
 SF  Three years on the Outer Planets, Chapters 0-1  Anna F. Dal Dan -#792
 SF  The Search For Poppa Lowe and Company  Lawrence W. Lanum -#793
 F   The Nelson Touch                   Leigh Kimmel -#794
 F   Spoken World                       Laura Chromy -#795
 F   The End of Innocence               Eythain Lazh -#796
 SF  Desert Skies                       Keith M. King -#797
 F   Child of Ambition Chapters 1-2     Benjamin Neilsen -#798
 F   White Hat                          Cliff L. Biffle -#799
 F   Bars of Loyalty, Chapters 1-4      Andrea Hosth -#800
 SF  The Guns of Joy                    John Aegard -#801
 SF  The Shape of the Sky               David DeGraff -#802
 SF  Organic Ice                        Henry L. Lefevre -#803
 F   Trade Show Hell                    Hank Quense -#804
 F   The Heart of the Matter            Andrew Kozma -#805
 SF  One For the Money                  Lorrie Kralka -#806

Week of 6-Aug-1997 (Crits due 13-Aug-1997):
 SF  Achieving Great Things, ch. 1      Kalle Hasselström -#807
 SF  Polycistronic God                  Jonathon Sullivan -#808
 F   Immortal Flower                    Dan Salas -#809
 SF  Pigskin in a Poke                  Andrew Burt -#810
 SF  Guardian, ch. 2-3                  Kevin L. McPherson -#811
 SF  Riemannia,Chapter 3, RFR           Marjorie Fergusson -#812
 H   Harrod's Creek                     Kate Spofford -#813
 SF  The Last Vision                    Michael Whittle -#814
 F   The Fearless Live On               Justin Robinson -#815
 F   Songdreamer                        Elizabeth Cameron -#816
 F   Teler, Terrier Prince of Hillsfallow  Daniel H. Nexon -#817
 SF  Head Price                         Mark Nielsen -#818
 F   Religious Differences              Scott Neigh -#819
 SF  Tight Security                     C.W.Smoke -#820
 F   The Calling                        J. Elizabeth (Janell Robisch) -#821
 SF# The Annunciate Chapter One   Severna Park (Suzanne Feldman) -#822

Week of 13-Aug-1997 (Crits due 20-Aug-1997):
 F   Demon                              Peter H. Elliott -#823
 F   Stuck                              David J. Parker -#824
 H   Necropolis                         Steven Potter -#825
 F   One Magic (Chapter 1)              Tamara Yollick -#826
 F   Slight of Mind                     Warren T. Newsom -#827
 SF  Polaris Point                      Cheryl DuCoin -#828
 H   The Nazi Penny Pincher Effect      Earl Cadenhead -#829
 F   Black Narcissus on Irish Streams, chapters 13-16  Jeremy Lakatos -#830
 H   The Lone Passer-by                 Jake Dickerson -#831
 F   Keelie Princess, Ch. 1             Trish Cramer -#832
 SF  Marbles                            Robert A. Helwig -#833
 SF  Strange Attractors, Chapters 1-2   Mark Siegel -#834
 F   The Conspiracy Ghost               Eric Wilson -#835
 H   Grave Injustice                    Joshua Baxter -#837

Week of 20-Aug-1997 (Crits due 27-Aug-1997):
 SF  Choice of Laws                     Stevens R. Miller -#838
 F   Flesh of the Fallen                Raechel Henderson -#839
 SF  Putting Down Roots                 Tony Rust -#840
 F   Legend Of The Lake                 Jeanette Snyder -#841
 F   The Avatar                         Tilapia Handwerker -#842
 F   Talk                               R.M. Lang -#843
 SF  Voyage of the Puddlejumper         Chris Ellis -#844
 SF  Darwin's Seed                      Frank Kowalkowski -#845
 SF  Marico                             Arnie Christianson -#846
 F   Joha  (Celtic for Joy)             Patti Miller -#847
 SF  "Tangled Webs"--Chapter 1          Bob Walker -#848
 F   Faith's Promise                    Lorrie Kralka -#849
 SF  Arrows of Time                     Hank Quense -#850
 F   The Cure                           Lawrence W. Lanum -#851
 SF  Night Moon                         Keith M. King -#852

Week of 27-Aug-1997 (Crits due [*] 10-Sep-1997):
 SF  Body and Blood, a novel            David Laderoute -#853
 SF  Hell                               Eythain Lazh -#854
 F   Going to Die                       Andrew Kozma -#855
 SF  When in the Course                 Leigh Kimmel -#856
 F   Shadowplay                         Jeff Verona -#857
 F   The Storyteller                    Ross Richey -#858
 SF  The Imitation of Christ            Raymund Eich -#859
 F   Boundaries                         Jonathon Sullivan -#860
 SF  Babushka For Sale                  Andrew Burt -#861
 SF  Blue Wells                         Dan Salas -#862
 H   Obsession                          Kevin L. McPherson -#863
 SF  Benevolence I                      Daniel H. Nexon -#864
 F   Beast in Waiting                   Janell Robisch (J. Elizabeth) -#865
 F   The Road to Carrava, C. 2          Christina Opalecky -#866
 SF  The Body of God, Chapter 0   Robert A. August Jr. -#867
 F   The Siblet	                        John H. Wood -#868
 F   The Nymph's Champion               Samuel Stoddard -#869
 H   Only a Bird                        Kate Spofford -#870
 SF  Hitler's Second Chance 	        Guy Salvidge -#871
 H   Come into My Parlor                Florence Cardinal -#872
 F   The Worst Thing in the World       Nita Van Cleave -#873
 SF  Jason's Mind                       Christopher Withington -#874

Week of 10-Sep-1997 (Crits due 17-Sep-1997):
 SF  Echoes Down an Endless Hall        Yoon Ha Lee -#875
 H   The Nyetnien Board                 Earl G. Cadenhead -#876
 SF  Beernauts                          Mark Siegel -#877
 F   The Dryad of Crystal Street        Tamara Yollick -#878
 H   Still Death                        Jon F. Merz -#879
 H   "The Witch at 11 Court Street"     David J. Parker -#880
 F   Stonekept, Chapter One             Johnna Adams -#881
 H   Tall Tales                         Roena R. Hensler -#882
 H   Static                             Rafe Boi -#883
 F   Black Narcissus on Irish Streams, chapters 17-20  Jeremy Lakatos -#884
 F   The Age of Ilfs, Chapter 1, The Landing  Susan Gordon -#885
 H   A Mother's Revenge                 Gary R. Burzell -#886
 F   Oataro's Revenge                   Claire Moylan -#887
 SF  Low Expectations                   Mia Molvray -#888
 F   The Prophecy of The Estasians, Chapter 1  Cheryl A. Merritt -#889

Week of 17-Sep-1997 (Crits due 24-Sep-1997):
 SF  Star & Away, Chapters 1-2   [mpc] Carl Hommel -#890
 F   Summer's Priestess                 [mpc] Easter Christopher -#891
 F   No Time                            Jeanette Snyder -#892
 F   Witch's Brew                       Raechel Henderson -#893
 H   Premonition                        R.M. Lang -#894
 SF  One For the Money - Rewrite        Lorrie Kralka -#895
 SF  A Choice Of Lords                  Lawrence W. Lanum -#896
 SF  When Shadows Rot                   Michael Whittle -#897
 SF  Radio Pays                         Tamara Yollick -#898
 F   Magic's Gate, ch.8-9               Beth Bernobich -#899
 H   Joel                               Curtis Dewar -#900
 H   Drive                              Seth Loy -#901
 H   Just Because You're Paranoid...    Chris Ellis -#902
 H   Blood Dreams, Part One, Vagabond   Dawn Roberts Anderson -#903
 SF  Innate, Chapter 1       Valerie Emanuel -#904
 SF  Second Chance                      Andy Reynolds -#905

Week of 24-Sep-1997 (Crits due 1-Oct-1997):
 F   Kin'tor'a Dreams                   [mpc] Raechel Henderson -#906
 F   A New Beginning                    Charles Evans -#907
 H   The Box                            Joshua Baxter -#908
 H   For Art's Sake                     Margaret McGaffey Fisk -#909
 H   Toe Boy                            Tony Rust -#910
 SF  Phoenix                            Jonathon Sullivan -#911
 SF  Sensoria                           Andrew Burt -#912
 F   Scrolls of Wisdom                  Dan Salas -#913
 F   When the Demon Is At Your Door     Jeff Verona -#914
 F   Archer dolan                       John H. Wood -#915
 F   Gypsy Dancer                       Florence Cardinal -#916
 H   Employee Loyalty, Guaranteed       Nita Van Cleave -#917
 H   Very Careless                      Kate Spofford -#918
 F   The Mine                           Samuel Stoddard -#919

Week of 1-Oct-1997 (Crits due 8-Oct-1997):
 SF  A Form of Protest                  [mpc] Michael J. Zadra -#920
 H   The Pecking Order                  William J. Francis -#921
 F   The Road to Carrava, Chapter 3   Christina Opalecky -#922
 SF  Carolina 12's                      Raymund Eich -#923
 F   The Chosen                         Sandy Cummins -#924
 H   Night                              Elizabeth Cameron -#925
 SF  Misconceived Notions               Chris Bernard -#926
 SF  Raydiyense(TM)                     Lucy Cohen Schmeidler -#927
 H   Pays the bills                     Grace B. Agnew -#928
 F   Don't Sleep Around Virgins         Walter L. Williamson -#929
 H   Pyper's Model                      John McCullough -#930
 SF  An Occasional Apocalypse           Ryan Thompson -#931
 SF  Go Back High                       David Lowe -#932
 F   Alpha                              Tom Sweeney -#933
 SF  Peds                               Sheli Ellwood (Shansu) -#934
 SF  A Dish Best Served Cold            William Jennings -#935

Week of 8-Oct-1997 (Crits due 15-Oct-1997):
 F   All Good Things                    Ian Breen -#936
 SF  Benevolence, part 2 of 2           Daniel Nexon -#937
 H   Ergo                               Yoon Ha Lee -#938
 SF  Spirals                            Guy Salvidge -#939
 H   In the Name of the Father          Carol Tompkins (and David L. Felts) -#940
 F   King of the Hill                   Kathy Tompkins -#941
 SF  Khuldhar's War Prolog and RFR      Leigh Kimmel -#942
 F   A Jack's Tale                      Christopher M. Coulter -#943
 F   Familiar Inheritances              Claire Moylan -#944
 SF  The Generation Game                Mat Ward -#945
 F   Gypsy Wine                         Jeanette Snyder -#946
 SF  Neighbors                          Richard Lang -#947
 SF  Calliopes and Cotton Candy         Lorrie Kralka -#948
 H   Dream Easy                         Andy Reynolds -#949
 SF  Innate, chapter 3-4                Valerie Emanuel -#950
 SF  Pepperoni Theories                 Chris Ellis -#951

Week of 15-Oct-1997 (Crits due 22-Oct-1997):
 SF  Starving Man                       [mpc] Michael J. Zadra -#952
 SF  The Master's Hand                  David J. Parker -#953
 SF  Panspermia                         Eric Van Jateman -#954
 SF  The Answer in the Wind             Michael Whittle -#955
 F   One Magic, Chapter 1    Tamara Yollick -#956
 SF  Link of Deception                  Catherine Braden	 -#957
 SF  Speedway's Puzzle                  Matthew Fetterman -#958
 H   Mirror                             Christopher Withington -#959
 SF  Oh Africa, What Ist Thy Name?      Jeff Cates -#960
 SF  Inflammation                       Jonathon Sullivan -#961
 SF  All Day We Sleep and at Night it Starts Again   Andrew Burt -#962
 H   The Day I Took the Garbage Out     Samuel Stoddard -#963
 H   Gifted, Ch. 1                      Kate Spofford -#964
 F   Engine Number Nine                 Raechel Henderson -#965
 SF  Dieting                            Phil Smy -#966

Week of 22-Oct-1997 (Crits due 29-Oct-1997):
 H   Three-Fingered Willie              David Price -#967
 F   My Father As Ferryman              Cameron Rogers -#968
 H   Grave Error                        Joshua Baxter -#969
 F   Chronicles of Aes, Prologue        John H. Wood -#970
 H   Date Rape                          Nita Van Cleave -#971
 H   The Lost City                      Florence Cardinal -#972
 SF  Epiphany                           Jeff Verona -#973
 F   Heavenly Creatures                 Curtis Dewar -#974
 SF  Food Chain                         Bill Bussone -#975
 SF  A Fly On the Wall                  Patti Miller -#976
 SF  Crossing Over                      Mark Littleton -#977
 SF  Playing as Training Exercise       Brian McGinty -#978
 SF  Heavenly Retirement                Margaret McGaffey Fisk -#979
 SF  The Second Greatest Living Fighter Ace  Robert Vanderwoude -#980
 F   Sharing                            Edward Stack -#981
 F   Conjuring the Conjuror             Tony Rust -#982
 F   Rings of Power                     Hank Quense -#983

Week of 29-Oct-1997 (Crits due 5-Nov-1997):
 SF  The Way She Should Go (Rewrite)    David Lowe -#984
 F   Deepening Skies                    Elizabeth Cameron -#985
 F   The Spring Bandage                 Tom Sweeney -#986
 SF  Platypi Don't Dream                Chris Bernard -#987
 F   Consuelo¹s Burro                   Walter L. Williamson -#988
 SF  The Verdict of Caesar              Paul Brink -#989
 SF  A Matter of Balance                Corey Kellgren -#990
 SF  The Prize                          Ryan Michael Williams -#991
 SF  The Dead Countryman                A. C. Chapin -#992
 SF  In Synch                           Richard Johnson -#993
 SF  Unit One                           Ed Tankus -#994
 F   Eyes Like Twins (rewrite)          Jeanette Snyder -#995
 SF  Commencement                       R.M. Lang -#996
 F   Censored!                          Yoon Ha Lee -#997
 H   Record of Interview                Cameron W. Rogers -#998
 SF  Kamakaze Hacker                    Claire Moylan -#999

Week of 5-Nov-1997 (Crits due 12-Nov-1997):
 F   There Ain't No Such Thing          Lorrie Kralka -#1000
 SF  To Serve the People                Kathy Tompkins -#1001
 SF  Innate, Chapters 1-3, rewrite      Valerie Emanuel -#1002
 H   Wildlife                           Kevin L. McPherson -#1003
 H   Railroaded                         Andy Reynolds -#1004
 SF  Rubber Monster                     Douglas Triggs -#1005
 SF  Valse Fatale                       Jouni Karhu -#1006
 SF  True Freedom                       Lisa Engblom -#1007
 SF  Death at the Time Casino           Rupa Keya Bose -#1008
 H   Anatomy                            Jonathon Sullivan -#1009
 F   Under the Weepy Willow Tree        Raechel Henderson -#1010
 SF  Adam Knew Eve: A Sex Primer        Michael J. Zadra -#1011
 F   Strong Woman and the Renegade      Samuel Stoddard -#1012
 F   The Cat's Meow (Chap 1-3, RFR)     David J. Parker -#1013
 SF  A Son of the Revolution            Jan Wildt -#1014
 SF  One Knight                         Jeremy K. Truax -#1015

Week of 12-Nov-1997 (Crits due [!] 22-Nov-1997):
 SF  First Contact                      [mpc] Lucy Cohen Schmeidler -#1016
 F   Strong Woman                       [mpc] Samuel Stoddard -#1017
 F   A Flight of Dragons                [mpc] Marny Melino -#1018
 H   The Two-body Problem               Kalle Hasselström -#1019
 H   Comin' for to Carry Me Home        Andrew Burt -#1020
 H   Nefarious Concupiscence            Allen J. Gies -#1021
 H   Jump                               Christopher Withington -#1022
 F   Legends                            Margaret Fisk	 -#1023
 F   A Voice in the Darkness, Chapter 0  Diane Scott -#1024
 SF  Jungle Revelations	                Lonnie M. McGhee -#1025
 F   Magic's Gate, ch.10-11             Beth Bernobich -#1026
 H   The Hunters, Part 1                Lonnie M. McGhee	 -#1027
 SF  The Life and Times.... First Contact  Barbara H. Hall -#1028
 H   Empty Beach                        C.J. Ellsworth -#1029
 SF  The Box                            Seth Loy -#1030
 F   Kolo, the Half-Troll               Bonnie Newton -#1031
 H   Parasite                           Nita Van Cleave -#1032
 F   "The Magicians' Birthday"          Edward F. Stack -#1033

Week of 26-Nov-1997 (Crits due 3-Dec-1997):
 SF  Eye of the Exotic                  Eric Schultz -#1034
 SF  Major Medical                      Arnie Christianson -#1035
 SF  Prologue SCFD                      Robert Vanderwoude -#1036
 SF  Coming Home                        Robert Brand -#1037
 F   The Thorn Of A Blood Red ROSE      Ron Toth -#1038
 SF  Sister, Sister                     William S. Frisbee -#1039
 SF  Blood Sacrifice                    M.J. Ridderhof -#1040
 F   To Serve The Darkness              Walter L. Williamson -#1041
 F   six stones down                    Grace B. Agnew -#1042
 SF  Insomnia Software                  Tom Sweeney -#1043
 F   Time of Your Life                  Richard Lang -#1044
 F   Cheetah                            Michael Whittle -#1045
 SF  Beauty                             Deborah Coates -#1046
 F   Rebirth                            Florence Cardinal -#1047

Week of 3-Dec-1997 (Crits due 10-Dec-1997):
 SF  GABA-17                            Douglas MacAskill -#1048
 F   Trouble in Paradise                Deborah Claire Quinlan -#1049
 SF  Rags                               Henry L. Lefevre -#1050
 F   I Do Believe                       Kimberly Eridon -#1051
 SF  Ghost Writer                       Mark Siegel -#1052
 SF  Inner Nebulae                      Tony Rust -#1053
 SF  The White Witch of Bendugu         Raymund Eich -#1054
 SF  The January Man                    Lewis Butler -#1055
 H   Omerta                             John McCullough -#1056
 H   THE HOLY DARK, CHAPTERS 1-3        Mark Littleton -#1057
 F   Bloodstone (chapter one)           Diana L. Sharples -#1058
 SF  Claris                             John D. Owen -#1059
 F   Origami Souls (ch. 1)              Yoon Ha Lee -#1060
 SF  A Warring Peace                    Mette Ivie Harrison -#1061
 F   The Banbury Cross Syndrome         Rupa K. Bose -#1062

Week of 10-Dec-1997 (Crits due 17-Dec-1997):
 F   The Apocalypse Project             Dawn Roberts Anderson -#1063
 F   Of Pebbles and Newts               F. Ian Ronald -#1064
 H   Illumination                       Carlene Jones -#1065
 SF  Accountant Hunt                    Paulus Mak -#1066
 SF  Waiting for an Angel               Mike Lewis -#1067
 F   Midnight at El Greco's House of Kabob  John Aegard -#1068
 F   The Wee Beastie                    Kathy Tompkins -#1069
 SF  Oath of the Thanopath              Jonathon Sullivan -#1070
 SF  Gentlemen, Start Your Engines      Lorrie Kralka -#1071
 SF  You Still There?                   Valerie Emanuel -#1072
 F   One Big Happy Family               Raechel Henderson -#1073
 F   Like Riding a Bicycle              Jan Wildt -#1074
 SF  The Siamese Factor                 Andrew Burt -#1075
 F   Magic's Gate, ch.12-14             Beth Bernobich -#1076
 F   Verya's Flute                      Jonathan Fesmire -#1077
 F   Kolo, the Half-Troll, Chapter 1    Bonnie Newton -#1078
 F   A Voice in the Darkness, Chapter 1  Diane Scott -#1079

Week of 17-Dec-1997 (Crits due 24-Dec-1997):
 SF  Chicken Chernobyl                  [mpc] Jeff Cates -#1080
 SF  Heavenly Retirement (rewrite)      Margaret McGaffey Fisk -#1081
 H   Eliminating a Glitch               Nita Van Cleave -#1082
 SF  The Twelve Steps                   Allen J. Gies -#1083
 F   White Threads, Gold Silk           Judy L. Tucker -#1084
 H   Driven                             Edward F. Stack -#1085
 F   Those Who Survive                  Milena Benini Getz -#1086
 F   Ride the Dragon                    Charles Rose -#1087
 SF  Idyll                              Ron Hurst -#1088
 F   Madeline's VCR                     C. J. Ellsworth -#1089
 SF  Platt's Library                    Ryan Michael Williams -#1090
 H   Monster                            Kimberly Brown -#1091
 F   Some Kinds of Help                 Jennifer Mottram -#1092
 SF  ex Machina                         Arnie Christianson -#1093
 F   The Moon I Once Knew               M.J. Ridderhof -#1094

Week of 24-Dec-1997 (Crits due [*] 7-Jan-1998):
 SF  Predator and Prey                  William S. Frisbee Jr. -#1095
 SF  Insomnia Software                  Tom Sweeney -#1096
 F   The Inheritance                    Grace B. Agnew -#1097
 F   The Demonslayer                    Robert Brand -#1098
 F   Hair Today, Gone Tomorrow          Johnna Adams -#1099
 F   The Funny Thing Is                 A. Tubbesing -#1100
 H   Lill'est Vampire                   Joshua Baxter -#1101
 H   Patience                           David J.  Parker -#1102
 F   A Small White Box                  Felix Lee -#1103
 SF  An Arson in Pleasant Valley        Irette Patterson -#1104
 H   The One Penny Hacker               Stewart S. Smith -#1105
 F   The Mark                           Juli McReynolds -#1106
 F   Bloodstone (Chapter Two)           Diana L. Sharples -#1107
 SF  Almost Independence Day            John D. Owen -#1108
 SF  Tin Gods                           Henry L. Lefevre -#1109
 SF  Gambler's Fallacy                  Raymund Eich -#1110
 SF  New Earth                          Mette Ivie Harrison -#1111
 SF  The Sting                          Andy Reynolds -#1112
 F   Carrava, Chapter 4                 Christina Opalecky -#1113
 F   Kindest Regards                    Mike Nelson -#1114

Week of 7-Jan-1998 (Crits due 14-Jan-1998):
 F   Jule                               Charity Lund -#1115
 F   Blood Brother, Chapters 0-1        Michael Akinde -#1116
 F   Timmy's Shortcut                   William G. Jennings -#1117
 SF  Golden Gate, Prologue and Chapter 1  Diane Bingham & Curtis Wright -#1118
 F   Road Rage                          Eric Wilson -#1119
 SF  Fruition                           Derek Barton -#1120
 SF  Alien Music                        Paul Brink -#1121
 F   Six Degrees of The Blue Jazz Daisy  Raechel Henderson -#1122
 SF  Leaving the Nest                   Jonathon Sullivan -#1123
 H   Small Wonders                      Lorrie Kralka -#1124
 H   The Tempest                        Dawn Roberts Anderson -#1125
 SF  Many Dogs, Barking                 Jan Wildt -#1126
 SF  Vultures Round The Vice            John Aegard -#1127
 F   The Crumbs of Time                 Andrew Burt -#1128
 H   Satan Machine Ch.1 RFDR            Joshua Baxter -#1129
 F   Magic's Gate, ch.15-18             Beth Bernobich -#1130

Week of 14-Jan-1998 (Crits due 21-Jan-1998):
 F   Soulshrinker                       [mpc] Milena Benini Getz -#1131
 F   The Collector                      Mike Lewis -#1132
 F   Outcast of the North, Chapt1a      Bonnie Newton -#1133
 SF  In the Key of Pain                 Linda Wood -#1134
 SF  Trick or Treat                     Charlotte Ballard -#1135
 F   Till Death Do Us Part              R.M. Lang -#1136
 H   Basic Training                     Margaret McGaffey -#1137
 SF  Obituary                           David Lowe -#1138
 F   Ancient Promise, Honored Truth, Part I, Chapters 1-2  T. Woodall -#1139
 H   The Cup                            Connie L. Carnley -#1140
 F   Subversive Coincidences            Claire Moylan -#1141
 SF  Angle Fire                         Loretta Lewis-Wells -#1142
 SF  Insystem                           Arnie Christianson -#1143
 F   The Ring of Life                   Diane Scott -#1144
 SF  Brothers                           Tom Sweeney -#1145
 H   The Woman of 1000 Deaths           Kimberly Brown -#1146
 SF  Time Ration                        Ron Hurst -#1147

Week of 21-Jan-1998 (Crits due 28-Jan-1998):
 SF  Knight, Chapter 1 (rewrite)        Jeremy K. Truax -#1148
 H   Arachnephobia                      Jeff Cates -#1149
 SF  Shalott                            Elizabeth Cameron -#1150
 F   The Virgin Mage (Chapters 1-3)     Walter L. Williamson -#1151
 F   Island in the Mist                 Florence Cardinal -#1152
 SF  The Star Fire of Ferrum            Cam Harne -#1153
 F   Not In Our Stars                   George McNutt -#1154
 SF  If it Takes Forever...             Joy Reeves -#1155
 SF  Biography of an Earthling Book One (Moebius) Chapters 1-2  Anthony Hernandez -#1156
 F   The Dog Burglar                    Alex F. Brown -#1157
 F   The Chanin Caper                   Karlene R. Price -#1158
 H   Communication Age                  Nita Van Cleave -#1159
 SF  In an Empty Land                   Russell A. Cardwell -#1160
 H   Confusion                          Rebecca Isherwood -#1161
 H   Working Man                        Michael Petersen -#1162
 F   Journey to Carlin                  Remmelt de Haan -#1163

Week of 28-Jan-1998 (Crits due 4-Feb-1998):
 H   The Winds of Limbo Roar            Michael Ashleigh Finn -#1164
 F   The Woodcutter's Tale              Michael Whittle -#1165
 F   The Wreath Maker                   Edward F. Stack -#1166
 SF  Choices                            Michael Chesley Johnson -#1167
 SF  Finger on the trigger              John D.Owen -#1168
 F   Bloodstone (chapter three)         Diana L. Sharples -#1169
 F   Four Poems                         A. Tubbesing -#1170
 F   Biting Santa                       Felix Lee -#1171
 SF  To Walk Among the Stars            Shannon Appel -#1172
 SF  Designer Jeans                     Mette Ivie Harrison -#1173
 H   The Holy Dark                      Mark Littleton -#1174
 F   Disturbing the Universe            Lisa Feld -#1175
 SF  The Burden of Rule                 Leigh Kimmel -#1176
 SF  Fingerhold                         Hank Quense -#1177
 SF  Fur Elise                          Nate Cull -#1178
 H   Melly's Back                       Claudia Bergstrom (CJ) -#1179

Week of 4-Feb-1998 (Crits due 11-Feb-1998):
 F   Choices                            Sheli Ellwood -#1180
 H   Skinwalker:Brothers in Arms        Mike Nelson -#1181
 F   The Truth about the Three Billy Goats Gruff  Melinda Keeling -#1182
 H   Up the Airy Mountain               Kenneth S. Toglia -#1183
 SF  Reconstructing Hope                Jeremiah Michael Fasano -#1184
 SF  The Church-Turing Hypothesis       Corey Kellgren -#1185
 H   Rex                                Ittai Golde -#1186
 F   Greek To Me                        Will Greenway -#1187
 SF  6277             			Andrew Burt -#1188
 F   Have You Seen My Mommy?            Lorrie Kralka -#1189
 F   Arrow to the Sun                   Raechel Henderson -#1190
 SF  The Pharaoh Project                Jeff Wild -#1191
 F   The Old Man                        Brian Pass -#1192
 F   Olfies                             Johnna Adams -#1193
 SF  Battle Command                     William S. Frisbee -#1194
 SF  Xels from Xiphthon                 Rupa Keya Bose -#1195

Week of 11-Feb-1998 (Crits due 18-Feb-1998):
 F   What's a Meta For?                 Mark Nielsen -#1196
 F   A Dragon's Tail, Chapters 0-1      Carrie Masek -#1197
 SF  Archer                             Lonnie M. McGhee Jr. -#1198
 SF  American Prince                    Jim Riel -#1199
 F   With an Asp at Your Bosom.         F. Ian Ronald -#1200
 H   Birdsong                           David L. Felts -#1201
 SF  Harry had a Knack                  Robert Cleary -#1202
 SF  More Than Kin                      Jeff Verona -#1203
 F   Welcome to the Island              Jan Wildt -#1204
 F   Magic's Gate, ch.19-22             Beth Bernobich -#1205
 SF  The Trouble With Them Is . . .     R.M. Lang -#1206
 SF  Injection                          Arnie Christianson -#1207
 F   Alpha                              Tom Sweeney -#1208
 F   Priestess of the Moon              Milena Benini Getz -#1209
 SF  Census Taker                       Charlotte Ballard -#1210
 F   The Cat's Tenth Life               Paul Carmichael -#1211

Week of 18-Feb-1998 (Crits due 25-Feb-1998):
 H   The Chosen; Chapter 1 - The Tape Will Tell  [mpc] Connie L. Carnley -#1212
 F   Cycles                             Marjorie Manning -#1213
 F   Enoch's Story                      Johnathan W. Sluder -#1214
 SF  The Nuclear Winter                 Carol Hightshoe -#1215
 SF  Interview with Man of the Year     Robert Vanderwoude -#1216
 F   12:05 Departure                    John Aegard -#1217
 F   Keeping Promises                   Diane Scott -#1218
 F   Silver Wine of Immortality, Chapters 0-2  James E. M. Rasmussen -#1219
 SF  Patterns                           Mike Bienvenu -#1220
 H   The Dead Town (prologue)           Roberta Kresse -#1221
 F   Hollywood Endings                  Richard C. Schatz -#1222
 F   Dancing for the Dead               John D. Owen -#1223
 F   The Virgin Mage (Chapters 4-6)     Walter L. Williamson -#1224
 F   Charming's Story                   Joy Reeves -#1225
 SF  Penance                            Claire Moylan -#1226
 H   Sugar and Spice                    Stephen D. Koehler -#1227

Week of 25-Feb-1998 (Crits due 4-Mar-1998):
 F   Sixth Sense, Chapter 3             Michael Akinde -#1228
 H   Lodgers                            Grace B. Agnew -#1229
 F   Banshee's Rhapsody                 Judy L. Tucker -#1230
 H   Devil's Playmates Chap 1           Ron Hurst -#1231
 SF  Murder By The State                Karen A. Freeman -#1232
 SF  Happy in Her Work                  Charity Lund -#1233
 H   Traffic                            William Brown -#1234
 SF  Alarm Clocks                       Seth Loy -#1235
 SF  Being                              Shane Hudson -#1236
 F   Bloodstone (chapter four)          Diana L. Sharples -#1237
 H   The Monkey Girl, the Dreamer, and the Unredeemed  Russell A. Cardwell -#1238
 SF  The Purchased Man                  Michael Petersen -#1239
 SF  To the Survivor Go the Spoils      Lisa Feld -#1240
 SF  To Hold Back the Darkness          Shannon Appel -#1241
 SF  Despoiler of Worlds                Leigh Kimmel -#1242
 F   Firebird's Song                    Yune Kyung Lee -#1243
 SF  True Seed                          Mette Ivie Harrison -#1244

Week of 4-Mar-1998 (Crits due 11-Mar-1998):
 SF  The Battle Of Chicago Server 113   Robert Brand -#1245
 F   Poem: The Chosen                   Felix Lee -#1246
 H   Lost and Found                     Frank Stascik -#1247
 H   Something Forgotten                Claudia (CJ) Bergstrom -#1248
 H   CARE-TAKER                         Edward F. Stack -#1249
 SF  So Long, Sucker                    Harold Chester -#1250
 F   The Smelter                        Mike Totty -#1251
 SF  Second Chance, Chapter 1           Mary Beth Johnson -#1252
 F   alt.rumpel.stilt.skin              Rupa K. Bose -#1253
 F   Reality's Plaything                Will Greenway -#1254
 F   Apartment 2E                       Raechel Henderson -#1255
 SF  Sex in Freefall                    Mike Nelson -#1256
 SF  Awareness                          Corey Kellgren -#1257
 SF  Desert Treasure                    Melinda A. Keeling -#1258
 H   Cry Babies.                        Ittai Golde -#1259
 F   Cataluna                           Lorrie Kralka -#1260
 F   The Comet Ride                     Johnna Adams -#1261

Week of 11-Mar-1998 (Crits due 18-Mar-1998):
 F   Origami Souls, ch. 1 (rewrite) & 2  [mpc] Yoon Ha Lee -#1262
 SF  Second Chance, Chapter 2           [mpc] Mary Beth Johnson -#1263
 SF  Years Of Frustration Lay Down Side By Side  [mpc] Andy Reynolds -#1264
 SF  Artist                             Joey Comeau -#1265
 SF  Death & Toil (rewrite)             Ralan Conley -#1266
 SF  Trading Rocks                      Kathy Tompkins -#1267
 SF  Star Lore: Detonation Ch 1         Andy W Schock -#1268
 H   En Passant                         A. Vye -#1269
 SF  The Happy Hour at the Edge of Time  David Lowe -#1270
 SF  Darkness                           Jon H. Costales -#1271
 SF  De Oppresso Liber                  William S. Frisbee -#1272
 SF  Lethal Gift                        Jim Riel -#1273
 F   Animal Crackers                    Daniel Arenson -#1274
 SF  Rules of Survival (Military SF)    Nathaniel Ford -#1275
 SF  Clara's Doll                       Nye Marnach -#1276
 SF  Terrorcruise, Chapters 0-3         Charles Lebrasseur -#1277
 H   The Will of Baron Teal             Matt Rohde -#1278
 SF  Ironman                            David J. Parker -#1279

Week of 18-Mar-1998 (Crits due 25-Mar-1998):
 F   Hashakana, Chapter 1               [mpc] Liz Martin -#1280
 SF  The Cork and the Current		Andrew Burt -#1281
 SF  The Disappearing Man               Ken Honeywell -#1282
 F   Consequences                       Nonie Veccia -#1283
 H   Confinement (RFDR)                 Christopher Withington -#1284
 SF  Secondary Causes                   Paul Melko -#1285
 SF  Star Trek: Oaths of Duty, Vows of Honor, Chapter 1  Carol Hightshoe -#1286
 F   Talk Soup                          Richard C. Schatz -#1287
 SF  The Soul Takers Saga, Part I, Chapters 1-5  Johnathan W. Sluder -#1288
 H   Satan Machine Ch 2                 Joshua Baxter -#1289
 SF  Closed Loops                       Chris Taylor -#1290
 F   The Hospital Visit                 Nita Van Cleave -#1291
 SF  Live Entertainment                 Lindsey Spear -#1292
 SF  Out of the Frying Pan and Into the Shower  John Mierau -#1293
 SF  The Fugitive, Introduction         Lonnie M. McGhee Jr. -#1294
 SF  In the Cards                       Jeff Verona -#1295
 SF  The Quickening, Chapter 1          Deborah S. Bryant -#1296
 SF  Standards of Living                F. Ian Ronald -#1297

Week of 25-Mar-1998 (Crits due 1-Apr-1998):
 SF  Habitat                            Chris LaBarge -#1298
 SF  In The Battle Zone                 John Owen -#1299
 SF  Feeders                            David L. Felts -#1300
 F   Untitled Chapter 1                 Todd Wiley -#1301
 SF  Autumn Beauty                      Lisa Feld -#1302
 SF  Fusion                             Shane Hudson -#1303
 F   Legacy of a Legend                 Michael Akinde -#1304
 F   The Curse that is No Curse at All  Leigh Kimmel -#1305
 SF  The Silicon Kiss                   Shawn Menne -#1306
 H   The magician                       Adam Perrone -#1307
 H   The Dead Town Chapter One          Roberta Floyd Kresse -#1308
 F   In the Footsteps of a Hero         Teri Vaughan -#1309
 F   Who We Fight                       Rachel Walker -#1310
 SF  The Turing Testers                 Michael A. Burstein -#1311
 H   Base Instincts                     Kimberly Brown -#1312

Week of 1-Apr-1998 (Crits due 8-Apr-1998):
 F   The Final Ride                     [mpc] Connie L. Carnley -#1313
 F   Umbrella Man                       Geoff Wedig -#1314
 SF  The Colors of Chaos                Shannon Appel -#1315
 SF  Club Med                           Lorrie Kralka -#1316
 F   The Half Drawn Curtain             Raechel Henderson -#1317
 H   Skinwalker:Watch the Road          Mike Nelson -#1318
 H   Screenslaver                       R. K. Bose -#1319
 F   Moss (prologue)                    Corey Kellgren -#1321
 SF  Aff_Ec_tive Disorder               Raymund Eich -#1322
 F   Guild Rebellion, Chapter 1         Amanda Dickerson -#1323
 H   The Gift                           Edward Stack -#1324
 F   GOLDEN DRAGONS, Chapters 1 - 3 and synopsis  Jennifer Dunne -#1325
 SF  Harpies                            Alan DeNiro -#1326
 F   The Heart of the Warrior           Tina M. Good -#1327
 F   Poems                              Andreas Sandstedt -#1328
 SF  Trusting Reality	                Harold Chester -#1329
 F   Kolo, the Half-Troll, Chapter 1 (Revised)  Bonnie Newton -#1330

Week of 8-Apr-1998 (Crits due 15-Apr-1998):
 SF  A Warring Peace, chapters 1-4  (rewrite)  Mette Ivie Harrison -#1331
 F   Habitat                            Richard Johnson -#1332
 H   The Monsters' Club                 Hank Quense -#1333
 SF  What Happens At Penosi Cluster...  Michael Petersen -#1334
 SF  The Reprehensible Sale of Mr. Devere  Mia Molvray -#1335
 F   22-Second God                      Tammy Mackenzie -#1336
 F   My Betsy                           Diana L. Sharples -#1337
 SF  Computing the Future               Mike Lewis -#1338
 H   The Cabinet                        Noelle Lynn Pereira -#1339
 F   Release, Prologue                  Eden Dorn -#1340
 F   Secret Violations, Chapter 1       T. M. Spell -#1341
 F   Some Enchanted Evening             Kathy Tompkins -#1342
 SF  Inhabited                          Marjorie Fergusson -#1343
 F   Waiting for the Dawn               Liisi Ojamaa -#1344
 F   Blade, Chapters 1-3                David Felts and Carol Tompkins -#1345
 SF  Writing Up                         William Vetter -#1346
 F   Unity                              Eugene Polonsky -#1347
 F   Dragonbrides                       Jan Matthews -#1348
 SF  Karma Police                       Andy Reynolds -#1349

Week of 15-Apr-1998 (Crits due 22-Apr-1998):
 SF  Kindred Awakening                  [mpc] Michael J. Zadra -#1350
 F   Faith and Rebellion, chapters 0-3  Lars Seme -#1351
 F   The Want Ad                        Claudia Bergstrom -#1352
 SF  A Measure of Evil                  Cliff Speedy -#1353
 F   The Charmer                        Jim Riel -#1354
 SF  Side Path                          Daniel I. Tenner -#1355
 F   The Gamber                         John Forbes -#1356
 H   Mothers                            Erika Swinnich -#1357
 F   Salt and Alchemy                   Sandra Skalski -#1358
 SF  See You Later Alligater            Kari T. Tulinius -#1359
 F   To Stop a War                      Nonie Veccia -#1360
 SF  Worms Believe in God               Daniel Arenson -#1361
 H   The Beggar                         Christopher Withington -#1362
 F   Hashakana, Chapter 2               Liz Martin -#1363
 SF  Pre-owned Goods                    Lindsey Spear -#1364
 SF  Down the Line                      Jeff Verona -#1365
 SF  Spire of Darkness                  Guy Salvidge -#1366
 H   Satan Machine Ch.3                 Joshua Baxter -#1367

Week of 22-Apr-1998 (Crits due 29-Apr-1998):
 F   Lady of the House (The Step-mother's Story)  [mpc] Mette Ivie Harrison -#1368
 F   Consequences (rewrite)             [mpc] Nonie Veccia -#1369
 SF  Country Boy                        Margaret McGaffey Fisk -#1370
 SF  Gone Fishin                        Agust Agustsson -#1371
 SF  The Archimedes Principle           Damian Sinclair -#1372
 F   Elona, Book 1, Chapters 1 and 2    Steve Turnbull -#1373
 F   The Bloodstone Sword               Phillip Berry -#1374
 F   Aberration                         Lisa Feld -#1375
 SF  Escape                             Christine LaBarge -#1376
 SF  I Love a Parade                    Jonathan Paton -#1377
 H   The Dead Town Chapter 1B           Roberta Floyd Kresse -#1378
 SF  The Boozlebouer Effect             Scott Stoddard -#1379
 SF  The Room                           Collin Marshall -#1380
 F   The Flow of Life	                Lynn David Hebert -#1381
 F   Adventure in SkyrFai               Mike Jones -#1382
 SF  Franklin's Almanac                 Jonathon M. Sullivan -#1383
 SF  Unknown Origins                    Kathy Shea Brown -#1384
 SF  Sex, Lies and Mushroom Mites       Knut A.Berg -#1385

Week of 29-Apr-1998 (Crits due 6-May-1998):
 SF  O, Mother!                         Dannis Cole -#1386
 SF  Salvage                            Max Barry -#1387
 F   Grave Mistake                      Lorrie Kralka -#1388
 H   Skinwalker:The Circle              Mike Nelson -#1389
 F   Becky                              Mary Beth Johnson -#1390
 H   The Small Church on the Hill       Julian Brown -#1391
 F   Worth Dying For                    Raechel Henderson -#1392
 F   The Janissary                      Alan DeNiro -#1393
 F   The Gift                           Thomas Claburn -#1394
 SF  War                                Shawn Considine -#1395
 F   Promises                           Jen Coleman-Reese -#1396
 SF  The Stardust Trumpets              Shawn Menne -#1397
 H   Nightmare                          Nikki Almond -#1398
 H   Blue Faience, Yellow Sun           Joe Murphy -#1399
 SF  Mother Knows Best                  Paul S. Jenkins -#1400
 SF  I Label Thee Aberrant              Rachel Walker -#1401
 F   The old tower                      Adam Gray -#1402
 SF  The Price of the Samaritan         Jennifer L. Johnson -#1403

Week of 6-May-1998 (Crits due 13-May-1998):
 SF# Fat Heat                           Robert E. Rogoff -#1404
 F   Hashakana, Chapter 2&3             [mpc] Liz Martin -#1405
 F   The Price of Heaven                Fran Wolber -#1406
 SF  Seven Views of Planet Cordonilla   Fred Ollinger -#1407
 F   The Great Flood                    Jim Howes -#1408
 H   The Seeker                         Adam Perrone -#1409
 SF  Targeteer                          Harold Chester -#1410
 F   The Village Monk                   Tammy Mackenzie -#1411
 H   The Perfect Father                 Mike Lewis -#1412
 SF  Life Sentence                      Andrew Crisp -#1413
 SF  Imprints                           William Vetter -#1414
 SF  Inhabited, Chapters 2              Marjorie Fergusson -#1415
 SF  Politicians                        Jay Carper -#1416
 F   Bus Stop                           E.C. Sharp -#1417
 F   Tinkerbell's Hell                  Marian Rosenberg -#1418
 SF  Taking It With You                 John Aegard -#1419
 F   Goddess of a Bride                 Jeanette Snyder -#1420
 F   Rainbow Bridge                     Hank Quense -#1421

Week of 13-May-1998 (Crits due 20-May-1998):
 F   Tension                            Dawn Duneman -#1422
 SF  Lord of Victories Ch 0             Lewis Sellers -#1423
 SF  Discontinuity                      Tom Sweeney -#1424
 SF  The Vigilance                      Nye Marnach -#1425
 F   3 Brain Farts                      e.c. sharp -#1426
 F   The Making of a Drow/Like a Thief in the Night  Tim Keogh -#1427
 SF  Trash                              Ken Honeywell -#1428
 SF  The Pygmalion                      Kathy Shea Brown -#1429
 H   A Keg of Cherry Wheat              Jerry Bryson -#1430
 H   Urban Legend                       Grace Agnew -#1431
 F   The Blood-Glaive                   Michael D. Jones -#1432
 H   Turned                             Christopher Withington -#1433
 F   Leave Taking                       Daniel Arenson -#1434
 F   Untitled, Chapters 0-1             Cliff Speedy -#1435
 F   "To Die a Good Life"               Daniel Tenner -#1436
 SF  More Than Kin (revised)            Jeff Verona -#1437
 F   Straddleshade                      Erika M. Swinnich -#1438
 F   Courting a Swan Song, Chapter 1    Eden "Mouse" Dorn -#1439
 F   The Price                          John Forbes -#1440

Week of 20-May-1998 (Crits due 27-May-1998):
 SF# Artifictions                       Robert E. Rogoff -#1441
 F   Trollhunters                       Jim Wagner -#1442
 SF  Don't Rest In Peace                Michael Petersen -#1443
 H   Killing Me                         Markus Beamer -#1444
 SF  Forget Me Not                      Geoff Wedig -#1445
 F   Deus Ex Machina                    Michael Kenny -#1446
 SF  Choices [LaBarge]                  Chris LaBarge -#1447
 F   Mikali Lost                        Francelia Belton -#1448
 F   Magic's Gate, ch1-3, RFR           Beth Bernobich -#1449
 F   The Hairy Ballerina                Claudia Bergstrom -#1450
 SF  The Monkey                         David L. Felts -#1451
 SF  More to Life Than Death            Andy Reynolds -#1452
 H   Sparky                             Mike Jones -#1453
 SF  Small Rebellions                   Lisa Feld -#1454
 SF  killing the hydra                  Mette Ivie Harrison -#1455
 SF  The Eternal Void                   Agust Agustsson -#1456
 SF  Xenobiology                        Julian Todd -#1457
 F   So What, You're Afraid of Owls Now?  Scott Stoddard -#1458
 F   Untitled Chapter 2                 Todd Wiley -#1459

Week of 27-May-1998 (Crits due 3-Jun-1998):
 SF  You May Be Our One Trillion Dollar Winner!  [mpc] Jenn Mottram -#1460
 SF  Kajuu				Andrew Burt -#1461
 SF  Concerto in c                      Alistair G. Thomas -#1462
 SF  Closed Loops  (rewrite)            Chris Taylor -#1463
 F   The Fairyborn                      Amanda Dickerson -#1464
 F   Blood Heart                        Kerry Smith -#1465
 F   Dragonmage                         Jim Ponsonby -#1466
 SF  Tinker's Plage                     Stephen B. Pearl Chapter 1 Knife Healing -#1467
 F   Mightier than the Sword            Lorrie Kralka -#1468
 F   Reflecting Fires                   Thomas Claburn -#1469
 SF  The Mechanics of a Dream           Shawn Menne -#1470
 H   By the Sea                         Julian Brown -#1471
 SF  Twenty Thousand Leaves Under the Sea  Alan John DeNiro -#1472
 F   Strobes                            Joe Murphy -#1473
 F   Midnight Spire, Chapter 1          L-J Baker -#1474
 SF  Camouflage                         Toby Buckell -#1475
 H   Reality Happens                    Kimberly Brown	 -#1476
 SF  Echoes Down an Endless Hall (Revised)  Yoon Ha Lee -#1477

Week of 3-Jun-1998 (Crits due 10-Jun-1998):
 SF  Crossroads Goddess (1205 Departure Rewrite)  John Aegard -#1478
 SF  A Soul for Joey                    Jay Carper -#1479
 F   Forever About to Fall              Jeanette Snyder -#1480
 SF  The Bob War                        William Vetter -#1481
 SF  Kaisha                             Fred Ollinger -#1482
 F   The Changeling                     Daniel E. Springfield -#1483
 SF  Software Reviewer                  Philip Hotte -#1484
 SF  The Trivium                        Paul S. Jenkins -#1485
 F   Soul Kitchen                       Wendy A. Shaffer -#1486
 SF  Karmic Dog                         Michael Staples -#1487
 F   Heavy Scented Darkness             Emma Thomas -#1488
 SF  Voyage of the Puddlejumper         Chris Ellis -#1489
 H   Glen Echo Creek                    William Brown -#1490
 SF  Fortune's Turn                     Mary Malloy -#1491
 SF  Asylum                             Daniel LeVangie-Stricklen -#1492
 F   Piece of the Game                  Scott Neigh -#1493
 F   Faith and Rebellion (rewrite)      Lars Seme -#1494
 F   The Porrage King                   Jerry Bryson -#1495
 F   Release, Chapter 1 (revised)       Eden "Mouse" Dorn -#1496

Week of 10-Jun-1998 (Crits due 17-Jun-1998):
 F   Prophecies, Chaps 1-2              [mpc] David L. Halterman -#1497
 SF  Gendarme's Grail                   Scott Beem -#1498
 SF  The Lynching of Jack Cutter        Ralan Conley -#1499
 F   Midnight on Stage                  Jennifer Whitson -#1500
 F   Sixth Sense, Chapters 4-5          Michael Akinde -#1501
 F   Runaways, Chapter1                 Mary Beth Johnson -#1502
 F   The Fraxinus Series                Phillip Berry -#1503
 SF  See You Later Alligater (revised and lengthened)  Kari T. Tulinius -#1504
 SF  When in Doubt, Take a Left         Tom Sweeney -#1505
 H   The Bleeding Earth                 Adam La Rusic -#1506
 SF  Phoenix Rising                     Grant Azrael -#1507
 SF  Nanny Estate                       Karen Traviss -#1508
 F   Frankly                            Daniel Tenner -#1509
 F   Cheating Death                     Lynn David Hebert -#1510
 F   Walking through Fire, Walking on Clay  Mitchell Maltenfort -#1511
 H   Ghostly Visitors                   Patti Miller -#1512
 F   The Greatest Spell Never Cast      Melinda Thielbar -#1513
 F   Blade                              John L. Meyer -#1514

Week of 17-Jun-1998 (Crits due 24-Jun-1998):
 F   Nadine's Story Chapters 1-2        [mpc] Leigh Kimmel -#1515
 F   Prophecies, Prologue               David L. Halterman -#1516
 F   Thomas                             Mike Jones -#1517
 SF  Lifers                             David L. Felts -#1518
 SF  The Day of the Return              Chad Walker -#1519
 F   Necklace of N'larikan              Steve Lazarowitz -#1520
 F   Black Smoke and Wizards            Mark L Stangland -#1521
 SF  Tommy                              Kathy Shea Brown -#1522
 H   Miss Ida's Place                   Sharon Peterson -#1523
 SF  Virtually Corrupted                Scott Stoddard -#1524
 SF  The Search For Poppa Lowe & Company (Revised)  Lawrence W. Lanum -#1525
 SF  Lost and Found                     Sheryl Lo Monaco -#1526
 F   The Image Stone                    Mette Ivie Harrison -#1527
 F   Shift of Allegiance                Jim Riel -#1528
 SF  Travels of Guy                     Derek Barton -#1529

Week of 24-Jun-1998 (Crits due 1-Jul-1998):
 F   Death's Apprentice                 Jonathan Moskovich -#1530
 F   The Master                         Marjorie Manning -#1531
 F   A Lizard's Tale                    Stephen A Poole -#1532
 SF  Coming of Age in Samoa-Cluster     Raymund Eich -#1533
 F   And the Skies Fell, Ch. 1          Sarah E. Palmero -#1534
 SF  Spliced                            CB Campbell -#1535
 SF  Down the Line (revised)            Jeff Verona -#1536
 F   A Matter of Honor                  Lorrie Kralka -#1537
 SF  The Trail of Bones                 Julian Todd -#1538
 SF  Resistance                         Thomas Claburn -#1539
 F   Sacrifice the Sun and Rain         Amanda Dickerson -#1540
 F   The Thread of Understanding        Joe Murphy -#1541
 F   The Wizard of Orange               Alfred Fernandez -#1542
 SF  The Butterfly Effect               Alistair G. Thomas -#1543
 F   Perdition                          Matthew Baron -#1544
 H   The Headhunter                     Robert Cleary -#1545
 F   Volinette's Song                   Martin F. Hengst -#1546

Week of 1-Jul-1998 (Crits due [*] 15-Jul-1998):
 F   Nadine's story Ch3-5               [mpc] Leigh Kimmel -#1547
 SF  Losing Face                        Nye Marnach -#1548
 F   Of Warriors and Demons....         Stephen A Poole -#1549
 SF  Cheytanya's Eyes                   Shawn Menne -#1550
 SF  The Magician's Drug                Nicholas Bronson -#1551
 F   To Hel and Back [Freer]            Dave Freer -#1552
 SF  Tinker's Plague ,Chapters 1 and 2, Revised  Stephen B. Pearl -#1553
 F   Culinary Champion                  Ruth Ellen Kostic -#1554
 F   Splendor In The Desert             Thomas Claburn -#1555
 F   The Light Seeker, Chapters 0-1     Sarah Kelderman -#1556
 F   The Princess, the Duke, and the Captain-General ch. 1-2 Revised  Jim Wagner -#1557
 SF  You've Got to Give Us Credit -- a Story of Fishy Love	  Harold Chester -#1558
 SF  Accord                             Guy Salvidge	 -#1559
 F   Witnessing                         Scott Neigh -#1560
 F   The True Meaning of Names          Cleveland Kent Evans -#1561
 SF  BioReady Tech Support              Jay Carper -#1562
 H   The Party                          Julian Brown -#1563
 SF  Chrysalis                          Emma Thomas -#1564
 F   Legend of the Lake (Rewrite)       Jeanette Snyder -#1565
 SF  VirtuComp Inc.                     Kevin King -#1566
 H   Enlightenment                      Michael Scott -#1567
 SF  Tears for Heather                  Steven M. Rossiter -#1568
 F   The Honey Hunters                  Jeff Cates -#1569
 F   Ancient Magic                      Mary K. Malloy -#1570

Week of 15-Jul-1998 (Crits due 22-Jul-1998):
 F   Joshua, Chapters 0-4               Greg Kurzawa -#1571
 SF  Burning Bright                     Gabriel Logan-Wright -#1572
 SF  Fully Connected  			Andrew Burt -#1573
 F   A Matter of Perspective            Fran Wolber -#1574
 F   Night Song                         Connie Anderson -#1575
 F   To Hel and Back, Chapter 1         L-J Baker -#1576
 SF  Seven Views of Planet Cordonilla (revision)  Fred Ollinger -#1577
 SF  A Contagion of Cows                William Davis -#1578
 SF  Discontinuity                      Tom Sweeney -#1579
 F   Release, Chapter 2                 Eden Dorn -#1580
 SF  Let's Do Lunch                     Karen Traviss -#1581
 F   In Defense of Darkness             Melinda Thielbar -#1582
 SF  Atlantis, Ohio                     Mark Siegel -#1583
 F   Shift                              Omaha Sternberg -#1584
 H   Emotional Rescue                   Weston Ochse -#1585
 H   Mind Shadow, Chapters 0-4          Keith Pyeatt -#1586
 F   Bruk                               Shawn Considine -#1587
 SF  Afterlife                          Chris Boone -#1588
 SF  Coming Up Short in Rel Space       William Vetter -#1589
 SF  Omnibus                            Jackie Ramirez -#1590

Week of 22-Jul-1998 (Crits due 29-Jul-1998):
 SF  Potential Energy                   Max Barry -#1591
 F   The Fatal Spiral, Chapters 1-3     Lisa Feld -#1592
 F   Springtime in Camelot              Hank Quense -#1593
 F   The Burning Man                    Paul Melko -#1594
 F   The White Circle                   David L. Felts and Carol Tompkins -#1595
 SF  Justice Machine                    Kim Imes -#1596
 SF  Ta'abor, Chapter 1                 Mel LeBlanc -#1597
 SF  Late Night Debug                   Philip Hotte -#1598
 F   The Circus                         Howard Weinberg -#1599
 SF  Bioworld                           Ronald Hurst -#1600
 SF  Serpent's Night                    Isaac S. Gonzalez -#1601
 SF  Temporal Dreams                    Kalle Hasselström -#1602
 H   Karen Loves Keith                  John Sullivan -#1603
 F   Become A Colonist!                 Lawrence W. Lanum -#1604
 SF  It's a Virtual Life                Bill Van Meter -#1605
 F   The Casualty                       Miranda Higdon -#1606
 SF  Donor                              Scott Beem -#1607
 SF  Eye of the Beholder                Mette Ivie Harrison -#1608
 F   Flight of the Dragons, Prologue    Chris Landry -#1609
 H   Serena                             Lavelle Cannon -#1610

Week of 28-Jul-1998 (Crits due [*] 12-Aug-1998):
 F   Mirrored Aper                      Norm Davis -#1611
 SF  The Burning Heart, Chapter 1       Margie E. Prindle -#1612
 F   Destiny's Shadow                   Lorrie Kralka -#1613
 F   The Woodsman's Tale                Thomas Claburn -#1614
 SF  A Dog For Benjamin                 Joe Murphy -#1615
 F   The Ambassadors, Chapter 1         John Meyer -#1616
 F   A Troublesome Soul                 Stephanie Thomas -#1617
 F   All the World                      Jason Travis -#1618
 SF  A Better Future                    Douglas Triggs -#1619
 SF  Stone                              Marnie Goodbody -#1620
 F   Blight, Chapter 1                  Julie Anne Eason -#1621
 F   An Uncertain War Strategy          Enri Herrera -#1622
 F   Unititled, chap 1 (revised)        Cliff Speedy -#1623
 F   Retirement                         Jeff Rybak -#1624
 F   Catalyst, Chapter 1                A. V. Mclachlan -#1625
 F   The Book                           Claudia Bergstrom -#1626
 H   The Karma Salesman                 Maureen A. Rider -#1627
 SF  When Angels Die                    Daniel R Lix -#1628
 SF  And Every Man's Soul His Own       David L. Felts -#1629
 F   The Best of Both Worlds            Emma Thomas -#1630
 F   Warriors of the Sensitive Soul     Jeanette Snyder -#1631
 SF  The Territory of Minsky            Kathy Shea Brown -#1632
 SF  Robyn Little                       David DeGraff -#1633
 SF  The Ring of Truth                  Sheryl Lo Monaco -#1634
 SF  Interstellar Tradeoff              Julian Todd -#1635
 F   Faith and Rebellion, ch 4 (RFDR)   Lars Seme -#1636

Week of 12-Aug-1998 (Crits due 19-Aug-1998):
 SF  Framework                          Dan Mason -#1637
 F   The First Peace                    Jennifer Leigh Johnson -#1638
 F   Death and the Wise Woman           Kathleen Brandt -#1639
 F   The last of the people of the colours  Dave Freer -#1640
 SF  That's What They Do                Daniel Arenson -#1641
 SF  A Walk in the Shadows              Sean Byrd -#1642
 F   Endangered Species                 Pamela A. Lord -#1643
 SF  The Culling Fields, Chapter 13     G. Eric Morgan -#1644
 F   Il Leone                           L-J Baker -#1645
 F   Passages                           Jim Anderson -#1646
 F   Book Search                        Keran Connor -#1647
 F   The Second Horseman                Carol Hightshoe -#1648
 H   What Grows Round, Stays Round      Steven W. Jenkins -#1649
 SF  Nothing But Vain Fantasy           Elizabeth Cameron -#1650
 SF  Red Soil                           D.K. Smith -#1651
 SF  Spiraling Time                     John H. Creel -#1652
 SF  Wind, Chapters 0-4                 David Stephenson -#1653
 F   Of Sig and Farel                   Sarah Kelderman -#1654
 SF  Alternatives                       Mike Lewis -#1655
 H   Garbage Day                        Daniel Hively -#1656

Week of 19-Aug-1998 (Crits due 26-Aug-1998):
 F   Untitled, Chapters 0-4             Amy Lindsey -#1657
 F   A Matter of Perspective (revised)  Fran Wolber -#1658
 SF  Shared Experiences                 Chris Boone -#1659
 SF  Worm Hole                          Hank Quense -#1660
 H   Make Believe                       Stephen A Poole -#1661
 H   Overcrowding                       Jonathon M. Sullivan -#1662
 F   Nadine's story Ch6-9               Leigh Kimmel -#1663
 H   Home, Please                       Pete Bullock -#1664
 H   Satan Machine ch.4                 Joshua Baxter -#1665
 F   The Bloodstone Sword, Chapters 0-1 (Re-Write)  Phillip Berry -#1666
 SF  One's Own Destiny                  Francelia Belton -#1667
 SF  Karma [Bronson]                    Nicholas Bronson -#1668
 SF  Life, Love and Customs Clearance Requirements  Andy Reynolds -#1669
 F   Untitled                           Mike Chapin -#1670
 F   Spark of Onan                      Bruce Nichol -#1671
 SF  Amber                              William Vetter -#1672
 F   Choices                            Edward Stack -#1673
 H   The House                          Julian Brown -#1674
 SF  Pirates of Jupiter's Moons, chp 1  Robert Vanderwoude -#1675
 H   The Comprehensive                  Bill Kimler -#1676

Week of 26-Aug-1998 (Crits due 2-Sep-1998):
 SF  How Venus Lost Her Arms            [mpc] Daniel Arenson -#1677
 SF  One World                          Avi Bar-Zeev -#1678
 H   The Tunnel                         Stephen Thorpe -#1679
 F   Shadow Hunt, Prelude + Chapt 1     Teri Vaughan -#1680
 SF  Amateurs!                          Samantha Peterson -#1681
 SF  Inventing Paper                    Thomas Claburn -#1682
 F   Old Soldiers                       Jeff Rybak -#1683
 H   Tommy's Secret                     Kathy Shea Brown -#1684
 F   Squeeze                            Enri Herrera -#1685
 F   Rude Awakenings                    Emma Thomas -#1686
 F   Remembrance                        Erin Avery -#1687
 H   NewDeath.com                       Joe Murphy -#1688
 SF  Victim of Fashion                  Mark Siegel -#1689
 SF  The Thorn                          Scott W. Starkey -#1690
 SF  Earth Empath                       Lesa Wilke -#1691
 H   Waking Dream                       Allen Woods -#1692
 F   The Night of the Manticore         Lynn David Hebert -#1693
 F   Trouble In Arcana County -- revised -- Chapter 1  Mary Malloy -#1694
 F   Dealing With Demons                David Hamilton -#1695
 H   He's Got The Look                  Weston Ochse -#1696

Week of 2-Sep-1998 (Crits due 9-Sep-1998):
 SF  The Other Me                       [mpc] Ken Honeywell -#1697
 H   The Encounter                      Julia Rudden -#1698
 SF  Kernels of Truth                   Stephen B. Pearl -#1699
 SF  Act of Mercy                       Patricia Brown -#1700
 SF  Temporal Madness                   Allison Grosch -#1701
 SF  A Second Chance                    Jonathan Paton -#1702
 SF  Point Five C                       Dan Salas -#1703
 H   Naked Terror                       Ronald Hurst -#1704
 SF  Space Pioneer                      Mette Ivie Harrison -#1705
 F   Falling                            Jeanette Snyder -#1706
 F   Evidence of Susan                  Steven W. Jenkins -#1707
 F   Light Seekers (re-write)           Sarah Kelderman -#1708
 F   That Damn Fool Dog                 Pamela A. Lord -#1709
 F   The First Peace, ch 2              Jennifer Leigh Johnson -#1710
 SF  Green Dragon                       Jay Amsler -#1711
 F   The M-Extractor                    Joe Williams -#1712
 F   A Wilder God                       David L. Felts -#1713
 F   Winter's Season                    Cheryl L. Thompson -#1714
 SF  Bug Zapper Blues                   Tom Maris -#1715
 SF  Dirt Beneath their Nails           Daniel Parke -#1716

Week of 9-Sep-1998 (Crits due 16-Sep-1998):
 F   The Old Place                      [mpc] john k zimmerman -#1717
 F   The Garbage Man                    Bob Kegebein -#1718
 F   Nur-Hunters                        Kevin L. McPherson -#1719
 H   Satan Machine ch.8,9               Walter E. Lane -#1720
 SF  Less Alone but More Insane         Emil M Heidkamp -#1721
 SF  Mechanics of Faith (part 1)        Fred Ollinger -#1722
 SF  Moonraking                         Karen Traviss -#1723
 SF  Complete Resuscitation             Douglas J. MacAskill, DO -#1724
 SF  Smoke                              Mike Lewis -#1725
 F   Veils                              Bernita Stark -#1726
 F   Veil of Tears [Prophecies (revised)]  David Halterman -#1727
 SF  New Beginnings, chapter 1          Timothy M. Helbing -#1728
 SF  Pthaalo's Kiss                     Kelly J. Foll -#1729
 SF  Cleanliness                        Marnie Goodbody -#1730
 SF  The Promotion Game                 Chris Boone -#1731
 SF  Oath of the Thanopath              Jonathon M. Sullivan -#1732
 SF  Graduation Day                     Julian Brown -#1733
 H   The Itch                           Daniel Hively -#1734
 H   Satan Machine ch.5                 Joshua Baxter -#1735
 H   Mortality Rates                    Hank Quense -#1736

Week of 16-Sep-1998 (Crits due 23-Sep-1998):
 F   Veil of Tears (Chaps 3-5)          [mpc] David Halterman -#1737
 SF  Landfall                           Douglas Triggs -#1738
 SF  Destiny's child                    Paul Bristow -#1739
 SF  The Sacrifice of Berra 4           Dave Erickson -#1740
 SF  Venom                              Doug MacAskill -#1741
 F   No Rain                            Erik Wessel -#1742
 SF  The Masters of the Universe        Leslie Richards -#1743
 F   Farian's Spell                     Matthew Corradi -#1744
 F   Untitled, prologue, and ch. 5-9    Amy Lindsey -#1745
 F   The Dragon on the Roof             Edward Stack -#1746
 SF  Where Joe DiMaggio Went            Jim Riel -#1747
 F   The Princess, the Duke, and the Captain-General, Ch. 3  Jim Wagner -#1748
 F   Face the Wind                      Chris Taylor -#1749
 SF  Born For The Fifth Of November     Andy Reynolds -#1750
 SF  The End of the Carnival            Pat Brown -#1751
 SF  The Corporate Ladder               Jeff Rybak -#1752
 H   Satan Machine ch6                  Joshua Baxter -#1753
 SF  The Territory of Minsky (revised)  Kathy Shea Brown -#1754
 SF  Through the Grape Vine             Avi Bar-Zeev -#1755
 F   Two Zombies                        Mark Siegel -#1756
 SF  Guns of Our Youth                  Samantha Peterson -#1757
 F   Watchman of the Sands              Thomas Claburn -#1758

Week of 23-Sep-1998 (Crits due 30-Sep-1998):
 F   Untitled                           Mike Chapin -#1759
 F   We must send Columbus              Enri Herrera -#1760
 F   Shadow Hunt, Chapters 2-3          Teri Vaughan -#1761
 F   The Stone Carver                   Marian Goldeen -#1762
 SF  Fortune's Turn                     Mary K Malloy -#1763
 F   Canis Lupas, Chapter 0             James Stevens Black -#1764
 SF  Soul Night                         Sheila Crosby -#1765
 H   The Fireweed Eldorado              Joe Murphy -#1766
 F   A Reverence Lost                   Thomas A. Cameron -#1767
 F   To Kiss A Princess: A Fairy Tale; Part I, ch 1-8  George Pendleton -#1768
 SF  Animalism                          Jeff Cates -#1769
 H   The Olympiad                       Robert W. Busler -#1770
 F   Life, Liberty and the Pursuit of Happiness  Fran Wolber -#1771
 F   The Last Wish                      Alfred Fernandez -#1772
 F   Kirsti Troll Slayer, Chapters 1-3  Elaine A. Lovitt -#1773
 SF  Eamus                              Brandon Butler -#1774
 F   Winter on the Shore                Jeanette Snyder -#1775
 H   Watcher and Hunter Waits           Sarah Kelderman -#1776
 H   Bird Of Paradise                   P. Lord -#1777

Week of 30-Sep-1998 (Crits due 7-Oct-1998):
 SF  Infernal Games                     Jay Amsler -#1778
 SF  Idyllic Hell                       Ron Hurst -#1779
 F   Moya                               Peadar O Guilin -#1780
 F   How Venus Lost Her Arms (revised)  Daniel Arenson -#1781
 H   The Hunted                         Jackie Ramirez -#1782
 SF  The Mind Parasites                 Tom Maris -#1783
 F   Starting Over                      Sarah E. Pearson -#1784
 H   Slow Runner                        Trent Dickson -#1785
 F   Man and Child                      Jonathan Hudson -#1786
 SF  It Hurts                           Mette Ivie Harrison -#1787
 F   Dream Girl                         Kathy Tompkins -#1788
 F   Dekker's Choice                    Steven B. Todd -#1789
 SF  With Style, Grace, and Blood       Jack Zuzeek -#1790
 SF  Mirage                             Gerald W. Kennedy -#1791
 F   An Old Legend                      Cheryl L. Thompson -#1792
 F   The White Sword(Chapter 1: New Beginnings)  Mark Bringman -#1793
 SF  I was a Teenage Cataholic          Tom Maris -#1794
 F   A Darkness Inside                  Chris Boone -#1795
 SF  but for the grace of God...        Bernita Stark -#1796
 F   [Really] To Kiss A Princess: A Fairy Tale; Part I, ch 1-8  George Pendleton -#1797
 SF  Cobalt Blue                        Peter Greyy -#1798

Week of 7-Oct-1998 (Crits due 14-Oct-1998):
 F   Kings' Blood                       Lucy Cohen Schmeidler -#1799
 F   The First Peace, ch 3              Jennifer Leigh Johnson -#1800
 SF  Buzz Jockey                        Nicholas Bronson -#1801
 F   Else                               Liz Martin -#1802
 SF  The Meat's Here                    William M. Vetter -#1803
 F   The Omen Tree, opening cha         Timothy M. Nall -#1804
 F   A Boy's Tale                       Iain Darby -#1805
 F   Lightbinder                        Sandy Chene' -#1806
 SF  Innate, Chapter 1                  Valerie Emanuel -#1807
 H   Satan Machine ch. 10,11            Walter E. Lane -#1808
 SF  Runnin For It                      Julian Brown -#1809
 H   Tommy's Dark Secret (revised)      Kathy Shea Brown -#1810
 SF  STARFIRE: Project 5,000            Samantha Peterson -#1811
 SF  FOADAT and the Hologram Kid        Doug MacAskill -#1812
 SF  Insubstantial                      Mark Siegel -#1813
 SF  Blockbuster                        Avi Bar-Zeev -#1814
 SF  Like Magic                         Thomas Claburn -#1815
 F   Chronicles of Datra Mer, Chapters 0-1  Allison Grosch -#1816
 H   "With This Ring..."                Deanna Pursley -#1817
 SF  Where There's Smoke                Ron Leming -#1818

Week of 14-Oct-1998 (Crits due 21-Oct-1998):
 F   To Dream, No More                  [mpc] Michelle Leigh Larson -#1819
 F   Untitled, ch. 9 - 13               Amy Lindsey -#1820
 F   Blood Revenge                      Chris McDaniel -#1821
 F   The Rebels of The Circle, Chapters 1-3  Stevie Heong -#1822
 SF  Paradies Lost                      Edward Stack -#1823
 H   George and Emily                   Julie A. Turnbull -#1824
 F   The Emperor Discovers That His Clothes Are Not So New: A Fable  Kelly J. Foll -#1825
 F   The Witch and the Wiseguy          Bob Abborino -#1826
 H   The Crows of Longyear Creek        Eric M. Cherry -#1827
 SF  The Sacrifice of Berra 4 - chap 2  Dave Erickson -#1828
 SF  Envied For My Innocence            Andy Reynolds -#1829
 F   Moon Rising, Part 1                Bruce Nichol -#1830
 F   The Lungs of the World             Paul S. Jenkins -#1831
 F   Sacrifice                          Paul Bristow -#1832
 SF  Vegetables of the Gods             Robert Cleary -#1833
 SF  Crux of Fate                       Scott J. Beem -#1834
 SF  The Rainy Miss Sally               Andrew B. Wardlaw III -#1835
 SF  The Cost of Doing Business         John Mierau -#1836

Week of 21-Oct-1998 (Crits due 28-Oct-1998):
 F   Emerald, Chapters 1-2              [mpc] Sandy Chene' -#1837
 F   Variety of Poems		        Jessica Broderick -#1838
 F   An Idle Life                       Jeanette Snyder -#1839
 SF  The Correction of the Social Mourning  Enri Herrera -#1840
 SF  Secrets Two of Gaberine Blue       Joe Murphy -#1841
 F   Avantus                            James Stevens Black -#1842
 F   Curse of Criterion, Chapters 0-2   Dan Swigert -#1843
 F   The Witch's Boy, Prologue and Chapter 1  Marnie Goodbody -#1844
 F   Office Wishes                      Mary K. Malloy -#1845
 F   A Path Between                     Beth Bernobich -#1846
 SF  Rokuro Kubi                        Stephen B. Pearl -#1847
 SF  Descent, Chapter 1                 Terri Sellen & Lyn Triffitt -#1848
 F   Marlboro Man                       William Brown -#1849
 SF  Skin Deep                          Karen Traviss -#1850
 SF  The Price of Home                  David A. Hamilton -#1851
 F   Tao                                Corey Kellgren -#1852
 F   Twisted Soul, Twisted Blood, Ch. 1  Sandy Andrews -#1853
 F   The Metronome                      Shannon Wendt -#1854

Week of 28-Oct-1998 (Crits due 4-Nov-1998):
 SF  Noontide Night (Day 1)             Andrew Burt -#1855
 F   The Demon of Arloros, Chapters 1-2  Helen Kenyon -#1856
 F   The Light Seeker ch.0-1            Sarah Kelderman -#1857
 F   Guinevere                          Naomi Novik -#1858
 F   A Far Away War                     Christopher J. Sargent -#1859
 SF  Still Life                         Jim Anderson -#1860
 F   The Seven Tokens of Kesava - Chapter 1  Brian Turner -#1861
 SF  Six                                Benjamin Cairns -#1862
 F   Singing Magic, Singing Science     Scott Neigh -#1863
 H   Cancer Rising                      Sarah E. Pearson -#1864
 SF  To Sleep, Perchance To Dream       Pamela A. Lord -#1865
 SF  Forgive and Forget                 Dan Thompson -#1866
 F   Seabird: A Fantasy Novel, Preface/ Chapter 1&2  Cheryl L. Thompson -#1867
 SF  Valley of Solitude                 Mette Ivie Harrison -#1868
 F   The Siren                          Julian Todd -#1869
 F   Ruben and the Luftmensch           Leslie Richards -#1870
 F   Moons of Destiny,Ch.1              Bonnie Newton -#1871
 H   Piece of Cake                      Keith A Flores -#1872
 F   Blood of the Jaguar                Chris Markwyn -#1873
 F   The Sundered Realm, Chapter 1      Mark Clavier -#1874

Week of 4-Nov-1998 (Crits due 11-Nov-1998):
 F   Revenge, A Medieval Tale, chapters 1-4  Dorian A. Andreatte -#1875
 F   Witch's Gate                       Steven B. Todd -#1876
 F   Ariel's Rose, Chapters 1-2         Kathy Shea Brown -#1877
 SF  The Meaning of the One             Iain Darby -#1878
 F   Sympathy For Theodore              Thomas Claburn -#1879
 F   Hummingbird Snares                 Liz Martin -#1880
 F   Perchance to Live                  Elizabeth R. Boskey -#1881
 H   satan machine ch.8,13              Walter Lane -#1882
 SF  Lucky Days From the Brand Name You Trust  Emil M Heidkamp -#1883
 F   The Devil Dispatched               Patti Miller -#1884
 SF  The Seal of Solomon, the Seal of Stars  Richard Baldwin -#1885
 SF  Constellations                     Baryon Tensor Posadas -#1886
 F   Time to Go                         Lisa Babick -#1887
 SF  Chains of Being                    Joe Sanders -#1888
 F   The Found and the Lost             Robert W. Busler -#1889
 H   The Bag                            Peadar O Guilin -#1890
 SF  Memorial                           Brian Decker -#1891
 H   Even                               Jerry Newman -#1892
 F   Romany                             Bernita Stark -#1893

Week of 11-Nov-1998 (Crits due 18-Nov-1998):
 F   Goldy                              Darin R. Park -#1894
 F   The Ring of Truth (revised)        Sheryl Lo Monaco -#1895
 F   The Sword and the Rose             Jim Wagner -#1896
 SF  Innate, POV change                 Valerie Emanuel -#1897
 F   (3 poems) Untitled, A Small Cat's Yarn, The Knight with Torso Void  Jonathan Hudson -#1898
 SF  The Econony Model                  Nancy Closson -#1899
 SF  The Sacrifice of Berra 4, Chapter 3  Dave Erickson -#1900
 SF  What Every Pharaoh Needs           Lynn David Hebert -#1901
 SF  The Nobody Murders Part 1          Ron Hurst -#1902
 SF  Down time                          Paul Bristow -#1903
 H   Amathophobia                       Jeff Cates -#1904
 SF  D. X. Cooper                       Julie A. Turnbull -#1905
 F   Rebels of the Circle, Prologue     Stevie Heong -#1906
 F   The Omen Tree, prologue            Timothy M. Nall -#1907
 SF  Preconceptions                     Sheila Crosby -#1908
 SF  Time to Wonder                     Judith Rau -#1909
 SF  Just One Canary                    Paul White -#1910
 SF  Old Souls                          Chris Taylor -#1911
 F   Dating                             Mark Siegel -#1912

Week of 18-Nov-1998 (Crits due [*] 2-Dec-1998):
 F   Nadine's Story Ch1 and RFDR        Leigh Kimmel -#1913
 F   Paper Knots                        Patrick A. Hunt -#1914
 SF  Poison Kittens, Go Home!           Tom Maris -#1915
 F   Low-Lifes                          Hank Quense -#1916
 H   Educating Susie                    Andy Reynolds -#1917
 SF  The Midwife                        Jonathon Sullivan -#1918
 SF  The Discovery                      Shannon M. Wendt -#1919
 F   The Blood Price                    Beth Bernobich -#1920
 F   The Last Moment of a Fly           Enri Herrera -#1921
 F   Faerie's Wedding                   Jake Hartline -#1922
 F   Laughing at the Steel Breeze       David L. Felts -#1923
 F   The Balloon Man                    Robin Mazur -#1924
 F   In Kind, Return                    Michael Pless -#1925
 H   Elf Hill                           Joe Williams -#1926
 F   The Woman Who Died Laughing        Bonnie Mercure -#1927
 H   The Knocking Girl                  Weston Ochse -#1928
 SF  Marguerite                         Arran Caza -#1929
 SF  They never talk in captivity       Andrew and Ilona Gordon -#1930
 SF  Channel Stone                      CB Campbell -#1931
 F   Moons of Destiny, Ch. 2            Bonnie Newton -#1932
 F   The Sundered Realm, Chapters 2-3   Mark Clavier -#1933
 F   Searchers of the Key ch.1          Theresa Kelderman -#1934
 SF  Reclamation                        Chris Markwyn -#1935
 F   At Second Glance                   Brian Turner -#1936
 F   Siren Storm, Duet For Voice And Wind  Pamela A. Lord -#1937
 F   Wish You Were Here                 Vincent M. Wales -#1938
 F   Lonely                             Scott Neigh -#1939

Week of 2-Dec-1998 (Crits due 9-Dec-1998):
 F   Bestiality                         Richmond Weems -#1940
 SF  Blackout                           Luiza Becari -#1941
 F   Waiting For the Sun                Karen Dean -#1942
 F   Cataluna (revised)                 Lorrie Kralka -#1943
 SF  With Grace, Style, and             Jack Zuzeek -#1944
 SF  Mister Tom and Amazing MegaNeuronet  Jerry Wahlstrom -#1945
 F   Chaotica                           Benjamin Circello -#1946
 F   The Witch's Boy, Chapter 2         Marnie Goodbody -#1947
 SF  Thassis                            Derby Stewart-Amsden -#1948
 F   Midnight Song                      Carol Hightshoe -#1949
 SF  Of Phoenix and Daffodils           William Ledbetter -#1950
 SF  Devil's Gift                       Michael T. Marsh -#1951
 F   Where Mischief Leads               Tom Liberman -#1952
 F   Sending Insects to their Gods      Lena Sawyer -#1953
 F   The Maenads                        Dorian E. Gray -#1954
 F   The Demon of Arloros (Chaps 3 & 4)  Helen Kenyon -#1955
 SF  Ships Before Dawn                  Justin Stanchfield -#1956
 SF  Fidelity (flash fiction)           Joshilyn Jackson -#1957
 SF  Random Effects                     Brian Decker -#1958
 SF  Round                              Lily James -#1959

Week of 9-Dec-1998 (Crits due 16-Dec-1998):
 F   The Legend of Corse, chapter 1     Dorian A. Andreatte -#1960
 SF  Daddy's Children                   Linda J. Dunn -#1961
 SF  Friendly Fire                      Iain Darby -#1962
 SF  Noontide Night, part 2             Andrew Burt -#1963
 SF  Astronaut Man                      Jeff Verona -#1964
 F   On The Hill                        Bruce Nichol -#1965
 H   Post Trauma                        Trevor Judson -#1966
 H   Zeb's Watch                        Columbus Smith -#1967
 SF  Earth Empath, revised              Lesa Wilke -#1968
 SF  Untitled, preface, chapter one     Alex McNair -#1969
 F   The Castle                         Mike Chapin -#1970
 H   Watching                           Julie A. Turnbull -#1971
 F   Rebels of the Circle, Chapters 4-5  Stevie Heong -#1972
 SF  Advances in Nanoscale Microscopy (part 1)  William Vetter -#1973
 SF  Dance with the dust                Malcolm Twigg -#1974
 SF  Synthesis                          Lisa Feld -#1975
 SF  Cold Fusion                        Thomas Claburn -#1976
 F   Thula, Chapters 1,2,3, 23          Joseph Remesar -#1977

Week of 16-Dec-1998 (Crits due 23-Dec-1998):
 SF  Innate 2, POV change               Valerie Emanuel -#1978
 SF  The Lost Dutchman's Asteroid       Jeff Cates -#1979
 F   Ariel's Rose (chapters 3 & 4)      Kathy Shea Brown -#1980
 H   Satan Machine, latest chapter      Walter Lane -#1981
 SF  Forgotten Spaces                   Richard Baldwin -#1982
 F   Realms of Gold                     Liz Martin -#1983
 H   Time Release                       Jerry Newman -#1984
 F   When the Sun Rises                 Joe Sanders -#1985
 H   Fugues                             Gary Henderson -#1986
 SF  From Hell, Chapters 0-3            Darren A Howell -#1987
 H   Teach your Children Well           Tracylea Byford -#1988
 SF  The Cadre (Chaps. 1-3)             Oscar L. Fellows -#1989
 SF  The Price Of The David             Lawrence W. Lanum -#1990
 SF  Moonbase III, Chapter 01           Henry L. Lefevre -#1991
 SF  Sequins                            Joe Murphy -#1992
 F   The Interview                      Patti Miller -#1993
 SF  Birthwright                        Davidson Corry -#1994
 H   Ursurper                           Darin R. Park -#1995
 F   Fairy Dogmother                    Sandra Haverty -#1996

Week of 23-Dec-1998 (Crits due [*] 6-Jan-1999):
 F   Untitled Chapter 1                 Jesse J. Bergevin -#1997
 SF  Fazia's Gifts, Chapter 1 & 2       Patrick Riley -#1998
 F   Choices                            Mary K. Malloy -#1999
 F   Universe of One                    Joe Reuther -#2000
 SF  Orchids                            Karen Traviss -#2001
 F   A Dish Best Not Served             Paul Kemp -#2002
 H   Mirrored Footfalls in the Night    C. R. White -#2003
 H   Chupacbras I Have Known            Tom Maris -#2004
 SF  The Nose                           Jonathon Sullivan -#2005
 F   Moons of Destiny,Ch.3              Bonnie Newton -#2006
 F   Once in a Long While               Arran Caza -#2007
 H   Two Poems                          Bonnie Mercure -#2008
 F   Rogue Wizard                       Hank Quense -#2009
 F   Abating Boredom                    Enri Herrera -#2010
 F   With the Counsel of Her Familiars, ch0-2  Beth Bernobich -#2011
 F   The Light Seeker ch.2-3            Sarah Kelderman -#2012
 F   The Quest, Prologue, Chapter 1     Jo Anne Halls & Eric -#2013
 F   Strains Of Wagner                  Pamela A. Lord -#2014
 SF  A Matter of Choice                 Brian Turner -#2015
 H   A Case of Port                     Randy D. Ashburn -#2016
 SF  Ardor Consummated                  Fred Ollinger -#2017
 SF  Grave Singer                       D.K. Smith -#2018
 SF  The Machines Aren't Working        Cath Haftings -#2019
 F   Casting Out Demons                 Michael Shultz -#2020
 SF  The Cold War                       Roxanne Hutton -#2021
 SF  R and R                            Alfred Fernandez -#2022
 F   The Black Cat: A Prince of Thieves  Katherine I. McClure -#2023
 F   The Omen Tree (prologue)           Timothy M. Nall -#2024

Week of 6-Jan-1999 (Crits due 13-Jan-1999):
 SF  Is Your Breather Working?          [mpc] Lawrence W. Lanum -#2025
 F   Golden Rule                        John Zamarra -#2026
 F   Rise of the Dark Mage, Chapter 0   A. and I. Gordon -#2027
 SF  Native in a Strange Land           David Lowe -#2028
 F   Mageling                           Lorrie Kralka -#2029
 H   Revelation                         Rich Weems -#2030
 F   The Black Horsemen                 Tom Liberman -#2031
 SF  Times Gone Bye                     Michael T. Marsh -#2032
 SF  ST: Oaths of Duty, Vows of Honor - 1  Carol Hightshoe -#2033
 F   Escape from Eulogia                Ted Magnuson -#2034
 F   Obsessive Pursuits                 David Swift -#2035
 H   Ghosts                             Hanna Tolander -#2036
 H   Prinkle-Poo                        Joshilyn Jackson -#2037
 H   A Bad Seed                         Jerry Wahlstrom -#2038
 SF  Random Acts of Godliness           Justin Stanchfield -#2039
 SF  Inhabited, Chapters 0-3            Marjorie Fergusson -#2040
 F   In Your Eyes                       Scott Neigh -#2041
 F   Karma                              Brian Hickman -#2042
 SF  Homogenetics                       Julian Todd -#2043
 SF  Imperial Honor, Chapters 0-2       Matt Drabek -#2044

Week of 13-Jan-1999 (Crits due 20-Jan-1999):
 SF  Shrine                             Iain Darby -#2045
 SF  Bushwalking                        Jeff Verona -#2046
 H   Remembered Dreams                  Julie A. Turnbull -#2047
 SF  Advances in Nanoscale Microscopy (part 2)  William Vetter -#2048
 SF  An Officer and a Maestro           Linda J. Dunn -#2049
 SF  Floater                            Malcolm Twigg -#2050
 SF  Goin' To Roachlandia               Alex McNair -#2051
 F   Thula, Chapter XXIII               Joseph Remesar -#2052
 F   Paybacks Are Hell                  Vicki Copeland -#2053
 F   Arulian Treasures                  Lesa Wilke -#2054
 SF  Hero of Another Kind               John Stonebraker -#2055
 SF  The Path of the Four               Kevin James Miller -#2056
 SF  Mom and Dad at the Home Front      Sherwood Smith -#2057
 SF  A Mind of One's Own                Leigh Kimmel -#2058
 SF  A Few Days North Of Vienna         Brandon Butler -#2059
 SF  War God                            Scott Stoddard -#2060
 H   Solitary                           Lily James -#2061
 SF  Destiny of a Foundling             Susan Maddy -#2062
 F   Archon                             Nicholas Svara -#2063
 H   The Second Time Around             Steve Jenkins -#2064

Week of 20-Jan-1999 (Crits due 27-Jan-1999):
 SF# The Cure For Everything            Severna Park -#2065
 SF  Temblor Station No. 5              Oscar L. Fellows -#2066
 F   Ariel's Rose, Chapters 5-6         Kathy S. Brown -#2067
 H   The Eyes Have It                   D.R. Park -#2068
 SF  The Writing Life                   Tracylea Byford -#2069
 H   Satan Machine ch.14                Walter Lane -#2070
 SF  Seeking Jack                       Corey Kellgren -#2071
 F   Doin' Lines                        Lena Sawyer -#2072
 H   Opaque                             Jerry Newman -#2073
 SF  Mahon                              Jacques NM Chester -#2074
 SF  The Harvesters, Ch. 1              Samantha Peterson -#2075
 H   Vampire Poems                      Rochelle Mitchell -#2076
 SF  Getting A Toehold In The Belt      Jeff Cates -#2077
 SF  Shifts                             Timothy Callahan -#2078
 F   An Honorable Means                 Stephen Morris -#2079
 SF  Armistice                          Arnie Christianson -#2080
 SF  Runner's World                     Alex F. Brown -#2081
 SF  Voice on High                      Sheryl Lo Monaco -#2082
 F   Blood for the Jaguar               Fran Wolber -#2083
 SF  Harvest                            Valerie Emanuel -#2084

Week of 27-Jan-1999 (Crits due 3-Feb-1999):
 F   Djinn in a Gin Bottle              L-J Baker -#2085
 SF  Peravalon Plague                   Helena Rodgers -#2086
 F   The Further Adventures of Sammy, the Air-Bag Dog  Tom Maris -#2087
 F   MOONS OF FIRE Prologue             Bonnie Newton -#2088
 F   Untitled Chapter 2                 Jesse J. Bergevin -#2089
 H   Bovine                             Bonnie Mercure -#2090
 H   I am Victim                        C. R. White -#2091
 F   Abating Boredom, Chapter 2         Enri Herrera -#2092
 F   With the Counsel of Her Familiars, ch3-5  Beth Bernobich -#2093
 SF  Freedom                            Mary K. Malloy -#2094
 SF  Rolling the Stone                  Randy D. Ashburn -#2095
 SF  The Barking Dog                    Roxanne Hutton -#2096
 SF  Deinajgyn Star                     Pamela A. Lord -#2097
 F   The Mage and the Mad Princess      Joe Murphy -#2098
 SF  A Failure to Thrive                Sean Robinson -#2099
 SF  Dream no. 2                        jesus a. torres -#2100
 H   Creature House: Home for Wayward Demons  Camille A. Lufkin -#2101
 F   Sixth Sense, Chapter 0-2           Michael Akinde -#2102
 SF  Merkle's Redemption                Roy Kachur -#2103

Week of 3-Feb-1999 (Crits due 10-Feb-1999):
 F   The Chalk Artist                   [mpc] Jeff Rybak -#2104
 F   Cold Ascension                     [mpc] Tracylea Byford -#2105
 H   Need                               [mpc] S. Calvert -#2106
 F   It's A Wonderful Lie               Davidson Corry -#2107
 F   If Humans Could Talk               Eric Wilson -#2108
 F   Wolves Till the World Goes Down    Greg van Eekhout -#2109
 SF  Surprise Audit                     William Brown -#2110
 SF  Appearances                        Phoebe-June Rogers -#2111
 SF  The Sacrifice of Berra 4, Chapter 5  Dave Erickson -#2112
 SF  The Blood Rose I                   Katherine I. McClure -#2113
 SF  Early Warning                      Frej Wasastjerna -#2114
 F   Hostile Takeovers                  John Lindner -#2115
 SF  Readers Anonymous                  Mark Siegel -#2116
 SF  The Flesh Bank                     Peadar O Guilin -#2117
 SF  Devil's Gift                       Michael T. Marsh -#2118
 F   Poetry                             John Zamarra -#2119
 F   Sneakin' Out of the Hospital       Scott Beem -#2120
 SF  Star Trek: Oaths of Duty, Vows or Honor chapter 2&3  Carol Hightshoe -#2121
 SF  Din Dead!                          Lawrence W. Lanum -#2122
 SF  Sisters                            Tom Liberman -#2123

Week of 10-Feb-1999 (Crits due 17-Feb-1999):
 SF  Imperial Honor, chapters 3-5       Matt Drabek -#2124
 F   Castle Bethesda                    Lorrie Kralka -#2125
 SF  Grey                               Arran Caza -#2126
 F   Straw to Gold                      Mette Ivie Harrison -#2127
 F   The Legend of the Ghost (revised)  Mie Chapin -#2128
 SF  Night Shift                        Jack Zuzeek -#2129
 F   To Hold the Stars                  David L. Felts -#2130
 F   Countervalence                     Kerne Fahey -#2131
 SF  Oh, Combustible Depredation        Fred Ollinger -#2132
 F   Nottamun Town (section one)        Timothy M. Nall -#2133
 F   At the third stroke it will be ...forever  Malcolm Twigg -#2134
 SF  Untitled SF novel                  Linda J. Dunn -#2135
 SF  "Swifty" Sampson and the Aliens    Kevin James Miller -#2136
 SF  The Meat's Here (revised)          William Vetter -#2137
 SF  Lessons                            Susan Maddy -#2138
 SF  Leave of Absence                   Alex McNair -#2139
 SF  A Choice of Paths                  David Hall -#2140
 SF  Science Fiction Poetry             Nancy Closson -#2141
 SF  Raeizra                            Richard A. Bamberg -#2142
 F   Haven's in the Storm               Stephen B. Pearl -#2143

Week of 17-Feb-1999 (Crits due 24-Feb-1999):
 SF  The Perfect Horse                  [mpc] Tracylea Byford -#2144
 SF  Untitled SF novel, chapter 2 with background at beginning   [mpc] Linda J. Dunn -#2145
 SF  Fazia's Gifts (rewrite), Chapter 1-3  Patrick Riley -#2146
 SF  Bright Cloud of Music              Liz Martin -#2147
 F   On Demon Swords, and the Inheritance Thereof  Rosemarie Hallberg -#2148
 F   The Light Seeker ch.4-5            Sarah Kelderman -#2149
 SF  On the Other Hand                  John Stonebraker -#2150
 SF  WARR                               Rich Weems -#2151
 SF  Carrier                            Iain Darby -#2152
 H   Leftovers                          Joe Williams -#2153
 SF  Arrival                            Matthew Shepherd -#2154
 F   The Last Monster                   J.A. Whitson -#2155
 F   The Meaning of a Name              Jerry Bryson -#2156
 SF  Johnny Who                         Justin Stanchfield -#2157
 F   Ariel's Rose (Chapters 7 and 8)    Kathy Shea Brown -#2158
 SF  ex Machina                         Arnie Christianson -#2159
 SF  Gilly Ventura                      Sheryl Lo Monaco -#2160
 SF  Radio Tyrant                       Alex F. Brown -#2161
 H   The After-death                    Walter E. Lane -#2162
 F   The Quest, Chapter 1               Jo Anne Halls & Eric -#2163

Week of 24-Feb-1999 (Crits due 3-Mar-1999):
 SF  A Bond Unbreakable                 [mpc] Eric Reynolds -#2164
 SF  The Gap                            Joseph Remesar -#2165
 H   The Polystyrene Worm               Jerry Wahlstrom -#2166
 SF  Pazz NgBerg's Intergalactic Relations  A. J. Berry -#2167
 SF  A Faraway Voice                    Steven Harris -#2168
 SF  Renny                              Edward Hunter -#2169
 SF  Staryacht                          Ken Alexander -#2170
 SF  Normal Day at Radio City           Brian Turber -#2171
 F   Robin, sweet Robin                 Judith Rau -#2172
 SF  Rights                             Dennis Austin -#2173
 F   Morgan's Library                   Derek James -#2174
 SF  Collaboration                      J Sullivan, D. Felts -#2175
 F   Mason's Ladder                     Thomas Claburn -#2176
 F   MOONS OF FIRE Chapter 1            Bonnie Newton -#2177
 SF  Choices                            Bonnie Mercure -#2178
 SF  Winterhunter                       Roxanne Hutton -#2179
 H   The Ladies' Man                    Randy D. Ashburn -#2180
 F   The Real-Life Adventures of Composite Jef  Sean Robinson -#2181
 SF  Unsolved Mysteries                 Pat Wiseman -#2182
 F   The Fifth Cut, Chapter 1           Sandra Kay Andrews -#2183
 SF  UnAble                             Michael Ashleigh Finn -#2184

Week of 3-Mar-1999 (Crits due 10-Mar-1999):
 SF  Fabio at the Foreign Legion        [mpc] Joshilyn Jackson -#2185
 F   MARE IMBRIUM                       Pamela A. Lord -#2186
 F   Planet of Enchantment              Ted Magnuson -#2187
 F   Henry's Magic Beans                Steve Jenkins -#2188
 F   Pretty Is As Pretty Does           Francelia Belton -#2189
 F   Bottomless                         D.K. Smith -#2190
 F   Destiny's Pawn, Chapter 1          Salathiel Baldwin -#2191
 SF  Mike Mallet - Interstellar Private Eye  Kenneth Hoopes -#2192
 H   Wicked Night                       Valerie Emanuel -#2193
 SF  Pirates of Jupiter's Moons chp 1-3  Robert Vanderwoude -#2194
 F   Witches' Revenge                   Hank Quense -#2195
 F   A Very Particular God              Chris Caldarelli -#2196
 F   Disturbing Possibilities, Chapter One  Christopher Rodgers -#2197
 H   A Wild Kind of Justice             Anne Veasey -#2198
 F   The Lamia's Conceit                Joe Murphy -#2199
 H   Last Rites                         Kaolin Fire Stockinger -#2200
 SF  Circe in Agea                      Nye Marnach -#2201
 SF  The Bridge                         Lawrence W. Lanum -#2202
 SF  Reconnaissance (short version)     Frej Wasastjerna -#2203
 F   The Evil-Eater                     Peadar O Guilin -#2204

Week of 10-Mar-1999 (Crits due 17-Mar-1999):
 F   The Mage Ch. 0-2                   [mpc] Lily James -#2205
 H   Bethia                             Tom Liberman -#2206
 SF  ST: Oaths of Duty, Vows of Honor - 4  Carol Hightshoe -#2207
 F   Shadows Dreaming                   John Zamarra -#2208
 SF  The Sacrifice od Berra 4, chapter 6  Dave Erickson -#2209
 SF  President's Guilt                  Michael T. Marsh -#2210
 F   Y2K Bug                            Davidson Corry -#2211
 F   The Good Wife                      Mary K. Malloy -#2212
 SF  Noontide Night                     Andrew Burt -#2213
 SF  By the Rivers of Babylon, Chap 1-3  Jim Wagner -#2214
 F   Blindeye and the Great deception with notes  Gary D. Blankenship -#2215
 SF  Shepherd's Calendar, Chapter 1     Alan DeNiro -#2216
 SF  Aubrey Hall                        Scott W. Starkey -#2217
 SF  Helen's Song                       John Douglas Kossum -#2218
 SF  Once Bitten                        Malcolm Twigg -#2219
 SF  The Howard Armbruckle Variations   Kevin James Miller -#2220
 SF  Even Heroes Die                    Richard A. Bamberg -#2221
 F   Money Magician                     Mette Ivie Harrison -#2222
 SF  The Girlfriend (Part 1)            William Vetter -#2223
 SF  The Harvesters, Chapters 2-3       Samantha Peterson -#2224

Week of 17-Mar-1999 (Crits due 24-Mar-1999):
 SF  The Truth About the Pelles Evacuation  John Trey -#2225
 SF  In the Dark of the Day             Matthew W. Brewer -#2226
 F   Percival's Flight                  Diana L. Sharples -#2227
 F   Return of the Black Demon, Chapter I/RFDR  Karlene R. Price -#2228
 F   Steven's Room                      Robert Cleary -#2229
 SF  Who Help Themselves                Rochelle Mitchell -#2230
 H   Hearing Things                     Lisa Babick -#2231
 SF  HindSight                          William Ledbetter -#2232
 SF  Crossing Guard                     Glenn Anderson -#2233
 SF  Untitled                           Eden Dorn -#2234
 SF  Conservation of Psi                Lucy Cohen Schmeidler -#2235
 SF  Wrong Place, Wrong Time            Dan Mixer -#2236
 F   This is Your Mind                  Cristin Owens -#2237
 H   Irving the Rabbit Gets Down        Tom Maris -#2238
 F   Ariel's Rose (chapters 9 and 10)   Kathy S. Brown -#2239
 SF  Newton out of Context              Arnie Christianson -#2240
 F   Acts of God                        Tracylea Byford -#2241
 SF  Shadow's Children, ch 1-3          Rosemarie Hallberg -#2242
 SF  TimeOut                            John K. Kotsonis -#2243
 H   Bits and Pieces                    Iain Darby -#2244

Week of 24-Mar-1999 (Crits due 31-Mar-1999):
 F   Father of Gods                     Joe Williams -#2245
 F   The Quest, Chapter 2               Jo Anne Halls & Eric -#2246
 F   Dreamer                            Larry Mobley -#2247
 SF  Transcendence                      Julian Hudson -#2248
 SF  Belief                             Juan C. Vilca -#2249
 SF  The Recall                         Trevor Alyn -#2250
 SF  Vigil on Cyrene                    Mary K. Kuhner -#2251
 H   Common Courtesy                    Monica J. O'Rourke -#2252
 SF  Beetles                            Susan Maddy -#2253
 F   Storm Front                        Aaron Clarke -#2254
 SF  Doing Time                         Vincent M. Wales -#2255
 F   The Valley of Shadows              Marti Booker -#2256
 SF  The One Minute War                 Russell Patterson -#2257
 F   In the Belly of a Black-winged Bird  David L. Felts -#2258
 F   Untitled Novel Chapter 1           F. Ian Ronald -#2259
 F   The Trapping, Chapter 1            Anthony Vela -#2260
 F   Immortality Undefined, Chapters 1-4  Daniel L. Manachi -#2261
 SF  As Those Who Can See               Roxanne Hutton -#2262
 F   Not In a Storm                     Bonnie Mercure -#2263
 SF  Conflict With Porjectile Weapons in Vitality-Challenged Wood  Pat Wiseman -#2264

Week of 31-Mar-1999 (Crits due 7-Apr-1999):
 F   The Pattern-Weaver                 [mpc] Jim C. Hines -#2265
 SF  Dress Code                         [mpc] William Brown -#2266
 H # Intincts Maternal                  Robyn Herrington -#2267
 F   A Heretic's Faith                  Randy D. Ashburn -#2268
 F   To Dance with the Dead             Laurie Tom -#2269
 H   Evolution of a Vampire             Nick Farrell -#2270
 SF  Rejuvenation (Voice on High, revised)  Sheryl Lo Monaco -#2271
 SF  Dual                               David Stephenson -#2272
 SF  The Refuge, Chapters 0-2,4         Graeme Rickard -#2273
 F   Knitting                           Brian Turner -#2274
 H   Still Life With Cigarette          John Lindner -#2275
 H   Mine Forever                       Camille A. Lufkin -#2276
 SF  Playing in an Tellurian Band       Carter Abel -#2277
 H   Longer Distance                    Jerry P. Langan -#2278
 F   The Storytellers' Circle, Chapters 1-2  Gynn Stella Hurd -#2279
 SF  Sprouts                            Valerie Emanuel -#2280
 H   Terror Troupe                      Kenneth Hoopes -#2281
 F   Triple Threat                      Pamela A. Lord -#2282
 F   Sticky Visitors                    Brian D. Simpson -#2283
 SF  Azzy                               Frej Wasastjerna -#2284

Week of 7-Apr-1999 (Crits due 14-Apr-1999):
 F   Isis and the Drummer Boy           [mpc] J.A. Whitson -#2285
 SF  DataMine                           [mpc] John Kotsonis -#2286
 F   The City of Eaoth: Raasti's Tale, Chapters 1-3  Justin Bacon -#2287
 F   Nottamun Town (full story, revised)  Timothy M. Nall -#2288
 SF  Players                            Nick Arlov -#2289
 SF  The Prisoners Of New Tiananmen-Prologue  Jefrae Lindvig -#2290
 SF  The Waterfall                      Cath Haftings -#2291
 SF  The Price of the David (rewrite)   Lawrence W. Lanum -#2292
 SF  Nobody Murders                     Ron Hurst -#2293
 SF  The Alexandria Project             Kathy Tompkins -#2294
 SF  Bardic Gift                        Kristin DeMoen -#2295
 F   The Lost Pilgrim                   Celestine M. Stoltenberg -#2296
 F   The Light Seeker ch.6-7            Sarah Kelderman -#2297
 SF  Seeking Silence                    Edward Hunter -#2298
 F   Motive                             Arran Caza -#2299
 F   Lily                               Karen Matney -#2300
 F   Third Mage on the Right            Barry Hollander -#2301
 F   In This Particular Year Of Our Lord  Kevin James Miller -#2302
 SF  The Sacrifice of Berra 4, chapter 6  Dave Erickson -#2303
 SF  ST: Oaths of Duty, Vows of Honor - 5  Carol Hightshoe -#2304
 F   Super Hero High School             Scott W. Starkey -#2305
 F   Doubly Paid                        Mette Ivie Harrison -#2306

Week of 14-Apr-1999 (Crits due 21-Apr-1999):
 F   Airgedlamh, chapters 1-4           [mpc] Cheryl J Spooner -#2307
 SF  Ad Astra                           [mpc] Judith Rau -#2308
 SF  Amber's Glow                       Richard Bamberg -#2309
 F   The Incident                       Gary Henderson -#2310
 SF  An Exercise Left To The Student    Davidson Corry -#2311
 F   The Walled City                    Holly E. Ordway -#2312
 SF  Survivors                          Justin Stanchfield -#2313
 SF  Fazia's Gifts Ch 4-6               Patrick Riley -#2314
 SF  Tachyon Shift                      J.D. Williams -#2315
 F   Five minutes                       Douglas Skiver -#2316
 SF  Early Retirement                   Keith Garrison -#2317
 SF  the cause                          suncica tatic -#2318
 SF  Green                              Robert G. Werner -#2319
 F   Claudette's Gift                   Beth Bernobich -#2320
 F   Free Agency                        Hank Quense -#2321
 H   The Pork Loin Prissies             Joe Murphy -#2322
 F   Empires of Sand, Prelude and Plot Summary  Laura Wakefield -#2323
 F   Deathwatch                         Anne M. Marble -#2324

Week of 19-Apr-1999 (Crits due [!*] 5-May-1999):
 F   Ariel's Rose (chapters 11 and 12)  Kathy Shea Brown -#2325
 SF  Sticks and Stones (rewrite)        Arnie Christianson -#2326
 SF  Mardok's Revenge                   Tom Maris -#2327
 SF  Dr. Lashmeyer's Library            Tracylea Byford -#2328
 SF  2753 AUC                           Iain Darby -#2329
 F   The Gift                           Glenn Anderson -#2330
 F   Another Caledonian Quest with Robin and Puck  John Trey -#2331
 F   MOSS TOWER, Chapter 1              Gary Blankenship -#2332
 SF  As the Worm Turns                  Jim Cue -#2333
 SF  Heroine                            Connor Moran -#2334
 SF  A Matter of Taste                  Mark Siegel -#2335
 H   Empathy                            Aaron Cannon -#2336
 F   Moons of Destiny, Chapter 1        Bonnie Newton -#2337
 SF  HammerJack Beam, Chap 1-3          Jerry Wahlstrom -#2338
 F   Caveat                             D.K. Smith -#2339
 SF  Star Wars: The Destined One        Samantha Peterson -#2340
 F   The Glass Death                    Carol Tompkins -#2341
 F   Under the Bridge                   Jeff Verona -#2342
 F   Bloodstone, Chapter One (rewrite)  Diana L. Sharples -#2343
 SF  Battle for Fort Apache Chapters 1-4  Elizabeth Kelley Buzbee -#2344
 F   Place of Preference                Stephen G. Pool -#2345
 SF  Journey Through Eulogia            Ted Magnuson -#2346
 F   The Tree                           Jennifer Spohr -#2347
 F   Diamond's Gift                     Mike Nelson -#2348
 H   The Box                            Darrin Koltow -#2349
 SF  Sunset Over Changi Airport         Baryon Tensor Posadas -#2350
 F   Hair of the Dog                    Malcolm Twigg -#2351
 SF  Going Deep                         Roxanne Hutton -#2352
 F   Elvis Has Left the Bathroom        Bonnie Mercure -#2353
 H   Please Let Me Go                   Monica J. O'Rourke -#2354

Week of 5-May-1999 (Crits due 12-May-1999):
 SF  To Save A People                   [mpc] Susan Maddy -#2355
 F   The Choice of Pawns                [mpc] Laurie Tom -#2356
 SF  The Bronto                         Trevor Alyn -#2357
 F   Sign of the Star                   Thomas Claburn -#2358
 SF  Predation                          Micah R. Sisk -#2359
 F   The Second Sifting, Part 1         Sandra Kay Andrews -#2360
 SF  Dogfood                            Julian Todd -#2361
 SF  Flight                             Naomi Novik -#2362
 SF  The Kindling                       Carol Ryles -#2363
 SF  Privacy                            Sheila Crosby -#2364
 SF  Captive of Technology              Katherine E. Springle -#2365
 SF  Harvest                            Valerie Emanuel -#2366
 SF  Adano                              Carter Abel -#2367
 F   Life Gift                          Brian D. Simpson -#2368
 SF  The Rock in G Minor                Randy D. Ashburn -#2369
 SF  Till Death Do Us Part              Frej Wasastjerna -#2370
 SF  The Majestic Eye of the Myopic Mouse  Brian Turner -#2371
 H   Jessie                             Carter Nipper -#2372
 SF  Rescue                             Paul Butler -#2373
 F   Fortune's Soldier, Chapter 2       F. Ian Ronald -#2374
 F   Rings                              Pamela A. Lord -#2375
 SF  To Glory                           Cody Dempsey -#2376

Week of 12-May-1999 (Crits due 19-May-1999):
 F   A Moment of Truth                  [mpc] Cheryl J Spooner -#2377
 H   Penny For Your Thoughts            Henry F. Snider III -#2378
 SF  Harry's Landing, chapters 1-3      Mary K. Kuhner -#2379
 SF  Beast                              Juan C. Vilca -#2380
 SF  The Vortex                         Nicholas B. Baisley -#2381
 SF  The New Book of the Dead           Helen Kenyon -#2382
 F   Smaller and Smaller                Robert Allan -#2383
 F   Spirits of the Dead                Marti Booker -#2384
 SF  Incarnation                        Ted Boone -#2385
 SF  A Slice of the Universe            Kevin James Miller -#2386
 SF  The Sacrifice of Berra 4, Chapter 7  Dave Erickson -#2387
 F   Glyph                              Barry Hollander -#2388
 SF  The Sky-born, Chapter 1            Kristin DeMoen -#2389
 SF  Star Trek: Oaths of Honor, Vows of Duty - 6  Carol Hightshoe -#2390
 H   The Masks We Wear                  Sarah Kelderman -#2391
 F   Doubly Paid                        Mette Ivie Harrison -#2392
 SF  Urban Legend                       Celestine M. Stoltenberg -#2393
 F   Kian's Ring, Chapters 0-3          Karen Matney -#2394
 H   Dead Alien Patrol                  Scott W. Starkey -#2395
 F   The Vampire Horowitz               Matthew W. Brewer -#2396
 F   The Executioner's Doll             J.A. Whitson -#2397
 SF  Tinker's Plague cpt 16             Stephen B. Pearl -#2398

Week of 19-May-1999 (Crits due 26-May-1999):
 F   Appropriate Technology             [mpc] Kerne Fahey -#2399
 SF #Survival Test                      David L. Burkhead -#2400
 SF  Flying Pens                        Mark Budman -#2401
 SF  A New Beginning                    Jeff Cates -#2402
 H   Wolfsongs                          Richard Guion -#2403
 SF  Good Advice (A Cautionary Tale)    Graeme Rickard -#2404
 SF  Free Market                        David Lowe -#2405
 F   Perceptions                        Irette Patterson -#2406
 H   Sell Your Soul                     Jane Mitchell -#2407
 SF  Ubermann                           Brandon Butler -#2408
 F   The Empty Throne                   Davidson Corry -#2409
 F   "And of the Son"                   Laura Wakefield -#2410
 F   Walking Away                       Greg van Eekhout -#2411
 F   Triskelion                         Laura Blackwell -#2412
 F   SOUL STEALER - Chapter 0 to 3      Frederick Wm. Greathead -#2413
 F   Price of the Sword                 Kim Fryer -#2414
 F   For the Rank of Master, Prologue and Chapter 1  Hollie Snider -#2415
 SF  The Loom                           Jennifer Barlow -#2416
 F   The Baynok                         Joe Williams -#2417
 H   Clean                              Jonathon Sullivan -#2418
 F   As They Like It                    Joanne Merriam -#2419
 F   Blood Brothers, Chapters 0-2       Michael Akinde -#2420
 SF  Red Dog Day                        Philip J. Lees -#2421
 SF  Gentle Stone		        Mark D. Graham -#2422

Week of 26-May-1999 (Crits due 2-Jun-1999):
 SF# Blame it on the gypsies: CHAPTER 1-3  Dave Freer -#2423
 F   No More Frogs, Please!             [mpc] Cheryl J Spooner -#2424
 F   Goddess of Geeks                   [mpc] Chris Taylor -#2425
 SF  Adrift, Chapters 1-3               [mpc] Joe Larson -#2426
 SF  No Love of War                     Kim Fryer -#2427
 SF  Operation Glasnost                 William Leisner -#2428
 SF  Plunderer                          Robert Vanderwoude -#2429
 F   Draw the Faithful to Their Knees   David L. Felts -#2430
 SF  Splinter of It                     F.J. Meagher -#2431
 SF  Fazia's Gifts Ch 7-8               Patrick Riley -#2432
 F   Spinning                           Antonia Mitchell -#2433
 SF  Brokered World                     Guy Salvidge -#2434
 F   And the Ocean Burned               Brian Hickman -#2435
 H   Perceptions                        Daniel L. Gelter -#2436
 F   When Dragons Wake                  Cynthia Cloughly -#2437
 SF  Msbutterfly                        Arthur Dorrance -#2438
 SF  Angel Elect 1: Nemesis Reflected (Chapter One)  Xiang H. Yuen -#2439
 H   A Guy Walks Into a Bar . . .       Mike Rimar -#2440
 SF  Shipwrecked                        Kaolin Fire Stockinger -#2441
 SF  Sparky                             Shawn Brayman -#2442
 F   The Cartel                         Julie WIlber -#2443
 F   A Stitch in Time                   Malcolm Twigg -#2444

Week of 2-Jun-1999 (Crits due 9-Jun-1999):
 SF  Mercury Rising                     [mpc] Linda J. Dunn -#2445
 F   Ariel's Rose (Chapters 13 and 14)  Kathy S. Brown -#2446
 SF  Spiral Dance                       Roxanne Hutton -#2447
 SF  Grazer                             Arnie Christianson -#2448
 F   The Writing Life (revision)        Tracylea Byford -#2449
 H   Vampire Farm                       Monica J. O'Rourke -#2450
 F   Bloodstone, Chapter Two (rewrite)  Diana L. Sharples -#2451
 SF  Star Wars: Return of the Empire, Ch. 1-2  Samantha Peterson -#2452
 H   The Power Of Words                 Bonnie Mercure -#2453
 F   Borderlands                        Iain Darby -#2454
 F   Journey Through Eulogia #2, (Chapter 4- Genetics)  Ted Magnuson -#2455
 SF  Hunting Virus                      Mark Siegel -#2456
 F   Moons of Destiny, Chapter 2 (Rev.)  Bonnie Newton -#2457
 SF  A Measure of All Things            John Trey -#2458
 SF  Star Trek: Heaven so Vast          Timothy M. Nall -#2459
 F   Alpha and the Omega                Gary Blankenship -#2460
 SF  Bobbi from Pasadena                Vince Bonasso -#2461
 SF  Arn                                Jim Bauer -#2462
 H   Dead Man's Breath                  Brian P. Hudson -#2463
 H   The Deep End                       Paul Sheringham -#2464
 H   Mr. Fix It                         William J Francis -#2465
 SF  Teem                               Alan DeNiro -#2466

Week of 9-Jun-1999 (Crits due 16-Jun-1999):
 F   The Writing Life                   Tracylea Byford -#2467
 H   Emily's Demon                      [mpc] Kimberly Brown -#2468
 F   The Adventures of Jack Black       Aaron S Birk -#2469
 SF  Battle for Fort Apache Chapters 5-8  Elizabeth Kelley Buzbee -#2470
 F   Envy                               Dawnell Barwick -#2471
 F   Seminal Images                     Chris Clagg -#2472
 F   Team Teaching                      Jim C. Hines -#2473
 F   To Cut a Deal                      Dawn R Castner -#2474
 SF  Dreams of Dim Eden                 Lori Baumgardt -#2475
 F   Merlin, Chapter 8: The Lady of the Lake  Chris Oei -#2476
 H   The Possibility of Angels          Sonia Brock -#2477
 SF  Always Finding Daniel              Robert Brand -#2478
 SF  Thirsty Beast                      Vikram Paralkar -#2479
 F   Fortune's Soldier, Chapter 3       F. Ian Ronald -#2480
 F   Memor-Eyes                         Brian D. Simpson -#2481
 H   The Dead                           Trevor Alyn -#2482
 SF  Only Alive                         Julian Todd -#2483
 F   Surface Tension                    Pamela A. Lord -#2484
 SF  Yaggo's Assistant                  Carter Abel -#2485
 SF  Falling in Love with Intergalactic Scum  Don L. Smith -#2486
 F   Coin of Gold                       Carol Tompkins -#2487
 SF  The Wizard of Is                   Norm Trigoboff -#2488

Week of 16-Jun-1999 (Crits due 23-Jun-1999):
 SF  The Quantumplicated Man            Mike Nelson -#2489
 SF  Confession                         James S. Forrest -#2490
 SF  If You Will Sing With Me           Laurie Tom -#2491
 H   What God Hath Wrought              Randy D. Ashburn -#2492
 F   Just an Old Fashion Love Song      Jim Riel -#2493
 SF  Wounded Soil                       Mary K. Malloy -#2494
 SF  Campaign Woes                      Hank Quense -#2495
 SF  Calm                               Paul Hardy -#2496
 F   Tree Stumps                        Rusty Brock -#2497
 SF  Destiny's Battles                  Kevin James Miller -#2498
 F   The Choosing                       Barry Hollander -#2499
 SF  The Sacrifice of Berra 4, chapter 8  Dave Erickson -#2500
 F   Land Of Sunshine                   Robert "Rallan" Allan -#2501
 F   Rane's Ballad                      Kristin DeMoen -#2502
 SF  The Last Forest                    Sarah Kelderman -#2503
 H   Song of the Dead                   Omaha Sternberg -#2504
 F   Winter's Season                    Cheryl Thompson -#2505
 F   Steel Life                         J. Alan Wainright -#2506
 H   Change of Heart                    Samara Sonmor -#2507
 SF  Visual Illusions, Chapters 1-3     Peggy Engstrom -#2508
 F   Grizlak                            Frej Wasastjerna -#2509
 F   The Attack                         Martha Bland -#2510

Week of 23-Jun-1999 (Crits due 30-Jun-1999):
 SF# Survival Test, Chapters 1-3 (revised)  David L. Burkhead -#2511
 F   The Cat Woman's Cordial            [mpc] Jennifer Barlow -#2512
 F   Satina the Evil Sorceress          Jasmine Smith -#2513
 F   Soul of Stone                      David Swift -#2514
 F   Seat Of Power, Chapters 1-2        John A. MacSween -#2515
 SF  Dream Czars                        Mark Budman -#2516
 SF  Black Is Not Always White : Prologue, Chapter One  Frederick Wm. Greathead -#2517
 H   Wolfsblood                         Richard Guion -#2518
 SF  Vineland Two                       Jeff Cates -#2519
 SF  Thank Goodness It's Friday!        Davidson Corry -#2520
 F   Story Time                         Irette Patterson -#2521
 SF  Wordless. Chapters 1-2.            Jane Mitchell -#2522
 SF  Imperial                           Jonathon M. Sullivan -#2523
 SF  Lies!                              Hollie Snider -#2524
 F   After the Portal (Chapters 1 and 2)  Patrick Snead -#2525
 SF  Chase Three                        Derek Ross -#2526
 H   Rain                               Gene K. Boyd -#2527
 F   Gransir's Clockwork Man            Joe Murphy -#2528
 H   A Dash of Marinade                 Mark D. Graham -#2529
 SF  First Contract                     Chuck Gee -#2530
 F   Made From Scratch                  Alfred Fernandez -#2531
 SF  In the World of Pretend            William Vetter -#2532
 F   Storm Front                        Aaron Clarke -#2533
 SF  Wrongly Chosen                     Steven Howard Smith -#2534

Week of 30-Jun-1999 (Crits due [*] 14-Jul-1999):
 SF# Growing Pains                      David L. Burkhead -#2535
 F   A New Life                         [mpc] Martha Bland -#2536
 SF  A Time For Change                  Michael J. Bertrand -#2537
 F   As Locusts in their Eyes           Marnie Goodbody -#2538
 F   This Twilight                      Charity Zegers -#2539
 SF  Troubled Waters                    Malcolm Twigg -#2540
 SF  Killican's Song                    F.J. Meagher -#2541
 SF  Bastille Day                       Antonia Mitchell -#2542
 SF  The Happy Life of Smilin' Jack     Arthur Dorrance -#2543
 SF  Angel Elect One: Nemesis Reflected: Chapter 2  Xiang Yuen -#2544
 SF  The World's Oldest Professions     William Leisner -#2545
 H   I Never Wanted to Live Forever, chapters 0-1  Shelly Smith -#2546
 H   Love Sick                          Mike Rimar -#2547
 F   Corren's Tale                      Brigitte Weiss -#2548
 F   Burning From The Inside            Thomas Claburn -#2549
 H   Dark Sonnets                       Stephen Thorpe -#2550
 SF  When Synthe Went Down to Meet the Boatman (With Pennies For Her Eyes)  David William McKay -#2551
 SF  P'Thok Eats an Ice Cream Cone      Mike Downs -#2552
 F   Airgedlamh, Chapters 1-3 (rewrite)  Cheryl J Spooner -#2553
 F   The Red Dance, Chapters 0-1        Lani K. Thompson -#2554
 H   Sacrifice                          Joe Williams -#2555
 F   Flip Side                          Juan C. Vilca -#2556
 H   "The Dog Walkers, Chapters 1-3"    Michael Petersen -#2557
 SF  May Day CH 1                       Kim Idol -#2558
 SF  Breaking the bonds of Eve          Daniel C. Davison -#2559
 F   Ariel's Rose (Chapter 1)           Kathy S. Brown -#2560
 SF  Mandy                              Roxanne Hutton -#2561
 F   Uncle Landmere's Sword             Bonnie Mercure -#2562
 F   Solera the Clumsy Unicorn          Paul Sheringham -#2563
 H   The Eyes are the Window            Monica J. O'Rourke -#2564
 H   Something Strange About Tommy      Iain Darby -#2565
 SF  Time of Useful Consciousness       Vince Bonasso -#2566
 SF  Uncertainty                        Mark Siegel -#2567
 H   All I Want for Christmas           William J Francis -#2568
 F   Jeanne                             Leigh Kimmel -#2569
 H   The Legacy of Arron Geist (prologue)  Terry Durbin -#2570

Week of 14-Jul-1999 (Crits due 21-Jul-1999):
 F   The Mouse                          Brian Salyards -#2571
 SF  God's Window                       D.K. Smith -#2572
 SF  The Good Citizen                   Dan Gleeman -#2573
 F   A Dream This Way Come              Eric Havard -#2574
 SF  The Stone Wall                     Cama Duke -#2575
 F   The Middle Aged Detective          Cath Haftings -#2576
 F   Lamar                              Arran Caza -#2577
 SF  Delphi Logic, Chapters 1-3         Jeffery Marshall -#2578
 SF  Restoration Inc.                   Catherine Endres -#2579
 SF  Stealing Summer                    Shawn Brayman -#2580
 SF  Silent Memory                      Charlotte Ballard -#2581
 SF  My Mother the Alien Cyborg Tank    Robert Cleary -#2582
 SF  The Implications of a Grand Unified Theory (A Love Story)  [mpc] Stephen V. Ramey -#2583
 F   When Dragons Wake, Chapters 1-3, Revised  Cynthia Cloughly -#2584
 SF  The Thackeratt Mordeve             Alissa Grosso -#2585
 SF  Down Came a Blackbird              Barbara Karmazin -#2586
 F   Pride of Athena                    Brandon Butler -#2587
 SF  Reparations                        Gayla Bassham -#2588
 H   The Lost, Chapter 1                Lori Krohne -#2589
 F   Last Woman Standing                Brian D. Simpson -#2590
 F   Fortune's Soldier, Chapter 4 and Appendix A  F. Ian Ronald -#2591
 SF  A Children's Story                 Norm Trigoboff -#2592
 SF  Blue Bone Epidemic                 Trevor Alyn -#2593
 F   Destroyer's Red                    Pamela A. Lord -#2594

Week of 21-Jul-1999 (Crits due 28-Jul-1999):
 F   Werevamp                           Sonia Brock -#2595
 SF  In the Movement of Hands           Damian C. M. Sinclair -#2596
 H   Should You Fear The Harvest Moon?  Brian P. Hudson -#2597
 SF  He to Hecuba                       Raymund Eich -#2598
 SF  The Kerfware Hijack                Carter Abel -#2599
 F   The Earth King                     Lisa Swanstrom -#2600
 SF  Cross Eyed Future                  Daniel M. Amitin -#2601
 SF  Peonies                            David DeGraff -#2602
 SF  Binding Space and Time             Helen Kenyon -#2603
 SF  Attack on Unity                    Connor Moran -#2604
 SF  Hello                              Abby Madoff -#2605
 F   Zara Changes the Rules             Anne M. Marble -#2606
 F   The Mother Goose Virus             Rupa K. Bose -#2607
 SF  In a Mirror                        Kim Fryer -#2608
 SF  "....When no man pursueth."        Jim Cue -#2609
 F   The Gift of the Guardians, Chapter 1 The Test  Sandy Skalski -#2610
 SF  Talker                             William Ledbetter -#2611
 F   Rooted Sorrows                     Andrew Gilstrap -#2612
 SF  His Will Be Done                   Kevin James Miller -#2613
 SF  Freedom (revision)                 Mary K. Malloy -#2614
 SF  The Not So Great Escape            Cheryl L. Thompson -#2615
 SF  The Meal                           Barry Hollander -#2616
 H   All Roads Lead                     Nye Marnach -#2617
 H   Night Beat                         Chuck Davis -#2618

Week of 28-Jul-1999 (Crits due 4-Aug-1999):
 SF  The Slaughterhouse                 Derek Barton -#2619
 F   The Owl                            Laurie Tom -#2620
 SF  Habits Of Life                     Jeremy Minton -#2621
 H   Four Demented Sonnets              Ron Toth -#2622
 SF  The Sacrifice of Berra 4, chapter 9  Dave Erickson -#2623
 F   The Sword and the Rose             Jim Wagner -#2624
 SF  A Mind of Her Own                  Eric Snyder II -#2625
 F   The Riddle                         Michelle Lyons -#2626
 F   The Girl Who Cried Silken Tears    Steven Andrews -#2627
 F   Dwelfchaun Inc.                    Hank Quense -#2628
 H   Road Kill                          Herbert Hoopes -#2629
 F   For the Rank of Master, Chapter 2  Hollie Snider -#2630
 SF  Just The Three Of Us               Mark Budman -#2631
 SF  Europa Deep                        Jonathon M. Sullivan -#2632
 F   Blind Faith                        Aaron Clarke -#2633
 SF  Public and Speedy                  Davidson Corry -#2634
 SF  Blood Moons                        Jane Mitchell -#2635
 SF  Sojourner                          Jeff Cates -#2636
 F   Urashima                           Ann Williams -#2637
 F   Fireflies, chapters 0-3            Daniel Arenson -#2638
 SF  A Blackness.                       Meghan Pike -#2639
 F   Modo, Chapter One                  Ian Heleva -#2640
 F   Legend of Corse, Chapters 1 & 2    Dorian A. Perkins -#2641
 SF  Gepi                               Callum Dunlop -#2642

Week of 4-Aug-1999 (Crits due 11-Aug-1999):
 SF  The Tower of Faces                 [mpc] Stephen V. Ramey -#2643
 F   Maturity                           [mpc] Carol Tompkins (and Laura Blackwell) -#2644
 H   The Unmasking                      Brian Pierce -#2645
 SF  Stolen Fire                        Ilya Kogan -#2646
 SF  Winter, Chapters 0-1               Andrew Voroney -#2647
 SF  Untitled                           Valerie Emanuel -#2648
 SF  *As yet untitled*                  Serdyn du Toit -#2649
 F   The Present                        David S. Lyons -#2650
 F   Fade to Black                      Trina Jacobs -#2651
 SF  Canto Robotica                     Roel Scheijde -#2652
 F   Swords Against the Mage,           Bonnie Newton -#2653
 SF  Deep Conscious                     Mike George -#2654
 SF  What the Dryad Saw                 William Brown -#2655
 F   The Pardon                         Melissa Kelly -#2656
 F   A Dragons Right to Rule            Mike Dunne -#2657
 SF  Doomed!                            William Springer -#2658
 F   Into the Fire, Chapters 1-2        Philip Niewold -#2659
 F   There Are Days                     Emily Grover -#2660
 SF  Abort! Abort!                      Seana O'Brien -#2661
 SF  Necromanteum, Prologue 0           Laurance Pearsongreer -#2662
 SF  Larry, Moe and Curly               Gene K. Boyd -#2663
 F   The Trapping Chapter 1             Anthony Vela -#2664
 SF  Live the Edge                      Jeff Minor -#2665
 SF  The Last Woman's Magazine          Roxanne Hutton -#2666
 F   Ariel's Rose (Chap 15)             Kathy Shea Brown -#2667
 SF  Afterlife                          Malcolm Twigg -#2668

Week of 11-Aug-1999 (Crits due 18-Aug-1999):
 SF  The Replay                         Arthur Dorrance -#2669
 SF  Stlinter of It                     F.J. Meagher -#2670
 F   The Magic of the Children          Monica J. O'Rourke -#2671
 SF  Deathwatch                         Mike Rimar -#2672
 SF  The Moment of the Dawn             Juan C. Vilca -#2673
 SF  Ed                                 Mark Siegel -#2674
 F   The Messenger                      Martha Bland -#2675
 H   Muddyrump                          Terry Durbin -#2676
 F   Cabbage Dreams                     Iain Darby -#2677
 H   More Dark Sonnets                  Stephen Thorpe -#2678
 H   Do You Like Dead Things?           Bonnie Mercure -#2679
 SF  Chapter 7-10 of Battle for Ft. Apache  Elizabeth Kelley Buzbee -#2680
 F   Weep Not for a Memory              Julie Gele -#2681
 F   Animosity and Madness at the Gates of Dawn  Joe Murphy -#2682
 SF  The Celestial Mechanics            Andy Miller -#2683
 F   The Adventures of Mark Hill and Tom Sawyer  Patricia Guthrie -#2684
 F   Anything You Want                  By Allan T Price -#2685
 SF  Midnight over Jerusalem            Jim Anderson -#2686
 SF  Premise                            Daniel LeVangie-Stricklen -#2687
 F   With An Asp At Your Bosom (rewrite)  F. Ian Ronald -#2688
 F   The Tear and the Soulless Child    Daniel E. Springfield -#2689
 SF  The Alt-Window                     Gayla Bassham -#2690
 F   Gods and Snakes                    Catherine Endres -#2691
 SF  General Sherman                    Alissa Grosso -#2692
 F   Do Not Go Gentle                   B. Karmazin -#2693
 SF  Battle At 2 A.M.                   Dan Gleeman -#2694

Week of 18-Aug-1999 (Crits due [*] 1-Sep-1999):
 SF  Opus                               Perry Jewell -#2695
 H   Blinky Bean Loves You              Robert Cleary -#2696
 H   "Fallen Angels"                    Brian Salyards -#2697
 SF  A Matter of Justice                Charlotte Ballard -#2698
 SF  Reports to an Academy              Norm Trigoboff -#2699
 F   The End of the Road                Erica Weiland -#2700
 H   The Vampires of D7                 Trevor Alyn -#2701
 H   Deer Hunter!                       James S. Forrest -#2702
 SF  Plastic Green                      Cath Haftings -#2703
 F   Airgedlamh, chapters 4 & 5         Cheryl J Spooner -#2704
 F   Living the Dream                   Marjorie Cantu -#2705
 SF  Freedom Flights: Tales of the ROGUE ANGELS (Chapters 1-4)  Patrick Snead -#2706
 F   A Measure of Man                   Craig Cross -#2707
 F   Hound of the Cradle                Chelsea Nolen -#2708
 F   Rose Petals                        Melvin Frank Darbe -#2709
 H   Ennui in D                         Kevin McAlonan -#2710
 F   The Ghost of Joseph Cullen         Bronwen Nemaric -#2711
 F   Curse of the White Pig             Lani K. Thompson -#2712
 SF  "We're YOUR Police"                Kevin James Miller -#2713
 F   Portents                           Barry Hollander -#2714
 F   The Porch                          Carter Abel -#2715
 SF  Don't It Make My Brown Eyes Blue?  Nancy N. Burk -#2716
 H   Night Time Hunter                  Karla Peracchio -#2717
 SF  To Be Published                    William Vetter -#2718
 H   The Wet Kiss                       Randy D. Ashburn -#2719
 SF  The Assassin's Elections           Raymond Hensley -#2720
 SF  Battle for a Planet Part One       Bennala -#2721
 SF  The Crusadist, Chapters 1-3        Ethan Petty -#2722
 H   Jackson's Hunt                     Michael A. Goring -#2723
 F   Arfeus                             Joe Beason -#2724
 F   Misty Metaphormosis [sic]          Chuck Gee -#2725
 SF  Wetware                            Thomas Epperson -#2726
 SF  Good Intentions                    Sheila Crosby -#2727
 SF  The Depths of Space                John Bornmann -#2728
 F   Dark Sun Rising, prologue          Mike Chapin -#2729
 F   Ornithophilia                      Antonia Mitchell -#2730
 SF  Cleaning Mrs. McElligot's Pool     Harmon Everett -#2731
 SF  The Beginning                      Suncica Tatic -#2732
 SF  Identity                           Fred Obermeyer -#2733
 H   Sugar for Gramma                   A.H. Jennings -#2734

Week of 1-Sep-1999 (Crits due 8-Sep-1999):
 SF  Flotsam Or Jetsam?                 Dennis Gilmore -#2735
 F   Five Hundred Rubleons              Mark Budman -#2736
 F   Passing Grade                      Davidson Corry -#2737
 SF  The Sacrifice of Berra 4, chapter 10  Dave Erickson -#2738
 F   Happily Ever After                 Michelle Lyons -#2739
 H   The Wrath of Angels                Herbert Hoopes -#2740
 SF  The Adventures of Hip-Hep          Jonathon Sullivan -#2741
 H   Mindgame                           Steven Andrews -#2742
 SF  SS Doorprize                       Hank Quense -#2743
 SF  Vampires and Angels                Jane Mitchell -#2744
 H   The River                          Elizabeth B. Blue -#2745
 F   Fireflies, chapters 0-1            Daniel Arenson -#2746
 SF  Cloning Jesus                      Shauna C. Bryce -#2747
 F   Phragmented Phigments of Phoibles PhantasmicT  Dennyce C. Barrett -#2748
 SF  Y2K A Fantasy - I Hope             Ron Hurst -#2749
 F   The Second Kinslaying              B Matthew Scott -#2750
 F   Fisherman's Friend                 Diane K Whelan -#2751
 F   Tales of the Jar'Din, Book 1 - Black Moon  Kathy Frost -#2752
 SF  Io You                             Shawn Brayman -#2753
 H   Wire Down                          Elaine Lovitt -#2754
 SF  The King of Ages                   Christopher Fischbach -#2755
 F   A Reign of Tears (Rewrite)         Jeff Cates -#2756
 F   The Apprentice                     Ben Johnson -#2757
 H   Her Mother's Daughter              Natasha Donnelly -#2758
 H   The Spindly Man                    M. D. Graham -#2759
 F   A Hunter's Plight                  Scott Beem -#2760

Week of 8-Sep-1999 (Crits due 15-Sep-1999):
 F   Cloaked Promise, Prologue & Chapter 1  [mpc] Ayse Tuzlak -#2761
 SF  Foil Dive                          Roxanne Hutton -#2762
 H   Never Lean on a Blue Wall          Jessica McLeod -#2763
 SF  Guilt                              Kelly J. Foll -#2764
 SF  The Sound of Flight                Craig Minor -#2765
 SF  The Mind                           Susan Maddy -#2766
 F   The Green and the Red              Kim Fryer -#2767
 F   The Last Time the Crows Went to Albuquerque  Carol March -#2768
 F   The Trapping, Chapters 2-3         Anthony Vela -#2769
 H   Legend of a Snowy Night            Lawrence W. Lanum -#2770
 SF  The Shareholder                    Mike Dunne -#2771
 SF  The Rock                           Holly Larson -#2772
 SF  Ordinary World, Chapters 1-2       Julie C. Andrijeski -#2773
 F   Havens                             Gary Blankenship -#2774
 SF  Toadstool                          Marty Hueller -#2775
 F   Heart Stone                        Arran Caza -#2776
 SF  Thunder                            Richard Bamberg -#2777
 SF  It's not the Diapers!              Arthur Dorrance -#2778
 H   Sweet Song                         Monica J. O'Rourke -#2779
 F   Basic Black                        Catherine Endres -#2780
 SF  Out of Time                        Alissa Grosso -#2781
 F   Home Depot                         Mark Siegel -#2782
 SF  You Never Take Me Anywhere         Dan Gleeman -#2783
 H   Night Cry                          Bonnie Mercure -#2784

Week of 15-Sep-1999 (Crits due 22-Sep-1999):
 F   Princess Sabra and the Dragon      Patricia Guthrie -#2785
 F   Of Pebbles and Newts               F. Ian Ronald -#2786
 SF  Battle for Ft. Apache chapter 10-11  Elizabeth Kelley Buzbee -#2787
 SF  Faerywife                          Barbara Karmazin -#2788
 SF  Angel Elect: Nemesis Reflected, Chapter Three.  Xiang Yuen -#2789
 SF  Colony                             Malcolm Clark -#2790
 SF  Pride of Athena                    Brandon Butler -#2791
 F   Soul Of Stone, Major Revision      David Swift -#2792
 SF  Underground                        David A. Burns -#2793
 F   One Must Be Lost To Be Found       Chris Boone -#2794
 F   Knowing Me                         Scott Neigh -#2795
 F   Seat Of Power, Chapter 3,.         John A. MacSween -#2796
 F   West Wind                          A. Sutherland -#2797
 SF  Me, Myself and I                   Eric Snyder II -#2798
 SF  Angel-Killer, Chapters 1-4         Patrick Boyer -#2799
 F   A New Life                         Martha Bland -#2800
 SF  Doomed!                            William Springer -#2801
 H   The Legacy of Aaron Geist (Chapter 1)  Terry Durbin -#2802
 F   Medallion                          James Cozzens -#2803
 F   Vengeance                          Frej Wasastjerna -#2804
 SF  Abraham Roach                      F.J. Meagher -#2805
 SF  Strange Trip                       David DeGraff -#2806
 F   Guinevere's Tale                   Ann Williams -#2807
 SF  DINOSAURS ENDING cpt 1 and 2       Stephen B. Pearl -#2808

Week of 22-Sep-1999 (Crits due 29-Sep-1999):
 F   Wedding Cake                       David Zumwalt -#2809
 F   To Restore a God                   Jack Zuzeek -#2810
 F   Alsweer                            Pam Bainbridge-Cowan -#2811
 F   At the Ocean's Edge                Lisa A. Nichols -#2812
 F   When Dragons Wake, Chapters 1-7    Cynthia Cloughly -#2813
 SF  Amy 1.0                            Sean Sands -#2814
 F   Rebirth                            Teresa Bohane -#2815
 F   The Man Who Hated Christmas        Mike Rimar -#2816
 SF  Fish                               Peadar O Guilin -#2817
 SF  Rosetta Bones                      Wendy Morris -#2818
 SF  The Return                         Diane Kreinbring -#2819
 SF  Mirror Image                       Becca Schlichtig -#2820
 F   The Pied Piper of the Killing Fields  Jim Riel -#2821
 F   Extinction                         Mark S. Griswold -#2822
 SF  Speaking in the Language of a Dead Planet  Joe Murphy -#2823
 F   "Redemption" (rewrite of "This Twilight")  Charity Zegers -#2824
 H   The Unfinished Business of Tommy Kent  Kevin James Miller -#2825
 F   Love Carved in Stone               Brian Salyards -#2826
 SF  Silence is Golden                  Barry Hollander -#2827
 F   The Mask of His Confessor          Melvin Frank Darbe -#2828
 F   Our Troubles Begin                 A.H. Jennings -#2829
 SF  Free Ride                          Perry Jewell -#2830
 SF  Silicon Roses                      Fred Obermeyer -#2831
 F   Be It Dice or Cards or Bones or Blades  Thomas Epperson -#2832
 H   Served up Cold                     Sheila Crosby -#2833
 F   The Scar                           Raymond Hensley -#2834

Week of 29-Sep-1999 (Crits due 6-Oct-1999):
 H   Spot                               Wendy Ehrl -#2835
 F   Retaking the Heart, Chapter 1      Roger E. Eichorn -#2836
 SF  Healing Time                       Robert H. Beer -#2837
 H   Morbid                             Sam Galbraith -#2838
 H   Prep Work                          Stephen V. Ramey -#2839
 SF  The Bitter Seed                    Andy Miller -#2840
 SF  Fast Freddie and the Pilot from Mars  Philip J. Lees -#2841
 SF  The Real Thing                     Iain Darby -#2842
 H   Last Kiss                          Tom Sweeney -#2843
 F   Strange Bedfellows, Chapter 1      Janell E. Robisch -#2844
 F   Never to Love Chapters 1-3         Mary Ann Carman -#2845
 SF  Going Down in an Up World          Scott W. Starkey -#2846
 F   Caliston, Chapter 1                Tim Prost -#2847
 F   Messenger                          Sarah Kelderman -#2848
 H   Emmy's Ghost                       Elizabeth B. Blue -#2849
 SF  A Feast on the Tundra              Jonathon M. Sullivan -#2850
 SF  Anonymous World                    Shauna C. Bryce -#2851
 F   The Honey Hunters (Rewrite)        Jeff Cates -#2852
 SF  Can You Spare A Bullet, Comrade?   Mark Budman -#2853
 SF  The Sacrifice of Berra 4, chap. 11  Dave Erickson -#2854
 H   Ozark Fever                        Natasha Donnelly -#2855
 F   Little Wings                       Davidson Corry -#2856
 SF  The Change                         Julian Hudson -#2857
 SF  The Bovine Cat House               Henry L. Lefevre -#2858
 F   Fireflies                          Daniel Arenson -#2859
 SF  Party Line                         Shawn Brayman -#2860

Week of 6-Oct-1999 (Crits due 13-Oct-1999):
 SF  Modern Miracles                    [mpc] Natasha Donnelly -#2861
 F   A Tale Retold                      Carole Nomarhas -#2862
 F   Amulet of Corsian, Chapters 0-10   Jefferson R. Boydston -#2863
 SF  George Wakes Up                    Paul S. Jenkins -#2864
 F   Mr. Evan's Ghost                   Jane Mitchell -#2865
 SF  The Minority                       John Beeler -#2866
 H   Skin Game, chapter 1               Brian P. Hudson -#2867
 SF  "Drake's Blood, Chapter 1"         Michael Forward -#2868
 F   The IntraGalactic Shakespeare Festival  Rupa K. Bose -#2869
 F   Doubled                            Doris Elledge -#2870
 H   Pearlie Little                     Randy D. Ashburn -#2871
 F   Brittany's Private Journal, part 1  Trina Jacobs -#2872
 H   As Long as We Both Shall Live      William J Francis (Bill) -#2873
 F   Overpass                           Elizabeth Eaton -#2874
 F   Coming of Age                      Linda Corrie -#2875
 H   Madame Pain                        Roxanne Hutton -#2876
 H   Blood Ties                         Catherine Endres -#2877
 H   Ernie                              Dan Gleeman -#2878
 H   The Eyes Are the Window            Monica J. O'Rourke -#2879
 H   Dentist's Visit                    Brian Pierce -#2880
 F   Uncle Landmere's Sword             Bonnie Mercure -#2881
 SF  Organ Grinder                      Mark Siegel -#2882
 F   First Impressions                  Arran Caza -#2883
 SF  2.83 Years                         Alissa Grosso -#2884
 SF  Thunder                            Richard Bamberg -#2885
 F   Ties of kinship                    Nermina Dzaferbegovic -#2886

Week of 13-Oct-1999 (Crits due 20-Oct-1999):
 SF  Undermined in Moonland             [mpc] Carter Abel -#2887
 SF  Sacred Daughter, Chapters 1-3      Ann Margaret Lewis -#2888
 H   Dirt                               Joe Williams -#2889
 SF  Ordinary World, Chapters 3-4       Julie C. Andrijeski -#2890
 SF  Down the Line (revised)            Jeff Verona -#2891
 H   Beneath The Skin                   Guy Russell -#2892
 H   The Gardener                       Bob Kocher -#2893
 F   The Familiar                       Brian Williams -#2894
 SF  Free as a bird                     Chris Paul -#2895
 H   Only One Daughter                  Pamela A. Lord -#2896
 SF  The General, the Monster, and a Girl  Lawrence W. Lanum -#2897
 SF  Heroine (rewrite)                  Connor Moran -#2898
 F   Pursuit                            Benjamin Breeck -#2899
 F   The Slot Machine                   Patricia Guthrie -#2900
 SF  Down Came a Blackbird              Barbara Karmazin -#2901
 SF  The Golden Dragon                  Brandon Butler -#2902
 SF  Battle for Ft. Apache chapter 12-14  Elizabeth Kelley Buzbee -#2903
 F   Fortune's Soldier Chapters 1-17    F. Ian Ronald -#2904
 SF  Cloned Lives                       Martha Bland -#2905
 SF  Angel Elect One: Nemesis Reflected. Chapters 4 and 5)  Xiang Yuen -#2906
 SF  Plastic Green - Part 2             Cath Haftings -#2907
 SF  Above the Water                    Carl Frederick -#2908
 F   Akvatown                           Tomas Forsman -#2909
 SF  WAITING FOR THE ANTI-SHIP          Jim Bauer -#2910
 F   Butterfly                          Kevin G Maclean -#2911
 SF  On the Edge (Resubmittal of "It's Not the Diapers!")  Arthur Dorrance -#2912
 F   Pack Hospitality                   Michelle Lyons -#2913
 F   Blood Brothers, Chapters 3-4       Michael Akinde -#2914

Week of 20-Oct-1999 (Crits due 27-Oct-1999):
 H   Sunsent                            Starfire (Tanja Freedman) -#2915
 F   Fringe Dwellers                    Robbie Matthews -#2916
 H   Road Kill Cafe                     Diana Price -#2917
 SF  Legends Reborn                     Carol Hightshoe -#2918
 F   Land Beneath the Waves Chpt. 0-2   Kimberly Miltimore -#2919
 SF  Stardreamer's Tale                 Adam Walker -#2920
 SF  Regmeyer Award                     Aaron Clarke -#2921
 H   Road Rage                          Paul Sheringham -#2922
 F   The Gentle Art of Dragon-taming    Jilly Paddock -#2923
 F   Amor Divinus                       Laurel Amberdine -#2924
 SF  D'angels, Chapters 1-3             Steve Poling -#2925
 SF  Lose the Pyramids                  Pete Richert -#2926
 SF  Now I Know My ABC's                Kevin James Miller -#2927
 SF  What Needs Be Done                 Thomas Epperson -#2928
 H   Little Aubrey                      A.H. Jennings -#2929
 SF  Victims Inc.                       Brian Salyards -#2930
 F   Balancing the Band                 Barry Hollander -#2931
 SF  Die!                               Fred Obermeyer -#2932
 F   Child of Malleus                   Pam Bainbridge-Cowan -#2933
 F   When We Ruled The Earth            Mike Rimar -#2934
 SF  Sea Change                         Mark S. Griswold -#2935
 SF  Dark Contact, Chapters 1 & 2       E. Sean Sands -#2936
 H   Hair                               Peadar O Guilin -#2937
 F   The Left to See (First 3 Chapters Only)  Joel W. Weisman -#2938
 SF  Shards of the World We Knew        Guy Salvidge -#2939
 SF  The Generations to Come            Julian Todd -#2940

Week of 27-Oct-1999 (Crits due 3-Nov-1999):
 SF  Flatland; Prolouge, Chaps. 1 & 2   David A. Burns -#2941
 F   The End of Innocence   	        Rodney L. Edgar -#2942
 SF  Moebius, Book One of the Biography of an Earthling saga  Anthony Hernandez -#2943
 F   The Warleader and His Wife         Jim Wagner -#2944
 F   Last Class                         Tamika N. Richardson -#2945
 SF  The Perfect Weapon (chapters 1-2)  Ben Colwell -#2946
 F   The Serpent Within                 Laura Wakefield -#2947
 H   Serpent's Gambit                   Michael Smith -#2948
 F   Some Day You Will Understand       Patti Miller -#2949
 SF  Prison Fodder                      Sue Diment -#2950
 SF  The Givers, chapter 1              J.D. Williams -#2951
 F   Basel                              Lisa McCoy -#2952
 F   The Good Wife                      Mary K Wilson -#2953
 SF  The Ghost's Shadow                 Eric Snyder II -#2954
 H   A Darkling Silver                  Kate Golding -#2955
 F   Julian                             Abigail Laughlin -#2956
 SF  The Sacrifice of Berra 4, final chapter  Dave Erickson -#2957
 SF  An Unexpected Consequence of the Reversal of Time  Tom Sweeney -#2958
 F   Never to Love (Chapter 4)          Mary Ann Carman -#2959
 SF  Determination's Daughter, Chapters 0-1  M.K. Hobson -#2960
 F   Caliston, Chapter 2                Tim Prost -#2961
 F   A Light Summer Storm               Amber Bay -#2962
 F   Nia Reyes Rises                    Melissa S. Born -#2963
 F   How Does Your Garden Grow?         Celestine M. Stoltenberg -#2964
 H   Serenity's Bliss                   Kami Dymock -#2965
 F   Fireflies (rewrite)                Daniel Arenson -#2966

Week of 3-Nov-1999 (Crits due 10-Nov-1999):
 SF  Flashtube                          [mpc] Devon Ellis -#2967
 F   Flies                              Alison Chapman -#2968
 SF  Retribution                        Charlotte Ballard -#2969
 SF  The Tank                           S. Mathew Willoughby -#2970
 SF  Cow Programmer, Chapters 1-4       Susan Catt -#2971
 SF  Michael's Misconception            Kevin Vorshak -#2972
 SF  Borkin the Archer, Chapters 0-1    Frej Wasastjerna -#2973
 F   Jethae, Book 1 of Tenik'Sol, Chapter 1  Michael E. Quicho -#2974
 H   Homer and Opaleen                  Elizabeth B. Blue -#2975
 F   Storm's Whisper, Prologue and Chapter One  Ian Vance -#2976
 SC  A Model Marriage                   Jennifer Macaire -#2977
 F   Armenaugh's Well                   Joseph Wise -#2978
 SF  Dulia's Woman                      Roxanne Hutton -#2979
 SF  Wild Femme                         Catherine Endres -#2980
 H   The Weapon of Your Choice          Monica J. O'Rourke -#2981
 SF  The Bike Patrol                    Dan Gleeman -#2982
 H   The Good Mother                    Bonnie Mercure -#2983
 SF  lacy.tabbycat.427                  Alissa Grosso -#2984
 SF  The Transformation                 Nermina Dzaferbegovic -#2985
 F   A Day in the Life of C@            Rupa K. Bose -#2986
 SF  Genesis Conspiracy Chapters 0-5    Jefferson R. Boydston -#2987
 F   Mommy Says                         Trina Jacobs -#2988
 SF  JillyNet!                          Paul S. Jenkins -#2989
 F   New Times                          Arran Caza -#2990
 H   The Painter in His Studio          Carole Nomarhas -#2991
 SF  Final Message                      Paul Butler -#2992
 SF  Upgrading Zinnia                   Carol Ryles -#2993
 F   Tangled Webs                       Bernita Stark -#2994

Week of 10-Nov-1999 (Crits due 17-Nov-1999):
 SF  If I Had My Life To Live Over      [mpc] Daniel La Violette -#2995
 SF  Daylight Seduction                 April Martin-Gordon -#2996
 F   The Last Great Dragon Hunt         David Swift -#2997
 F   Murderer                           Dawn R. Castner -#2998
 F   Faith, Hope and Love               Fran Wolber -#2999
 SF  Faith and Begorra                  Shawn Brayman -#3000
 F   Joe Manx                           Justin Stanchfield -#3001
 SF  Saint Jimmy                        William Vetter -#3002
 SF  Malik the Elder                    John Trey -#3003
 F   Jigsaw                             Steven Howard Smith -#3004
 F   Trucidacia and the Giant           Gene K. Boyd -#3005
 SF  The Waters of Memory               Holly E. Ordway -#3006
 F   The Giant Who Ate Human Beans, The Three Wise Brothers of Gotham and The Mouse Who Was Really a Girl  Star C. Foster -#3007
 SF  A Sordid Genesis                   R.J. Hale -#3008
 F   Woman Power                        Mark Budman -#3009
 SF  Thunder Chapter 6-8                Richard Bamberg -#3010
 SF  Gravity                            Carl Frederick -#3011
 F   The Old, Dark House                Arthur Dorrance -#3012
 SF  Seeker ("Adano" revised)           Carter Abel -#3013
 F   Chain Links                        Chris Paul -#3014
 F   When Dragons Dream                 Kevin G Maclean -#3015
 SF  Angel Elect One: Nemesis Reflected (Chapters 6 and 7)  Xiang Yuen -#3016
 SF  Retirement                         Martha Bland -#3017
 F   The Oracle                         Andy Miller -#3018
 F   Alien Magic                        Doris Elledge -#3019
 H   Center of Illusion                 Sarah Kelderman -#3020
 H   Meat                               Craig Strickland -#3021
 SF  Little Claw of Azuni chapter 14-15  Elizabeth Kelley Buzbee -#3022

Week of 17-Nov-1999 (Crits due [*] 1-Dec-1999):
 H   Kiss of Amber                      [mpc] Kami Dymock -#3023
 F   A Stone's Heart - Short Story      [mpc] Nathan CW Smith -#3024
 F   The Clan of the Tigers(Chapter 1)  Jennifer Buzby -#3025
 SF  Noka and the Spaceman              Robert H. Beer -#3026
 SF  Down Came a Blackbird/Chapters 5 & 6  Barbara Karmazin -#3027
 H   The Charlatan                      Liberty Howell -#3028
 SF  The Elders                         Jai Shaw -#3029
 F   Toni, Prologue & Chapter 1         Charity Lund -#3030
 H   Old One Eye (chapter 3 of an untitled novel)  Todd Schuett -#3031
 F   A Fantasy-Fairytale of Knights and Dragons  Jan L. Dillon -#3032
 H   The Place                          Stefano Donati -#3033
 H   Into the Light                     Gary Blankenship -#3034
 F   Ida                                Hank Quense -#3035
 F   Visions                            Cath Haftings -#3036
 H   Sandy Malarkey Grows Up            Kevin James Miller -#3037
 F   Takes One to Kill One              Barry Hollander -#3038
 F   Misplaced Angels                   Brain Salyards -#3039
 SF  Ship                               Fred Obermeyer -#3040
 F   Dragon Omelette                    Robbie Matthews -#3041
 F   The Stuff of Dreams                Mike Rimar -#3042
 H   The Iceman Cometh                  Diana Price (Lilyan Rosewood) -#3043
 SF  Don't All Women Love Chuck Clutt   Kevin McAlonan -#3044
 F   Shadow Hunt, Chapters 0-2          Teri Vaughan -#3045
 F   The Peddler                        David R. Silas -#3046
 SF  Dissembler                         Ignatius Fischer -#3047
 SF  The Appliance of Science (Rewrite of Privacy)  Sheila Crosby -#3048
 H   Windows                            Todd Wiley -#3049
 F   Bone-Bearer Chapters 1-3           Michael Cole -#3050
 SF  D'angels, Chapters 4-6             steve poling -#3051
 F   Dark Regin Chapter 1 and Introduction  Laurie Weston -#3052
 SF  Champion Country                   Jeff Verona -#3053
 SF  The Chemistry of Love              Simon Field -#3054
 F   Windborne                          Marie Wendel -#3055
 F   Henry H. Miller                    Jim Cue -#3056
 SF  Sell the World                     D.K. Smith -#3057
 SF  Barb Wire                          Andrew Ehlers -#3058
 F   Blue Flower Woman                  Lisa McCoy -#3059
 H   Severance Pay                      M.K. Hobson -#3060
 F   The Shape of a Dragon              Melissa S. Born -#3061
 F   After the Portal (Prologue and Chapter 1) Rewrite  Patrick Snead -#3062
 SF  Bed and Breakfast                  Tom Sweeney -#3063
 F   Mad Dash                           Amber Bay -#3064

Week of 1-Dec-1999 (Crits due 8-Dec-1999):
 SF  Forbidden the Stars (Novel RFDR)   [mpc] Daniel La Violette -#3065
 F   The Dragon and the Butterfly       [mpc] Laurel Amberdine -#3066
 SF  Cannon-Shot                        Andrew Dennis -#3067
 F   The Serpent Within ch. 3           Laura Wakefield -#3068
 SF  The Weather Outside                Davidson Corry -#3069
 H   Another Sip                        Randy D. Ashburn -#3070
 SF  EVE 6                              Nicky Hussein -#3071
 F   The Tomb of Abu-Natan              Linda Corrie -#3072
 SF  Y2K Bugged                         Jim Sansing -#3073
 SF  Lost in My Own Neighborhood        David Strugar -#3074
 F   Baptism of Fire, chapters 1 & 2    Jeanette Snyder -#3075
 F   Catching Fire                      Ayse Tuzlak -#3076
 F   A Lady's Best Friend               Glen W. Knape -#3077
 F   Night Birth                        Elizabeth Eaton -#3078
 H   "Out of Shadows"                   Mark A. McClure A.K.A. Alex Cord -#3079
 H   and Lead Us Not into Temptation    Liz Becker -#3080
 SF  Thinking Outside The Sphere        Sean Sands -#3081
 SF  The Keeper of the Flame            Roxanne Hutton -#3082
 SF  Skin Deep                          Dan Gleeman -#3083
 H   Shivers                            Bonnie Mercure -#3084
 H   Blood Curse, chapters 1-5          Jefferson R. Boydston -#3085
 F   _Storm's Whisper_ Chapter 2 & 3    Ian Vance -#3086
 F   Saereth, Chapter 1                 Michael E. Quicho -#3087
 H   The River (revised)                Elizabeth B. Blue -#3088
 F   The Stray                          Jennifer Macaire -#3089
 H   Babes in the Woods                 Monica J. O'Rourke -#3090
 F   A Matter of Choice                 Bernita Stark -#3091
 F   Ties of kinship, Part 2            Nermina Dzaferbegovic -#3092

Week of 8-Dec-1999 (Crits due 15-Dec-1999):
 H   The Bad Luck Monster               [mpc] Kami Dymock -#3093
 H   Dowden and the Lumberjack          Joseph Wise -#3094
 H   Hearing Things                     Barbara Neatherlin -#3095
 SF  The Aphid                          H.D. Lail -#3096
 SF  Mann's Test                        Daniel Arenson -#3097
 SF  Traitors Never Prosper             Sam Perera -#3098
 SF  Paratime Encounter                 Frej Wasastjerna -#3099
 SF  In Towers High                     Samantha Peterson -#3100
 H   Spot -re-write                     Wendy Ehrl -#3101
 F   Gazabelle's Last Spell             J. B. Chamberlin -#3102
 SF  Nunc Dimittis                      Vince Bonasso -#3103
 F   The End of Innocence Chapters 4-5  Rodney L. Edgar -#3104
 SF  A People Most Strange              Vincent Nguyen -#3105
 F   To Cut a Deal (revised)            Dawn R. Castner -#3106
 F   See You In Your Dreams             Mark Budman -#3107
 SF  She was an AI Psychologist         Carter Abel -#3108
 SF  Chapter 16-17 of Little Claw of Azuni  Elizabeth Kelley Buzbee -#3109
 F   THAT BEARS A CROWN                 APRIL MARTIN-GORDON -#3110
 SF  Clueless                           Carl Frederick -#3111
 F   The Minos Tour                     Arthur Dorrance -#3112
 F   The Faerie King                    Holly E. Ordway	 -#3113
 SF  Is There Life After Reality?       John Douglas Kossum -#3114
 SF  Nemesis Reflected: Chapters 8 & 9  Xiang Yuen -#3115
 SF  The Baby                           Martha Bland -#3116
 H   Mr. Conrad's House                 Marc Sorrells -#3117
 SF  The Calcium Efflux Conspiracy      Joe Murphy -#3118
 F   Raven Dance                        Darryl Branning -#3119
 SF  Recovery                           John Routledge -#3120
 F   Aurora                             Andy Miller -#3121
 F   The Time Thief                     Matthew Ziegler -#3122

Week of 15-Dec-1999 (Crits due 22-Dec-1999):
 SF  All Hope                           [mpc] Nathan CW Smith -#3123
 F   Akala Chapter 1                    Barbara A. Heilchuck -#3124
 F   The Surrogate, Chapter 1           Loretta Lewis-Wells -#3125
 H   Delivery                           David Swift -#3126
 SF  The People                         Shawn Brayman -#3127
 F   The Moment Between Waves           Jim Riel -#3128
 SF  Angel Cooling                      Murad H Talukdar -#3129
 F   Shades of Night, four poems about a time neglected  Judith Rau -#3130
 F   Rewrite Child of Mallues, now Child of Cultellus  Pam Bainbridge-Cowan -#3131
 F   The Fourth                         David L. Felts -#3132
 SF  The Bovine Casino                  Henry Lefevre -#3133
 SF  Kicked Into Next Weekend           Emma Osman -#3134
 SF  Hollow Promise, Chapter 1          Callum Dunlop -#3135
 H   To Pierce The Flesh                Craig Strickland -#3136
 SF  The Map Maker's Daughter           Alissa Grosso -#3137
 SF  The Perfect Weapon (chapters 3-4)  Ben Colwell -#3138
 H   The Spider Boy                     Trevor Alyn -#3139
 SF  For What Would it Profit a Man?    Michael Scherer -#3140
 H   Not a Ghost                        Jesimae T. Umetin -#3141
 F   Prodigy of the Dark - Chapter 1 (Eyes of the Storm)  Foo Tien Pauh or/ (Benjamin Foo) -#3142
 SF  The Curse at Earthrise             Kevin James Miller -#3143
 F   Vesco A Mora                       Lisa McCoy -#3144
 F   A Warrior's Work                   Mike Rimar -#3145
 H   The Antipire                       Fred Obermeyer -#3146
 F   . . . a Bad Name                   Jim Cue -#3147
 SF  c.o.c.o.                           Andrew Ehlers -#3148
 H   Folie a deux                       M.K. Hobson -#3149
 H   Word of Mouth                      Stefano Donati -#3150

Week of 22-Dec-1999 (Crits due [*] 5-Jan-2000):
 SF  Click!                             [mpc] RW Tregay, jr -#3151
 F   The Last Great Dragon Hunt (Revised)  [mpc] David Swift -#3152
 F   The Third Front                    Todd Wiley -#3153
 SF  Chapters 7 & 8, Down Came a Blackbird  Barbara Karmazin -#3154
 F   The Gramary, Chapters 0-1          David R. Silas -#3155
 SF  Der Teufel kaufen das Kinder       Ignatius Fischer -#3156
 SF  The Temptation of Peace            Brian A. Salyards -#3157
 F   The Clan of the Tigers --rewrite of Chapter 1  Jennifer Buzby -#3158
 H   Fallen                             Neil Hopkins -#3159
 H   Lake Michigan gleams               Timothy M. Nall -#3160
 F   A Crutch of Beauty                 Carol Tompkins -#3161
 SF  Raphael, Chapters 3-7              Glenn Hough -#3162
 F   Martha and Doris                   Patti Miller -#3163
 H   The Breath of the Stars            Sheila Crosby -#3164
 F   Alienation                         Scott Neigh -#3165
 SF  The Eyes of the Future Gone Past   Jeff Cates -#3166
 SF  The Last Dawn                      Alex O'Meara -#3167
 SF  Clans revisited                    Tom Martin -#3168
 SF  Vampire City                       RamonDias@hotmail.com -#3169
 SF  Thunder                            Richard Bamberg -#3170
 F   Children of Avelos-Working Title, Chapter 1  Larissa Niec -#3171
 SF  D'angels, Ch 7-8                   steve poling -#3172
 F   The Christmas Spirit               Brett Knott -#3173
 SF  The Millennium Piper               Lynda Lehmann -#3174
 SF  Karen Saves the World              Kelly Green -#3175
 SF  Survival Recipe                    Dan Gleeman -#3176
 F   Amulet of Corsain, chapters 0-1 revised  Jefferson R. Boydston -#3177
 F   Storm's Whisper_Chapters 4 and 5   Ian Vance -#3178
 H   Symbiosis                          Monica J. O'Rourke -#3179
 SF  Virtual Murder                     Jennifer Macaire -#3180
 SF  Firewall                           David Strugar -#3181
 F   Faith of Angels                    Bernita Stark -#3182
 SF  Creature Instincts                 Bonnie Mercure -#3183
 F   A Hero is Never Too Old            Jeanette Snyder -#3184
 SF  Robots With Human Hearts           Nicky Arserio -#3185
 H   The River Snake                    Elizabeth B. Blue -#3186
 SF  The Sushu Girl                     Tom Sweeney -#3187
 SF  Newfangled Things                  Laurel Amberdine -#3188
 F   The Fisherman's Daughter           Jennifer DeGuzman -#3189

Week of 5-Jan-2000 (Crits due 12-Jan-2000):
 SF  The Reldan Connection              Debra Grace Khattab -#3190
 F   Blood Magic                        Pam Partha -#3191
 F   Fendraaken                         Kevin G Maclean -#3192
 F   Fall Into Night                    Scott Kelemen -#3193
 SF  Average Joe Vs. The Space Invaders  Chad Jones -#3194
 SF  Eternal Rectangle                  D. Michael Martindale -#3195
 H   T. D. S. Epilogue                  Jonathan P. Alford -#3196
 SF  The Right to Life...and Death      Sue Diment -#3197
 H   In Strange Places                  Russell Schirtzinger -#3198
 H   DreamStalker                       Carl W. Deem -#3199
 SF  Tim, Traveller (chapters 1 & 2)    Scott W. Starkey -#3200
 H   Peyote Road, Chapters Prologue-3   Karen Standeford -#3201
 F   The Prophecy                       Robbie Matthews -#3202
 SF  Harlan's Wake                      John Mierau -#3203
 SF  A Sweet Salvation: The Confessions of Saint Joshua the Reprobate  Michael Huang -#3204
 SF  Surviving the Crash                Joshua B. Smith -#3205
 SF  chapter 18-20 of Little Claw of Azuni  Elizabeth Kelley Buzbee -#3206
 F   The Braeburn Jar                   Joseph Wise -#3207
 H   DEATH RATTLE                       Kami Dymock -#3208
 SF  The Hit                            Sam Perera -#3209
 H   Love Dolly                         Barbara Neatherlin -#3210
 F   The Ticking                        Andy Miller -#3211
 H   Waiting for Father                 Marc Sorrells -#3212
 SF  Spencer's Butte                    Carter Abel -#3213
 SF  Ego                                Carl Frederick -#3214
 F   Vagenti's Son: Chapters 0-3        Darryl Branning -#3215
 SF  The Fall of Captain Fantastic      Durand Welsh -#3216
 F   DreamWalker                        Lissa Born -#3217
 SF  The Waterfall                      Cath Haftings -#3218
 SF  Lost Ships                         William Brown -#3219

Week of 12-Jan-2000 (Crits due 19-Jan-2000):
 SF  The Vault                          Martha Bland -#3220
 F   Fairy tales from Armageddon: Jack  Celeste Chang -#3221
 SF  The Price of Truth                 Robert H. Beer -#3222
 F   No Title                           Amber Bay -#3223
 H   The Grave Hunters                  Edward Perkins -#3224
 H   The White Lady                     Craig Minor -#3225
 SF  Where Angels                       Glenn R. Popson -#3226
 SF  A.M.P.                             Roxanne Hutton -#3227
 F   Flight                             Roselyn Silverman -#3228
 SF  And the Men Like Dust              Kevin James Miller -#3229
 F   The Reason Why                     Lisa McCoy -#3230
 H   The uninformed                     Andrew Ehlers -#3231
 SF  The Keeper of Gelph                Michael Scherer -#3232
 F   Avarice                            Mike Rimar -#3233
 SF  Hemopolis                          Fred Obermeyer -#3234
 SF  The World                          Davidson Corry -#3235
 SF  Familiar                           Shawn Brayman -#3236
 F   Fireflies                          Daniel Arenson -#3237
 F   Picking Up the Pieces              Steven Howard Smith -#3238
 F   Eyes of the Storm                  Benjamin Foo -#3239
 H   Dreaming Lamia                     Jesimae Umetin -#3240
 F   One in Five                        Murad.H.Talukdar -#3241
 F   Theseus in New York                Arthur Dorrance -#3242
 F   Impirium, Chapter 1                Lee M. Marsters -#3243
 F   Untitled                           David Prieto -#3244
 SF  The Sylman Business                Ulf Meierkord -#3245
 SF  The Harvesters, ch 2               Samantha Peterson -#3246
 F   The Rookie                         Hank Quense -#3247
 H   Shotcat                            Isaac Weiner -#3248
 F   The Havens (revised)               Gary Blankenship -#3249

Week of 19-Jan-2000 (Crits due 26-Jan-2000):
 SF  The Old Man and the Particle Sea   [mpc] Thomas Epperson -#3250
 SF  Night Wire                         [mpc] Paul Butler -#3251
 H   Woodlands                          Guy Russell -#3252
 SF  The Sum of his Parts               Ziv Wities -#3253
 F   Dark Reign (Chapter 2)             L. Weston -#3254
 SF  Untitled                           Sandy Andrews -#3255
 F   Bibliophilia                       Stephen Couch -#3256
 F   St. Peter's Gate                   Kimbra Gioia -#3257
 SF  Cages                              Patrick Samphire -#3258
 H   Snake Eyes                         Ron Toth -#3259
 F   The Clan of the Tigers -Chapter 1  Jennifer Buzby -#3260
 SF  Pass Mark                          Glen R Chapman -#3261
 SF  Brainwaves                         S. J. Smith -#3262
 F   Bone-Bearer Book 2 Chap 1          Michael Cole -#3263
 SF  Balance                            Timothy Callahan -#3264
 SF  Forward Unto Yesterday - Book 2 of the Biography of an Earthling Saga  Anthony Hernandez -#3265
 F   The Charm is Firm and Good         Paul S. Jenkins -#3266
 SF  Chopped Hog and Spam               Jim Bauer -#3267
 SF  Error Handling                     Sean Sands -#3268
 H   The Zodiac Bar and Grill           Helen Montgomery -#3269
 H   Invisible                          Sarah Kelderman -#3270
 F   John Bowman's Cave, Chapter 0      Erron Adams -#3271
 F   Out of Time                        Monissa Whiteley -#3272
 SF  High School Furor                  Dan Gleeman -#3273
 F   Identity Crisis                    Monica J. O'Rourke -#3274
 F   Storm's Whisper Chapters 6 and 7   Ian Vance -#3275
 F   In the Company of Christ           Todd Wiley -#3276
 SF  Desert Crossing                    Jefferson R. Boydston -#3277
 F   The Development                    Jennifer Macaire -#3278
 F   The Shadow Fey                     Jeanette Snyder -#3279
 F   The Box                            Barbara A. Heilchuck -#3280
 F   The Mad Catter                     Patti Miller -#3281

Week of 26-Jan-2000 (Crits due 2-Feb-2000):
 SF  Dark Planet                        Grant Callaghan -#3282
 H   Cemetary Dogs                      Elizabeth B. Blue -#3283
 SF  The Zones, Chapter One -- "Horses"  Jennifer DeGuzman -#3284
 SF  Raphael, Chapters 8-12             Glenn Hough -#3285
 SF  The Last Verse                     Brian Salyards -#3286
 F   The Gramary, Chapter 2             David R. Silas -#3287
 H   Homunculus                         Lynda Lehmann -#3288
 F   Alchemy, Sorcery & Magic: The New Age Begins, chapters 1-5  Jeffrey A. Michael -#3289
 SF  The Biggest Baddest Wolf           George Chatfield -#3290
 F   A Mother for Joyce                 D.K. Smith -#3291
 H   These Things I See                 Andrew Gilstrap -#3292
 SF  sights through empty eyes          stefano donati -#3293
 F   Self-Improvment                    Natasha Donnelly -#3294
 F   Book of Funtil e Ching             Dirk Hill -#3295
 F   To Dance with the Dead (revised)   Laurie Tom -#3296
 SF  A Question of Loyalty              Alex O'Meara -#3297
 SF  Beta                               Ted Boone -#3298
 SF  The Last Natural Man               David A. Burns -#3299
 H   Manipulation                       Mark A. McClure -#3300
 F   Ms. Found in a Monkey Bladder      Alex F. Brown -#3301
 F   Cloaked Promise, Chapter 1         Ayse Tuzlak -#3302
 F   Birth of a Legend part1            Merlina Edwards -#3303
 F   Strange Mage                       Jay Swartzfeger -#3304
 SF  Earth 2 Earth The Vote             Jason bell -#3305
 F   Honor                              Matthew Ziegler -#3306
 F   The Slayer                         John Prezas -#3307
 F   Dragon's Gold, Chapter I           Karlene R. Price -#3308
 F   Fly on the wall                    Richard J. Blackmore -#3309
 SF  Redneck Granny fights off Aliens with Bug Zapper  Elizabeth Kelley Buzbee -#3310
 F   Understanding the Wild Leprechaun  Joseph Wise -#3311
 F   A Dream of Trains Through the Desert  Dat Pham -#3312
 H   Vacation                           Barbara Neatherlin -#3313

Week of 2-Feb-2000 (Crits due 9-Feb-2000):
 F   Medium Rare                        Carl Frederick -#3314
 SF  Edgar's Family                     D. Michael Martindale -#3315
 F   Mordridian's Beginning             Jonathan P. Alford -#3316
 SF  The Porch                          Carter Abel -#3317
 SF  Consequences                       Kelly Green -#3318
 H   MARY'S SHOOTING STAR               Bonnie Mercure -#3319
 SF  The Totality Clause                Al McLeod -#3320
 SF  The Transit of Neptune             Chris Becker -#3321
 F   The Roiling Stone, Chapter 1       Robert Kerr -#3322
 SF  Failed Expectations                David DeGraff -#3323
 F   Traveler's Quest, Chapter One      Monica Poole -#3324
 F   With a Sudden Shock of Blue        David William McKay -#3325
 H   Something in the Dark              Pam Bainbridge-Cowan -#3326
 SF  Down Came a Blackbird. Chapters 9 thru 12  Barbara Karmazin -#3327
 H   "Appeasing the Tans"               John N. Daily -#3328
 SF  Stairway to Nowhere                Katherine Wood -#3329
 F   The Year of the Tiger              Michael Sawyer -#3330
 SF  Domination Game Ch 1-5             Daniel La Violette -#3331
 F   Price of Magic                     Judith W. Huey -#3332
 SF  Today/Today/Today                  Kevin James Miller -#3333
 SF  The Knowing                        Michael Scherer -#3334
 H   Birthday Dreams                    Mike Rimar -#3335
 SF  The Dragon Lady                    Roxanne Hutton -#3336
 SF  Period Piece                       Roselyn Silverman -#3337
 SF  The End of Tomorrow                Fred Obermeyer -#3338
 SF  It's Not the Diapers!              Arthur Dorrance -#3339
 SF  The Revealer                       Andrew Ehlers -#3340
 F   There Be Monsters                  Lisa McCoy -#3341
 H   ROOM 304, THE VISTA MOTEL, BAKERSFIELD, CA (a poem)  Gary Blankenship -#3342
 F   The Knights of Edinland, chapters 9, 25  Isaac J. Weiner -#3343
 F   A Light Summer Storm               Amber Bay -#3344
 SF  Grave Runner                       Ric Douglas -#3345

Week of 9-Feb-2000 (Crits due 16-Feb-2000):
 F   Traveler's Quest, Chapters 2&3     [mpc] Monica Poole -#3346
 F   The Spickes                        [mpc] Jonathan P. Alford -#3347
 F   Wolf's Oath, Chapters 0-3          Meg Mac Donald -#3348
 F   Roxana                             Carolyn Keefe -#3349
 H   The Pyre Inheritance               Edward Perkins -#3350
 F   Hereward Wakes                     Marnie Goodbody -#3351
 SF  Two Days                           Martha Bland -#3352
 SF  Robin                              Cath Haftings -#3353
 F   Waiting for Gloria                 Wendy Morris -#3354
 F   The Glade                          Kevin G Maclean -#3355
 F   Fortune's Soldier, Chapter 1       F. Ian Ronald -#3356
 SF  Tim, Traveler (Chapters 3 & 4)     Scott W. Starkey -#3357
 H   The Sphinx                         Liberty Howell -#3358
 F   Children of Avelos, Chapter 1-R    Larissa Niec -#3359
 H   Bones                              Debra Grace Khattab -#3360
 SF  Ghost in the Machine               Iain Benson -#3361
 SF  First Love                         Mark S. Griswold -#3362
 SF  The Judge of the Dead              Jason Schmetzer -#3363
 H   Dark Creation                      Nancy Broadley -#3364
 F   Becoming the One                   Vesa Pentti -#3365
 F   Neyassa (working title), Chapters 0-2  Diane K Whelan -#3366
 F   A Shadow in the Darkness (Chaps 0-3)  Lonnie Janise -#3367
 SF  Antirri                            Tom Sweeney -#3368
 F   The Company of Humans              Monica J. O'Rourke -#3369
 F   The Warrior Within                 Jeanette Snyder -#3370
 SF  The Utility of Hate                Todd Wiley -#3371
 H   Obsidian Fall                      Jefferson R. Boydston -#3372
 SF  Old Hand                           Dan Gleeman -#3373
 SF  The Headaches and Euphoria         Guy Russell -#3374
 SF  The Corvette and the alien engine  Timothy Callahan -#3375
 F   A Damsel in Distress               Barbara A. Heilchuck -#3376
 SF  The Kraken File 001 and 002        Ian Vance -#3377

Week of 16-Feb-2000 (Crits due 23-Feb-2000):
 F   The Black Tome, Prologue and Chapter One  [@] Paul S. Kemp -#3378
 SF  Smiling Boy and Red Anger          Patrick Samphire -#3379
 SF  Psalm of the Tortured Soul         Sean Sands -#3380
 SF  Acts of Unlicensed Deviancy        Celeste Chang -#3381
 SF  Corporate Takeover                 Davidson Corry -#3382
 F   Sticks and Stones                  Jennifer Macaire -#3383
 F   Beacon of the Damned               Wanda Fitzgerald -#3384
 F   Rescue                             Doris Elledge -#3385
 F   Battle for the Light               Melissa Stiebert -#3386
 SF  The Narillian Translator           S. J. Smith -#3387
 F   The Soldier                        Craig Cross -#3388
 SF  Translocation Circus               Andy Miller -#3389
 SF  The Crossing                       Corie Ralston -#3390
 H   Morning Workout                    Linda N. Hobbs -#3391
 F   Fireflies                          Daniel Arenson -#3392
 H   True Love                          Marc Sorrells -#3393
 F   Hebephrenica                       Alex F. Brown -#3394
 F   First Steps                        Andrew Gilstrap -#3395
 F   Dragon's Gold, Chapter II          Karlene R. Price -#3396
 H   Asylum                             Mark A. McClure -#3397
 SF  Shuzuku                            Glenn Hough -#3398
 F   The Chosen of Aleron, Chapters 1-3  Eric Rolfe -#3399
 F   An Elfin Tale                      Sock Cheng Tang -#3400
 SF  Blood                              Brian Salyards -#3401
 F   Boy Became a Man                   Jackie Ramirez -#3402
 H   Part 1, Amanda and Jake            B.C. Neatherlin -#3403
 H   housing squeeze                    stefano donati -#3404
 H   The Wedding (poem)                 Abigail Marceluk -#3405
 SF  Those Fabulous Bunting Sisters     Alissa Grosso -#3406
 SF  Final Directive                    Chuck Gee -#3407
 SF  Ovipositors of Luv                 Joe Murphy -#3408
 F   The Majuscule                      Judith Rau -#3409

Week of 23-Feb-2000 (Crits due 1-Mar-2000):
 F   Blood of the Dolphin, Chapters 0-2  Pamela A. Smith -#3410
 F   A Dream of Scaraboo, Chap One      John Donlan -#3411
 F   The Fallow Season, Chapter 0       Julie Joseph -#3412
 F   Potion, Chapters 1-3               Karen Dunstall -#3413
 SF  Mankind's Worst Fears, Chaper One  Dave Erickson -#3414
 SF  Hideout                            Ulf Meierkord -#3415
 F   The Necromancer                    Andrew Apostolides -#3416
 F   Abnegation                         Sheryl Lo Monaco -#3417
 H   The Affliction                     David Swift -#3418
 H   The Preying Game                   Frank W. Clark -#3419
 F   Untitled, Chapter One              Tammi Hyde -#3420
 SF  Miami: 2017                        Jennifer Alexander -#3421
 SF  Earth 2 Earth: The Vote            Jason Bell -#3422
 H   Kindred Spirit                     Kevin Vorshak -#3423
 F   If I Said Goodbye                  Isabel Kunkle -#3424
 SF  Bright Voices                      Jeff Verona -#3425
 F   The Corridor, Part One: Glimpses.  Daniel Black -#3426
 SF  Binaryman, Part One                Stephen L. Anderson -#3427
 F   Elf Music                          Monissa Whiteley & Jackie Ramirez -#3428
 F   Only a Dream                       Barbara Davies -#3429
 H   As The Gate Opens                  Kevin James Miller -#3430
 F   The Death of the Elder Gods        Roxanne Hutton -#3431
 SF  Extra Cheese for the Laboratory Mouse  Carl Frederick -#3432
 F   Femm Fatale                        Arthur Dorrance -#3433
 F   We Are The Few                     Robert Kerr -#3434
 SF  The Last Telepath on Earth         Fred Obermeyer -#3435
 SF  Mary, Mother of Nanites            D. Michael Martindale -#3436
 H   Something in the Dark, Chapter 1   Pam Bainbridge-Cowan -#3437
 H   The Woman Who Wanted To Love: A Fable  John N. Daily -#3438
 SF  The Hibernaculum                   Chris Becker -#3439
 H   Close to Dead                      Michael Scherer -#3440
 F   Liberty Bay                        Isaac J. Weiner -#3441
 SF  Impossible Loyalties               J. Matthew Saunders -#3442
 SF  Shadowcatchers: A Starkiller Interlude  Diana Hennick -#3443

Week of 1-Mar-2000 (Crits due 8-Mar-2000):
 SF  Shadowcatchers: A Starkiller Interlude  Diana Hennick -#3444
 H   What Comes Out                     [mpc] Barb Geiger -#3445
 F   The Chosen of Aleron, Chapters 3 - 4  [mpc] Eric Rolfe -#3446
 SF  Amy 1.0                            [mpc] Sean Sands -#3447
 SF  Grave Runner                       Ric Douglas -#3448
 SF  Luck                               Roselyn Silverman -#3449
 H   Write What You Know                Mike Rimar -#3450
 SF  The Mushroom People                Julian Todd -#3451
 SF  Walking with the Damned            Robert J. Hale -#3452
 F   Dark Reign (Chapter 3)             L. Weston -#3453
 SF  stanley and the bear-men           guy salvidge -#3454
 SF  The Manchime (Prologue through Chapter 3)  Ramon Dias -#3455
 SF  Portal, Chapters1-3                Lynda Lehmann -#3456
 F   Torture By Dreamery, Chapter 1     Philip I. Jones -#3457
 SF  The Siege of Delta One-Six         Paul Butler -#3458
 SF  Nemesis Reflected                  Xiang Yuen -#3459
 SF  Realm of the Septarch, Chapter 1   R H Aidley -#3460
 SF  Surviving Old Glory                T.S.Ritchie -#3461
 SF  The Voyage (Chapters I and II)     Ernest H. -#3462
 SF  The Write Stuff                    Shawn Brayman -#3463
 SF  The Collectibles                   Kim Fryer -#3464
 F   Green Youth                        Mary McMenomy -#3465
 SF  Grandson of His Country (part 1 of 3)  Steve Poling -#3466
 SF  Going Home Again, Chapter 1-2      April Martin-Gordon -#3467
 SF  Stepping Stone                     John Mierau -#3468
 SF  Sunday Afternoon At The Leaper Colony  Ken Honeywell -#3469
 SF  The Street of Properties           Peadar =D3 Guil=EDn -#3470
 H   Eye to Eye                         Paul S. Jenkins -#3471
 F   Winter Wolf Prologue & Ch. 1       Carole Nomarhas -#3472
 SF  Harvest                            Valerie Emanuel -#3473
 SF  Lives Illustrated                  Sarah Brannan -#3474
 H   Ripped                             William J Francis -#3475
 F   Spiral Horn, Spiral Tusk           Leigh Kimmel -#3476
 H   Cardio-Pulmonary Resuscitation     Joseph Wise -#3477

Week of 8-Mar-2000 (Crits due 15-Mar-2000):
 SF  Challenger II                      [mpc] Thomas Seay -#3478
 SF  Virtual Garden                     [mpc] Tracylea Byford -#3479
 F   Coils of Nom                       Jon-Pal Mouzakis Gagnum -#3480
 F   Blood From a Turnip                Eric Snyder II -#3481
 F   The Barber                         Patrick McGarry -#3482
 SF  The Things Children Know           Heather Anne Nicoll -#3483
 F   True Love                          Jim Cue -#3484
 F   Untitled                           Mike Chapin -#3485
 H   Shadows of a Dream, Chapters 0 - 1  Paul Round -#3486
 F   Ironblade                          David Eustace -#3487
 F   Speak to Me                        Marc Brutschy -#3488
 SF  Prison of Shadow                   Steve White -#3489
 F   More Than Mortal                   Jeanette Snyder -#3490
 SF  The Great Big Pile Of Astounding   Dan Gleeman -#3491
 F   Akala Chapter 2                    Barbara A, Heilchuck -#3492
 H   The Sphinx, Chapters 0-1           Liberty Howell -#3493
 SF  The Kraken File 003 - 004          Ian Vance -#3494
 SF  If Only...                         Iain Benson -#3495
 SF  A Place for Everyone               Tom Sweeney -#3496
 F   Recursive Regret                   Todd Wiley -#3497
 H   Carrion on Canyon Way              Monica J. O'Rourke -#3498
 H   Nothing to Fear                    Diane K Whelan -#3499
 F   Old Troll                          Wendy Morris -#3500
 F   The Machine                        Sarah Kelderman -#3501
 SF  Star Trek: The Price of Duty       Carol Hightshoe -#3502
 F   Quietus                            Katherine Wood -#3503
 SF  Para-Virus                         Martha Bland -#3504
 SF  Cheetahs                           Doug Dandridge -#3505
 SF  The Playroom Wall                  George Chatfield -#3506
 SF  And Death No Dominion              Dawn Sumners-Gilbert -#3507
 SF  Human Parts                        Derek Robinson -#3508
 H   The Gathering, Chapter 1           Richard Schiver -#3509

Week of 15-Mar-2000 (Crits due 22-Mar-2000):
 H   Visions of Death thru Indigo Eyes  Jeff Cates -#3510
 SF  The Thirty Percenters              Simon Field -#3511
 SF  Chase of the Silver Raven, Chapter 1 plus synopsis  Margaret Ernsberger -#3512
 F   Bumpy Landing                      Dawn Kopp -#3513
 H   The Mojave Desert Phone Booth      Lisa McCoy -#3514
 H   Babble                             Diana Price -#3515
 SF  Lunch                              Adeena Mignogna -#3516
 H   Reflections in a Black Mirror      Terry Durbin -#3517
 F   Dragon's Gold, Chapter III         Karlene R. Price -#3518
 F   Talespinner/Prologue               Wanda Fitzgerald -#3519
 H   Visions of Murder (a poem)         B.C. Neatherlin -#3520
 SF  No Regrets                         Jackie Ramirez -#3521
 H   The Witch                          Mark A. McClure -#3522
 F   Battle for the Light               Melissa Stiebert -#3523
 SF  Moonland                           Carter Abel -#3524
 SF  Here's to you Marvin, and all the Women on Earth  Jennifer Macaire -#3525
 SF  calling                            stefano donati -#3526
 F   Fireflies                          Daniel Arenson -#3527
 F   Recipe For Revenge                 Hank Quense -#3528
 H   The Curse Of The Three-Headed Circus, chapters 1-3  Bonnie Mercure -#3529
 F   The River's Daughter               Laurel Amberdine -#3530
 F   Sen Gong (( Removed by author ))   Miriam Castellano -#3531
 H   Malice                             Edward Perkins -#3532
 F   Surtr and the Seal                 Brian Salyards -#3533
 F   Vampire                            Billy Moffitt -#3534
 H   White Flower                       Valerie Haecky -#3535
 SF  The Calculus                       Glenn Popson -#3536
 SF  Arn Chapters One thru Five         Jim Bauer -#3537
 SF  Hero's Wife                        Lucy Cohen Schmeidler -#3538
 F   The Rose of Gildvadane             Don Thomas -#3539
 H   Escape Clause                      Kevin James Miller -#3540
 SF  Chosen Seed                        Scott Beem -#3541

Week of 22-Mar-2000 (Crits due 29-Mar-2000):
 SF  The Barking Dog                    Roxanne Hutton -#3542
 F   And A Time To Advance              Robert Kerr -#3543
 SF  Star Wars                          Arthur Dorrance -#3544
 SF  The City of Time                   Chris Becker -#3545
 SF  Future Man                         Andrew Apostolides -#3546
 H   Hell City                          Fred Obermeyer -#3547
 SF  Finals                             Kevin Vorshak -#3548
 SF  Growth Curve                       Karen Dunstall -#3549
 SF  Housecleaning                      Carl Frederick -#3550
 SF  Mankind's Worst Fears, Chapter 2   Dave Erickson -#3551
 H   Daymare                            Jo Thompson -#3552
 SF  Santa's Lunar Holiday              Ed Hunter -#3553
 F   Note for Note                      Laurie Tom -#3554
 SF  A Life in the Day                  Linda Corrie -#3555
 SF  Immanence                          Mike McKeown -#3556
 F   The Wages of Error                 Leigh Kimmel -#3557
 F   Counterpoint - Chapters 1 and 2    David O. Engelstad -#3558
 SF  The Harvesters, Ch.2               Samantha Peterson -#3559
 H   City Spirit                        Ignatius Fischer -#3560
 SF  Antarctica Story                   Barbara Davies -#3561
 SF  Temporarily Temporal               Sean Sands -#3562
 SF  Grandson of His Country (part 2 of 3)  Steve Poling -#3563
 SF  Sprouts                            Valerie Emanuel -#3564
 F   Devouring Hand Chapter 1           Barb Geiger -#3565
 SF  Hate                               John Mierau -#3566
 F   To Fly                             Diana Hennick -#3567
 F   Heraldry                           Mike Rimar -#3568
 F   Flourintine- A Kingdom In Chaos chap 1-3  Scott Starkey & Mark Nannini -#3569
 F   Emerald on the Isle                David Swift -#3570
 SF  Portal, Chapters 4-6               Lynda Lehmann -#3571

Week of 29-Mar-2000 (Crits due 5-Apr-2000):
 SF  Intensity.                         M. Bradley Lile -#3572
 F   Sundragon Rising, chapter 1        Marnie Goodbody -#3573
 F   A Shadow in the Darkness (Chapt. 3)  Lonnie Janise -#3574
 F   The Gilded Hog                     Steven Coallier -#3575
 H   Prodigal Daughter                  Linda J. Dunn -#3576
 SF  Earth                              Joshua Ebert -#3577
 H   Dutton Graham's Big Night Out      John Dixon -#3578
 SF  Pavlovs soldier                    Ken Foster -#3579
 SF  Vision Quest                       Doug A. Johnson -#3580
 F   Magic Among Us                     Amy Knutson -#3581
 H   A Mother is Supposed to Protect You  Michael Bryant -#3582
 F   The Ring and Crown                 Richard James Blackmore -#3583
 F   Sixth Sense, Chapters 0-2 (Rewrite)  Michael Akinde -#3584
 F   The Uncrowned King                 Doris (Dot) Elledge -#3585
 H   Spiritual Vomit                    Charles Trusk -#3586
 SF  What It's Like To Be Dead          Dan Gleeman -#3587
 F   Akala Chapter 3                    Barbara A. Heilchuck -#3588
 F   Storm's Whisper: Prologue          Ian Vance -#3589
 SF  SECRETS                            Monica J. O'Rourke -#3590
 F   Drinker of Rath                    Jon-Pal Mouzakis Gagnum -#3591
 SF  The Epitaph                        Alex F. Brown -#3592
 SF  The Guardians Ch 0-2               Katherine Wood -#3593
 F   Curse                              Martha and Ken Bland -#3594
 SF  Engrams                            Marc Brutschy -#3595
 H   Dark Revenge, Chapters 0-3         Liberty Howell -#3596
 H   Old Nanny                          Elizabeth B. Blue -#3597
 SF  And Death No Dominion              Dawn Sumners-Gilbert -#3598
 F   Wyomitha, Chapters 1-3             Kellea A. Lewis -#3599
 SF  Jal Isphahan, chapter 1.1          Clea L Boone -#3600
 SF  chapter 1 of Remembrance           Elizabeth Kelley Buzbee -#3601

Week of 5-Apr-2000 (Crits due 12-Apr-2000):
 SF  Local Color                        [mpc] Barb Geiger -#3602
 SF  Blood for Blood                    [mpc] Valerie Haecky -#3603
 F   The Others                         Sarah Kelderman -#3604
 F   The Psychiatrist                   Patrick McGarry -#3605
 SF  Bone Of My Bones                   Lani K. Thompson -#3606
 H   Shadows of a Dream, Chapters 0-1   Paul Round -#3607
 SF  Native in a Strange Land           David Lowe -#3608
 SF  The Bond of Shared Flesh           Kim Fryer -#3609
 SF  Falls the Shadow                   J. Matthew Saunders -#3610
 SF  A Mouthful of Smoke                Julian Todd -#3611
 SF  The Teacher                        Pam Bainbridge-Cowan -#3612
 F   Talespinner/Chapter 1              Wanda Fitzgerald -#3613
 F   Dragon's Gold, Chapter IV          Karlene R. Price -#3614
 SF  Man of Cloth, Woman of Crystal     Jeff Cates -#3615
 H   Death Came Knocking                Jackie Ramirez -#3616
 F   A Traitor to the Guild             Lucy Cohen Schmeidler -#3617
 SF  Where Angels                       Glenn Popson -#3618
 F   Nigel's Guest                      Lisa McCoy -#3619
 SF  Mutant on the Snake River Plain    Carter Abel -#3620
 SF  Cathedral                          Doug Dandridge -#3621
 H   The Devil is in the Flesh          Diana Price -#3622
 F   A Heroic Rescue                    Ziv Wities -#3623
 F   Theomite, Chapter 1                Alison Chapman -#3624
 F   Fireflies, yet again               Daniel Arenson -#3625
 F   One Way or Another                 Kimberley Clow -#3626
 F   The Weasel and the Beaver          Ben N. Wright -#3627
 SF  2020 Babies                        Ted Mangi -#3628
 H   A Second Home                      Tamika Richardson -#3629
 F   Bradyrchiad                        Lindsay McVey -#3630
 H   The Day Ghost                      Alex F. Brown -#3631

Week of 12-Apr-2000 (Crits due 19-Apr-2000):
 SF  Containment Syndrome               Thomas Seay -#3632
 H   Bread & Circuses                   J. Alan Wainright -#3633
 H   landfill dance                     stefano donati -#3634
 SF  Prologue (Chapter 0), Untitled SF Novel  Lisa Catherine Krause -#3635
 SF  The New Maid                       Jennifer Macaire -#3636
 F   A Place Mortals Call Heaven        Bonnie Mercure -#3637
 SF  I Can Fly                          Glen R Chapman -#3638
 SF  Losing Memory                      Kirsten Lincoln -#3639
 SF  Earth 2 Earth: My Vote             Jason Bell -#3640
 F   The peak with No Snow              Laurie Lemieux -#3641
 SF  Computer Killer                    Sherri Jordan -#3642
 F   Souls and the Silver Sword         F. Ian Ronald -#3643
 SF  Who's on First                     Hank Quense -#3644
 SF  Salt of the World                  Jerry Bryson -#3645
 SF  Over the Plains of Megiddo         William Heavey -#3646
 SF  Shipwoman                          Roxanne Hutton -#3647
 F   The Truth of the Matter            Robert Kerr -#3648
 SF  Grandson of His Country (part 3 of 3)  Steve Poling -#3649
 SF  Space Goof                         Dave Erickson -#3650
 SF  I Will Go No Further               Sean Sands -#3651
 SF  The Superluminal Ghost             Chris Becker -#3652
 F   The Cursed River                   Fred Obermeyer -#3653
 SF  Price of Knowing                   Kevin Vorshak -#3654
 SF  Beating Time                       Carl Frederick -#3655
 F   Different, prologue-chapter 1      Jo Thompson -#3656
 H   In the Memory of Stones            Terry Durbin -#3657
 F   Slave                              John Bornmann -#3658
 H   Spider                             Ignatius Fischer -#3659
 H   4 days & 4 nights in Limerick city  Jonathan Wilson -#3660
 F   Bethphel's Diary, Chapter One: The Melting  Leonid Korogodski -#3661

Week of 19-Apr-2000 (Crits due 26-Apr-2000):
 F   Angels Unaware                     Toby Mays -#3662
 F   The Dominions, Chapter 0           Isaac J. Weiner -#3663
 SF  The Mosquito                       George Chatfield -#3664
 F   Counterpoint, Chapter 3            David O. Engelstad -#3665
 H   The Ruin of Reverend McCracken     Edward Perkins -#3666
 F   Children of Avelos, Chapter 2      Larissa Niec -#3667
 F   The Osecca Option, Part 1 (Novella)  Helen Montgomery -#3668
 SF  A Girl and her Dog                 Amanda Crum -#3669
 F   The Pests                          Doan Kieu -#3670
 H   The Professional                   Lonnie McGhee -#3671
 H   The Attic                          Patricia A. Guthrie -#3672
 SF  Cassie                             Roselyn Silverman -#3673
 F   Waking the Millennium Knight       Kevin G Maclean -#3674
 SF  Pasadena Snowfalls                 Raymund Eich -#3675
 H   Night Nurse                        Pamela A. Smith -#3676
 F   Gistar the Friendly                Robbie Wood -#3677
 SF  Bowl Of Creation                   Dan Gleeman -#3678
 SF  The Kraken File 005 and 006        Ian Vance -#3679
 H   Breaking Up                        Monica J. O'Rourke -#3680
 H   Social Services                    Elizabeth B. Blue -#3681
 SF  Rememberance chapter 2             Elizabeth Kelley Buzbee -#3682
 F   Akala Chapter 4                    Barbara A. Heilchuck -#3683
 F   Sixth Sense, Chapters 3-4          Michael Akinde -#3684
 H   Stalking Helen                     M. Bradley Lile -#3685
 F   Castaway's Return, Synoposis & Chapter 1  Amy Knutson -#3686
 SF  Jal Isphahan                       Clea L Boone -#3687
 H   Pothole                            Dawn Sumners-Gilbert -#3688
 F   The Triad                          Dave Wilson -#3689
 F   In the Forest There Are No Lines   David R. Silas -#3690
 H   Director's Cut                     Simon Bewick -#3691

Week of 26-Apr-2000 (Crits due 3-May-2000):
 SF  The Visionary                      [mpc] Kami Dymock -#3692
 SF  MSButterfly                        [mpc] A. Dorrance -#3693
 SF  Conspiracy                         Martha Bland -#3694
 SF  The Atom Vortex                    Andy Miller -#3695
 F   Old Friends In the Closet          Kellea A. Lewis -#3696
 SF  Battle for a Planet Chapter 1-3    Dionne Washington -#3697
 SF  Mobius Trip                        Iain Benson -#3698
 H   The Mice in the Basement           Ron Toth -#3699
 SF  Mundane Ripples                    Derek Robinson -#3700
 F   The Gift                           Amy Chapman -#3701
 H   Virtuoso                           Jeff Allen -#3702
 F   SwordSearch, 0-1                   Linda Tally -#3703
 F   The Window Thief in the Trailer Graveyard  Joe Murphy -#3704
 SF  Central Park West, 2030            Kelly Dalton -#3705
 F   Blood Magic                        Christopher M. Knox -#3706
 H   Bad Dreams, Chapter 2              Jeremy B Bustin -#3707
 SF  Real Dolls                         David DeGraff -#3708
 SF  What Will Victory Look Like?       Mark S. Griswold -#3709
 SF  The Death Duel                     Chris Deards -#3710
 SF  The Bestest Birthday Ever          Wanda Fitzgerald -#3711
 F   Dragon's Gold, Chapter V           Karlene R. Price -#3712
 F   Fireflies                          Daniel Arenson -#3713
 SF  The Carbon Joint (Ch1-3 + Synopsis)  Julian Todd -#3714
 F   Adventures in Someplace Else, Chapter 348, part b  Ben N. Wright -#3715
 H   Surrender Dorothy                  Diana Price -#3716
 F   Theomite, Chapters 4 and 5         Alison Chapman -#3717
 SF  Fragile Eggshell Mind              Jim Bauer -#3718
 SF  The Delta Space Incident           Bonnie J. Halcomb -#3719
 SF  For the Best                       Danny Topp -#3720
 SF  Junkies                            Stephen Thompson -#3721

Week of 3-May-2000 (Crits due 10-May-2000):
 F   BLOODLINE                          [mpc] Monica J. O'Rourke -#3722
 SF  Replacements                       Jason Schmetzer -#3723
 H   Space Spheres                      John Adams Theibert Jr. -#3724
 SF  This is Living!                    Philip Lees -#3725
 F   Birth Right Book Two of the 12th World Chapter 1  Shawn Rost-Howen -#3726
 F   Warp Spasm                         Isaac Skipworth -#3727
 SF  The Dogs of War                    Doug Dandridge -#3728
 F   The Other Lazarus                  Peadar O Guilin -#3729
 F   Shadow Hunt, chapters 0-1          Teri Sandstedt -#3730
 F   A Quiet Place                      Kelly Bowron -#3731
 F   The Birdcatcher                    Erika Peterson -#3732
 H   Southmill                          Shawn A. Whitlock -#3733
 F   Doctor-X                           Patrick McGarry -#3734
 SF  Ignoring your own advice           Brian D. Simpson -#3735
 SF  Marigold Man                       Debbie Ross -#3736
 F   Weave and Mend                     Rob Kerr -#3737
 F   Mouse                              Roxanne Hutton -#3738
 F   Destiny's Hamster                  Carl Frederick -#3739
 SF  Mankind's Worst Fear, Chapter 3    Dave Erickson -#3740
 SF  Earth 2 Earth book 1 he forsaken ones Chapter 0  Jason Bell -#3741
 SF  Inalienable rights                 Jennifer Macaire -#3742
 SF  Digital Eternity, Chapter 1        Sean Sands -#3743
 H   Queen of Heads                     Ignatius Fischer -#3744
 SF  On the Wings of Hope               Fred Obermeyer -#3745
 F   Wilting Lily and the Yurei         Kirsten Lincoln -#3746
 SF  Copernicus Rising, Chapter 1       Lisa Catherine Krause -#3747
 F   The Peak With No Snow Chap 1-2     Laurie Lemieux -#3748
 H   untitled chapters 0-1              jonathan wilson	 -#3749
 SF  after the rain                     stefano donati -#3750
 F   The Duelling Glade                 Kimberley Clow -#3751

Week of 10-May-2000 (Crits due 17-May-2000):
 SF  Death, By Any Other Name           [mpc] Thomas Seay -#3752
 F   Heart's Desire                     Irene Smith -#3753
 SF  MPAA 17                            James West -#3754
 SF  The Tides of War                   Jeff Cates -#3755
 F   Cordie and the Merman              Barbara Davies -#3756
 SF  Psiren                             Ric Douglas -#3757
 H   Bovine                             Bonnie Mercure -#3758
 F   Manyskins                          Gene K. Boyd -#3759
 SF  Midnight over Jerusalem            Jim Anderson -#3760
 SF  The Archetypewriter                Adam Browne -#3761
 H   Sepulchre Theft                    Douglas T. Araujo -#3762
 F   More Important Things              Isabel Kunkle -#3763
 F   Noah's Second Ark                  Patricia A. Guthrie -#3764
 H   Life                               Louis Kinstler -#3765
 H   Ballade No. 4                      Charles Trusk -#3766
 H   The Bag Lady                       Mike Wheeler -#3767
 F   Santa's Helper                     Carrie S. Masek -#3768
 F   Bethphel's Diary (with prologue, revised)  Leonid Korogodski -#3769
 H   The Eyes of a Child                Ben Marlin -#3770
 F   The Ring and the Crown chapters 2-3  Richard Blackmore -#3771
 SF  The Kraken File 009 and 010        Ian Vance -#3772
 SF  The Form                           Dawn Sumners-Gilbert -#3773
 F   The Dominions, Chapter 1           Isaac J. Weiner -#3774
 F   In the Forest There Are No Lines, Ch. 2  David R. Silas -#3775
 F   Castaway's Return, Syn. & Ch1      Amy Knutson -#3776
 SF  Jal Isphahan                       Clea L Boone -#3777
 SF  A Ripple in the Fabric of Life     Kirk McElhearn -#3778
 SF  Herbalday                          Alissa Grosso -#3779
 SF  Shuttle Diplomacy                  Michael Meddor -#3780
 F   Toothfairy                         Sock Cheng Tang -#3781

Week of 17-May-2000 (Crits due 24-May-2000):
 SF  Late-Period Cultural Imperatives, Chapter 1  [mpc] James West -#3782
 H   Letters Found in an Oder-Spree-Kanal Boarding House  [mpc] A. Dorrance -#3783
 F   Dragons in the Rain                Michael Akinde -#3784
 F   That Which You Seek                Vicki Copeland & Chris Johnson -#3785
 F   Fated                              Mary Sipe -#3786
 F   The Uncrowned King, Chapters 1&2   Dot Elledge -#3787
 SF  Nemesis' Snare                     steve poling -#3788
 SF  Remembrance chapter 3-4            Elizabeth Kelley Buzbee -#3789
 F   The Third Child, Chapters 1-3      Mike Rimar -#3790
 H   Survival Guide                     Robbie Matthews -#3791
 SF  All Things are Full of Gods        Corie Ralston -#3792
 F   Renaissance Race                   Wanda Fitzgerald -#3793
 F   Dragon's Gold, Chapter VI          Karlene R. Price -#3794
 F   Swordsearch: The Legend, 0-1       Linda Tally -#3795
 SF  Copyright 1925                     Andy Miller -#3796
 F   Working title - Wizards            Stephen Thompson -#3797
 F   Fireflies Again                    Daniel Arenson -#3798
 SF  Crazy Bus                          Derek Robinson -#3799
 SF  In Loco Parentis                   Jerry Bryson -#3800
 F   The Sapphire of Arorea             Edward Perkins -#3801
 H   Off-Ramps to Gehenna               Philip I. Jones -#3802
 F   The Timoron Curse                  George Chatfield -#3803
 F   Dear Heloise                       Alison Chapman -#3804
 H   Late Night Blues                   Mark Koerner -#3805
 SF  Armaggedon awaits, Prologue        Ralph Halse -#3806
 F   Mage's Gambit                      Leigh Kimmel -#3807
 H   Hitman                             Mark S. Griswold -#3808
 H   Street of Tranquility              Kevin Vorshak -#3809
 SF  Well Begun                         Frank Falcon -#3810
 SF  Sister Monica                      Bucky Rea -#3811

Week of 24-May-2000 (Crits due 31-May-2000):
 H   Sweet Song                         Monica J. O'Rourke -#3812
 SF  Electra Run                        Roxanne Hutton -#3813
 H   Blood of the Pig                   Carl Frederick -#3814
 SF  Cut and Paste                      Sean Sands -#3815
 F   The Battle of Carcassus            Shawn A. Whitlock -#3816
 F   The Chalice                        Jason Schmetzer -#3817
 F   Birth Right Revised                Shawn Rost-Howen -#3818
 SF  D is for Drat                      Jennifer Macaire -#3819
 F   The Peak with No Snow, chap 3      Laurie Lemieux -#3820
 SF  Mankind's Worst Fear, Chap. 4      Dave Erickson -#3821
 SF  The Horseless Headman              Rich Chamberlin -#3822
 SF  Rite of Spring                     Garry S. Garrett -#3823
 F   The Iron Crown                     C. Anthony Just -#3824
 SF  A Leg To Stand On                  Dan Gleeman -#3825
 F   Revenge: The Mirror, the Magic, the Fire, and the Knife.  Katherine Wood -#3826
 F   Sessenan's Bane                    Laurel Amberdine -#3827
 SF  The Chronicles                     Calvin R. Starnes -#3828
 SF  Displaced Person                   Mark Siegel -#3829
 F   Dogs of Winter Night               Justin Somma -#3830
 F   Rue Listens to a Catfish           Wendy Morris -#3831
 SF  Works Every Time                   Valerie Emanuel -#3832
 F   Node, Chapters 1-3                 Sandy Chene' -#3833
 H   Allure                             M.L. Joy -#3834
 F   Sundragon Rising                   Marnie Goodbody -#3835
 F   Ways of the Ancestors              John Owen -#3836
 H   Lithium                            Dawn Sumners-Gilbert -#3837
 H   The Student Body                   Louis Kinstler -#3838
 SF  Paradox Man                        Derek Hamill -#3839
 F   The Dominions, Chapter 2           Isaac J. Weiner -#3840
 SF  Jal Isphahan, Chp. 3.0             Clea L Boone -#3841

Week of 31-May-2000 (Crits due 7-Jun-2000):
 F   The Dominions, Chapter 3           [mpc] Isaac J. Weiner -#3842
 F   As the Earth Sleeps Prologue       Ian Vance -#3843
 SF  Shusaku 1.0                        Kirk McElhearn -#3844
 SF  The Medusa Effect                  Jeff Cates -#3845
 H   In An Old Man's Garden             Bonnie Mercure -#3846
 SF  Speed Habit                        Adam Browne -#3847
 H   Written in Silver                  Gene K. Boyd -#3848
 SF  Standards of Living                F. Ian Ronald -#3849
 H   The Sunlight                       Mike Wheeler -#3850
 SF  Just Being                         Ben Marlin -#3851
 F   Halves Interrupted                 John Dixon -#3852
 SF  The Cold Crucible                  Christopher M. Knox -#3853
 F   Through the Forests of Calithwain  Valerie Frankel -#3854
 SF  Finding Derek                      Fred Obermeyer -#3855
 F   Between Life and Death             Francelia Belton -#3856
 F   The Fourth Surprise                Brian D. Simpson -#3857
 F   Harvester of Souls, Chapter 1      Brad Kaufman -#3858
 F   The Thief in the Royal Treasury    Mary Catelli -#3859
 F   The Dagger                         Michael Meddor -#3860
 SF  Star Light Star Bright             Glen R Chapman -#3861
 F   Matthew Hedeigger's Bequest        Peggy Jones -#3862
 SF  The Thing with Trucks              David Lowe -#3863
 SF  In the Forest There Are No Lines, Ch. 3  David R. Silas -#3864
 SF  Lucretia's Nose                    Philip Lees -#3865
 SF  Blind Among the Flowers            Mike Lewis -#3866
 H   The Best-seller                    Simon Bewick -#3867
 F   Mr Blandford Goes to Hell          Mike McKeown -#3868
 SF  One Stone                          John Thompson -#3869
 SF  The End of Space                   Chris Becker -#3870
 SF  Making Stones                      Neil Williams -#3871
 SF  Freedom's Slaves                   Robert Shimmin -#3872
 SF  The Battle (CH1-2)                 Ernest H. Stalder -#3873

Week of 7-Jun-2000 (Crits due 14-Jun-2000):
 SF  The Sleepy Planet                  Yvette A. Babic -#3874
 SF  The Fruit of the Futurist          Andy Miller -#3875
 SF  Remembrance, chapters 5-6          Elizabeth Kelley Buzbee -#3876
 F   Memory, Rubies and Thyme           Leigh Kimmel -#3877
 SF  I Got That Fixed                   James West -#3878
 F   Legacy of a Legend                 Michael Akinde -#3879
 F   Fireflies                          Daniel Arenson -#3880
 F   Exit, Centre Screen                Stephen Thompson -#3881
 SF  Flying Lessons                     Steve Poling -#3882
 SF  Pavlovs Soldier                    Ken Foster -#3883
 F   Fated                              Mary Sipe -#3884
 H   Roses                              Kevin Vorshak -#3885
 F   The Song                           RJ Leahy -#3886
 F   The Tunnel                         David Swift -#3887
 SF  The Desert's Edge                  John Douglas Kossum -#3888
 F   Get Lost                           Martha Bland -#3889
 SF  Whispers from a Dying Universe     Thomas Seay -#3890
 SF  Virtual Veterans                   John Lars Shoberg -#3891
 F   A Little Piece of Happiness        Laurie Tom -#3892
 F   The Way of the Lightning, Chapter 1  David Strugar -#3893
 F   The Dragon Smiled                  Christi Upson -#3894
 SF  Mangrove's Foes                    Carter Abel -#3895
 SF  Astrid                             Jean Kingbird -#3896
 H   Stone Cold                         Monica J. O'Rourke -#3897
 SF  Virgi                              Roxanne Hutton -#3898
 SF  Psalm                              Sean Sands -#3899
 SF  Valerian's Journals                Carl Frederick -#3900
 SF  Jal Isphahan Chapter 3.1           Clea L Boone -#3901
 H   Klaubauf, Chapter 1                Dawn Sumners-Gilbert -#3902
 F   The Snowless Peak, chapr 4 part 1  Laurie Lemieux -#3903
 F   Sarpati                            Patricia Guthrie -#3904
 F   He Who Flies...                    Scott Beem -#3905

Week of 14-Jun-2000 (Crits due 21-Jun-2000):
 SF  The Discarded                      [mpc] Chris Becker -#3906
 SF  Field of Blackbirds                Garry Garrett -#3907
 H   Dutch Housewife                    John Owen -#3908
 F   The Dragon's Egg                   Jennifer Macaire -#3909
 H   The Nomads                         Justin Somma -#3910
 F   Two Sides of a Coin                William Hartwell -#3911
 H   Famous House                       Mike Rimar -#3912
 SF  Birth of a Species                 Doug Dandridge -#3913
 F   Mistaken Identity, Chapter 1       Michael Sawyer -#3914
 H   Malice                             Edward Perkins -#3915
 SF  Mankind's Worst Fear, chapter 5    Dave Erickson -#3916
 F   The Magician's Princess, Chapters 1-3  Blakely Lord -#3917
 F   Ivory                              Julie Ann Finch -#3918
 SF  This Fallen World                  Sandy Andrews -#3919
 F   Wizard's Daughter, Chapter One     Bonnie Newton -#3920
 H   Precursor                          Kevin McPherson -#3921
 F   The Meadowlark                     Amber Bay -#3922
 F   Blood & Diamond                    Lai -#3923
 SF  Breathing Space                    Sheila Crosby -#3924
 H   Cash Only                          Derek M. Koch -#3925
 SF  Another Life: Memoir of A Movie Star  Wanda Fitzgerald -#3926
 F   A Voice for the Ages               Ian Vance -#3927
 F   The Dominions, Chapter 4           Isaac J. Weiner -#3928
 F   Souls and the Silver Sword         F. Ian Ronald -#3929
 SF  Whatcha Mean, You're Pregnant?     John Thompson -#3930
 H   Devil Wind                         Gene K. Boyd -#3931
 F   Rose Castle                        Mary Catelli -#3932
 SF  Seasons Greetings                  Neil Williams -#3933
 H   The Quarry                         Bonnie Mercure -#3934
 F   Fire and Water                     Valerie Frankel -#3935
 F   Atypical Exterminators, Inc.       John Dixon -#3936
 SF  Biowulf                            Adam Browne -#3937

Week of 21-Jun-2000 (Crits due 28-Jun-2000):
 SF  The Gifting                        [mpc] Monica Poole -#3938
 F   The Moon Has No Memory, Chapter 1  [mpc] Eric L. Billings -#3939
 F   Nottamun Town, Chap. 1             Tim Nall -#3940
 SF  Save the Planet                    Dan Mixer -#3941
 F   Quandaro House                     Amy Chapman -#3942
 SF  Azriel                             Sarily McDonald -#3943
 SF  Lunatics                           George Chatfield -#3944
 F   The Heart of the Matter            Elise Tobler -#3945
 H   How I Finally Got Published        Roselyn Silverman -#3946
 F   The Mother Dragon                  Sherri Jordan -#3947
 H   Somewhere Down The River           Simon Bewick -#3948
 SF  To Fight in the Sky                Jim Bauer -#3949
 SF  Catalyst , Chapters 1-3            Oscar L. Fellows -#3950
 SF  Home Stead                         Glenn Popson -#3951
 F   The Uncrowned King Chap. 3&4       Dot Elledge -#3952
 H   No Way Out                         Patricia Guthrie -#3953
 SF  Remembrance, Chapter 7             Elizabeth Kelley Buzbee -#3954
 H   Klaubauf, Chapter 2                Dawn Sumners-Gilbert -#3955
 F   Ambition                           Leigh Kimmel -#3956
 SF  Jal Isphahan Chp 4                 Clea L Boone -#3957
 F   Electric Power                     Carl Frederick -#3958
 F   The Snowless Peak chap 4.2         Laurie Lemieux -#3959
 SF  The Naked Marilyn                  Sean Sands -#3960
 H   At the Crossroads                  Monica J. O'Rourke -#3961
 SF  Project Committee                  Christi Upson -#3962
 SF  Huntdown                           Roxanne Hutton -#3963

Week of 28-Jun-2000 (Crits due 5-Jul-2000):
 F   Fireflies                          Daniel Arenson -#3964
 H   The Telemarketer                   David J. LeMaster -#3965
 SF  While You Were Out                 Cama Duke -#3966
 SF  Fire Fly                           Katie Williams -#3967
 SF  The Cutting Edge                   Jeff Rybak -#3968
 F   Mist                               Heather M. Jones -#3969
 SF  Mercury Alpha, Prologue            Debbie Ross -#3970
 F   Shepherd's Watch                   Monissa Whiteley -#3971
 SF  The Blenders                       Stephen Fennessy -#3972
 F   Two Moons over Terra               Marty Koppert -#3973
 SF  The Nobody Murders                 Ronald Hurst -#3974
 SF  Traveler                           Katherine Wood -#3975
 F   Questions Asked                    Jessica C. Adams -#3976
 SF  Whose Fulgent Source               Scott Beem -#3977
 H   The Mortal Soul                    Mark Dodge -#3978
 SF  Chrismas Passed                    Wanda Fitzgerald -#3979
 F   The Dominions, Chapter 5           Isaac J. Weiner -#3980
 SF  Iron and Harvest                   Mary Catelli -#3981
 H   The Traveller                      Al McLeod -#3982
 SF  The Middle Aged Detective          Cath Haftings -#3983
 F   Emerald on the Isle                David Swift -#3984
 SF  Trust No Future                    Courtney "Cory" Mussatt -#3985
 F   Reflections                        Liam R. Watts -#3986

Week of 5-Jul-2000 (Crits due 12-Jul-2000):
 H   Lex                                Grant Bardsley -#3987
 SF  A Design For Life                  Rob Kerr -#3988
 H   Plain Folk                         John Owen -#3989
 F   Ogden, the Poor Knight             Mike Rimar -#3990
 F   Star Child                         Valerie Frankel -#3991
 F   Scorpion's Promise, Chapter 1      Ayse Tuzlak -#3992
 H   Curse of the Three-Headed Circus, Chapter 1  Bonnie Mercure -#3993
 SF  The Plan                           David Hess -#3994
 SF  The Waste Gun                      John Lars Shoberg -#3995
 H   House Furniture                    Derek Robinson -#3996
 F   Royal Reluctance                   Fran Wolber -#3997
 F   The Eclipse                        Douglas T. Araujo -#3998
 F   The Land Left Standing             Bernard Mathey -#3999
 SF  And Truth, Beauty                  Barbara Walton -#4000
 H   Heist Macabre                      Colin Rankine -#4001
 SF  The Dark Lord's Legacy             M. A. Christopher Raine -#4002
 SF  Restore                            Tom Brennan -#4003
 H   Klaubauf, Chapter 3                Dawn Sumners-Gilbert -#4004
 SF  Jal Isphahan Chp 5                 Clea L Boone -#4005
 SF  Rememberance chapter 8 & 9         Elizabeth Kelley Buzbee -#4006

Week of 12-Jul-2000 (Crits due 19-Jul-2000):
 SF  Computer Memories of School        Carl Frederick -#4007
 SF  Catalyst , Chapters 4-6            Oscar L. Fellows -#4008
 F   Deception                          Leigh Kimmel -#4009
 SF  Misery Loves Company               Sean Sands -#4010
 F   Indigo With Distance               Elise Tobler -#4011
 F   The Snowless Peak chap. 5          Laurie Lemieux -#4012
 SF  The Calculus                       Glenn Popson -#4013
 SF  The Galactic Whore                 Adam Lombard -#4014
 F   Another Knight on the Town         E.K. Rivera -#4015
 F   Winchester City                    Adam Browne -#4016
 F   From Street Rat to Elementist      Thomas Zetelski -#4017
 SF  Repent at Leisure                  Sheila Crosby -#4018
 H   The Grave Hunters                  Edward Perkins -#4019
 F   The Ring and Crown. Chapter 2      Richard Blackmore -#4020
 SF  A Maya Warning                     Tom Pope -#4021
 H   Tad                                Jennifer Rahn -#4022
 F   My Friend, Stooger                 Terrie Relf -#4023
 SF  The Father                         Eldon Kellogg -#4024
 F   I'll Be Waiting here For You       Fred Obermeyer -#4025
 F   The Fire of Forever                Sarah J. Albertini -#4026
 H   The Cab                            Duncan W. H. McNair -#4027
 SF  In the Arms of Monsters            William Ledbetter -#4028

Week of 19-Jul-2000 (Crits due 26-Jul-2000):
 F   Dreams and Demons                  Jeanette Gartman -#4029
 SF  Genetic Programmer                 Jen Highkin -#4030
 F   The Hole-In-The-Head Guy           Michael Meddor -#4031
 SF  Voyage to Xanadu: Hero of the Republic, Chapters 1-2  Andrew Magnus -#4032
 F   Beacon of the Damned               Wanda Fitzgerald -#4033
 F   The Dominions, Chapter 6           Isaac J. Weiner -#4034
 SF  Among the Stars                    Mary Catelli -#4035
 F   Caught in Crystal                  Jeff Rybak -#4036
 H   The Mesmerizer                     David J. LeMaster -#4037
 F   The Road to Dawba                  Ana Lye -#4038
 F   Ariel's Rose                       Kathy S. Brown -#4039
 SF  Camping with Xavier                Steve Poling -#4040
 F   The Everstone-Prologue             Raye Chinda -#4041
 SF  Murder by Reality                  Wayne Smith -#4042
 SF  In the Beginning                   Christian L. Campbell -#4043
 F   A Thrice-Told Tale                 A. Dorrance -#4044
 SF  Pira Nune, Chapter 1               Sang Lee -#4045
 SF  Mankind's Worst Fear, chapter six  Dave Erickson -#4046
 F   Buddha's Disciple                  Peter Bennett -#4047
 SF  Battle For A Planet Part One       Dionne Washington -#4048
 SF  The Sleepy Planet                  Yvette Babic -#4049
 F   Sundragon Rising chapter 2         Marnie Goodbody -#4050

Week of 26-Jul-2000 (Crits due 2-Aug-2000):
 SF  Gated                              [@] Judy Berlyne McCrosky -#4051
 F   Benevolent Ghost                   [mpc] Terri-Anne Smith -#4052
 F   Chimere                            Marcelle Dube -#4053
 SF  Decisions, Decisions               David Lowe -#4054
 F   A Friend in the Night              Julie Ann Finch -#4055
 F   Children of Avelos, Chp 3-R        Larissa Niec -#4056
 SF  'Sthetics                          Marc Brutschy -#4057
 H   These Broken Wings, Prologue       Joy Ristuben -#4058
 SF  Death at the South Pole            Steven W. White -#4059
 SF  Data                               Elizabeth J. Cameron -#4060
 F   Sixteen Water Chimes               Karen Dunstall -#4061
 H   Flash Point                        William J Francis -#4062
 F   Clea's Patient                     Nora M. Mulligan -#4063
 H   Klaubauf, Chapter 4                Dawn Sumners-Gilbert -#4064
 SF  Jal Isphahan chp 6.0               Clea L Boone -#4065
 H   Lucinda's Deal                     Bernard Mathey -#4066
 SF  More Than a Doll                   Derek Robinson -#4067
 SF  Remembrance chapter 11-12          Elizabeth Kelley Buzbee -#4068
 SF  Orbital Mechanics                  Andrew Hough -#4069
 F   Adia, Chapters 9-10                Leigh VanDeBogart -#4070
 F   The Maiden's Challenge             Valerie Frankel -#4071
 SF  ReCon - Prologue & Chapter 1       Lee Groen -#4072
 F   Quest for the Red Sapphire, Chapter 1  Paul Lott -#4073
 SF  The Dark Lord's Legacy             M. A. Christopher Raine -#4074

Week of 2-Aug-2000 (Crits due 9-Aug-2000):
 F   Beneath                            [mpc] Elizabeth J. Cameron -#4075
 SF  Billyam                            Jim Cue -#4076
 F   The Black Ball                     Michael J. Wiskind -#4077
 SF  The Trouble with Electronic Organisers  Iain Benson -#4078
 F   Adventures in Dragonland           Sherri Jordan -#4079
 H   The Confederates                   Justin Somma -#4080
 SF  Partry Clown                       Todd C. Lattimer -#4081
 F   The Lock                           H. C. Finch -#4082
 SF  Requiem, Chapter 1                 Vicki Smith -#4083
 SF  Ring Around The Pocket Full of Loves  Valerie Haecky -#4084
 SF  Poet                               Ken Liu -#4085
 SF  The Alexandria Tropism             Kate Orman -#4086
 SF  Corporate Castaways                Rebecca Flynn -#4087
 H   Mine Eyes Dazzle                   Krista Jones -#4088
 F   Ogden, The Poor Knight (chapters 2 and 3)  Mike Rimar -#4089
 SF  Ravenhawk: The Birth               Pamela Hineman -#4090
 SF  No Title                           Jonathan Wilson	 -#4091
 H   Teapot In the Well                 Bonnie Mercure -#4092
 SF  Inexorable                         Roselyn Silverman -#4093
 H   The Advent of Bobby McCain         M.L. Joy -#4094
 F   Rassau's Shipwreck                 Leigh Kimmel -#4095
 SF  The Architects' Playground         Carl Frederick -#4096
 F   The Snowless Peak chap 6.1         Laurie Lemieux -#4097
 SF  Error Handling                     Sean Sands -#4098

Week of 9-Aug-2000 (Crits due 16-Aug-2000):
 F   The Green Pit                      [mpc] Patrick Samphire -#4099
 SF  Hero                               E.K. Rivera -#4100
 SF  MacLynn, Chapters 0-1              Eldon Kellogg -#4101
 SF  From Alpha to Omega                Jennifer Rahn -#4102
 F   Shogi's Blood                      Jerry Bryson -#4103
 SF  Systems Failure                    Penny Gerking -#4104
 SF  Rapunzel                           Sheila Crosby -#4105
 F   Blood of a Friend                  Billy Moffitt -#4106
 F   The Initiation                     Yvette Babic -#4107
 SF  Side Effects                       Martha Bland -#4108
 F   Finder                             Brian Forsyth -#4109
 F   The Hands of Rashaim, Chapter 1    Erin Avery -#4110
 SF  After the Ball is Over             Ben Payne -#4111
 F   Meshami's Daughter                 Corene McKay -#4112
 SF  Second Contact                     Mark S. Griswold -#4113
 SF  Escape from Plato's Cave           Mary Fishler-Fisk -#4114
 SF  A New Chemical Philosophy          Jim Bauer -#4115
 F   The Divine Experimentation         Tommie E. Widener III -#4116
 H   A Question of Balance in a Techno-Mix Existence  Alex Cope -#4117
 F   Lightbearer, Prologue              Debbie Cannatella -#4118
 SF  Romance of the blade, Chapter 12   Taher Ammar -#4119
 F   Hostages to Fortune, Chapters 1-2  Wendy R Taylor -#4120
 F   The Killer                         David C. Gerald -#4121
 H   Hardwood                           Sarah cherry-Neighbours -#4122

Week of 16-Aug-2000 (Crits due 23-Aug-2000):
 F   The Chronicles of Ilythia, Chapter 1  [mpc] Margaret Ernsberger -#4123
 SF  The God of Self, or In Thine Image  [mpc] Christopher Mennell -#4124
 SF  Just Something I Cooked Up In Between Writing Projects  Fred Obermeyer -#4125
 F   Club Night                         Scott Beem -#4126
 SF  Strange Stars                      Travis Duffy -#4127
 F   The Severed Hand                   L. R. Janise -#4128
 SF  The Natural Order                  Wanda Fitzgerald -#4129
 F   The Everstone, Chapter 1           Raye Chinda -#4130
 F   The Dominions, Chapter 7           Isaac J. Weiner -#4131
 SF  Mused                              Sang Lee -#4132
 F   Ariel's Rose, Chap 2               Kathy S. Brown -#4133
 F   The Miller's Daughter              Michael Meddor -#4134
 F   Dragon's Madness                   Mary Catelli -#4135
 SF  Mankind's Worst Fear, chapter 7    Dave Erickson -#4136
 SF  Tracy                              Doug Dandridge -#4137
 F   The King                           Gene K. Boyd -#4138
 F   The Best War, Chapters 1-2         Helen Kenyon -#4139
 H   Dreamstalker                       Colin Harvey -#4140
 H   Heist Macabre                      Colin Rankine -#4141
 SF  The Personal Journel of Richard Haverford  Zack McGarr -#4142
 F   Family Business                    Hank Quense & David Hall -#4143
 F   Charlemagne's Other Daughter       Marj Watkins -#4144
 F   Ilona's Tale                       Teri Foster Gray -#4145
 SF  The Great Food Conspiracy          Tom Pope -#4146
 F   The Terrible Tale of Nick the Pick, chaptes 1-3  Ignatius Fischer -#4147

Week of 23-Aug-2000 (Crits due 30-Aug-2000):
 F   The Everstone, Chapter 2           [mpc] Raye Chinda -#4148
 SF  Bitten Eyes                        Christian L. Campbell -#4149
 SF  A Little Splice of Life            F. Ian Ronald -#4150
 F   Jaynice's Gorge                    Ron Brown -#4151
 F   A Standard Legend                  Ori Harish -#4152
 F   Thor's Hammer                      Eric Wilson -#4153
 H   The Passers                        David J. LeMaster -#4154
 H   Klaubauf, Chapter 5                Dawn Sumners-Gilbert -#4155
 SF  Jal Isphahan Chp 7                 Clea L Boone -#4156
 SF  Blood from the Ghoral              Bernard Mathey -#4157
 SF  Fastest Woman Alive                Steven W. White -#4158
 SF  ReCon Chapters 2-5                 Lee Groen -#4159
 F   Postmortem                         Marc Brutschy -#4160
 F   The Marshes of Misery              Valerie Frankel -#4161
 SF  The Atom Vortex                    Andy Miller -#4162
 SF  Untitled                           Luke Hill -#4163
 SF  Policies                           Emlyn Freeman-Toole -#4164
 SF  Bogworld                           Julianne Renowden -#4165
 H   Going Underground                  Mike McKeown -#4166
 SF  Are you using that brain?          George Chatfield -#4167
 SF  Remembrance chapter 13             Elizabeth Kelley Buzbee -#4168
 SF  The Chosen One - Prologue          Jessica Holmes -#4169
 SF  The Dark Lord's Legacy, Request for Dedicated Readers  M. A. Christopher Raine -#4170
 SF  Resurrection                       Cleo Bertrand -#4171

Week of 30-Aug-2000 (Crits due 6-Sep-2000):
 H   Legend of a Snowy Night            Lawrence W. Lanum -#4172
 SF  Resuscitation                      Bonnie Austin -#4173
 SF  Time to leave                      Robert Scott-Norton -#4174
 SF  Two Moons over Terra Chap 1 & 2    Marty Koppert -#4175
 F   An Evening, A Gameshow, and Praxis  Eugie Foster -#4176
 F   As Yet Unknown, Proglogue          Jennifer Jandl -#4177
 SF  Freedom                            Tom Sweeney -#4178
 SF  Hope in the House of Michaelangelo  Thomas N. Whittemore -#4179
 SF  Josh's Expulsion                   Derek Robinson -#4180
 H   The Girl in the Photograph         Luise Armstrong -#4181
 F   The Beast That Breaths, Chapters 1-13  Stephen Godden -#4182
 SF  L.F. Number 4                      Harold Hinckley -#4183
 F   The Osecca Option                  Helen Montgomery -#4184
 F   The Book of Lesser Warding         Daniel Goss -#4185
 F   Keepers of the Flame               Leigh Kimmel -#4186
 F   The Snowless Peak Chap 6.2         Laurie Lemieux -#4187
 F   Three Scenes From The Afterlife    Sean Sands -#4188
 H   Do You Like Dead Things?           Bonnie Mercure -#4189
 SF  Drinking Igo                       Kate Orman -#4190
 SF  Space Junk                         H. C. Finch -#4191
 SF  Ravenhawk: Juris Prudence          Pamela Hineman -#4192
 F   Puppy Love (700 words)             Carl Frederick -#4193
 SF  Geerest v. United States           Ken Liu -#4194
 H   A Little Hole in the Ground        Justin Somma -#4195
 H   The Monster of Bottomless Lake     Mike Rimar -#4196
 SF  Into the gates of Valhalla         Todd C. Lattimer -#4197
 SF  Runner                             Dawn Ziegler -#4198
 SF  Star Trek: Fractured Time          Carol Hightshoe -#4199

Week of 6-Sep-2000 (Crits due 13-Sep-2000):
 F   Rituals                            Amy Chapman -#4200
 H   Forever More                       Donna Johansen -#4201
 H   Flash Point                        William J Francis (Bill) -#4202
 H   One Man's End                      David Seiter -#4203
 F   Legacy of the Sword, Day1: The Poison Tree  J. Keith Haney -#4204
 F   The Gentlemen of the Night         Simon Field -#4205
 SF  theGIANT                           Garry Garrett -#4206
 SF  Lady Innocent, Secrecy, and the Renegade Family Founder  Alissa Grosso -#4207
 SF  Offworld: A Chronicle Of Rising Sun, Prelude  Delameko Stone -#4208
 SF  La Milagrosa                       David L. Felts -#4209
 SF  Aliens At It Again...              Michael Adams -#4210
 SF  Alpha Rat                          Colin Busch -#4211
 F   Artist Unknown                     Abigail Marceluk -#4212
 F   Two Sides of a Coin                William Hartwell -#4213
 SF  The Child                          John Lars Shoberg -#4214
 F   Lightbearer, Chapter 1             Debbie Cannatella -#4215
 F   Rapunzel                           Sheila Crosby -#4216
 SF  Axioms                             Patrick Samphire -#4217
 SF  Romance of the blade, Chapter 3    Taher Ammar -#4218
 H   The Clown                          David C. Gerald -#4219
 SF  The New Guy                        Paul Saxberg -#4220
 F   Heroes                             David R. Silas -#4221
 F   Quest for the Dragonslayer" (First Part of Chapter One)  Jon Persson -#4222
 H   Sympathy for the Devil             Jaime Mintun -#4223
 F   Taupo, Imperial Bard               Bonnie Newton -#4224
 SF  Cybergeist                         Carrie S. Masek -#4225

Week of 13-Sep-2000 (Crits due 20-Sep-2000):
 H   My Friend is a Lesbian Zombie      [mpc] Eugie Foster -#4226
 F   The Ruin of Stone                  [mpc] Daniel Goss -#4227
 SF  Change of Pace                     Kelly Digges -#4228
 SF  Inherited Wealth                   Patrick Holmes -#4229
 H   Chocolate                          Robbie Matthews -#4230
 SF  Mr Bubbles                         M Fetterman -#4231
 SF  The Rest of Me                     Thomas Seay -#4232
 H   The Highway Predator               Alex Mankowich -#4233
 F   Binding Ties                       Mary Sipe -#4234
 F   One Shot, One Life                 Ken Lim -#4235
 SF  Second Contact Conclusion          Mark S. Griswold -#4236
 H   La Femme de L'eau                  Wanda Fitzgerald -#4237
 H   Pigs in the Garden                 Travis Duffy -#4238
 F   Vivienne's Riddle                  Marjorie M. Watkins -#4239
 SF  Unknown Origins                    Kathy S. Brown -#4240
 F   The New Old Man                    Colin Rankine -#4241
 H   In the Dark                        Christopher Mennell -#4242
 F   The Storm Bringer                  Sang Lee -#4243
 H   Girlie                             Ignatius Fischer -#4244
 F   The Thief in the Royal Treasury    Mary Catelli -#4245
 F   Jason                              Teri Foster Gray -#4246
 F   The Best War, Chapters 3-4         Helen Kenyon -#4247
 SF  The Keeper of Rats--Chapter One    Melissa Jones -#4248
 F   Molly's Children                   Carol March -#4249
 F   When Lilacs bloom                  Jody K. Gore -#4250
 F   Dos Cruces                         Luigi Belmonte -#4251
 SF  It's Just Procedure.               Dave Whittier -#4252

Week of 20-Sep-2000 (Crits due 27-Sep-2000):
 F   Divine Prerogative, Prologue and Chapter 1  Jennifer Rahn -#4253
 H   Voices                             Michael Noe -#4254
 SF  The Gandreid Project, Chapters 0-3  Clyde Mitchell -#4255
 F   The Golden Box, Chapter 1          Heather M. Jones -#4256
 SF  The Hour before Morning            Arwen Spicer -#4257
 SF  The InterWorld Truck Kings Artists Collective  John Teehan -#4258
 F   A Story of Two Tales               Shawn Hille -#4259
 SF  Requiem, Chapter 2                 Victoria Smith -#4260
 H   Klaubauf, Chapter 6                Dawn Sumners-Gilbert -#4261
 F   Siren's Song                       Raye Chinda -#4262
 SF  Beyond the Farthest Reaches        F. Ian Ronald -#4263
 SF  The Chosen One - Chapter 1         Jessica Holmes -#4264
 F   Shaking Hands With the Devil       Luke Hill -#4265
 H   The Measure of Meat                Bernard Mathey -#4266
 H   The Big Story                      Judy Dixon -#4267
 F   Cadis                              Tyler Lawson -#4268
 F   Realm: Jason's Adventure, Prologue  Jeremy J. Tripp -#4269
 F   A Prize Beyond Compare             Paul Schop -#4270
 F   The Shadow of the Sun, Chapters 1 & 2  Barbara Friend Ish -#4271
 F   The Crone                          Marcelle Dube -#4272
 SF  Viral Art                          Jeremy Lyon -#4273
 SF  Vengeance                          Colin Harvey -#4274
 SF  Atoms                              Dan Gleeman -#4275
 SF  The Dark Lord's Legacy             M. A. Christopher Raine -#4276
 F   Song of Mornius, Chapter 1         Diane E. Fadden -#4277
 F   Passion Play                       Beth Bernobich -#4278
 SF  Relayer, a VOYAGER screenplay      Jim Bauer -#4279

Week of 27-Sep-2000 (Crits due 4-Oct-2000):
 SF  Santa Meets The Thing              Andre Harden -#4280
 SF  Tossing Trolls                     Christian L. Campbell -#4281
 SF  Alycean Marr                       Eldon Kellogg -#4282
 SF  Remembrance: The meeting with the OC chapter  Elizabeth Kelley Buzbee -#4283
 F   The Chronicles of Ilythia, Chapter 2  Margaret Ernsberger -#4284
 SF  Lily                               Terrie Relf -#4285
 SF  Struldbrug                         Nicholas Whyte -#4286
 F   Silverstone                        Lynne Gordon -#4287
 H   A Coward on Capshaw Blvd           Alex Martin -#4288
 F   The Snowless Peak, Chapter 7.1     Laurie Lemieux -#4289
 SF  Protoverse, Chapter 1              Rupert Booth and Kate Orman -#4290
 SF  The Kriegslicht Challenge          H. C. Finch -#4291
 H   The Letter of the Law              Mike Rimar -#4292
 SF  Maid of the North                  Tom Sweeney -#4293
 SF  Wanderers, The Journey             Harold Hinckley -#4294
 F   HARTBOUTH'S DUE                    Kimbra Gioia -#4295
 F   The Fall of King Hebron            Todd C. Lattimer -#4296
 F   Aquarius                           Jim Cue -#4297
 H   Dexter                             Carl Frederick -#4298
 SF  The Weatherboard Spaceship         Adam Browne -#4299
 F   Robin And Her Merry Women          Hank Quense -#4300
 H   Comic Death                        Chris Paul -#4301
 SF  A Matter of Ethics                 Stephanie Henderson -#4302
 F   The Book of Gon, Chap 1            Scott Robinson -#4303
 SF  Louisiana                          Ken Liu -#4304
 H   The Cat, a Few Rats, and a Door    Dustin P. Voliva -#4305

Week of 4-Oct-2000 (Crits due 11-Oct-2000):
 SF  A Mightier Jim                     [mpc] Alex Martin -#4306
 F   The Jigsaw Dragon                  [mpc] Fiona Catherine Nania -#4307
 F   Souls and a Silver Sword, Chapter 1  [mpc] F. Ian Ronald -#4308
 H   All-American Boy                   [mpc] Shawn Hille -#4309
 F   Rat Trap                           Laurie Tom -#4310
 SF  Lillin Rising                      Mike Jackman -#4311
 F   Grave Robbing for Dummies          Robert Cleary -#4312
 F   Shadow Maker, Prologue & Chapters 1-3  Fiona Nania -#4313
 SF  The Sity                           Jordan Cantello -#4314
 F   Lonely Souls on the Midnight Train  Fred Obermeyer -#4315
 H   Danny                              Gene K. Boyd -#4316
 SF  The City of Time                   Chris Becker -#4317
 SF  Thirteen                           Richard Pitter -#4318
 SF  The rebelling planet               Doug Johnson -#4319
 SF  Body Snatcher!                     Martha Bland -#4320
 F   Quest for the Dragonslayer", Second Part of Chapter One  Jon Persson -#4321
 F   When Nothing Remains               Donna Johansen -#4322
 SF  The Scream Machine                 Sheila Crosby -#4323
 SF  Hunting Jenny                      Patrick Samphire -#4324
 F   A Better Life                      Paul Saxberg -#4325
 H   Descent                            RL Keller -#4326
 SF  New Born                           Kirsten Lincoln -#4327
 SF  His Father's Eyes                  Jack M. Walter -#4328
 H   I Saw the Devil Tonight            Steven J. Kodie -#4329
 F   Jhara's Tale                       Valerie Frankel -#4330
 F   The Black Webs of Trillian         Cynthia Williford -#4331
 F   Fireflies                          Daniel Arenson -#4332

Week of 11-Oct-2000 (Crits due 18-Oct-2000):
 SF  Coming Back To Pangaea             [mpc] Bernard Mathey -#4333
 SF  Relayer, a VOYAGER screenplay      [mpc] Jim Bauer -#4334
 F   Slave of Chu Kutall, Chapter 1     Mike McCloskey -#4335
 SF  A Beast Called Winter              William Ledbetter -#4336
 F   Requiem                            Nick Marchese Jr. -#4337
 F   The Family Jewels                  Jeff Cates -#4338
 F   Inshanai, Chapter 1                Catherine Murphy -#4339
 SF  The Right To Choose                Stephen Godden -#4340
 SF  The Cuckoo Clock                   Daniel Tenner -#4341
 SF  Biting Monkey Island               David Davisson -#4342
 F   Through Innocent Eyes              Lynn Baxter-Zimmerle -#4343
 F   The Chosen Hunter                  Esther Mitchell -#4344
 H   As a Carcass for Hounds            Rita D. Miller -#4345
 SF  Chritmas Passed                    Wanda Fitzgerald -#4346
 H   Tommy                              Kathy S. Brown -#4347
 F   The Tail of the Mouse King         Teri Foster Gray -#4348
 SF  Toxic In Print                     Ignatius Fischer -#4349
 F   Insemination                       Carol March -#4350
 SF  The Sick of Sin                    Luigi Belmonte -#4351
 F   Guarding the Borderlands           Mary Catelli -#4352
 H   The Amazon Cure                    Melissa Jones -#4353
 SF  Alien Animals                      Travis Duffy -#4354
 H   Down Broadman Lane                 Daniel Goss -#4355
 SF  Bagger's Catch                     Colin Busch -#4356
 SF  Mars Our Motherland, Chapters 0-2  Daniel Banton -#4357
 SF  Binky, the Little Robot            Cybele Rivera -#4358
 SF  A Question Of Life                 Sean Sands -#4359
 SF  Preservation Day                   Glenn Anderson -#4360
 F   The Dark Temple, Chapters 0-7      Catherine M Fitzgerald -#4361

Week of 18-Oct-2000 (Crits due 25-Oct-2000):
 H   Pink                               [mpc] Bernard Mathey -#4362
 SF @Protoverse, chapter 2              Rupert Booth and Kate Orman -#4363
 F   And this is the Way the Siege Shall End  Roselyn Silverman -#4364
 H   Monsters... or Gods?               Ravin Bulramaya -#4365
 SF  Magnetic Poles                     Karen Dunstall -#4366
 SF  Egg-Shaped World                   D. Savannah George -#4367
 F   Bar Fight                          Scott Weaver -#4368
 SF  First Spring Rain on Arla          Corie Ralston -#4369
 H   Afterlife                          Dan McConkey -#4370
 H   Julian, The Killer                 Beverly A. Rearick -#4371
 SF  Sissy, The Vampire Hummingbird Slayer  Helen Montgomery -#4372
 F   A Welcomed Compromise              John Dixon -#4373
 H   Klaubauf, Chapter 7                Dawn Sumners-Gilbert -#4374
 F   Mermaid's Lament                   Raye Chinda -#4375
 F   Fighter's Challenge, Part 1        Jeremy J. Tripp -#4376
 SF  Little Things                      Tyler Lawson -#4377
 SF  Daydream Believer                  Victoria Smith -#4378
 H   My Enemy                           Michael Noe -#4379
 H   Two Old Maids                      Judy Dixon -#4380
 SF  That's A Good Dog                  Dan Gleeman -#4381
 SF  Bipartisan                         Colin Harvey -#4382
 SF  The Undefeated General             John Teehan -#4383
 F   The Desert Son, Chapter 1          Chetlen Crossnoe -#4384
 F   In The Belly of the Dragon         Mike McKeown -#4385
 F   Throne of Chaos, Prologue - Chapter 2  Ryan Barnard -#4386
 F   the crossing over                  elizabeth krause -#4387
 F   The Best War, Chapters 5-6         Helen Kenyon -#4388

Week of 25-Oct-2000 (Crits due 1-Nov-2000):
 F   The Other Princess                 [mpc] Mary Catelli -#4389
 SF  Retribution                        Jennifer Macaire -#4390
 SF  Leidenfrost                        Steven W. White -#4391
 F   The Devil In The Details           Joanna Bare -#4392
 SF  I Want a Future                    Michael Beck -#4393
 SF  In Remembrance of Dialogue         Graeme J. Stevenson -#4394
 H   Ron Huckinson's Last Day           Mark Boggs -#4395
 SF  The Exo-Philatelist's Adventure    Clyde Mitchell -#4396
 SF  The Dark Lord's Legacy             M. A. Christopher Raine -#4397
 H   Body and Soul Art                  Eugie Foster -#4398
 F   The Temple of Endless Night, Chapter 1  Cris Holder -#4399
 F   Ogden, The Poor Knight, Chapter 4  Mike Rimar -#4400
 SF  AI's Burden                        Tom Sweeney -#4401
 SF  Remembrance: Revelations chapter   Elizabeth Kelley Buzbee -#4402
 SF  Alycean Marr, Chapters 4-6         Eldon Kellogg -#4403
 F   The Bogey Man                      H. C. Finch -#4404
 F   Silverstone, 3/4/5                 Lynne Gordon -#4405
 F   Evening Paws                       Carl Frederick -#4406
 SF  Wanderers/untilted, Chapters 1-5   Harold Hinckley -#4407
 F   The Snowless Peak Chap 7.2         Laurie Lemieux -#4408
 F   Dannahk                            T. A. Stark -#4409
 F   The Rogue Mage, Chapter 1          Robert Mackey -#4410
 F   The Mask of His Confessor Chapter 0-3  M. Frank Darbe -#4411
 F   Sundragon Rising, Chapter 3        Marnie Goodbody -#4412
 SF  First Aid for Monsters             Christian L. Campbell -#4413
 SF  Nemesis Reflected, Chapters 1-2    Xiang Yuen -#4414
 F   The Sword of Power                 Carol Hightshoe -#4415
 H   The Patrol                         Douglas Tavares de Araujo -#4416
 SF  Calendar of Contact                Wenonah Lyon -#4417

Week of 1-Nov-2000 (Crits due 8-Nov-2000):
 H   Beastly Beauty                     [mpc] Eugie Foster -#4418
 F   The Evil From the Fire             Jen Highkin -#4419
 SF  Primary Research                   Hank Quense -#4420
 F   Conjuror and Empress               Jerry L. Robinette -#4421
 SF  Mankind's Worst Fear, chapter eight  Dave Erickson -#4422
 H   A Bump in the Night                Elizabeth Blue -#4423
 H   Sunrise                            Kevin Vorshak -#4424
 F   Brightly Lacqured Birds            Joe Murphy -#4425
 H   Knife                              David C. Gerald -#4426
 F   Ybernia, Chapters 1-2              Ralph Weimer -#4427
 SF  Earth Day                          Marie Vibbert -#4428
 SF  The Hero of Delurn II              Arwen Spicer -#4429
 F   Leadfoot Widdershins               Jeremy Lyon -#4430
 H   The Lack of the Rope (WT)          Simon Bewick -#4431
 F   When Nothing Remains, Chapters2&3  Donna Johansen -#4432
 F   That Scottish King                 F. Ian Ronald -#4433
 F   Behind the Cowl                    Alex Martin -#4434
 F   The Name of Death                  Patrick Samphire -#4435
 F   The Hannak and the Sea             Julian Todd -#4436
 F   The Initiation                     Yvette A. Babic -#4437
 F   As yet untitled                    Todd C. Lattimer -#4438
 SF  Untitled                           Valerie Emanuel -#4439
 SF  My Brother's Keeper chapters 0-3   Kit Davis -#4440
 SF  The Majestic Eye of the Myopic Mouse - Chapter 3  Brian Turner -#4441
 F   In the shadow of her eyes          Chris Paul -#4442
 H   Shadow-Kin                         Matt Horgan -#4443
 SF  Kaddish                            Lisa Feld -#4444
 SF  Love Amongst the Heavens           Michael Bard -#4445

Week of 8-Nov-2000 (Crits due 15-Nov-2000):
 SF  Adrift on Tranquility              [mpc] Jerry L. Robinette -#4446
 F   The High Price of Knowledge        Joe Pombo -#4447
 F   The Djin's Head                    Hans Albanese -#4448
 F   More Than Blood                    Lori Erickson -#4449
 F   Outside In                         Steven Schroeder -#4450
 SF  The Face of War                    Per Timelin -#4451
 F   More Fireflies                     Daniel Arenson -#4452
 SF  one                                Natasha Delf Donnelly -#4453
 F   Romance Destiny at Marnia          Marie Wadsworth -#4454
 F   Untitled, Chapters 1-3             Amanda Oestman -#4455
 SF  Fashioned for Heavenly Winds       Wanda Fitzgerald -#4456
 F   The Mouse King and the Gold        Teri Foster Gray -#4457
 F   Isis on the Wind                   Kathy S. Brown -#4458
 H   Beauty and the Beach               Jeff Cates -#4459
 F   Inshanai, Chapter 2                Catherine Murphy -#4460
 F   Margaux's Daughter                 Luigi Belmonte -#4461
 F   Daughter of Ashes (Chapter One)    Esther Mitchell -#4462
 H   The Hound of Hastings              Travis Duffy -#4463
 F   Darkmoon, prologue, chapters 1 & 2  Rachel Emily Warden -#4464
 SF  Statistics                         Vesa Pentti -#4465
 F   The Wizard Thief                   Valerie Frankel -#4466
 F   Storm Dancer, Chapter 1            Christine Hall -#4467
 SF  The Man in the Moon                Beverley Paine -#4468
 SF  The Keeper Herat                   Melissa Jones -#4469
 SF  Progression of Bits                Michael L. Joy -#4470
 SF  Rachel 6                           Fiona Catherine Nania -#4471
 H   'Til Death                         E.K. Rivera -#4472
 SF  An Ecclesiastes for Rose           Raymund Eich -#4473

Week of 15-Nov-2000 (Crits due 22-Nov-2000):
 F   The Dragon's Castle                [mpc] Mary Catelli -#4474
 F   De Okkashunal Planit, first few chapters  Tim Stephenson -#4475
 SF  Cars Sold Separately               Garry Garrett -#4476
 F   From the Mouth of Sheol            Daniel Goss -#4477
 F   The Twist, Chapter One             Scott Robinson -#4478
 SF  Eikosia (Chapter I)                Dennis Sedov -#4479
 SF  Price of Passage                   Steven Butler -#4480
 F   Blood and Magic in Hessany, Chapters 1+  Don Burdette -#4481
 F   Slave of Chu Kutall, Chapters 2-3  Mike McCloskey -#4482
 SF  Roll Over and Die                  Laurie Tom -#4483
 F   The Dragon's Eye, chapters 0-3     Gemma Renshaw -#4484
 H   The Blood Code                     Sherie Guillory -#4485
 F   The Troll in Grandma's Backyard    Dan Bracewell -#4486
 H   Klaubauf, Chapter 8                Dawn Sumners-Gilbert -#4487
 F   The Everstone, Chapter 3           Raye Chinda -#4488
 SF  Protoverse, chapter 3              Rupert Booth and Kate Orman -#4489
 F   The Desert Son, Chapter 2          Chetlen Crossnoe -#4490
 H   Warren's Packages                  Bernard Mathey -#4491
 F   Tower of the Dead                  Scott Weaver -#4492
 H   Locus                              Andy Miller -#4493
 SF  A Reason to Live                   Martha Bland -#4494
 SF  For Tomorrow, We Die               Keith Haney -#4495
 SF  2150                               Ray J Atkinson -#4496
 SF  HOW TO WALTZ IN ASCII              Ken Liu -#4497
 SF  Golden Apples                      Iain Benson -#4498
 F   The Ninth King, Chapter 1          Matt Hall -#4499
 F   The Snow Fairies                   Jennifer Campbell -#4500
 SF  Black Diamond Butterflies          Kevin G Maclean -#4501

Week of 22-Nov-2000 (Crits due 6-Dec-2000):
 H   Beneath This Empty Sky             Justin Stanchfield -#4502
 H   My Enemy                           Michael Noe -#4503
 SF  Tennis Energy                      Tom Pope -#4504
 F   Mirror, Mirror                     LaZealtrice Jackson -#4505
 SF  Altdel in Control                  Michael Adams -#4506
 H   The Skull                          Edward Perkins -#4507
 SF  Yanse Visits                       William Vetter -#4508
 SF  THE JUNCTION (chapter 1)           David J. Williams -#4509
 F   The Shadow of a Dream              Thomas Seay -#4510
 F   Dark Champion: The Call, Chapters 0-1  Lynn Baxter-Zimmerle -#4511
 SF  remembrance, fireworks chapter     Elizabeth Kelley Buzbee -#4512
 F   Silverstone 6&7                    Lynne Gordon -#4513
 F   Ogden, the Poor Knight (chapter 5)  Mike Rimar -#4514
 SF  Alycean Marr, Chapters 4-7         Eldon Kellogg -#4515
 F   Twins Chapter0-1                   Wenonah Lyon -#4516
 F   The Snowless Peak chap 9           Laurie Lemieux -#4517
 F   Lords of Kalon, prologue, chapter 1  Tina Wagers -#4518
 F   Hartbouth's Due, Chpt 1            Kimbra Gioia -#4519
 F   Lightbearer, Chapter 2             Debbie Cannatella -#4520
 SF  A Little Green Man Saves the Day   Alissa Grosso -#4521
 F   Quest for the Dragonslayer, Chapter 2  Jon Persson -#4522
 H   KV63 Prologue                      Barbara A. Heilchuck -#4523
 SF  The Recruit                        Alison Johnson -#4524
 H   The Last                           Andrew Mobbs -#4525
 SF  Great Theme Prisons of the World   Carl Frederick -#4526
 SF  Plastic Green                      Cath Haftings -#4527
 F   The Unknown Legacy.                Ravin Bulramaya -#4528
 F   Greve, Chapter 1                   Jennifer Rampling -#4529
 H   Cemetery Dogs                      Elizabeth Blue -#4530
 H   Doctor Death                       Simon Bewick -#4531
 SF  My Brother's Keeper, Chapters 0-3  Kit Davis -#4532
 SF  Out to Pasture                     Lisa Feld -#4533
 F   Forgotten Realms - Khan of Keczulla  F. Ian Ronald -#4534
 F   When Nothing Remains, Chapter 4    Donna Johansen -#4535
 H   The Clause                         Matt Horgan -#4536
 SF  Seduction                          Ralph Weimer -#4537
 SF  Untitled, Chap 2                   Valerie Emanuel -#4538
 SF  May I Serve You?                   Jim Cue -#4539
 SF  War of the Worlds 2015, Chapters 1-2  Stephen B. Pearl -#4540
 F   Dream On                           Mark S. Griswold -#4541
 H   The Hermit                         James Wheaton -#4542
 SF  Mankind's Worst Fear, chapter ten  Dave Erickson -#4543
 F   The Guest                          Elaine F. Galaktionova -#4544
 SF  The Rush                           Fred Obermeyer -#4545
 H   The Last Of The Stand Up Comics    Rob Holden -#4546
 SF  Proof Positive                     Dave McConkey -#4547
 F   The Millionaire Chimera            Andrew Burt & Laura Burt -#4548

Week of 6-Dec-2000 (Crits due 13-Dec-2000):
 F   Romance's Destiny at Marnia        [mpc] Marie Wadsworth -#4549
 F   The Silence of Medair, Chapters 1-2  [mpc] Andrea Hosth -#4550
 F   Madjee's Mountain, Chapters 1 and 2  Cindy Morrill -#4551
 SF  The Rebelling Planet               Doug Johnson -#4552
 F   Bees' Knees                        Christian L. Campbell -#4553
 SF  How Emmy Became Perpetually Agitated  Eugie Foster -#4554
 F   Two Moons over Terra Chp.1         Marty Koppert -#4555
 F   The Black Blade                    Peter J Welmerink -#4556
 F   Soulstone, Chapters 0-2            Simon Pocock -#4557
 SF  To Sleep Perchance to Die          Robbie Wood -#4558
 SF  Nightcrawlers                      Dan Gleeman -#4559
 F   To Summer                          Xiang Yuen -#4560
 H   A Beer Run, A Babe and A Ghost Name Vladimir  Shad Griffin -#4561
 SF  Ideas Don't Come Cheap             J.D. Williams -#4562
 F   Visionfate                         Ciara Grey -#4563
 F   The Journal of Alexandria Zemdor   Bonnie Newton -#4564
 H   Edgewood                           Shawn Hille -#4565
 SF  Fat Farm                           Mike Nicholson -#4566
 SF  Trisomy                            Jennifer Rahn -#4567
 F   Sandalwood Memories                Tom Sweeney -#4568
 F   Gran's Toy Box                     Wanda Fitzgerald -#4569
 SF  The Sorcerer's Apprentice          teri foster gray -#4570
 F   Storm Dancer, Chapter 2            Christine Hall -#4571
 F   The Magic Violin                   Fiona Catherine Nania -#4572
 F   Revised Fireflies                  Daniel Arenson -#4573
 F   Isis on the Wind, Chapter 1        Kathy S. Brown -#4574
 F   Disappearing                       Lori Erickson -#4575
 F   Still Untitled, Chapters 4-6       Amanda Oestman -#4576
 SF  The Day it Rained Dirt             Beverley Paine -#4577
 SF  A Final Benediction                Vince Bonasso -#4578

Week of 13-Dec-2000 (Crits due 20-Dec-2000):
 SF  The Scream Machine                 [mpc] Sheila Crosby -#4579
 F   Shadows of the Circle, Chapter 1   Stevie Heong -#4580
 F   The Soul in the Sword              Laurel Amberdine -#4581
 SF  Lock No. 15                        H. C. Finch -#4582
 F   Mark of the cat                    Chris Paul -#4583
 SF  Frageo                             Jim Bayers -#4584
 F   Power for the Taking, Chapter 1    Noelle Domanico -#4585
 H   The Carnival                       Justin S. Aptaker -#4586
 SF  Stolen Magic                       Colin Harvey -#4587
 H   Je t'aime, Grand Frere             Alexandre Elias -#4588
 F   The Beast Wizard                   Valerie Frankel -#4589
 F   To Find Death's Gate, Chapters 1-3  Christy Gottberg -#4590
 F   God Bless the Moon                 Cristina Farinas -#4591
 F   Play the Game                      Gary A. Wilbanks -#4592
 F   Silver by Moonlight, Chapters 1-3  Heather M. Jones -#4593
 SF  Will of the Whisps                 John Teehan -#4594
 SF  Friend                             Linda Little -#4595
 F   Maritime Lore                      Ori Harish -#4596
 SF  Lungfish Alpha, Episode 1          Michael Beck -#4597
 SF  A Cure for Dreaming                Mike George -#4598
 SF  Just Following Orders              Dawn Sumners-Gilbert -#4599
 F   Everstone - Chapter 4              Raye Chinda -#4600
 SF  Time is Money                      Martha Bland -#4601
 F   The Desert Son, Chapter 3          Chetlen Crossnoe -#4602
 F   The lost Treasure of Babylon       Dan Bracewell -#4603
 F   Of Dragon Watch, With Unenchanted Eye  Mary Catelli -#4604
 SF  The Fourth Chimpanzee              Tracey Bjorksten -#4605

Week of 20-Dec-2000 (Crits due [*] 3-Jan-2001):
 H   The Bridge                         Terrie Relf -#4606
 F   Karric the Climbing Mage           Jaycen Fletcher -#4607
 F   The Conversation                   Carol March -#4608
 H   Flatmates                          Alison Raouf -#4609
 F   The Dragon's Eye, chapters 4-5     Gemma Renshaw -#4610
 F   Going Home                         Tyler Lawson -#4611
 F   Children of Avelos, Chp 1          Larissa Niec -#4612
 H   Good Fathers                       Bernard Mathey -#4613
 SF  Gods and Demons: Chapter One       Julia M. Nolan -#4614
 SF  Assignment on Pateran              Sandra P. Kayser -#4615
 SF  You Say "Tomato," I Say "Terato    Rob Kerr -#4616
 H   Yowlers                            Richard Spurling -#4617
 F   The Phantom Realm                  Daniel Olarnick -#4618
 SF  Fire of the Baribs: Chapter 1      Jim Perry -#4619
 SF  Station R-11                       Kelly Sheehy -#4620
 SF  Four Winds, One Flower             Clea L Boone -#4621
 SF  The Star Shield chap 1             Anthony Sanford -#4622
 F   The Siege                          Matt Hall -#4623
 SF  A Matter of Splitting Hairs        John M. Olsen -#4624
 F   The Voyage                         Nicholas Davey -#4625
 F   The Tunnel                         David Swift -#4626
 H   A Killer Book                      Gigi Phillips -#4627
 F   Silverstone, Ch8&9                 Lynne Gordon -#4628
 SF  Thumbscrews                        Lisa Feld -#4629
 F   Ogden, the Poor Knight, chapter 6   Mike Rimar -#4630
 SF  Lady Innocent, Secrecy, and the Renegade Family Founder  Alissa Grosso -#4631
 H   The Lake Pt. 1                     Michael Noe -#4632
 F   Quest for the Dragonslayer, Chapter 3  Jon Persson -#4633
 H   Number Six                         Simon Bewick -#4634
 SF  Living Dangerously                 Elaine Galaktionova -#4635
 SF  My Brother's Keeper chapter 4 and 5  Kit Davis -#4636
 H   The Tooth And Nothing But The Tooth  Rob Holden -#4637
 H   The Seventh Circle                 Andrew Mobbs -#4638
 SF  The YHWH Contagion                 Julia A Hart -#4639
 F   The Celebration of the Lizard      Jim Bauer -#4640
 SF  Life ain't that bad, Chapters 1-2  Alison Johnson -#4641
 F   Born Again.                        Ravin Bulramaya -#4642
 H   The Endless Dream                  Eric Medlock -#4643
 F   The Snowless Peak, Chapter 10      Laurie Lemieux -#4644
 SF  The Right To Choose                Steve Godden -#4645
 H   Mr. Graybones                      Gene K. Boyd -#4646
 SF  Free Speech                        Fred Obermeyer -#4647
 F   Raindancer Chapter 1               Marjorie Watkins -#4648
 F   Full Circle                        Jennifer K. Jandl -#4649
 SF  St Vitus' Day                      Nicholas Whyte -#4650

Week of 3-Jan-2001 (Crits due 10-Jan-2001):
 F   Barrow Man                         [mpc] Lisa Feld -#4651
 F   Souls and a Silver Sword           F. Ian Ronald -#4652
 SF  The Messiah                        Carl Frederick -#4653
 F   Ballot Blues (and Reds)            Hank Quense -#4654
 F   Medusa at Morning                  Beth Bernobich -#4655
 SF  Plastic Green - Part 2             Cath Haftings -#4656
 F   A Father's Love                    Michael Bard -#4657
 SF  The Case of the Slug Planet Messiah  Joe Murphy -#4658
 F   Soulstone, Chapter 0-2             Simon Pocock -#4659
 F   Madjee's Mountain, Chapters 3-4    Cindy Morrill -#4660
 SF  Karn's Escape                      J.D. Williams -#4661
 F   First Day Of School                Dan Gleeman -#4662
 SF  KV63 Chapter 1                     Barbara A. Heilchuck -#4663
 F   Novel Chapter                      Daniel Arenson -#4664
 SF  E-Genius                           Fiona Catherine Nania -#4665
 SF  Chimaera Conspiracy                Beverley Paine -#4666
 SF  Leapin' Leptons!                   Roxanne Hutton -#4667
 SF  Divine Prerogative, Chapters 0-2   Jennifer Rahn -#4668
 SF  Reel Blood                         Colin Busch -#4669
 F   Lingering Cities, Chapters 1-3     Jon Trace -#4670
 F   Twins, Chapters 2-3                Wenonah Lyon -#4671
 F   The Canary Prince                  K.C. Solano -#4672
 SF  Halfway House                      Jeremy Minton -#4673
 F   Passed On                          Toni Hoberecht -#4674
 SF  Remembrance Day                    Dave Whittier -#4675
 SF  Land of Eternal Sun                Manda Benson -#4676
 F   Three Jacks and a Giant            Charlene L. Curry -#4677
 SF  Sometimes Princes Really Do Come   Dawn Sumners-Gilbert -#4678

Week of 10-Jan-2001 (Crits due 17-Jan-2001):
 F   Katcha Warrior                     Michael Hollifield -#4679
 F   Dragonsoul                         Raye Chinda -#4680
 F   Work for Tomorrow                  Valerie Frankel -#4681
 SF  E-52                               Heather M. Jones -#4682
 SF  The Eclipse Reversal               Cristina Farinas -#4683
 SF  Tara's Chance                      Tracey Bjorksten -#4684
 F   Shadows of the Circle, Chapters 2-3  Stevie Heong -#4685
 F   One, Of Sprites And Goblins        Mary Catelli -#4686
 SF  The Circle Unbroken                Gary A. Wilbanks -#4687
 H   Best Laid Plans                    Barb Geiger -#4688
 F   Lighthouses                        Patrick Samphire -#4689
 SF  Awakening                          Martha Bland -#4690
 SF  The Test Run chapter of Remebrance  Elizabeth Kelley Buzbee -#4691
 H   Tunnel Rats                        Michael Griffith -#4692
 SF  In the Path of the Dragon - Prologue  Fred Lewis -#4693
 F   The Return, Chapters 0-1           Patrick Donohue -#4694
 F   The Trap                           Matt Warren -#4695
 F   A NOBLE STRUGGLE                   Peter J Welmerink -#4696
 H   Shadow-Kin                         Matt Horgan -#4697
 H   Nightlight                         Erik Tomblin -#4698
 F   The Sand Door                      Elise Tobler -#4699
 SF  FREE FALL                          David J. Williams -#4700
 F   Firemoon, Chapter 1                Catherine G. Murphy -#4701
 F   The Last Council                   Zahid Lwin -#4702
 SF  Thermoclines                       Colin Harvey -#4703
 F   Murdoch's Tale/Dedication and Prologue  teri foster gray -#4704
 F   Return to Nineveh, Pt. 1           Dan Bracewell -#4705
 SF  The Gandreid Project, Chapters 0-3  Clyde Mitchell -#4706
 SF  First Born                         Sean Masters -#4707
 F   Birdsong                           Glenn A Odom -#4708

Week of 17-Jan-2001 (Crits due 24-Jan-2001):
 F   Living With A Shoulder Monster     [mpc] Eugie Foster -#4709
 H   Solidarity                         [mpc] Lisa Feld -#4710
 F   Heartstrings                       Amy Chapman -#4711
 SF  Freighter                          Duane Crowley -#4712
 H   Dead Freeze                        Holly Catanzarita -#4713
 F   Dark Magic                         Ernest H. Stalder -#4714
 SF  Melissa's Daddy                    Rob Holden -#4715
 H   The Ritter Solution                Danny Llinas -#4716
 F   Talespinner chapters 1-3           Wanda Fitzgerald -#4717
 F   SilverStone                        Lynne Gordon -#4718
 H   The Lake pt. 2                     Michael Noe -#4719
 H   The Gemini Factor                  Gigi Phillips -#4720
 SF  My Brother's Keeper ch0-3 redone   Kit Davis -#4721
 F   Horsefeathers                      Xiang Yuen -#4722
 SF  Jal Isphahan Chp 7.0               Clea L Boone -#4723
 F   In Sheep's Clothing                Alison Raouf -#4724
 SF  The Van                            Eric Medlock -#4725
 F   Raindancer Chapter 2               Marjorie Watkins -#4726
 H   A Backyard Disturbance             Bernard Mathey -#4727
 SF  Foetida                            Jim Bayers -#4728
 F   The White Queen                    Jennifer Macaire -#4729
 SF  Test                               Roselyn Silverman -#4730
 SF  Genocide Man                       Pat Scaramuzza -#4731
 SF  The Statistic                      Nick Bronson -#4732
 H   Rush Hour                          William Ledbetter -#4733
 SF  The Butter Churns of Big Sap       Lawrence W. Lanum -#4734
 SF  The Black Feather, Chapters 1,2,3  Chris Self -#4735
 SF  A Rose by Any Other Name           Jim Cue -#4736
 F   Isis on the Wind, Chapter 2        Kathy S. Brown -#4737

Week of 24-Jan-2001 (Crits due [*] 7-Feb-2001):
 F   Freedom's Core, first several chapters.  Ken Lim -#4738
 F   Desert Song                        Carol March -#4739
 SF  Rocks Floating in the Sky          Andy Searls -#4740
 SF  The Dragon in Her Dreams           C. S. MacCath-Moran -#4741
 SF  Crit Me                            Philip I. Jones -#4742
 SF  Nth Degree                         Ray Hawk -#4743
 SF  The Solar Vampire                  Fred Obermeyer -#4744
 F   A Small Error                      Don Gerstein -#4745
 F   The Dragon's Eye, chapters 4-5     Gemma Renshaw -#4746
 SF  Out of the Dark, Chapters 1-2      Barbara Karmazin -#4747
 F   Hickson Mills Revival, Chapters 1-3  Ralph Weimer -#4748
 F   This Murder of Crows               David William McKay -#4749
 F   On the Edge of Eternity            Kim Vulgamore -#4750
 F   Soul of Darkness                   Lai Yee -#4751
 F   Dragonscaling for Beginners        John Teehan -#4752
 H   Klaubauf, Chapter 9                Dawn Sumners-Gilbert -#4753
 H   Mr. Jack                           Justin S. Aptaker -#4754
 F   Soulstone, Chapters 0-2            Simon Pocock -#4755
 SF  The Act of Creation                Carl Frederick -#4756
 F   Izzy Baldwin's New Spectacles      Fiona Catherine Nania -#4757
 SF  Friend of My Friend                Roxanne Hutton -#4758
 SF  Broken Link                        Dave Whittier -#4759
 H   Sweet Dreams, Bitter Mornings      Fran Wolber -#4760
 SF  Life ain't that bad? Chapters 3-4  Alison Johnson -#4761
 SF  Trinity: One Thousand Years of War  Michael Goodnow -#4762
 F   Isengale                           Mary Sipe -#4763
 SF  And Darkness Is No More            Vesa Pentti -#4764
 F   A shadow from the mind             Chris Paul -#4765
 F   Novel Chapter                      Daniel Arenson -#4766
 F   Telling Stories                    Elizabeth Spencer -#4767
 F   Ogden, The Poor Knight (chapter 7)  Mike Rimar -#4768
 F   The Snowless Peak chap12           Laurie Lemieux -#4769
 SF  Works Every Time                   Valerie Emanuel -#4770
 H   Staircase Abstract                 Alex Cope -#4771
 SF  First Contact                      Jeff Dougherty -#4772
 SF  Amy 1.0                            Sean Sands -#4773
 SF  Divine Prerogative, Chapter 3      Jennifer Rahn -#4774
 SF  The Great Leader Gets An Itch      J.D. Williams -#4775
 F   Redemption                         Mary K. Wilson -#4776
 SF  Dis-United States                  Harold Hinckley -#4777
 H   The Dare                           Stephen Thorpe -#4778

Week of 7-Feb-2001 (Crits due 14-Feb-2001):
 H   The Perils of Adultery             Owen Baillie -#4779
 SF  Lost Love                          Martha Bland -#4780
 SF  Captured chapter of Remebrance     Elizabeth Kelley Buzbee -#4781
 F   Hold of Power                      Peter J Welmerink -#4782
 F   Man Enough                         Matt Warren -#4783
 H   Exception To The Rule              Matt Horgan -#4784
 F   Return to Nineveh, Pt. 2           Dan Bracewell -#4785
 SF  Free Fall                          David J. Williams -#4786
 F   Aram's Chronicle Chapter 1         Teri Foster Gray -#4787
 F   The Other Princess                 Mary Catelli -#4788
 F   A Song of Mead                     Glenn A Odom -#4789
 SF  Horseboy                           Penny Gerking -#4790
 F   One Troubador's Travails           Elizabeth Anne Ensley -#4791
 SF  Tale of a failed Superhero         Todd C. Lattimer -#4792
 F   Shadows of the Circle, Chapters 4  Stevie Heong -#4793
 H   The Trouble with Being God         Gary A. Wilbanks -#4794
 F   The Sin Eaters                     Lisa Feld -#4795
 SF  Assult on Targon                   Lee Gillentine -#4796
 F   Whedon - Prologue                  Ben Payne -#4797
 F   The Scorpius House, Chapter 1:About Trust  Elpi Pamiadaki -#4798
 SF  Mankind's Worst Fear, Chapter Eleven  Dave Erickson -#4799
 F   When Dragons Sing                  Ori Harish -#4800
 F   Hocanquo                           James D. Thwaites -#4801
 SF  Arms Wide Open                     Elise Tobler -#4802
 SF  Liberation prologue: The Faithful  Judy Chao -#4803
 SF  A Matter of Splitting Hairs        John M. Olsen -#4804
 SF  Rococo Cola                        Adam Browne -#4805
 F   Duel                               Richard Spurling -#4806
 F   With Open Mouth                    Lew Lashmit -#4807
 F   Tsunak's Revenge                   Hans Albanese -#4808

Week of 14-Feb-2001 (Crits due 21-Feb-2001):
 SF  The Fallout Bride                  [mpc] Lisa Feld -#4809
 SF  To Fight in the Sky                [mpc] Jim Bauer -#4810
 SF  In the Path of the Dragon - Chapt One  Fred Lewis -#4811
 SF  Carthaginian Rose                  Ken Liu -#4812
 F   Flame in the Night                 Shannon Wiebe -#4813
 F   The Visionary: Prologue, Chapter 1  Jim Perry -#4814
 SF  Control Room                       Dan Gleeman -#4815
 H   Lobsters                           Jeremy Minton -#4816
 H   Common Criminal                    Wanda Fitzgerald -#4817
 H   The Lake Part 3                    Michael Noe -#4818
 F   Silverstone, Chs 10/11             Lynne Gordon -#4819
 SF  Jal Isphahan Chp 8.0               Clea L Boone -#4820
 H   Stickman                           Alison Raouf -#4821
 SF  Guilt & Innocence                  Lawrence W. Lanum -#4822
 F   Raindancer, chapter 3              Marjorie Watkins -#4823
 SF  The Adventures of Manny the Mailmobile  Eugie Foster -#4824
 F   Night Claws                        Xiang Yuen -#4825
 SF  The Eyes of Your Lips, The Ears of Your Nose  Joe Murphy -#4826
 SF  Now & Forever                      Tracey Bjorksten -#4827
 F   Idler's Folly                      Jennifer K. Jandl -#4828
 F   Rasur's Bones                      Tina Wagers -#4829
 SF  The Slayer                         Scott Couchman -#4830
 F   Harry Potter Parody: Henry Porter and the Pet Rock  Valerie Frankel -#4831
 F   Queen's Hunt, Chapters 0-2         Beth Bernobich -#4832
 SF  Re-Boot                            Joel A. Gaskell -#4833
 F   Camelot Rising, Chapters 1-4       Joseph F. Fournier II -#4834
 SF  Malva's Krepish Eatery             David R. Silas -#4835

Week of 21-Feb-2001 (Crits due 28-Feb-2001):
 F   Between the Blind Guide and the Silent Stars  [mpc] Lisa Feld -#4836
 F   Magic's Return                     Nermina Dzaferbegovic -#4837
 SF  Tomorrow                           Lee Dean -#4838
 F   If Dragons Danced                  James A. Coppinger -#4839
 H   Over the Moon and Running          William Ledbetter -#4840
 SF  Potato Dreams                      Jerry Bryson -#4841
 H   Continual Becoming                 Mark Anderson -#4842
 F   Battle Command                     Wes Cochran -#4843
 F   A Hero's Light                     Jay Jennings -#4844
 H   Mental Case                        N. Jarboe -#4845
 H   Razor Bread                        Bernard Mathey -#4846
 F   The Yesterday Plague               Tracylea Byford -#4847
 F   A Garden of Nodes                  Christopher M. Dittrick -#4848
 H   The Interview                      David Swift -#4849
 SF  Redundant Infinities               Manda Benson -#4850
 F   The Book                           Makiko Szolas -#4851
 H   Stitches                           Shawn Feakins -#4852
 H   Klaubauf, Chapter 10               Dawn Sumners-Gilbert -#4853
 SF  Celebration of a Lifetime          Justin S. Aptaker -#4854
 F   Ogden, The Poor Knight (chapter 8)  Mike Rimar -#4855
 F   Identity                           R. B. Weimer -#4856
 F   All Creatures                      Fiona Catherine Nania -#4857
 H   Dark Jeolosy                       T.J. LeDoux -#4858
 F   Interloper                         Mary K. Wilson -#4859
 SF  Beating Time                       Carl Frederick -#4860
 H   The Watcher                        Dave Whittier -#4861
 H   Flesh                              Chris Paul -#4862
 H   Phone A Head                       H. C. Finch -#4863
 SF  First Aid for Monsters             Christian L. Campbell -#4864

Week of 28-Feb-2001 (Crits due 7-Mar-2001):
 H   Worth's Hope                       [mpc] Eugie Foster -#4865
 SF  Challenge                          Sean Sands -#4866
 SF  Sharks Never Sleep                 Tom Sweeney -#4867
 F   The Golden Forest                  Jon Persson -#4868
 SF  The Gifted                         Michael D. Walsh -#4869
 F   Book of Sorrows, Preface & Chap. 1  Mike Canino -#4870
 SF  Stars                              Alissa Grosso -#4871
 F   Hero Awakened                      Dennis Desroches -#4872
 F   Children of Avelos, Chp 7          Larissa Niec -#4873
 F   Novel Chapters                     Daniel Arenson -#4874
 F   Deception Chronicles, Bitter End   Jim Hume -#4875
 SF  Possession                         Fred Obermeyer -#4876
 H   Queen Of The Night                 Rob Holden -#4877
 F   The Rose, Chapter 1                Matthew Delman -#4878
 SF  Immortality?                       Thomas Seay -#4879
 F   Souls and a Silver Sword, Chapter 2  F. Ian Ronald -#4880
 SF  Moot Point                         Don Gerstein -#4881
 SF  Entangled Genes                    Roey Tzezana -#4882
 F   Stone Statues                      Lindy Hensley -#4883
 SF  Visions                            Jeff Cates -#4884
 H   The Gruhl Are Legend               Justin D. Somma -#4885
 F   Choices                            E.K. Rivera -#4886
 F   Power Dance                        Jeana Jorgensen -#4887
 SF  Engine Blocker                     Derek Robinson -#4888
 F   The Companion                      Gigi Phillips -#4889
 F   Aram's Chronicle, Ch.2             Teri Foster Gray -#4890
 SF  FadeOn                             James D. Thwaites -#4891

Week of 7-Mar-2001 (Crits due 14-Mar-2001):
 SF  To the Survivor Go the Spoils      [mpc] Lisa Feld -#4892
 SF  The Thulean Vanguard, chapter one  [mpc] J.D. Williams -#4893
 SF  Mankind's Worst Fear, chapter 13   Dave Erickson -#4894
 F   The Tale of Geswin                 Hans Albanese -#4895
 H   THE LEARNING CURVE                 Elizabeth Anne Ensley -#4896
 SF  Flora                              Mary Catelli -#4897
 SF  Climb Like a Monkey                Richard Spurling -#4898
 SF  Communication Gap                  Martha Bland -#4899
 SF  Warning, Hazardous Material, Avoid Contact  Ori Harish -#4900
 SF  Residual Body                      Scott W. Reeves -#4901
 SF  Tale of a failed Superhero         Todd C. Lattimer -#4902
 SF  The Meaning                        Pat Scaramuzza -#4903
 SF  Divine Prerogative, Chapter 4      Jennifer Rahn -#4904
 F   Shadows of the Circle, Chapter 5   Stevie Heong -#4905
 SF  Worst Enemy                        Andy Searls -#4906
 H   The Savior                         Erik Tomblin -#4907
 SF  Lone Warrior                       Gary A. Wilbanks -#4908
 F   Firewalk                           J.Keith Haney -#4909
 F   The Lady and the Gargoyle          Judith W. Huey -#4910
 SF  The Photographer                   Jack M. Walter -#4911
 SF  Spacestation Blackbeard            Arthur Pershing -#4912
 SF  Clan of the Tigers                 Jennifer Buzby -#4913
 SF  Sand Creek Dawn                    Roxanne Hutton -#4914
 F   Dark Magic                         Ernest H. Stalder -#4915
 F   Midsummer's Eve                    Roxanne Meida King -#4916
 SF  Surgery                            C. S. MacCath-Moran -#4917
 F   The Oni                            Greg Lee -#4918
 H   The Bestest Birthday Ever          Wanda Fitzgerald -#4919
 H   The Lake part 4                    Michael Noe -#4920
 SF  Jal Isphahan Chp 8.1               Clea L Boone -#4921

Week of 14-Mar-2001 (Crits due 21-Mar-2001):
 SF  Cheebees                           [mpc] Lisa Feld -#4922
 SF  Inventing The Messiah              [mpc] Fiona Catherine Nania -#4923
 F   Club Night Revisited               Scott Beem -#4924
 SF  Freedom Fighters, Chapter 2        Jim Perry -#4925
 SF  Burning Angel                      Scott F. Couchman -#4926
 SF  The Unborn Man                     Joel A. Gaskell -#4927
 F   Rock Hard                          Xiang Yuen -#4928
 F   The Gift of Stars                  Erik Tavares -#4929
 SF  EMT 2020                           Ted Mangi -#4930
 SF  Crystal Moon, Chapter 1            Sandy Chene'	 -#4931
 F   Hannah                             Janet Allbee -#4932
 SF  Choices                            Valerie Emanuel -#4933
 F   The Legacy of the Sorceress        Robert French -#4934
 F   Unexpected Lastborn                Emily Martha Clark -#4935
 H   The Yenald Looshi                  Anthony Bartley -#4936
 F   Hell's Janitors                    Eric R. Skinner -#4937
 SF  Star Trek DS9: True Blue           Mary Fishler-Fisk -#4938
 F   The Blood in Broadstone            Pam Phillips -#4939
 H   We Dream of Jeanie                 David Lowe -#4940
 F   The Amulet                         Sean Casey -#4941
 F   Gift of Memory                     Monissa Whiteley -#4942
 F   The Obsidian Tower, Chapter 0      Rebecca Shelley -#4943
 F   The Stone Girl                     Susan Curnow -#4944
 F   Berserker Babe                     Hank Quense -#4945
 F   The Reawakening, Chapter 1         Nancy Barthelemy -#4946
 F   A New Start                        Valerie Frankel -#4947
 H   Klaubauf, Chapter 11               Dawn Sumners-Gilbert -#4948
 SF  A Letter in My Defense             Justin S. Aptaker -#4949
 F   Shadow Maker                       Fiona Catherine Nania -#4950

Week of 21-Mar-2001 (Crits due 28-Mar-2001):
 SF  Hollow                             [mpc] Lisa Feld -#4951
 SF  Horsepower                         [@] Judy Berlyne McCrosky -#4952
 F   The Legend and the Wolf            Riss Jongsma -#4953
 H   Dark jelousy completed first draft  Trellie J. LeDoux -#4954
 SF  Monday Night Infantry              Dave Whittier -#4955
 F   Witch's Revenge                    Makiko Szolas -#4956
 F   Release from the Fog               Jay Jennings -#4957
 F   Talking to the fish                Jerry Bryson -#4958
 SF  Monarch                            William Ledbetter -#4959
 F   Jacob's Gift                       Mike Rimar -#4960
 SF  A Boy and his Bicycle              Carl Frederick -#4961
 SF  Magnus Murphy's School of Motoring  Manda Benson -#4962
 F   Farmland Preservation              Tracylea Byford -#4963
 F   Spirit                             Chris Paul -#4964
 H   Bottomfeeders                      Shawn Feakins -#4965
 F   Inventing Isaac                    Elise Tobler -#4966
 F   You Could Spend Years              Mark Alger -#4967
 SF  Dis-United States resub            Harold HinckleyDis -#4968
 H   Something in the Darkness          Adam Gifford -#4969
 SF  The Battle for the Estuary--chapter of Remembrance  Elizabeth Kelley Buzbee -#4970
 H   The Ritter Solution                Danny Llinas -#4971
 SF  When All the Foxes Lived in Zoos (chapter 1)  Wenonah Lyon -#4972
 F   Storm Dancer (Chapters 01-03)      Christine Hall -#4973
 F   Here There Be Demons               Don Munsil -#4974
 F   Jimmie's Home                      Norm Gillespie -#4975
 F   Hudson Project                     Cindy Moser -#4976
 F   Mercantile Exchange                David Swift -#4977
 F   Hickson Mills Revival, chapters 4-6  Ralph B. Weimer -#4978
 H   Bees' Knees                        Christian L. Campbell -#4979
 SF  The Eldest                         Toni Hoberecht -#4980
 SF  When Genius Fall                   Serdyn du Toit -#4981
 F   Whedon -Chapter 1                  Ben Payne -#4982

Week of 28-Mar-2001 (Crits due 4-Apr-2001):
 H   The Thing In the Gutter            [mpc] N. Jarboe -#4983
 F   By Chance                          [mpc] Lisa Feld -#4984
 SF  A Moment in Time                   Liam Rands -#4985
 SF  Am I my Brother's Keeper?          Kit Davis -#4986
 H   Postmortem                         Marc Brutschy -#4987
 F   Reaping without Benefits           John Dixon -#4988
 SF  Think on These Things              Vince Bonasso -#4989
 F   The Desert Between the Stars       Thomas McNamara -#4990
 SF  The World of RAS Part 1            Peter Welmerink -#4991
 H   Spare Parts                        Gigi Phillips -#4992
 SF  Fusion Future                      Alissa Grosso -#4993
 H   Blood Feud                         Jeff Cates -#4994
 F   Aram's Chronicle, Ch 3             teri foster gray -#4995
 F   A BEGUILING FOREST                 Jon Persson -#4996
 SF  Warbird                            Jim Hume -#4997
 SF  Diagonal                           Thomas Seay and Tracylea Byford -#4998
 F   Mirasia                            Jeana Jorgensen -#4999
 F   Sand                               Daniel Arenson -#5000
 F   The Oracle                         Chris Fischbach -#5001
 F   Mary, the Magus and the Middens    Jody Wallace -#5002
 SF  To Travel Back                     James D. Thwaites -#5003
 H   Attic                              Stefano Donati -#5004
 F   Some Things Never Change           Christine Schmidt -#5005
 F   The Scorpius House, Ch2            Elpi Pamiadaki -#5006
 F   Everyday Man: Homefront            Fred Obermeyer -#5007
 F   Good Girls go to Heaven            Steve Kerry -#5008
 F   Court Mage Chapter 1               Mary K. Wilson -#5009
 F   The Prize Thaumaturgickal          Dennis Desroches -#5010
 H   The Numismatist's Ambition         Edward Lineberry -#5011

Week of 4-Apr-2001 (Crits due 11-Apr-2001):
 SF  Balazon, Chapters 1-2              [mpc] Sandra Kayser -#5012
 F   Presence                           Jason Humphrey -#5013
 H   A Special Night                    Joseph Yip -#5014
 F   Alone                              Lindy Hensley -#5015
 SF  Two Gods Playing, Chapters 0-3     Charles Botsford -#5016
 SF  Dream Beyond the Sun, Chapters 0-1  Kevin Thomas O'Neill -#5017
 SF  That Rundown Feeling               Braxton S. Cook -#5018
 SF  Descent                            Tim Arnzen -#5019
 F   The Office That Time Forgot        David R. Silas -#5020
 H   Growing Pains                      Owen Baillie -#5021
 SF  Hoax                               Steven W. White -#5022
 F   Out In The Cold                    Jeremy Minton -#5023
 F   Secrets of the Red Dragon/Journey To Annwn  Wanda Fitzgerald -#5024
 SF  Jal Isphahan Chp 8.2               Clea L Boone -#5025
 SF  Mankind's Worst Fear, chapter fourteen  Dave Erickson -#5026
 SF  Don't Worry, Be Happy              Roxanne Hutton -#5027
 SF  Laps Around Time                   Ori Harish -#5028
 H   Mealtime                           Scott W. Reeves -#5029
 SF  Johnny B. Goode                    J. Keith Haney -#5030
 SF  Rocks Floating in the Sky, v2, ch1  Andy Searls -#5031
 SF  Divine Prerogative, Chapter 5      Jennifer Rahn -#5032
 F   Shadows of the Circle, Chapter 6   Stevie Heong -#5033
 SF  Clan of the Tigers                 Jennifer Buzby -#5034
 SF  Too Far Gone                       Pat Scaramuzza -#5035
 F   The Gentleman's Agreement          Gary A. Wilbanks -#5036
 F   Job 38:4                           Terri-Anne Smith -#5037
 H   Conditioned Response               Glen Krisch -#5038
 SF  War Crimes                         Ken Liu -#5039
 SF  Apologizing to Ostriches           Jack M. Walter -#5040

Week of 11-Apr-2001 (Crits due 18-Apr-2001):
 SF  The New Pet                        [mpc] Steven Howard Smith -#5041
 F   Beauty                             Rob Kerr -#5042
 H   The Answer                         Charles E. Arsuaga -#5043
 F   Pray For Me                        Jim Cue -#5044
 F   The Orphan of Saint Urrian         Jennifer Majeske -#5045
 SF  Justice                            Boris Layupan -#5046
 F   Gaurdian                           Sharon Glace -#5047
 SF  The Archive, Chapters 1-2          Carolyn Kaufman -#5048
 SF  Beyond the Farthest Reaches        F. Ian Ronald -#5049
 F   The Sphinx-Haunted Land            Mary Catelli -#5050
 F   Spell, Book, and Candle            Fran Wolber -#5051
 F   Changeling Economy                 Rodger Wilkie -#5052
 SF  Breath of the Goddess              Will Briggs -#5053
 SF  PHILIP K. DICK IS DEAD             Jeff Palmer & Jim Bauer -#5054
 H   Klaubauf, Chapter 12               Dawn Sumners-Gilbert -#5055
 SF  The Final Pages                    Justin S. Aptaker -#5056
 SF  Freedom Fighters, Chapter 1        Jim Perry -#5057
 SF  First Kiss, Perfect Kiss           Scott F. Couchman -#5058
 SF  The Key to Simplicity              Pam Phillips -#5059
 F   The Reawakening, Chapter 2         Nancy Barthelemy -#5060
 SF  Man of the People                  Joel A. Gaskell -#5061
 SF  The Games of Adversaries           Susan Curnow -#5062
 SF  Starlight, Star Bright             Valerie Emanuel -#5063
 F   A Lost and Fallen Tower, Chapters 1-2  Erik Tavares -#5064
 F   3 Short Short Stories              Valerie Frankel -#5065
 SF  The Nature of Freedom              Emily Martha Clark -#5066
 F   The Obsidian Tower, Chapter 1      Rebecca Shelley -#5067
 F   Cure of the Goddess                Jen Highkin -#5068
 SF  Clone of Faith                     Martha Bland -#5069
 H   The Girl in the Photograph         Luise Armstrong -#5070

Week of 18-Apr-2001 (Crits due 25-Apr-2001):
 SF  Here Piggy                         Lee McAndrew -#5071
 SF  Shadow of the Night                Jefferson R. Boydston -#5072
 SF  Stay                               Xiang Yuen -#5073
 H   Creaking Floorboards               Anthony Bartley -#5074
 H   Johnny                             Don Coltrain -#5075
 F   Demogorgon Rising                  Anthony J. D. Burns -#5076
 SF  To Move the Earth                  Andy Miller -#5077
 F   Theomite, Chapters 6-7             Alison Chapman -#5078
 F   Wings on Air                       Christy Gottberg -#5079
 F   Once upon an Expert                Matt Champine -#5080
 F   The Trade Road                     Hank Quense -#5081
 H   Chasing the Muse                   Erik Tomblin -#5082
 SF  The Liar                           Julia A. Hart -#5083
 H   Random Acts                        Dave Whittier -#5084
 SF  Land of Eternal Sun                Manda Benson -#5085
 F   My Trip to the Zoo                 Carl Frederick -#5086
 SF  All You Need Is Love               Toni Hoberecht -#5087
 SF  The Northern Trail-chapter of Remembrance  Elizabeth Kelley Buzbee -#5088
 H   Dark Jeolousy                      T.J. LeDoux -#5089
 F   Dragon and Dragoness, Chapter 1    Riss Jongsma -#5090
 F   Death's Child                      Marnie Jefferson -#5091
 F   Passion                            Jordan L. Hyde -#5092
 H   As Others See Us                   Ray Edward Main -#5093
 F   Sympathy for the Devil             Eugie Foster -#5094
 F   Cave Remnant, chapter 1            Marj Watkins -#5095
 SF  Chimaera Conspiracy                Beverley Paine -#5096
 H   The Legion                         Stephen Minchin -#5097
 F   Pale Morning                       James Strocel -#5098
 SF  Intelligence                       Lorna Keith -#5099

Week of 25-Apr-2001 (Crits due 2-May-2001):
 SF  Love in the Land of Pretend Grass  Christian L. Campbell -#5100
 F   the Death of Satan                 Roey Tzezana -#5101
 SF  In the Path of the Dragon Chapt 2  Fred Lewis -#5102
 F   Other Villas                       Erika Peterson -#5103
 SF  The Prison Problem of Aris Ona     Bruno Wu -#5104
 F   PERSPECTIVES or The Continuing Adventure of Farfinkle and Friends  Philip B. Young -#5105
 SF  Sea Monkeys and Landlubbers        Alissa Grosso -#5106
 SF  The World of RAS Part 2            Peter Welmerink -#5107
 F   Aram's Chronicle Ch 4              Teri Foster Gray -#5108
 SF  Choosing Alone                     Mary K Wilson -#5109
 F   Keyr                               Jeana Jorgensen -#5110
 H   Novice Speller                     Tracylea Byford -#5111
 F   Hickson Mills Revival, Chap 7 & 8  Ralph Weimer -#5112
 SF  The Oracle                         David Swart -#5113
 F   Sand, chapters 2 and 3             Daniel Arenson -#5114
 F   Sea People                         Alison Raouf -#5115
 F   The Rose, Chapter 1, Revision 1    Matthew Delman -#5116
 SF  Nighteyes                          Don Bisdorf -#5117
 SF  A Romantic Dinner on 14.0101573.04  Norm Gillespie -#5118
 H   Incident at Clermont               Robert A. Sloan -#5119
 SF  To Herd the Stars                  Wenonah Lyon -#5120
 F   The Game - Book One: Chains        B.W.Reisman -#5121
 F   Net SOup, Chapters 1-2             Nancy Murphy -#5122
 SF  Sources of Tension                 Fred Obermeyer -#5123
 SF  Welcome Cafe                       A.K. Knutson -#5124
 SF  Motherlode                         Monte McCord -#5125
 F   In The Company of Thieves          Jason Hauser -#5126

Week of 2-May-2001 (Crits due 9-May-2001):
 SF  HyperGolf: A Shot Into the Dark    [mpc] Manda Benson -#5127
 SF  Meat is Murder                     [mpc] Stephen Minchin -#5128
 SF  The Price of Victory               Mike Rimar -#5129
 F   Kelpie                             Patrick Samphire -#5130
 SF  Few Are Chosen                     Andrew MacLaughlin -#5131
 SF  Ashes                              Wanda Fitzgerald -#5132
 SF  Jal Isphahan Chp 9.0               Clea L Boone -#5133
 F   The Right Kind of Magic            Roxanne Hutton -#5134
 SF  Mankind's Worst fear               Dave Erickson -#5135
 F   February 30                        Owen Baillie -#5136
 SF  Clan of the Tiger -Prologue & Chapter 1  Jennifer Buzby -#5137
 F   Lindsay and the Armies of the Silver Light  Steven Brezenoff -#5138
 F   Melted                             Braxton S. Cook -#5139
 F   Shadows of the Circle, Chapter 7   Stevie Heong -#5140
 F   Undertow: The Demon Hunters        Jude Chao -#5141
 F   Off the Cliff                      Jackie Schmitt -#5142
 F   Children of War                    Christopher Stockdale -#5143
 F   Divine Prerogative, Chapter 6      Jennifer Rahn -#5144
 H   Rue El-Jenoun                      Matthew Lussenhop -#5145
 SF  The Gecko                          David Miles -#5146
 F   Prince Gervasio and the Dragon's Amulet, Chapter 1  Pat Elder -#5147
 SF  Intuition Bites                    David Swift -#5148
 SF  Template of Time, The Mind Microbe  Chandler Zedac -#5149
 SF  Stop the Destruction               Kathleen Satterlee Blake -#5150
 SF  Choices                            Jeff Cates -#5151
 SF  The Jungle Road                    Ben James -#5152
 SF  A Family of Her Own                Kimberly Pauley -#5153
 H   Last Clear Night                   Steven W. White -#5154
 SF  Untitled Detective Short           Ken Wronkiewicz -#5155
 H   Story of Your Life, And a Brief Reminder  Justin S. Aptaker -#5156
 F   Ghost in the Machine - Part 1      Chris Fischbach -#5157
 SF  Sara Tay/Chptr 1                   M. T. Hamlet -#5158

Week of 9-May-2001 (Crits due 16-May-2001):
 SF  The Flow of Time                   Scott F. Couchman -#5159
 F   Indiana Jones and the Pilot Rescue  Jim Perry -#5160
 SF  Family Sticks Together             Martha Bland -#5161
 SF  The Return of Reality              Jim Bauer -#5162
 F   Glory's Daughter, Chapters 1 and 2  F. Ian Ronald -#5163
 SF  Betrayal                           Will Briggs (William Saxton) -#5164
 SF  Forbidden                          LaZealtrice Jackson -#5165
 SF  Sunshine                           Tracey Bjorksten -#5166
 F   Sacrifice ch0                      Andy Searls -#5167
 F   Black Magic Academy, Chapter 1     Emily Martha Clark -#5168
 F   Oath                               Jennifer Holbrook -#5169
 SF  Walking The Valley                 Jeremy Minton -#5170
 SF  Shat                               Roselyn Silverman -#5171
 SF  Ark, Chapters 1 and 2              William Robins -#5172
 SF  Starlight                          Valerie Emanuel -#5173
 SF  Crash (formerly Re-Boot)           Joel A. Gaskell -#5174
 SF  The Rumor                          Jeff Bumgardner -#5175
 H   Demons                             Jefferson R. Boydston -#5176
 H   The Horror of Adoption             T.J. LeDoux -#5177
 F   Nine Lives                         Toni Hoberecht -#5178
 SF  Food fpr Thought                   Carl Frederick -#5179
 H   Baby's Breath                      Anthony Bartley -#5180
 F   A Witch's Pain                     Matt Champine -#5181
 F   Cranky Neighbors                   Eric R. Skinner -#5182
 F   Familiar                           Michelle Scott -#5183
 F   The Phoenix Child Chapter 2        Sharon Glace -#5184
 H   Students of Technology and Reason  Sarah Kelderman -#5185
 F   Roadtrip:Hellbound                 Scott Weaver -#5186
 F   Wings On Air (Chapter 2)           Christy Gottberg -#5187
 F   Horsefeathers                      Xiang Yuen -#5188

Week of 16-May-2001 (Crits due 23-May-2001):
 F   On the Wind's Back                 Valerie Frankel -#5189
 F   The Book                           Nicky Arserio -#5190
 H   Like Sisyphus                      Barbara Davies -#5191
 F   C'mon Travis, Not Tonight          John Thompson -#5192
 H   One Christmas in Putnam County     Simon Bewick -#5193
 F   Transcendence                      Tina Wagers -#5194
 SF  Hephaestus                         Mary Catelli -#5195
 H   The Wallet                         John Floyd -#5196
 H   The Cold Line                      Cynthia Scott -#5197
 SF  The Zoo Hypothesis                 Harold Hinckley -#5198
 SF  Brushstrokes                       Geoff Habiger -#5199
 SF  All in a Day's Work                Don Gerstein -#5200
 F   Dashiba Calls, Chapter 1           Eugene Yarmolinets -#5201
 SF  Dinosaurs' Ending                  Stephen B. Pearl -#5202
 F   A Secret Place                     Gayel Collinson -#5203
 SF  Blessing of Mortius                Andrew Zimmerman Jones -#5204
 SF  Balazon, Chapters 3-4              Sandra Kayser -#5205
 SF  Profit And Loss                    J. Keith Haney -#5206
 F   In The Woods                       M. A. Christopher Raine -#5207
 F   Vegetable Heads                    Alissa Grosso -#5208
 SF  The World of RAS Part 3            Peter Welmerink -#5209
 F   Aram's Chronicle, ch 5             teri foster gray -#5210
 SF  Bad Driver                         Mary K. Wilson -#5211
 F   Raven's Call                       A.K. Knutson -#5212
 F   Damsel in this Dress               Alison Raouf -#5213
 F   One Helluva Virus                  Nancy Anderson Murphy -#5214
 F   Hickson Mills Revival, Chap 9-11   Ralph Weimer -#5215
 H   The Worst Enemy                    Jason Hauser -#5216
 SF  Last Call                          David Swart -#5217

Week of 23-May-2001 (Crits due 30-May-2001):
 H   In Will's Stead                    Matt Horgan -#5218
 SF  Cave Remnant, Chapter 2            Marj Watkins -#5219
 SF  A Garden of Nodes                  Christopher M Dittrick -#5220
 F   Vincenzo Malecardi, Tool of Satan  D.F. Mollica -#5221
 SF  Space Lizard                       Jennifer Macaire -#5222
 SF  PDA                                Bill Sheridan -#5223
 SF  Dearest Betty                      Jack M. Walter -#5224
 SF  Ambush-chapter of Remembrance      Elizabeth Kelley Buzbee -#5225
 F   SIX DRAGONSEEKERS                  Jon Persson -#5226
 F   Scar Tissue, chapter 1             Don Shaw -#5227
 SF  Slow Space                         Steve Godden -#5228
 F   Sand                               Daniel Arenson -#5229
 F   Slayers                            Jennifer L. Oberlander -#5230
 F   Whedon Chapter Two                 Ben Payne -#5231
 F   Prison Records                     Jordan L. Hyde -#5232
 SF  Play Group                         Roy Kachur -#5233
 SF  Dirty Genes                        Patti Taylor -#5234
 SF  A Sensi's Senses                   Jeana Jorgensen -#5235
 SF  Hard Burn                          Fred Obermeyer -#5236
 SF  And the Creature that Chased Him   Christian L. Campbell -#5237
 SF  Mankind's Worst Fear, chapter 15   Dave Erickson -#5238
 SF  Elwin and the Turkey               Cindy Moser -#5239
 F   Not Again!                         Don L. Smith -#5240
 SF  Void City, Chapter 1               Mike McKeown -#5241
 SF  Jal Isphahan Chp 10                Clea L Boone -#5242
 H   Life is Like...("The Carnival" revised)  Justin S. Aptaker -#5243
 SF  Going Gray                         Roxanne Hutton -#5244
 H   Carson's Camp                      Wanda Fitzgerald -#5245
 SF  Clan of the Tigers - Prologue & Chapter 1  Jennifer Buzby -#5246

Week of 30-May-2001 (Crits due 6-Jun-2001):
 SF  Template of Time, Energy of the Deceptions  Chandler Zedac -#5247
 H   The Redeemed                       David Miles -#5248
 F   Empathy                            Steven E. Brezenoff -#5249
 SF  21st Century Real Estate           Owen Baillie -#5250
 SF  Pessimist's Mantra                 Manda Benson -#5251
 H   Funny Feet                         Kristine Dikeman -#5252
 F   To Spear a Man                     Stevie Heong -#5253
 SF  Slow train                         J. W. Anderson -#5254
 SF  True Friendship                    Wenonah Lyon -#5255
 SF  Sara Tay/Chapter 2                 M. T. Hamlet -#5256
 F   A Little Game of Cat and Mouse     Pat Elder -#5257
 SF  A Medal for a Marine               Theodore Beale -#5258
 F   Master of Storms                   Dan Salas -#5259
 F   Return to Nineveh                  Dan Bracewell -#5260
 F   Storm Dancer, prologue             Christine Hall -#5261
 F   The Travelers                      Richard Larson -#5262
 SF  Fire of the Baribs, Chapter 1      Jim Perry -#5263
 H   Obsidian Fall                      Jefferson R. Boydston -#5264
 SF  A Carnival Feeling                 LaZealtrice Jackson -#5265
 SF  Fruits of Corruption               Anthony Bartley -#5266
 F   The Great Poo                      Eric R. Skinner -#5267
 SF  Deep Flows the River of Time       Carl Frederick -#5268
 SF  Survival                           Martha Bland -#5269
 SF  Scharalsky Station                 Will Briggs -#5270
 F   Sacred Daughter -- Chapter One     Heidi Elizabeth Smith -#5271
 F   Heroic Escort                      Hank Quense -#5272
 SF  Assassin Song                      William Ledbetter -#5273
 F   Water Burner                       Jeff Bumgardner -#5274

Week of 6-Jun-2001 (Crits due 13-Jun-2001):
 F   The Three Wishes of Morzz          [mpc] Don Gerstein -#5275
 F   Alyn's Triumph                     Crista Rucker -#5276
 F   Toad's Breath                      Ray Edward Main -#5277
 F   Journey's End                      Yvette A. Babic -#5278
 F   Orkworld: Toad Fire, Parts 1-3     Jack Spencer, Jr -#5279
 F   Et In Arcadia Ego.                 Ravin Bulramaya -#5280
 SF  The Unborn Christ                  Alissa Grosso -#5281
 F   aram's chronicle, ch 6             teri foster gray -#5282
 F   Buyer Collects                     Alison Raouf -#5283
 H   The Long Road                      Jason Hauser -#5284
 F   Apprentice's Challenge             Sandra Kayser -#5285
 SF  The Job                            John Floyd -#5286
 SF  Even Odds                          Andrew Zimmerman Jones -#5287
 F   The Fortress In The Waste          Mary Catelli -#5288
 F   Hickson Mills Revival, Chap 13-14  Ralph Weimer -#5289
 H   Death and the Carl Rickenbach Five  Sean Sands -#5290
 F   All the Tomorrows After            Charity Zegers -#5291
 SF  The Days of Mr Deaken              Julian Todd -#5292
 SF  Wiped                              Geoff Habiger -#5293
 SF  Personality Conflict               Michael T. Marsh -#5294
 SF  Rent Asunder                       J. Matthew Saunders -#5295
 H   Nightmare #4; Talking to the Wrong Man at the Bar.  Robert-James Barker -#5296
 F   The Broken Line, Ch 1-3            C.M. Kaufman -#5297
 F   Austacia Dayondrea                 Ernest Newton -#5298
 F   Sword of Shadows, ch. 1-4          Heather M. Jones -#5299
 F   Daddy Cy's Commune                 Deborah Carr -#5300
 SF  Turing's Last Laugh                Steven W. White -#5301
 SF  Cy-clone                           MLJOY -#5302
 F   Search for the Crown, RFDR Synopsis  Christine Schmidt -#5303

Week of 13-Jun-2001 (Crits due 20-Jun-2001):
 SF  Diminished Capacity                [mpc] Andrew Zimmerman Jones -#5304
 F   A Real Royal Princess.             Gayel Collinson -#5305
 SF  The last weaver of souls, prologue & chapter 1  Jon Michael James -#5306
 F   Abuktu (Echoes From the Tower of Babel)  Allyn Garavaglia -#5307
 F   Alyx Lightleaf and the Thieves' Guild  Lonnie Janise -#5308
 SF  In The Rock                        Beverley Paine -#5309
 H   Last Kiss                          Gil Rhodes -#5310
 H   Homecoming                         Jake Garten -#5311
 F   Rodeo Gladiators                   Dee Kulacz -#5312
 F   You Could Spend Years Pt1          Mark Alger -#5313
 H   Sleep                              Leanne Whelan -#5314
 F   Sand, chapters 3 and 4             Daniel Arenson -#5315
 H   Haiku                              Lisa Feld -#5316
 SF  Atlantis                           Julia Casey -#5317
 SF  The Platinum Needle, Chapter 2     Roxanne Hutton -#5318
 F   Song of Mornius                    Diane E. Fadden -#5319
 SF  Mankind's Worst Fear, chapter 16   Dave Erickson -#5320
 SF  The Clan of the Tigers             Jennifer Buzby -#5321
 F   Turn of the Wheel chapter 1        Jennifer L oberlander -#5322
 SF  Cave Remnant, chapter 3            Marj Watkins -#5323
 F   The Life and Times of Penguin      Eugie Foster -#5324
 F   Desert Pattern                     Jeana Jorgensen -#5325
 SF  Anathema                           Christian L. Campbell -#5326
 H   Pere Gerome                        Matthew Lussenhop -#5327
 F   Circles of Shandakar               Rick Thompson -#5328
 H   Eventide Bedarkened, Chapters 1-9  Shari Wice -#5329
 H   Burial Grounds                     Gary R. Burzell -#5330
 SF  Escaping From Within               David Taylor -#5331
 F   THE SIX WHO ARE SEVEN              Jon Persson -#5332

Week of 20-Jun-2001 (Crits due 27-Jun-2001):
 F   Blacky of the Covenant             D.F.Mollica -#5333
 SF  Rescue in Greenland                Steve Poling -#5334
 SF  Forbidden Memories                 Fred Obermeyer -#5335
 F   John the Righter                   Patti Hutchins -#5336
 H   The Flower Shop                    Elizabeth Blue -#5337
 F   Essence of Sacrifice               Mik Wilkens -#5338
 SF  Centra Mothers                     Lorraine Zaleski -#5339
 F   Possibilities                      Eyal Teler -#5340
 F   Mania                              Steven E. Brezenoff -#5341
 SF  Template of Time", Energizing in Communications  Chandler Zedac -#5342
 F   The Fantasy Thesis                 Jim Perry -#5343
 F   Storm Dancer (Part 2 chapter 1)    Christine Hall -#5344
 SF  Pandemic                           David Miles -#5345
 SF  The Spacemice Incident             Carl Frederick -#5346
 F   Final Reign                        Dan Salas -#5347
 H   Polevoi                            Jeff Bumgardner -#5348
 SF  Redundant Infinities               Manda Benson -#5349
 F   Sacred Daughter -- Chapter Two     Heidi Elizabeth Smith -#5350
 SF  Derek's Job                        Will Briggs -#5351
 SF  Hot Springs Heaven                 Diana Woods -#5352
 F   A Fence in Rohgate                 D. Dawkins -#5353
 F   Whitebow                           Stevie Heong -#5354
 F   Redemption, Chapter 2              Mike McKeown -#5355
 F   Once Upon a time - Prologue and Chapter One  Mary Wilkerson -#5356
 SF  Halfway House                      Jeremy Minton -#5357
 H   The Room of Mirrors                Holly Catanzarita -#5358
 SF  Astronomy Domine                   Jim Bauer -#5359
 H   Will To Live - previously 'In Will's Stead'  Matt Horgan -#5360
 F   Way of the Forest, Parts 1 & 2     Norm Gillespie -#5361
 H   The Hunt: A Close Encounter        Preston P. DuBose -#5362

Week of 27-Jun-2001 (Crits due [*] 11-Jul-2001):
 F   Sacred Daughter -- Chapter 3       [mpc] Heidi Elizabeth Smith -#5363
 SF  Montana Skies                      Cassandra (Andi) Ward -#5364
 SF  Salvage Run                        J.D. Williams -#5365
 F   What the Left Hand Doeth           Erik Tavares -#5366
 SF  A Game to Die For                  Pat Elder -#5367
 F   Black Diamond Butterflies          Kevin G Maclean -#5368
 H   Altar                              Cindy Moser -#5369
 F   Gaudy Wallpaper and Lavender Smoke  Abra Staffin Wiebe -#5370
 F   Carved in Stone                    Alison Raouf -#5371
 H   The Gobbler                        Robert-James Barker -#5372
 SF  The Cy-clone                       MLJOY -#5373
 F   The Broken Line, Ch 4 (synop for ch 1-3 incl)  C.M. Kaufman -#5374
 SF  My Baby Will Have No Head.         Jack Spencer, Jr. -#5375
 F   The Key to Immortality             Steven W. White -#5376
 F   Sol Darmonlasque                   Ernest Newton -#5377
 F   Pig's Tale                         Jason Hauser -#5378
 F   Hickson Mills Revival, Chap 15     Ralph Weimer -#5379
 F   Tree of Life                       Stephen Ferry -#5380
 F   Tears of Blood, Chapter 2          Jared Lain -#5381
 F   Dinner with Princess Perfect       Rob French -#5382
 F   The Damnation of Marlo             Alison Chapman -#5383
 SF  In the Path of the Dragon Ch 3     Fred Lewis -#5384
 F   The Eyes of Anson Ch.1             Richard Natoli -#5385
 SF  Asperger                           Jim Bayers -#5386
 F   The Reformer in Red                Mary Catelli -#5387
 SF  Discovery                          Steven K. Keck -#5388
 H   Touching The Hand Of God, Chapter 0  Edison McDaniels -#5389
 F   Awakening                          Geoff Habiger -#5390
 SF  Just Another Day                   Colin Harvey -#5391
 H   The Lamp                           Jordan L. Hyde -#5392
 SF  Mankind's Worst Fear, chap. 17/18  Dave Erickson -#5393
 SF  The Platinum Needle, Prolog and Chapter 1  Roxanne Hutton -#5394
 F   You Could Spend Years Pt2          Mark Alger -#5395
 F   Bi-Gnome Expansion                 Andrew Zimmerman Jones -#5396
 F   Aberration                         Lisa Feld -#5397
 H   Eventide Bedarkened, Chapters 6-9  Shari Wice -#5398
 F   Cave Remnant, Chapter 4            Marj Watkins -#5399
 F   A Shadow in the Darkness (prologue)  Lonnie Janise -#5400
 F   Quest For The Dragonslayer (Chap 8)  Jon Persson -#5401
 SF  Bishonen AI                        Leanne Whelan -#5402
 F   Sand                               Daniel Arenson -#5403
 SF  Seven Minutes                      Christopher Mennell -#5404
 F   Beauty's Blood                     [mpc] Eugie Foster -#5405

Week of 11-Jul-2001 (Crits due 18-Jul-2001):
 F   Beauty's Blood                     [mpc] Eugie Foster -#5405
 F   Predators                          Aaron Micheau -#5406
 F   Of a Star in the Sky, Prologue-Ch 3  Amber Lloyd -#5407
 H   Pennies From Heaven                Gil Rhodes -#5408
 F   Command Performances               Michelle Scott -#5409
 F   The Measure of a Word              Julie Ann Finch -#5410
 SF  Confrontation--chapter of Remembrance  Elizabeth Kelley Buzbee -#5411
 SF  Wherewithal                        Christian L. Campbell -#5412
 F   Dr. Enchanting                     Cama Duke -#5413
 H   Detached                           Craig Norton -#5414
 H   Memoirs of My Sanity               Danial Rousse -#5415
 SF  Sub-Tectonic Guilt Trip            Richard Alison -#5416
 F   Nameless                           Eric R. Skinner -#5417
 H   Children of Arachne                Anthony Bartley -#5418
 SF  We love you baby                   John Gannon -#5419
 SF  The Welcoming                      Jack M. Walter -#5420
 F   Always Little One                  Michael Main -#5421
 SF  Never Trust a Pretty View          Morgan Beard -#5422
 SF  Barbarians on the Inside, Chapters 1-2  Steve Saraquse -#5423
 F   Low-Lifer                          Hank Quense -#5424
 SF  Template of Time", The Story of the First Man  Chandler Zedac -#5425
 F   A very short prologue              Christine Hall -#5426
 H   Cemetery Dogs                      Elizabeth B. Blue -#5427
 SF  In the Centre of the Night         Manda Benson -#5428
 F   At the Bottom of the Sea           Eyal Teler -#5429
 F   A Day in the Park                  Terrie Relf -#5430
 SF  He'll Drink your Blood             Carl Frederick -#5431
 SF  The Petition                       Mik Wilkens -#5432
 SF  Special Collection                 Steve Poling -#5433
 F   Guardians of the Circle, Chapter 1  Stevie Heong -#5434

Week of 18-Jul-2001 (Crits due 25-Jul-2001):
 SF  Am I my Brother's Keeper?          Kit Davis -#5435
 F   Transvestite Man vs. Mad Union Jack  Fred Obermeyer -#5436
 H   The Cats of Luther                 Joe Murphy -#5437
 H   Blood Experiments                  L.J. Blount -#5438
 SF  The Teeth that Started the War     Valerie Emanuel -#5439
 F   Amnesia                            Eric T. Lynum -#5440
 SF  Wonder Woman                       Fiona Catherine Nania -#5441
 SF  The Waltz in the Corridor          Christopher M Dittrick -#5442
 SF  Domesticus                         William Vetter -#5443
 F   A Soldier in Rohgate               D. Dawkins -#5444
 H   Necronomicom                       Douglas T. Araujo -#5445
 F   The Recruit                        Janice Clark -#5446
 F   Tough Alliances                    Valerie Frankel -#5447
 SF  Cap-head and Sillibean Party Hardy  Peter Huston -#5448
 SF  Dark Contact Chapter 1             Sean Sands -#5449
 F   Trueborn, Prologue and Chapter One  Shannon D. Burton -#5450
 SF  Philip K. Dick Is Dead and In Cold-Pak  Jeff Palmer & Jim Bauer -#5451
 F   Cold Comfort                       John Owen -#5452
 F   Divine Prerogative, Chapter 7      Jennifer Rahn -#5453
 SF  Pounder                            Andrew Burt -#5454
 F   Ever After                         E.K. Rivera -#5455
 H   The Tomb                           Robin Pittom -#5456
 F   The Dingo Cave, Chapter 1          Beverley Paine -#5457
 F   A Crab-Like Love                   Joseph M. Dyer -#5458
 SF  Caretakers Visit a Small Planet    Lorna Keith -#5459
 SF  Untitled                           Ernest H. Stalder -#5460
 F   On the Anomalous Effect of Dragon Spit  D.L. Medlin -#5461
 F   Forest Orb                         Alexander Curnow -#5462
 F   Heart of Fire, chapters 1-2        M. Deikute -#5463
 F   Letters to a Priest                Jim Cue -#5464

Week of 25-Jul-2001 (Crits due 1-Aug-2001):
 H   A Funny Thing Happened to Me on the Way to the Funeral  [mpc] Eugie Foster -#5465
 SF  The Last Pregnant Woman            Garry Garrett -#5466
 H   Insomnia                           Toni Stauffer -#5467
 SF  Hummingbird Wings                  Robert Anderson -#5468
 H   Three Days                         Katharine Jones -#5469
 SF  Ghost in a Jar                     Matt Champine -#5470
 SF  Thrill Ride                        Robert J. Santa -#5471
 F   Of the Circle Born, Prologue       Amy A. Carson -#5472
 SF  Chrysalis                          Teresa Thorne -#5473
 F   Bonded to Night: The First Story   Valerie A. Mechling -#5474
 H   Dark Yellow                        Alison Raouf -#5475
 F   And Gravity Their Uncertain Guardian  Lisa Feld -#5476
 SF  The Platinum Needle, Chapter 3     Roxanne Hutton -#5477
 F   You Could Spend Years P2           Mark Alger -#5478
 F   The Frog Queen                     Andrew Zimmerman Jones -#5479
 F   A Shadow in the Darkness, Chapter 1  Lonnie Janise -#5480
 F   Jaguarundi's Rise -- Chapter 01    Heidi Elizabeth Smith -#5481
 SF  The Big Business Of Exploration Entertainment  J.D. Williams -#5482
 H   Crawlspace                         Erik Tavares -#5483
 SF  The Body Not Mine                  Steven K. Keck -#5484
 F   The Thief of the Casket            Mary Catelli -#5485
 H   Teh Dust, The Dry Heat, The Martinis and All The Insects  Robert-James Barker -#5486
 F   Saving Maribus                     Stephen Ferry -#5487
 F   The Broken Line, Ch 5-6            C.M. Kaufman -#5488
 F   Tears of Blood, Chapter 1          Jared Lain -#5489
 F   SAND                               Daniel Arenson -#5490
 SF  Vengeance Chapters 1 to 4          Colin Harvey -#5491

Week of 1-Aug-2001 (Crits due 8-Aug-2001):
 H   Insects                            [mpc] Lisa Feld -#5492
 F   Jaguarundi's Rise -- Chapter 02    [mpc] Heidi Elizabeth Smith -#5493
 SF  Tomorrowchild                      Michael H. Fox -#5494
 SF  Payment Due                        Sarah Wesson -#5495
 H   The Twin                           Florence Cardinal -#5496
 H   Fire in the Sky                    Gary A. Wilbanks -#5497
 SF  How my Light is Spent              Pat Lundrigan -#5498
 SF  Morality Has No Face               Ilse Turnbull -#5499
 F   Matthias, Maximillion and Marty    H.R. Green -#5500
 F   Initium Ultio: A Heretic Story     Nathan A. Fisk -#5501
 SF  Line of Defense                    Michael Martone -#5502
 F   Hickson Mills Revival, Chap 16     Ralph Weimer -#5503
 SF  The Peculiar Death of Jack Perry   Steven W. White -#5504
 SF  Mankind's Worst Fear, final chapters  Dave Erickson -#5505
 H   The Alchemy of Ketchup             Abra Staffin Wiebe -#5506
 F   Shackles                           Richard Larson -#5507
 F   Ill-met by Moonlight               Xiang Yuen -#5508
 SF  The Deadly Thought of Solitude     Gary Simon -#5509
 SF  Template of Time", The Mind Microbe  Chandler Zedac -#5510
 H   Bump in the Night                  Elizabeth B. Blue -#5511
 SF  The Merging                        Cama Duke -#5512
 F   Storm Dancer (Part 1)              Christine Hall -#5513
 SF  Perihelion                         Manda Benson -#5514
 SF  The Consort and the Commander chapter of Remembrance  Elizabeth Kelley Buzbee -#5515
 SF  Nachalnik                          Will Briggs -#5516
 F   A Winter's Tale                    Ilana Teitelbaum -#5517
 SF  The Price of Conquest (part 1 of 2)  Mik Wilkens -#5518
 SF  Walking The Valley                 Jeremy Minton -#5519
 SF  Killiecrankie                      David Miles -#5520
 H   Andy's Biggest Balloon Yet         Viscan Rente -#5521

Week of 8-Aug-2001 (Crits due 15-Aug-2001):
 F   The Glowmoe Knows                  Jason Hauser -#5522
 SF  Spiritual Conquest, Chapter 1      Ines Gelfenboym -#5523
 H   the Misery of Osman Bey            Edison McDaniels -#5524
 F   I Choose to Fly                    Jeff Macfee -#5525
 F   Space Tunes                        Conibear -#5526
 SF  Horse Years                        Will McIntosh -#5527
 SF  COuntess of Chutzpah               Hank Quense -#5528
 F   Herb Magic                         Aaron Micheau -#5529
 SF  Taproot, Chapters One and Two      Brian P. Royer -#5530
 H   Sweet Revenge                      Carl W. Deem -#5531
 F   A Witch                            Michael Williams -#5532
 SF  Inventions and Opportunities       Boris Layupan -#5533
 F   Sword of Shadows, part 1           Heather M. Jones -#5534
 SF  The Big Game                       Don Maker -#5535
 F   Losing Her, A Space Romance        Norm Gillespie -#5536
 F   Cave Remnant, Chapter 5            Marj Watkins -#5537
 SF  The Flight Within                  Christopher M Dittrick -#5538
 F   The Boy Dubbed Placid              Joseph M. Dyer -#5539
 SF  One More Encore Dance Across this Stage  Peter Huston -#5540
 H   Hidden Things                      Douglas T. Araujo -#5541
 H   Music of Death                     M. Deikute -#5542
 F   A Hunger in Rohgate                D Dawkins -#5543
 F   Divine Prerogative, Chapter 8      Jennifer Rahn -#5544
 F   Choices                            E.K. Rivera -#5545
 F   Attitude Adjustment                Anne M. Stickel -#5546
 SF  Last Gods of Flesh                 Robert French -#5547
 H   Flames of Tartrus                  L.J. Blount -#5548
 F   The Battle of Dead Gorge           Anthony J D Burns -#5549
 SF  Jezebel                            Roselyn Silverman -#5550

Week of 15-Aug-2001 (Crits due 22-Aug-2001):
 F   The Fortress In The Waste          Mary Catelli -#5551
 SF  Starsurfers of the Galaxy          Fred Obermeyer -#5552
 SF  The Tinker                         Robert J. Santa -#5553
 SF  Student Bartholomew                Kevin R. Tipple -#5554
 SF  Timestream, chapters 1-2           J.D. Williams -#5555
 SF  The Stars Are Crying               Daniel Arenson -#5556
 F   The Archer, Part 1                 Valerie Mechling -#5557
 SF  Family Values                      Andrew Zimmerman Jones -#5558
 F   Circle of Endaran, Chapter 1       Stevie Heong -#5559
 SF  The Multitude Covered              Christian L. Campbell -#5560
 F   Trueborn Chapters 2+3              Shannon D. Burton -#5561
 H   Lilith                             Terry Pinter -#5562
 F   Grass Harp                         Crissy Gottberg -#5563
 F   A Shadow in the Darkness, Chapter 2  Lonnie Janise -#5564
 H   A Lesson from the Devil            Toni Stauffer -#5565
 SF  Slip sliding away                  Sheila Crosby -#5566
 F   Of the _Circle_ Born, Prologue     Amy Carson -#5567
 F   A Star in the Sky - Chap 4         Amber Lloyd -#5568
 F   The Essak, Chapter 0               Maria Lin -#5569
 H   egg                                Andrew Watson -#5570
 F   Araghan's Watch, Prologue & Chapter 1  Laura Waesche -#5571
 SF  SNOWDANCER Chapter One             Teresa Thorne -#5572
 SF  Vestal Desires                     Barbara E. Walton -#5573
 F   And All the Children of Chimaera   Kate Orman -#5574
 H   Circle of the Great Owl            Daniel L. Needles -#5575
 H   The Pack                           Brian Salyards -#5576
 SF  Commercialism                      Alissa Grosso -#5577

Week of 22-Aug-2001 (Crits due [*] 5-Sep-2001):
 SF  Space Vagabonds: The Marauders     [mpc] Manda Benson -#5578
 SF  The Escape Artist                  Jeff Cates -#5579
 F   Astronomy Domine                   Jim Bauer -#5580
 F   A Fatal Spiral                     Lisa Feld -#5581
 F   Do I Act Like a Real Giant?        Dan Bracewell -#5582
 F   The Broken Line ch 7               CM Kaufman -#5583
 SF  A Picture's Worth                  Carl Frederick -#5584
 F   Divine Prerogative, Chapter 9      Jennifer Rahn -#5585
 SF  This Body Not Mine                 Steven K. Keck -#5586
 H   The Will                           Terrie Relf -#5587
 H   Penance - A User's Guide           L.J. Blount -#5588
 SF  Knight Errant                      Marilyn LT Klimcho -#5589
 F   Cove of Death (Part 1 of 2)        Jason Hauser -#5590
 SF  Taiki Bishonen                     Leanne Whelan -#5591
 SF  Treasure                           Anthony Bartley -#5592
 SF  The Price of Conquest (part 2 of 2)  Mik Wilkens -#5593
 H   Jungle Fever                       Florence Cardinal -#5594
 SF  Murder on the Orientale Express    Steven W. White -#5595
 SF  The Well                           Sean Cier -#5596
 SF  Wonkling with Mr. Peebles          Janice Clark -#5597
 SF  Template of Time" Energizing in Communications  Chandler Zedac -#5598
 SF  A Time to Spend                    Richard D. Clark -#5599
 F   Detrie Furniture                   Viscan Rente -#5600
 F   Green                              Michael Williams -#5601
 SF  The Voice                          Ines Gelfenboym -#5602
 F   Periwinkle Eyes                    Abra Staffin Wiebe -#5603
 SF  Dark Contact Chapter 2             Sean Sands -#5604
 F   The Coming of the Rose             Edison McDaniels -#5605
 H   A Suburban Legend                  Dolly Stevenson -#5606
 H   The Creep                          Katharine Jones -#5607
 SF  Silicon Lamentations               Michael J. Martone -#5608
 H   Time                               M. Deikute -#5609
 SF  Courage Versus Harrison            Marie S. Lyle -#5610
 F   Boing the Half-Ogre, Chapters 1-2  Nathan A. Fisk -#5611
 F   Goldak: Trial of the Gods          Jason Brubaker -#5612
 F   Irresistable                       Xiang Yuen -#5613
 H   Graveyard-Green                    J. Alvarado -#5614
 F   A Game of Knight Court             Jason D. Wittman -#5615
 SF  To Those Who Wait                  Will McIntosh -#5616
 SF  Voices                             Alex Kress -#5617
 F   Trespass                           Ruth Nestvold -#5618
 H   Angel                              Paul M. Frazier, Ph.D. -#5619
 SF  Sara Tay, Chapter 3                M. T. Hamlet -#5620
 F   John Bowman's Cave, RFDR, Synopsis and Chapters 1-2  Erron Adams -#5621
 SF  Staring Down the Train             Randy Foster -#5622

Week of 5-Sep-2001 (Crits due 12-Sep-2001):
 F   Sacred Daughter, Chapter One       [mpc] Heidi Smith -#5623
 SF  Space Vagabonds: The Spican Incident  [mpc] Manda Benson -#5624
 SF  When the Lights Go Out             Eugie Foster -#5625
 F   A Jury of Peers                    Robert J. Santa -#5626
 SF  Memory Eaters                      Alissa Grosso -#5627
 SF  Opposing Forces                    Ray Hawk -#5628
 F   Disquietude                        Jordan L. Hyde -#5629
 F   One Troubadour's Travails          Elizabeth Anne Ensley -#5630
 F   Bone Us!                           Anne Stickel -#5631
 F   Escape from Hell                   Scott Weaver -#5632
 F   M-Day                              Barbara Davies -#5633
 F   Follow                             E.K. Rivera -#5634
 SF  If I Should Die Before I Wake      Dave Whittier -#5635
 F   Madness in the Method              Christopher E Stockdale -#5636
 F   Atlee Elmont                       Eric T. Lynum -#5637
 F   Flames of Felidon                  Richard Larson -#5638
 H   The Cat Lady                       Elizabeth B. Blue -#5639
 H   Insomnia, revised                  Toni Stauffer -#5640
 F   A Secret Charm                     Jeff Macfee -#5641
 F   The Dreaming: A Retelling of The Sleeping Beauty  Ilana Teitelbaum -#5642
 F   Uplifting Thoughts                 Don Maker -#5643
 SF  Wired For Beauty                   M. K. Moon -#5644
 F   Laughter of the Apprentice, chapters 1-9  I T Mirza -#5645
 H   Whispers                           Justin Elliott -#5646
 SF  The First Annual Dodge City Showdown  Douglas C. Parker -#5647
 SF  Unity                              Gareth Dyson -#5648
 SF  Crossing the Line                  Aline Boucher Kaplan -#5649
 F   Dagmar's Story                     Adrianna Sorcere -#5650
 F   Shattered Kindred, Chapters 0-3    Melinda Rose Goodin -#5651
 H   Oil and Charcoal on Canvas         Leah Bobet -#5652

Week of 12-Sep-2001 (Crits due 19-Sep-2001):
 SF  All In My Mind                     [mpc] Eugie Foster -#5653
 F   A Little Hamlet                    Rob Holden -#5654
 SF  A Father's Love                    Fred Obermeyer -#5655
 F   The Next Regeneration, Chapter 1   Eyal Teler -#5656
 SF  Throw Out The Life-Line            Steve Poling -#5657
 SF  Epilogue chapter of Remembrance    Elizabeth Kelley Buzbee -#5658
 SF  Voice of the Deep                  Andrew Zimmerman Jones -#5659
 SF  Timestream, chapters 3-5           J.D. Williams -#5660
 F   Psyche's Truth                     Valerie Frankel -#5661
 F   Guardians of the Circle, Chapter 2  Stevie Heong -#5662
 F   Sand                               Daniel Arenson -#5663
 F   Bryce                              Marie Wadsworth -#5664
 F   Omaha                              Diana D. Woods -#5665
 F   Trueborn, Chapters 4+5             Shannon D. Burton -#5666
 F   The Prince of Lies                 Richard Gubitosi -#5667
 H   The Worst Fear                     Terry Pinter -#5668
 SF  Handmade                           Charlie Allery -#5669
 F   The Sky-God's Lover, Prologue and Synopsis  Nora Jemison -#5670
 SF  The Entity, Chapters 1-3           Daniel L. Needles -#5671
 H   Morella                            David W. Landrum -#5672
 SF  Taproot, Chapter 3                 Brian P. Royer -#5673
 H   Holocausts and Hurricanes          Matthew M. Foster -#5674
 SF  Titans of the Sky                  Justin Bacon -#5675
 SF  Ticket to Backwards                Kate Orman -#5676
 H   In The Palace of Dreams            John Battle -#5677
 SF  Electric Thoughts, Human Dreams    Sean D Lovett -#5678
 SF  Whats In A Name                    Arron J Barringer -#5679
 SF  Black Dogs, Chapter 1              Vince Stadon -#5680

Week of 19-Sep-2001 (Crits due 26-Sep-2001):
 F   The Mead Cup                       Hank Quense -#5681
 F   Train                              Karen Dunstall -#5682
 F   In the Walls                       Lisa Feld -#5683
 F   Fragrance of the Honey Rose        Dan Bracewell -#5684
 SF  Phases of Earth                    Carl Frederick -#5685
 SF  The Teeth that Started the War     Valerie Emanuel -#5686
 SF  Silent Night                       Martha Bland -#5687
 F   Hickson Mills Revival, Chap 16     Ralph Weimer -#5688
 SF  The Bureau of Insect Affairs       Steven K. Keck -#5689
 F   Evean, Chapter 0                   Neal Swain -#5690
 H   The Creature on Hermit's Hill      Gary A. Wilbanks -#5691
 F   Cove of Death (Part 2 of 2)        Jason Hauser -#5692
 SF  The Bonemaker's Apprentice - Chapter 1  Dave Whittier -#5693
 H   The Dream                          Todd Lattimer -#5694
 SF  ZZZAP!                             Jo Davidsmeyer -#5695
 F   The Fall of Atlantis               Michael Beck -#5696
 F   The Fight                          Jim Garrison -#5697
 SF  Scattered Toys                     Richard D. Clark -#5698
 H   A Working Relationship             Anthony Bartley -#5699
 SF  Emotional Complications under a Blood Red Alien Sky  Peter Huston -#5700
 SF  The Mind Microbe, Final Draft      Chandler Zedac -#5701
 SF  Dark Contact Ch. 3: The Crescent Ridge  Sean Sands -#5702
 F   Sundown                            Xiang Yuen -#5703
 SF  Time Shift                         Michael J. Martone -#5704
 F   The Journey of a Thousand Moons, chapter 1  Marie Deikute -#5705
 SF  The New Messenger                  Ines Gelfenboym -#5706
 F   Siren Storm: Duet For Voice And Wind  Pam Lord -#5707
 H   In the Bag                         J. Alvarado -#5708
 F   Dragon's Maiden                    Carrie McKay -#5709
 SF  The Reality Players                Jason R. Heimann -#5710
 F   Deliver Us From Extinction         Don Krause -#5711
 F   Innocent Gaze                      Andrea Stewart -#5712

Week of 26-Sep-2001 (Crits due 3-Oct-2001):
 F   Rejection                          Jim Cue -#5713
 F   The Invisible Sword of Peter Brinkley  Robert J. Santa -#5714
 F   Divine Prerogative, Chapter 10     Jennifer Rahn -#5715
 F   Cat As Strophe                     Anne Stickel -#5716
 H   The Eulogy                         Alissa Grosso -#5717
 H   The Snow Demon                     David W. Landrum -#5718
 F   The Science Fiction Romance Writer  Norm Gillespie -#5719
 H   Open and Shut                      Terrie Relf -#5720
 F   Sakura Chapter 1                   Leanne Whelan -#5721
 F   A Girl Named Jane                  Cindy Moser -#5722
 F   Alaguadari, Chapter One            Valerie Mechling -#5723
 SF  Cave Remnant, Chapter 6            Marj Watkins -#5724
 SF  Water                              Robert A. Goldstein -#5725
 SF  Scorched Earth                     Steven W. White -#5726
 H   Ulcers                             Viscan Rente -#5727
 H   Untitled, Chapter 1                Toni Stauffer -#5728
 H   A Face in my Dream                 Ron Parente -#5729
 F   Pure Breed, Chapter 0              Robert Baranowski -#5730
 SF  Nine Worlds, I Remember, Chapters 1-2  Anne M. Kaelber -#5731
 F   God's Rest                         Justin Elliott -#5732
 SF  Beyond the Horizon                 Gareth Dyson -#5733
 F   Death Wish                         M. K. Moon -#5734
 F   The Mageless Dungeon, Chapter 0    Jo Vandewall -#5735
 H   The Unmaking                       Debbra Mikaelsen -#5736
 SF  Ribbit, Ribbit                     E.L. Quackenbush -#5737
 F   Dead Man's Hand                    Josh Sager -#5738
 SF  Owned                              Andrew MacLaughlin -#5739
 SF  Shinnu's Story                     Tom Humphrey -#5740

Week of 3-Oct-2001 (Crits due 10-Oct-2001):
 SF  The Plutocrats                     Mary Catelli -#5741
 SF  The Scent of Their Voices          Eugie Foster -#5742
 F   The Broken Line, Ch 8-11           C.M. Kaufman -#5743
 SF  The Ceres Incident                 Gavin Jones -#5744
 SF  In the Path of the Dragon Ch 4     Fred Lewis -#5745
 F   Machina Ex Deus                    Joe Murphy -#5746
 H   Bad Blood                          Andrew Zimmerman Jones -#5747
 F   World's End                        Chris Paul -#5748
 F   Under World                        Philip I. Jones -#5749
 H   Ladies Who Lunch                   Wenonah Lyon -#5750
 SF  Timestream, chapters 6-8           J.D. Williams -#5751
 SF  The Spican Incident                Manda Benson -#5752
 H   The Trial                          Simon Bewick -#5753
 F   What's in a Book?                  Valerie Frankel -#5754
 F   Guardians of the Circle, Chapter 3  Stevie Heong -#5755
 SF  The Master of the Hatches          Sarah Totton -#5756
 F   Grains of Sand                     Daniel Arenson -#5757
 F   Husbands                           Christian L. Campbell -#5758
 F   Bryce, Ch.1-3                      Marie Wadsworth -#5759
 F   Bound By Power, chapters 1-3       E.A.Weippert -#5760
 SF  The Pierian Spring                 Patrick Lundrigan -#5761
 H   Lilith, First Revision             Terry Pinter -#5762
 H   The Breathing Machine              Edison McDaniels -#5763
 H   Over the Edge                      Andrew Watson -#5764
 SF  Phobia                             Lee Gillentine -#5765
 SF  Climbers                           Will McIntosh -#5766
 F   Confessions                        Erick Rummerfield -#5767
 SF  The Final Lesson of Camelot        Sean D. Lovett -#5768
 SF  The Factotum                       Joanne Steinwachs -#5769
 F   Barnstorming Olympus               Corey Brown -#5770

Week of 10-Oct-2001 (Crits due 17-Oct-2001):
 H   The Few, the Proud, the Leech Corps  [mpc] Eugie Foster -#5771
 SF  FREE FALL                          [mpc] David Jonathan Williams -#5772
 F   Evean, Chapters 1-2                Neal Swain -#5773
 SF  Fugitve                            Dave Erickson -#5774
 F   Journal of Alexandria Zemdor       Bonnie Newton -#5775
 SF  A Lifetime of Service              Lisa Feld -#5776
 SF  Brother, Can You Spare A Genome?   Fred Obermeyer -#5777
 F   The Lost Treasure of Babylon       Dan Bracewell -#5778
 F   Breathing                          E.K. Rivera -#5779
 SF  Flight of 3                        Todd Lattimer -#5780
 F   The Otherwhen Bar and Grill        Richard D. Clark -#5781
 SF  One of These Days                  Jo Davidsmeyer -#5782
 F   Dimensional Diversion              Ray E. Main -#5783
 SF  A Dancer Needs a Fiddler's Tune    James K. Flynn -#5784
 SF  Work Team, Vector 3, Spores        Chandler Zedac -#5785
 H   The Figure in the Corner           Matthew M. Foster -#5786
 SF  The Extra Mile                     Michelle Scott -#5787
 F   Horsefeathers                      Xiang Yuen -#5788
 SF  The Gift and the Name              Michael J. Martone -#5789
 F   Boing the Half-Ogre, Chapters 3-4  Nathan A. Fisk -#5790
 F   Time                               Marie Deikute -#5791
 SF  Spiritual Conquest - Chapters 2 and 3  Ines Gelfenboym -#5792
 F   Grass Harp Chapter 4               Crissy Gottberg -#5793
 F   God's Tower                        Leah Bobet -#5794
 F   A Brief History of Tim             Peter Staw -#5795
 SF  Dark Proceedings                   Daniel J. Goodwin -#5796
 H   Space Spheres                      John Adams Theibert Jr. -#5797

Week of 17-Oct-2001 (Crits due 24-Oct-2001):
 SF  Star Quality                       William Vetter -#5798
 SF  Ballyhoo                           Robert J. Santa -#5799
 SF  The War Against The Asteroids      James D. Thwaites -#5800
 SF  Noagh and the Really Big Space Cruiser  Alissa Grosso -#5801
 SF  The Friend of the Bridegroom       David W. Landrum -#5802
 F   To be confirmed. Chapter 1         Leanne Whelan -#5803
 H   The Power of Words                 Pat Elder -#5804
 SF  Caryatids and Telamons             Vince Bonasso -#5805
 H   The Lantern Patch                  Ron Parente -#5806
 F   Centaurian Nights, Chapter 1       Shari Wice -#5807
 H   Hospy                              Joseph Albert Blue -#5808
 SF  Season of the Shreu                Lana Rodlie -#5809
 H   Another Ring                       Viscan Rente -#5810
 SF  The Tiresias Project               Ruth Nestvold -#5811
 SF  The Entity, Chapters 4-6           Daniel L. Needles -#5812
 F   Deliver Us From Extinction (Chapter 2)  Don Krause -#5813
 F   The City of Midnight               John Battle -#5814
 SF  Where Are Those Little Humans?     Kenneth Green -#5815
 F   Pure Breed, Chapter 1              Robert Baranowski -#5816
 F   Too Late to Dream                  M.K. Moon -#5817
 F   The Pit                            Josh Sager -#5818
 SF  Frail Renaissance                  Gareth Dyson -#5819
 F   When Dragons Wake, Chapter 1       Cynthia Cloughly -#5820
 F   The Mageless Dungeon, Chapter 1    Jo Vandewall -#5821
 H   Puzzling Pieces                    Charles Trusk -#5822
 SF  The Immortality Plague             Steven Bratman -#5823

Week of 24-Oct-2001 (Crits due 31-Oct-2001):
 SF  The Marriage of Noa and Ti         Jack M. Walter -#5824
 SF  The Beast of all Possible Worlds   Carl Frederick -#5825
 SF  Chapter of Remembrance-Monsters in the Mountains  Elizabeth Kelley Buzbee -#5826
 F   SF Writers Lost at Sea             Norm Gillespie -#5827
 SF  Children of the Evolution          Andrew Zimmerman Jones -#5828
 H   Grave Robber                       Douglas T. Araujo -#5829
 F   Prophecy of the Dragon             Jason Hauser -#5830
 SF  Timestream, chapters 9-10          J.D. Williams -#5831
 F   Healing Blood                      Jeana Jorgensen -#5832
 SF  Guild of Vagabonds: Escape         Manda Benson -#5833
 F   Guardians of the Circle, Chapter 4  Stevie Heong -#5834
 F   Grains of Sand                     Daniel Arenson -#5835
 SF  The Faulty Fastener on Thanden Ryane's Blaedarin  Jeff Bumgardner -#5836
 F   The Archer's Curse                 Pat Lundrigan -#5837
 SF  Emotional Complications under a Blood Red Alien Sky  Peter Huston -#5838
 SF  Turing's Revenge                   Steven W. White -#5839
 F   Bound by Power: a healer's heritage  Erica Weippert -#5840
 F   Hidden Claws                       Gerry Kleiman -#5841
 F   The Phoenix King                   Frederick Brown -#5842
 H   The Oiuja Board                    Terry Pinter -#5843
 SF  Transfer                           Dean Phares -#5844
 F   Balance of Power, pt 1             Pam Lord -#5845
 F   Sibling Amity                      Kerry Dorsey -#5846
 SF  Rapture                            Will McIntosh -#5847
 SF  In the Days of the Red Animals     Kate Orman -#5848
 F   The Calling                        Roslyn Kopel Gross -#5849
 SF  Passing On                         Tammy Gregg -#5850

Week of 31-Oct-2001 (Crits due 7-Nov-2001):
 F   A Fairy Short Life                 [mpc] H. C. Finch -#5851
 F   The Rainbow Bridge                 Hank Quense -#5852
 SF  Fade to Black                      Eugie Foster -#5853
 H   Of Sweet Peas and Radishes         Robert J. Santa -#5854
 F   The Presentation                   Dan Bracewell -#5855
 SF  Return to Roswell                  Steve Poling -#5856
 SF  Mars TV                            Alissa Grosso -#5857
 H   Ransom                             Martha Bland -#5858
 F   The Beloved (chapters 1-4)         David Jonathan Williams -#5859
 SF  Pandemic                           David Miles -#5860
 F   Dimensional Delemma Chapters 2-3   Ray E. Main -#5861
 SF  Flight of Three                    Todd Lattimer -#5862
 SF  Dispersal Phase                    Charlie Allery -#5863
 F   Every Night Before Sleep           Leah Bobet -#5864
 SF  Resubmit "Work Team, Vector 3, Spore  Chandler Zedac -#5865
 F   :Lady In Waiting                   Robert A. Goldstein -#5866
 H   His Gift                           Tamela Rush -#5867
 F   Chadaska - chapters 1-3            Tammi Hyde -#5868
 F   Boing the Half-Ogre, Chapter 5     Nathan A. Fisk -#5869
 F   The Drakele                        Kenneth Green -#5870
 F   The Price                          Antoinette L. Dubovsky-Modar -#5871
 F   Taunting Voices                    Gareth Dyson -#5872
 F   Second Chances                     Candi Duke -#5873
 SF  Justice                            Daniel J. Goodwin -#5874
 F   The Second Yangtze Incident        Tom Sweeney -#5875
 H   A Killer Sunrise                   Ross Kingsley -#5876

Week of 7-Nov-2001 (Crits due 14-Nov-2001):
 SF  The Rhythm of the Spheres          [mpc] Jerry L. Robinette -#5877
 F   Bed, Baphomet, and Beyond          A. Dorrance -#5878
 SF  The Black Hole Ships               Mary Catelli -#5879
 SF  Platinum Needle, Chapter 2         Roxanne Hutton -#5880
 SF  The Heart of the Matter            Carl Frederick -#5881
 H   Psalms ala Angel Hair              Joe Murphy -#5882
 SF  The Last Resort                    Andrew Zimmerman Jones -#5883
 F   Honorary-Mother                    Emily Martha Clark -#5884
 SF  GOV: Commuter of the Cosmos        Manda Benson -#5885
 F   A peal of bells, prologue & chapter 1  Leanne Whelan -#5886
 H   The High Price of Redemption       Michael K. Twomey -#5887
 SF  Enjashek                           Mik Wilkens -#5888
 F   Something Special                  Abra Staffin Wiebe -#5889
 F   Night Claws                        Xiang Yuen -#5890
 F   Bird Brain                         M K Moon -#5891
 F   Atavar, Chapter 0                  Robert Baranowski -#5892
 F   The Quest of the Lost King, ch. 1  Stephanie Rumpza -#5893
 F   Night Visions, Chapters 1-3        Mels Holmes -#5894
 SF  Zombie for Hire                    David Lively -#5895
 SF  The Children of Peace              Steven Bratman -#5896
 SF  The Plan                           Donnal Barwick -#5897
 H   Bailey's Pond, Chapter 1           Mickey Stroda -#5898

Week of 14-Nov-2001 (Crits due 21-Nov-2001):
 SF  A Necessary Crime                  Fred Obermeyer -#5899
 SF  SMARG!                             Jason Hauser -#5900
 F   At the Church on the Hill          Chris Paul -#5901
 H   The Boy Who Hated Santa Claus      Douglas T. Araujo -#5902
 SF  Daddy's Girls                      Terrie Relf -#5903
 F   Guardians of the Circle, Chapter 5  Stevie Heong -#5904
 SF  The dusty Streets of Happiness     Christian L. Campbell -#5905
 F   Sand                               Daniel Arenson -#5906
 SF  Beggar's Paradise                  Peter Huston -#5907
 SF  Sticks                             Deborah Carr -#5908
 F   The Pheonix King, Chapter 2        Frederick Brown -#5909
 F   The Witching Way, Chapters 1-2     Shelly Brown -#5910
 F   Centaurian Nights, Chapters 1-4    Shari Wice -#5911
 H   Consent Form                       Joseph Blue -#5912
 F   The Gods of Summer                 Susan Ullmann -#5913
 F   A Hero's Light                     Jay Jennings -#5914
 F   When Dragons Wake, Chapter 2       Cynthia Cloughly -#5915
 SF  Ragged Alliance                    Matthew Candelaria -#5916
 F   Aftermath                          Richard Benton -#5917
 H   Lassoes and Cowboy Hats            Thomas Cummings -#5918
 SF  Imagining Green                    Tracy Berg -#5919
 F   Type Castes                        Daniel Devine -#5920

Week of 21-Nov-2001 (Crits due 28-Nov-2001):
 SF  Adrienne's Secret: A New Kristof Xiang Adventure  Eugie Foster -#5921
 H   Dibidi's Tower                     A.M. Stickel -#5922
 H   Bugs                               Robert J. Santa -#5923
 SF  Crossing Redemption Bridge         Jennifer Macaire -#5924
 H   Pool Sharks                        Dan Bracewell -#5925
 SF  I Hunger Only for Your Kiss        Alissa Grosso -#5926
 SF  Food For Something Else Ch. 1      Norm Gillespie -#5927
 SF  Loony Toons                        Martha Bland -#5928
 SF  Free Fall                          David Jonathan Williams -#5929
 F   The Impaler                        E.K. Rivera -#5930
 SF  Burst Mode                         Pat Lundrigan -#5931
 SF  The Final Delay                    Chandler Zedac -#5932
 F   Deliver Us From Extinction, Chapter Three  Don Krause -#5933
 SF  Dr. Jeckyll and Mr. Cyborg         Tom Sweeney -#5934
 H   The Desperate Night                Kenneth Green -#5935
 SF  The Phlogiston Age (Part 1 of 2)   Corey Brown -#5936
 F   Master of Cats                     [@] Theodore Beale -#5937
 SF  Surviving Freedom                  Tania McIntyre/Owen Clark -#5938
 F   Finding Haven in the Night         Yvette A. Babic -#5939
 F   Blood Will Mingle                  Rachel McGonagill -#5940

Week of 28-Nov-2001 (Crits due 5-Dec-2001):
 F   The Next Regeneration, Chapters 0-2  [mpc] Eyal Teler -#5941
 SF  Remanence                          [mpc] Tom Sweeney -#5942
 SF  On the Atropos                     Mary Catelli -#5943
 SF  The Platinum Needle, Chapter 4     Roxanne Hutton -#5944
 SF  I Smell the Wild Wolf Howl,        Carl Frederick -#5945
 SF  The Hunt                           Cindy Moser -#5946
 F   Dimensional Dilemma, Chapter 4     Ray E. Main -#5947
 F   Faerie Tales, Chapter One and Outline  Kathryn J. Brown -#5948
 F   Born of the Forest, Dying With You  Jeff Bumgardner -#5949
 H   In The Can                         Jeremy Minton -#5950
 SF  Bloodsuckers                       Michelle Scott -#5951
 F   Boing the Half-Ogre, Chapter 6     Nathan A. Fisk -#5952
 F   The Soldier and The Heretic        Lorraine Zaleski -#5953
 F   City of Midnight Part 2            John Battle -#5954
 F   Atavar, Chapter 2                  Robert Baranowski -#5955
 H   To Begin Anew                      Kimberley Clow -#5956
 SF  Under the Skin                     Steven Bratman -#5957
 H   Bailey's Pond, Chapter One         Mickey Stroda -#5958
 F   The Quest of the Lost King, ch. 2  Stephanie Rumpza -#5959
 F   A Song For Lanae                   Antoinette L. Dubovsky-Modar -#5960
 SF  Jail Bird                          David Lively -#5961
 SF  Food Chain                         Mark Gill -#5962
 H   A Story To Tell                    Jennifer Stein -#5963
 SF  On the Threshold                   Lee Beavington -#5964

Week of 5-Dec-2001 (Crits due 12-Dec-2001):
 SF  Stumbling in the Language of a Dead Planet  Joe Murphy -#5965
 F   Strangers                          Marcelle Dube -#5966
 F   Hunt                               Gary A. Wilbanks -#5967
 F   A Tinseltown Fairytale             Barbara Davies -#5968
 SF  GOV: 270 Light Years From Home and not a Roadside Cafe in Sight  Manda Benson -#5969
 F   A Few Well Placed Words            Dolly Byrdsong-Stevenson -#5970
 F   The Price of Magic                 Rich Gubitosi -#5971
 H   Parody                             David W. Landrum -#5972
 SF  Sin, Sticky as Sap!                Peter Huston -#5973
 H   Lusitania Manor                    Steven W. White -#5974
 F   Stuck in Utah                      Susan Ullmann -#5975
 F   The Phoenix King, Chapter 3        Frederick Brown -#5976
 SF  A Handful of Dust                  Ruth Nestvold -#5977
 SF  Anthony - Chapter 1                Lana Rodlie -#5978
 SF  The Culling War                    Gareth Dyson -#5979
 H   Fat                                Thomas Cummings -#5980
 H   Christmas Lights                   A. S. Sasoon -#5981
 H   Piecework                          Ernest E Gates -#5982
 F   The Woodsman                       Ron Roth -#5983
 SF  A Day's Work                       Daniel J. Goodwin -#5984
 H   Wake Me When I'm Dead              Kendra Price -#5985
 H   Burning Jed C oward                Sean Reagan -#5986
 SF  A Paper not Yet Written            Glenn A. Odom -#5987
 F   Unseen by the Eyes of Heaven       Gabriel Edson -#5988

Week of 12-Dec-2001 (Crits due 19-Dec-2001):
 F   7 Folds of Winter                  [mpc] Carolyn McCray -#5989
 F   Evean, Chapters 3-4                Neal Swain -#5990
 SF  Daddy's Girls                      Terrie Relf -#5991
 F   Divine Prerogative - RFDR          Jennifer Rahn -#5992
 F   Down and Out, Chapters 1-5         Chris Paul -#5993
 H   Blood Kin                          Wenonah Lyon -#5994
 H   Munchers                           Fiona J.C. Nania -#5995
 H   Summer Holidays                    David Miles -#5996
 H   House Rules                        David William McKay -#5997
 F   Guardians of the Circle, Chapter 6, Book 1 Epilogue  Stevie Heong -#5998
 F   Cave Remnant, Chapter 7 Renaldo's Return  Marj Watkins -#5999
 F   Sand                               Daniel Arenson -#6000
 F   The Hand That Feeds You            Richard Jones -#6001
 H   Manus                              Kenny Sword -#6002
 F   When Dragons Wake, Chapter 3       Cynthia Cloughly -#6003
 SF  The Strangeness of Hector IV       Dick Benton -#6004
 F   Point of Entry, Short Story        Kathi Neilson -#6005
 SF  Sweet Dreams                       Jeanne Petty -#6006
 H   MOON LAKE                          MARGERY CASARES -#6007
 H   More Human than Human, Chapter 1   Candace McBride -#6008
 SF  Blue Eyes                          Michael R Lahey -#6009
 SF  Cocteau                            Kevin Toal -#6010
 SF  The Last Final Solution            Brent Brown -#6011
 SF  What Makes Chuckles Cry?           Foster Church -#6012

Week of 19-Dec-2001 (Crits due [*] 2-Jan-2002):
 F   7 Fold of Winter, Chapter 2        [mpc] Carolyn McCray -#6013
 F   Recipe For Life                    Tracylea Byford -#6014
 F   Treachery and Skill                Mary Catelli -#6015
 SF  Julian Cazemen                     Fred Obermeyer -#6016
 H   The Incredible Vision of Edgar James  Robert J. Santa -#6017
 SF  Storybots                          Alissa Grosso -#6018
 F   Something Beautiful                E.K. Rivera -#6019
 F   Free Company chapters 6 - 9        Robert A. Goldstein -#6020
 SF  A Time to Spend                    Richard D. Clark -#6021
 F   Song of the Blades                 Charlie Allery -#6022
 F   Araghan's Watch, Chapter 1         Laura Waesche -#6023
 SF  The Magistrate                     Chandler Zedac -#6024
 H   Game Theory                        Joseph Blue -#6025
 SF  The Scaffold                       Ian Creasey -#6026
 SF  The Moonlight Exploration          Kenneth Green -#6027
 F   The Sword and the Parking Meter    Adam Winter -#6028
 SF  Robo Sapien                        Tom Sweeney -#6029
 SF  Anima                              Tracy Berg -#6030
 SF  The Great DNA Hack                 Steven Bratman -#6031
 SF  The Phlogiston Age (Part 2 of 2)   Corey Brown -#6032
 F   He Who Walks Over Death            Yvette A. Babic -#6033
 F   Dragon!                            Michael Janszen -#6034
 H   Blood Ties ~ The Beginning (Prologue and Chapter 1)  Mickey Stroda -#6035
 F   Below the Moon                     Rachel McGonagill -#6036
 F   Enchirion: Spring (first bits)     David Dawkins -#6037
 H   Julie                              Angela J Curtis -#6038
 H   Thanatos, Chapters 1-2             Jaime Mintun -#6039
 F   Keeper of the Keys, Chapter 1      Marie Winter -#6040
 F   The Kraken's Heart                 Brandon Herrington -#6041
 H   On the Prowl                       Ryan Finley -#6042
 F   The Green Amulet                   Vesa Pentti -#6043
 H   Cataclysm                          Terry "Horns" Erwin -#6044

Week of 2-Jan-2001 (Crits due 9-Jan-2002):
 SF  Galactic Cigarette Healer          Jim Bauer -#6045
 SF  Fountain of Light                  A.M. Stickel -#6046
 SF  The Nursery                        Roxanne Hutton -#6047
 H   The Disenchanted Carny             Andrew Zimmerman Jones -#6048
 SF  In the Path of the Dragon Ch 5     Fred Lewis -#6049
 F   Rejections                         Martha Bland -#6050
 SF  Free Fall                          David Jonathan Williams -#6051
 F   Dimensional Dilemma, Chapter 5     Ray E. Main -#6052
 F   Warriors                           Colin Harvey -#6053
 F   The Silver Cage, Chapters 0-2      Mik Wilkens -#6054
 SF  Boing the Half-Ogre, Chapter 7, Part 1  Nathan A. Fisk -#6055
 H   Fugue                              Hong Ha -#6056
 F   God's Great Gift to Nothing        H.R. Green -#6057
 SF  The Road Home                      Sean Lovett -#6058
 F   Atavar, Chapter 3                  Robert Baranowski -#6059
 F   Cash Monkey                        Matthew Candelaria -#6060
 F   Relinquishing Childhood            Kimberley Clow -#6061
 SF  Trailing ACDS                      Suzanne Church -#6062
 F   Medicine Man                       Shawn Rost-Howen -#6063
 SF  Little Addictions                  Jason Holstein -#6064
 F   Blood of the Ursoni                Bob Skalitzky -#6065
 F   The King of Mars                   David Anaxagoras -#6066

Week of 9-Jan-2001 (Crits due 16-Jan-2002):
 SF  Little Cuckoo Bird                 [mpc] Steven Howard Smith -#6067
 SF  Why Milly Quit Smoking for Lent    A. Dorrance -#6068
 H   4 Flavors of Horror                Jeff Cates -#6069
 SF  Staphmeyer Loves Rosensplatt       Hank Quense -#6070
 SF  Mother                             Shea Yovan -#6071
 F   Children of Avelos, Chp 9          Larissa Niec -#6072
 H   The Lonely Road                    Douglas T. Araujo -#6073
 SF  GOV: The Event Horizon             Manda Benson -#6074
 SF  Soloists                           George Bell -#6075
 F   Deliver Us From Extinction (Chapter Four)  Don Krause -#6076
 SF  Exit Without Saving                Ruth Nestvold -#6077
 F   The King of Nowhere                John Battle -#6078
 SF  Designated White Charger           Colm Mac Donnchadha -#6079
 SF  The One Who Saw                    Kevin Nelson -#6080
 H   Shadowanimals                      Thomas Cummings -#6081
 SF  Tales of the Past                  Daniel J. Goodwin -#6082
 F   Samhain Night                      Ron Roth -#6083
 F   From Both Sides Now                Glenn A. Odom -#6084
 SF  Here, On Earth                     Carol Ullmann -#6085
 H   Reflections                        Cameron Gurr -#6086
 SF  The Logrus Effect                  James Ashley -#6087
 SF  Nuclear Man vs. The Extremity      Lon S. Cohen -#6088

Week of 16-Jan-2001 (Crits due 23-Jan-2002):
 SF  Eddie's Record                     H.C. Doc Finch -#6089
 F   Evean, Chapters 6-8                Neal Swain -#6090
 H   Kidnapped                          Victor Buhagiar -#6091
 H   The Medium is the Message          David William McKay -#6092
 H   The Slug Princess                  Fiona J.C. Nania -#6093
 SF  CAVE REMNANT Chapter 8             Marj Watkins -#6094
 F   Sand                               Daniel Arenson -#6095
 F   The Dead Guy                       Richard Jones -#6096
 F   The Phoenix King, Chapter 4        Frederick Brown -#6097
 SF  Children                           Joanne Steinwachs -#6098
 F   New Beginnings                     Kathi Neilson -#6099
 SF  Illegal Merchandise                Trasa Cobern -#6100
 H   Baggage                            Robert-James Barker -#6101
 SF  Rock Me to Sleep                   Michael R Lahey -#6102
 H   Angie Baby                         Ben Mears -#6103
 F   Whipping Boy                       Shannon Leigh -#6104
 SF  The Machinations of Politics       Wayne Austin -#6105
 H   The Chimera                        Margery Casares -#6106
 F   Two Edged Sword                    Nick Marchese -#6107
 F   The Breath of Life                 Steven Spalding -#6108
 F   The Masque, Chapters 1-2           Todd Ransom -#6109
 SF  The Schwartzentoten-Moonbeam Device  Benjamin Gerber -#6110
 SF  An Echo in the Dark                [@] Mitchell Gross -#6111

Week of 23-Jan-2001 (Crits due 30-Jan-2002):
 F   Tagging Probabilities              [mpc] Joe Johaneman -#6112
 SF  The Wind and the Sky               [mpc] Suzanne Church -#6113
 F   Second Daughter                    Eugie Foster -#6114
 SF  The Study of Ants                  Carl Frederick -#6115
 SF  Another Dollar                     Robert J. Santa -#6116
 F   The Old One of Thoralyn            Teresa Thorne -#6117
 F   A Wish, A Curse                    Alissa Grosso -#6118
 H   Sculpting in Dragonflies           Joe Murphy -#6119
 F   The Uncrowned King, Chapter 1      Dot Elledge -#6120
 F   Blood Vine                         LaZealtrice A. Jackson -#6121
 SF  Learning from the Crows            Ken Liu -#6122
 H   The Rock and the Sun               Cindy Moser -#6123
 F   The Next Story, Pt1of2             Mark Alger -#6124
 SF  Daze and Sara go to the Big Show -- A 22nd Century Morality Tale  Peter Huston -#6125
 SF  The Magistrate                     Chandler Zedac -#6126
 SF  Murder on the Orientale Express    Steven W. White -#6127
 F   C'sarn                             J.M. Shamburger -#6128
 SF  Lull                               Lee Beavington -#6129
 F   The Aged Wizard and their youth    Steve Villiers -#6130
 H   Open Source Dragon                 Fernando Trias -#6131
 F   Keeper of the Keys, Chapters 2&3   Marie Lock -#6132
 F   Noworlds                           Andrew MacLaughlin -#6133
 F   Nottamun Town, chap. 1             Tim Nall -#6134

Week of 30-Jan-2002 (Crits due 6-Feb-2002):
 SF  Pilgrimage                         [mpc] Mark Patrick Morehead -#6135
 F   Death Storm                        [mpc] Sarah Guidry -#6136
 F   Liberation Dreams                  [mpc] Charity Zegers -#6137
 F   Wenchmouth, The Greatest Warrior Woman of Old  Lawrence W. Lanum -#6138
 SF  Ways of Life                       Fred Obermeyer -#6139
 F   Sovereign of Sorrows, Ch.1-3       Norm Gillespie -#6140
 F   The Affairs of Dragons, Chapters 0-2  Barbara Friend Ish -#6141
 SF  The Krestyanova Genes              Barbara Davies -#6142
 F   In The Streets                     E.K. Rivera -#6143
 F   Guardians of the Circle, Book II, Chapter 1  Stevie Heong -#6144
 SF  Sodom and Gomorrah                 Richard E. Carlson -#6145
 H   Blind Side                         Joseph Blue -#6146
 SF  The Speed of Life                  Geoff Habiger -#6147
 F   The Chalk Giant                    Ian Creasey -#6148
 F   Finals                             Michael Janszen -#6149
 SF  The Ultimate Game (a screen play)  Don Maker -#6150
 H   Lest Ye Be Judged                  Jeffrey De Lannoy -#6151
 SF  To Give Fish a Voice               Steven Bratman -#6152
 SF  The Sushu Girl                     Thomas J. Sweeney -#6153
 SF  Summer's End                       Jomo Fisher -#6154
 H   Last Ride                          Ryan Finley -#6155
 SF  Code of Ethics                     Stephen West -#6156
 H   365 Years Is Not Enough            Chuck Frenz -#6157
 F   A Small Error                      Laura Lee -#6158
 H   The Value of a Minute              E. Paxton McDaniels -#6159
 SF  The Worms                          Keifer Michaels -#6160

Week of 6-Feb-2002 (Crits due 13-Feb-2002):
 SF  The Van Doos                       [mpc] F. Ian Ronald -#6161
 H   Bedtime Story                      [mpc] Simon Bewick -#6162
 F   Eyebright                          [mpc] Graham Woodland -#6163
 SF  The Gandreid Project Ch.1          Clyde Mitchell -#6164
 SF  Bungaree Beach                     Julian Todd -#6165
 F   Ghosts in the Stacks               Andrew Zimmerman Jones -#6166
 SF  Dark Secrets                       Martha Bland -#6167
 F   Good of Everow Ch.1-3              Pam Phillips -#6168
 SF  Daccon V and the Dumpling & the Princess  Wenonah Lyon -#6169
 H   Eye Candy                          Valerie Haecky -#6170
 F   Dimensional Dilemma, Chapter 6     Ray E. Main -#6171
 F   Waiting for The Wave               Colin Harvey -#6172
 F   The Gift                           Mark R. Masters -#6173
 F   Boing the Half-Ogre, Chapter 7 - part 2  Nathan A. Fisk -#6174
 F   Cries In The Night                 Kenneth Green -#6175
 F   The Rut                            Matt Hall -#6176
 SF  The Directive                      Sean D. Lovett -#6177
 F   Atavar, Chapter 4 & Interlude 2    Robert Baranowski -#6178
 H   Miss Leddy                         Cynthia Scott -#6179
 SF  Abbey Avenue                       Steve Hast -#6180
 SF  The Ideal Vacation                 David Stephenson -#6181
 SF  Queen of Outer Space               Foster Church -#6182
 H   The Tolltaker, chapters 1-2        James Sneddon -#6183
 F   Punishing Angel                    Leonid Korogodski -#6184
 F   Journeyman Test                    Matthew C. Miller -#6185
 F   Fairy Godmothers Anonymous         Beth Long -#6186
 F   Traffic Light Dreams               Elizabeth Bartmess -#6187
 H   Going Postal                       Chris Williams -#6188
 F   The Candlemaker of Khalome         Shawn Whitlock -#6189

Week of 13-Feb-2002 (Crits due 20-Feb-2002):
 H   Still My Beating Heart             [mpc] Eugie Foster -#6190
 SF  The Farthest Discovery             [mpc] J.D. Williams -#6191
 SF  Where is my Mummy?                 [mpc] Pete Bullock -#6192
 H   The Delivery                       Dave Erickson -#6193
 SF  Mudslide                           John Lars Shoberg -#6194
 F   The Swim                           Larissa Niec -#6195
 SF  The Origin of _The Origin of Species_  Roselyn Silverman -#6196
 SF  Safety Limits                      Charlie Allery -#6197
 H   A Mother's Love                    Gary A. Wilbanks -#6198
 F   Seabird - preface / Chapters 1-3   Sherry Thompson -#6199
 F   The Archer's Paradox               Patrick Lundrigan -#6200
 F   With Winter to Abide               Karen M. Roberts -#6201
 F   A Serca Tale                       Ruth Nestvold -#6202
 SF  Courage Versus Harrison, Rev. 2    Marie S. Lyle -#6203
 H   Top Dog                            Thomas Cummings -#6204
 SF  Defining the Wait                  Kevin Nelson -#6205
 SF  How Julia Saved the World          Michael Martone -#6206
 H   A Mirror to Justice                William Campbell -#6207
 H   Bars                               Matt Horgan -#6208
 F   Wizard Attack!                     Al McLeod -#6209
 H   Something is Wrong in Gatlin       Cameron Gurr -#6210
 SF  Doorways                           Latina Angel Gilyard -#6211
 SF  Touch of Nature                    Heather Pine -#6212
 SF  The Dome                           Chris Gerrib -#6213
 SF  They Lead the Blind Through Fields of Thorns and Roses  Gareth Dyson -#6214
 SF  Lazarus by His Side                Ian Freeman -#6215
 SF  Falling of the Moons, Chapters 1-5  James Baker -#6216

Week of 20-Feb-2002 (Crits due 27-Feb-2002):
 SF  Within                             [mpc] Karen M. Roberts -#6217
 F   Father of Wolves                   A.M. Stickel -#6218
 F   The Wolf and the Guardian          Mary Catelli -#6219
 SF  In the Same Way                    Terrie Relf -#6220
 F   Evean, Chapters 4-5                Neal Swain -#6221
 F   Wheels                             Chris Paul -#6222
 F   Hickson Mills Revival              Ralph Weimer -#6223
 SF  Defiled Sanctuary                  Jen Highkin -#6224
 F   Archimage of Ginik, Chapters 1 & 2  Robert A. Goldstein -#6225
 F   A Haunting Memory, Chapter 1       Richard Jones -#6226
 SF  Saint N.I.C.                       Michelle Scott -#6227
 H   Dark Secrets: Covenant of Dark Angels Chapter 1  Loti Marie Peterman -#6228
 SF  Spatium Vis                        Adam D. Dooley -#6229
 F   The Seers                          Gayla D. Bassham -#6230
 SF  Roll Them Clones                   Matthew Candelaria -#6231
 F   The Life of the Party              Ron Roth -#6232
 F   High.                              Harlen Bayha -#6233
 F   Chrysalis                          T.L. Cobern -#6234
 SF  Beating the Odds, chapters 1-2     Jon B. Bjarnason -#6235
 SF  The Sliced Baloney Man             Christian L. Campbell -#6236
 F   The Breath of Life                 Steven Spalding -#6237
 F   Stranger - Prelude and Chapter 1   Benjamin Gerber -#6238
 SF  Free                               Matt Talluto -#6239
 F   The Wanderer                       Jason A. White -#6240
 SF  Trial by Sword                     Jason Guel -#6241

Week of 27-Feb-2002 (Crits due 6-Mar-2002):
 SF  Edensville                         [mpc] Lesleigh Force -#6242
 SF  What's a Few Tentacles Between Friends?  [mpc] Sheila Crosby -#6243
 SF  Scotch on the Rocks                Jeff Cates -#6244
 F   Enjoying Retirement                Robert J. Santa -#6245
 F   Jaguarundi's Rise -- Chapter One   Heidi Smith -#6246
 SF  Rippington Cortez, Ace Danger-Agent of the Stasis Profiteers  Peter Huston -#6247
 F   The Next Story, Pt2of2             Mark Alger -#6248
 SF  The Queen                          Chandler Zedac -#6249
 SF  Dangerous Byproducts               Nicole Taft -#6250
 F   Bound by Power, chapters 1-3 revised  Erica Weippert -#6251
 SF  The Beholder                       Kevin Toal -#6252
 SF  The Price of Eternity              Wayne Austin -#6253
 F   The Ones Who Burn                  Tracy Berg -#6254
 H   Intersection                       Jason Holstein -#6255
 SF  Perception                         Lee Beavington -#6256
 F   Shore of Night, Shore of Day       Katrien Rutten -#6257
 F   Demon, Hunter                      Nick Marchese -#6258
 F   The Losses of a Young Old Wizard   Jeremy Barwick -#6259
 SF  Galactic Olympics                  Steven Villiers -#6260
 F   Leonas' Meteors                    Daniel Archambault -#6261
 H   Secret of the Workshop             Kevin Hill -#6262
 H   Insomnia                           Toni Stauffer -#6263
 F   Oath of the Songsmith, Prelude and Chapter One  Tia Nevitt -#6264
 H   What Laqueus brought               Fabian A. Lopez -#6265
 SF  Memories                           Michael Backus -#6266
 SF  Moonlight                          Richard West -#6267

Week of 6-Mar-2002 (Crits due 13-Mar-2002):
 F   The Gohiri Summit                  [mpc] Brad Beaulieu -#6268
 SF  Remote Eyes, chapter 1             [mpc] J.D. Williams -#6269
 SF  Transplant                         [mpc] David Axel -#6270
 F   Black for Grace, Red for Strength, Ch. 1  Lucy Cohen Schmeidler -#6271
 SF  Gravity's Mistress                 Fred Obermeyer -#6272
 SF  Push from the Past                 Rachel Steinberger -#6273
 SF  My Love the Hunchback, My Son the Hump.  Pete Hall -#6274
 F   The Rain Queen                     Barbara Davies -#6275
 SF  Cave Remnant, Chapter 9 The Wake   Marj Watkins -#6276
 F   Sand again                         Daniel Arenson -#6277
 F   Between Smoke and Wind             Jeff Bumgardner -#6278
 F   Khalid's Folly                     Mark Patrick Morehead -#6279
 F   Bodyguard                          Michael Janszen -#6280
 H   Joshua                             Geoff Habiger -#6281
 SF  Future Tense (Chapters 1 & 2)      Don Maker -#6282
 SF  Student of Distance                Jomo Fisher -#6283
 H   Daemon & Rowanne                   H.R. Green -#6284
 SF  The Immortality Plague; Completely Different Version  Steven Bratman -#6285
 H   Articles for Sale                  Colm Mac Donnchadha -#6286
 SF  The Seasons Part 1: The End of Spring  Jeffrey DeLannoy -#6287
 H   Lost Innocence                     sherry gray -#6288
 F   Akyth's Song                       Yvette A. Babic -#6289
 F   When Dragons Wake, Chapters 4 - 5  Cynthia Cloughly -#6290
 F   The Path of the Elders, Chapters 1-3  Damien Perrotin -#6291
 F   The Scourge                        Ann Kuykendall -#6292
 SF  Whisper Your Poetry                Hannah Sherwin -#6293
 F   Lydor, Chapters 1-2                Gisele Leblanc -#6294
 F   Ravenwolf, Ch 1-2                  Jenny Seib -#6295
 F   Draco Volans, The Flying Dragon    Rupa K. Bose -#6296
 F   Finding the Dawn                   R.D. Riley -#6297
 F   Inner Beauty                       Nigel Read -#6298

Week of 13-Mar-2002 (Crits due 20-Mar-2002):
 SF  Founders and Visionaries           [mpc] Rachel Steinberger -#6299
 F   The Haunting of Jig's Ear          [mpc] Jim C. Hines -#6300
 H   Devilishly Good                    Pat Elder -#6301
 H   The Night Fiend                    Lawrence W. Lanum -#6302
 SF  The First Girl in Outer Space      Jack M. Walter -#6303
 SF  Redemption                         Carolyn Kaufman -#6304
 SF  Alien Beers Done Got Me            Scott W. Reeves -#6305
 SF  An Unevenly Distributed Invader    Joe Murphy -#6306
 H   Caveman Immortal                   Andrew Zimmerman Jones -#6307
 SF  Trapped                            Martha Bland -#6308
 F   Unleashed Storm                    Anne Kaelber -#6309
 SF  I'm Not Me                         Steven K. Keck -#6310
 SF  Guardians of Justice               E.K. Rivera -#6311
 F   Dimensional Dilemma Chapter 7      Ray E. Main -#6312
 F   Deliver Us From Extinction- Chapter Nine  Don Krause -#6313
 SF  Souvenirs                          Ian Creasey -#6314
 SF  A Fingerprint of Time              TJ Rush -#6315
 SF  Assimilating Humanity              Kenneth Green -#6316
 SF  Ghost of a Chance                  Mark R. Masters -#6317
 SF  The Square Peg, Part One           Marten Kemp -#6318
 F   Coincidence                        Gene K. Boyd -#6319
 F   Portraits of My Lovers             Katrina Kidder -#6320
 H   Sparrow Lake, chapter 0            James Sneddon -#6321
 F   Canis Lupus Latrans                Emily Patterson -#6322
 SF  McGill's Mammoth Farm              Greg C. Woolhouse -#6323
 SF  Mind Changer                       Nicklaus Louis -#6324
 SF  Becoming                           L.D. Silver -#6325
 SF  Princess Sleeps-a Lot              David Blitch -#6326
 F   Passion                            Jay Jordan -#6327
 SF  Fine Tuning                        James A. Brown -#6328
 SF  Flight of Three                    Todd Lattimer -#6329

Week of 20-Mar-2002 (Crits due 27-Mar-2002):
 SF  Sponsored By                       Hank Quense -#6330
 H   Caesar's Ghost                     Eugie Foster -#6331
 SF  Antigrav                           David Erickson -#6332
 SF  Corban 5                           John Lars Shoberg -#6333
 SF  The Manchime                       Raymond Colerick -#6334
 F   The Dread Cabal                    Jason M Hauser -#6335
 F   The Other Gold                     Teresa Thorne -#6336
 F   The Silver Queen (chapters 1-5)    David J. Williams -#6337
 F   Lounge Lizard                      Chris Upson -#6338
 F   Bloodblade, Part 1                 Stevie Heong -#6339
 F   Next Time Around                   Deborah Carr -#6340
 F   Boing the Half-Ogre, Chapter 8     Nathan A. Fisk -#6341
 F   Seabird, chapters 4 & 5            Sherry Thompson -#6342
 F   Robin's Wings                      Steven Pirie -#6343
 SF  Proof Positive                     Sean D. Lovett -#6344
 SF  Airstream America                  Corey Brown -#6345
 SF  Myrth                              David Stephenson -#6346
 SF  Faith                              Eric Yee -#6347
 H   In The Arms Of An Angel            William Campbell -#6348
 F   The Book of Love                   Harlen Bayha -#6349
 H   Will Power                         Matt Horgan -#6350
 F   Mamselle                           Margery Harkness Casares -#6351
 SF  What Soldiers Do                   [@] Tonya D. Price -#6352
 F   The Other Side                     Sherri Jordan -#6353
 H   Last Straw Broken                  Matthew Hetling -#6354
 SF  Millin                             Jordan Franklin -#6355
 SF  The Clone Lords                    Jaana Heino -#6356
 H   Mexican Boob Job                   Sara Joan Berniker -#6357

Week of 27-Mar-2002 (Crits due 3-Apr-2002):
 F   Musetta's Fire                     [mpc] Eugie Foster -#6358
 SF  Weevil Devils                      [mpc] Alla Lurie -#6359
 F   untitled                           [mpc] Daniel Arenson -#6360
 SF  Hector Victorious at Salamis       [mpc] Pascal Schuppli -#6361
 F   Stella Maris                       Mary Catelli -#6362
 F   The Journals of Alexandria Zemdor  Bonnie Newton -#6363
 F   The Green Ey'd Monster             Robert A. Goldstein -#6364
 F   The Return of the King             Fred Lewis -#6365
 F   The 2000 Man Goes to Hell          Norm Gillespie -#6366
 F   Storm Dancer: Burning              Christine Hall -#6367
 F   The Tale of Yumi, or The Forty-Seven Ronin  Rich Gubitosi -#6368
 SF  A Sea Of Grass                     Colin Harvey -#6369
 SF  Seizure of the Breakdown Zone      Peter Huston -#6370
 SF  The Magistrate Ch 1                Chandler Zedac -#6371
 SF  Creche                             Patrick Lundrigan -#6372
 SF  The Art of Murder                  Steven W. White -#6373
 SF  Untitled as yet                    Gerald H. Rolfe -#6374
 F   The Rut                            Matt Hall -#6375
 SF  The Honored Dead                   Matthew Candelaria -#6376
 SF  Not Quite Sunset                   Kevin Nelson -#6377
 F   The Soldier                        Gayla D. Bassham -#6378
 H   The Life of the Party              Ron Roth -#6379
 SF  Fire! Fire! Fire!                  Chris Gerrib -#6380
 F   Deep Trinkets                      Aferdita Bowers -#6381
 F   Arachne, Goddess of Weavers        Tia Nevitt -#6382
 SF  Nonentity                          Chieu Nguyen -#6383
 F   Hansel and Gretel -- The Father's Tale  Chris Landry -#6384
 F   The Summoning on Ilkarnat          Sean Casey -#6385

Week of 3-Apr-2002 (Crits due 10-Apr-2002):
 F   Palamon, Arcite, and the Philosopher's Stone  Jim Bauer -#6386
 SF  Arsenal                            Robert J. Santa -#6387
 F   Hickson Mills Revival, Chapt 16 reedit  Ralph Weimer -#6388
 F   Jaguarundi's Rise -- Chapter 02    Heidi Smith -#6389
 F   Colored Horizons, Chapter 1        Mark Patrick Morehead -#6390
 F   The Faces of Phanu                 Brad Beaulieu -#6391
 H   Why I Fell                         Karen M. Roberts -#6392
 F   A Training Exercise                Michael "The Roach" Janszen -#6393
 H   The Wall                           Ron Parente -#6394
 F   Crime Card                         Nicole Taft -#6395
 F   Bound by Power, Chapters 4 & 5     Erica Weippert -#6396
 SF  A Change of Aspect                 Kevin Toal -#6397
 H   Inner Demon                        Jeffrey Delannoy -#6398
 SF  First Flight                       Wayne Austin -#6399
 SF  The Path of the Elders, Chapter 4-5  Damien Perrotin -#6400
 F   A Roll of Drake Dice, Chapter 1    Lee Beavington -#6401
 SF  Rokesh Riders of Aldebaran-4       Michael Martone -#6402
 H   Vade in Pacem                      Steve Villiers -#6403
 SF  Survival's Instincts               Dawn Ziegler -#6404
 F   The Ties that Bind                 Jacqueline H. Kessler -#6405
 F   Faith                              Rudolph Neeser -#6406
 F   Shi Yao gets a Sifu                Jeremy Barwick -#6407
 F   The Vision-Well and Diade          Jenny Cooper -#6408
 F   Fire Rose                          Doug Johnson -#6409
 F   The Basklin's Shadow               Jenny Seib -#6410
 SF  Test Flight                        Bruce Burnett -#6411
 F   Dragon Drum                        Lloyd Vancil -#6412
 F   Claws                              Frances Beardsley -#6413

Week of 10-Apr-2002 (Crits due 17-Apr-2002):
 H   One                                [mpc] Jason Hauser -#6414
 SF  The Billion Dollar Baby            [mpc] Mark Patrick Morehead -#6415
 H   It Will Do No Good                 [mpc] Sherry Thompson -#6416
 F   Saving Time                        Tracylea Byford -#6417
 SF  Is Your Breather Working?--Chapter 1  Lawrence W. Lanum -#6418
 F   The Songs of Silent Wood           Fred Obermeyer -#6419
 SF  The Memory Stick                   Pete Hall -#6420
 SF  Dead Knight                        Carrie S. Masek -#6421
 SF  The Platinum Needle, Chapter 5     Roxanne Hutton -#6422
 SF  Learning to Live Again             Steven Keck -#6423
 F   My Marilyn                         E.K. Rivera -#6424
 H   Suits                              Pam Lord -#6425
 H   House Cleaning                     Ian Creasey -#6426
 SF  FUTURE TENSE - CHAPTER 3           Don Maker -#6427
 F   When Dragons Wake, Chapter 1--Revised  Cynthia Cloughly -#6428
 SF  Ancient Enemy                      Gene K. Boyd -#6429
 SF  Urgah the Magnificent - Pilot Episode  Marten Kemp -#6430
 SF  A Great Life                       David Blitch -#6431
 SF  Poof!                              Katrina Kidder -#6432
 SF  Honest and For True                James A. Brown -#6433
 H   Spirit Shield                      Hannah Sherwin -#6434
 F   Amast: Synopsis and Introduction   Alexandria Thomson -#6435
 SF  They Came From Earth               Amy McGeorge -#6436
 F   Disconnected                       Christiana Ellis -#6437
 F   Rm in 2Br Avl Now                  Elizabeth Shack -#6438
 F   The Dragon Throne                  Madge Miller -#6439
 F   I                                  Tricia May A. Yruma -#6440
 F   Isengale                           Mary Sipe -#6441
 SF  Obsolescents                       [@] A.L. Sirois -#6442

Week of 17-Apr-2002 (Crits due 24-Apr-2002):
 SF  Straight Flush                     [mpc] Norm Gillespie -#6443
 SF  Spirit Reader                      [mpc] Connie Gulick -#6444
 F   Don't Eat the Flying Mushrooms (Chapter 1)  [mpc] Arthur Sankey -#6445
 SF  When Earth and Sky Moved, Chapter One  Nora M. Mulligan -#6446
 SF  Open for Business                  Chris Upson -#6447
 F   The Old One of Thoralyn            Teresa K. Thorne -#6448
 F   Lone Wolf                          Barbara Davies -#6449
 F   Dimensional Dilemma Chapter 8      Ray E. Main -#6450
 F   Not Just Another Dead Guy          Richard Jones -#6451
 SF  The Saints                         Diana D. Woods -#6452
 F   The Hawk Trial                     Kenneth Green -#6453
 SF  Edison's Last Invention            Corey Brown -#6454
 F   To the Sea                         Roslyn Kopel Gross -#6455
 SF  BBs In My Head                     Matt Horgan -#6456
 F   The Sinner                         Jaana Heino -#6457
 F   A Love for all Times               Janice Tiburcio -#6458
 H   Dark Secrets: Covenant Of Dark Angels Chapter 2  Loti Marie Peterman -#6459
 H   Broken Windows                     Cameron Gurr -#6460
 SF  Not If You Were the Last Man on Earth  Cleo Bertrand -#6461
 F   The Serpent's Seed, Chapter 1      Cynthia Cunha -#6462
 H   There's a Werewolf in Kensington, What Else is New?  Sara Joan Berniker -#6463
 F   The Blood of Sacrifice             Rena Hawkins -#6464
 F   The Redemption of Verdica, Chapters 1-3  Joel Gaskell -#6465
 F   The Breaking Storm, Prologue       Jesse Widvey -#6466
 SF  Remote View                        John McCabe -#6467
 H   Five Second Fantasies              Scott William Carter -#6468
 H   The God-less drug                  Steve Aitchison -#6469
 F   A Bird in Hand                     Christopher Pommier -#6470
 SF  Dreams Of The Straight Edged Serpent  Glen R Chapman -#6471

Week of 24-Apr-2002 (Crits due 1-May-2002):
 H   The Reign of the Wintergod         Eugie Foster -#6472
 F   Sword and Shadow                   Mary Catelli -#6473
 SF  Worthless Gold                     Ron Hurst -#6474
 SF  Jade                               Jim Adam -#6475
 SF  Slaves of Love                     Stephen B. Pearl -#6476
 F   Storm Dancer (novel beginning)     Christine Hall -#6477
 SF  The Strange Deaths of Justin B. Michaels, a Canadian Dick-head.  Peter Huston -#6478
 SF  Beneficiary                        Harlen Bayha -#6479
 SF  The Cleansing                      Chandler Zedac -#6480
 SF  Exiled                             Sherry Smith Gray -#6481
 SF  Incident on Purgatory IV           Joseph Blue -#6482
 SF  Angel of Justice                   Nathan A. Fisk -#6483
 F   The Warrior's Redemption           Matt Hall -#6484
 F   The Dreaming Mystery of Love       John Battle -#6485
 F   The Gravedigger's Ghost            Ron Roth -#6486
 F   The Skeleton King                  James Abbiati Jr. -#6487
 SF  The Rose                           Jon B. Bjarnason -#6488
 F   As I Lay Dreaming                  Teresa Douglas -#6489
 SF  Next                               Patrick Samphire -#6490
 SF  Ambrosia                           Chieu Nguyen -#6491
 F   Breaking the Surface, Chapter 1    M K Winter -#6492
 F   Loyal                              Eldo A. Lukman -#6493
 F   Midsummer                          Lisa A. Nichols -#6494
 SF  Perps                              Allen Rausch -#6495

Week of 1-May-2002 (Crits due 8-May-2002):
 F   274                                [mpc] Richard Jones -#6496
 F   Don't Eat the Flying Mushrooms (Part 2)  [mpc] Arthur Sankey -#6497
 F   Feghoot Collection                 Eyal Teler -#6498
 SF  Downzone                           F. Ian Ronald -#6499
 SF  The Duel                           Anne Kaelber -#6500
 SF  The Dreaming Tree                  Colin Harvey -#6501
 F   chapter two                        Daniel Arenson -#6502
 F   Robbers                            Michael "The Roach" Janszen -#6503
 F   Jayden                             Michael Greenhut -#6504
 SF  Safe Anchorage                     Debbie Moorhouse -#6505
 SF  Post-Apocalyptic Zoo               Karen M. Roberts -#6506
 F   Love's Lost                        Brad Beaulieu -#6507
 SF  Exile to Earth                     Harold Hinckley -#6508
 F   The 11th Street God                Danielle E. Sucher -#6509
 F   Two Minds of Else                  Roy Fye -#6510
 SF  Revelation                         Lee Beavington -#6511
 SF  Setup                              Nicole Taft -#6512
 SF  Journey Unending                   Jeffrey DeLannoy -#6513
 SF  Opacity                            Kevin Nelson -#6514
 H   Head of the House                  Nicklaus Louis -#6515
 H   How to do Magick with Mirrors      Hilary Sklar -#6516
 SF  Galactic Olympics v2               Steve Villiers -#6517
 SF  The Oracle, Prologue               Patrick Dilloway -#6518
 F   Swords of Saddig, Chapters 0-1     Jason Myers -#6519
 F   The Hero Racket                    Jeff Spock -#6520
 H   Ghost in the Surf                  Elizabeth Blue -#6521
 SF  The Game                           Lori Phillips -#6522
 SF  To the Moon, Alice                 Jackie Gamber -#6523
 F   THE GODSTONES - Ch. 1 & 2          Carol Hightshoe -#6524
 H   Living In The Moment               E. Jones -#6525
 H   The Photos                         Kelli Newby -#6526

Week of 8-May-2002 (Crits due 15-May-2002):
 F   Passion Play, Chapters 0-7, RFDR   [@] Beth Bernobich -#6527
 F   Shadowfall                         Lawrence W. Lanum -#6528
 SF  These Worlds are Ours Now          Fred Obermeyer -#6529
 H   The Saint of Black Bullets         [@] Joe Murphy -#6530
 SF  The Platinum Needle Chapter 6 w synopsis  Roxanne Hutton -#6531
 F   The Silver Queen (chapters 6-9)    David Jonathan Williams -#6532
 SF  The Lodestar/ Gatecrashers from the nth Dimension  Manda Benson -#6533
 SF  Elijah, The Smuggler Prophet       Steven K. Keck -#6534
 F   Lost and Found                     Sandra P. Kayser -#6535
 H   Such is the Way to Immortality     Jeff Bumgardner -#6536
 F   Seabird, chapters 6 & 7            Sherry Thompson -#6537
 SF  Wise as Serpents                   Steven W. White -#6538
 SF  Addiction and Infectin (formerly Trailing ACDS)  Suzanne Church -#6539
 SF  Q-bits' Arrow                      E. A. Gundlach -#6540
 SF  The h'Slaitiarr Conspiracy Chapters 1-3  Wayne Austin -#6541
 F   Spelling Problems                  Joe Jeskiewicz -#6542
 F   Domino,the Petulalnt Dragon        Bette R. Lerma -#6543
 H   Rain                               Gene K. Boyd -#6544
 F   Elik's Shadow, Chapter 1-5         Stephanie Dray -#6545
 F   Banking on Biscotti in Kingston    Daniel Archambault -#6546
 H   Panel People                       William J Francis -#6547
 F   A Test of Worth                    James A. Brown -#6548
 F   Amast, Chapters 1-3                Alexandria Thomson -#6549
 F   Thicker Than Blood                 Mary Sipe -#6550
 F   The Palphero, Chapter 1            Samuel Fogarty -#6551
 SF  Dancing Around Easy Street         Garry Garrett -#6552
 F   An Age of Heroes                   Dave Kuzminski -#6553
 F   The Stone Seekers Trilogy Part One Ch 1-3  Matthew E. McBride -#6554

Week of 15-May-2002 (Crits due 22-May-2002):
 F   The Wish of the Demon Achtromaghph  [mpc] Eugie Foster -#6555
 F   One Flew Over the Rose Garden      Jim Bauer -#6556
 SF  The Fever                          John Lars Shoberg -#6557
 F   The Longevity Thesis, Chapters 0 - 1  Jennifer Rahn -#6558
 SF  The Thulean Vanguard, chapter 1    J.D. Williams -#6559
 F   Bank Box                           Chris Upson -#6560
 SF  Hoshi's Abduction                  Martha Bland -#6561
 F   Toril and Cort                     Barbara Davies -#6562
 F   Dimensional Dilemma Chapter 9      Ray E. Main -#6563
 F   Don't miss this time, Kathy        Mark Patrick Morehead -#6564
 SF  Adrift, Chapters 1-3               Joe Larson -#6565
 SF  Obituary for a Living Man          Corey Brown -#6566
 SF  The Cold Trap                      Matt Horgan -#6567
 SF  Faster-than-Light Underwear        Christian L. Campbell -#6568
 SF  Reconnection                       Brendan Hogg -#6569
 SF  The Breakout                       Marten Kemp -#6570
 F   Reflections and Refractions        Rudolph Neeser -#6571
 F   The Serpent's Seed, Chapter 2      Cynthia Cunha -#6572
 F   Fire Starter                       Janice Tiburcio -#6573
 SF  Pass Mark                          Glen R Chapman -#6574
 F   The Dragon of the Dolomites        Scott William Carter -#6575
 F   Shadowrun: Rabbi, Awakened         John Dale Wright -#6576
 F   The Dead Lands. Chapter 1          Herb Hasler -#6577
 H   Perfect Eighty                     Steve Aitchison -#6578
 F   Little Wolf                        Joe Mahoney -#6579
 SF  Prison of the Mind                 Mike G. Burton -#6580
 F   The Other Side of the Card         Jeffrey Wiles -#6581
 F   Endangered Species                 Amy S. Farmer -#6582

Week of 22-May-2002 (Crits due 29-May-2002):
 F   Shadowfall                         [mpc] Lawrence W. Lanum -#6583
 F   King Gling                         [mpc] Jason Hauser -#6584
 F   Cries of Dying                     [mpc] Will McCormack -#6585
 F   The Dead Wizards                   Mary Catelli -#6586
 H   Horror Writer's Wife               Norm Gillespie -#6587
 SF  The Perfect Herd                   Carl Frederick -#6588
 H   Redemption                         Jim Adam -#6589
 SF  Dr Who - New Born                  Lesleigh Force -#6590
 F   Bloodblade, Part 2-3               Stevie Heong -#6591
 SF  Moonchild and the Dipshit from Earth  Peter Huston -#6592
 SF  Bone Deep                          Joseph Blue -#6593
 SF  Reclamation                        Matthew M. Foster -#6594
 F   Waking the Pooka                   Alynia Rule -#6595
 SF  The Rose, chapters 3-4             Jon B. Bjarnason -#6596
 F   Craft of Swords                    Josephine Brooks -#6597
 H   Target Practice                    Jason Kyriacou -#6598
 SF  Adonis No. 5                       Keith Barrett -#6599
 F   The Red Squire Chapters 1-2        Eugene Ruiz -#6600
 SF  Hyperdump                          Chieu Nguyen -#6601
 F   The Cat Who Carried the Lamp of the Moon  Amy McGeorge -#6602
 F   Breaking the Surface, Chapter 2    M. K. Winter -#6603
 H   Bound                              Andrew Gilstrap -#6604
 SF  I Blame Einstein                   Rhonda Eudaly -#6605
 SF  This is the end                    Robert Sjoeblom -#6606
 F   Last Night                         Xiang Yuen -#6607
 F   Where You Find It                  Tracy Morris -#6608
 SF  Falling in Love with Intergalactic Scum  Don L. Smith -#6609
 SF  The Platform                       Randy Brown -#6610
 H   The Basement Shop                  Joe Wise -#6611
 SF  Gambits                            R.K. Johnson -#6612
 H   Kindred Blood                      Hugh S. Steele -#6613

Week of 29-May-2002 (Crits due 5-Jun-2002):
 F   The Blue Boar                      Jim Cue -#6614
 F   Possibilities                      Eyal Teler -#6615
 SF  CH 6 In the Path of the Dragon     Fred Lewis -#6616
 F   Evean (Chapter One)                Neal Swain -#6617
 SF  Impartial Observer                 Matthew Dahse -#6618
 SF  Defiled Sanctuary                  Jen Highkin -#6619
 SF  The Eastgate Siege                 Colin Harvey -#6620
 F   Chapter One Revised                Daniel Arenson -#6621
 F   The Sword                          Lars Seme -#6622
 F   Baby Marcie and the Gifts          Karen M. Roberts -#6623
 SF  The Scrolls of the Magi            Chandler Zedac -#6624
 F   The Golem                          Patrick Lundrigan -#6625
 H   The Chosen                         Steve Lewis -#6626
 SF  Generation Gap                     Bette R. Lerma -#6627
 F   Faith's Forging                    Stephanie Dray -#6628
 H   Monsterworld                       Steve Villiers -#6629
 H   Gary the Pizza Delivery Man        Jason Myers -#6630
 SF  The Deep Cold                      Jeff Spock -#6631
 H   Island Ghost                       Elizabeth Blue -#6632
 H   Can I Play With Madness            Adam Gifford -#6633
 SF  The Keepers                        Jackie Gamber -#6634
 F   Waking Dreamer                     Joel Walsh -#6635
 F   The Girl Behind the Counter        Lisa A. Nichols -#6636
 SF  Precautions                        Joey Comeau -#6637
 F   Glass Slippers, Chapter 1          Leah Suslovich -#6638
 F   Super Hero: Super Burden           steve duffy -#6639
 SF  All Quiet on the Supermarket Front  Sara Troy -#6640

Week of 5-Jun-2002 (Crits due 12-Jun-2002):
 F   The Barber's Mirror                [mpc] Michael Greenhut -#6641
 F   Moonshine                          A. Dorrance -#6642
 SF  Engendering Problems               Fred Obermeyer -#6643
 H   The Hand in the Wall               Douglas T. Araujo -#6644
 SF  Moby's Riff                        Roselyn Silverman -#6645
 SF  Restitution                        Liam Pugh -#6646
 SF  Dark Tempest                       Manda Benson -#6647
 SF  For Love of Empire                 Wenonah Lyon -#6648
 F   To Bury Arms                       Jeff Bumgardner -#6649
 H   Wildlife                           Steven W. White -#6650
 F   Seabird, chap. 8&9                 Sherry Thompson -#6651
 H   The Death Cat                      E. A. Gundlach -#6652
 SF  Lull                               Lee Beavington -#6653
 F   The Sword                          Gene K. Boyd -#6654
 SF  Monkeymen                          David Blitch -#6655
 SF  The Bittersweet Tooth              Melissa M. McKoy -#6656
 H   Oh How She Loved Grape Jelly       William J Francis -#6657
 F   Marashat                           Alexandria Thomson -#6658
 F   The Hunter Nhym                    Sherri Jordan -#6659
 SF  Lethality                          J. Alan Brown -#6660
 F   Journey to Gantica                 Matthew Corradi -#6661
 F   The Golden Age - Introduction      Levi Nunnink -#6662
 H   Death's Misery                     J.P. Hunt -#6663
 SF  Fenris Unfettered on Mars          Michael Andre-Driussi -#6664
 F   Old Neighbors                      Suzanne Palmer -#6665
 SF  Subliminal Programs                Terry Rickard -#6666
 F   The Final Plague                   Andreas Fonseca -#6667
 H   Dead Town Walking                  Paul Barrett -#6668
 H   Walls of Flesh and Dreams          Andrew J. McKiernan -#6669
 F   Instinct                           Nigel P. Read & Lee Battersby -#6670

Week of 12-Jun-2002 (Crits due 19-Jun-2002):
 F   One Flew Over the Rose Garden, Chapter 2 & 3  Jim Bauer -#6671
 SF  The Thulean Vanguard, chapters 2-3  J.D. Williams -#6672
 F   Demon'sbane                        Barbara Davies -#6673
 F   Dimensional Dilemma Chapter 10     Ray E. Main -#6674
 SF  Dead Man's Leap                    Sheila Crosby -#6675
 SF  Camouflage                         Corey Brown -#6676
 F   The Path of the Elders, Chapters 6-8  Damien Perrotin -#6677
 SF  Jonah's Soul, Ch. 1 & 2            Christian L. Campbell -#6678
 SF  Incubation Period                  Pat Brown -#6679
 SF  Walking The Valley                 Jeremy Minton -#6680
 SF  The Libertine Chronicles, Parts 1-4  Richard 'Otter' Threadgall -#6681
 SF  Star Light Star Bright             Glen R Chapman -#6682
 SF  Beautiful Stranger, Chapter One    Joe Mahoney -#6683
 SF  Urquhart's Challenge, Chapter One  Jennifer Lozev -#6684
 F   Mr. Ling's Dragons                 Carol Jean La Valley -#6685
 H   The Demon, The Church, and the Christ  Geary Shull, Jr. -#6686
 F   The Dead Lands. Chapters2-3        Herb Hasler -#6687
 F   Black Blood                        Lori Phillips -#6688
 SF  Marylin                            Allen Rausch -#6689
 F   The HorseMaster's Gift, Chapters 0-2  Nikki Ward -#6690
 SF  Thank You Alvena, Thank You        Mari Miller-Lamb -#6691
 F   An Honourable Man                  Mandy Collins -#6692
 F   Fact or Fantasy, Prologue and Book 1, RFDR  Alaya Johnson -#6693
 H   jack                               Jason Lacker -#6694
 SF  What We Are                        Eric S. Parent -#6695
 F   And the Author Lived Happily Ever After  Lee Rollins -#6696
 SF  Divining                           Shawn Frison -#6697
 SF  Doublecross                        Patrick Q. Phillips -#6698
 SF  Casey Devon                        Roy Kimbrell -#6699

Week of 19-Jun-2002 (Crits due 26-Jun-2002):
 SF  The Wing-Nut Debacle               Hank Quense -#6700
 F   A Son And Heir                     Mary Catelli -#6701
 H   Ice                                Carolyn Kaufman -#6702
 H   A Dark Place                       Rich Gubitosi -#6703
 F   The Eagle and the Bard, Chapter 1  Barbara Friend Ish -#6704
 F   Bloodblade, Part 4                 Stevie Heong -#6705
 SF  Horizons                           Lesleigh Force -#6706
 SF  Falling Pop-Star, Burning Bright   Peter Huston -#6707
 SF  Sacred Space                       Michelle Scott -#6708
 F   Boing the Half Ogre, Chapter 9     Nathan A. Fisk -#6709
 SF  Passage                            Chieu Nguyen -#6710
 H   The Air Freshener                  Nicklaus Louis -#6711
 F   Ride of Destiny, Chapter 1         M. K. Winter -#6712
 F   Forbidden Life                     Gisele LeBlanc -#6713
 F   To Hunt Perdition                  Amy McGeorge -#6714
 F   Exiles, Chapter 1                  Laura Wakefield -#6715
 SF  Fall From Grace                    Rhonda R. Holden -#6716
 F   Dal Antari                         Jason Millar -#6717
 SF  I Am Art                           Benjamin Buchholz -#6718
 F   For His Majesty                    Brandon Butler -#6719
 F   Paint Brush                        X. H. Yuen -#6720
 F   Strange Bedfellows                 Rhonda Eudaly -#6721
 SF  The End                            Randy Brown -#6722
 F   Finding Love                       Tony C Smith -#6723
 F   Peggy's Grammie                    Harold Lee Mathews -#6724
 F   Mistress of Woodland, chapter 1    Melissa S. Green -#6725
 SF  Revisit the Fathers, Chapters 0 - 2  Sarah Ellen Joynt -#6726
 SF  The Healer                         Charles Kaluza -#6727

Week of 26-Jun-2002 (Crits due [*] 10-Jul-2002):
 F   Song of the Blades (expanded)      [mpc] Charlie Allery -#6728
 SF  The Measure of the Soul            Teresa Thorne -#6729
 F   Kolo Traigenallen and Mad Henry, ch 1.  Bonnie Newton -#6730
 F   Storm Dancer, Chapter 1            Christine Hall -#6731
 SF  The Fate of Shuttlepod One         Martha Bland -#6732
 F   Judge Me Insane                    Steven K. Keck -#6733
 SF  The Message                        Ken Liu -#6734
 SF  A Change of Career                 Sandra Kayser -#6735
 SF  My Children, My Tomorrows          Vince Bonasso -#6736
 F   Baku and the Dream Catchers        E. A. Gundlach -#6737
 SF  Goodbye Paradise                   Karen M. Roberts -#6738
 F   Montage                            Bette R.Lerma -#6739
 F   The Memphis System, Chapter 1      Hilary Sklar -#6740
 SF  Emigration                         Jaana Heino -#6741
 F   The Dark Druid, Ch 2 + synopsis    Lee Beavington -#6742
 SF  Bugs                               David Stephenson -#6743
 SF  Mr Colquitt's High-energy Trousers  steven pirie -#6744
 F   The Lives of Talia Brie            Cameron Gurr -#6745
 H   Calls                              William Campbell -#6746
 F   Flames of Sacrifice                Stephanie Dray -#6747
 F   Horny                              Joel Walsh -#6748
 F   Lilith's Daughter                  Lisa Feld -#6749
 SF  Birth of a Kimmera                 Robin Murphy -#6750
 SF  Little Green Men                   Chris Jorgensen -#6751
 H   Cracks in the Sidewalk             Adam Gifford -#6752
 H   The River                          Elizabeth Blue -#6753
 H   Spoils                             Emily Patterson -#6754
 SF  Farlight                           Michael Swanson -#6755
 F   Race Into Blood                    Peter J Welmerink -#6756
 F   Vintage, Chapters 1-2              Steve Berman -#6757
 F   De'esses de la lune(prologue)      Airika Loire -#6758
 F   Vignettes                          steve duffy -#6759
 F   Heugrim                            Keith Sloan -#6760
 SF  First Strike                       Temple Cave -#6761
 F   Dragon Mirror                      Karissa Jongsma -#6762
 F   The Champion                       Jennifer L. Oberlander -#6763
 SF  Rock, chapters 1-2                 David Dawkins -#6764
 F   Chapters 2-3                       Daniel Arenson -#6765
 F   Allies of Necessity                Kenneth Green -#6766
 F   The Sorcerer of the Storm          Roy A. S. McGhie -#6767
 SF  Telecks                            Jason Myers -#6768
 SF  Five Fingers                       J. Alan Brown -#6769

Week of 10-Jul-2002 (Crits due 17-Jul-2002):
 F   Exiles, Chapter Two                [mpc] Laura Wakefield -#6770
 F   Expatriate                         Marie Wadsworth -#6771
 F   When Shakko Did Not Lie            Eugie Foster -#6772
 SF  One Flew Over the Rose Garden, Chapters 4 & 5  Jim Bauer -#6773
 SF  You've Got Male                    Fred Obermeyer -#6774
 F   A Time To Cry                      Fran Wolber -#6775
 F   Unto Satan a Secret Agent Comes    Norm Gillespie -#6776
 SF  The Thulean Vanguard, chapters 4-5  J.D. Williams -#6777
 SF  The Daughters of Martha Gantz      Marilyn LT Klimcho -#6778
 SF  Dark Tempest                       Manda Benson -#6779
 F   Templeborn Daughter, Prologue      Aaron Micheau -#6780
 F   She Stopped to Count Stones        Jeff Bumgardner -#6781
 SF  The Burning Days                   Morgan Beard -#6782
 SF  Here, Kitty                        Patrick Lundrigan -#6783
 F   Substitutions Not Permitted        Sherry Thompson -#6784
 SF  First Comission                    Eugene Ruiz -#6785
 H   First Day In the Life Of           Amber Gaston -#6786
 SF  A Brother's Keeper                 Kit Davis -#6787
 SF  The Libertine Chronicles, Parts 5-8  Richard 'Otter' Threadgall -#6788
 SF  Reap the Whirlwind                 John McCabe -#6789
 SF  Beautiful Stranger, Chapter Two    Joe Mahoney -#6790
 SF  RED M3RKJ3R1                       Michael Andre-Driussi -#6791
 F   Destiny, Prologue-Chapter1         Boris Layupan -#6792
 F   Unhealthy Skepticism               Shawn Frison -#6793
 SF  Juggling Glass Globes at the Hemophiliac Zoo  Rob Davies -#6794
 SF  The Starbird Hunt, Chapter One: Luciem Screws Up  Phillip S. Murillas -#6795

Week of 17-Jul-2002 (Crits due 24-Jul-2002):
 F   In the Voices of Innocents         [mpc] Eugie Foster -#6796
 F   Captain of My Fate                 Jim Cue -#6797
 H   A Cross to Bear                    Gary A. Wilbanks -#6798
 F   Dimensional Dilemma Chapter 11     Ray E. Main -#6799
 F   Night of the Tooth Fairy           Lisa Ingram -#6800
 SF  The Emergence                      Chandler Zedac -#6801
 F   Tending the Hope Garden            Suzanne Church -#6802
 SF  Jonah's Soul, Ch. 3                Christian L. Campbell -#6803
 F   Changing of the Guard              Bruce Burnett -#6804
 SF  The Last Moments of Rapture and Peak  Kirsten Lincoln -#6805
 F   Creepy Cleaners Inc.               John Christopher Holmes -#6806
 F   Fool's Gold                        Tracy Morris -#6807
 SF  Falling in Love Again              Lorraine Zaleski -#6808
 SF  Black Requiem                      Jude Chao -#6809
 SF  A Leap of Faith                    Cindy McKinney -#6810
 SF  Virtually Real                     Bernard Gallagher -#6811
 F   Checkmate                          Jason D. Wittman -#6812
 F   Starfire, Chapter One              Maggie Patten -#6813
 H   Piper's Lullaby                    Christopher Guest -#6814
 F   Daughter of Faery, 0               Amy J. Petty -#6815
 H   The Autobiographer                 Leila Eadie -#6816
 H   The Dark                           Karonda Barker -#6817
 SF  Smoke and Mirrors                  Amy Carlisle -#6818
 SF  The X-Corp Account                 Matthew Lindquist -#6819
 F   The Devil and Billy Memetovic      Leanne Whelan -#6820

Week of 24-Jul-2002 (Crits due 31-Jul-2002):
 SF  Temporal Inertia                   Hank Quense -#6821
 H   Creep                              Carolyn Kaufman -#6822
 F   The Longevity Thesis, Chapters 2-3  Jennifer Rahn -#6823
 SF  Walkabout Station                  Carl Frederick -#6824
 F   The Accidental Ghost               Richard Jones -#6825
 SF  Reality 2.0                        Ian Creasey -#6826
 F   A fire in the Plain, Chapters 1-2  Damien Perrotin -#6827
 SF  Synthesis                          Chieu Nguyen -#6828
 F   A Simple Darkness                  M.K. Winter -#6829
 H   He's Dead of Course                William J Francis -#6830
 F   Cornerstones                       Amy McGeorge -#6831
 F   Slash, Chapters 1,2,3              Richard Smith -#6832
 SF  Chasing Armageddon                 Braxton S. Cook -#6833
 SF  Five to Nowhere                    Benjamin Buchholz -#6834
 H   Whispers From the Dead             Bonnie Mercure -#6835
 SF  Cornbread                          Randy Brown -#6836
 F   Stone Roads                        Tim Pozza -#6837
 SF  Midnight Oil                       Jim Stokes -#6838
 SF  The Dawn of The Silver Kinship, Preface and Chapter One  Jeanne G'Fellers-Walker -#6839
 H   Precious                           Brandi Cuickshank -#6840
 H   The Black Summer                   Joseph Gut -#6841
 F   Reign of Terror, Chapters 1-2      Ivan-Mark Debono -#6842
 SF  Plastic Narrative                  Rob Liebscher -#6843
 H   Pet                                Charles Brown -#6844
 SF  Market Currents                    Pam Ochs -#6845

Week of 31-Jul-2002 (Crits due 7-Aug-2002):
 SF  The Bovine Casino                  Henry L. Lefevre -#6846
 SF  Chuuri                             Steven K. Keck -#6847
 SF  Solar Max                          E.A. Gundlach -#6848
 F   The Hidden Door                    Stephanie Dray -#6849
 F   The Apprentice, Chapters 1-3       Lisa Feld -#6850
 F   The Necromancer                    James Ashley -#6851
 F   The Dark Druid, Ch 3 + synopsis    Lee Beavington -#6852
 SF  The Weatherman                     Corey Brown -#6853
 F   The Knight of the Raven            Yvette A. Babic -#6854
 H   Dormitory - Prologue and Ch 1      Matt Horgan -#6855
 F   Auf Widdershins                    Marsheila Rockwell -#6856
 SF  Sentience End                      Chris Jorgensen -#6857
 F   The Crystal Cage                   Sherri Jordan -#6858
 F   Weights and Measures               J. Alan Brown -#6859
 H   Can I Play With Madness?           Adam Gifford -#6860
 SF  Cornwall Dreaming                  Glen R Chapman -#6861
 SF  Let No Woman                       Rita Rousseau -#6862
 F   The Hoblets of Wiccam Fensboro     [@] Theodore Beale -#6863
 H   The Lake Girl                      Elizabeth Blue -#6864
 F   The Measure of a Man               Temple Cave -#6865
 SF  The Avenger of Blood, chapter 1    Mercy Falconer -#6866
 SF  Harry's New Toy                    Charles Kaluza -#6867
 F   The Green Sword                    Peter J Welmerink -#6868
 F   His Only Begotten Son              Brandon Butler -#6869
 F   Secret of the Golden Mermaid       Jennifer L. Oberlander -#6870
 SF  The Cause                          Meryl Anne Ferguson -#6871
 SF  Spacetripper                       Simon Field -#6872
 SF  Unto the Breach, Chapters 1-2      Kai N. Parker -#6873
 H   Five Minutes Until Midnight        K. Allen Flores -#6874
 SF  His Master's Voice                 Michelle Scott -#6875

Week of 7-Aug-2002 (Crits due 14-Aug-2002):
 H   FACES                              [mpc] Jason Hauser -#6876
 H   Virus                              [mpc] Norm Gillespie -#6877
 SF  Last Call                          [mpc] Richard Jones -#6878
 SF  Pollen                             [mpc] Jeana Jorgensen -#6879
 F   The Auction                        [mpc] Stephanie Dray -#6880
 F   Creation Among the Cymbele         [mpc] Benjamin Buchholz -#6881
 F   Wings of Fire                      Marie Wadsworth -#6882
 F   Jesus Savings & Loan               Gavin R. Jones -#6883
 F   The Old One of Thoralyn (Ch 1)     Teresa Thorne -#6884
 SF  The Thulean Vanguard, chapter 6    J.D. Williams -#6885
 H   Lessons in Behaviour               Charlie Allery -#6886
 SF  Deception                          Martha Bland -#6887
 SF  Luck                               Roselyn Silverman -#6888
 SF  Of Sealing Wax                     Marilyn LT Klimcho -#6889
 SF  The Duel that Wasn't that Was...   Manda Benson -#6890
 F   Templeborn Daughter, chapters 1, 2  Aaron Micheau -#6891
 F   Truesinger                         Pamela Sedgwick -#6892
 F   Seabird chapters 10 and 11         Sherry Thompson -#6893
 SF  Dark Cloud                         Joseph Blue -#6894
 H   Elizabeth is a Dream               Alexander Smith -#6895
 SF  The Divine War, Part I: Peacekeeper  Patrick Dilloway -#6896
 SF  Welcome to My Planet (Chapter 1, Part 1)  Melissa M. McKoy -#6897
 SF  The Libertine Chronicles, Parts 9-12  Richard 'Otter' Threadgall -#6898
 H   Little House Horror, Chapter 1     Michael Swanson -#6899
 F   Patterns of Force, Prologue: RFDR  Arianne Thompson -#6900
 F   Killing Apathoo                    Shawn Scarber Deggans -#6901
 SF  SunRunners                         Matt Champine -#6902
 SF  Light to See By                    Deirdre Saoirse Moen -#6903
 SF  The Starbird Hunt, Chapter Two     Phillip S. Murillas -#6904
 SF  Humanitas Ex Machina               Jamie Watt -#6905

Week of 14-Aug-2002 (Crits due [*] 4-Sep-2002):
 F   Of Two Minds in Lanais             [mpc] Eugie Foster -#6906
 SF  Asteroid, Chapters 1-3             [mpc] Larry Pender Jr -#6907
 SF  It's Only Springtime When She's Gone  Eugie Foster -#6908
 F   Book of Bone                       Mary Catelli -#6909
 SF  Murder Most Virtual?               Fred Obermeyer -#6910
 F   Starfire, Chapter 1                Maggie Patten -#6911
 SF  Nina's Destiny                     Lisa Ingram -#6912
 F   The Lion and the Blue Weasel       Gary A. Wilbanks -#6913
 SF  The Price                          Steve Lewis -#6914
 SF  Element 42, Chapters 1-4           Alan Zendell -#6915
 SF  Beyond the Giant's Breath          Jeff Bumgardner -#6916
 SF  Six Gees                           Steven W. White -#6917
 SF  Tribute to Wave-I                  Chandler Zedac -#6918
 SF  The Dating Matrix                  Patrick Lundrigan -#6919
 F   Twilight of Masks                  Michael Greenhut -#6920
 F   The Wind Knew Her Name             Kirsten Lincoln -#6921
 H   Tinker's Damn                      John Christopher Holmes -#6922
 F   No More Fairytales                 Daniel Archambault -#6923
 F   If I Just Faded Away               Nicole Taft -#6924
 SF  Justifiable Genocide, Chapter 1    Lynda D. Shoemaker -#6925
 SF  Stingray                           William Proctor -#6926
 H   It Was a Dark and Stormy Night     Bernard Gallagher -#6927
 F   Breaking the Surface, Chapter 3    M.K. Winter -#6928
 F   Birds of a Feather                 Tim Pozza -#6929
 SF  Efflux                             Chieu Nguyen -#6930
 SF  The Darkness Between               Jeremy Minton -#6931
 SF  Essence                            Robert D. Philbrook -#6932
 SF  On the Wings of Dark Angels Chapter One  Annette McDonald -#6933
 F   Folly of Assumption                Tracy Morris -#6934
 SF  Strange Attractor                  David Norris -#6935
 F   The Tale of Herbwoman Gothel       Michael Andre-Driussi -#6936
 SF  Behold a Dark Mirror chapters 1A to 2B  Alberto Squassabia -#6937
 SF  Illusions and Delusions            Kim Merrill -#6938
 F   Quest for the Vampire              Jessica Howe -#6939
 H   Penance                            Leila Eadie -#6940
 SF  Deviance                           Sarah Ellen Joynt -#6941
 H   Hot Sheila                         Shawn Pollock -#6942
 F   Kindred Spirits                    Leah Suslovich -#6943
 F   Flashbacks                         Amy Carlisle -#6944
 F   The Dungeon of FarKeep             Karonda Barker -#6945
 SF  Dawn of The Silver Kinship, Chapter Two  Jeanne G'Fellers-Walker -#6946
 F   Nothing, Nada, Zip, Zilch          Bonnie Mercure -#6947
 SF  My War With The Goats              Henry Mahncke -#6948
 SF  The Forever Sentence               Helen Eden -#6949
 F   Raven's Levy, Chapter Six          Matthew I.T. Subotnick -#6950
 F   Flock of Birds                     Daliso Chaponda -#6951
 H   Mirror (formerly `Precious')       Brandi Cuickshank -#6952
 H   The Strip                          Joseph Gut -#6953
 SF  The Day We Started Over            Jessica Severs -#6954
 H   Envisage                           Andries Ehlers -#6955
 SF  Sowing the Seeds of War            Michael O'Brien -#6956
 F   Rope Halter                        Nadia Oxford -#6957
 H   THE BEAST                          Chris Poore -#6958
 SF  Pocket Problems                    Steven Kubrak -#6959

Week of 4-Sep-2002 (Crits due 11-Sep-2002):
 F   The Bowl of Kamnestra              [mpc] Stephanie Dray -#6960
 F   Last Child of Llyr                 [mpc] Rose Hodge -#6961
 SF  Space Dust                         Henry L. Lefevre -#6962
 F   Evean, Book Two                    Neal Swain -#6963
 SF  Thylacine Dreams                   E. A. Gundlach -#6964
 F   Guardians of the Circle, Book II, Chapter 2  Stevie Heong -#6965
 SF  Lightning Days                     Colin Harvey -#6966
 SF  Falling Pop-star, Burning Bright.  Peter Huston -#6967
 F   Boing the Half Ogre, Chapter 10    Nathan A. Fisk -#6968
 SF  Kiss                               Lisa Feld -#6969
 SF  Perception                         Lee Beavington -#6970
 SF  The School of the Air              Corey Brown -#6971
 H   Lem and Bethie                     Alynia Rule -#6972
 SF  Graycloak, Chapter 1-3             Scott McCormick -#6973
 SF  Justice Survives                   Rhonda Eudaly -#6974
 H   The Thing at the Foot of the Bed   Marsheila Rockwell -#6975
 F   Cinder                             Rita Rousseau -#6976
 F   Blood Price                        Rose Hodge -#6977
 SF  Immoral                            Chris Jorgensen -#6978
 F   Mr                                 gary clinton -#6979
 SF  The Fine Print                     Peter Smith -#6980
 H   Married but Looking                Bill Harmon -#6981
 F   Reign of Terror, Prologue & Chapters 1-2  Ivan-Mark Debono -#6982
 F   The Quest                          William Ouellette -#6983
 F   When Goblins Run out of Tea, Prologue & Chapters 1-3  Wil Radcliffe -#6984
 H   Nothing to Fear                    Greg Phillips -#6985
 F   Crossing Over                      Peggy Stotts -#6986
 SF  A Snake Around Fingers             Eric James Green -#6987
 H   Lisa                               James Fairbrother -#6988
 SF  Reaching Nirvana                   Jonah Byrne -#6989

Week of 11-Sep-2002 (Crits due 18-Sep-2002):
 F   King Gling                         [mpc] Jason Hauser -#6990
 SF  The DaNA Process (formerly Redemption)  Carolyn Kaufman -#6991
 SF  Stupid                             Jack M. Walter -#6992
 H   But Wait, There's More             Gavin R. Jones -#6993
 F   Perchance to Dream                 David Miles -#6994
 SF  The He Distortion                  Joe Murphy -#6995
 F   Sour Roses                         Aziza Zaman -#6996
 SF  Mary had a Little Lamb             Marilyn LT Klimcho -#6997
 SF  Schoolhouse Raid                   Dot Elledge -#6998
 F   Magic in the Suburbs               Wenonah Lyon -#6999
 SF  Dark Tempest: A Matter of Reflex   Manda Benson -#7000
 F   Templeborn Daughter, Chapter 3     Aaron Micheau -#7001
 F   Demigod: Tortured Soul, Ch 1 & 2   Harlen Bayha -#7002
 F   Grass Harp chapter 7               Christy Gottberg -#7003
 SF  In the Name of Gods                David Stephenson -#7004
 SF  Encounter                          Matt Horgan -#7005
 SF  Cult of the Permanent Motorcycle   Benjamin Buchholz -#7006
 H   Uncle Bert                         Alexander Smith -#7007
 SF  Strip Club                         J. Alan Brown -#7008
 SF  A Soldier's Story, Part 3, Chapter 1 and 2  Guy Miller -#7009
 SF  Doublecross, Prologue and Chapters 1 & 2  Patrick Q. Phillips -#7010
 F   A Spell For Making Husbands        Amy McGeorge -#7011
 SF  History's End                      Chris Quillen -#7012
 SF  Beautiful Stranger Chapter Three   Joe Mahoney -#7013
 F   Leryn                              Pam Davis -#7014
 SF  The Beginning of All His Troubles  Scott Hertzog -#7015
 SF  The Starbird Hunt, Chapter Three   Phillip S. Murillas -#7016
 SF  The Mozart Effect                  Payton MacDonald -#7017
 SF  The Festival Season                Niall Harrison -#7018
 F   The Jaded Tower                    Shawn Whitlock -#7019

Week of 18-Sep-2002 (Crits due 25-Sep-2002):
 SF  Everyone Needs a Couch             [mpc] Suzanne Church -#7020
 SF  Turning Ten                        [mpc] Jonathan Laden -#7021
 F   Neverland                          Jeff Cates -#7022
 SF  Maestro Andante                    Hank Quense -#7023
 F   Indians Scattered on Dawn's Highway Bleeding  Jim Bauer and (the late) Victor Four Winds -#7024
 F   Fairy Hunters Ch. 1                Norm Gillespie -#7025
 SF  The Ants of Imhotep                Carl Frederick -#7026
 SF  The Memphis System, Chapter 1 (RFDR)  Hilary Sklar -#7027
 SF  The Algorithms of Love             Ken Liu -#7028
 F   Seabird: Prologue and Chap. 1      Sherry Thompson -#7029
 F   Legacy                             Laura Waesche -#7030
 SF  Ballad of a Billy Goat             Jonathan Laden -#7031
 F   Oh, Sorry, Bob                     Steve Villiers -#7032
 SF  The Divine War: Warrior            Patrick Dilloway -#7033
 SF  We're Normal                       Brandon Butler -#7034
 F   Dunstin's Betrayal                 Rachel Collins -#7035
 H   Dare                               Stephen Thorpe -#7036
 SF  Antitheon, Chapters 1, 2, and 3    Richard 'Otter' Threadgall -#7037
 SF  The Shortest Tale                  Scott Ravede -#7038
 H   Big Game                           Jason Lacker -#7039
 H   It's Only a Dream                  James H Simpson -#7040
 SF  Pseudo-cyberpunks in Future Reality World  Rob Liebscher -#7041
 H   Time Trials                        J. Scott Kunkle -#7042
 SF  The Sentinel Service               Charles Hunter -#7043
 F   Hell of Angels, Chapters 1-4       Jonathan Alexander -#7044
 F   Thorns of the Lily, 1/2 Chapter 1  Heatherleigh Hopkin -#7045
 SF  Redemption                         John Kratman -#7046
 SF  The Storms of Phallegron           Scott Cullen -#7047

Week of 25-Sep-2002 (Crits due 2-Oct-2002):
 SF  Burning up the Bedsheets           Fred Obermeyer -#7048
 SF  The Stone Builders                 John Lars Shoberg -#7049
 F   Stained Glass and Clay             [@] Joe Murphy -#7050
 F   You're Granted One Wish            Martha Bland -#7051
 F   Crossing the Margins               Maggie Patten -#7052
 F   Dimensional Dilemma Chapter 12     Ray E. Main -#7053
 SF  First Man-I                        Chandler Zedac -#7054
 SF  Trash Day                          William J. Proctort -#7055
 F   You Bet Your Wife                  Bernard Gallagher -#7056
 SF  Luna Vegas!                        Wayne Austin -#7057
 SF  This Strange and Pleasant Land     Henry Mahncke -#7058
 F   Bound by Power, Chapter 1          E.A.Weippert -#7059
 SF  Walking Away                       M. K. Winter -#7060
 SF  Undergrowth                        Nicole Taft -#7061
 SF  Shipping and Handling              Chieu Nguyen -#7062
 SF  Inhabiting Livinia, Synopsis and Chapter 1, part 1  Jim Stokes -#7063
 F   The Dead Lands, Chapters 0-5       Herb Hasler -#7064
 H   Periphery                          Karonda Barker -#7065
 H   When I was a girl                  Leila Eadie -#7066
 H   Triplicate in Curses               Anthony Bartley -#7067
 SF  Leap Day                           Jessica Severs -#7068
 F   A Matter of Tradition              Andria Davis -#7069
 SF  The Fleas of a Thousand Camels     Mark -#7070
 SF  Inquefish                          Steven Kubrak -#7071
 SF  Stephanie's Adventure, Chapter 1   Gregory A. Cheyney -#7072
 SF  A Many Splendour'd Thing           Jamie Watt -#7073
 H   Virgin Pie                         Lisa E. Cote -#7074
 H   Enmity                             Ronald Harney -#7075
 SF  Darker Shade Of Black, Chapter 1   Rikki Eaton -#7076
 H   For Love of Lauren                 Ed Nickum -#7077
 F   The Dream Mirror                   Leanne Whelan -#7078

Week of 2-Oct-2002 (Crits due 9-Oct-2002):
 SF  Don't Turn Away                    [mpc] Rena Hawkins -#7079
 SF  The Song of Andiene, Chapter 1     [mpc] Elisa Williams -#7080
 SF  The Manchime                       raymond colerick -#7081
 SF  Tobias Unbound                     EA Gundlach -#7082
 SF  Element 42, Chaps 5-9              Alan Zendell -#7083
 H   Literary Legacy of a Vampire       Peter Huston -#7084
 F   Northland Redemption               Stephanie Dray -#7085
 F   Boing the Half-Ogre, Chapter 11    Nathan A. Fisk -#7086
 F   Hell's Bells                       Michelle Scott -#7087
 F   Alice and the God of War           Rita Rousseau -#7088
 H   From Whose Bourne no Traveler Returns  Lisa Feld -#7089
 SF  astronomical apparition            patrick joseph mc namara -#7090
 F   Chalmers Little                    Michael Andre-Driussi -#7091
 H   The Inheritance                    Sarah Wassom -#7092
 SF  Entanglements                      David Norris -#7093
 F   The Naming of Transition           Rose Hodge -#7094
 H   A Figure to Die For                Phil Boarder -#7095
 SF  Random Transmissions               Zara Baxter -#7096
 SF  Sleep Sweetly, Junie Carter        Joy Remy -#7097
 F   Thyme                              William Ouellette -#7098
 F   The Dark Mirror, Book One, The Seeker, chapters 1-5  Charles Tyrrel Whipple -#7099
 SF  Mitosis                            Francisco Ruiz -#7100
 F   Iron Twig meets Untouchable Sword  Jeremy Barwick -#7101
 SF  Milky Way Marmalade- Chapter 1     Michael DiCerto -#7102
 SF  Second Class Citizens - Chapter 1 & Synopsis  Brian Otridge -#7103
 F   Frozen Grass                       Robin Morero -#7104
 SF  Blasphemy                          Fabian Benavente -#7105
 SF  Lurkers                            Bob Evan -#7106
 SF  Tangible Ghosts                    Tim Anderson -#7107
 F   The Ominous Few: Chapter 1 - Longing For Adventure  Mathew Ryan Bartel -#7108

Week of 9-Oct-2002 (Crits due 16-Oct-2002):
 F   Quest to the Forbidden City        [mpc] Pam Davis -#7109
 SF  Hiding Out In The Open             Henry L. Lefevre -#7110
 F   The Turtle in the Sea of Sand      Mary Catelli -#7111
 SF  Mine the Primes                    Julian Todd -#7112
 SF  Dark Tempest: Carck-Westmathlon    Manda Benson -#7113
 SF  And Ever From The Skies            Ian Creasey -#7114
 SF  A Fuure from the Past              Brian Clarke -#7115
 SF  Discovery                          Trudy Myers -#7116
 SF  Any and All                        Mike Loos -#7117
 SF  The Girl Who Could Not Fly         Benjamin Buchholz -#7118
 H   Sanctuary                          Dave Kuzminski -#7119
 F   Whilst Musing Upon The Crone       Amy McGeorge -#7120
 F   The List                           Rick Dearman -#7121
 SF  The Voyage of the Nautilus, Chp 1  Guy Miller -#7122
 F   The Brothers of E-                 Mari Miller-Lamb -#7123
 H   The Eyes of Innocence              Greg Phillips -#7124
 SF  Lexophony                          Scott hertzog -#7125
 SF  Mother's Day                       Chris Quillen -#7126
 SF  Planetoid                          John Adams Theibert Jr. -#7127
 SF  The Starbird Hunt, Chapter Four    Phillip S. Murillas -#7128
 SF  Networking                         Niall Harrison -#7129
 F   ladywolf                           S van Rooden -#7130
 F   Riding Lessons                     Liz Becker -#7131
 F   A Rebel's Bounty                   Jonah Byrne -#7132
 SF  MISSY-9                            Steve Drago -#7133
 SF  The Storms of Phallegron, Chapters 1 & 2, RFDR  Scott Cullen -#7134
 F   The Hunted                         Michael Sawyer -#7135
 SF  Unstoppable                        Eldo A Lukman -#7136
 F   Psychics Get All the Girls         Paul J. Iutzi -#7137
 F   Children of Somershall             Bill Nellist -#7138

Week of 16-Oct-2002 (Crits due 23-Oct-2002):
 F   The Great and Cacklin' Glakin      [mpc] Jason Hauser -#7139
 SF  The Big Time                       [mpc] Richard Jones -#7140
 H   Joining the Circus                 [mpc] Leila Eadie -#7141
 H   The Inheritance                    [mpc] Sarah Wassom -#7142
 F   Danse                              [@] Beth Bernobich -#7143
 SF  COntract Negotiations              Hank Quense -#7144
 SF  Seeking Kailash                    David Miles -#7145
 SF  Women, God, & Other Aliens, Ch 1-2  Norm Gillespie -#7146
 SF  The THulean Vanguard               J.D. Williams -#7147
 F   Member of the Tribe                Tom Beck -#7148
 F   Nuelandra                          Ralph Weimer -#7149
 F   Seabird, Chapter 2 ("Not Kansas") RFDR  Sherry Thompson -#7150
 SF  Real Time                          Morgan Beard -#7151
 SF  Rogue, Part 1 of 2                 Lee Beavington -#7152
 SF  Can't See Your Nose                Jonathan Laden -#7153
 F   Freedom- Part 1                    Daniel Devine -#7154
 H   Betsy                              J. Alan Brown -#7155
 SF  Everything is True, Nothing is Permitted  Brandon Butler -#7156
 F   Quest for the Vampire, chapter 1   JA Howe -#7157
 SF  Sweet Sour Gray, Chap. 1-5         Richard Smith -#7158
 SF  Chimeras (formerly Justifiable Genocide) chapters 3-5  Lynda D. Shoemaker -#7159
 SF  War Games                          Terry Spear -#7160
 H   Death Knell                        Jason Lacker -#7161
 SF  Farewell, Bliss                    Marge Danser -#7162
 F   On His Way Back Home               Rosa Welton -#7163
 H   War                                Payton MacDonald -#7164
 F   Soulwrangler, chapter 1            Nathalie Rochon -#7165
 SF  Sound Byte                         Dan Bieger -#7166
 F   The Ice Castle (Chapters 1-2)      Heather Pine -#7167
 SF  Barbarians at the Gates            John Kratman -#7168
 SF  No Return                          Marg Gilks -#7169
 SF  Nightchaser                        Alaya Johnson -#7170
 F   Digging                            Ron Roth -#7171

Week of 23-Oct-2002 (Crits due 30-Oct-2002):
 F   Bai Ningbai                        [mpc] Rick Dearman -#7172
 SF  Bit Player                         Fred Obermeyer -#7173
 F   Dimensional Dilemma, Chapters 1-2  Ray E. Main -#7174
 SF  In the Laptops of the Gods         Maggie Patten -#7175
 SF  A Question of Security             Pam Lord -#7176
 F   Castle Dark                        Lesleigh Force -#7177
 SF  Ollie                              William Proctor -#7178
 SF  Midgigoroo and the Singularity     Steven W. White -#7179
 SF  Escape                             Bernard Gallagher -#7180
 H   The Glass Eye                      David Stephenson -#7181
 SF  One Way to Travel Through Time     Henry Mahncke -#7182
 SF  Irradiate                          Chieu Nguyen -#7183
 H   The Serial Killer's Search for Love  Karonda Barker -#7184
 H   That Old People Smell              Anthony Bartley -#7185
 SF  Beetlemania!                       Brent Brown -#7186
 SF  The Pandora Pill                   Terry Rickard -#7187
 SF  The Fleas of a Thousand Camels     Marcus Aurelious -#7188
 F   Menopause                          Gill Ainsworth -#7189
 SF  The Shortest Tale revised          Scott Ravede -#7190
 F   Brotherhood of the Kracken         Madge E. Miller -#7191
 F   The Sorcerer's Tale                Steven Kubrak -#7192
 H   Vampire Killings                   Larry Sells -#7193
 F   Her Dark Embrace                   Kristi Buss -#7194
 F   Phoenix Rising (part 1)            Megan Novak -#7195
 F   The Divine Experimentation         Tom Widener -#7196
 H   Talking Cactus, 3 Part serial      Karen James -#7197
 SF  The World of Doctor Winston Jones  Russel D McLean -#7198
 SF  Why Butterflies Die                Patrick Samphire -#7199

Week of 30-Oct-2002 (Crits due 6-Nov-2002):
 SF  Weevil Devils                      [mpc] Alla Lurie -#7200
 SF  Fragile Eggshell Mind              Jim Bauer -#7201
 H   Charnel Blues                      [@] Joe Murphy -#7202
 H   They Mostly Come Out at Night      Lisa Feld -#7203
 SF  The Life-Flowers                   Neal Swain -#7204
 SF  The Naughty Au Pair                Peter Huston -#7205
 F   A Traitor's Honor                  Stephanie Dray -#7206
 SF  Ressurection                       Wayne Austin -#7207
 SF  Birthday Boy                       David Blitch -#7208
 H   A Young Fox's Lesson               Patrick Joseph Mc Namara -#7209
 F   Vampire Cognosco                   M.K. Winter -#7210
 H   Evansville                         E.L. Quackenbush -#7211
 F   The Wolf Prince                    Mik Bennett -#7212
 F   Impossible Railways                Zara Baxter -#7213
 F   Goblins                            Vincent Sharma -#7214
 SF  The Chronicles of the Time Spine Monitorial Authority  Ben Duiverman -#7215
 F   The Dark Mirror, Book Two, The Shielder, chp 1  Charles T. Whipple -#7216
 F   TROLL BRIDGE                       William Ouellette -#7217
 F   Heavenly Fire and Beautiful Beard at the Chop Pot teahouse  Jeremy Barwick -#7218
 H   Images of the Inner Demons         Minda Johnson -#7219
 H   The Station On The Edge            Robert Evans -#7220
 SF  It's Only Natural                  Fabian Benavente -#7221
 SF  Milky Way Marmalade - Chapter 1    Michael DiCerto -#7222
 F   Ressurection of Faith              J. Scott Kunkle -#7223
 SF  Hot Rocks                          Tomas L. Martin -#7224
 F   The Portal Ring, Chapters 1-4      Mariza Arko -#7225
 F   The Beast of Lokhivand             Sean Casey -#7226
 H   Little Jonathan Dill               Jason Harrod -#7227

Week of 6-Nov-2002 (Crits due 13-Nov-2002):
 F   Soulwrangler - chap 2              [mpc] Nathalie Rochon -#7228
 F   Flowers of Forgetfulness, Chapter 1 and 2  Mary Catelli -#7229
 SF  Luck                               Roselyn Silverman -#7230
 SF  Deep Black Charter                 Stephen B. Pearl -#7231
 SF  Dark Tempest: Storm Gathering      Manda Benson -#7232
 F   A Thief in Need                    Valerie Frankel -#7233
 F   Boing the Half-Ogre, Chapter 12    Nathan A. Fisk -#7234
 H   Stuffy and the Belfry              Suzanne Church -#7235
 H   Meeting Sharon                     Jessica Whitt Ratliff -#7236
 H   The Sphinx, Chapters 0-1           Liberty Howell -#7237
 SF  Courtroom Drama                    Jim Stokes -#7238
 SF  Summer Storms                      Janice Hardy -#7239
 H   Playground in the Mind             Joseph Larson -#7240
 F   Noble Quarry                       Peter Spaeth -#7241
 H   Manifesting Evil                   Jeff Allen -#7242
 F   Nausikaa                           Rose Hodge -#7243
 F   The Call for Courage               Kenny Chan -#7244
 SF  Of Earth                           Jessica Severs -#7245
 SF  Ad Alienos                         Francisco Ruiz -#7246
 F   Head over heels                    Rainer Puetz -#7247
 SF  Step Back                          Emanuele Cassani -#7248
 SF  Chasing Shadows                    Randy Brown -#7249
 SF  Someone Else's Hand to Kill        Lori M. Jansen -#7250
 SF  Hiding My Enemies                  Kenneth Green -#7251
 SF  Mutant Blues, Chapters 1-4         Jean-François Dube' -#7252
 SF  Mirage                             Sean Sands -#7253
 F   Tears                              Rachel McGonagill -#7254
 H   A Gaper's Tale                     Eric Thompson -#7255

Week of 13-Nov-2002 (Crits due 20-Nov-2002):
 SF  Mavis and the Mandarin Tree        [mpc] Alla Lurie -#7256
 F   Rescuing Princesses                Hank Quense -#7257
 H   Cyberevenge Inc.                   Eugie Foster -#7258
 F   The Redeemed                       David Miles -#7259
 SF  The Monoxide Age                   Julian Todd -#7260
 SF  Killer Bees                        Alissa Grosso -#7261
 SF  Computer Metaphysics               James Ashley -#7262
 SF  Rogue, Part 2 of 2                 Lee Beavington -#7263
 SF  Sputtering to Life                 Jonathan Laden -#7264
 SF  Jupiter Jinx                       Mark P. Morehead -#7265
 SF  Due Credit                         Dave Kuzminski -#7266
 H   Awakening                          Leila Eadie -#7267
 F   The Devil's Messenger              Terry Spear -#7268
 H   Russian Mail Order Brides          Walton Golightly -#7269
 SF  We're Normal                       Brandon Butler -#7270
 H   Raising a Stink                    Carolyn Gaddy Bahm -#7271
 F   The Urchins of Wenterly, Part I    Jessica Howe -#7272
 SF  Untitled                           Robert B Carey -#7273
 H   The Ghost of Edwin Marr            Rosa Welton -#7274
 F   The Dark Circle of Indigio Moohgron  Holly McDowell -#7275
 F   Before the Altar on the Feast for All Souls  Marg Gilks -#7276
 H   Sculpture 101                      Ginger Edwards -#7277
 F   Legion - Prologue and Part 1       Robin Morero -#7278
 H   Graham's Garden                    Theresa Rose Fortier -#7279
 F   Treasure                           Christopher M. Knox -#7280
 F   Three Crows                        Mark Chevallier -#7281
 H   Silhouettes                        Aimee Duncan -#7282
 H   The Drain                          Tam Thompson -#7283

Week of 20-Nov-2002 (Crits due 27-Nov-2002):
 F   Gifts Not Asked For                [mpc] Eugie Foster -#7284
 F   Soulwrangler, chapter 3            [mpc] Nathalie Rochon -#7285
 H   We Are All One                     [mpc] Karonda Barker -#7286
 F   Heaven Sent                        Tracylea Byford -#7287
 SF  Shutterbugs                        Doc Finch -#7288
 SF  One Hour Phobia                    Fred Obermeyer -#7289
 SF  Solsgate Chapters 1,2,3            EA Gundlach -#7290
 SF  King Log, King Stork               Pam Lord -#7291
 SF  Children of the Revolution         Lesleigh Force -#7292
 SF  Liberation                         William Proctor -#7293
 SF  Rage To Master                     Steven W. White -#7294
 F   The List                           Rick Dearman -#7295
 F   This Is Where I Stand              Lori Phillips -#7296
 F   These Fields We Know, Pro & Ch. 1  Marsheila Rockwell -#7297
 SF  Mindfields Part One                John Christopher Holmes -#7298
 F   Still Life with Quasling [was Chalmers Little]  Michael Andre-Driussi -#7299
 H   Queen of Psycho Hearts             Joyce Ellen Armond -#7300
 F   Butterfly Garden                   Gill Ainsworth -#7301
 H   Thoughtless                        Scott Ravede -#7302
 H   A Spirital Rebirth                 Anthony Bartley -#7303
 F   The Valley of the Spider           Alina B. Klein -#7304
 SF  The Lost Colony                    Mick Halpin -#7305
 H   A Stranger's House Chapters 1-2    LB Frater -#7306
 H   Tabotan                            James McGowan -#7307
 SF  The Landis Pod                     M. Travis Leake -#7308
 H   Transience                         Scott Kelly -#7309
 SF  So Runs the World Away             Jonathon Sullivan -#7310
 F   The Heart of the Sisters           Aaron Drown -#7311
 H   The Boy in the Mirror              Kadyra Reddick -#7312
 F   The Deadly Mental Waves of Flower  Taylor Ellwood -#7313

Week of 27-Nov-2002 (Crits due 4-Dec-2002):
 F   Earthbow, Chapter 1                [mpc] Sherry Thompson -#7314
 SF  Inhabiting Livinia, Synopsis and Chapter 1  [mpc] Jim Stokes -#7315
 H   When They Came Again               [mpc] Stephen Minchin -#7316
 SF  A Calculor in My Soul, RFDR        [@] Beth Bernobich -#7317
 SF  Twilight                           Jim Bauer -#7318
 SF  Untitled                           Martha Bland -#7319
 H   Happy Birthday                     Lisa Feld -#7320
 SF  Sibling Enmity                     Andrew Zimmerman Jones -#7321
 SF  Thief                              Wayne Austin -#7322
 SF  Traveler Technical Reference       Bernard Gallagher -#7323
 F   Too Much Magic                     Patrick Joseph Mc Namara -#7324
 F   Child of Darkness                  David Dawkins -#7325
 H   What Happened Here?                Ben Duiverman -#7326
 F   The Dark Mirror, Book Two, The Shielder Chp 2  Charles T. Whipple -#7327
 F   Sanctuary, Chapter 1               Leanne Whelan -#7328
 SF  Redemption                         John Kratman -#7329
 SF  Disclosure Under Night             Michael DiCerto -#7330
 SF  Learned Men                        Fabian Benavente -#7331
 F   Kaleidoscope                       Minda Johnson -#7332
 F   Armanitas                          Shane Kelly -#7333
 F   The Nightmare: A Prince Phymmy Tale  Mike Nelson -#7334

Week of 4-Dec-2002 (Crits due [*] 18-Dec-2002):
 F   Soulwrangler, chapter 4            [mpc] Nathalie Rochon -#7335
 SF  Robellion                          Henry L. Lefevre -#7336
 SF  Spirit Reader                      Connie Gulick -#7337
 SF  Deep Black Charter, chapter 3 @ 4  Stephen B. Pearl -#7338
 SF  Jordy's Journey                    Alan Zendell -#7339
 F   Vlachsland, Chapter 1              Ralph Weimer -#7340
 F   The Fairy Visitor                  Valerie Frankel -#7341
 H   True love                          Rainer Puetz -#7342
 F   Boing the Half-Ogre, Chapter 13    Nathan A. Fisk -#7343
 F   Elik's Shadow, Chapter 1           Stephanie Dray -#7344
 F   Firelight Chapters 1&2             Laura Waesche -#7345
 SF  The Storm and the Hurricane        Corey Brown -#7346
 F   E.L.E.                             Mik Bennett -#7347
 SF  Beetlemania                        Brent Brown -#7348
 H   Followed by Fire                   J. Alan Brown -#7349
 F   A Clean By Any Other Name          Mari Miller-Lamb -#7350
 F   Lance and Longship Chapter 1       David J. Starr -#7351
 H   A Figure to Die for                Phil Boarder -#7352
 H   Road Rage                          Jeff Allen -#7353
 F   Aurum                              Jason S. Bakker -#7354
 SF  body.xchange.com                   Francisco Ruiz -#7355
 SF  Leather                            William J. Michaud -#7356
 SF  The Black Rose                     Emanuele Cassani -#7357
 SF  The Flower Bed                     Christina Gonzalez -#7358
 F   The Final Gambit                   Terry D. Wall -#7359
 F   Tracks                             Ron Roth -#7360
 SF  Mind of a Politician               Randy Brown -#7361
 F   Little Bert and the Stupid Magic Portal  Eric A. Snoddy -#7362
 SF  Command Decision                   Bob Evans -#7363
 SF  A Distant Shore, Chapters 0-2      Robert "Bob" Mauldin -#7364
 SF  Commune                            Sean Sands -#7365
 F   Where Shadows Lie, Chapters 1-2    Rachel McGonagill -#7366
 F   Ch 1: Gwen                         Naomi Permutt -#7367
 F   Last Mission                       Lindsay Buroker -#7368
 F   Kalena's Quest                     [@] Margaret H. Bonham -#7369

Week of 18-Dec-2002 (Crits due [*] 1-Jan-2003):
 SF  The Harvester                      [mpc] Jeff Cates -#7370
 SF  Savage Sal's Salvage Station       [mpc] Andrew Zimmerman Jones -#7371
 F   Prisoner                           [mpc] Michael "The Roach" Janszen -#7372
 F   Pieces of the Coin, ch 1-2         Carolyn Kaufman -#7373
 SF  We are the Cat                     Carl Frederick -#7374
 F   Missile Shield                     Jen Highkin -#7375
 SF  A Simple Wish                      William Proctor -#7376
 SF  Death comes at Sundown             Peter Huston -#7377
 F   Misahkia's Path                    Amy Herald -#7378
 F   Lined With Silver                  Troy Brown -#7379
 H   The Snowman                        Karonda Barker -#7380
 H   Decline                            Leila Eadie -#7381
 F   Circle of Indigio Moohgron Chapter 1  Holly McDowell -#7382
 SF  Alien Ways                         Gary Clinton -#7383
 H   Lost                               Walton Golightly -#7384
 SF  Blacklisted                        Peter Spaeth -#7385
 F   Killing Keystrokes                 Tam Thompson -#7386
 F   Quest for the Vampire Chapters 2-3  J.A.Howe -#7387
 H   Pomp and Circumstance              Gill Ainsworth -#7388
 SF  Cogium                             Scott Ravede -#7389
 SF  Poetry                             LB Frater -#7390
 SF  No Hero                            Robert B Carey -#7391
 H   BRINGING IN THE NEW YEAR           Ginger Edwards -#7392
 F   Daydreams & Reveries               Chander Sadasivan -#7393
 F   Driftglass Diary                   Frank Darbe -#7394
 F   Dirt                               Lon Prater -#7395
 F   A Sameness of Days                 Marg Gilks -#7396
 SF  Inducing a Dream                   M. Travis Leake -#7397
 H   The Piano Player                   Christopher M. Knox -#7398
 SF  Microverse                         Howard Cooper -#7399
 SF  Learning How To Fly, Chapter One   Taylor Ellwood -#7400
 F   An Elf's Hollow                    Matt Horrell -#7401
 F   Echoes of a Distant Storm, Prologue, Chapters 1-3  Wendy A. Simpson -#7402
 F   Relic                              David Bofinger -#7403
 H   The People Under the Bridge        Douglas Ryan -#7404
 F   Gone                               Terry Ramon -#7405
 SF  Xis                                Donna Curran -#7406
 SF  Woman In a Box                     Will McIntosh -#7407

Week of 1-Jan-2003 (Crits due 8-Jan-2003):
 SF  Perfect Pacing                     [mpc] Tam Thompson -#7408
 SF  Aloft Academy                      Doc Finch -#7409
 F   The Newt's Tale                    Jim Bauer -#7410
 F   Chew on This                       Fred Obermeyer -#7411
 F   Moons of Destiny, Chapter 1        Bonnie Newton -#7412
 F   The Forest Queen                   Ian Creasey -#7413
 F   Castle Dark                        Lesleigh Force -#7414
 SF  Transient Lunar Phenomena          Steven W. White -#7415
 SF  Johnson, Kansas                    Jim Stokes -#7416
 F   Golden Wars: 0-1                   Michael P. Higgins -#7417
 SF  The Wrong End Of The Stick         Jeremy Minton -#7418
 SF  Chad and Rosaly                    Ben Duiverman -#7419
 F   The Mage's Story                   Marna Fourie -#7420
 F   Legion - Chapters 2 & 3            Robin Morero -#7421
 SF  Barbarians at the Gates            John Kratman -#7422
 F   Dante's Free Spirit                Minda Johnson -#7423
 F   Sanctuary, Synopsis and Chapter 1  Leanne Whelan -#7424
 F   The Dark Mirror, Book Two, The Shielder Chp 3  Charles T. Whipple -#7425
 H   Fathers and Sons                   Chuck Frenz -#7426
 SF  Mutant Blues, Chapters 5-8         J-F Dube' -#7427
 H   A Little Hole in a Tree            Rich Leis -#7428
 SF  Thou Shalt Not Eat                 Brett Anningson -#7429
 SF  Last Train to Hewittsville         Tim Woolery -#7430

Week of 8-Jan-2003 (Crits due 15-Jan-2003):
 SF  Lawyers Talking About Melungeons   Norm Gillespie -#7431
 F   The Old One of Thoralyn Ch 2       Teresa Thorne -#7432
 F   His Father's Shadow (formerly Leryn)  Pam Davis -#7433
 SF  Postscript to Stephen King's The Langoliers  Bernard Gallagher -#7434
 SF  Reality Bytes                      Wayne Austin -#7435
 F   Adderand                           Rick Dearman -#7436
 F   His Mother's Voice                 Mik Bennett -#7437
 SF  Everything is True, Nothing is Permitted  Brandon Butler -#7438
 H   Dead Things                        Mari Miller-Lamb -#7439
 SF  A Sense of Adventure               Scott Hertzog -#7440
 F   The Stuff of Dreams                Terry D. Wall -#7441
 SF  Darkness of Self                   Jamie Kress -#7442
 F   Songblade", Chapter 1              Greg Phillips -#7443
 F   Lionstar - Prologue and Chapter 1  steve duffy -#7444
 H   Without Impunity                   Jeff Allen -#7445
 SF  The Prisoner                       Fabian Benavente -#7446
 SF  Virtuality                         John Grgurich -#7447
 F   Eyes to See                        Rachel McGonagill -#7448
 F   Devon's Fate, Chapter 1            Kathy Sedia -#7449
 F   Crackin' Up on the Corn Pollen Super Highway 1  Mike Nelson -#7450
 F   Double Vision                      Albert Wagner -#7451
 SF  Hunting The Angel, Chapters 1,2    Ben Hofmann -#7452
 H   Robot That Makes Clean             Eric A. Snoddy -#7453
 H   Wicker Chair                       Brian K. Palmer -#7454
 F   The Convenience of Sir Wilfred     Auriel A. Willette -#7455
 H   Broken                             Steven G. Childress -#7456
 SF  Perfect Faces                      Jonah Byrne -#7457

Week of 15-Jan-2003 (Crits due 22-Jan-2003):
 F   Razi and the Sunbird               Eugie Foster -#7458
 F   Storm Dancer Ch1                   Christine Hall -#7459
 H   Abraham Lincoln's Children         Andrew Zimmerman Jones -#7460
 F   Efficiency Expert                  Pam Lord -#7461
 SF  Steel Ouroboros                    William Proctor -#7462
 F   Judgment Day, Chapters 1-2         Robert Bird -#7463
 SF  Lisa and Dan                       Jonathan Laden -#7464
 SF  Five-eleven                        Dave Kuzminski -#7465
 F   Ada Through the Internet           Patrick Joseph Mc Namara -#7466
 H   Leptimon                           J. Alan Brown -#7467
 F   Still Life with Quasling           Michael Andre-Driussi -#7468
 F   Downpause                          Janice Hardy -#7469
 SF  The Changeling, Ch 1               T.L. Spear -#7470
 H   Valley of the Damned               martin slusser -#7471
 F   Tzitzimime                         [@] Kate Orman -#7472
 SF  Almost Alive                       Francisco Ruiz -#7473
 SF  Carolan's Indiscretion             M. H. Bonham ("Maggie") -#7474
 SF  The Shaper Image                   Sean Sands -#7475
 F   Clandestine's Dark Library         Christian L. Campbell -#7476
 F   Dawn                               Tom Lloyd-Williams -#7477
 SF  Dwarf                              Victoria Somogyi -#7478
 H   The Bet                            Kevin Anderson -#7479
 SF  Statues to Summon Animals          E Coppel -#7480
 SF  Scales of Judgment                 Margaret Fisk -#7481
 SF  Life Encoded                       Jake Atencio -#7482
 H   White                              Rich Gans -#7483
 H   Hung                               Steve Smede -#7484

Week of 22-Jan-2003 (Crits due 29-Jan-2003):
 H   From The Court of Kublai Khan      [mpc] Lawrence W. Lanum -#7485
 SF  Bad Adams and the Wielder, Ch 1    [mpc] Norm Gillespie -#7486
 H   Halloween                          [mpc] Rainer Puetz -#7487
 SF  Cold Air Rising                    [mpc] Alec Deason -#7488
 SF  Boys and Their Toys                Jeff Cates -#7489
 F   Alexi's Milieu                     Tracylea Byford -#7490
 F   Jain Dough                         Carl Frederick -#7491
 F   The Cathedral of Castigra          Holly McDowell -#7492
 F   The Shivered Sky, Mini-Synopsis + Chapters 1-4  Matt Dinniman -#7493
 SF  Roadblocks of the Mind             Martha Bland -#7494
 F   Human Shield                       Jen Highkin -#7495
 F   Seabird, Chapters 0 to 2'A'        Sherry Thompson -#7496
 SF  Going Stag                         Michelle Scott -#7497
 F   The Kingfish                       Troy Brown -#7498
 F   Ollie                              Gary Clinton -#7499
 H   Being A Hero                       Leila Eadie -#7500
 SF  Antibiosis, Chapters 1-3           Robert D. Philbrook -#7501
 H   Hair of the Biting Dog             Gill Ainsworth -#7502
 H   A Small Town Halloween             Candi Schiller -#7503
 SF  Antitheon, Ch. 1&2: Sodium Lights, Morning Underground  Richard Threadgall -#7504
 SF  Nothing is Special                 Dan L. Thompson -#7505
 F   The Urchins of Wenterly (Part 2)   JA Howe -#7506
 SF  Full Circle                        Lloyd Smith -#7507
 SF  The Murder of Small Creatures      Howard Cooper -#7508
 F   The Dark Mirror, Book Two, The Shielder, chp 3  Charles T. Whipple -#7509
 SF  The Old Spacers' Home              Charlie Hatton -#7510
 F   Learning How to Fly Chapter Two    Taylor Ellwood -#7511
 H   Love You to the Bones              Douglas Ryan -#7512
 H   Silver Prolouge- Ch 1              Paul Sidney -#7513
 H   Sacred Skin                        Michael Stone -#7514
 SF  Making The Grade                   Gavin C. Turnbull -#7515
 F   This is Brooklyn, Not the Yiddish Theater of Brooklyn  Elise Susan Teitelbaum -#7516

Week of 29-Jan-2003 (Crits due 5-Feb-2003):
 SF  Bad Karma at the Interstellar Swap Meet  [mpc] Matt Dinniman -#7517
 SF  Ink On paper                       [mpc] Gabriel Rios -#7518
 F   Spell of Silence                   Mary Catelli -#7519
 SF  The Pair A' Docs Caper             Doc Finch -#7520
 SF  Fragile Eggshell Mind              Jim Bauer -#7521
 F   Drifting Still                     Fred Obermeyer -#7522
 F   The Secret of Making Brains        [@] Joe Murphy -#7523
 F   Spheres of L'Ameria, Book 1: Terra , Prologue, Chap. 1 and 2  Suzan Keys -#7524
 SF  Assault on Chapter Six             Marten Kemp -#7525
 SF  The Interrogation                  Jim Stokes -#7526
 F   Sombrely-Shrouded One's Pizza      Daniel Archambault -#7527
 H   Phone Call                         Adam Gifford -#7528
 H   The Mistletoe Pool                 Karonda Barker -#7529
 F   The trouble with time travel - 1. Entertainment and leisure time  Ben Duiverman -#7530
 F   Living in a Gopher Hole            Bill Ouellette -#7531
 SF  Harry the Crow                     John Kratman -#7532
 SF  Racing EcoQuest Barspi             Tam Thompson -#7533
 H   Sciophobic                         Robin Morero -#7534
 F   An Angel in My Soup Ch 1-3         Davina MacLeod -#7535
 H   Wall of Silence                    Jason Shayer -#7536
 F   Tochwyatis, Chapters 1-5           Frej Wasastjerna -#7537
 F   Greyhawk: The Spear That Roars For Blood - Chapter 1  Jason Zavoda -#7538
 F   Horse Sense                        Margaret E. Welsh -#7539
 SF  Shroud, Chapters 6-8               Brett Anningson -#7540
 F   Writer's Block                     Kang Min Li -#7541
 SF  Patent Annihilation                Imran Ghory -#7542
 SF  Time & Entropy, Part 1: Time's Progeny  Michael Gibling -#7543
 H   Minds Eye, Chapters 1-2            W. Shannon Vittrup -#7544

Week of 5-Feb-2003 (Crits due 12-Feb-2003):
 F   A Minstrel's Choice                [mpc] Pam Davis -#7545
 SF  Cashing In for Chip                [mpc] Charlie Hatton -#7546
 SF  Odin's Gift                        [mpc] Jake Bartolone -#7547
 F   Dun Hythe                          Hank Quense -#7548
 F   The Dawning                        Jim Cue -#7549
 F   The Longevity Thesis, Part I, RFDR  Jennifer Rahn -#7550
 SF  Deep Black Charter, chapter 5 @ 6  Stephen B. Pearl -#7551
 F   Protection                         Teri Foster Gray -#7552
 H   A Visit from Owen                  Barbara Davies -#7553
 F   Spirit Builder                     Valerie Frankel -#7554
 H   Armageddon Cafe                    Mik Bennett -#7555
 F   Don't eat the flying mushrooms, Chapter 1  Arthur Sankey -#7556
 F   A Fire in the Plain, chapters 3-4  Damien Perrotin -#7557
 F   At Midnight Amongst the Humans     Brandon Butler -#7558
 F   Troll Charges                      Terry D. Wall -#7559
 F   The Price of Heaven                Jamie Kress -#7560
 F   Songblade Chapter 2                Greg Phillips -#7561
 F   The Earth-God's Mother             Nora Jemison -#7562
 F   All Too Real                       Rachel McGonagill -#7563
 SF  In and Out and Black Space Monster Goggles  Perry Board -#7564
 SF  Course Correction                  Bob Blumenfeld -#7565
 H   A Zombie's Taste of Irony          Eric A. Snoddy -#7566
 SF  Monday Night Infantry, Revisited   Dave Whittier -#7567
 SF  Hard Melt                          David DeGraff -#7568
 F   The Xhoderias Device, Chapter 1    Deva Fagan -#7569
 F   A Fish Tale                        Allen Wagner -#7570
 F   Nuts                               J.M. Helfrich -#7571
 H   The Hive                           Jeff Ward -#7572

Week of 12-Feb-2003 (Crits due 19-Feb-2003):
 SF  Lesser Known Gods                  [mpc] Suzan Keys -#7573
 H   The Problem is Mother              [mpc] Ross Young -#7574
 H   Taniwha                            [mpc] Mark Yohalem -#7575
 F   My Mother's Real Name              Eugie Foster -#7576
 SF  Marketing Abots                    Henry Lefevre -#7577
 SF  Stop Writing!                      Harlen Bayha -#7578
 SF  Turing's Throwback                 Andrew Zimmerman Jones -#7579
 F   Without a Spear at the Lion Hunt   William Proctor -#7580
 F   Evean                              Neal Swain -#7581
 SF  Purloined Minds                    Alan Zendell -#7582
 F   Boing the Half-Ogre, Chapter 14    Nathan A. Fisk -#7583
 SF  Safe Anchorage                     Debbie Moorhouse -#7584
 SF  How It All Turned Out              Jonathan Laden -#7585
 H   Fun House                          J. Alan Brown -#7586
 F   The Third Secret                   Kate Orman -#7587
 SF  The Noise                          Robert Reiher -#7588
 SF  Shimmer                            Ben McIlwain -#7589
 SF  Bliss                              Bill Harmon -#7590
 F   The Elemental World - Chap 1-2     Sharon Olsen -#7591
 SF  Lagrange Drop                      Darryl Bordeleau -#7592
 H   The Calling                        Kevin Anderson -#7593
 F   High Trouble                       Nicole Acevedo -#7594
 F   The Ruby Sard, Prologue            Karen Mayer -#7595
 H   The Buried                         Robyn Bellospirito -#7596
 F   Story Hunger                       Ruth Nestvold -#7597
 F   The Woodcutter's Wife              Petra Ericson -#7598
 SF  Gravity Weaver                     Simon Engler -#7599
 SF  A Goddess Shall Rise               Michael Martone -#7600
 F   The Hard Way                       Eric Stone -#7601
 H   Gone                               Jack Falbey -#7602
 SF  An Unfinished Love Story           Francis Covington -#7603
 SF  The Last Voyage of the Cassiopeia: La Quattorze, Chapters 1-3  Stephen Turner -#7604
 SF  What Makes You Different, Chapter 1  Farnaaz Khan -#7605

Week of 19-Feb-2003 (Crits due 26-Feb-2003):
 SF  Tried as an Adult                  [mpc] Eugie Foster -#7606
 F   Fairy Tales and Other Things       [mpc] Mark Yohalem -#7607
 F   A Whiff of Guilt                   [mpc] Lon Prater -#7608
 H   A Favor for Angela                 [mpc] Jeff Gharakhanian -#7609
 SF  Firstborn                          Jeff Cates -#7610
 SF  Two Souls                          Lawrence W. Lanum -#7611
 F   Breaking the Circle                Holly McDowell -#7612
 SF  Thank You for Renewing Your Friendship  George Bell -#7613
 SF  Sacred Space                       Michelle Scott -#7614
 F   Cleft, chapter 1                   Nathalie Rochon -#7615
 H   A Vampire Comes To Call            Leila Eadie -#7616
 SF  On Alien Beaches                   Gary Clinton -#7617
 F   Heaven Above, Overview & Chapters 1-4  Nate Parker -#7618
 H   The Wives                          Anthony Bartley -#7619
 F   Moon                               Heather Pine -#7620
 F   The Eternal Dancer                 Andria Davis -#7621
 F   The Wish                           Orey Crounk -#7622
 H   Engagement Ring                    Candi Schiller -#7623
 SF  Fossils and Fools                  John C. Waugh -#7624
 SF  Marriage Of Inconvenience          Lloyd Smith -#7625
 SF  Learning How To Fly: Chapter 3     Taylor Ellwood -#7626
 F   The Dark Mirror, Book Three, The Bearer Chp 1  Charles T. Whipple -#7627
 H   Oroborus                           Richard 'Otter' Threadgall -#7628
 H   Patricide                          Douglas Ryan -#7629
 SF  Isendeni Station, Ch 1 & 2         Ann Leckie -#7630
 F   Blood Ties                         Margaret Fisk -#7631
 F   Zero Sum Karma                     Jay Swartzfeger -#7632
 F   This is Brooklyn, Not the Yiddish Theater of Warsaw  Elise Susan Teitelbaum -#7633
 F   For the Love of a Witch            Joel Russell -#7634
 SF  Scavenged Parts                    Pat Scaramuzza -#7635
 F   A Lost Night Found                 Greg Alan Berry -#7636

Week of 26-Feb-2003 (Crits due 5-Mar-2003):
 F   The Kassians's Pet                 [mpc] Suzan Keys -#7637
 F   Downpause, revised                 [mpc] Janice Hardy -#7638
 SF  Spooky Action at a Distance        [mpc] Jake Bartolone -#7639
 SF  Harry the Crow                     [mpc] John Kratman -#7640
 SF  Twilight                           Jim Bauer -#7641
 H   A Mackey!                          Norm Gillespie -#7642
 F   Bad Vibrations                     Michael Stone -#7643
 SF  Don't Stare                        LaZealtrice A. Jackson -#7644
 F   Redeeming Cain                     Steven K. Keck -#7645
 H   children of Darkness               MHSlusser -#7646
 F   A Delicate Negotiation             Mark P. Morehead -#7647
 H   To Whom It May Concern:            Adam Gifford -#7648
 F   The Call                           Robert Gotschall -#7649
 F   Death Walking                      Leah Suslovich -#7650
 SF  Baby For Sale -Cheap!              Mari Miller-Lamb -#7651
 SF  Antibiosis (ending)                Robert D. Philbrook -#7652
 H   Chain of events                    Ben Duiverman -#7653
 SF  Chromosome Y, Chapters 1 and 2     Francisco Ruiz -#7654
 SF  Freeland                           Sam Lloyd -#7655
 H   Trick or Treat                     Jason Shayer -#7656
 F   Clandestine's Dark Library         Christian L. Campbell -#7657
 F   Trilby                             Margaret E. Welsh -#7658
 F   Pines (Part II, Ch. 1 of "The Season and the Hour")  Brittany Wilkins -#7659
 SF  Pet                                Laura Simms -#7660
 SF  Call This Beast to Mind            Vince Bonasso -#7661
 F   The Cottage                        Steven Richards -#7662
 H   Endicott Lake                      Brian Kenneth Swain -#7663
 H   One Hell of a Ride                 Kristoper Ludka -#7664
 H   Web                                Jonathan Gray -#7665
 SF  Staring Down the Train             Randy Foster -#7666

Week of 5-Mar-2003 (Crits due 12-Mar-2003):
 F   Bonds of Kinship, Synopsis, Chapters 1 and 2  [mpc] Lisa Grandbois Baker -#7667
 F   In the Presence of Her Enemies, Chapters 1-3  [@] Beth Bernobich -#7668
 SF  Fleeing Geriatrica                 Fred Obermeyer -#7669
 SF  With Dancing in Sweet Ash          Joe Murphy -#7670
 F   Free Roric                         Rich Gubitosi -#7671
 SF  Elders and Betters                 Ian Creasey -#7672
 H   Predator Prey                      Jennifer R. Povey -#7673
 SF  Theater of War                     Peter Huston -#7674
 H   Bite Me                            Mik Bennett -#7675
 SF  QED-01-Escape                      Bernard Gallagher -#7676
 SF  Bennie Marsh                       Rena Hawkins -#7677
 SF  Lady Mae                           Steve Villiers -#7678
 F   Footprints in Blood                Terry D. Wall -#7679
 SF  A Bitter Thaw                      Howard Cooper -#7680
 SF  Second Orbit                       Perry Board -#7681
 SF  A Dancer's Adventure               Wendel Jack Bessant -#7682
 F   Repossession                       David Bofinger -#7683
 SF  The Martian Way                    David DeGraff -#7684
 F   Alone                              Jeroen Nouwens -#7685
 H   12 Steps                           Rich Gans -#7686
 SF  A Wrangler's Life: Snapshot        Derald L. Richards Jr. -#7687
 F   Forever                            Anna. M. Sheehan -#7688
 F   Destiny's Name, Ch 1               Rhonda R. Holden -#7689
 F   Love Child                         David J. Burbank -#7690
 F   A Spell of Unknowing, Chapter 1    Chantal Whittington -#7691
 SF  Woke Up Dead                       Mark S. Smith -#7692
 F   FIREFLIES                          Daniel Arenson -#7693
 H   Predation                          Christopher Perham -#7694
 SF  Checking It Twice                  Mark A. Morenz -#7695
 F   Harry's Home                       Gerald F. Heaney -#7696

Week of 12-Mar-2003 (Crits due 19-Mar-2003):
 F   Prophecy Revealed, Chp. 1-3        [mpc] Janice Hardy -#7697
 SF  History's Pawn                     [mpc] Boris Layupan -#7698
 F   Three Strikes                      [mpc] Charles Stucker -#7699
 F   Eleven Mountains of Xiao Xia       [mpc] David Bartell -#7700
 SF  Banned: Underground Words          [mpc] Niki Kranich -#7701
 F   Circles in the Air                 Mary Catelli -#7702
 SF  After                              Teri Foster Gray -#7703
 SF  TunnelVision                       William Proctor -#7704
 F   Mr. Ned and Dr. Ted                Andrew Zimmerman Jones -#7705
 SF  Sleep Deprivation                  Suzanne Church -#7706
 H   Recursion                          Karonda Barker -#7707
 SF  Journey Unending                   Jeffrey DeLannoy -#7708
 H   Right Round, Like A Record, Baby   Walton Golightly -#7709
 H   At the Tone                        J. Alan Brown -#7710
 F   Dreaming: Part one                 Bill Ouellette -#7711
 SF  The Bane of Man                    Jakob Drud -#7712
 H   Abandon All Hope                   Tony Ford -#7713
 H   Chilled to the Bone                Sharyn Hedrick -#7714
 SF  Virtuality                         John Grgurich -#7715
 F   Dellith's Child                    Nye Marnach -#7716
 SF  Luthia's Song                      Shanna Lewis -#7717
 H   Ohtohway                           Scott Dixon -#7718
 F   The Ruby Sard, Chapter 2           Karen Mayer -#7719
 F   First Offence                      Petra Ericson -#7720
 F   Nothing Rhymes with Orange         J.M. Helfrich -#7721
 F   Gary and the Single Malt Statues   Tal Carawan, Jr. -#7722
 SF  aliens live in cocoanut grove      John Ryan -#7723
 F   The Ticket Out                     Joanie Raisovich -#7724
 H   Our World                          Ralph Marchman -#7725
 F   Lily White                         Robyn Bellospirito -#7726
 F   Crossing Over, Prologue & Chapter 1  Marylyn Tollisen -#7727
 F   The Secret of the Orbs             Todd C. Edwards -#7728
 SF  Failure's Reprieve                 Mori Ryuu -#7729
 SF  Listening For Luck                 eric sean scott -#7730

Week of 19-Mar-2003 (Crits due 26-Mar-2003):
 SF  Take This Job And...               [mpc] Richard Jones -#7731
 SF  Love and Madness in Cancun, Argentina  Lawrence W. Lanum -#7732
 SF  The Price of Conquest              Mik Wilkens -#7733
 SF  The Funders                        Terrie Leigh Relf -#7734
 SF  Rescue                             Steven W. White -#7735
 SF  Geminga the Killing Star           Michael Andre-Driussi -#7736
 SF  The Bubble Bursts                  Jonathan Laden -#7737
 H   Nails                              Jeremy Minton -#7738
 SF  Morality01                         Brandon Butler -#7739
 F   Katana Chapter 1                   Theresa Ann Seeley -#7740
 SF  The Steel Breeds True Chapter 1 and RFDR  Leigh Kimmel -#7741
 H   The Buskers                        Shawn Pollock -#7742
 F   Intuition                          Robert Reiher -#7743
 SF  A Sexual Revolution...Of Sorts     Lloyd Smith -#7744
 H   It's in the Walls                  Candi Schiller -#7745
 F   The view                           Jefferson Hunt -#7746
 SF  The Twisted Breath of God          Cedar L Spitz -#7747
 F   Inside the Gopher Hole             Robert J. Santa -#7748
 H   Melvin's Right Hand                Ralph R. Sabella -#7749
 F   Bus to Jerusalem                   Elise Susan Teitelbaum -#7750
 F   Remembered Fates, Synopsis and Chapters 0-3  Vanessa N. Gilfoy -#7751
 H   Romeo                              Charles Daniel -#7752
 H   Perscipacity                       Jeff Ward -#7753
 SF  Beyond the Sunset                  David Kogan -#7754
 F   Journeyman                         Gregory Palmer -#7755
 F   Harmonic                           Tomas L. Martin -#7756
 SF  The Leg Man                        Aaron A. Reed -#7757
 F   Angel Painter                      Reese A. Olson -#7758
 F   Ohn - The Seeker's Tale            Christos Dimitrakakis -#7759

Week of 26-Mar-2003 (Crits due 2-Apr-2003):
 F   Wicked Witches: The Breakdown      [mpc] Norm Gillespie -#7760
 SF  Justice                            [mpc] Boris Layupan -#7761
 SF  Like the Hand of God               [mpc] Charles Stucker -#7762
 F   A War Forsaken                     [mpc] Lindsay Buroker -#7763
 SF  Interview with the Robot           [mpc] Geoff Hacker -#7764
 F   The Favor, Chapter 1               [mpc] Laurie Marhoefer -#7765
 SF  Innocence is Bliss                 [mpc] Jeroen Nouwens -#7766
 F   Cassandra's Cargo                  David Miles -#7767
 H   Hankering                          Ray Main -#7768
 SF  United We Die                      Julian Todd -#7769
 SF  Intangible Merchandise             Charlie Allery -#7770
 F   Wind and River                     Holly McDowell -#7771
 SF  We Are Not Alone                   Brian Clarke -#7772
 SF  Shining Star, Chapter 1            Stephan Loy -#7773
 H   My Friendly Ghost                  Gill Ainsworth -#7774
 SF  A Friend in Need                   R. P. L. Johnson -#7775
 F   Cleft, chapter 2 "Time With the Dead  Nathalie Rochon -#7776
 F   The Shaman                         Alison Oxley -#7777
 SF  These Things Take Time             Abra Staffin Wiebe -#7778
 H   Forget Me Not                      Anthony Bartley -#7779
 SF  The Best Damn Toast                John C. Waugh -#7780
 SF  Learning How to Fly, Chapter 4     Taylor Ellwood -#7781
 F   The Dark Mirror, Book Three, The Bearer, chp 2  Charles T. Whipple -#7782
 F   Sultan's Legacy                    Margaret Fisk -#7783
 F   Child of Eight, Chapters 1 & 2     Rachel McGonagill -#7784
 F   Blinding The Storm                 Jeff Gharakhanian -#7785
 F   The Blessed Unfortunates           Jay Swartzfeger -#7786
 SF  Chandler Travels Light             David F. Holste -#7787
 H   kilr                               Ken Henry -#7788
 SF  The Herculinator                   Stephen Turner -#7789
 SF  This Humble Clone                  Pat Scaramuzza -#7790
 F   After Saving the Day               Robert Crisp -#7791
 SF  The Shortest Tale                  Scott Ravede -#7792
 F   Myth (Of Visions and Invasions)    Thomas Norris -#7793
 SF  Eve's Cheese                       Chris Jorgensen -#7794
 H   Little Bags of Candy               Charles Kline -#7795

Week of 2-Apr-2003 (Crits due 9-Apr-2003):
 SF  Virtuoso                           [mpc] Jed Daly -#7796
 F   The Chemical Marriage of Sophie    Jim Bauer -#7797
 SF  Lemon                              Michael Stone -#7798
 H   Don Mario Lavariega                Martin H. Slusser -#7799
 F   The Watering Place                 John Tremlett -#7800
 H   Cracks In the Sidewalk             Adam Gifford -#7801
 H   A Bad Situation                    Leila Eadie -#7802
 SF  The Caryatids                      Jake Bartolone -#7803
 SF  The Gravity of the Situation       Scott Hertzog -#7804
 F   Adventures in Fay Activism         Lon Prater -#7805
 F   The case of Bernie Harland         Ben Duiverman -#7806
 H   I know the Day You Die             Christian L. Campbell -#7807
 F   Ahead of Time                      Jerry Bryson -#7808
 SF  Release                            Mark Yohalem -#7809
 F   Heir of Madness                    Jonathan Want -#7810
 F   Horse Sense                        Margaret E. Welsh -#7811
 SF  The Meateaters                     Sue Lange -#7812
 H   Bus Driver                         Kevin Anderson -#7813
 SF  The Morning's Twelve Percent       Vince Bonasso -#7814
 SF  Catching History                   Laura Simms -#7815
 SF  Nanovirus                          Duane Crowley -#7816
 H   Rictus                             Paul Hurley -#7817
 F   Right off Highway 47               Ron Roth -#7818
 H   What do They Know?                 Kristopher Ludka -#7819
 SF  Temple of Hewyah (part 1)          Denise Hitch -#7820
 F   Agent of Cern, prolog and chapter 1  Erol K. Bayburt -#7821
 H   A Man Sans Soul                    Matt Mitchell -#7822
 F   You voted for ME?!                 Jonathan Hudson -#7823
 H   Single Occupant                    Tom Hiley -#7824
 SF  Staring Down the Train             Randy Foster -#7825

Week of 9-Apr-2003 (Crits due 16-Apr-2003):
 SF  Lost Faith                         [mpc] Janice Hardy -#7826
 SF  Shining Star, Chapter 2            [mpc] Stephan Loy -#7827
 F   The Tunnel                         [mpc] R.P.L. Johnson -#7828
 F   Dragonslayer                       [mpc] Robert J. Santa -#7829
 H   Ahead of the Game                  Fred Obermeyer -#7830
 H   Black Magic                        Jennifer R. Povey -#7831
 F   Infestation                        Ian Creasey -#7832
 SF  past lives                         Sally van Rooden -#7833
 H   Would God Allow a Thing LIke That?  Peter Morgan -#7834
 SF  Breakthrough                       Mik Bennett -#7835
 SF  Heritage                           Peter Huston -#7836
 F   Therosa, Chapter 1                 Tammi Hyde -#7837
 F   Boing the Half-Ogre, Chapter 15    Nathan A. Fisk -#7838
 SF  Traveler Technical Reference 2.0   Bernard Gallagher -#7839
 H   Betsy                              J. Alan Brown -#7840
 F   Shalott's Inn                      Leah Suslovich -#7841
 SF  Harry the Crow                     John Kratman -#7842
 SF  The Seventh Course                 Howard Cooper -#7843
 SF  The Game - CHAPTER 1               Jason Myers -#7844
 F   Battlescars of the Matriarchy, Chapters 1-5  Tam Thompson -#7845
 F   Champion of the Dead, Chapter 1    Andrea Hosth -#7846
 SF  A Deuterium Debacle                Ben McIlwain -#7847
 F   Flight: A Physicist's Fable        Brittany Wilkins -#7848
 F   The Story Engine                   David J. Burbank -#7849
 H   Time for the Fishman               Blake Newton -#7850
 H   The Length of the Fuse             Viscan Rente -#7851
 F   How Hell Froze Over and Became the North Pole  Stephanie Reisner -#7852
 SF  The Diamond Wormhole               Margo Berendsen -#7853

Week of 16-Apr-2003 (Crits due 23-Apr-2003):
 F   The Tiger Fortune Princess         [mpc] Eugie Foster -#7854
 F   First Sight of Terna               [mpc] Jed Daly -#7855
 SF  Lyman's Sacrifice                  [mpc] Jake Bartolone -#7856
 F   Evil Abides                        [mpc] Jeroen Nouwens -#7857
 SF  Flying A Round                     [mpc] Patrick Joseph Mc Namara -#7858
 F   Madeleine and the Mists, Chapter 1 and 2  Mary Catelli -#7859
 SF  The Cleaning Lady                  Teri Foster Gray -#7860
 SF  Excerpts from the Encyclopedia of Urban Legends, Year 2080 edition  William Proctor -#7861
 H   The Box                            Jan Clark -#7862
 SF  Homecoming                         Corey Brown -#7863
 H   Five Days                          Karonda Barker -#7864
 SF  Breath of Life                     Godefroi de Lannoy -#7865
 SF  The Induna, The Boy & The Creature In The Cave  Walton Golightly -#7866
 H   Dutch Beast                        Myles Gillies -#7867
 F   Dreaming Part 2                    Bill Ouellette -#7868
 F   hettor                             John Ryan -#7869
 F   The Battle of Dawningweald         Robert Reiher -#7870
 SF  Liam, Chapter 0                    Jakob Drud -#7871
 F   The Prince and the Crows           Petra Ericson -#7872
 F   Heron                              Debbie Seward -#7873
 F   Ember                              Anna M. Sheehan -#7874
 SF  Realms of Discovery                Lilian Gilmour -#7875
 H   Until the Breaking of the Day      Daniel Arenson -#7876
 F   Maven" Ch. 1-5                     Charlotte Babb -#7877
 F   Immortal Boundaries, Prologue      Aubrey Jones -#7878
 F   Betrayal                           Jane Hung -#7879
 H   A Train Without Rails              Rodger Davidson -#7880
 SF  Jennifer.pro                       Jamie Kern -#7881
 SF  One Tin Soldier                    Robert L. Slater -#7882
 SF  The Greatest Show Is Earth         Stephen M. DePaoli -#7883
 SF  Her World Exploded                 [@] David L. Burkhead -#7884

Week of 23-Apr-2003 (Crits due 30-Apr-2003):
 SF  Shining Star, Chapter 3            [mpc] Stephan Loy -#7885
 F   Dune Sea                           [mpc] Alison Oxley -#7886
 F   The Fairy Queen                    [mpc] Charles Crapo -#7887
 H   Nocturne for Doghands              [@] Joe Murphy -#7888
 SF  Esora (part 1 of 2)                Mik Wilkens -#7889
 F   Charlemagne's Other Daughter, chapter 1  Marj Watkins -#7890
 SF  Compassion's Child                 Bob Sands -#7891
 F   Untitled / Van Fontenot            Benjamin Tedoff -#7892
 H   The Scavengers                     Anthony Bartley -#7893
 SF  Viking Victorious                  David DeGraff -#7894
 SF  The Children of Stone, Chapter 1   LeAnn Robinson -#7895
 SF  Mindflow                           Cedar L. Spitz -#7896
 F   The Man in a Gold Sequined Jumpsuit  Elise Susan Teitelbaum -#7897
 SF  Disconnected                       Petter Hesselberg -#7898
 SF  We All Come From Somewhere         Scott Fazekas -#7899
 F   New tales of the DragonLance, Chapters 0 - 2  Chad Hastings -#7900
 F   The Day I Became Mexican           Barry Wheeler -#7901
 SF  Leander the Meek                   David Kogan -#7902
 H   Salvation in Vengeance             Charles Daniel -#7903
 F   The Tree Where Lost Dreams Die     Jay Swartzfeger -#7904
 SF  Groupthink                         J.M. Helfrich -#7905
 SF  Z-shift days!                      Russell Miles -#7906
 SF  A Tear in Time, Chapters 1 - 3     Peter Nikelski -#7907
 H   Going To China                     Ken Henry -#7908
 F   Java Princess                      Suzanne Ross -#7909
 F   Lore, Chapter 1                    Kathy M. Guttosch -#7910
 F   Blood of the Red, Chapters 1,2 & 3  Mark Williams -#7911
 H   Bahamut                            Lapo Melzi -#7912
 F   The Neena Chronicles               Teresa Douglas -#7913
 SF  One of Those Days                  Russel D McLean -#7914

Week of 30-Apr-2003 (Crits due 7-May-2003):
 SF  The Demon                          [mpc] Ed Churnside -#7915
 SF  STL: Planetary Romance on St. Mendel  [mpc] Michael Andre-Driussi -#7916
 H   Falling RFDR                       [mpc] Stephen Minchin -#7917
 F   Shadow Breathing, Chapter 0        [mpc] Clint Johnson -#7918
 F   A Parade of Taylups                Eugie Foster -#7919
 SF  Poetry Power                       Hank Quense -#7920
 SF  Alien Advocate, Synopsis and Chapter 1  Ray E. Main -#7921
 SF  The Sky Gun                        Julian Todd -#7922
 F   Wind and River Ch. 5               Holly McDowell -#7923
 F   Jade Fire                          Jen Highkin -#7924
 SF  Shrink!                            Scott Hertzog -#7925
 F   Earthshaker                        John Tremlett -#7926
 F   Cleft, ch 4 "Imprimere Sinister    Nathalie Rochon -#7927
 H   Phone Call                         Adam Gifford -#7928
 H   The New Breed                      Nye Marnach -#7929
 SF  The Shed                           Terence Martin -#7930
 SF  Rage                               John C. Waugh -#7931
 SF  Monsters in the Alley              Christian L. Campbell -#7932
 F   POI: The Case of the Exercise Demon  Taylor Ellwood -#7933
 F   Desert Rose                        Rose Hodge -#7934
 H   The Great Divide Part 1            Ben Duiverman -#7935
 SF  Out of the Mouth of Babes          Margaret Fisk -#7936
 F   The Dark Mirror, Book Three, The Bearer, chp 3  Charles T. Whipple -#7937
 F   Elvish as a Second Language        Margaret E. Welsh -#7938
 SF  The Shortest Tale continued        Scott Ravede -#7939
 H   Ink Spot                           Kevin Anderson -#7940
 SF  Dark Matter                        Duane Crowley -#7941
 F   The Summoner, Prologue and Chapter 1  John Weatherwax -#7942
 F   Green Pieces                       Xiang Yuen -#7943
 F   The Old Ways                       Robert Crisp -#7944
 SF  We Interrupt This Broadcast        Matt Mitchell -#7945
 SF  Could you kill yourself...         Simon Woodhouse -#7946
 H   The Moor                           Nick Speight -#7947
 H   Eenee Meenee Minee Mo              C. D. Roberts -#7948

Week of 7-May-2003 (Crits due 14-May-2003):
 F   Troll Bridge                       [mpc] Ed Churnside -#7949
 SF  Murdering Tranquility              [mpc] Scott Hertzog -#7950
 F   Man's Best Friend                  [mpc] Jeroen Nouwens -#7951
 SF  Misunderstanding                   Carl Frederick -#7952
 SF  Knife Wounds Heal Slowly           Anne Kaelber -#7953
 F   Egyptology                         Mik Bennett -#7954
 H   The guardian                       Martin H. Slusser -#7955
 H   A Voice from the Night             Peter Huston -#7956
 F   Journey, Chapter 1                 Sally van Rooden -#7957
 F   And Deeper Still                   Troy Brown -#7958
 SF  Maternal Instincts                 Jim Stokes -#7959
 H   Special Order                      J. Alan Brown -#7960
 F   A Jury of Peers                    Robert J. Santa -#7961
 F   Adderand                           Rick Dearman -#7962
 SF  Farewell, Bliss                    Marjorie Danser -#7963
 F   The Sacred Tryst                   Brittany Wilkins -#7964
 F   The Curse, Ch 1                    Speck Ribble -#7965
 H   The Giant Birdfeeder               Blake Newton -#7966
 H   Lewy                               Viscan Rente -#7967
 F   A Way with Mirrors: Chapter 1      Sarah Barton -#7968
 F   La Senora del Oro                  Ron Roth -#7969
 F   The Crescent Sun, Chapter 1        Robert Kerr -#7970
 SF  Made for Each Other                Chuck Mirho -#7971
 F   Fire                               Charles Leighton -#7972
 SF  Ensign Longshanks                  Julian Treadwell -#7973
 SF  Ghost                              Cheryl McCreary -#7974
 H   The Gravedigger's Tale             Marty Kay -#7975
 H   Writer's Block                     James Todd -#7976
 SF  Spooks, Chapter 1                  Tim Morgan -#7977

Week of 14-May-2003 (Crits due 21-May-2003):
 SF  And if I die before I wake...      [mpc] [mpc] Ed Churnside -#7978
 F   The Prince and The Dragon          [mpc] Jed Daly -#7979
 F   Old Flames in New Bottles          [mpc] Michael Andre-Driussi -#7980
 SF  Reunion                            [mpc] Bob Sands -#7981
 SF  The Children of Stone, Chapter 1   [mpc] LeAnn Robinson -#7982
 SF  The Man Who Ran Prejudice          Fred Obermeyer -#7983
 SF  Community Redevelopment            William J. Proctor -#7984
 SF  Party Politics                     Ian Creasey -#7985
 F   Aphrodite's Daughter               Virginia Lore -#7986
 F   A Gateway to the Sun, Chapter 1    Peter Morgan -#7987
 SF  Displacement                       R.P.L. Johnson -#7988
 F   Clob                               Michael Stone -#7989
 F   Cry of Justice, Part 1 (submission packet)  Jason Pratt -#7990
 F   The Old Man                        John Ryan -#7991
 F   Lovers Sleeping                    Petra Ericson -#7992
 H   Mother's Day                       Christopher M. Knox -#7993
 H   Dutch Courage                      Myles Gillies -#7994
 H   Detour                             Paul Sheringham -#7995
 F   The Ice Augur                      Benjamin Buchholz -#7996
 F   Falisha's story                    Lisa Moss -#7997
 SF  Beneath the Surface                Jeff Gharakhanian -#7998
 SF  Gathering                          Laura Simms -#7999
 F   The Naming of Eye                  Anna M. Sheehan -#8000
 H   Into the Fire                      Daniel Arenson -#8001
 H   The Man Who Collected Tsantsas     Charles M. Kline II -#8002
 F   And Faith Will Set You Free        Thompson Parker -#8003
 F   The Valley of the Unicorns         Margo Berendsen -#8004
 SF  Interesting Times                  Temple Cave -#8005
 SF  Little Blue                        Brendan Day -#8006
 F   The Alchemy of Memory, Chapter 0   Melanie Logue -#8007
 SF  Passing the Buck                   Joelle Augustine -#8008
 SF  The Weeping Willow                 Grant Morris -#8009

Week of 21-May-2003 (Crits due 28-May-2003):
 H   Pentacle                           [mpc] Ed Churnside -#8010
 SF  The Word As A Weapon of Mass Destruction  [mpc] Stephan Loy -#8011
 SF  Nothing Important                  [mpc] Scott Hertzog -#8012
 SF  NAFAL: Pinocchio and Odysseus in Space  [mpc] Michael Andre-Driussi -#8013
 F   Cry of Justice, Part 2             [mpc] Jason Pratt -#8014
 SF  The Last Paradise                  [mpc] Bob Sands -#8015
 SF  The Society of Experimental Fiction  [mpc] Benjamin Buchholz -#8016
 H   Visions of Fear                    [mpc] Zach Southwell -#8017
 SF  A Spawn of Recollections           [@] Joe Murphy -#8018
 SF  Esora (part 2 of 2)                Mik Wilkens -#8019
 SF  Evolution                          Martha Bland -#8020
 F   Thread Spinner (Title Subject to Change)  Nichole Williams -#8021
 F   Charlemagne's Other Daughter, chapters 2 and 3  Marj Watkins -#8022
 F   The True Nature of Fire            Michelle Scott -#8023
 H   Saving the Trees                   Leila Eadie -#8024
 H   Wine of the Serpent                Anthony Bartley -#8025
 F   Dreamship                          Patrick Joseph Mc Namara -#8026
 H   While you are asleep               Jill H. De Schrijver -#8027
 SF  Little Lost Bird                   Cedar L. Spitz -#8028
 F   Lurk                               Scott Fazekas -#8029
 SF  Something in My Blood              Bob Blumenfeld -#8030
 SF  Un-reality                         Russell Miles -#8031
 SF  Frona                              Cecil Washington -#8032
 SF  A Memory of Roses                  Lilian Gilmoour -#8033
 SF  Lag Time of Intergalactic Guilt    David Kogan -#8034
 SF  Adrian                             Gary Durbin -#8035
 H   Blood, Sweat & Hairs               Robert D How -#8036
 F   The Creator Had A Master Disc      Jay Swartzfeger -#8037
 F   Lore, Chapter 2                    Kathy M. Guttosch -#8038
 H   The Collectors of Images           David Allkins -#8039
 H   Clowns                             Ken Henry -#8040
 F   Meaningful Questions               Jennifer Arnott -#8041
 SF  Jonathan Rayne                     Nate Gillick -#8042
 F   The Sun Dog                        Kevin Korell -#8043
 F   The Quiet Calling                  R V Saunders -#8044
 H   And On the Seventh Day             Ben Roth -#8045

Week of 28-May-2003 (Crits due 4-Jun-2003):
 H   True Talent                        [mpc] Clint Johnson -#8046
 SF  Disarm!                            [mpc] Howard Cooper -#8047
 F   Fortune Favors the Unlucky         Eugie Foster -#8048
 H   In the Evil Way of Warlocks Ch. 1  Norm Gillespie -#8049
 SF  White Feather (Ch 1)               Teresa Thorne -#8050
 SF  DRAGON DRONE                       John Tremlett -#8051
 H   The Red Sneaker                    Sharyn Hedrick -#8052
 H   One Drunk Night                    Adam Gifford -#8053
 F   Cleft, chapter 5 (with short synopsis)  Nathalie Rochon -#8054
 SF  Control from Below                 Brandon Butler -#8055
 H   Blood, Skin and Bone               Mari Miller-Lamb -#8056
 SF  Cooper's God                       John C. Waugh -#8057
 F   Queen of Angels                    Rose Hodge -#8058
 SF  What You See                       Margaret Fisk -#8059
 F   The Dark Mirror, Book Three, The Bearer Chp 4  Charles T. Whipple -#8060
 SF  A Space Operetta                   Ben Duiverman -#8061
 SF  The Shortest Tale Complete         Scott Ravede -#8062
 SF  Safe as Sandwiches                 Marc Cram -#8063
 F   Budgerigar                         Rachel Diem -#8064
 F   Colours                            Xiang Yuen -#8065
 SF  Soul Singer                        Angella Lofthouse -#8066
 F   The Search for Oscar's Queen       Bonnie Hamlett -#8067
 F   A Scent of Rain                    Matt Mitchell -#8068
 H   1906 - The Haunting                Irene Schaft -#8069
 H   Spare Parts                        Jefrae Lindvig -#8070
 SF  Giant Sloth                        Jeff Peery -#8071
 F   Keeper                             Robert L. Slater -#8072
 SF  Dead Man Talking                   Russel D McLean -#8073
 H   Blood and Stuffing                 Larry Oliver Keyser -#8074
 F   Zoey Saves, Chapter 1: "Five Dreams  Deke Parsons -#8075
 SF  Judgment Day                       Dan Mason -#8076
 F   Exotic Beauty                      Justine Newell -#8077

Week of 4-Jun-2003 (Crits due 11-Jun-2003):
 F   Love Triangle                      [mpc] Ed Churnside -#8078
 F   Song of Terna: Feeding the Flame   [mpc] Jed Daly -#8079
 SF  A Sense of Adventure               [mpc] Scott Hertzog [?] -#8080
 F   Delusion or Reality?               [mpc] Jeroen Nouwens -#8081
 F   A Letter From the Past             Jim Cue -#8082
 SF  Mudslide                           John Lars Shoberg -#8083
 SF  Prayer for a Dead Paramecium       Carl Frederick -#8084
 F   Help Wanted                        Mik Bennett -#8085
 F   Journey - Chapter 1                Sally van Rooden -#8086
 F   Trapped by Dreams                  Lindsay Buroker -#8087
 SF  In the Sweet Pie and Pie           Ross Young -#8088
 SF  Taxing Situations                  Jim Stokes -#8089
 SF  Supply and Demand                  Rena Hawkins -#8090
 H   The Paper Boy                      J. Alan Brown -#8091
 F   The Devil and John Bartlett        Robert J. Santa -#8092
 SF  A Brief History of Two Species     Frej Wasastjerna -#8093
 SF  OZELOTL                            John Kratman -#8094
 SF  Learning How to Fly Chapter Five   Taylor Ellwood -#8095
 F   The Ornithologist's Tale (formerly Flight)  Brittany Wilkins -#8096
 SF  Antitheon RFDR, Prologue, Ch. 1-3  Richard Threadgall -#8097
 SF  The Test                           Cheryl McCreary -#8098
 F   Behind The Mirror                  Jodi Ralston -#8099
 SF  Angel's Abduction-Chapter 1        Nicole Givens Kurtz -#8100
 F   Confession                         Mark A. Morenz -#8101
 H   Ferment                            Viscan Rente -#8102
 SF  A Tear in Time: Revelation         Peter Nikelski -#8103
 SF  Civil Wars                         Jean Adair -#8104
 F   The Fall, Chapter 0                Greg Katila -#8105
 SF  Alpha Realm                        Chandler York Shelton -#8106

Week of 11-Jun-2003 (Crits due 18-Jun-2003):
 F   The Storyteller's Wife             [mpc] Eugie Foster -#8107
 H   A Hard Bargain                     [mpc] Ed Churnside -#8108
 F   Droknir's Song                     [mpc] Ian McHugh -#8109
 F   Deathless in Manhattan             Hank Quense -#8110
 SF  Andy Morlock's Dead, Part 1        Jim Bauer and Timothy Leary -#8111
 SF  Have It Your Way                   Ray E. Main -#8112
 F   The Ones that Left, and the Ones that Stayed Behind  Kirsten Lincoln -#8113
 SF  Obituary for a Living Man          Corey Brown -#8114
 F   aliens living in cocoa nut grove   John Ryan -#8115
 SF  Titan's Teashop                    Steven Pirie -#8116
 F   Tulpa                              Chelley Parks -#8117
 SF  Marmotman                          Benjamin Tedoff -#8118
 H   Gridlock                           Kevin Anderson -#8119
 SF  The Graft                          Francisco Ruiz -#8120
 F   The Deep End                       Paul Sheringham -#8121
 SF  Correction                         thom gabaldon -#8122
 H   The Man With No Fingers            David J. Burbank -#8123
 F   Ascension                          Michael E. Wever -#8124
 F   Dragon's Eve                       Robert Crisp -#8125
 F   Pumpkins                           Charles Leighton -#8126
 H   Active Imagination                 Virginia E. Zimmer -#8127
 H   A Life Less Precious               Conrad J. Clark -#8128
 H   Rock on the Right                  Charles Knoll -#8129
 SF  The Long Tongue                    Matthew Candelaria -#8130
 SF  The Prospector Who Found More Than Gold  Alex Holden -#8131
 F   The Outer Galaxy Gig               Richard Fisher -#8132
 F   Strays                             Dee Kulacz -#8133
 SF  Homeland                           Stephanie Burgis -#8134
 F   The Prisoner                       Aaron Drown -#8135

Week of 18-Jun-2003 (Crits due [*] 9-Jul-2003):
 SF  The Brothels of Latallia           [mpc] Norm Gillespie -#8136
 F   Pretty Poison                      [mpc] Ed Churnside -#8137
 SF  Shining Star, Chapter 4            [mpc] Stephan Loy -#8138
 F   Smugglers                          [mpc] Michael "The Roach" Janszen -#8139
 SF  The Last Robot                     [mpc] Howard Cooper -#8140
 F   The Spirit Husband                 [mpc] Erin A. Tidwell -#8141
 F   Two Tales from the Panchatantra    Eugie Foster -#8142
 SF  The Generation Glut                Fred Obermeyer -#8143
 SF  Of Mites, Mandelbrots, and Mustangs  Joe Murphy -#8144
 SF  Children of the Om-Mar, Chapters 1-2  Mik Wilkens -#8145
 SF  Run Canyon Run                     Julian Todd -#8146
 SF  King of the Kuiper                 William J. Proctor -#8147
 H   Charlemagne's Other Daughter, chapters 4&5  Marj Watkins -#8148
 F   The Fishwife                       Ian Creasey -#8149
 F   Cry of Justice, Part 3             Jason Pratt -#8150
 F   The Dreams of Mice and Vaughn      Michael Andre-Driussi -#8151
 F   A Cup Of Coffee                    Nichole Williams -#8152
 SF  Vistors from Afar                  Peter Huston -#8153
 F   Jeri'ik (working title only)       Sherry Thompson -#8154
 H   Sacred Skin                        Michael Stone -#8155
 SF  Death Ghost                        Bob Sands -#8156
 F   It was a Dark and Stormy Knight    Charles Stucker -#8157
 H   The Pusher                         Leila Eadie -#8158
 H   Evok                               Ricky Robbins -#8159
 F   Daina's Dance                      Lori Phillips -#8160
 F   Demon Slayer: Suffer the Children  William Wilcox -#8161
 SF  Behemoth                           Anthony Bartley -#8162
 H   Reflections                        Brandi Cruickshank -#8163
 F   The Monster and the Witch          David Bofinger -#8164
 F   Noiry                              Cecil Washington -#8165
 F   Battlescars, Chapters 1 & 2        Tam Thompson -#8166
 F   My Curse To You                    Debbie Seward -#8167
 SF  Midcourse Correction               Gary Durbin -#8168
 SF  Petrakov's Paradox                 Russell Miles -#8169
 SF  The Chase                          Jason A. Myers -#8170
 SF  Blue Shift                         Benjamin Buchholz -#8171
 SF  The Spanning Vine                  David Kogan -#8172
 H   The Desert Smile                   Charles Daniel -#8173
 F   Graffiti Heart                     Jay Swartzfeger -#8174
 H   Wisteria                           Kathy M. Guttosch -#8176
 SF  Other People, chapter 1 + synopsis  Jan Wikstrom -#8177
 H   The Ragged Offerings.              David Allkins -#8178
 H   Blood Ties                         Kimberly Robinson -#8179
 F   Cully's Daughter                   Joelle Augustine -#8180
 F   The Alchemy of Memory, Chapter 1   Mel Logue -#8181
 SF  Detective Boudreaux                Sean Lovett -#8182
 SF  To Love Again                      Lorraine Zaleski -#8183
 H   The Gonzalez House Murders         Grant Morris -#8184
 F   Hero For a Day or Two              David Strugar -#8185
 SF  RED FLAG                           Robert R. Shelsky -#8186
 F   Faerie Ring                        Kevin Ranville -#8187
 SF  The Last Mithrint                  Stuart Dunstan -#8188
 SF  Last Stop                          William Evenson -#8189
 SF  A Dream Woven with Blood Part 1 of 2  Chelsea Mashburn -#8190
 F   Raven's Rose                       Monissa Whiteley -#8191
 F   Turtle-keeper Prince Toshkan, Chapter 1  Jennifer O'Keefe -#8192
 F   Portals of Darkness - chapter one  Jim Giammatteo -#8193
 F   Water Ways, Iron Roads             Patrick Samphire -#8194
 H   The Courier                        M. Edward Thoza -#8195

Week of 9-Jul-2003 (Crits due 16-Jul-2003):
 F   The Lord Protector of Terna        [mpc] Jed Daly -#8196
 SF  Everyone Forgives. No one Forgets.  [mpc] Brandon Butler [?] -#8197
 H   Sacrifices                         [mpc] Gill Ainsworth -#8198
 F   Sore Loser                         [mpc] Lloyd Smith -#8199
 SF  Training Fangs                     Carl Frederick -#8200
 F   Spirit                             Holly McDowell -#8201
 SF  Single-Bit Error                   Ken Liu -#8202
 SF  Murdering Art                      Scott Hertzog -#8203
 F   An End to Tyranny                  Robert J. Santa -#8204
 F   And They Shall Love or Die         Brandon Butler -#8205
 H   To Whome It May Concern:           Adam Gifford -#8206
 F   Cleft, Chapters 6-7 + short synopsis  Nathalie Rochon -#8207
 SF  In the Beginning, Synopsis         Walker Bennett -#8208
 F   Hero's End                         Petra Ericson -#8209
 F   Muddy Potions                      Heather Pine -#8210
 SF  Bombing                            Margaret Fisk -#8211
 H   The Ranch                          Jason Shayer -#8212
 SF  Zen Force Warriors: The Battle for Planet Muroska  Dionne Washington -#8213
 H   The Other Side                     Andrew Nicolle -#8214
 H   Seed                               Robert D How -#8215
 SF  The Dealt Hand                     Cheryl McCreary -#8216
 SF  Holy War: A SciFi Parable          Nate Parker -#8217
 SF  The Flying Man                     Simon Woodhouse -#8218
 SF  Repossession                       Xiang Yuen -#8219
 H   Paradise                           Jefrae Lindvig -#8220
 SF  Eden                               Kathryn MacDuff -#8221
 SF  By the moon's own light            R V Saunders -#8222
 F   Magic on the Moon                  Larry Oliver Keyser -#8223
 F   Rapture of the Deep                Elisabeth Wilhelm -#8224

Week of 16-Jul-2003 (Crits due 23-Jul-2003):
 SF  My Dinner with Azrak               [mpc] Ed Churnside -#8225
 SF  Lost Faith, revised                [mpc] Janice Hardy -#8226
 SF  Prey                               [mpc] Jeroen Nouwens -#8227
 SF  The Proteus Decision               [mpc] Chris Deards -#8228
 SF  Superunity                         [mpc] R. P. L. Johnson -#8229
 SF  The Ideal Husband                  [mpc] Erik Peterson -#8230
 F   The Swordmaster's Daughter         Jeff Cates -#8231
 F   The Uktena, A Tale of the Snake Clan  Anne M. Stickel -#8232
 SF  Andy Morlock's Dead Part 2         Jim Bauer and Timothy Leary -#8233
 F   Paradigm Shift                     Mik Bennett -#8234
 SF  Ithaca's Window                    Rich Churcher -#8235
 SF  Eternity                           Karen M. Roberts -#8236
 F   Across the bridge                  Sally van Rooden -#8237
 H   Death's Janitor                    J. Alan Brown -#8238
 SF  Learning how to Fly: Chapter Six   Taylor Ellwood -#8239
 SF  Twice and a Half My Home           Christian L. Campbell -#8240
 F   Delacourt Watch                    Margaret E. Welsh -#8241
 F   The Season and the Hour, Prologue  Brittany Wilkins -#8242
 SF  Pig-Boys                           Richard Threadgall -#8243
 SF  Cage Roots                         Darryl Bordeleau -#8244
 F   Callisto                           Vince Bonasso -#8245
 F   Hail As Big As a Baby's Head       Irene Schaft -#8246
 F   Lucid Dreamscape                   Jason Compton -#8247
 SF  The Scream of the Butterfly, Chapter 0  Michele Korri -#8248
 SF  Monkey Trap                        Denning Powell -#8249
 F   Zoey Lee Saves Everything, C2      Deke Parsons -#8250
 F   To Stand Unmoving                  Richard Starfield -#8251
 F   The Ruby Sard, Prologue + Chapter 1  Karen Mayer -#8252
 H   The Devil's Supper                 Keifer Michaels -#8253
 SF  The Kommisar                       George O'Gorman -#8254
 SF  Everyone an Individual             Joel Willans -#8255
 SF  Epsilon Contract                   Luke Lockhart -#8256
 SF  Our Last Visit to the Liberty Bell  Luc Reid -#8257
 H   Critters                           J.C. Sheppard -#8258

Week of 23-Jul-2003 (Crits due 30-Jul-2003):
 F   Tree of Life                       [mpc] Suzi Keys -#8259
 F   All That Glitters                  Ray E. Main -#8260
 F   The Claws of Undeath               Kathy Sedia and Arthur Sankey -#8261
 F   Jade Fire                          Jen Highkin -#8262
 SF  The Mouse That Ate Civilization    Steve Poling -#8263
 SF  Medicine Man                       Diana D. Woods -#8264
 SF  The Jolly Roger                    Corey Brown -#8265
 SF  Troopers O' Th' Fog, Chapters 1-5  William L. Sill -#8266
 SF  Eden's Child                       Ian McHugh -#8267
 F   Wizards of Kea, Chapter 1          Jennifer Grant -#8268
 H   Midnight Snack                     Petter Hesselberg -#8269
 F   Carterville                        Megan Novak -#8270
 SF  Trial                              Kevin Anderson -#8271
 SF  The Girl, the Skree and the Computer that Wouldn't  Barry Wheeler -#8272
 F   The Chastity Chain of Lucinda Melagoza  Joel Russell -#8273
 H   The Gloomies                       Virginia E. Zimmer -#8274
 SF  Music of the Spheres               David Stephenson -#8275
 SF  A few good (expendable) men        Richard Fisher -#8276
 H   The Interview                      Charles Knoll -#8277
 SF  10100 ( the 100 is supposed to be superscript)  Matthew Hill -#8278
 SF  A Gift                             Chandler York Shelton -#8279
 SF  Kingbreaker                        Kris Schnee -#8280
 H   The Interrogationist, Chapter 1    Thomas McKenna -#8281
 H   Empathy                            Jill Knowles -#8282
 SF  A Matter of Perspective            Liam Rands -#8283
 F   The Chronicles of Athe: Book I Rising Fates Chapters 1-4  Vincent N. Falci -#8284
 SF  Reality Entertainment              Darcie DeAngelo -#8285

Week of 30-Jul-2003 (Crits due 6-Aug-2003):
 F   The Election in Bulark             [mpc] Jed Daly -#8286
 SF  The Fire Of Thine Eyes             [mpc] Jeroen Nouwens -#8287
 SF  The Last Days of Fai Ren           [mpc] Chris Deards -#8288
 F   Bookworm                           [mpc] Mike Collins -#8289
 SF  Staying Well                       [mpc] Matt Stevenson -#8290
 SF  c.Regis Gets the Ball Turret Gunner  [mpc] Benjamin Buchholz -#8291
 F   With Friends Like You              [mpc] Cole M. Kovac -#8292
 H   The Barn                           [mpc] Ryan C. Finley -#8293
 F   The Stake Out                      Doc Finch -#8294
 F   Lady In Waiting                    Mary Catelli -#8295
 SF  Duel at Dawn                       Eyal Teler -#8296
 F   Immortality Woes                   Sandra Kayser -#8297
 F   THE DOUBLE RIVER SLASH             Martin H. Slusser -#8298
 F   Equilibrium                        Suzanne Church -#8299
 F   Prologue, Loracles Bane: Safyre    Chelley Parks -#8300
 H   A Father's Heart                   Anthony Bartley -#8301
 F   Ozelotl                            John Kratman -#8302
 F   Seventh Apprentice                 Peter Spaeth -#8303
 F   An Antidote to Fire, Chapter 1     Erol K. Bayburt -#8304
 F   Prince Agathon and The Scepter of Light  Debbie Seward -#8305
 SF  The Doppel Family                  Cecil Washington -#8306
 H   What We Gotta Do                   John Barefield -#8307
 SF  The Bone Flute Maker               Carol La Valley -#8308
 SF  Stranded with Spears and Stones, synopsis, forward, ch1-2  Jason Lee Poultney -#8309
 SF  Shroud, Prologue, Chapter 1 (RFDR)  Brett Anningson -#8310
 F   The Guardians of Rage              Thomas M. MacKay -#8311
 SF  Papabear                           Stephen Everett -#8312
 SF  The Repairmen: or The Card Sharks from Creighton, Depending Upon the Time of Day.  Christopher Wener -#8313
 F   Brothers                           Thomas G. Bates -#8314
 F   Tolk                               Bill van Oosten -#8315
 SF  Pawn                               Tomas L. Martin -#8316

Week of 6-Aug-2003 (Crits due 13-Aug-2003):
 F   The Shining, Undying, Swift-horsed Sun  [mpc] Jim Bauer -#8317
 F   The Vision Project                 [mpc] Brandon Butler -#8318
 SF  Catching the Red Queen             [mpc] Mike Collins -#8319
 F   A Box of Spoons                    Eugie Foster -#8320
 SF  Uncle Sidney's Tailor Shop         Hank Quense -#8321
 SF  How I Lost Eleven Stone And Found Love  Ian Creasey -#8322
 SF  The Smokedancer's Tale             Fred Obermeyer -#8323
 SF  The Rail Gun Bar and Grill         William Proctor -#8324
 F   Cry of Justice Part 4 (end of "Downslope")  Jason Pratt -#8325
 F   Old Flames in New Bottles          Michael Andre-Driussi -#8326
 F   Charlemagne's Other Daughter ch 9 & synopsis  Marj Watkins -#8327
 H   A Man's Food, A Man's Fate         Peter Huston -#8328
 F   Jeri'ik (working title for novel) Chapter 3  Sherry Thompson -#8329
 H   Soapocryphal                       Michael Stone -#8330
 SF  Silent Partner                     Gary Clinton -#8331
 SF  Post Mortem                        Jason "Slacker" Lacker -#8332
 SF  Chrishouse                         Alaya Johnson -#8333
 SF  The Cyber Dead                     Jean Adair -#8334
 H   Re-Writing the End                 Michael Marshall -#8335
 H   Ghost-Child                        Russell Miles -#8336
 F   books                              Charles Leighton -#8337
 F   Brierly's Lilies                   Angella Lofthouse -#8338
 SF  Source Variation                   Viscan Rente -#8339
 F   The Search for Oscar's Queen (Substantial Revision)  Bonnie Hamlett -#8340
 F   Chains                             Walter Wiese -#8341
 F   Morlind, Chapters 1-3              Kevin Ranville -#8342
 F   Trees of Bone                      Daliso Chaponda -#8343
 SF  Kingbreaker                        Kris Schnee -#8344
 F   Judgment                           Jim Giammatteo -#8345
 H   Angela, the girl, and the thing in the box  Dylan J Morgan -#8346
 H   Spirits in the Pines               Alex Jackson -#8347
 H   The Martyrdom of Elias             Eric Marin -#8348
 F   Beynd the Wall of Sleep            Robert L. Slater -#8349

Week of 13-Aug-2003 (Crits due 20-Aug-2003):
 F   Hair of Venus                      [mpc] Suzi Keys -#8350
 SF  STL: Return to St. Mendel, Tau Ceti  [mpc] Michael Andre-Driussi -#8351
 SF  A Breach to Antiquity              [mpc] George Stellingwerf -#8352
 H   Imagine the Night                  [mpc] Alina B. Klein -#8353
 SF  EarthBound, Chapters 1-3           Larry Pender Jr. -#8354
 SF  Music Lives                        Carl Frederick -#8355
 SF  iMod                               Ken Liu -#8356
 SF  Surfing Tails                      Scott Hertzog -#8357
 H   Samhain                            Lesleigh Force -#8358
 SF  InfoDump                           David Bartell -#8359
 SF  Fish Eyes                          Andrew Nicolle -#8360
 F   Ashes to Ashes                     Petra Ericson -#8361
 F   One Tooth at a Time                Margaret Fisk -#8362
 H   You May Trap the Devil, But...     thom gabaldon -#8363
 SF  The Hazards Of The Profession      Robert A. Boyd -#8364
 SF  The Drifters                       Scott Baker -#8365
 SF  When All is Known                  Cheryl McCreary -#8366
 H   No Such Thing                      Nate Parker -#8367
 H   Tomorrow Morning at Nine           Jefrae Lindvig -#8368
 SF  Time Mate                          Louis Doggett -#8369
 SF  For A Longer Life                  Jeffrey Peery -#8370
 SF  Xinta's Marking                    Juliette Wade -#8371
 SF  Chance Encounter                   Kathryn MacDuff -#8372
 SF  Can't Go On Being Green            John Grgurich -#8373
 SF  Depot                              Vanessa Benford -#8374
 F   Water Ways, Iron Roads Chapter 2   Patrick Samphire -#8375
 SF  Blue, Pinks, and White             Jennifer Persson -#8376
 F   Beggars & Thieves" Chapter 1       Armand Rosamilia -#8377
 SF  Tin                                J. C. Waugh -#8378
 F   Keeper of a Forgotten World        Kristin N. Tilley -#8379

Week of 20-Aug-2003 (Crits due [*] 10-Sep-2003):
 H   Within Your Soul, I Sightless See  [mpc] Eugie Foster -#8380
 SF  EarthBound Ch4-6                   [mpc] Larry Pender Jr. -#8381
 SF  NAFAL: Lightspeed Messenger        [mpc] Michael Andre-Driussi -#8382
 SF  Waters of the World                [mpc] Rita Rousseau -#8383
 SF  Thinking Out Loud                  [mpc] Scott Baker -#8384
 H   Xmas in E. Long Gate Blues         Norm Gillespie -#8385
 F   Shades of Gray                     Ed Churnside -#8386
 SF  A Gateway to the Sun, Chapter 1    Peter Morgan -#8387
 F   Downfall                           Holly McDowell -#8388
 SF  Lupe And The Serpent God           Steve Poling -#8389
 SF  Questions                          Mik Bennett -#8390
 H   Nature of the Beast                Peter Smith -#8391
 SF  Almost Free                        Anne Kaelber -#8392
 F   The Thinning Prison, Chapter 1     Neal Swain -#8393
 SF  Child of Scorn                     Corey Brown -#8394
 SF  The Veteran                        Ian McHugh -#8395
 H   Spud                               J. Alan Brown -#8396
 F   Prince, Upon a Black Horse         Lori Phillips -#8397
 F   POI: The Case of the Deadly Charm  Taylor Ellwood -#8398
 H   Facing the Fangs                   Christian L. Campbell -#8399
 SF  You Can Never Go Home Again        Michele Korri -#8400
 SF  BehaviorNorm                       Sue Lange -#8401
 SF  The Black Fern                     William L. Still -#8402
 SF  The Day Mary Elizabeth Saw The Angel  Barry Wheeler -#8403
 SF  The Product                        Kevin Anderson -#8404
 SF  The Witch Doctor of Rome           Rodger Davidson -#8406
 SF  The Secrecy Imperative             Ted Grosch -#8407
 F   Betzalel and the Man               Elise Susan Teitelbaum -#8408
 SF  Tolgon Chronicles, Volume One, Nights of Fiery Deliverance, Prologue  Brian Anderson -#8409
 SF  Rocket's Impact                    Paul Francis Hanley -#8410
 H   The Miracle Material               Abra Staffin Wiebe -#8411
 F   Amara                              Tricia L. Snell -#8412
 SF  Survival by Design                 Matthew Hill -#8413
 H   The Girl Who Loved Monsters        Ramona Gardea -#8414
 SF  2535 Millennium, Chapter 1-7       Ida J. Jordan -#8415
 SF  Soulless                           Tracie Normandeau -#8416
 F   Debonaire Wives                    Christina Keimig -#8417
 SF  Apollo is a Lyre and the Oracle Has No I's  Dora Raymaker -#8418
 SF  The Particle Effect of God         George O'Gorman -#8419
 SF  Death of an Alien                  Keifer Michaels -#8420
 F   Dawn                               Louise Cochran-Mason -#8421
 SF  Just snatch and go                 Joel Willans -#8422
 H   JOURNEYS END                       Robert Haynes -#8423
 SF  The First Colony: The Journey      Katherine E. S. Lempka -#8424
 F   The One                            Darcie DeAngelo -#8425
 SF  Under a New Moon                   Liam Rands -#8426
 F   Dragon Break                       Anna Ault -#8427
 SF  Paradise Lost                      Sylvia Bourgoin -#8428
 F   The Master of tha Skies            Ioana Epure -#8429
 SF  Rogue Wars: Spuckler's Tale        Bill Kreisle -#8430
 F   The Key to Andorra_chapter one     Shanna Larsen -#8431
 SF  Avenue Driver, Chapters 1-7        Robert H McMahon -#8432
 F   The Rise of a Fallen King : The Corruption Of Innocence  Brian Hughes and Adam Hughes -#8433
 H   The Art of Technology              Matthew Desmond -#8434

Week of 10-Sep-2003 (Crits due 17-Sep-2003):
 F   A Shot in the Dark                 [mpc] Jed Daly -#8435
 F   Is Love Not Enough?                [mpc] [mpc] Jon Jackson -#8436
 F   As The Day Is Long                 Mary Catelli -#8437
 SF  The Price of Pride                 Ray E. Main -#8438
 SF  Cloning Freedom, a Switchboard Universe Book.  Stephen B. Pearl -#8439
 H   The Perfect Match                  Wenonah Lyon -#8440
 F   Auntie Delores Rides Again         tsimahei -#8441
 SF  Searching Livinia, Chapter 6: Passage  Jim Stokes -#8442
 F   Loracle's Bane: Patheslayer's . Chapter 1  Chelley Parks -#8443
 F   The Essa Prophecy Part 1 Chapters 0-2  Dionne Washington -#8444
 SF  Squares                            John Barefield -#8445
 SF  Nanuq                              John Kratman -#8446
 F   Mold Your Future                   Cecil Washington -#8447
 F   Freefall                           Carol J La Valley -#8448
 H   Watashi                            David J. Burbank -#8449
 SF  The Tower of Excellence            Jakob Drud -#8450
 F   An Easter Party on Ealingshire Green  Blake Newton -#8451
 SF  Control                            Sephen Everett -#8452
 SF  Sandella                           Chris Obonsawin -#8453
 H   Sins of Their Fathers              H. Anthony Chung -#8454
 F   The Wish, Chapters 1-6             Jessica Stone -#8455
 SF  Johansdottir, ch 1                 Jason :ee Poultney -#8456
 SF  Shifting Sands                     Laura Shrake -#8457
 F   The Broken Tower, Chapter 1        Tim Weaver -#8458
 SF  A New York New Year Forever Moment  Bridget Coila -#8459
 F   The Cure for Loneliness            Lisa Beesley -#8460
 SF  Meet Cute                          Jeremy Althof -#8461
 SF  Magick and Blood, Chapters 1-2     Alexi Smith -#8462
 SF  Shadows and Dust                   Birgitta Lidgren -#8463
 SF  Shades of Grey- Present's Future Past, Chapter 1  David Rodriguez -#8464
 SF  Distant Explorations of Home       Jarret Buse -#8465

Week of 17-Sep-2003 (Crits due 24-Sep-2003):
 F   A Witch to One - Chs. 1-2          [mpc] Norm Gillespie -#8466
 SF  The Road to Oblivion               [mpc] Jeroen Nouwens -#8467
 SF  Andy Morlock's Dead, Part 3        Jim Bauer and Timothy Leary -#8468
 SF  Prisoner of Peace                  Fred Obermeyer -#8469
 SF  Children of the Om-Mar, Chapters 1-2  Mik Wilkens -#8470
 F   Jade Fire                          Jen Highkin -#8471
 F   Cry of Justice Part 1              Jason Pratt -#8472
 SF  Crabblegrass Takes Drugs           Harlen Bayha -#8473
 H   Shoe: Part 2 Plaid Lacing          Sharyn Hedrick -#8474
 F   Jeri'ik (Fantasy novel) chap. 4    Sherry Thompson -#8475
 SF  One Double Order of Radioactive Bacon Grease  Brandon Butler -#8476
 H   The Stranger                       Leila Eadie -#8477
 F   Legacy of the Talisman             Kathy Guttosch -#8478
 SF  Karma at World's End               Rachel McGonagill -#8479
 F   Bobby's Leap                       Aimee Poynter -#8480
 SF  The Family Tree                    Jean Adair -#8481
 F   On the Job Experience              Margaret E. Welsh -#8482
 SF  The Absinthe of Life               Benjamin Buchholz -#8483
 H   Death be Not                       Marc Cram -#8484
 SF  Phone Calls From a Telemarketer    Charles M. Kline II -#8485
 F   IV65536                            Viscan Rente -#8486
 H   Freaks                             Dylan J. Morgan -#8487
 F   A Simple Test                      Chandler York Shelton -#8488
 SF  The Cockfight                      Lisa Jacob -#8489
 F   Crosser                            Eric Marin -#8490
 SF  Fire in the Ice,Chapter 1          Norma Parfitt -#8491
 SF  When Is a Man?                     [@] Richard K. Lyon -#8492
 SF  Trouble at the Gates of Liberty    Alex Jackson -#8493
 SF  Sudden Insight                     Bret Yacyshyn -#8494
 SF  Do I Wake                          Jamie McEwan -#8495
 H   Model Citizen                      Danny Swain -#8496
 F   Exile into Hope                    Nektarios C. Chrissos -#8497
 F   Fantasy, Fresh from the Grill      Douglas Stang -#8498
 H   The Sumerian Goddess               Nicholas Rice -#8499
 SF  Heirs                              Tim Banas -#8500
 SF  The second flood                   Timothy Callahan -#8501

Week of 24-Sep-2003 (Crits due 1-Oct-2003):
 F   The Cave of Whispering Winds - Chapter 1  [mpc] Pam Davis -#8502
 SF  Shining Star, Chapter 5            [mpc] Stephan Loy -#8503
 SF  Justice                            [mpc] Boris Layupan -#8504
 SF  Lancers                            [mpc] John Barefield -#8505
 SF  The Door That Does Not Close       Carl Frederick -#8506
 F   Charlemagne's Other Daughter - chapters 10 & 11  Marj Watkins -#8507
 F   Cry of Justice Part 1              Jason Pratt -#8508
 SF  Eden Relost                        Scott Hertzog -#8509
 SF  Uncloaked                          Nye Marnach -#8510
 SF  Chuang-tzu Blinked                 Peter Huston -#8511
 SF  Private War                        Chris Gerrib -#8512
 H   A Gift for the Chief               Ben Hofmann -#8513
 H   The Tunnel at the end of the light  Paul Sheringham -#8514
 F   Children of the Storm, Chapter 1   Sarah Hogan -#8515
 F   Sir Hubris And The Dragon          Robert A. Boyd -#8516
 F   The Gyrfalcon's Treasure           Brandi Cruickshank -#8517
 SF  False vacuum                       Russell Miles -#8518
 SF  The Other David                    Cheryl McCreary -#8519
 SF  To Plug Or Not To Plug             Jeff Peery -#8520
 H   Labor Pains                        Erik Peterson -#8521
 F   Brother's Keeper                   Thomas G. Bates -#8522
 SF  Redemption, Chapters 1-2           T.J. Starbuck -#8523
 SF  My Life's A Lie                    Richard S. Levine -#8524
 SF  Randy's Run Into the Sun           John Grgurich -#8525
 F   Cat and Mouse                      Laura C. Romesburg -#8526
 H   Lesons in Lore                     Todd Kilgore -#8527
 F   Never Infinite                     Jordan Tate -#8528
 H   Seventy-Five Dragons               Nicholas Leonardson -#8529
 SF  Takedown                           Glenn Fishbine -#8530
 F   Falling Stars                      Kay Meyer -#8531
 F   The Virgins                        Anna M. Sheehan -#8532
 SF  The Sins of Man                    Eric Bresin -#8533
 F   The Caballa, Chapter 0, Prelude    Walter Lee Spence -#8534

Week of 1-Oct-2003 (Crits due 8-Oct-2003):
 SF  Shining Star, Chapters 6 and 7     [mpc] Stephan Loy -#8535
 H   The Bunyip                         [mpc] Andrew Nicolle -#8536
 SF  Choices                            Jeff Cates -#8537
 F   Dirty Fighting                     Hank Quense -#8538
 SF  The Hundredth Muse                 Ian Creasey -#8539
 F   The Warrior and the Thief          John Ryan -#8540
 H   Eyes of the Hunter                 Mik Bennett -#8541
 H   Samhain - lessons from the dead    Lesleigh Force -#8542
 F   The Thief of Echoes, Chapter 1     Nathalie Rochon -#8543
 F   Riga - Chapter Three (working title)  R.P.L. Johnson -#8544
 H   Sacred Skin                        Michael Stone -#8545
 H   Ten Seconds                        J. Alan Brown -#8546
 F   Fabric of the Universe             Charles Leighton -#8547
 F   The Bronze Sword, Chapter 1        Petra Ericson -#8548
 SF  For Love of Senses                 Margaret Fisk -#8549
 SF  Xinta's Marking                    Juliette Wade -#8550
 SF  Lost Beacon of the Vanished        Robert R. Shelsky -#8551
 H   Communing With Nature              Cedar L. Spitz -#8552
 H   The Hatch                          Charles Knoll -#8553
 SF  Roller Coaster Ride                Louis Doggett -#8554
 SF  A Certain Degree of Success and Failure  Matthew Hill -#8555
 F   When in Rome                       Walter J Wiese -#8556
 H   Razor Chapters 1&2                 Diane Cooper -#8557
 F   Corporate Dryad                    Dawn R Burnell -#8558
 SF  CEP                                Liam Rands -#8559
 F   Choose the Wind                    Fran LaPlaca -#8560
 SF  Rise of the Dark Ones, Chapter 1   Kyle Stewart -#8561

Week of 8-Oct-2003 (Crits due 15-Oct-2003):
 F   The Cave of Whispering Winds - Part 2  [mpc] Pam Davis -#8562
 F   Debating the Truth of Fire         [mpc] Jed Daly -#8563
 F   The Mage                           [mpc] Pascal Schuppli -#8564
 SF  Brain Scrapings                    [mpc] Steven Howard Smith -#8565
 F   The Son that Pain Made             Eugie Foster -#8566
 H   Crossbreed                         William J. Proctor -#8567
 SF  The Waiting Queen, Chapter 1       Christine Hall -#8568
 SF  The Search for the Draconid Legacy  Michael Andre-Driussi -#8569
 SF  The Decision                       Christina Allen -#8570
 SF  The Human Condition                Robert J. Santa -#8571
 SF  The Wave                           Corey Brown -#8572
 SF  Grace (working title)              Ian McHugh -#8573
 F   The Case of The Deadly Gym         Taylor Ellwood -#8574
 F   Cold...Oh So Cold                  Lori Phillips -#8575
 SF  It Goes                            Jeff Spock -#8576
 SF  His Small Sacrifice                Allyson M. W. Dyar -#8577
 SF  Fine                               Barry Wheeler -#8578
 H   The Stone of Darkness              Eric Matthews -#8579
 F   Innate Phase                       Tracie Normandeau -#8580
 F   The Azrith, Chapter 1              Rachel Zellers -#8581
 H   Altered State of Mind              Charles Daniel -#8582
 F   Halfworld Blind                    Alaya Johnson -#8583
 H   Cardinal Red                       Ernest E. Gates -#8584
 SF  The Way This Planet Smells At 4 a.m. and it's Raining  George O'Gorman -#8585
 H   The Element of Night               Dora Raymaker -#8586
 SF  Liquid A                           Louise Cochran-Mason -#8587
 F   Wings of Hope, Chapters 1-2        Mary K. Wilson -#8588
 SF  Teacher                            Charles Combs -#8589
 SF  Olympus Mons                       Ioana Veronica Epure -#8590
 F   The Exterminators                  Chris Anthony -#8592
 SF  Too Many Yesterdays, Not Enough Tomorrows  Nora Jemison -#8593
 F   Kibosh, Lord of the Dead           Rob Queen -#8594

Week of 15-Oct-2003 (Crits due 22-Oct-2003):
 F   Fever And Snow                     Mary Catelli -#8595
 SF  A Myth to His Method               Ray E. Main -#8596
 SF  Her Other I, Chapters 1-2          Michele Korri -#8597
 SF  EarthBound CH 7-8                  Larry Pender Jr. -#8598
 F   the house guest                    Martin H. Slusser, tsimahei -#8599
 F   Essa Stone Chronicles: The Essa Prophecy Part 1-chapters 0-2  Dionne Washington -#8600
 F   Sparrow and Shoemaker              John Kratman -#8601
 SF  Quanun Level Zero, Chapter 1       Ted Grosch -#8602
 H   Afterlife                          Rodger Davidson -#8603
 H   Tomorrow Morning at Nine           Jefrae Lindvig -#8604
 F   An Early Morning Before Christmas Carol  David J. Burbank -#8605
 SF  Answering the Unanswerable         William Anderer -#8606
 F   Like A Thief In the Night          Virgil L Barton -#8607
 SF  Gifthorse                          Stephen Everett -#8608
 F   A Thousand Suicides for You        Lisa Beesley -#8609
 H   The Martyrs                        Stephen P. Porter -#8610
 SF  Stranded with Sticks and Stones, Ch 3-4  Jason Lee Poultney -#8611
 H   Witching in the Wood               Michelle Miller -#8612
 F   The Beast of Galicanaea            Gene K. Boyd -#8613
 F   The Orb of Fire, Chapters 1-2      Wendy Bartlett -#8614
 F   Rolf & Lila                        Karen Kincy -#8615
 F   The Villa d'Elso                   Amy R. Butler -#8616
 H   Helen's Eyes                       Lorrie Harris -#8617
 F   The Duke of Sherlantin             Rayna Jenks -#8618
 SF  The Amazing Planaria-Man           Francisco Ruiz -#8619

Week of 22-Oct-2003 (Crits due 29-Oct-2003):
 F   Metal and Fire                     [mpc] Jed Daly -#8620
 SF  RFDR - Just In Time                [mpc] Walker Bennett -#8621
 SF  Outlier                            [mpc] Suzanne Church -#8622
 SF  The Invisible Hog: a comic book script  Jim Bauer -#8623
 SF  The Murder of William Shakespeare  Fred Obermeyer -#8624
 SF  Fortune From Time                  Dave Erickson -#8625
 F   Ragnarok                           Scott Hertzog -#8626
 SF  One Man Discovers                  Peter Huston -#8627
 H   Telling Stories Is Wrong           Norma Parfitt -#8628
 F   The Woman on the Dock              Trudy Myers -#8629
 SF  Special Opinion Poll On Formatting A Story  Robert A. Boyd -#8630
 SF  Bus Drivers                        Jean Adair -#8631
 SF  Pluto Ascending                    Douglas Ryan -#8632
 SF  The Nun's Demon Lover              [@] Richard K. Lyon -#8633
 H   The Passenger                      Dylan J. Morgan -#8634
 SF  Ynara Diri                         Todd Kilgore -#8635
 F   Eversio ac Podera: Destruction and Balance  Scott Baker -#8636
 F   An Affair With Death               Karen Freeman-Smith -#8637
 H   A Reception Will Be Held Before The Show  Ric Bahr -#8638
 F   A Disturbed Slumber                Eric Marin -#8639
 F   Fallen Idols                       Jaye Lawrence -#8640
 F   Redemption, Chapters 3&4           T.J. Starbuck -#8641
 F   Shallot                            Anna M. Sheehan -#8642
 F   Perpetually Wilting Passion        Jordan Tate -#8643
 SF  The Seductive Samurai              Jonathan Palmer -#8644
 F   Faerie Wrath                       Stephen Posey -#8645
 F   The Caballa, Prelude               Walter Lee Spence -#8646
 SF  Darwinian Combat                   Peter Gray -#8647
 SF  Goon of the Month in Lagerland     Nick Evans -#8648
 F   By Dragonfly Lake, Chapt 1-2       Gisele LeBlanc -#8649
 F   Tauntiana                          Donna C. Watkins -#8650

Week of 29-Oct-2003 (Crits due 5-Nov-2003):
 F   The Seconds of a Decade            [mpc] Scott Hertzog -#8651
 F   The Prophecy                       [mpc] Gary J Beharry -#8652
 SF  The Majesty and Burning of Momo Sigridthippun  [mpc] Benjamin Buchholz -#8653
 SF  Golden Rapture                     [mpc] Joel Willans -#8654
 SF  The Fruitcake Genome               Carl Frederick -#8655
 F   Aliens Live in Cocoanut Grove      John Ryan -#8656
 H   Red Rum                            Mik Bennett -#8657
 F   The Thief of Echoes, chapter 2     Nathalie Rochon -#8658
 SF  Searching Livinia, Chapter 8: Tangle only 4500 words  Jim Stokes -#8659
 H   Dear Mother, Dear Father           Adam Gifford -#8660
 SF  Sunrise                            Chris Gerrib -#8661
 SF  Context                            Russell Miles -#8662
 F   Fair Trade                         Leah Suslovich -#8664
 F   In The Name Of Popcorn Diablo      Al Bogdan -#8665
 SF  To Achieve Old Age                 Margaret Fisk -#8666
 H   Puzzle                             Kevin Anderson -#8667
 SF  The Explorer                       Scott Fazekas -#8668
 SF  Time Slip                          Laura Shrake -#8669
 SF  America, Inc.                      Thomas G. Bates -#8670
 SF  Beyond Light-Chapters 1 thru 4     William L. Still -#8671
 SF  The Ultimate Proof                 Matthew Hill -#8672
 SF  Sally 'n Me                        Jeff Peery -#8673
 H   The Epitaph                        Charles Henry -#8674
 F   A Knight of the Fusion             Kris Schnee -#8675
 SF  Bar Code                           Pam Cazaubon -#8676
 SF  The Third Floor                    Liam Rands -#8677
 SF  Isendeni Station (RFDR)            Ann Leckie -#8678
 F   A Dragon By Any Other Name         Fran LaPlaca -#8679
 H   Inheritance                        Candace McBride -#8680
 F   Rise of the Dark Ones: Chapter 2, He Comes  Kyle Stewart -#8681
 F   Nightcrows                         Michelle Scott -#8682
 SF  The Acorn Planter                  Martin S. Stoller -#8683
 F   House of Swords                    E. Shortt -#8684

Week of 5-Nov-2003 (Crits due 12-Nov-2003):
 SF  Virtuoso                           [mpc] Jed Daly -#8685
 F   Survival of the Fittest            [mpc] Scott Hertzog -#8686
 F   The Prophecy II: Prophecy Unfulfilled  [mpc] Gary J Beharry -#8687
 F   Threads                            [mpc] Sonja McCarthy -#8688
 SF  Absolution                         [mpc] Barbara Robson -#8689
 F   Children of the Storm: Chapter 2   [mpc] Sarah Hogan -#8690
 F   The Tale of Two Peoples            [mpc] David Olson -#8691
 SF  Lonesome Cosmogonist               Ian Creasey -#8692
 H   A Gateway to the Sun, Instalment 2  Peter Morgan -#8693
 F   Hunter of Legend!                  Brandon Butler -#8694
 F   Flee the Harvest, Chapters 1-3 + synopsis  Parker Owens -#8695
 F   Testing Edon                       Robert J. Santa -#8696
 SF  The Coast Road                     Corey Brown -#8697
 SF  The Story in Your Eyes             Allyson M. W. Dyar -#8698
 SF  Cogito Ergo Boom                   John Barefield -#8699
 F   The Blood of Queens, Book II, Chapter 1  Valerie Jones -#8700
 H   Voodoo, Chapter One                Irene Schaft -#8701
 F   The Azrith, Chapter 2              Rachel Zellers -#8702
 H   Sweet Sister Vengeance             Charles Daniel -#8703
 F   The Laughter on the Wind           Walter J. Wiese -#8704
 F   Sarica's Harrow                    Stephen M. Stofko -#8705
 SF  The Exile                          Ioana Epure -#8706
 H   The Orchid and the Edelweiss       Nektarios Constantine Chrissos -#8707
 SF  Fitting                            Jamie McEwan -#8708
 F   The Retirement                     Debra Eastham -#8709
 SF  Dumbocracy in Action               John Derderian -#8710
 F   The Redemption of Marvin Fuster    Patrick Sean Lee -#8711
 SF  The Gifted                         Greg Kovas -#8712
 SF  She Curves Delightfully            Wim Vanaenrode -#8713
 F   First Spell                        Lawrence Hollis -#8714
 SF  Brainwidth - The Diner             Troy Daley -#8715
 SF  The Dempsey Gambit RFDR            Ben Lacy -#8716
 F   An Awakening                       Matthew Porritt -#8717
 F   BACK IN 5                          KENNETH WHEELER -#8718
 F   Me for LIfe                        Meghan McCarron -#8719
 SF  Carol's Push                       Carrie Furness -#8720
 F   A Night of Mayhem                  A. Chris Weaver -#8721

Week of 12-Nov-2003 (Crits due 19-Nov-2003):
 SF  The Dreamer                        [mpc] Gary J Beharry -#8722
 SF  Knockabout                         [mpc] Al Bogdan -#8723
 SF  Witness                            [mpc] Thomas G. Bates -#8724
 F   Summer Tour                        Hank Quense -#8725
 SF  A Legally Binding Marriage         William J. Proctor -#8726
 SF  Fiona Street, Chapter 1, Part 1    Stephan Loy -#8727
 SF  Chase                              Marty -#8728
 F   Two Render a Mess                  Brittany Wilkins -#8729
 H   Milk                               Ernest E. Gates -#8730
 SF  A Doll's House                     Petter Hesselberg -#8731
 SF  Learning how to Fly, chapter seven  Taylor Ellwood -#8732
 SF  History's Pawn                     Boris Layupan -#8733
 SF  Kettle of Fish (working title)     Jeff Spock -#8734
 SF  Dr. Barne's Confession             Eric Matthews -#8735
 SF  To Unify the Realm                 William Anderer -#8736
 SF  Cry of a Distant Child             Robert R. Shelsky -#8737
 H   Fast Food                          Stephen P. Porter -#8738
 F   Eyelash Fairy                      David J. Burbank -#8739
 SF  Cult of the Snake Dancer           George O'Gorman -#8740
 SF  Windfall of the Mind               Vanessa Benford -#8741
 F   Sinful Missionaries                Lisa Beesley -#8742
 SF  Subtelegraphy                      Dora Raymaker -#8743
 SF  Clinical Trials                    Bridget Coila -#8744
 F   Dee's Gentlemen                    Barbara Davies -#8745
 F   Avinhar's Legacy, Chapter 1        Marcy Davis -#8746
 F   Battle Songs, Part One Chapters 1& 2  Kim E. Bradshaw -#8748
 F   Hostile Takeover                   Matt Mitchell -#8749
 F   Salvation, Chapter 1               Matthew Johnson -#8750
 F   Glimmers of Hope, Chapter 1        Allen R. E. Bolen III -#8751

Week of 19-Nov-2003 (Crits due 26-Nov-2003):
 F   Song of the Gatherer               [mpc] Jed Daly -#8752
 SF  Integration                        [mpc] Scott Hertzog -#8753
 F   Freaks like me                     [mpc] David A Olson -#8754
 H   Dream House, Chapters 1-3          [mpc] Ernest E. Gates -#8755
 SF  Crag Internment                    [mpc] Darryl Bordeleau -#8756
 SF  Oranges, Lemons, and Thou Beside Me, Singing in the Wilderness  Eugie Foster -#8757
 SF  Wrapped Up                         Fred Obermeyer -#8758
 SF  Skunked                            [@] Andrew Burt -#8759
 SF  Carom Shot                         Ray E. Main -#8760
 SF  Back Stepping Carl                 Dave Erickson -#8761
 F   Tales of the Black Dragon          Charles Leighton -#8762
 F   The In Crowd                       Michele Korri -#8763
 F   Do Not Metal In The Affairs Of Wizards  Robert A. Boyd -#8764
 H   A Day at the Playground            Jason "Slacker" Lacker -#8765
 SF  The Cyber Dead Reloaded            Jean Adair -#8766
 H   Room 331                           Ted Grosch -#8767
 H   Colors of the Soul                 Ric Bahr -#8768
 F   Xinta's Marking                    Juliette Wade -#8769
 F   The Vember Mill, Chapters 1-3      Viscan Rente -#8770
 F   Tudama's Dawn                      Todd Peters -#8771
 F   A Simple Darkness, chapters 1-2    Mary K. Wilson -#8772
 H   Odd Jobs                           Ryan C. Finley -#8773
 F   The Boy Next Door                  Ralph Sabella -#8774
 SF  Supertoys Kill All Summer          Jerico Mele -#8775
 SF  Empty Nest                         Jo Brooks -#8776
 SF  Sisters of the Red Blade           Tim Mayer -#8777
 F   Wolf Dreams, Chapter 1             Randall Hollis -#8778
 F   Snow Blind - Prologue              Nick Evans -#8779
 F   Dragons, chapter 1 Concerning the Nature of Dragons and  Steven Wilson -#8780
 H   Orchidelirium                      Ty Power -#8781
 H   The Cave Shadows                   Kenneth Green -#8782
 F   Soul's Dawn                        Matthew Scott -#8783
 SF  The Stalwart Bonnie McRae          John Hughson -#8784
 F   Drawing the Rivers                 Elizabeth Licata -#8785

Week of 26-Nov-2003 (Crits due 3-Dec-2003):
 F   Insect Aside                       [mpc] Gary J Beharry -#8786
 F   Fever and Snow                     Mary Catelli -#8787
 F   Martin Trler                       John Ryan -#8788
 H   Retroactive Opportunity Circle     Mik Bennett -#8789
 F   The Thief of Echoes, Chapter 3     Nathalie Rochon -#8790
 SF  Stomping Ground                    Karen M. Roberts -#8791
 SF  Lemon                              Michael Stone -#8792
 F   Breakfast at Epiphany's            Robert Haynes -#8793
 SF  Unshared Secret                    Bob Blumenfeld -#8794
 SF  Nanuq                              John Kratman -#8795
 F   Place Where the Sun Rises          Scott Fazekas -#8796
 SF  Soulless                           T. Normandeau -#8797
 SF  Sacrifice                          Cheryl McCreary -#8798
 F   Holding Chaos                      Patricia Kirby -#8799
 SF  An Absolute Advantage              Matthew Hill -#8800
 SF  Beyond Light Chap's 5-10           William L. Still -#8801
 SF  A Klass Project                    Jeff Peery -#8802
 SF  The Galactic Letters               Gary Durbin -#8803
 SF  Refined Like Silver                Keesa Renee' DuPre' -#8804
 SF  Under the Skin                     Liam Rands -#8805
 F   Torvin's Name                      Gene K. Boyd -#8806
 F   Blown Away Softly                  Antonia Lantz Inman -#8807
 F   Red Riding-Hood's Child            Nora Jemison -#8808
 F   Rise of the Dark Ones, Chapters 1-2  Kyle Stewart -#8809
 SF  Armageddons                        Simon Kewin -#8810
 SF  Darkness                           Dawn Marie Smith -#8811
 F   Embracing Betrayal                 Lissa Alsgaard -#8812
 H   KOWR Radio's Feng Shui for Dictators  Natasha Donnelly -#8813
 H   Smoke and Mirrors                  Leanne Whelan -#8814
 SF  Tremors                            Tomas L. Martin -#8815

Week of 3-Dec-2003 (Crits due 10-Dec-2003):
 SF  Testing the Babysitter             [mpc] Gary J Beharry -#8817
 SF  Fiona Street, Chapter 1, Part 2    [mpc] Stephan Loy -#8818
 SF  The Great Unknown                  [mpc] David Olson -#8819
 SF  House Call                         [mpc] Robert Haynes -#8820
 F   A Fall To Greater Heights          Mik Wilkens -#8821
 H   Burning                            Christine Hall -#8822
 SF  Displacement Part 1                Colin Harvey -#8823
 F   A Soul for Christmas               Suzanne Church -#8824
 SF  Through Chill Rain and Mountain Stone  Brandon Butler -#8825
 SF  Travel in a Frozen Moment          Corey Brown -#8826
 SF  The Unexpected Visitor             Lilian Gilmour -#8827
 SF  RoboCritter                        David Bartell -#8828
 H   Voodoo: Chapter Two                Irene Schaft -#8829
 H   Scarecrow                          Kevin Anderson -#8830
 SF  Before the Storm                   Barbara Robson -#8831
 F   Regis, The Ugly Dwarf - Chp 1-4    Daniel L. Needles -#8832
 H   Laughter in the Woods              John Dixon -#8833
 F   Wizard's Storm, Chapter 1          Chandler York Shelton -#8834
 F   Cully's Daughter                   Joelle Augustine -#8835
 SF  Strange caves Advanture            Louis Doggett -#8836
 H   The Shadows Within                 Bruce Donohue -#8837
 SF  The Pain of Release                Peter Foote -#8838
 SF  The Awakening, Chapters 0 - 1      W. M. Daugherty -#8839
 H   The Last Ride                      Carl Alves -#8840
 SF  The Dempsey Gambit Chap. 1-3       Ben Lacy -#8841
 H   Hansel and Gretel Retold           E. Shortt -#8842
 F   Stonecold chapter One              Mavis Seymoour -#8843
 SF  Beyond The Milky Way - Chapters 1 to 3  Judeline D. Meintjes -#8844
 SF  Gargantua                          Eric A. Snoddy -#8845
 F   Lethe Inc                          Alec Wills Orr -#8846
 SF  Starbucks Must Die                 John Derderian -#8847
 F   Twirl, Chapter 1                   Julianne Long -#8848

Week of 10-Dec-2003 (Crits due 17-Dec-2003):
 F   A Dance in Garna Dun               [mpc] Jed Daly -#8850
 F   Rosalind's Baby                    [mpc] David Olson -#8851
 SF  Molting                            William Proctor -#8852
 F   The Great Feast of Yule            Ed Churnside -#8853
 SF  Sam's Grant                        Martin H. Slusser -#8854
 SF  Animal Empire                      Steve Lewis -#8855
 F   The Sacred Tryst                   Brittany Wilkins -#8856
 SF  Learning How to Fly Chapter Eight  Taylor Ellwood -#8857
 F   Cross Stitch                       Al Bogdan -#8858
 H   There Never is an Agenda           Mari Miller-Lamb -#8859
 SF  The One                            John Barefield -#8860
 SF  The ESsential Thing                William Anderer -#8861
 SF  Justice                            Boris Layupan -#8862
 F   Pan's People                       Derek Ayre -#8863
 F   A Marvel of Modern Practitioning   Valerie Jones -#8864
 SF  Dr. Barnes Confession              Eric Matthews -#8865
 F   Wisdom of the Ancients             Thomas G. Bates -#8866
 SF  Babel: The Gates of Heaven         Stephen P. Porter -#8867
 SF  Worry                              Harvey Sachs -#8868
 F   The Demon's Gate, Prologue & Chapter 1  Thompson Parker -#8869
 SF  Jackalberry Wine                   George O'Gorman -#8870
 SF  Perfect Baby?                      Nathan R. Knight -#8871
 F   The House on the Via Aurelia       Barbara Davies -#8872
 F   Avinhar's Legacy: Chapter 2, plus synopsis ch 1  Marcy Davis -#8873
 F   By Dragonfly Lake, Chapters 3-4    Gisele LeBlanc -#8874
 SF  The Star Board Cafe                Richard Herr -#8875
 H   The Shower Curtain                 Jeff Troy -#8876
 F   Night Terrors                      Matt Mitchell -#8877
 H   Night Sweats                       Samara Sonmor -#8878

Week of 17-Dec-2003 (Crits due [*] 7-Jan-2004):
 H   Lumbar #5                          Jason "Slacker" Lacker -#8879
 F   Souls of Living Wood               Eugie Foster -#8880
 F   The Tree Wife, Part I              Michele Korri -#8881
 SF  Wormhole Roulette                  Fred Obermeyer -#8882
 SF  1000 Zeppelins Over Hollyland      [@] Joe Murphy -#8883
 SF  This Little World                  Carl Frederick -#8884
 SF  A Gift of Adventure                Dave Erickson -#8885
 F   One More Sunset                    John Ryan -#8886
 SF  Tempus Ex Machina                  Mik Bennett -#8887
 F   A Family Secret                    Howard Cooper -#8888
 H   Harmless                           Diane Cooper -#8889
 SF  Departure                          Karen M. Roberts -#8890
 F   Children of the Storm: Chapter 3   Sarah Hogan -#8891
 H   Precious                           Ernest E. Gates -#8892
 F   The Mind Behind the Mind Ch 1-3    Lori Phillips -#8893
 SF  Universana: Doom for a City        Dionne Washington -#8894
 SF  Cucumber Salsa                     Jean Adair -#8895
 H   One Final Laugh                    Shawn Pollock -#8896
 F   Need for Magic                     Joseph Swope -#8897
 SF  The Grofusion Connection Part I    BJ Muntain -#8898
 F   What the Hell is Pluto, Anyway?    David DeGraff -#8899
 SF  Tolgon Chronicles, Volume One, Nights of Fire and Deliverance  Brian Lee Anderson -#8900
 F   The Stones of Sacrifice, Prologue and Chapter 1  Tim Bickerstaff -#8901
 H   Spiders                            Charles Knoll -#8902
 SF  Final Phase (a rewrite of 10100)   Matthew Hill -#8903
 F   The Last Unsunken Remains          Viscan Rente -#8904
 SF  My Libido                          Ralph Sabella -#8905
 H   Cat and I                          Pam Partha -#8906
 F   When the Darkness Breaks           Liam Rands -#8907
 H   My Crazy Seventh Grade Year        Antonia Lantz Inman -#8908
 F   Rise of the Dark Ones, Chapter 3: First Blood  Kyle Stewart -#8909
 H   The Serviceberry Incident          Brian D. Holland -#8910
 F   BACK IN 5                          KENNETH WHEELER -#8911
 H   Bakun                              Ty Power -#8912
 SF  Twisted Strand                     Jerico Mele -#8913
 F   Walking With Ankou                 Lissa Alsgaard -#8914
 SF  Collectors                         John Derderian -#8915
 F   Salvation, Chapter Two             Matthew Johnson -#8916
 SF  Two Moments of Invention           Matthew Frederick Davis Hemming -#8917
 F   Circles                            John Grgurich -#8918
 H   A Lesson Better Learned: A Story of the Wrath  JK Sager -#8919
 SF  Worlds                             Ken Krekeler -#8920
 H   Paper Messiah                      Lisa Negus -#8921
 H   The Hunted                         D. A. Howard -#8922
 SF  Independent of Distance            Jeffrey Weitzel -#8923
 F   A Dream of Scaraboo, Chapter 1     John Donlan -#8924
 F   The Secret of the Day Rat          Jeff Lilly -#8925

Week of 7-Jan-2004 (Crits due 14-Jan-2004):
 F   Doff Thy Name and Take All Myself  [mpc] Eugie Foster -#8926
 F   The Office Manager Takes a Vacation  Gary J Beharry -#8927
 F   To Fit In                          David Olson -#8928
 SF  Burning                            Christine Hall -#8929
 SF  Kixur                              Suzanne Church -#8930
 SF  Escape from Gug, the Forbidding Continent  Michael Andre-Driussi -#8931
 SF  EarthBound RFDR                    Larry Pender Jr. -#8932
 SF  The Knight of Rust and the Virgin Queen  Brandon Butler -#8933
 SF  The Pursuit                        Chris Gerrib -#8934
 SF  C.O.D. Calamity                    John Dixon -#8935
 H   The Scorpion Tomb                  Irene Schaft -#8936
 SF  The Rose                           Peter Krausche -#8937
 F   How Not to Write a Science Fiction Story  Barry Wheeler -#8938
 H   Snow Peak                          Dylan J Morgan -#8939
 SF  Learning to Swim                   Chandler York Shelton -#8940
 F   The Champ                          Carl Alves -#8941
 F   Mulhorand Synopsis and story       Bruce Donohue -#8942
 SF  Return of the King (of England)    Ben Lacy -#8943
 SF  Home for a Prophet                 Lisa Marie Glotzhober -#8944
 F   Wolf Dreams, Chapter 2             Randall Hollis -#8945
 F   The White Crystal of Calithwain    Valerie Frankel -#8946
 SF  The Robot That Stole My Wife's Heart  Eric A. Snoddy -#8948
 F   Fantasy                            Daniel Arenson -#8949
 SF  The Plans for Utopia               Michael Bevilacqua-Linn -#8950
 SF  Pepe's Day                         Lanna Crucefix -#8951
 F   It Was Just All Too Fast           Victoria Grant -#8952
 F   Trace, Soul Snatcher               Nicole Givens Kurtz -#8953
 H   Brain Food                         Lorne Kates -#8954
 SF  The Emperor's Finest               Melissa Cuevas -#8955

Week of 14-Jan-2004 (Crits due 21-Jan-2004):
 F   The Dread Cabal                    [mpc] Jason M Hauser -#8956
 SF  Kids                               [mpc] Zvi Zaks -#8957
 F   Rombeo & Jeweliette                Hank Quense -#8958
 H   Ragged Edge of Hell                Martin H. Slusser -#8959
 SF  The Repo Men                       Jason Nelson -#8960
 F   The Season and the Hour, Prologue  Brittany Wilkins Marschalk -#8961
 F   The Thief of Echoes, Ch 4          Nathalie Rochon -#8962
 F   What She Came For                  Scott Fazekas -#8963
 SF  Diplomacy                          Richard Herr -#8964
 SF  Earth's Requiem Chapter 1 & 2      Zack Little Jr. -#8965
 F   The Sausage Machine                Paul Sheringham -#8966
 H   Clinical Research                  Stephen P. Porter -#8967
 F   Clementine                         Carol J LaValley -#8968
 H   The Town at the End of the World   Eric Matthews -#8969
 SF  Anarchy Boys                       George O'Gorman -#8970
 H   Paragon of Antithesis              Don Gaetke -#8971
 SF  Creation Theory                    E. Shortt -#8972
 SF  We Interrupt this Broadcast...     Matt Mitchell -#8973
 F   The Princess and The Frog          Samara Sonmor -#8974
 F   The Transference of Magic          Stephen Nelson -#8975
 H   Daddy, Past Tense                  Anthony J Frizzi, Jr -#8976
 F   Twirl, Chapter 3                   Julianne Long -#8977
 H   The Voice                          Jason T. White -#8978
 H   The Cat Lady                       Jeff Troy -#8979
 SF  A Tear in Time: Revelation (Sample Package)  Peter Nikelski -#8980
 F   Beltane and Samhain                Kay Sexton -#8981
 SF  Lessons from Cygnus                Helen Garrod -#8982
 SF  The Holy Dude, Chapter 1           Richard Lewis -#8983

Week of 21-Jan-2004 (Crits due 28-Jan-2004):
 F   The Keeper of the Six              [mpc] Gary J Beharry -#8984
 SF  The Solution                       [mpc] David A Olson -#8985
 SF  The Language Of Gas Giants         [mpc] Allen Weinstock -#8986
 F   In the Presence of Her Enemies, RFDR  [@] Beth Bernobich -#8987
 H   Black and White                    Jeff Cates -#8988
 F   On the Devil's Dance Card          Norm Gillespie -#8989
 SF  The Ironist                        Mary Catelli -#8990
 F   Loracle's Wheel. The Blest Lands. Chapter One  Chelley Parks -#8991
 SF  Awareness                          Jeroen Nouwens -#8992
 F   Mission of Mercy (novelette in 4 pts)  Sherry Thompson -#8993
 SF  To Survive                         Valerie Jones -#8994
 H   The Damage Done                    Michael Stone -#8995
 SF  Java Flu                           Russell Miles -#8996
 SF  Bradbury County                    Robert R. Shelsky -#8997
 SF  Marvin Henker's Last Flight        David Taub -#8998
 SF  Cold Survivers                     Louis Doggett -#8999
 SF  Logos Problem                      Thomas G. Bates -#9000
 SF  Beautiful Hands                    Erik Peterson -#9001
 F   Suspension of Disbelief, Chapter 1  Rob Queen -#9002
 F   Shadows of the Past                Terri Joplin Von Reiman -#9003
 SF  New Titan                          Benjamin Hoffman -#9004
 F   The Other Side                     Brad Smith -#9005
 F   Blood on the Moon                  Stephen Smith -#9006
 F   Kids Cost More                     Lon Prater -#9007
 SF  They Were Not Gods", Chapters 1-4 (Planet Zero)  jerry hubert -#9008
 SF  Orange Tulips                      R.L.Wood -#9009
 F   The Cowgirl and the Unicorn        Andy Miller -#9010
 SF  The Two Colors of Justice          Christopher Clark -#9011
 SF  Comparative Cultures               Celyn Armstrong -#9012
 F   Knight of the Ghosts, Prologue and Chapter 1  Bethany Mathews -#9013
 H   The Chapter for Not Dying a Second Time  Nikki M. Pill -#9014
 F   Shadows                            Robin Verrall -#9015
 H   Blood, Smoke and Snow              Elizabeth Blue -#9016

Week of 28-Jan-2004 (Crits due 4-Feb-2004):
 F   The Tree Wife, Part II             Michele Korri -#9017
 SF  Morphspace                         Fred Obermeyer -#9018
 SF  The Second Ship                    John Ryan -#9019
 SF  The Farthest Discovery, chapter 1  J.D. Williams -#9020
 F   Conversion                         Mik Bennett -#9021
 SF  Comfortable Bliss                  Laura Shrake -#9022
 F   The Tinker                         Robert J. Santa -#9023
 SF  The Godly Window                   A'Llyn Ettien -#9024
 F   Children of the Storm, Chapter 4   Sarah Hogan -#9025
 SF  A Doll's House                     Petter Hesselberg -#9026
 H   Galbraith's Kingdom                Shawn Pollock -#9027
 H   Milk                               Ernest E. Gates -#9028
 SF  Canny King Harry and a Chip of Flash  John Barefield -#9029
 SF  The Last Cliche                    William L. Still -#9030
 SF  The Grofusion Connection Part II   BJ Muntain -#9031
 H   Threads                            Rodger Davidson -#9032
 SF  A Promise from Hathor              James S. Lawrence -#9033
 SF  Tolgon Chronicles, Volume One, Chapter One  Brian Anderson -#9034
 SF  One Step Forward, Thirty-Two Steps Back  Matthew Hill -#9035
 SF  Just As It Should Be               Ralph Sabella -#9036
 F   First Blood                        Liam Rands -#9037
 SF  Rise of the Dark Ones, Chapter 4: Aliasias Novada  Kyle Stewart -#9038
 F   L'Alchimista                       Nora Jemison -#9039
 SF  The Adventure of the Solitary Cyclist  John Derderian -#9040
 F   Embracing Betrayal                 Lissa Alsgaard -#9041
 SF  Bright Sky Holiday, Chapter 1      Jeffrey Weitzel -#9042
 F   Keys of Humanity, Chapter 1        Greg Katila -#9043
 SF  Martians Come in Two Colors        William Springer -#9044

Week of 4-Feb-2004 (Crits due 11-Feb-2004):
 F   The Ephemeral and the Eternal      [mpc] David A Olson -#9045
 F   Engaging Mabel - ch 1              [mpc] Jed Daly -#9046
 SF  Best In Show                       [mpc] Ian Creasey -#9047
 SF  Good Earth                         [mpc] Jason Nelson -#9048
 F   Of Lycaenids and Lychanthropes     [mpc] Rebecca Gold -#9050
 F   Nobodies and Somebodies            Eugie Foster -#9051
 SF  Indefensible Position              Ray E. Main -#9052
 SF  The Time Train                     Dave Erickson -#9053
 F   Journey Through the Witch's Mirror, Chapter 1  Pat Elder -#9054
 SF  CurseWerks chp. 1&2                Richard Jones -#9055
 F   Improper Procedure                 Brandon Butler -#9056
 SF  Source Code                        Ted Grosch -#9057
 SF  Marriage Of Inconvenience          Lloyd Smith -#9058
 SF  Evil Doings                        William Anderer -#9059
 F   Hail As Big As A Baby's Head       Irene Schaft -#9060
 SF  Freeland War                       Sam Lloyd -#9061
 H   A Walk in the Park                 Carl Alves -#9062
 SF  A Reception Will Be Held Before The Show  Ric Bahr -#9063
 SF  Gothic                             Stephen Everett -#9064
 H   The Red Hand of Mountain Lake      J. Fritz Barnes -#9065
 F   The Quickening                     Heather Ray -#9066
 F   (Shea Lush) The Elentyne Princess - Chapter 1  Shara Vina -#9067
 F   Royal Blood                        Matthew Porritt -#9068
 H   The Fifth Floor: Being an Adventure of Merrick Charter  JK Sager -#9069
 F   It Was All Just Too Fast           Victoria Grant -#9071
 F   Dropping Out                       Curtis Jones -#9072
 SF  The Traveler                       Peter Bansuk Kong -#9073
 F   Detour                             Jason Penney -#9074
 F   Myths of the Underdark: Winter's Weeping, Chapters 1-2  Darran Baker -#9075
 H   It Must Be Night                   David Taylor -#9076
 SF  The Illustrated Bible              Daniel Jeffries -#9077

Week of 11-Feb-2004 (Crits due 18-Feb-2004):
 SF  Don't Feed the Birds               [mpc] gary j beharry -#9078
 SF  Imprinted Destiny                  [mpc] David A Olson -#9079
 SF  Escape from Gug, the Forbidding Continent  [mpc] Michael Andre-Driussi -#9080
 F   Loria's Training                   [mpc] Keesa Renee DuPre -#9081
 SF  Joe's Fish                         Doc Finch -#9082
 SF  Tyr                                Charles Leighton -#9083
 SF  Crux Point                         Teresa Thorne -#9084
 SF  The Traveler, Book 1, Part 1, Chapters 1 - 3  Peter Krausche -#9085
 SF  The cow I got jumped for on the Moon  Peter Huston -#9086
 SF  Plastic Fairies                    Brittany Wilkins Marschalk -#9087
 SF  La-Di-Da                           Jamie McEwan -#9088
 F   Whittling Away                     Al Bogdan -#9089
 SF  Recognise the Darkness             Simon Woodhouse -#9090
 SF  Pranks                             Richard Herr -#9091
 SF  The Cat Situation                  Barry Wheeler -#9092
 F   Grand Aurora Calling               Kris Schnee -#9093
 F   The Wise Woman                     E. Shortt -#9094
 F   The Deep Of Dreaming: Prologue     Kaylie Rosenberry -#9095
 F   Soul of the forest                 Maurice Clauden -#9096
 SF  Silver and Lead                    Don Gaetke -#9097
 F   A Sorcerous Mist                   Simon Kewin -#9098
 F   The Adversary                      Matt Mitchell -#9099
 F   Kukrit's Honor, Chapter 1          Euan M. Harvey -#9100
 H   Love You                           Jason T. White -#9101
 SF  Damn                               Mark A. Morenz -#9102
 SF  The Open Sky                       Tereza Rukober -#9103
 SF  Way Point Home                     Matt Champine -#9104
 F   The Wizard's Betrayal, Chapters 1 & 2  Tim English -#9105
 SF  The Revolution, Chapters 1-3       Don Eitner -#9106
 SF  The Ambassador                     David Charlton -#9107
 F   Dust and Parchment                 Wiliam M. Martino -#9108
 H   The Mummer                         Gerard Tremblett -#9109
 H   Do Me A Favor                      Madge E. Miller -#9110

Week of 18-Feb-2004 (Crits due 25-Feb-2004):
 SF  The Perpetuals                     [mpc] Holly L. Benton -#9111
 H   The Thirteenth Death               [mpc] Nicholas Leonardson -#9112
 F   Smokewalker ch. 1-2                Norm Gillespie -#9113
 F   The Drunken Mermaids               Mary Catelli -#9114
 SF  When Chickens Rule                 Suzanne Church -#9115
 F   Seabird - Prologue                 Sherry Thompson -#9116
 F   Hoist                              Lesleigh Force -#9117
 F   The Last                           Robert A. Boyd -#9118
 F   Winter's Chill                     Lisa Moss -#9119
 SF  Dig                                John Kratman -#9120
 H   Bichos                             Erik Peterson -#9121
 SF  Time to change                     Michelle Dragalin -#9122
 SF  The Dying Day                      George O'Gorman -#9123
 SF  Justice                            David Taub -#9124
 F   An American's Wife                 Terri Von Reiman -#9125
 F   The Apotheosis of the Reverend Tobias  Alec Wills Orr -#9126
 SF  Misunderstanding                   Brad Smith -#9127
 F   The Caballa, Chapter One           [@] Walter Lee Spence -#9128
 SF  The Gyroad                         Kay Sexton -#9129
 SF  Freedom's Children                 Mark Carter -#9130
 F   The Guardian                       Boo DuPre -#9131
 F   The File Dragon                    R.Arther -#9132
 F   The Peasant Knight, Chapter 1      Mike Rimar -#9133
 SF  Acar the Water Merchant            Michael Karnes -#9134
 H   Box of Secrets                     Elizabeth Blue -#9135
 H   Harsh Tactics                      Bryan Reardon -#9136
 SF  Voyageur                           James Watt -#9137
 F   Scions of Archaea, Part One, Chapter One  Mary Beth Johnson -#9138

Week of 25-Feb-2004 (Crits due 3-Mar-2004):
 H   Educational Investment             [mpc] John Dixon -#9139
 SF  Surrender Your Gender              Fred Obermeyer -#9140
 F   Hector                             John Ryan -#9141
 F   Vorsore's Champion, Part 1         Jen Highkin -#9142
 H   Wakey Wakey                        Mik Bennett -#9143
 F   The Tiniest Dragonslayer           Robert J. Santa -#9144
 F   The Road to Hell is Paved with Good Intentions  Peter Smith -#9145
 F   Thief of Echoes, ch 5 (with novel synopsis so far))  Nathalie Rochon -#9146
 F   Shifter, Prologue & Chapter 1      Leah Suslovich -#9147
 H   The Jungle                         Shawn Pollock -#9148
 H   The Flower                         Ernest E. Gates -#9149
 SF  The Black Fern, Chapters 1-5       William L. Still -#9150
 SF  Tolgon Chronicles, Volume One, Chapter Two  Brian Lee Anderson -#9151
 SF  Escape                             James S. Lawrence -#9152
 SF  Manners                            Zvi Zaks -#9153
 SF  One Life Is Not Enough             Ralph Sabella -#9154
 SF  A Holographic Reality              Matthew Hill -#9155
 H   Trash Talk                         Richard S. Levine -#9156
 SF  A Cross to Bear                    Liam Rands -#9157
 SF  Murder Permit                      Abby Rustad -#9158
 SF  Ambidross Wars: Empires Collide, Chapter 1  Kyle Stewart -#9159
 F   The Undying of Gred Knight         J. E. Idehen -#9160
 SF  Atheist Heaven                     John Derderian -#9161
 SF  Quake                              Stephen Smith -#9162
 SF  The Holy Dude, Chapter 2 (with synopsis of C 1)  Richard Lewis -#9163
 H   Pickups                            Jp LaFon -#9164
 F   Keeping Promises                   Diane Scott -#9165
 SF  Green                              Adam Grace -#9166
 F   Broken                             Rose Hodge -#9167
 F   Milady & The Thief Part 1          Colin Harvey -#9168

Week of 3-Mar-2004 (Crits due 10-Mar-2004):
 F   Elf King                           [mpc] David A Olson -#9169
 F   The Dirge of the Hummingbird       [mpc] Robert J. Santa -#9170
 SF  If Only                            [mpc] Jesse Emspak -#9171
 SF  Deletion                           [mpc] Mike Loos -#9172
 F   Dreaming with the Dingoes          [mpc] Alec Wills Orr -#9173
 F   The Goddess Queen's Battlefield    Eugie Foster -#9174
 SF  Breach of Security                 Ray E. Main -#9175
 H   Knock on the Door                  Dave Erickson -#9176
 SF  The Farthest Discovery, chapter 2  J.D. Williams -#9177
 SF  The Mars Run Chapter 1-3           Chris Gerrib -#9178
 F   Orange Crush                       Karen M. Roberts -#9179
 SF  Brass Ozymandius                   Brandon Butler -#9180
 SF  Getting Your Goat                  William Anderer -#9181
 SF  Sore Loser                         Lloyd Smith -#9182
 H   Paper Dollies                      Irene Schaft -#9183
 F   Phobia                             Carl Alves -#9184
 H   A Voice in the Night               Cheryl McCreary -#9185
 F   Recipe for a Brown Sauce           Allen Weinstock -#9186
 SF  Wrong Turn                         Scott Baker -#9187
 F   Magic Creme Rinse                  Heather Ray -#9188
 SF  Self Imposed                       Ashley Arnold -#9189
 H   Resubmission: The Red Hand of Mountain Lake  J. Fritz Barnes -#9190
 SF  Bittersweet                        Nora Jemison -#9191
 H   Beneath the Lids                   Brian D. Holland -#9192
 F   Endergonic Gods                    Kevin Schramm -#9193
 F   Ordeal By Fire                     Tammy Cravit -#9194
 F   Dogs of War                        David Eustace -#9196
 F   Chicken Foot for the Soul          Rebecca Hunter -#9197
 F   Sammy                              Kathi Wallace -#9198
 H   Crimson Dreams                     Beatrice Littlejohn -#9199
 F   A Dragon at the Door               Richard Jolitz -#9200
 F   The Artist and the Demon           Alec Deason -#9201

Week of 10-Mar-2004 (Crits due 17-Mar-2004):
 H   The Bus Stop                       [mpc] Gary J Beharry -#9202
 SF  Such Abuse Must Stop               [mpc] William Anderer [?] -#9203
 F   The Thief of Echoes, Ch 5 (+storyline so far)  [mpc] Nathalie Rochon -#9204
 SF  I Want My Blankie                  [mpc] James S. Lawrence -#9205
 F   Wolves Never Cry, Chapters 1-3     [mpc] Karen Kincy -#9206
 SF  Forever                            Jeff Cates -#9207
 F   The Wyrd Sisters                   Hank Quense -#9208
 SF  The Rice Caper                     H. C, Finch -#9209
 SF  The Gandreid Project Chs.1-2 RFDR  Clyde Mitchell -#9210
 F   The Cave of Whispering Winds       Pam Davis -#9211
 SF  pandemic                           Brian Clarke -#9212
 SF  Shift                              Richard Herr -#9213
 SF  Identity Theft                     Laura Shrake -#9214
 F   Don't Push A Dragon                John Tremlett -#9215
 F   The Dragon of 110th Street         William Vetter -#9216
 F   Fairy Wine                         Brittany Wilkins Marschalk -#9217
 SF  Rock Jumper                        Robert Gotschall -#9218
 F   When a Loop Becomes a Noose        Michael Stone -#9219
 SF  The Lady and the Leviathan         John Barefield -#9220
 SF  I'm In Love With Me                Glenn Rowsam -#9221
 SF  A Reception Will Be Held Before The Show  Ric Bahr -#9222
 SF  Blockade-Runner                    Andy Miller -#9223
 F   Hostile Takeover (A Dark Comedy)   Matt Mitchell -#9224
 H   Promenade Babies                   Jason T. White -#9225
 F   The Jewels of Meru, Prologue & Chapter 1  Natasya Katsikaris -#9226
 F   The Impossible Tear                Victoria Grant -#9227
 H   Little Cute Thing                  Keith Taylor -#9228
 SF  Driven by Infection                Gareth Hughes -#9229
 SF  Mortal Fear                        Beth Brown -#9230
 SF  Donor                              Holly Messinger -#9231
 F   Rebellion                          F.I. Goldhaber -#9232
 F   Samsara                            Jeff Soesbe -#9233
 F   The Talisman of Zandria, Chapters 1-3  Christine Norris -#9234

Week of 17-Mar-2004 (Crits due [*] 31-Mar-2004):
 H   Returning My Sister's Face         [mpc] Eugie Foster -#9235
 F   Guava Mist                         [mpc] Norm Gillespie -#9236
 F   The Cave of Whispering Winds, Part 2  [mpc] Pam Davis -#9237
 SF  Countdown                          [mpc] Richard Jones -#9238
 H   Echoes                             [mpc] Mike Van Deventer -#9239
 F   Druid's Quest, synopsis            [mpc] Debbie Mumford -#9240
 F   The Goblin Hunter                  [mpc] Jeff Stehman -#9241
 F   eboy                               Michele Korri -#9242
 F   The Faery Bride                    Mary Catelli -#9243
 SF  A Higher Level of Misunderstanding  Carl Frederick -#9244
 H   Still Waters                       Suzanne Church -#9245
 F   The Tower                          LaZealtrice Jackson -#9246
 F   Murdoch's Tale Ch.12-13            Teri Foster Gray -#9247
 SF  The Year of the Airships           Howard Cooper -#9248
 H   Nightmare                          Sherry Thompson -#9249
 SF  The Perfectionizer                 Jakob Drud -#9250
 H   Pronged                            Derek Robinson -#9251
 F   Russka's Last Painting             Keesa Renee DuPre -#9252
 SF  You Know What You Have to Do       Douglas Ryan -#9253
 F   Iron Legion: First Legionnaire - Ch. 1-2 plus Synopsis  Elwin Estle -#9254
 SF  The Book of the Seer               George O'Gorman -#9255
 SF  Keely                              Jacqueline Haney Kidwell -#9256
 SF  Fat Farm                           Stephen Everett -#9257
 F   Don't Forget About Melvin          T.A. Von Reiman -#9258
 SF  Harvest Moon                       Roger A. Jurack -#9259
 SF  What to Do When Your Daughter Gets Crabs  Brian Salyards -#9260
 SF  In the Shadow of Lazarus           Manda Benson -#9261
 SF  My Fill of Nostalgia               Jeffrey Weitzel -#9262
 F   Pursuing Darkness                  Lissa Alsgaard -#9263
 H   Snowstorm                          Michael Karnes -#9264
 H   Hide and Seek                      Jeff Troy -#9265
 F   All that Glitters                  Tom Marts -#9266
 F   A greater thief                    Francois Devoto -#9267
 F   The Laughing Men                   Kyle Fahrbach -#9268
 SF  Virtuality                         John Grgurich -#9269
 SF  Annus Mirabilis                    Mike Rimar -#9270
 F   Blood & Silk, Knights of Avaliah, Book I  Trevor L. B. Porter -#9271
 H   Legacy of Evil                     Elizabeth Blue -#9272
 F   The Shape I'm In                   Vincent van der Zee -#9273
 F   The Strange Fate of Conti the Master Swordsman  John Heeder -#9274
 H   The Really Good Guy                William J. Michaud -#9275
 H   Shadows on the Wall                Liz Becker -#9276
 H   Dracula's End                      Lin Kobee -#9277
 H   The Hunting Trip                   Armand Rosamilia -#9278
 F   The Journey-Stone                  Steven Richards -#9279
 F   Tigergirl                          Daniel Arenson -#9280
 F   With Tongues of Angels             Emily Horner -#9281
 SF  Computer God                       Chad Adams -#9282
 SF  The Bloody Road, Chapter 1         Debbie Moorhouse -#9283
 SF  The Final Days of the Final Frontier  Rahul Kanakia -#9284

Week of 31-Mar-2004 (Crits due 7-Apr-2004):
 F   The Soul of a Badger (chapt. 1-3)  [mpc] Eugie Foster -#9285
 SF  Thirty-Five                        [mpc] Cassidy Hobbs -#9286
 F   Ranger Path revision               [mpc] Dora McNew-Clarke -#9287
 F   Princess Lily's Wedding            [mpc] Robert J. Santa -#9288
 F   Outsider I : Conscription          [mpc] Micheal C. Planck -#9289
 F   The Warrior and the Thief, Death in the Forest  John Ryan -#9290
 F   Keep Away from Naked Flame         Patricia Kirby -#9291
 H   Ripples                            Gary Wilbanks -#9292
 F   Vorsore's Champion, Part 2 of 3    Jen Highkin -#9293
 F   Flee the Harvest, Chapter 1        Parker Owens -#9294
 H   Dating Mr. Wrong: A Victim's Guide  Mik Bennett -#9295
 SF  The Walking, Weeping Prototypes    Michael Andre-Driussi -#9296
 H   The Runner                         Scott Fazekas -#9297
 F   A Bend in the Road                 Zev Davis -#9298
 SF  Of Trinities and Trinaries         Jim Bauer and Ted Grosch -#9299
 F   The Blood of Queens, Chapter 1     Valerie Jones -#9300
 SF  Blood of Freedom                   Cecil Washington -#9301
 SF  Tolgon Chronicles, Volume One, Chapter Three  Brian Lee Anderson -#9302
 SF  Awakenings                         Jeff Sullins -#9303
 F   A Gift Fit For A King              Scott Adams -#9304
 SF  Once Upon A Zeppelin               Michael R. Anderson -#9305
 SF  House Eden                         Liam Rands -#9306
 SF  Data Points                        David Taub -#9307
 H   A Vampire Story                    David William McKay -#9308
 F   Rise of the Dark Ones, Chapter 5: Kulo's Plan  Kyle Stewart -#9309
 SF  Locked Room                        John Derderian -#9310
 F   The mystery of Brunnhilde          Maurice Clauden -#9311
 SF  The Agent                          Lanna Crucefix -#9312
 F   Solid Evidence                     Stephen Smith -#9313
 F   A Unicorn of a Different Persuasion  Diane Scott -#9314
 SF  I Hope the World Can Take It, Chapters 1-3  Artemus Shelton -#9315
 H   Dead Last                          Eric D. Scheck -#9316

Week of 7-Apr-2004 (Crits due 14-Apr-2004):
 F   Lurk                               [mpc] Scott Fazekas -#9317
 F   The Calling                        [mpc] Kris Schnee -#9318
 SF  Surrogate                          William Proctor -#9319
 SF  A Sticky Situation                 Fred Obermeyer -#9320
 SF  Article Six, Paragraph Two         Robert J. Santa -#9321
 F   Need for Magic                     Joseph Swope -#9322
 SF  An Accident Waiting                Harlen Bayha -#9323
 SF  Beyond Good and Evil               Brandon Butler -#9324
 F   Keys of Humanity, Chapter 2        Greg Katila -#9325
 F   Even Wizards Have Bad Days         Robert A. Boyd -#9326
 SF  The Politics of Survival           Lloyd Smith -#9327
 SF  The Good Fairy                     Barbara Bates -#9328
 H   How Far Will You Go                Carl Alves -#9329
 F   Ghost Concerto                     Allen Weinstock -#9330
 H   The Junkyard at the End of the Empire  Alec Wills Orr -#9331
 F   Half Sick of Shadows               Heather Ray -#9332
 F   The Store                          Kathi Wallace -#9333
 F   When Lilacs Last Bloomed           Eileen Rebstock -#9334
 SF  Lean Winter                        Tracey Bjorksten -#9335
 SF  The Ice                            Tereza Rukober -#9336
 F   Ecstatic Pulse                     Adam Nakama -#9337
 SF  Birthday                           Michael Bevilacqua-Linn -#9338
 F   Shaping                            Frederick A. Weihe -#9339
 F   A Guest for Dinner (Tale of Adaxxis Nightshade).  Philip Lee McCall II -#9340
 F   The Augured, Chapter 1             Julia Dvorin -#9341
 SF  Faith                              Ethan Treviño -#9342
 F   Red Haze                           Katherine Fischer -#9343
 SF  The Ortwell Chronicles, Chapters 1-2  Peter A. Wetherall -#9344
 F   The Three Men                      Jennifer G. Buhl -#9345
 H   Forms of Memory                    Stone Morris -#9346

Week of 14-Apr-2004 (Crits due 21-Apr-2004):
 H   Dallas's Booth                     [mpc] Suzanne Church -#9347
 H   Craving                            [mpc] Scott Fazekas -#9348
 SF  Top Predator                       [mpc] Jeff Sullins -#9349
 F   The Widower's Fairy                [@] Joe Murphy -#9350
 SF  Aralian Nights                     Ray E. Main -#9351
 SF  The Farthest Discovery, chapter 3  J.D. Williams -#9352
 F   Take Me To St Roch's               Christine Hall -#9353
 SF  Nature's Way                       William Anderer -#9354
 F   Suicide Woes                       Lori Phillips -#9355
 SF  For the Sake of Appearances        Rob Queen -#9356
 F   One Day Early in April; An Easter Tale (Sort of.)  Barry Wheeler -#9357
 SF  How Na1NoAA (Jack1) Became Aware of the Universe, ...  Glenn Rowsam -#9358
 H   Anton                              Dylan J Morgan -#9359
 SF  The Perfect Race                   Cheryl McCreary -#9360
 F   Confessions of the Sorceress of Fanggold - Ch. 1  Janka Hobbs -#9361
 F   The Dragon Lord's Riddle           Dori Anderson -#9362
 SF  Symbiosis                          Will Briggs -#9363
 F   The Jewels of Meru, Chapter 2      Natasya Katsikaris -#9364
 SF  A Disturbed Animal                 Vesa Pentti -#9365
 SF  I4                                 Kay Sexton -#9366
 SF  Skinpatch                          Holly Messinger -#9367
 F   Daycare Hunting                    Scott Weaver -#9368
 SF  The Buddhist Monk of Obsession     Jonathan James Price -#9369
 F   Cantata in Coral and Ivory, Prelude & Chapter 1  Michelle Bottorff -#9370
 SF  Deconstruction                     Octavia Cade -#9371
 F   Unicorns - Legends of the Fairy scouts.  Allister Modeste -#9372
 F   The Fabric of Time, Chapter 1      Leandro Balan -#9374
 SF  The Old Man of the Mountain        Andrew Cabell -#9375
 F   The Terror on The Tell             R. Dennis Ashcraft -#9376
 H   The Mouth of Coronus               Claire Marie de la Grange -#9377

Week of 21-Apr-2004 (Crits due 28-Apr-2004):
 SF  The Fall of Centaurus              [mpc] Howard Cooper -#9378
 F   Next Best Prophecy chapter 1       [mpc] Paul Ekert -#9379
 SF  Tim's Travels                      [mpc] Rick Dearman -#9380
 SF  Harmonic Vibrations                [mpc] Ilanna Sharon Mandel -#9381
 SF  The Hastillan Weed                 Ian Creasey -#9382
 SF  Legal Action at a Distance         Carl Frederick -#9383
 SF  The Mission Statement              Terrie Leigh Relf -#9384
 SF  Complications, Rented              A'Llyn Ettien -#9385
 F   Life and Death Across Time         Jeroen Nouwens -#9386
 F   Lemon                              Michael Stone -#9387
 F   Links in a Chain                   Petra Ericson -#9388
 SF  Trilobite's vision                 Russell Miles -#9389
 F   The Thief of Echoes, Ch 7          Nathalie Rochon -#9390
 F   Untitled                           Steven Davis -#9391
 F   Skirmish in a Never-ending Conflict  John Barefield -#9392
 F   Drowning in Detail                 Jamie McEwan -#9393
 H   The Basement                       Kevin Jacobson -#9394
 SF  End of the Line                    James S. Lawrence -#9395
 H   Lot 15                             Jason T. White -#9396
 H   Jack Garner                        Danny Hollier -#9397
 SF  Holy Mountains                     Simon Kewin -#9398
 SF  Dead Man's Leap                    Sheila Crosby -#9399
 H   Urban Renewal                      Jp LaFon -#9400
 SF  Sarah T                            Vince Bonasso -#9401
 F   A Promise to Die For               F.I. Goldhaber -#9402
 H   My Woods                           Elizabeth Blue -#9403
 F   Colors of the World                Jeraldene Coleman -#9404
 SF  The Color of Sight, Chapters 0-3   James Freedman -#9405
 SF  The Talent Show                    Andrew Magowan -#9406
 F   The Atonement                      Shanan Holm -#9407
 F   Don't Call It Frisco               Madge E. Miller -#9408
 F   Wealth of Water                    Jennifer Sears -#9409
 H   Short Days, Long Shadows           David Taylor -#9410

Week of 28-Apr-2004 (Crits due 5-May-2004):
 F   For a Brother                      [mpc] David A Olson -#9411
 F   The Talisman                       [mpc] Sondra Owens -#9412
 F   The Way of the Warrior             [mpc] Vesa Pentti -#9413
 SF  The Small Voice                    Michele Korri -#9414
 H   Trees of Terror                    Norm Gillespie -#9415
 F   Green Horses                       Mary Catelli -#9416
 SF  Crux Point                         Teresa Thorne -#9417
 F   Darkmoon                           John Kratman -#9418
 H   The Hall of Pale Faces             Francois Devoto -#9419
 SF  Eagle Red                          George O'Gorman -#9420
 SF  Spacetanks and Snotballs           Daniel Arenson -#9421
 H   In the Ditch, Under the Stars      Myles GIllies -#9422
 H   Avatar                             Michael Karnes -#9423
 H   A Greater Good                     Lissa Alsgaard -#9424
 SF  The Beautiful People -or- Theogenesis  Keith Stump -#9425
 SF  The Pros and Cons of Baseball      Mike Rimar -#9426
 SF  Palindrome                         Jeff Troy -#9427
 F   Talisman of Zandria, Chapters 4-5  Christine Norris -#9428
 H   The Horror at Judds Edge           Jon Nicholls -#9429
 SF  Sunrise over Daedalus              Philip Lees -#9430
 F   The Strange Fate of Conti the Master Swordsman Part II  John Heeder -#9431
 F   A Tale of Two Sisters              Crystal Warren -#9432
 H   Gallery Card                       Armand Rosamilia -#9433
 H   Hope's End                         Christina Gordon -#9434
 H   Archer Nash                        Aaron Newman -#9435
 F   Hearts Aligned                     Charlotte Kettle -#9436
 H   Go into the Dark                   Nancy Lorenzen -#9437
 H   Painting with Mona                 Randy Albion -#9438

Week of 5-May-2004 (Crits due 12-May-2004):
 F   The Firefly Queen                  [mpc] Daniel Arenson -#9439
 F   The Wizard of Eternal Watch and the Keeper of Forever  Eugie Foster -#9440
 SF  Aliens Live in Cocoanut Grove      John Ryan -#9441
 F   Demon in Training                  Gary A. Wilbanks -#9442
 F   Vorsore's Champion, Part 3 of 3    Jen Highkin -#9443
 SF  Tempus Ex Machina                  Mik Bennett -#9444
 F   Flee the Harvest, Chapter 1 + Synopsis RFDR  Parker Owens -#9445
 F   Cinderella Barkowsky               Zvi Zaks -#9446
 F   The Blood of Queens, Chapter 2     Valerie Jones -#9448
 H   Roses                              Candy Taylor Tutt -#9449
 SF  The Solitary Cyclist 2: The Next Generation  John Derderian -#9450
 SF  Brain Boutique                     Pam Cazaubon -#9451
 SF  Tolgon Chronicles, Volume One, Chapter Five  Brian Lee Anderson
 F   A World's Tears, Synopsis          Caroline Baker -#9453
 SF  Survival by Design                 Matthew Hill -#9454
 F   The Stones of Sacrifice, Prologue and Chapter 1  Tim Bickerstaff -#9455
 SF  The Package                        Liam Rands -#9456
 F   The Gifted                         Lin Kobee -#9457
 F   Colors of the World                Jeraldene Coleman -#9458
 SF  Moshe Datetree and the Holy Grail of Plasma Physics, Chapters 1-4  Elise susan Teitelbaum -#9459
 F   The Bargain                        Gerald Costlow -#9460
 F   Morr's Roll                        James Grayson -#9461
 H   The Cutwater Girl                  Joseph Bartlett -#9462
 H   Carrier                            Holly McManis -#9463
 F   The Kiss of the Black Rose Chapters 1-2  Byron Harlow Grant Jr. -#9464
 F   The Precipice of Life              Jordan Tate -#9465
 SF  Echoes of a Straw Man              Joe Chavez -#9466

Week of 12-May-2004 (Crits due 19-May-2004):
 F   The Recurring Feast                [mpc] Jeroen Nouwens -#9467
 F   House of Atreus                    Hank Quense -#9468
 SF  Standoff                           William Proctor -#9469
 SF  Arrested Recall                    Fred Obermeyer -#9470
 H   Crawlspace                         Robert J. Santa -#9471
 SF  The Deltian Invasion               Barbara Bates -#9472
 F   Descartes' Promise                 Joe Swope -#9473
 H   Tirene                             Harlen Bayha -#9474
 H   Secret                             Carl Alves -#9475
 SF  In a Moment of Clarity             Brandon Butler -#9476
 SF  Buried Souls                       Todd Kilgore -#9477
 H   Voodoo--Chapter Three "The Swamp   Irene Schaft -#9478
 SF  Xenologist - Prologue              Zvi Zaks -#9479
 H   Bloodburn                          Scott Dixon -#9480
 SF  The Racketeers                     Ilanna Sharon Mandel -#9481
 F   Symmetries                         Joanne Allison -#9482
 SF  My Brother's Keeper                Richard S. Levine -#9483
 SF  Heavenly Hotels Inc                Tracie Normandeau -#9484
 SF  Turing's Nightmare                 Allen Weinstock -#9485
 F   Dead and Gone                      K Joaquin Tee -#9486
 H   Blight                             Sharon Black -#9487
 F   The Muse                           Kathi Wallace -#9488
 F   Reality Bites Synopsis RFDR        Michelle R. Rasey -#9489
 F   Drake's Rising Chapter 1-6         Bryan Reardon -#9490
 SF  The Lonica, Chapters 1-2           Nicole Lawrence -#9491
 SF  Blacky and the Dreamcatcher or What Would Gunther Do?  Ron Athey -#9492
 F   Small Shen                         Kylie KC Chan -#9493
 F   Strange Fish                       Kristin Knaus Satterlee -#9494
 SF  Mutant Blues                       J-F Dube -#9495
 SF  Atomic Horses                      Wm. Todd Tripp -#9497

Week of 19-May-2004 (Crits due 26-May-2004):
 SF  Owls of Glacier                    [mpc] David A. Olson -#9498
 SF  Falling from Social Grace          Marilyn LT Klimcho -#9499
 F   The Waiting Queen, Chapter 1       Christine Hall -#9500
 SF  Comfortable Bliss                  Laura Shrake -#9501
 SF  Joey's Unlikely Education          William Anderer -#9502
 SF  The Forests of the Racema          Diana Burnett -#9503
 SF  Rassiter                           Glenn Rowsam -#9504
 SF  Farewell, Happy Fields (Synopsis)  Petter Hesselberg -#9505
 H   Strange Flesh                      Paul Sheringham -#9506
 SF  Mira's Bluff                       Robert R. Shelsky -#9507
 H   untitled                           Dylan J Morgan -#9508
 SF  To Save the Race                   Cheryl McCreary -#9509
 F   Conjoined                          Debbie Mumford -#9510
 F   The Witch's Revenge                Barbara Davies -#9511
 F   Demon Rescuer                      Amy Lau -#9512
 SF  The Influence of Dreams            Alexander J. Russell -#9513
 SF  Iterations                         Mark Carter -#9514
 SF  Word Magik!(TM)                    Will Briggs -#9515
 F   Scions of Archaea, Part One, Chapter One  Mary Beth Johnson -#9516
 F   The Jewels of Meru, Chapter 3      Natasya Katsikaris -#9517
 SF  The Test of the Cosmos             Kyle Stewart -#9518
 F   Release, Chapters 1-3              Eden Mabee -#9519
 SF  Leviatech: My Life Inside the Belly of the Beast  Holly Messinger -#9520
 SF  The Thirty-Third of Yadinar (Chapter 4 - excerpts about Traders)  Leslie Haig -#9521
 F   The Augured, Chapter 2 (With Synopsis of Chapter 1)  Julia Dvorin -#9522
 F   Angel Egg                          Shawn Peters -#9523
 H   Jed's Southern Barbeque Celebration  Gary Needles -#9524
 F   The Rising Shadow" Chapter One     Samuel L. H. Van Eerden -#9525

Week of 26-May-2004 (Crits due 2-Jun-2004):
 F   A L ittle Polish                   [mpc] Norma Parfitt -#9526
 F   Viridian Awakening, Chapters 1-6   [mpc] Matthew and Lindsey Schocke -#9527
 F   The Millennium Hunters, Chapters 1-2  [mpc] Karena Andrusyshyn -#9528
 F   The House Always Wins              [mpc] Zachry Southwell -#9529
 F   Back Into The Wild                 Ian Creasey -#9530
 SF  Defensive Position                 Ray E. Main -#9531
 SF  When All Is Said And Done          Carl Frederick -#9532
 H   Skull Diving                       Ted Grosch -#9533
 H   Sheep (working title)              Michael Stone -#9534
 H   The New You                        Jeff Appleton -#9535
 F   Remembrance                        Petra Ericson -#9536
 F   Thief of Echoes, ch 8 (with novel synopsis so far))  Nathalie Rochon -#9537
 SF  Call Center Of The Universe        Lloyd Smith -#9538
 H   Ted, the Darkness, and Me (Chapters 1 - 4)  J. Edward Martin -#9539
 SF  An Unusual Color                   Barry Wheeler -#9540
 F   Swann's Song                       Alec Wills Orr -#9541
 F   Next Best Prophecy - Chapter 2     Paul Ekert -#9542
 H   Gone to Earth                      Octavia Cade -#9543
 SF  The Big Slip                       Bruce McNair -#9544
 F   Avaliah, Violation of the Wolf     Trevor L. B. Porter -#9545
 SF  I Hope the World Can Take It, Chapters 4-6  Artemus Shelton -#9546
 SF  To Live a Life                     Susan Man-Shan Tsui -#9547
 SF  Miracle Drug                       Elizabeth Oldfather -#9548
 SF  The Fix                            Jim Gearhart -#9549
 SF  The Colony                         Annina L. Anton -#9550
 SF  A Brief Visit                      Andrew D. Pierre -#9551
 F   The Rim of Dusk, Prologue          Eric J. Pitman -#9552

Week of 2-Jun-2004 (Crits due 9-Jun-2004):
 SF  Trinities                          [mpc] Jim Bauer & Ted Grosch -#9553
 F   The Black Castle                   [mpc] Barbara Bates -#9554
 F   To Err, Divine                     [mpc] John Barefield -#9555
 SF  Moon Bones                         Michele Korri -#9556
 SF  Not Even Flesh                     Karen M. Roberts -#9557
 F   Two Render a Mess                  Brit Marschalk -#9558
 SF  Symbiota Sapiens                   Larry Pender Jr. -#9559
 SF  Reflections in the Mirror          Julianne Long -#9560
 SF  The Moment of Losing Control       George O'Gorman -#9561
 F   The Pit                            JK Sager -#9562
 F   Megedrien's Story, Chapter 1       Vesa Pentti -#9563
 H   Box Zombies                        Janet Buterman -#9564
 SF  Stronger Than Hate                 Filip Vukcevic -#9565
 SF  Polystyrene                        Roy McLeod Williamson -#9566
 SF  Chasing Hell                       Michael Karnes -#9567
 F   Talkers Anonymous                  Mike Rimar -#9568
 F   Duets                              Philip J. Lees -#9569
 H   Vacation's End                     Armand Rosamilia -#9570
 F   The Yellow Trump                   Konnie De Enos -#9571
 SF  Earth Under Attack, Part One       Robert Lewis -#9572
 SF  Cascading 101: The Temperate Zone  James Freedman -#9573
 F   Shreds of Truth, Chapter 1         Alicia Cawthon -#9574
 SF  Oasis                              Robin Joy Wirth -#9575
 SF  The Sands of His Empire            Kathryn Forster -#9576
 H   The Fear Of Falling                Andrew D. Blunt -#9577
 SF  Retirement                         Steve Weinzirl -#9579
 F   Shadows of the Moon, Prologue      Matthew T. Pierce -#9580
 SF  Cinder and Ash                     Michael Preble -#9581
 F   Home Again                         Gerald Brandt -#9582

Week of 9-Jun-2004 (Crits due [*] 7-Jul-2004):
 F   River of Death, Channel of Life, Chapters 1-2  [mpc] Heather Pine -#9583
 SF  Shield of Driad, synopsis          [mpc] Melonie Medellin -#9584
 F   A Pair of Tales from the Far East  Eugie Foster -#9585
 F   Q & the Witches Are Not Bitches, pt.1  Norm Gillespie -#9586
 SF  Sentai Actress Jasmine             William J. Proctor -#9587
 SF  Where Has Everybody Gone?          Fred Obermeyer -#9588
 F   Of Warriors and Wizards part one 1st draft  John Ryan -#9589
 F   River Gnome Dance                  Gary Wilbanks -#9590
 F   Spiritual Infection                Jen Highkin -#9591
 F   In the Cellar                      Robert J. Santa -#9592
 H   Bite Me                            Mik Bennett -#9593
 F   Mad-Lee in Love                    Harlen Bayha -#9594
 SF  Housebound, or I, Mombot           Michael Andre-Driussi -#9595
 H   The Unholy                         Carl Alves -#9596
 SF  Since I Left Home                  Brandon Butler -#9597
 H   Voodoo--Chapters 4 & 5             Irene Schaft -#9598
 F   The Eye of the Naga                Euan Harvey -#9599
 H   Waste                              Derek Robinson -#9600
 F   STRANGERS ON THE NIGHT TRAIN       Richard K. Lyon -#9601
 SF  The Chronicles of Chevoran: Cavern of the Giants  Michelle Wiginton -#9602
 H   Acid (Working Title)               Ernest E. Gates -#9603
 F   The Gambler                        Charles Daniel -#9604
 SF  Starbucks Must Die                 John Derderian -#9605
 F   A Worls Tears, Chapters 1-2        CarolineBaker -#9606
 SF  Tolgon Chronicles, Volume One, Chapter Five  Brian Lee Anderson -#9607
 SF  The Black Fern (Chapt.6-7, Plus Summary Chapt.1-5)  William L. Still -#9608
 SF  Freighter Canard                   Liam Rands -#9609
 SF  Mahendra Udani                     ric bahr -#9610
 F   The Last Fisher                    Jeraldene Coleman -#9611
 SF  Spacetanks and Snotballs           Daniel Arenson -#9612
 H   Monsolete Law                      Sharon Black -#9613
 SF  Santiago Hotel                     Vince Bonasso -#9614
 F   Keeper, Chapter 1                  Kathleen Wallace -#9615
 SF  Mercy                              Gerald Costlow -#9616
 F   Faces in the MUD                   James Grayson -#9617
 SF  Cadenza                            Jean-Francois Dube -#9618
 F   The Prophet's Promise              Gary L. Bekofske -#9619
 F   Never Infinite                     Jordan Tate -#9620
 SF  Johnny                             Kyle Stewart -#9621
 H   The Interview                      Sheryl Rowden -#9622
 F   Flames and Whiteweed               Jeannette Cho -#9623
 F   A Beast                            Michael Williams -#9624
 F   Stolen Souls                       Mel Hiers -#9625
 F   West Of The Moon                   Patrick Joseph McNamara -#9626
 F   The Fall of Edom                   David Eland -#9627
 H   Kalamazoo by Spring                Benjamin N. Wright -#9628
 H   John                               Keith Taylor -#9629
 SF  Lime Jello~working tittle~         Amy Durham -#9630
 SF  New story                          Mark Gamble -#9631
 F   A Curse, A King and an Emperor's Daughter  Judy L Tucker -#9632
 F   The Sean Mutiny                    Gregory Adams -#9633
 F   The darkstar prophecy_chapter one  Shanna Larsen -#9634
 SF  The Ascendory, Chapters 1-3        Ethan Pettry -#9635
 F   Heroes and Kings, Chapters 1-2     Kyle D. Kinder -#9636
 H   They Only Come Out at Night        Chris Challice -#9637
 H   Unrequited                         Iseult Murphy -#9638
 F   The Fall                           Sandra Stocks -#9639
 F   The Sholin Pig, Chapter 1          Derek Power -#9640
 H   Vampire Legacy (Chapter 1)         Gary Hudders -#9641
 SF  Beautiful Stranger Chapter Four    Joe Mahoney -#9642

Week of 7-Jul-2004 (Crits due 14-Jul-2004):
 H   Meat Pudding                       [mpc] Jeff Appleton -#9643
 SF  Squeaky Enjoyments                 [mpc] Ann Leckie -#9644
 H   Perfect Clarity                    [mpc] David Taub -#9645
 SF  Presidential Politics              Hank Quense -#9646
 F   Fora Child                         David A. Olson -#9647
 SF  Patron of the Arts                 Richard Herr -#9648
 SF  One Last Summer                    Norma Parfitt -#9649
 F   The Waiting Queen, Chapter 2       Christine Hall -#9650
 F   Charon's Intervention Agency       Jakob Drud -#9651
 SF  Menace of the Pink lagoons         [@] Richard K. Lyon -#9652
 H   True Son of Asmodeus, Chapter 1    Zvi Zaks -#9653
 SF  The Great Egg Crisis               Robert A. Boyd -#9654
 H   Remebrance Day                     Paul Sheringham -#9655
 SF  Rebirth                            Eric J. Pitman -#9656
 SF  Banned                             Tracie Normandeau -#9657
 F   The Birthday Gift                  Debbie Mumford -#9658
 SF  The Collaborators                  Mark Carter -#9659
 F   Honor's Measure, Chapters Synopsis-0  Rebecca Miller -#9661
 F   Song of the Crystal Singers: Volume 1: The Millennium Hunters  Karena Andrusyshyn -#9662
 SF  The Scepter of Time                Leslie Haig -#9663
 SF  Laundry and Eternity               Patrick Shiflett -#9664
 F   The House of Iris Madden           Hazel Ong -#9665
 H   The Tarpit                         Bill Putney -#9666
 F   New Wudang                         Kylie KC Chan -#9667
 H   Rough Trade                        Jonathan Boyle -#9668
 SF  Joy Remy                           Joy Remy -#9669
 F   The Changelings                    Tracie McBride -#9670

Week of 14-Jul-2004 (Crits due 21-Jul-2004):
 SF  Mad Dogs of Mercury                [mpc] Michael Andre-Driussi -#9671
 SF  Impact                             [mpc] Jeff Appleton -#9672
 SF  Breach of Security                 Ray E. Main -#9673
 SF  Crimson Symphony                   Laura Shrake -#9674
 F   For Lack of Better Stories         Eyal Teler -#9675
 F   The Silk Palace Synopsis           Colin Harvey -#9676
 SF  Vu                                 Karen M. Roberts -#9677
 SF  The Uinta Incident                 Michael Stone -#9678
 F   Plastic Fairies                    Brit Marschalk -#9679
 SF  Project Avalon:The Man Without Dreams, Chapter 1  Chris Owens -#9680
 H   Bombs Over Toronto                 Jason T. White -#9681
 F   Dreamblood, Chapters 1-3, RFDR     Nora Jemison -#9682
 SF  Mackerel Sky                       Roy McLeod Williamson -#9683
 F   The Souk of Dreams                 Rupa Bose -#9684
 F   Boniface Praig                     Mike Rimar -#9685
 F   Fayth                              Stefan Szary -#9686
 SF  Body Politic                       Philip Lees -#9687
 SF  Sweet Green                        Filip Vukcevic -#9688
 F   The Goblin Horde Chapter 1 & 2     Armand Rosamilia -#9689
 F   Mightier than the Sword            Crystal Warren -#9690
 SF  A Shot Fired in Peacetime          Shawn Peters -#9691
 SF  Vampire Squadron                   Luke E.A. Lockhart -#9692
 H   The Incessant Smile                Aaron Craig Newman -#9693
 F   Charles and Alice                  Chris Hopper -#9694
 F   Inheritance                        Martin Engstrom-Heg -#9695
 SF  Absolutely Criminal                Rusty Atkinson -#9696
 H   The Diarist                        Mark Silcox -#9697
 SF  Ishtar Cometh                      Antonio Carrion -#9698
 SF  The Second Ralph                   M.G. Strahan -#9699

Week of 21-Jul-2004 (Crits due 28-Jul-2004):
 SF  Martian Skinny                     [mpc] David A. Olson -#9700
 SF  Searching Livinia, Synopsis, Prologue, Chapter 1: Mission  [mpc] Jim Stokes -#9701
 SF  Love by proxy                      [mpc] Filip Wiltgren -#9702
 SF  Lost Worlds; Lost Minds            [mpc] Nicole Ross -#9703
 SF  For Kicks the Donkeys Dream of Fiji  [mpc] Joy Remy -#9704
 F   The Soul Stealer                   Michele Korri -#9705
 SF  The Edge of the Map                Ian Creasey -#9706
 SF  Between the Shadows                David Miles -#9707
 F   Tofu Dragon                        Patricia Kirby -#9708
 SF  Ode to Invisibility                Suzanne Church -#9709
 F   Small Favors                       Teresa Thorne -#9710
 H   A Good Match                       Wenonah Lyon -#9711
 SF  The Next Great Epoch               Kirk Davis -#9712
 SF  Conjuncture                        Russell Miles -#9713
 SF  The Darkness Between               Jeremy Minton -#9714
 SF  Absolute Advantage                 Matthew Hill -#9715
 SF  Skies Collide                      Jeffrey David Weitzel -#9716
 F   Loomkeepers and Lorereapers: Prologue  Kathleen Cox -#9717
 F   Loathsome Alyce                    Sheila Crosby -#9718
 SF  Detours                            Craig A. Cook -#9719
 SF  Imago Dei                          Stephanie Gunn -#9720
 F   Stairway, Prologue & Chapter 1     Salathiel Palland -#9721
 F   El Remedio                         Marguerite Lance -#9722
 SF  Blue World                         Rory Douglas Abel -#9723
 SF  Breakdown                          Sherri Jordan Asble -#9724
 SF  Unqualified Love                   Christian P. Ferraro -#9725
 F   A Shadow Under Starlight, Ch. 1    Stephanie Rumpza -#9726
 F   Prophecy of Aradia                 Audrey Turner -#9727
 SF  Home Against the Whole             Jon Ruland -#9728
 SF  As the stars bend and break        R V Saunders -#9729
 F   Flight of the Gods                 Brent Kellmer -#9730

Week of 28-Jul-2004 (Crits due 4-Aug-2004):
 SF  A Method of Killing                [mpc] Suzanne Church -#9731
 SF  Four against the Fall of Diphda    [mpc] Michael Andre-Driussi -#9732
 SF  The Politics of Survival           [mpc] Lloyd Smith -#9733
 SF  Midnight on Rockefeller Road       [mpc] Alan Yee -#9734
 SF  Canwyll Corph                      [mpc] Matt Dudzic -#9735
 F   Unity                              [mpc] Charity Helton -#9736
 F   The Rubies of Kutzian              John Ryan -#9737
 F   In God's Image                     Robert J. Santa -#9738
 H   Are You Ready To Walk With Me?     Ross Young -#9739
 SF  The Warning                        Mik Bennett -#9740
 SF  The Prodigal Son                   Jesse Emspak -#9741
 H   The Black Diamond Express          Ted Grosch -#9742
 H   Voodoo---chapters 6, 7 &8          Irene Schaft -#9743
 SF  The Object of My Objection         Glenn Rowsam -#9744
 F   The Prince, His Sister, The Servant, His Son, and the Intestine-Eating Ghost  Euan Harvey -#9745
 F   The Thief of Echoes, ch 9 (with overview so far)  Nathalie Rochon -#9746
 F   The Blackout Diversion             Charles Daniel -#9747
 SF  Locked Room                        John Derderian -#9748
 F   The Imp Chronicles, Tablet I       Shawn Jackson -#9749
 F   The Incompletes                    Jeraldene Coleman -#9750
 SF  We Came to Praise Caesar           Liam Rands -#9751
 SF  The Long Sleep                     Ric Bahr -#9752
 SF  Prime Aliens                       Keith Stump -#9753
 SF  Dream Beast                        Will Briggs -#9754
 SF  Metamorphosis                      Andrew Moskalik -#9755
 F   A Special Day                      Gerald Costlow -#9756
 H   The Code of Lin-Yagoth             Kyle Kinder -#9757
 SF  The Traveler                       Holly Biffl -#9758
 F   The Key to Andorra_chapter one     Shanna C. Larsen -#9759
 SF  Dragon's Breath                    Kyle Stewart -#9760
 SF  Tudor Forsaken, Chapters 1-4       Trevor Barnett -#9761
 F   Anna Haden" (Working Title)        Sarah J Robbins -#9762
 SF  Batty                              Becky Gauger -#9763

Week of 4-Aug-2004 (Crits due 11-Aug-2004):
 SF  New Planet                         [mpc] [mpc] Suzanne Church -#9764
 H   Satan's Lair                       [mpc] Rick Darr -#9765
 F   The Ambush by Osi's Skull          [mpc] Chet Gottfried -#9766
 F   Ash and Fire, Chapters 1-2         [mpc] Scott H. Andrews -#9767
 F   Blind Love                         Eugie Foster -#9768
 F   A Twist of Faith                   Fred Obermeyer -#9769
 H   Mama                               Gary Wilbanks -#9770
 F   Rogues Gold                        Martin H. Slusser -#9771
 F   Coeur de Lion                      Dora McNew-Clarke -#9772
 H   They Wait                          Carl Alves -#9773
 H   Trimming the Ivy                   Cassidy Hobbs -#9774
 SF  It Still Tasted the Same           Todd kilgore -#9775
 F   Ode to Buses and Libraries         Lori Phillips -#9776
 SF  Menace Of The Pink Lagoons         [@] Richard K. Lyon -#9777
 F   Return to Ravenworld               Daniel Arenson -#9778
 F   Sorrow's Puppet -- Synopsis and Chapter 1  Giulia Fancelli -#9779
 SF  A Taste of the Inevitable          James Grayson -#9780
 F   The Sholin Pig(COMEDY), Chapter 2  Derek Power -#9781
 F   Lieutenant Doyocho And the Nun Who Lost Her Head  Tim Hammack -#9782
 F   The Smelly Magic Nugget            Mel Hiers -#9783
 SF  Murder At Elmo's                   Robin Joy Wirth -#9784
 SF  God Corporation                    Irene L. Pynn -#9785
 H   Snickers                           Andre Trawick IV -#9786
 F   Blood on His Hands                 Steve Weinzirl -#9787
 SF  Difficult Decisions                Timothy Webster -#9788
 SF  Beautiful Stranger From the Files of Barnabus J. Wildebear Chapter 5 (with synopsis this time!)  Joe Mahoney -#9789
 H   One clear thought                  john pfannkuchen -#9790
 F   To the God of Hidden Knowledge     Sean Casey -#9791
 F   Danara's Destiny, Chapter 1        Meg Stewart -#9792
 F   Devil                              Shannon Scott -#9793
 F   The First Adventure- The Wand of Abigar  Steve Harden -#9794

Week of 11-Aug-2004 (Crits due 18-Aug-2004):
 F   The Garden                         [mpc] Ric Bahr -#9795
 SF  The :Locks, Chapters 10-11         Doc Finch -#9796
 SF  Ghosts in the Void, Chapter 1      Morgan Beard -#9797
 SF  The Other We                       John Barefield -#9798
 SF  Culinary Subjugation               Jakob Drud -#9799
 H   True Son of Asmodeus - Ch 2        Zvi Zaks -#9800
 F   On Eagle's Wings                   R. Miller -#9801
 F   Bran and Maeve Chapter 1           Amy Lau -#9802
 SF  I, Prindill                        Leslie Haig -#9803
 F   Samsara                            Jeff Soesbe -#9804
 F   The Wind and the Tree              Hazel Ong -#9805
 SF  G.E.E.Ps!                          Georg Steck -#9806
 F   Plover Cove                        Kyile KC Chan -#9807
 SF  Millennium Hunters Issue 3         Karena Andrusyshyn -#9808
 SF  If Men are from Mars, and Women are from Venus, are Dogs from Pluto?  Ron Athey -#9809
 F   Rum and Labor                      Patrick Shiflett -#9810
 SF  Serendipity                        David A Maisel -#9811
 F   Nimka's Menace part 1              JA Howe -#9812
 SF  Without Tears                      Alexey Borshch -#9813
 H   Old Wives Tale                     Alexander Smith -#9814
 F   Blood of the Dawn                  Abigail Hilton -#9815
 SF  Love, Infidelity and the Miss Universe Pageant  Don L. Smith -#9816
 F   Karasi : Leaving Chapters 1-5      Kathlen D. C. R. Figueroa -#9817
 F   Haunted Storm                      Gary W. Herring -#9818

Week of 18-Aug-2004 (Crits due 25-Aug-2004):
 SF  The Darkest Abyss                  [mpc] Dora McNew-Clarke -#9819
 SF  Prosthesis                         [mpc] Benjamin Crowell -#9820
 H   The Lurkers in the Septic Tank     [@] Joe Murphy -#9821
 SF  Outsourced                         Richard Herr -#9822
 SF  Such Abuse Must Stop               William Anderer -#9823
 H   The Immigrant's Song               Michael Stone -#9824
 F   Pennyfer                           Brit Marschalk -#9825
 F   The Night Train from Yuma          [@] Richard K. Lyon -#9826
 SF  Station's Bottom                   Derek Robinson -#9827
 F   Project Avalon: The Lake Of Transformation  Chris Owens -#9828
 F   Return of the Cat Queen (chapter 1)  Dionne Washington -#9829
 SF  Above the Mississippi              Richard S. Levine -#9830
 SF  The Promised Land                  Janet Buterman -#9831
 SF  Eve                                Paula Richey -#9832
 F   Primal Scream                      Roy McLeod Williamson -#9833
 H   Ted                                Kimberly Colley -#9834
 H   Aiden's Resurrection               Mike Rimar -#9835
 H   General Delivery                   Amy S. Beard -#9836
 F   Elsewhere Prologue & Ch. 1         Jefferson Hunt -#9837
 H   Stairs To The Ocean                Armand Rosamilia -#9838
 F   Thief                              Steven Rowell -#9839
 F   Trading Rosemary                   Octavia Cade -#9840
 F   Prolouge                           Stefan Szary -#9841
 H   Barking                            Tracie McBride -#9842
 F   Inheritance, Chapters 1-2          Martin Engstrom-Heg -#9843
 H   The Raising                        Chris Hopper -#9844
 SF  Executive Order 6 (screenplay)     [@] Philip Eisner -#9845
 SF  Casting A Spell                    Mark Schnitzius -#9846
 SF  The Republic, Chapters 1-7         Jon Q. Jacobs -#9847
 SF  Escapists in Love                  Mark Silcox -#9848
 H   Death And...                       Eric Marin -#9849
 SF  Love the Helmet                    Jordan Mangan -#9850

Week of 25-Aug-2004 (Crits due [*] 8-Sep-2004):
 SF  Have Dominion                      [mpc] Benjamin Crowell -#9851
 F   The Maglorians                     [mpc] Gabrina Garza -#9852
 F   La Dame Rouge                      [mpc] Alan Yee -#9853
 SF  History's Pawn                     [mpc] Boris Layupan -#9854
 F   Shadows                            [mpc] D. K. Markee -#9855
 SF  The Thursday Usual                 Michele Korri -#9856
 SF  Learning Enabled                   David A. Olson -#9857
 F   As Dark as the River               Pam Davis -#9858
 SF  Silence in Florence                Ian Creasey -#9859
 F   No Real Title                      Norma Parfitt -#9860
 SF  Avalanche                          Barbara Bates -#9861
 H   Obsession                          Mik Bennett -#9862
 F   Cybrus the Uncomfortable           Brandon Butler -#9863
 F   Root and Stone                     Petra Ericson -#9864
 H   Gray Matter                        Kevin Jacobson -#9865
 F   Eliana & the Magic Seeds pt1       Charlene L. Amsden -#9866
 SF  Ice Cold                           Kirk Davis -#9867
 SF  Cold Draft                         John Derderian -#9868
 F   The Trip Down                      Louis Doggett -#9869
 SF  The Ultimate Proof 2.0             Matthew Hill -#9870
 H   Promenade Babies                   Jason T. White -#9871
 SF  MASS Attack                        Liam Rands -#9872
 SF  Davey Drops a Load                 Jeffrey David Weitzel -#9873
 SF  Dark Abyss                         Ann Leckie -#9874
 SF  The Enzymation of the Norwoods     Will Briggs -#9875
 SF  Forgotten                          Brian Salyards -#9876
 SF  No Being is an Island              Marge Danser -#9877
 SF  A Change of Approach               Philip Lees -#9878
 SF  Galatea                            Holly Messinger -#9879
 H   Over the River                     Joy Remy -#9880
 SF  The Bison's Child                  Marguerite Lance -#9881
 H   Recalled to Life                   Kim Schmehl -#9882
 SF  Longshot, Chapter One              Brian E. Howard -#9883
 F   Daughter Of The Wind chapter 1 & 2  Sandra Panicucci -#9884
 SF  Random Acts of Destruction         Rory Douglas Abel -#9885
 SF  Eternity to Ponder                 Kyle Stewart -#9886
 F   A Shadow Under Starlight, Ch. 2    Stephanie Rumpza -#9887
 SF  The Storm                          Jane Bingham -#9888
 F   The Gate                           Jon Ruland -#9889
 SF  Mr. Philips                        Christian P. Ferraro -#9890
 F   Telu                               Tony Walls -#9891
 F   The Stuff That Legends Are Made Of  Salathiel Palland -#9892
 SF  An Unexpected Error                David Eland -#9893
 F   Protector                          Jeff Draper -#9894
 H   When All is Done                   Toni Stauffer -#9895
 SF  Trial and Error                    Mark Ward -#9896
 F   Raven's Glen                       Phil Logan -#9897

Week of 8-Sep-2004 (Crits due 15-Sep-2004):
 SF  Thirty-five, Chapter 1             [mpc] Cassidy Hobbs -#9898
 H   SEA-MONKEYS                        [mpc] Jeff Appleton -#9899
 F   River of Death, Channel of Life, Ch. 1-2  [mpc] Heather Pine -#9900
 SF  Dust                               [mpc] Roy McLeod Williamson -#9901
 SF  Consanguinity: Part I of III       [mpc] Daniel Wilkinson -#9902
 H   Jack Sprat's Golem                 Patricia Kirby -#9903
 SF  Dumpster Dine and Dash             Laura Shrake -#9904
 F   Spiritual Infection                Jen Highkin -#9905
 F   Small Favors- revised              Teresa Thorne -#9906
 SF  Death Race at Tau Ceti             Michael Andre-Driussi -#9907
 F   Avaliah, Violation of the Wolf     Trevor L B Porter -#9908
 F   Kamaratunga's Masterpiece          Euan M. Harvey -#9909
 SF  Call Center Of The Universe        Lloyd Smith -#9910
 F   The Imp Chronicles, Tablet II      Shawn Jackson -#9911
 SF  New Fossil Evidence                Charles Daniel -#9912
 SF  Real Dolls                         David DeGraff -#9913
 H   Amycus Rising                      Rick Darr -#9914
 F   Suspension of Disbelief            Rob Worthington Queen -#9915
 H   Cut                                Dena M. Martin -#9916
 SF  Immensity                          Matt Dudzic -#9917
 F   A Distant Call                     Gerald Costlow -#9918
 F   Sorrow's Puppet -- Synopsis and Chapter 2  Giulia Fancelli -#9919
 F   The Mask of Enduring Youth         James Hill -#9920
 SF  Antenna Memory                     Mark Gamble -#9921
 SF  The End of Something               Michael Williams -#9922
 F   The First Adventure, The Wand of Abigar, Chapters 1-3  Steven P Harden -#9923
 H   To Kick the Habit                  Justin J. Sherman -#9924
 SF  Bones                              Bill Johnson -#9925
 F   The Worldsinger's Dirge, Chapter 1  Evelyn Pinter -#9926
 F   A Few Turns More....chptr 1-2      Jen Oberlander -#9927
 F   A Song for Terrawynd Chapter 1 part 1  Gavin D. Clark -#9928
 F   Darkmoon                           John Kratman -#9929
 SF  Maximum approach                   Doly Garcia -#9930
 H   Interstellar Oblivion              Michael Douglas -#9931

Week of 15-Sep-2004 (Crits due 22-Sep-2004):
 H   The Four Hundred and Twenty-Three  [mpc] Pam Davis -#9932
 SF  Autism                             [mpc] Joe Belofsky -#9933
 SF  The Ruins Collectors               [mpc] Rahul Kanakia -#9934
 F   The Tanuki-Kettle                  [@] Eugie Foster -#9935
 SF  Cabin Fever                        Doc Finch -#9936
 SF  Secret Pains                       Fred Obermeyer -#9937
 SF  Triangle of Fire                   Stephen B. Pearl -#9938
 F   Rogue's Gold part 2                Martin Slusser -#9939
 F   Rewind                             Carl Alves -#9940
 SF  Little Breaths                     Karen M. Roberts -#9941
 SF  Life after death                   Lilian Gilmour -#9942
 SF  Flight of the Historic Event       Jakob Drud -#9943
 F   The Thief of Echoes, ch 10 (with overview so far)  Nathalie Rochon -#9944
 F   Confessions of the Sorceress of Fanggold, Chapter 1  Janka Hobbs -#9945
 H   The White Cat                      Richard Magee -#9946
 F   Swann's Song (Part Two)            Alec Wills Orr -#9947
 SF  Sophie's Journey                   Sheila Crosby -#9948
 F   Wolf                               Charity Helton -#9949
 F   Truth and Lie                      Daniel Arenson -#9950
 F   Midway Between Heaven and Hell     J.J.S. Boyce -#9951
 H   Lightning, Hold the Thunder        Patrick Rabe -#9952
 SF  Snowfall In Vegas                  David Pimmel -#9953
 F   The Inkwell                        Gail L. Leeds -#9954
 F   The Sandstone Kiss                 David J. Burbank -#9955
 F   From Light to Dark, Chapters 1-3   Irene L. Pynn -#9956
 H   Sacrifices                         Abigail Hilton -#9957
 F   An Exile of Wizards                Brent F. Houck -#9958
 F   Karasi Reborn Chapter 1            Kathlen D. C. R. Figueroa -#9959
 F   Evil Lost, Chapters 1-3            Heather Murray -#9960
 F   Gareth Intro.                      Daniel Tan -#9961
 SF  Dance of Shiva                     Sean Eret -#9962
 F   Geow-lud-mo-sis-eg                 Jane Mitchell -#9963
 SF  The Space Between                  Tereza Rukober -#9964

Week of 22-Sep-2004 (Crits due 29-Sep-2004):
 SF  Never Work for a Slug              [mpc] D. K. Markee -#9965
 SF  The Gift                           [mpc] Kate Kirk -#9966
 SF  Dark Night of the Soul             [mpc] David Eland -#9967
 SF  The Man Without Dreams: Prologue   Chris Owens -#9968
 H   Speaking in Forked Tongues         Michael Stone -#9969
 F   Pennyfer (2nd Revision)            Brit Marschalk -#9970
 SF  The Quest of Saint Nixon, Chapters 1-3  [@] Richard K. Lyon -#9971
 SF  Not That We Were Gods              Maria Zannini -#9972
 SF  DARK NIGHTS of FIRE and DELIVERANCE (Tolgon Chronicles, Volume One),  Brian Lee Anderson -#9973
 SF  The Apples of Her Eyes             [@] Patrick Samphire -#9974
 F   Earrings                           Kimberly Colley -#9975
 SF  Chaos & Star Dust                  Tracie Normandeau -#9976
 SF  Playing Nice With God's Bowling Ball  Nora Jemison -#9977
 SF  Batty p.2                          Becky Gauger -#9978
 F   The Oberon and Ti-Ania: An Epic Urban Fairy Tale: Chapter 1  Amy Lau -#9979
 F   Daughter of the Sea                Hazel Ong -#9980
 H   Second Banana                      Mike Rimar -#9981
 SF  The Republic, Chapters 8-10        Jon Jacobs -#9982
 SF  Online                             Jeremy Straub -#9983
 F   Prayers to Rhya, Prologue & Chapter 1  James Grayson -#9984
 F   Soccer Mum                         Kylie KC Chan -#9985
 F   Beware the Mera'posei              Amy S. Beard -#9986
 F   The Dragon and the King            Octavia Cade -#9987
 F   A Bittersweet Shadow               Dave Baxter -#9988
 SF  Samurai Cowboy                     Kristopher Horton -#9989
 SF  The Journey                        Sonny Denbow -#9990
 H   Halloween Man                      Kevin Anderson -#9991
 H   Parasite                           Nate Gillick -#9992
 H   Special Vampiric Services, Chapter 2, + Synopsis Chpt 1  G.Hudders -#9993
 F   The Black Rose, Chapter 1          M. Ruzicka -#9994
 SF  Flight of the Pharaon              Patrick Graham -#9995

Week of 29-Sep-2004 (Crits due 6-Oct-2004):
 H   Hero                               [mpc] Paul Saxberg -#9996
 SF  Zaftig the Magnificent             Hank Quense -#9997
 F   Winter's Curse                     Mary Catelli -#9998
 SF  Troubadour                         Richard Herr -#9999
 SF  The Beast at the Door              Connie Gulick -#10000
 F   Sew Innocent, So Cruel             Rena Hawkins -#10001
 F   Air                                Derek Robinson -#10002
 H   Piecework                          Ernest E. Gates -#10003
 SF  Farewell, Happy Fields             Petter Hesselberg -#10004
 SF  The Kidding Stays in the Tytlal    William Taylor -#10005
 SF  Blood Spider                       David Eustace -#10006
 F   The Clearest Vision                Shawn Peters -#10007
 SF  Seredipity                         David A Maisel -#10008
 F   Quest for Survival, Chapters 1 and 2  Susan Doyle -#10009
 SF  Abduction, Chapters 1 & 2          Jackie Hill -#10010
 SF  Only a Necklace                    Holly Biffl -#10011
 F   The Death of the Mad Wizard        Kyle D. Kinder -#10012
 SF  Nimka's Menace                     JA Howe -#10013
 F   Solemn Duty                        John Pearson -#10014
 F   A Fixer Upper                      Mark Silcox -#10015
 F   The Mystics-The Lost Key, Chapters 0-3  Brianna Pitts -#10016
 SF  Joanne's Cafe                      Kevin Doran -#10017
 SF  Teach's War                        Ted Davis -#10018
 F   The Last One Chapter 1             Aubrey A. Pedersen -#10019
 SF  Still Life, With Fish              Sean Wolf -#10020
 F   (S)leaper                          Tony L. Hines -#10021
 SF  The Keepers                        NJ Fischer Bjork -#10022
 SF  The King Of                        A.H. Jennings -#10023

Week of 6-Oct-2004 (Crits due 13-Oct-2004):
 H   The Director's Cut                 [mpc] Ernest E. Gates -#10024
 SF  Batty Part 3                       [mpc] Becky Gauger -#10025
 H   The Bunny of Vengeance and the Bear of Death  [@] Eugie Foster -#10026
 F   Guilt                              Tracylea Byford -#10027
 F   To Fit In                          David A. Olson -#10028
 F   The Traveler, Book Two             Peter Krausche -#10029
 SF  Long the Stars Wait                Ray E. Main -#10030
 SF  Breakthrough                       Mik Bennett -#10031
 SF  Woah, Trimethylnitrooxidine!       Brandon Butler -#10032
 F   Crossing Over                      Irene Schaft -#10033
 SF  Island in the Sky                  [@] Richard K. Lyon -#10034
 SF  Idiots, Chapter 1                  John Derderian -#10035
 H   Wannabe                            Liam Rands -#10036
 SF  VR                                 Will Briggs -#10037
 F   At the Bridge of Destiny           Alan Yee -#10038
 F   Fate's Chosen One's Chosen Fate    Abby Rustad -#10039
 F   Elsewhere chapter 2 Rose           Jefferson Hunt -#10040
 SF  Healer                             Kyle Stewart -#10041
 F   The End of the World               Jonathan Ruland -#10042
 H   Say the Word                       Rory Douglas Abel -#10043
 H   The Camera                         Tony Walls -#10044
 SF  Mind Song                          Nathan Beittenmiller -#10045
 F   Green-Eyed Monster                 Salathiel Palland -#10046
 H   Careful what you wish for          Kim Schmehl -#10047
 SF  The Pioneer's Lament               Mark Ward -#10048
 F   The Naga of Pomona                 Kevin N. Haw -#10049
 F   Water Harvest, Prologue & Chapter 1  Eric Diehl -#10050
 H   Stardust                           Laura Catania -#10051
 SF  Man of Fire                        Jonathan Gillespie -#10052

Week of 13-Oct-2004 (Crits due 20-Oct-2004):
 SF  Heat of Ice                        [mpc] Anne Kaelber -#10053
 SF  Fresh Start                        [mpc] Kevin Doran -#10054
 SF  Smelly                             Michele Korri -#10055
 SF  Ghost and the Machine Chapter 1 and outline  Jim Bauer and Ted Grosch -#10056
 F   IAN                                Norma Parfitt -#10057
 SF  Thirty-Five, Chapter 2             Cassidy Hobbs -#10058
 SF  Bride of the Forbidden World       Michael Andre-Driussi -#10059
 F   Looking Down the Canal             Euan Harvey -#10060
 H   Two birds, one stone               Shawn Jackson -#10061
 H   School Lessons                     Charles Daniel -#10062
 H   The Ranch                          Jason V. Shayer -#10063
 SF  The Food of Love and Hate          Roy McLeod Williamson -#10064
 F   Two By Magic, Chapters 1-2         Carolyn Traud -#10065
 F   Adeno                              Gabrina Garza -#10066
 F   Good Luck                          Aimee Poynter -#10067
 F   Suspension of Disbelief: Chapter 1  Rob Worthington Queen -#10068
 H   The Gallows                        Dena M. Martin -#10069
 F   River Song                         Rupa Bose -#10070
 F   Sorrow's Puppet -- Synopsis and Chapter 3  Giulia Fancelli -#10071
 F   Playing Hardball with Dustbunnies, Prologue and Chap 1  Gerald Costlow -#10072
 SF  Cliquing on Time - Day 1 partial RFDR  Reb Bacchus -#10073
 F   The Revenge of Monkey Man          Tim Hammack -#10074
 SF  Irini's Obsession                  Mark R. Barnes -#10075
 SF  Love for Sale [aka 'Love the Helmet' Mk2]  Jordan Mangan -#10076
 H   The Amulet                         Theresa Brandt -#10077
 H   The Meat Seller                    Terri Lynn Coop -#10078
 SF  Jake                               William Evenson -#10079
 F   Dreaming Death, Chapter 1          Jeannette Kathleen Cheney -#10080
 F   Significant Others                 Lee Carlon -#10081

Week of 20-Oct-2004 (Crits due 27-Oct-2004):
 F   The Intervention                   [mpc] Gary J Beharry -#10082
 SF  In the Form of a Trophy            [mpc] Alissa Grosso -#10083
 SF  Fifty Ways to Kill a Star          [mpc] Roy McLeod Williamson -#10084
 F   The Point Beach Dragon             Doc Finch -#10085
 SF  A World Once Habitable             Fred Obermeyer -#10086
 SF  The Speed of Intelligence          Carl Frederick -#10087
 H   Rogue's Gold 3                     Marty -#10088
 H   The Unholy, Ch.3                   Carl Alves -#10089
 F   Fairy of Happiness                 LaZealtrice Jackson -#10090
 SF  Aeolian, chapter 1                 Nathalie Rochon -#10091
 H   Flaxen                             Candy Taylor Tutt -#10092
 F   Canyon Crawlies(working title)     Sandra Panicucci -#10093
 H   Visitation Rites                   Michael Lopez -#10094
 F   The Creation and Destruction of the World  Ann Leckie -#10095
 H   Becky Bee Dreams Part 1            Richard Magee -#10096
 SF  Suitable for Him                   Leslie Haig -#10097
 SF  Insomnia and the Black Hole of the Mind  Holly Messinger -#10098
 F   Nihon no Genjuu: Hokkeji no Kappa  Steve Parker -#10099
 SF  Sara Summer Song, Chapter 1        D. M. Simmons -#10100
 F   Comfortably Gnome                  J.J.S. Boyce -#10101
 H   Attention, Shoppers!               Patrick G. Rabe -#10102
 SF  Rachel                             Michael Williams -#10103
 F   The Apprentice                     Steven Rowell -#10104
 F   Defending the Resurrectionist      Marguerite Lance -#10105
 H   Snow Lends Itself to a Murder      Christian L. Campbell -#10106
 F   Redemption, At Last                Kevin D. Hartford -#10107
 SF  Fight or Flight                    Greg Nyberg -#10108
 H   Among Pestilence and Death         Dylan J Morgan -#10109
 SF  In the 1,000 Stars Hotel           Doly Garcia -#10110
 F   Chapter 2 Gareth                   Daniel Tan -#10111
 SF  Not about Green                    Jenn Mercer -#10112
 F   The Glove                          Kurtis W.Jones -#10113

Week of 27-Oct-2004 (Crits due 3-Nov-2004):
 F   Iron's Rhyme                       [mpc] Abby Rustad -#10114
 SF  A New Enterprise                   William Anderer -#10115
 F   The Man Without Dreams: Chapters 3, 4  Chris Owens -#10116
 F   Pig on a Motorcycle                Michael Stone -#10117
 SF  The Arcadia Project                Brit Marschalk -#10118
 SF  CHAPTER SEVEN of DARK NIGHTS of FIRE and DELIVERANCE (Tolgon  Brian Lee Anderson -#10119
 H   Shallow                            Kimberly Colley -#10120
 F   The Summoning Stone                Joelle Augustine -#10121
 F   Sidhe: An Epic Urban Fairy Tale, Chapter 2 (with summary)  Amy Lau -#10122
 SF  The Republic, Chapters 11-13       Jon Jacobs -#10123
 SF  Alone                              Mike Rimar -#10124
 SF  Mind Virus                         Adam Banks -#10125
 H   Haunting of a Lady.                Warren Knisbaum -#10126
 SF  The House of North Brighton        Chris Hopper -#10127
 F   The Squaring of George             Octavia Cade -#10128
 H   Blood of the Willing, Chapter 1    Robin Wilkinson -#10129
 F   A Silly Little Fairy Tale          Sonny Denbow -#10130
 SF  Excerpts from a Log                Robert White -#10131
 SF  Time to Wait                       J.Michael Matuszewicz -#10132
 F   The Princess Diet                  Matthew Herreshoff -#10133
 SF  The Future of the Whole World      Nick Harley -#10134
 F   To Dance with a Hurricane          Keesa Renee DuPre -#10135
 F   Eye of Dragon, Ring of King, chapters 1&2  Genevieve Wood -#10136
 F   Oz Noir, Chapter 1-2               Jason Summers -#10137
 SF  Sandfalls                          Brendan Hall -#10138
 F   From A to Z, in the Ambergris Alphabet  James Palmer -#10139
 F   Beyond the Edge of Night, Chapter 0  Liz Bourke -#10140
 F   Inheritance Chapter 1              Martin Engstrom-Heg -#10141
 F   Distortion                         Scott Waldyn -#10142

Week of 3-Nov-2004 (Crits due 10-Nov-2004):
 F   A Change of Plans                  Lucy Cohen Schmeidler -#10143
 F   All That Glitters                  Pam Davis -#10144
 SF  Uplift                             Richard Herr -#10145
 SF  The Kidding Stays in the Tytlal--a Tail of Uplift  William Taylor -#10146
 SF  Life Sacrifice                     Louis Doggett -#10147
 F   Rase Kull                          Dave Baxter -#10148
 SF  Footprints                         Mark Carter -#10149
 F   Zoe                                Hazel Ong -#10150
 F   The Wood-Witches' Tale             Jill Elaine Hughes -#10151
 SF  Delta Paradigm                     David A Maisel -#10152
 F   The First Adventure, Prologue, Chapters 1-3  Steve Harden -#10153
 H   An Unhaunting                      Mark Silcox -#10154
 SF  The Sleepover                      Ted Davis -#10155
 F   Absolution of the Taymalin, Book 1 "Awakening", Chapter 1  Steve Turnbull -#10156
 SF  A Spanner in the Works             Ted Garvin -#10157
 SF  Tears of Poseidon, the Lost City   Royce Lawrence -#10158
 H   Darkness Comes Early               Anita Spence -#10159
 F   The Stowaway                       Brent F. Houck -#10160
 SF  Heaven Flower                      Christopher Russo -#10161
 F   Unseen World/War I                 Brian K. Lowe -#10162
 F   Murtagh's Bane                     Richard Eliason -#10163
 H   Marilog                            Adrian Philip V. Miciano -#10164
 SF  Crops                              Julie A Helms -#10165
 SF  Calan's Playground                 Rebecca Sampson -#10166
 F   Fallen prts 1 & 2                  Veronica A Mullen -#10167
 H   The Dust                           Sara L. Bickley -#10168

Week of 10-Nov-2004 (Crits due 17-Nov-2004):
 SF  Work Ethics                        [mpc] Lloyd Smith -#10169
 SF  Blight Eyes" Chapter 1             Kimberly D. Phillips -#10170
 SF  The Redemption of Phrenology       [@] Joe Murphy -#10171
 SF  Long the Stars Wait Chapter 3      Ray E. Main -#10172
 SF  Ribbon Cutting                     Robert J. Santa -#10173
 SF  The Trumpet's Call, Prologue and Chapter 1  Mik Bennett -#10174
 H   Silver Suede Boots                 Irene Schaft -#10175
 F   I am the 60s                       Brandon Butler -#10176
 F   Masheridan's Heir                  Rebecca Miller -#10177
 F   Confessions of the Sorceress of Fanggold, Chapter 2  Janka Hobbs -#10178
 SF  Contractual Arrangement            John Derderian -#10179
 SF  Space Station Marigold             Liam Rands -#10180
 H   The Death of Strangers, Chapters 1-2  Khriston L. Smith -#10181
 SF  Dear Vincent                       Seth Loy -#10182
 SF  The Only Blue-Eyed Child           Holly Biffl -#10183
 H   The Water that Whispers            Jon Ruland -#10184
 SF  A Confriguration of Limbs          Rory Douglas Abel -#10185
 SF  Adam's Return                      Kyle Stewart -#10186
 SF  Just Cause                         Ian Healy -#10187
 F   The Order of the Crimson Tunic     Kevin N. Haw -#10188
 F   The Worldsinger's Dirge, Chapter 2  Evelyn Pinter -#10189
 F   Water Harvest, RFDR                Eric Diehl -#10190
 F   Strumplets                         Bill Hoyt -#10191
 F   The Phalanx of Faith, Chapter 1    Thompson Parker -#10192
 F   Hypostast                          Scott Fazekas -#10193
 F   Windtalker: Synopsis, Chapters 1 & 2  Catherine Knutsson -#10194
 F   Burkett County Crossing            Paul B. Mack -#10195

Week of 17-Nov-2004 (Crits due [*] 1-Dec-2004):
 SF  Cobalt                             [mpc] Alissa Grosso -#10196
 F   Ash and Fire, Chapters 1-3         [mpc] Scott H. Andrews -#10197
 F   No Such Thing                      Patricia Kirby -#10198
 F   Reflections of Mortality           Fred Obermeyer -#10199
 SF  Hotel Security                     Carl Frederick -#10200
 H   Real Horror                        Gary Wilbanks -#10201
 H   Changing of the Guard              Barbara Bates -#10202
 SF  Pilgrimage                         Jesse Emspak -#10203
 SF  Rashionality                       Alissa Grosso -#10204
 F   You Might Regret It                Carl Alves -#10205
 F   Rogue's Gold part 4                Marty -#10206
 F   The Ur Cat                         Teresa K. Thorne -#10207
 SF  Coldnapped!                        Michael Andre-Driussi -#10208
 H   Dream Surveillance                 Charles Daniel -#10209
 H   Life Lessons                       Aimee Poynter -#10210
 SF  CHAPTER EIGHT of DARK NIGHTS of FIRE and DELIVERANCE (Tolgon  Brian Lee Anderson -#10211
 SF  Batty Part 4 with intro            Becky Gauger -#10212
 SF  Myths of Earth                     Cheryl McCreary -#10213
 SF  Murphy's Law                       James Grayson -#10214
 F   Cully's Daughter                   Joelle Augustine -#10215
 F   Choose Life                        Roy McLeod Williamson -#10216
 F   The Fall of Edom                   David Eland -#10217
 SF  Jump Jones Saves the Galaxy        Mike Rimar -#10218
 SF  Voyage of the Euripides" Harbinger" Chapters 1-2  Lee Kuruganti -#10219
 F   An Ordinary Vampire                Chuck Rothman -#10220
 F   TheThe Woman Who Wanted to be a Wooden Doll  Tim Hammack -#10221
 SF  Starfish                           Steve Parker -#10222
 H   Like an Extinguished fire          Patrick G. Rabe -#10223
 SF  Prizrak                            Mark Barnes -#10224
 F   Rogue Angel                        Michael A. Ouellette -#10225
 SF  Dead Drop                          Boris Layupan -#10226
 F   To Slay the Dragon                 Michael Williams -#10227
 F   London nightlife                   Mark Ward -#10228
 F   The White Sword, Prologue          Mark Bringman -#10229
 H   Katherine                          Christian Roberts -#10230
 F   The Flame of Benevolence           Mary Romagnoli -#10231
 SF  The Great Escape                   Greg Nyberg -#10232
 SF  Returning Home                     Cath Haftings -#10233
 F   Glass Heaven, Chapter 1            Elizabeth M.A. Hirst -#10234
 F   Running                            G. A. Berry -#10235
 H   Serial Killer's Day Off . . .      Terri Lynn Coop -#10236
 H   Stones                             Andrew Richardson -#10237
 SF  Lens                               Eric Harrison -#10238
 SF  Small Apollo                       Claire Merle -#10239
 F   Lessons Learned                    John Khan Variba -#10240
 SF  Soft Time                          David McGillveray -#10241
 SF  The Tao of Marlow                  Jean-Philippe Drecourt -#10242
 SF  Redscale                           George O'Gorman -#10243
 F   Blood and Gods                     Madge E Miller -#10244
 F   Geowars, Chapters 1,2,3 and 4      Paul Andrew -#10245

Week of 1-Dec-2004 (Crits due 8-Dec-2004):
 SF  The Lost Dutchman's Asteroid       [mpc] Jeff Cates -#10246
 SF  Bittersweet                        [mpc] Laura Shrake -#10247
 SF  Rassiter Returns                   [mpc] Glenn Rowsam -#10248
 SF  Writer's Mock                      [mpc] William Taylor -#10249
 F   Lavender Scented Thistlepix        [mpc] Robert C.A. Goff -#10250
 F   Absolution of the Taymalin, Book I: Awakening (Ch.0-16)  [mpc] Steve Turnbull -#10251
 F   The Center of the Universe         [@] Eugie Foster -#10252
 F   Wizard's Hostage                   Pam Davis -#10253
 SF  Thud                               Richard Herr -#10254
 F   The Man Without Dreams: Chapter 5  Chris Owens -#10255
 H   No Dogs Allowed                    Michael Stone -#10256
 F   Fairy Wine                         Brit Marschalk -#10257
 SF  Tortilla Heights                   Jakob Drud -#10258
 F   The Essa Stone Chronicles Chapters 0-1  Dionne Washington -#10259
 SF  Aeolian, chapter 2                 Nathalie Rochon -#10260
 F   To Bite an Apple: An Epic Urban Fairy Tale, Chapter 3  Amy Lau -#10261
 SF  The Bet                            Chet Gottfried -#10262
 F   Green Knight                       Jeff Stewart -#10263
 SF  The Third Eye                      Adam Banks -#10264
 F   Chasing Dragons                    Kevin Kerr -#10265
 F   F-W-F One                          J.Michael Matuszewicz -#10266
 SF  Ashes to Ashes                     Jill Elaine Hughes -#10267
 H   Every Night is League Night        Chris Hopper -#10268
 SF  Murder by Remote Control           David A Maisel -#10269
 SF  Father & Son Lunch                 Ted Davis -#10270
 H   Firebug                            Kurt Hohmann -#10271
 SF  Manhood                            Ted Garvin -#10272
 H   Anya                               Adrian Philip V. Miciano -#10273
 SF  The Sirens of Fifth Avenue         James Palmer -#10274
 SF  The Answer is Not to Ask           Gregory Adams -#10275
 F   The Tree                           Arthur Bangs -#10276
 F   Book One "The Gathering            Billie Jo Jewers -#10277
 SF  Into the Fire                      Alastair Mayer -#10278
 SF  Max and Mickey Tales of WWIII - The Beginning  Joseph M. Jones -#10279
 F   Paradise Downs                     Mark S. Griswold -#10280
 F   Land of the Fallen, Chapter 1      Mike Gill -#10281

Week of 8-Dec-2004 (Crits due 15-Dec-2004):
 F   My Demon                           [mpc] Gary J Beharry -#10282
 SF  For the People                     [mpc] Michael A. Ouellette -#10283
 SF  The Bio-Psych Wars. Chapter 1.     Jim Bauer and Ted Grosch -#10284
 SF  A Healthy Skepticism               Jim Cue -#10285
 SF  Fuzzy Green Monster Number Two     Suzanne Church -#10286
 SF  The Golden Record                  Ian Creasey -#10287
 SF  Space Enough                       William Anderer
 F   King of the Nameless Land          [@] Richard K. Lyon -#10289
 F   The Jungle                         John Barefield -#10290
 SF  Assisted Living                    Richard S. Levine -#10291
 F   Serpentine Queen                   Gabrina Garza -#10292
 F   The Temple Bells                   Hazel Ong -#10293
 F   To Rise Again                      F.I. Goldhaber -#10294
 SF  The Bridgeport Job                 Holly Messinger -#10295
 F   The Deal, Chapters 1-4             Matthew and Lindsey Schocke -#10296
 F   Prickings                          Marguerite Lance -#10297
 SF  Way of the Buk'ek                  Kristopher Horton -#10298
 F   The First Adventure, The Wand of Abigar, Chapters 4-5  Steve Harden -#10299
 F   An Ordinary Sword                  Andrew Moskalik -#10300
 F   Heir of D'Orcyss                   Anita Spence -#10301
 F   When Warmth Starts                 Kurtis W. Jones -#10302
 F   Violet Skies, Chapters 0-1         Edward Cote -#10303
 F   The Oracle of Bacchus, Ch. 1       Bridgette Da Silva
 SF  The Falling Sky, Chapter 1         Thomas A. Mays -#10305
 F   The Temptation of Nicholas the Dark  Chris Keating -#10306
 SF  Broken Man, Chapter 1              Michael Greenhut -#10307
 SF  Not Quite Sunset                   Kevin Nelson -#10308

Week of 15-Dec-2004 (Crits due 22-Dec-2004):
 F   Monkey On His Back                 Michele Korri -#10310
 F   The Princess and the Golden Fish   [@] Eugie Foster -#10311
 F   The Turkey Point Dragon            Doc Finch -#10312
 SF  Long the Stars Wait Chapter 4 & Synopsis  Ray E. Main -#10313
 F   Harvest Gnome 1-3                  Parker Owens -#10314
 F   The Devil's Sonata                 Robert J. Santa -#10315
 H   Positive                           Mik Bennett -#10316
 F   The Fire as it Eats Itself         Brandon Butler -#10317
 SF  Inside                             Derek Robinson -#10318
 F   Confessions of the Sorceress of Fanggold, Chapter 3  Janka Hobbs -#10319
 F   Avaliah, Violation of the Wolf     Trevor L B Porter -#10320
 SF  Cold Draft                         John Derderian -#10321
 SF  Robot Envy                         Liam Rands -#10322
 SF  A Pebble for Mars                  Ron Parente -#10323
 SF  In My Room                         Khriston L. Smith -#10324
 SF  Abduction Chapter 1                Jackie Hill -#10325
 SF  Hostile Intent                     Jeffrey A. Means -#10326
 H   Blood of the Willing, Chapter 2    Robin Wilkinson -#10327
 SF  Tsunami Riders                     Brendan Hall -#10328
 F   Unity                              Charity Helton -#10329
 F   LRRH                               Scott Fazekas -#10330
 F   The Last Chief                     Sheri Fresonke Harper -#10331
 SF  Open your mind                     Doly Garcia -#10332
 F   This Old Neighbourhood             Christopher Challice -#10333
 F   Lia's Choice                       Dawn Marie Smith -#10334
 SF  Phoebe Faire                       Ann O'Donnell -#10335
 F   Mikalei's Sword                    Kevin Bachhuber -#10336
 F   Tastes Like Chicken                Richard Catch -#10337

Week of 22-Dec-2004 (Crits due [*] 12-Jan-2005):
 SF  The Bio-Psych Wars, Chapter 2      [mpc] Jim Bauer and Ted Grosch -#10338
 F   On the Morning Of the Day Before   [@] Beth Bernobich -#10339
 F   Meddling in the Affairs of Dead Mules  Patricia Kirby -#10340
 SF  Performance of a Lifetime          Fred Obermeyer -#10341
 F   May Crowns, Chapters 1 and 2       Mary Catelli -#10342
 SF  The Skeekit-Woogle Test            Carl Frederick -#10343
 SF  The Prodigal Son                   Jesse Emspak -#10344
 F   The White Citadel                  Barbara Bates -#10345
 SF  Jesus Spex                         Alissa Grosso -#10346
 H   The Unholy, Chapter 4              Carl Alves -#10347
 F   Rogue's Gold part 5                Martin -#10348
 SF  The Man Without Dreams, Chapters 1-2  Chris Owens -#10349
 SF  Open Secrets                       [@] Richard K. Lyon -#10350
 SF  The Garden of Eden                 Lilian Gilmour -#10351
 H   Rolling heads                      Charles Daniel -#10352
 SF  Disabled Drones Can Still be Reckless Drivers  Roy McLeod Williamson -#10353
 SF  Chapter Nine of Dark Nights of Fire (Tolgon Chronicles, Volume One)  Brian Lee Anderson -#10354
 SF  The Automatic Pen                  Boris Layupan -#10355
 SF  The End of the World, Director's Cut  Chuck Rothman -#10356
 SF  Faces in the MUD                   James Grayson -#10357
 F   Satyrday Evening in the Myth Forest  Rupa Bose -#10358
 F   The Black Ship                     Jeff Stewart -#10359
 SF  Ontology of Shrimp Pomodoro        David Eland -#10360
 SF  It's a feature!                    Ted Garvin -#10361
 F   Eclipse of the Moon, chapter 1     Karen L. Kincy -#10362
 SF  Biofathers                         Keith Stump -#10363
 F   How the Devil Got His Tail         Matthew Herreshoff -#10364
 SF  Thaw                               Mark Barnes -#10365
 F   Ayumi and the Return of the Earth Spider  Tim Hammack -#10366
 H   On the Burning of Bridges          Patrick G. Rabe -#10367
 F   The Right Character                Jon Ruland -#10368
 SF  Gamer                              Rebecca Sampson -#10369
 H   Farewell to Fonzie the Rat-Dog     Christian Roberts -#10370
 SF  Capernaum                          John Aissis -#10371
 SF  Retrofit                           David A Maisel -#10372
 SF  Dust Gets In                       Gary R. Simon -#10373
 SF  The Oogle-boogle 'Wet' Men who were Initially Thought to have Originated from Planet Okyje  Kevin Doran -#10374
 SF  Children Of Orion                  Ted Davis -#10375
 H   Haunted                            Chris Russo -#10376
 SF  Robots rabbits and receptors       Trevor A Curran -#10377
 SF  The Milkman                        Ian Healy -#10378
 F   Heart of Fire                      Kurt Hohmann -#10379
 H   The Old Gods of Siberia            Alison Oxley -#10380
 SF  The Care and Feeding of Humans, Part IV  Greg Nyberg -#10381
 F   With Open Eyes, Chapter 0          Karen Hansen -#10382
 H   Free Speech! Free Speech for the Dead!  Eric Harrison -#10383
 F   A Lost Night Found                 G.A.Berry -#10384
 SF  Daddy's Asteroid                   James Palmer -#10385
 SF  The Can                            David McGillveray -#10386
 F   Knights of the Gun Chapters 1-2    J. M. Jones -#10387
 SF  The Cascade Effect of Muffins      George O'Gorman -#10388
 H   Snuff, Preface and Prologue        Andrew Richardson -#10389
 SF  Tofu on Mars                       Elizabeth M.A. Hirst -#10390
 SF  Commemoration                      Stacy Wais Seretto -#10391
 F   Servitude                          Ryan S. Curtis -#10392

Week of 12-Jan-2005 (Crits due 19-Jan-2005):
 SF  The Music Company                  [@] Eugie Foster -#10393
 F   Benny vs. The Mutans               Gary J Beharry -#10394
 SF  Writer's Mock                      William Taylor -#10395
 SF  Space Enough                       William Anderer -#10396
 SF  Joy                                Richard Herr -#10397
 SF  Open Secrets                       [@] Richard K. Lyon -#10398
 SF  A Martian Sale                     Chet Gottfried -#10399
 F   For Love and Gold                  Sandra Panicucci -#10400
 SF  Star Trek Deep Space Nine: The Vedek Wars, Chapters 1-3  Leslie Haig -#10401
 H   Justice's Noose                    Abby Rustad -#10402
 SF  Babel                              D. M. Simmons -#10403
 H   The Accidental Werewolf            Jill Elaine Hughes -#10404
 F   F-w-f Two                          J.Michael Matuszewicz -#10405
 SF  Good Times                         Kylie Chan -#10406
 SF  Technical Exchange                 Kevin N. Haw -#10407
 SF  Breath of Mercy                    Nicolai Buch-Andersen -#10408
 SF  Shock                              Michael Shea -#10409
 F   Aleasya, Dragonkeeper of Skye Over, Chapter 1  [@] Susan Hanniford Crowley -#10410
 F   The Oracle of Bacchus, Ch. 1       Bridgette Da Silva -#10411
 F   Geowars Chapter One                Paul Andrew -#10412
 F   The Adventures of Bud Green: Chronicles of the Hemp Smoking, Body Building, Philosophical, Kung Fu Drifter  Scott Knight -#10413
 SF  Strategic Deployment               Thomas A. Mays -#10414
 SF  Uber Mensch: Rebirth Chapter 1 + synopsis  C. R. Stevens -#10415
 F   Bravado at the White Boar          Ryan Tebow -#10416
 H   Jay and Nola                       Mark L. DuPuis -#10417
 SF  Locke's Wager                      Jerico Mele -#10418
 F   Paraworld Zero, Chapters 0-1       Matthew D. Peterson -#10419

Week of 19-Jan-2005 (Crits due 26-Jan-2005):
 F   Grocery Shopping                   [mpc] Robert J. Santa -#10420
 F   The Devil, You Say?                [mpc] Eyal Teler -#10421
 SF  My Diary, By Huygens Cassini       [mpc] Roy McLeod Williamson -#10422
 SF  Big Powwow, A Novel of the 16th and 21st Centuries, Chapter 1  [mpc] Will Briggs -#10423
 F   Fairy Godfather                    [mpc] Becky Gauger -#10424
 F   Virgin Sacrifice                   [mpc] Lawrence Hollis -#10425
 F   Paraworld Zero, Chapters 2-3       [mpc] Matthew D. Peterson -#10426
 SF  Long the Stars Wait Chapter 5 & Synopsis  Ray E. Main -#10427
 F   Harvest Gnome Chapters 1-3         Parker Owens -#10428
 H   Killing In The Name Of             Mik Bennett -#10429
 SF  Marbles                            Michael Stone -#10430
 F   Shifter, Prologue & Chapter One    Leah Suslovich -#10431
 H   A Just Incubus                     Jeffrey A. Means -#10432
 SF  A Yearly Visit                     Liam Rands -#10433
 SF  Dumbocracy in Action               John Derderian -#10434
 H   Getting Some                       Kevin Kerr -#10435
 H   William's Angel                    Dave Baxter -#10436
 H   Pratical Magic                     Chris Hopper -#10437
 H   Dreams and Bones                   Geoff A. Cohen -#10438
 SF  Abduction Chapter 3                Jackie Hill -#10439
 H   Deadly Storm                       Sonny Denbow -#10440
 SF  The Face on The Mountain - Part 1  Mark Silcox -#10441
 F   The Gathering - Ch 0-1             Bilie Jo Jewers -#10442
 F   Call to Duty, Chapter One          Mary K. Wilson -#10443
 F   Series: Fox and Rabbit             Nathan Ellsworth -#10444
 H   The Gun                            Lloyd Vancil -#10445
 SF  A Curious Occurrence in French Indochina  Brendan Carson -#10446
 H   The Troll in the Chinese Restaurant  Michael Morrison -#10447
 SF  Electroman Superhero               Robert W. Caldwell -#10448
 SF  The Other Side                     Michael J A Tyzuk -#10449

Week of 26-Jan-2005 (Crits due 2-Feb-2005):
 H   Yellow, Orange, and Red            [mpc] Gary J Beharry -#10450
 F   Bed and Basilisk                   [mpc] Chet Gottfried -#10451
 F   Paraworld Zero, Chapters 4-5       [mpc] Matthew D. Peterson -#10452
 F   Queen of the Talking Animals       [mpc] Kathleen Notestine -#10453
 F   Year of the Fox                    [@] Eugie Foster -#10454
 SF  Landlside Chapters 1-3             Brian Clarke -#10455
 SF  Calculated Risk Part 1             Kathy Ferguson -#10456
 SF  The Princess in the Castle         David Miles -#10457
 H   You Better Watch Out               Gary Wilbanks -#10458
 H   Selene                             Edward Moore -#10459
 SF  In The Course Of Diplomacy         Robert A. Boyd -#10460
 F   Rowantree (working title), Chapter 0  Matthew Cook -#10461
 F   Baby Mine                          Aimee Poynter -#10462
 SF  Neptune's Promise                  Richard S. Levine -#10463
 F   The King's Daughter, CH 1 and 2    Jeannette Kathleen Cheney -#10464
 F   The Direction of the Sun, Chapter 1  Rob Worthington Queen -#10465
 SF  The Republic, chapters 14-16       Jon Jacobs -#10466
 SF  Skin Deep                          David Wood -#10467
 SF  Litterbug                          Mike Rimar -#10468
 SF  Daddy's Little Boy                 Rory Douglas Abel -#10469
 F   The Eyes of the Sula               Kristin Satterlee -#10470
 F   Of Love and Power: Ryu's Tale      John Matthews -#10471
 F   Rock, Paper, Scissors              Michelle Scott -#10472
 F   Woman, Witch, Warrior, Chapters 1-3  MB Partlow -#10473
 SF  Return To Gaia, Chapters 1-7       Paul A. W. Bard -#10474
 H   White Line Fever                   Paul R Sheringham -#10475
 H   Coming Back to Kabul               Dave Whittier -#10476
 SF  Jeremiah Falls, Chapters 0, 1      Jenny Horne -#10477
 SF  Treks in the CIty                  Dell Herring -#10478
 H   Enemy of My Enemy                  Tony Fox -#10479
 F   Last Breath                        Stefan Popov -#10480
 SF  Flight of Illumination, Chapter 1  Stephen Gaskell -#10481
 SF  Blue Alien                         Britt Pierce -#10482

Week of 2-Feb-2005 (Crits due 9-Feb-2005):
 F   Yasuo and the Island of the Tatsu  [mpc] Robert J. Santa -#10483
 F   _Ash and Fire_ Chapters IV-V       [mpc] Scott H. Andrews -#10484
 SF  Necessary Evil, Chpt. 1            [mpc] Erin K. Dover -#10485
 SF  The Teller of Time                 Carl Frederick -#10486
 F   Coming of Age                      Barbara Bates -#10487
 SF  Trading Spaceships                 Alissa Grosso -#10488
 H   Razzed                             Carl Alves -#10489
 F   Wanted: Hero of Soaprania          Brandon Butler -#10490
 H   The Intimidator                    Ted Grosch -#10491
 F   The Critic                         Boris Layupan -#10492
 F   Bear Tracks                        Jeff Stewart -#10493
 SF  Chapter Ten of Dark Nights of Fire (Tolgon Chronicles, Chapter Ten)  Brian Lee Anderson -#10494
 F   Death's Roll                       James Grayson -#10495
 F   Windancer Part 1                   Hazel Ong -#10496
 F   Vinni's Missing Ring               Tim Hammack -#10497
 H   Katherine                          Christian Roberts -#10498
 H   Maybe it's Time                    Patrick G. Rabe -#10499
 F   A Plague of Madness                S.C. Bryce -#10500
 F   With Open Eyes, Chapters 1,2       Karen Hansen -#10501
 F   The Man Who Pulled Shiny Things Out of the Air  Chris Russo -#10502
 F   Stalemate                          J.J.S. Boyce -#10503
 SF  Hoffmann's Dilemna                 Gary R. Simon -#10504
 SF  The Dark Years                     Greg Nyberg -#10505
 F   The Death of Harry Fairweather     Alan Campbell -#10506
 SF  Good Fences Make Good Neighbors, Chapters 1-4  John Haugh -#10507
 F   Blue Hell                          Charles D. Forness -#10508
 F   Dreamer I, Alone--Chapter 1        Jodi Ralston -#10509
 F   Entropy is Just a Suggestion       Julie Hull -#10510
 SF  An Astronaut Reflects on Oblivion  Luke E.A. Lockhart -#10511

Week of 9-Feb-2005 (Crits due 16-Feb-2005):
 H   Suicide Watch                      [mpc] Fred Obermeyer -#10512
 SF  The Conduit                        [mpc] Sam Hidaka -#10513
 SF  Brane Drane                        [mpc] Roert R. Shelsky -#10514
 H   Halcyon                            [mpc] Jeff Appleton -#10515
 SF  Roomba the Magnificent, or, How a Light Dusting Saved the World  [mpc] Dave Wood -#10516
 F   The Old Soul                       [mpc] Michael E. Wever -#10517
 SF  Crashflux (W/notes)                [mpc] Kevin Puszert -#10518
 F   Assassin's Bane                    [mpc] Scott Fazekas -#10519
 F   Chapters of the Past, Prologue & Synopsis  [mpc] Colleen Sinclair -#10520
 F   Diablo's Burritos                  David A. Olson -#10521
 SF  Chemistry                          Marilyn LT Klimcho -#10522
 F   Rogue's 6                          Martin Slusser -#10523
 SF  A Weatherman's Best Friend         Chris Owens -#10524
 F   The Black Knight's Gambit          [@] Richard K. Lyon -#10525
 F   Marooned, Chap 1 & 2               Sherry Thompson -#10526
 SF  The Unexpected Visitor             Lilian Gilmour -#10527
 SF  Genescape                          Brit Marschalk -#10528
 SF  Aurora                             Ted Garvin -#10529
 SF  What Lay Beneath                   Shawn Jackson -#10530
 F   Britain's Glory                    Barbara Davies -#10531
 F   The Invincibles                    Erik C. Heber -#10532
 F   Resurrecting Anaia, Chapter 1      Lindsay Whitney -#10533
 SF  Second Time Around                 Ted Davis -#10534
 H   Redemption                         Eric Harrison -#10535
 H   The Snowman                        Seth Loy -#10536
 F   Knights of the Gun Chapter 3       J.M. Jones -#10537
 F   Ren and King Lion                  Christopher Challice -#10538
 H   Snuff, Chapters 1-2                Andrew Richardson -#10539
 F   Eternity and the Devil             [@] Larry Hodges -#10540
 F   Future's Destiny (Chapter One)     Damien Nash -#10541
 H   Wild City: Hunt                    Eric Donelson -#10542
 H   Whack the Red Demon                Dan Hart -#10543
 F   The Urns of Eden                   Michelle Ashby -#10544
 F   Thin Air                           Euan M. Harvey -#10545
 SF  Lumina                             Jon Kennedy -#10546
 F   The Healer                         [@] Dave Hoing -#10547
 F   During the Dance                   Mark Williams -#10548
 F   The Shadowed Paths - Chapter One   Simon J Whitam -#10549
 F   Legacy, Bryn Blademaster Book 1, Prologue  Joe Guptara -#10550
 H   Gina's Doll                        Laura Yan -#10551

Week of 16-Feb-2005 (Crits due 23-Feb-2005):
 SF  Destroying Competition             [mpc] Ian Creasey -#10552
 F   Talent                             [mpc] Sarah Borger -#10553
 F   Serenade of Blood and Silver, Chapters 1-3  [mpc] Abra Staffin Wiebe -#10554
 F   Lucy in Love                       Hank Quense -#10555
 SF  Sister Mary                        Richard Herr -#10556
 H   The Oppressive Limits              Charles Daniel -#10557
 F   Wolf Guardians Chapter 1           Dionne Washington -#10558
 F   Children Of Prophecy (working Title) Chap 1-2  Sandra Panicucci -#10559
 F   Defeating Death                    [@] Larry Hodges -#10560
 SF  Thirty-Third of Yadinar, Chapters 1-2  Leslie Haig -#10561
 F   Precedence                         Kylie Chan -#10562
 F   Little boy lost                    Mark Ward -#10563
 F   Through a Child's Eyes             Donald L. Smith -#10564
 F   P.E.T.D.                           Kevin N. Haw -#10565
 H   Mama's Boy                         Kurt Hohmann -#10566
 SF  Broken glass, steel and water      Doly Garcia -#10567
 F   Waking the Juggernaut, Chapters 1-2  Peter J. Mitchell -#10568
 F   The Fall of the Knives             Michael E. Shea -#10569
 H   The Fall of the House of Jack      Leonard J. Sidiski -#10570
 H   In Hell Eterally Tormented         Nicolai Buch-Andersen -#10571
 F   The Subtle Dance of Survival       Erin Woods -#10572
 H   The Children's Hour, Prologue      Maryanne Romano -#10573
 F   The Oracle of Bacchus, Chapter 2   Bridgette Da Silva -#10574
 SF  A New Guard for Fairy Lake         Norm Gillespie -#10575
 SF  Crossers Series I : The House of Johulkans, Chapters 1-3  Sabrina Noboa -#10576
 F   The Crown of Druthal, Chapters 1&2  Marshall Ryan Maresca -#10577
 H   TRANCE, chapters 28-30             Warren Semotiuk -#10578
 SF  The Bad Penny                      Tom Beck -#10579
 F   Echoed Prophecy Chapter 1          Damien Craig -#10580
 SF  Chauncey Pritcher and the Black Forest  Aaron Newman -#10581

Week of 23-Feb-2005 (Crits due 2-Mar-2005):
 SF  Spare Parts                        [mpc] Sam Hidaka -#10582
 F   A Simple Wish                      [mpc] Mike Wever -#10583
 H   Talent v. 2                        [mpc] Sarah Borger -#10584
 SF  Basketball Court of Salvation      [mpc] Lloyd Smith -#10585
 SF  Light on the Subject               [mpc] Bill Siderski -#10586
 H   Sikeston                           [mpc] Holly Messinger -#10587
 F   The Algiers Point Dragon           Doc Finch -#10588
 H   The Doom That Came to Smallmouth   [@] Joe Murphy -#10589
 SF  Mein Aufgabe                       William Anderer -#10590
 F   Snake Eyes On A Paradise, Chapters 1 - 3  Mik Bennett -#10591
 SF  Hidden Folders                     Jakob Drud -#10592
 SF  The Food of Love and Hate          Roy McLeod Williamson -#10593
 SF  Hostile Intent Prologue, Chap 1, 2  Jeffrey A. Means -#10594
 H   Eternal                            Liam Rands -#10595
 F   Microsorce                         [@] Larry Hodges -#10596
 F   MB Exterminations                  Kevin Kerr -#10597
 SF  The Quirinus Belt                  Stacy Wais Seretto -#10598
 F   The Gathering ch 2-3               Billie Jo Jewers -#10599
 SF  The Invisible City, Chapters 1-2   Brian K. Lowe -#10600
 F   Series (Interlude): Angels Dance Deep  Nathan Ellsworth -#10601
 F   Crowmaster, Acts I & II            [@] Dave Hoing & Roger Hileman -#10602
 SF  PSICOP                             Lloyd Vancil -#10603
 SF  The Attack Of The Killer Fossil Man  Robert W. Caldwell -#10604
 H   Voodoo beauty potion               Mark L. DuPuis -#10605
 SF  Soft Touch                         Andrew Dezorzi -#10606
 SF  Remote Control                     Michael J A Tyzuk -#10607
 F   See No Evil                        Joe Baric -#10608
 F   Queen of the Sky (chapters 0-3)    Mary Offer -#10609

Week of 2-Mar-2005 (Crits due 9-Mar-2005):
 H   The House at the End of Ash Road   [mpc] Mike Wever -#10610
 SF  Without Omens                      [mpc] Robert Shelsky -#10611
 H   The Tragic Case of the Terrible Twined Hooks  [mpc] Dave Baxter -#10612
 SF  The Quick and the Slow             [mpc] Dave Wood -#10613
 H   Three Together                     [mpc] Adam Francis Smith -#10614
 F   Crown of Druthal, Chap. 3-4        [mpc] Marshall Ryan Maresca -#10615
 F   The Noc-Lar                        Jim Bauer -#10616
 SF  Long the Stars Wait Synopsis & Chapter 6  Ray E. Main -#10617
 F   Steel in the Morning               David Miles -#10618
 F   The Tale of Rawli Puw              Marj Watkins -#10619
 F   The Black Knight's Gift            [@] Richard K. Lyon -#10620
 SF  Life Sacrifice                     Louis Doggett -#10621
 H   Book Talk                          [@] Larry Hodges -#10622
 F   A Fatal Spiral                     Lisa Feld -#10623
 H   The Chronicles of Strom Thinnuse   Steve Harden -#10624
 F   Paraworld Zero, Chapters 6 and 8   Matthew D. Peterson -#10625
 SF  On The Papertrail                  Rory Douglas Abel -#10626
 H   Beyond Reach                       Fran Cobe -#10627
 SF  The Mantle of Vesta                Stephen Gaskell -#10628
 F   Snegurochka                        Kristin Satterlee -#10629
 F   Boirdan - Chapter 1 and 2          Kathleen Notestine -#10630
 SF  She Casts a Lovely Shadow          Michelle O'Neill -#10631
 SF  Carmen And The Supercasanova Tanker  Bernard Mathey -#10632
 F   Ishtar Cometh                      Antonio Carrion -#10633
 F   Gold's Price, Chapters 1-2         J.B. Fuller -#10634
 F   Apparition                         Christine Pellar-Kosbar -#10635
 SF  The Fat of the Land                Brendan Carson -#10637
 F   Forest of Night                    Eric Pierce -#10638
 SF  The Song of Kido                   Matthew Corradi -#10639
 SF  Uber Mensch: Rebirth, ch 2,3       C. R. Stevens -#10640
 F   Last Day in Arcadia                Paul Sheringham -#10641
 F   Daughter of Shadows Chapters 1-2, plus outline  Mirren Hogan -#10642
 F   Sarah's Stone                      Joan Savage -#10643
 F   Shadows in the Attic               William M. Martino -#10644
 SF  Unhappy The Land, Chapters 1-4     Jonathan Dupont -#10645

Week of 9-Mar-2005 (Crits due [*] 23-Mar-2005):
 H   Urban Renewal                      [mpc] Pam Davis -#10646
 F   A Tale of Death                    [mpc] Michael E. Wever -#10647
 SF  Spare Parts (ver 2)                [mpc] Sam Hidaka -#10648
 SF  The Carpet                         [mpc] Bill Siderski -#10649
 SF  The Buddha Factory                 [mpc] Howard Cooper -#10650
 F   Barynn part 1: Rebellion, Chapter 1  [mpc] Anneke Daems -#10651
 SF  Blythe Dreams                      [mpc] Miles Deacon -#10652
 SF  Under the Mediterranean Sky        [mpc] Tom Beck -#10653
 F   The Shapeshifter's Challenge       Patricia Kirby -#10654
 SF  Weredragons of Mars                Carl Frederick -#10655
 F   Closure                            Barbara Bates -#10656
 SF  Class of 95                        Alissa Grosso -#10657
 F   Hunting the Black Dragon           Robert J. Santa -#10658
 SF  Joe's Place                        Robert Gotschall -#10659
 F   Rabbit Stew                        Irene Schaft -#10660
 F   Need For Magic                     Joseph Swope -#10661
 F   Destiny, ACT I                     Boris Layupan -#10662
 F   The Duke's Tower                   Jeff Stewart -#10663
 SF  By The Book                        Chuck Rothman -#10664
 H   Together Forever                   Jason T. White -#10665
 SF  Chapter Eleven of Dark Nights of Fire (Tolgon Chronicles, Volume One)  Brian Lee Anderson -#10666
 F   Eternity and the Devil             [@] Larry Hodges -#10667
 H   Child of the Forest                Elizabeth Blue -#10668
 SF  The Mercy Officer                  Keith Stump -#10669
 F   Brominr's First Girlfriend         Tim Hammack -#10670
 H   You Promised                       Brian L. K. Creary -#10671
 H   A Glassy Stare, an Idiot's Grin    Patrick G. Rabe -#10672
 SF  They Have Their Own World          Greg Howell -#10673
 SF  Necessary Evil, Chpt. 2            Erin K. Dover -#10674
 F   Wildfire                           David McGillveray -#10675
 F   The Gray Mist                      S.C. Bryce -#10676
 SF  Friday Night at Triceratops Joe's  James Palmer -#10677
 H   In Between                         Donna Munro -#10678
 SF  One Night Stand                    LaRue Foster -#10679
 SF  The Gadgey                         Alan Campbell -#10680
 SF  Jeremiah Falls, Chapters 2-4       Jenny Horne -#10681
 F   The Visitation and Haunting of Ken Peters, Book One of a trilogy titled "The Hopewell Chronciles" Chapters 1-4.  William Dampman -#10682
 SF  Belief                             Darren Johnson -#10683
 SF  The Color War                      Tristan Davenport -#10684
 SF  The Hive                           Lesleigh Force -#10685
 F   The Rogue Crux, Chap 1             Katie O'Neill -#10686
 F   The Unlit Sea, chapters 1-2        Kyle Marquis -#10687
 F   Gabriel's Secret, Chapters 1-2     Audrey E. Turner -#10688
 F   The Serpent's Mark, Prologue and Chapters 1-2  Lee Collins -#10689
 F   Truth and Lie                      Daniel Arenson -#10690

Week of 23-Mar-2005 (Crits due 30-Mar-2005):
 SF  Psi-Kids                           [mpc] Becky Gauger -#10691
 F   The Fifty Year War - Chapter 1     [mpc] Marshall Ryan Maresca -#10692
 H   Night Dreams                       [mpc] Shelley Lesher -#10693
 SF  Mind Sweep                         [mpc] Stephen Gaskell -#10694
 SF  Donors                             [mpc] Jim Gearhart -#10695
 F   The Last Dragon's Angel Wing       David A. Olson -#10696
 F   The Second Chance Scent            [@] Joe Murphy -#10697
 SF  Dreamform, Chapters 1-3            Chris Owens -#10698
 H   The Unholy, Chapter 5              Carl Alves -#10699
 SF  Silent Planet                      Jeff Appleton -#10700
 F   Of Silk, Sheen, and Shadow         Tony Pi -#10701
 SF  Broken Obsession                   Richard S. Levine -#10702
 H   Voices in the River                Janka Hobbs -#10703
 SF  A Fate Worse Than Death            Christian Roberts -#10704
 SF  The Creature in the Cut            Barbara Davies -#10705
 F   Windancer Part 2                   Hazel Ong -#10706
 F   Jeannies                           E. S. Tupper -#10707
 F   Prince Charming                    Scott Fazekas -#10708
 SF  Dust in the Wind                   Nathan Beittenmiller -#10709
 H   Methuselah and the Hitman          Chris Russo -#10710
 F   The Sofa Story                     Matthew Herreshoff -#10711
 F   The Deal, Chapters 5-12            Matthew and Lindsey Schocke -#10712
 SF  Believe!                           R. Scott VanKirk -#10713
 SF  Returning Home                     Cath Haftings -#10714
 SF  Progress                           Sandra Schoen -#10715
 SF  Times A Wasted                     J.M. Jones -#10716
 SF  A Reflection of Sin                Kevin Schramm -#10717
 SF  Kiss the Blade                     Jerico Mele -#10718
 F   Wings of Love                      Tony Walls -#10719
 SF  Call Me Mr. Positive               Tom Barlow -#10720
 SF  The Gahazen Stone Saga: Chapters 1 & 2  Yolanda Best -#10721
 SF  Virulent Beats                     Bret Angelos -#10722
 F   Twin Sense                         Jessica Wynn -#10723
 SF  A Night at the Opera               Allen Finn -#10724
 F   The Word                           [@] pamela berkman -#10725

Week of 30-Mar-2005 (Crits due 6-Apr-2005):
 F   Nightshade and Glory-Morn          [mpc] Tony Pi -#10726
 F   Jerry Giraffe & Bob Print: A Children's Story  Fred Obermeyer -#10727
 SF  Razor Thin Divide                  Laura Shrake -#10728
 SF  Zen Force Warriors Trilogy Chapter 1  Dionne Washington -#10729
 SF  Open Secrets                       [@] Richard K. Lyon -#10730
 F   Daughter of Plant and Woman        Michael Andre-Driussi -#10731
 SF  Dowser                             Mark Barnes -#10732
 SF  Spoiling Jenna                     Rupa Bose -#10733
 F   The Apothecary                     Mike Rimar -#10734
 SF  The Temporal Contraption           Ted Davis -#10735
 SF  Until We Go Home                   Margaret Graham -#10736
 H   The Children's Hour, Chapters 1-2  Maryanne Romano -#10737
 F   With Open Eyes, Chapter 3          Karen Hansen -#10738
 H   Snuff, Chapter 3                   Andrew Richardson -#10739
 F   Fallen Hero" (working title)       Larisa Barham -#10740
 SF  Reaper of Rewards                  Lars Backstrom -#10741
 SF  Gaiaforming Mars                   Paul Bard -#10742
 SF  William Tell's Overture, Chapters 1-2  John Haugh -#10743
 SF  The Odd Happenings at Dennis Farmer's Trail  Dayne Kedigh -#10744
 H   The Haunting of Morgan Harrison, Chapter 1  Alynia Rule -#10745
 F   So, What Are You In For?           Scott E. Johnson -#10746
 F   The Eagle Prophecy, Chapters 1a-2  Elizabeth Hall -#10747
 H   Trance, chapters 31 - 40           Warren Semotiuk -#10748
 F   Lost Magic, Chapter 1              Elizabeth Shack -#10749
 F   Golden Feet                        Kathleen Humble -#10750
 F   Twilight Adagio                    Barbara J. Webb -#10751
 F   Princess of Pawns, ch. 1-2         Rose Hodge -#10752
 F   The Darkmoon Pearl                 John Kratman -#10753
 F   The Third Tree on the Left         Paul M. Jessup -#10754
 SF  When Warriors Plug In              John Grgurich -#10755
 SF  Reparation                         Simon Bown -#10756

Week of 6-Apr-2005 (Crits due 13-Apr-2005):
 F   For Dust, Wind, and Storm          [mpc] Tony Pi -#10757
 SF  Daddy was Killed by a Dinosaur on my Summer Vacation  [mpc] Shelley Lesher -#10758
 SF  The Spaceman's Wife                [mpc] Stephen Gaskell -#10759
 SF  Captive Senses                     William Anderer -#10760
 F   Rogue's 7                          Martin H. Slusser -#10761
 SF  Report to the Homeworld            Richard Herr -#10762
 SF  What Little Girls Are Made Of      Rena Hawkins -#10763
 SF  The Way You Kiss A Good Twin       Mick Halpin -#10764
 F   Castles in the Mud                 James Grayson -#10765
 SF  Driving                            Derek Robinson -#10766
 H   The Mask of Sanity                 Charles Daniel -#10767
 H   Brother's Keeper                   Will Briggs -#10768
 F   Intertwined                        Sandra Panicucci -#10769
 H   The Last Watch                     Liam Rands -#10770
 H   Nightmare Manor                    Kirk Davis -#10771
 SF  The Celstial Atlas: Book One, Contact Flying  Sarah Borger -#10772
 F   The Wurd of the Divine Warrior     Chris Kruckenberg -#10773
 SF  Tick Tock                          Marek Fludzinski -#10774
 F   The Son of Winter, chpt 1-2        Jay Callahan -#10775
 F   Adina                              Ashley Bennett -#10776
 F   Innocence and Blood                Marion Bernard -#10777
 F   The Omen                           Irina Pokrovski -#10778
 F   Will and the Tower of the Haithedim, Chapters 1-4  AJ Milne -#10779
 F   The Guardian                       David Dalglish -#10780
 F   The Stranger Within, Chapters 0-2  Matthew Kasen -#10781
 H   Veal                               Andy Jackson -#10782
 SF  Over the Air Waves                 Shawn Turner -#10783

Week of 13-Apr-2005 (Crits due 20-Apr-2005):
 SF  The Next Evolution                 [mpc] Shelley Lesher -#10784
 SF  The Prometheus Drone               Michele Korri -#10785
 SF  Arn, Chapters 1-4                  Jim Bauer -#10786
 SF  Next Step                          Teresa K. Thorne -#10787
 SF  Patient Virtues                    Chet Gottfried -#10788
 SF  Another Day                        Terence Martin -#10789
 H   Lightning's Touch                  Fran -#10790
 SF  Titan's Little Voice               Brit Marschalk -#10791
 F   The Augured, Chapter 3 (With Synopsis)  Julia Dvorin -#10792
 SF  Hostile Intent ch 3-4              Jeffrey A. Means -#10793
 SF  Thirty-Third of Yadinar, Chapters 3  Leslie Haig -#10794
 SF  The Admanium Alliance              TB Wright -#10795
 F   A Sliver Moon                      Gabrina Garza -#10796
 F   Odds and ends                      Mark Ward -#10797
 F   Awakening                          Anita Spence -#10798
 H   Dealbreaker                        Kristin Satterlee -#10799
 SF  Without Mercy                      Robert W. Caldwell -#10800
 F   Naked Venom, Ch. 1                 Michelle O'Neill -#10801
 F   The Ascension Faith                Jonathan Bain -#10802
 H   Breathe                            Brendan Carson -#10803
 SF  Bite Me                            Joy Bischoff -#10804
 SF  The Hollow Equations               Joe Baric -#10805
 SF  The Omega Sketch                   Brian Blose -#10806
 F   Dragon Fodder                      Christine Cornell -#10807
 H   The Dangers of Rock Fishing        Paul Sheringham -#10808
 F   A Rent of 31 Roses, Chapter 1      Alexandra Lipitakis -#10809
 F   Crowmaster, Act III                Dave Hoing & Roger Hileman -#10810
 SF  In the eye of the Beholder         Math Bird -#10811
 F   Janus Watchers, Chapters 1-2       Anne Fitten Glenn -#10812
 SF  Portrait of the Artist in 4D       Garrett Menning -#10813
 F   Talking With Winds, Chapter 1      Michelle Bottorff -#10814
 SF  Veils of Principle                 Chandler Zedac -#10815

Week of 20-Apr-2005 (Crits due 27-Apr-2005):
 SF  The Carpet                         [mpc] Bill Siderski -#10816
 F   The Dragon's Breath Seed           [@] Eugie Foster -#10817
 F   The Rubies of Kutzian              John Ryan -#10818
 F   Eternity Interrupted Chapter One   Ray E. Main -#10819
 F   A Moment of Reflection             Gary Wilbanks -#10820
 F   Snake Eyes on a Paradise, Chapters 4-6  Mik Bennett -#10821
 SF  Creation Science 101               [@] Richard K. Lyon -#10822
 SF  A Test of Temper                   Dave Wood -#10823
 H   Vanish                             Jill Elaine Hughes -#10824
 SF  Homecoming, part 1                 John Derderian -#10825
 F   The King's Daughter, CH 3          Jeannette Kathleen Cheney -#10826
 F   Balloon of the Mind                David Eland -#10827
 F   Behind Glass Eyes                  JA Howe -#10828
 SF  Domestic Distrubance               Rory Abel -#10829
 H   The Mouth of Amon                  Steve Parker -#10830
 H   Pretty Bullet                      Kurt Hohmann -#10831
 F   Turner's Window, Tennessee, part.1  Norm Gillespie -#10832
 SF  Hey? It's Anelay, to 7-Insa with a Ring  Jeannette Cho -#10833
 F   The Guardian of Qenai              Erin Woods -#10834
 SF  Vibes                              Andrew Dezorzi -#10835
 F   Still-Life                         Stefan White -#10836
 F   Loyalty                            Michael E. Shea -#10837
 H   One Breath                         Gretchen Cranmer -#10838
 SF  The Watchers                       Cynthia Rohner -#10839
 F   DragonBlade, Chapter 0             Steve Pearson -#10840
 F   The Key                            Lauren Hougen -#10841
 H   Exit 88                            Serenity J. Banks -#10842
 SF  Humankind, Chapter 1               Ogi Ogas -#10843
 F   Walking the Blade Road             Frank Darbe -#10844
 SF  Be Fruitful                        B. C. Bell -#10845
 H   The Hartford Family Chronicles: The Flesh of Ana Beth  Patrika Williamson -#10846

Week of 27-Apr-2005 (Crits due 4-May-2005):
 F   A Knight at the Inn                [mpc] Michael A. Ouellette -#10847
 SF  Malignancy                         [mpc] Brendan Hall -#10848
 F   Coming of Age                      Barbara Bates -#10849
 SF  The Dyslexicon                     Carl Frederick -#10850
 SF  Humboldt's Museum of Unusual Artifacts  Alissa Grosso -#10851
 F   Yasuo and the Black Magician       Robert J. Santa -#10852
 F   Forever Underfoot                  [@] Larry Hodges -#10853
 F   Jacob in the Valley                Michael E. Wever -#10854
 SF  A Puppet's Soul                    Joseph Swope -#10855
 SF  Yuman Voices Wake Us               Chuck Rothman -#10856
 SF  The Next Evolution                 Shelley Lesher -#10857
 SF  History's Pawn                     Boris Layupan -#10858
 SF  Chapter Twelve of Dark Nights of Fire (Tolgon Chronicles, Book One)  Brian Lee Anderson -#10859
 SF  The Republic, Chapters 17-20       Jon Jacobs -#10860
 H   M-550                              Brian L. K. Creary -#10861
 F   The Violin That Even Vona's Mum Could Play  Tim Hammack -#10862
 SF  Bahia                              Stacy Wais Seretto -#10863
 H   Cloverleaf                         Patrick G. Rabe -#10864
 SF  Black Box                          Miles Deacon -#10865
 F   Cultivating the Muse, Chapters 1-3  Donna Munro -#10866
 SF  At the Starship Farm               James Palmer -#10867
 SF  Faster                             Greg Howell -#10868
 F   The Demon War                      S.C. Bryce -#10869
 F   Rings of Confinement               Darren Johnson -#10870
 F   Elaeden                            Lesleigh Force -#10871
 H   Thrills, Chills...and Something Else  Lee Collins -#10872
 SF  The Specious Origin of Zyzzy Kang  Ingrid Wilson -#10873
 H   Primeval                           James Boyle -#10874
 F   'Ware, the Ghoul Herder Comes      Ryan M. Williams -#10875
 F   Belhaven Rats, Chapter 1 - Whispers of Smoke  Michael Shepardson -#10876

Week of 4-May-2005 (Crits due 11-May-2005):
 H   The Cat Called Karma She Was Bad   [mpc] Shelley Lesher -#10877
 SF  Child of the Veil                  [mpc] Jonathan Radoff -#10878
 F   Binzo's Highbush                   [mpc] Robert C.A. Goff -#10879
 SF  Finding a Cure                     [mpc] Sara Polsky -#10880
 F   By Blood or by Choice              Pam Davis -#10881
 SF  Snoopy was Right                   Jim Cue -#10882
 SF  Panning For Bigfoot                Chris Owens -#10883
 H   Intercom                           Carl Alves -#10884
 SF  Creation Science 101               [@] Richard K. Lyon -#10885
 F   Mountain Scarab                    Jeff Stewart -#10886
 F   Cross-Purposes                     Marlo Dianne -#10887
 SF  Sentinel                           Roy McLeod Williamson -#10888
 F   Licking the Newt                   Christian Roberts -#10889
 F   Awakening                          Jeff Sullins -#10890
 F   Through the Eyes of the Tattoo Snake  Scott Fazekas -#10891
 F   FOR DAHLIA!                        Chris Russo -#10892
 F   Paraworld Zero, Chapter 7          Matthew D. Peterson -#10893
 SF  Rituals                            Charles Sanft -#10894
 SF  Everybody Can Use Another Friend   Dave Whittier -#10895
 SF  The Forever Factor                 Lya Laberge -#10896
 F   The Genome                         Annette Hamilton -#10897
 F   Kiss Me Better                     Jessica Wynn -#10898
 F   The Day The Children Disappeared   Beth Martin Quittman -#10899
 F   Tashi's Future Lover               [@] Dave Hoing -#10900
 F   Two Hafus Don't Make a Whole       Kirsten Lincoln -#10901
 SF  Spot Free                          Paul T. Tietjens -#10902
 F   Burden of the Flesh                Michael T. Marsh -#10903
 H   Predators on God's Turf            Mark F. Walsh -#10904
 F   The Lion, the Witch & the Lawsuit  Lee Beavington -#10905
 SF  Woulda Coulda Shoulda              Brendan Murphy -#10906
 SF  Machine Translation                Andrew Magnusson -#10907

Week of 11-May-2005 (Crits due 18-May-2005):
 SF  I Am Adrift With Possibility       [mpc] Glenn Rowsam -#10908
 SF  The Friendship Incident            [mpc] Jonathan Radoff -#10909
 SF  Puncher's Chance                   [mpc] James Grayson -#10910
 SF  Downfall of a Hero                 A. Dorrance -#10911
 F   The Burden of Others               Fred Obermeyer -#10912
 SF  Zen Force Warriors "The Battle for Planet Muroska" Chapter 2 and 3  Dionne Washington -#10913
 SF  Hardboiled Proust                  Michael Andre-Driussi -#10914
 SF  Fast Forward                       Richard S. Levine -#10915
 SF  Astrogoraphobia                    Margaret Graham -#10916
 H   The Lord of the Roos               Eric Harrison -#10917
 F   From One Beast to Another          Cath Haftings -#10918
 F   The Forbidden Lea                  Karen Hansen -#10919
 H   The Passion of the Son of Man      Lars Backstrom -#10920
 F   Fortune's Fool                     TJ O'Grady -#10921
 SF  The Commute                        Andrew Gilkeson -#10922
 SF  Arrested Decay                     Scott E. Johnson -#10923
 F   The Eagle Prophecy, Chapters 3-4   Elizabeth Hall -#10924
 F   A Crisis of Faith                  M J Ridderhof -#10925
 SF  Switchblade                        Chad Jones -#10926
 F   Of Lost Keys and Crystal Dreams    Barbara J. Webb -#10927
 SF  Second Coming                      Chris Camp -#10928
 F   Lost Magic, Chapter 2              Elizabeth Shack -#10929
 SF  We Knew You Were Coming            Simon Bown -#10930
 F   Dragon Light, Prologue             Curtis Newton -#10931
 H   Cicada Chapter 1                   Tim Nicholas -#10932
 H   Lisa                               Allen Thomas -#10933
 F   Inheritance Part 1                 Martin Donnelly-Heg -#10934
 F   Splintered Kingdoms, Chapter 1 & part of 2  Amanda Heroman -#10935

Week of 18-May-2005 (Crits due 25-May-2005):
 H   Cut                                [mpc] Bill Siderski -#10936
 H   Mommy Lies Under the Ocean         [mpc] Shelley Lesher -#10937
 F   Mosquito Pudding                   [mpc] Robert C.A. Goff -#10938
 F   The Archer of the Sun and the Lady of the Moon  [@] Eugie Foster -#10939
 SF  Promised Land                      Laura Shrake -#10940
 SF  Meine Aufgabe, Meine Pflicht       William Anderer -#10941
 F   Workshop Gods                      [@] Larry Hodges -#10942
 F   Rogues Gold part 8                 Martin -#10943
 SF  The Secret Identity Diet           [@] Richard K. Lyon -#10944
 SF  Good Boy                           Richard Herr -#10945
 SF  Gone Pirating                      Chris Gerrib -#10946
 F   Come Frost, Sun, and Vine          Tony Pi -#10947
 SF  The Fortress White                 Brandon Butler -#10948
 F   My World                           Charles Daniel -#10949
 SF  Kids with Wings                    Rupa Bose -#10950
 H   Charred Maplebar Detective (comedy)  Trevor L B Porter -#10951
 H   Tea with Mr. Jenkins               Liam Rands -#10952
 H   Through the Gates of Lunacy        Jay Stevol -#10953
 H   The Window                         Ashley Bennett -#10954
 SF  The Celestial Atlas, Book One: Contact Flying  Sarah Borger -#10955
 F   A Full-Flight Dragon               Jarrah Moore -#10956
 SF  Dairy of the Cyber-Housewife       Lee Kuruganti -#10957
 F   The Bane of the Divine Warrior     Chris Kruckenberg -#10958
 SF  One Fine Spring Morning            Denni Schnapp -#10959
 F   The Centaurs' Quest chapters 1-3   Larisa Barham -#10960
 F   Crossing Realms, Chapters 1-2      Mark Boone -#10961
 F   Jakkar's Servant                   Marion Bernard -#10962
 F   Tashi's Future Lover               [@] Dave Hoing -#10963
 SF  Getting Them Up, Chapterette 1     Susan Burns -#10964
 F   Kinagi                             Erin Avery -#10965
 SF  Bones, Bugs, and Biology           Jerry Bryson -#10966
 F   Chalice of the Essence             Victoria Fisher -#10967
 SF  Type C10(f)                        Cameron Beman -#10968

Week of 25-May-2005 (Crits due 1-Jun-2005):
 F   For Dust, Wind, and Storm (v2)     [mpc] Tony Pi -#10969
 SF  Bifurcated Me                      [mpc] Jonathan Radoff -#10970
 F   Bard's Folly, Chapter 1            [mpc] Jason Wipf -#10971
 F   Withered Dreams                    [mpc] Jay Stevol -#10972
 SF  Arn, Part 1a                       Jim Bauer -#10973
 H   DOWNLOAD COMPLETE                  Fran Cobe -#10974
 F   Lott                               Charles Leighton -#10975
 SF  First Cat                          [@] Larry Hodges -#10976
 SF  Creation Science 101               [@] Richard K. Lyon -#10977
 SF  Hostile Intent                     Jeffrey A. Means -#10978
 F   To Err, Divine                     John Barefield -#10979
 SF  The Good Simarians                 TB Wright -#10980
 H   Snuff                              Andrew Richardson -#10981
 SF  Reject                             Fay Romesburg -#10982
 SF  The wolf, the women and the woodcutter  Mark Ward -#10983
 F   Gehenna Empire, Chapters 1-2 + Prologue  Anita Spence -#10984
 F   The Witch's Familiar               John K. Stevens -#10985
 SF  Walkies                            David McGillveray -#10986
 F   Saints of Drina (prologue)         Khayriyyah Md Hanafiah -#10987
 F   Electroman Superhero (You will believe a man cannot fly)  Robert W. Caldwell -#10988
 SF  Off the Grid                       Leonard J. Sidiski -#10989
 SF  Please Wait for the Next Available Representative  Leo Vasilevskiy -#10990
 SF  The World We Live In               Dayne Kedigh -#10991
 SF  Hurricane Supply Run               John Haugh -#10992
 SF  Homeostasis and Jack               Joseph Baric -#10993
 F   Bound by Power, Ch. 1              E.A.Weippert -#10994
 SF  The Window                         [@] Dave Hoing -#10995
 H   Janus Watchers, Chapters 3-5       Anne Fitten Glenn -#10996
 F   Heart and Hand                     Paul M. Jessup -#10997
 F   Of Mars                            Arran Caza -#10998
 SF  Have You Seen the Light?           Steve Kubrak -#10999

Week of 1-Jun-2005 (Crits due 8-Jun-2005):
 SF  The Attraction                     [mpc] Bill Siderski -#11000
 SF  Triple Helix                       [mpc] Brian E. Howard -#11001
 F   The Crown of Druthal, Chapter 1    [mpc] Marshall Ryan Maresca -#11002
 F   Bound by Power, Ch. 2              [mpc] E.A.Weippert -#11003
 F   Horse of Souls                     [mpc] Jarrah Moore -#11004
 F   Alone No More                      [mpc] Sandra Grauschopf -#11005
 F   Dracomann                          Michele Korri -#11006
 SF  Poetry Power                       Hank Quense -#11007
 F   The Familiar Truth                 David A. Olson -#11008
 SF  the demise of man, chapters 1-7    john ryan -#11009
 F   Eye of the Dark Goddess            [@] Richard K. Lyon -#11010
 F   Snake Eyes on a Paradise, ch 8-10  Mik Bennett -#11011
 SF  Radio Station Boy                  Derek Robinson -#11012
 SF  I, Con                             John Derderian -#11013
 H   The Cottage                        Terry Baker -#11014
 F   Borrowed Time                      Kurt Hohmann -#11015
 F   Smoking with a Ghost               Kristin Satterlee -#11016
 F   Need, a Tale of Hope               Johnathan L. Bingham -#11017
 SF  Ton and the Gods                   Jenny Horne -#11018
 SF  A Boolean Reality                  Cynthia Rohner -#11019
 F   Claw of the Guardian               Tim Moss -#11020
 F   Descent to Cocktail Hour           Christine Cornell -#11021
 H   The Hartford Family Chronicles:The Flesh of Ana Beth  Patrika Williamson -#11023
 SF  Bone Machine                       Stefan White -#11024
 SF  Hypnotica                          Ogi Ogas -#11025
 SF  To Close the Circle                John Eddy -#11026
 F   Second Son                         K. C. Lundstrom -#11027
 SF  Combiners: The Prism Event, Chapters 0-6  Jonathan Cross -#11028
 SF  Epilogue                           Fiona Coward -#11029
 F   The Baron of Briony, Chapters 1-2  Ken Quirici -#11030
 H   Fred                               Melanie Billings -#11031

Week of 8-Jun-2005 (Crits due 15-Jun-2005):
 F   Comfortable Lies                   [mpc] Jonathan Radoff -#11032
 H   Redsmith                           [mpc] Benjamin Buchholz -#11033
 SF  Flight of the Pharaon              [mpc] Patrick Graham -#11034
 SF  Transformers                       Carl Frederick -#11035
 SF  Dreamform, Parts I & II            Chris Owens -#11036
 F   Me and My Doppelganger             Carl Alves -#11037
 F   Tenzing                            Jeff Stewart -#11038
 F   Power for Others                   Joseph Swope -#11039
 SF  Honor and Justice                  Boris Layupan -#11040
 F   Shallow                            Kimberly Colley -#11041
 H   Hell Patrol                        Christian Roberts -#11042
 SF  Bipedal Lab Study                  Lee Collins -#11043
 SF  The Lonica Legends, Ch. 1          Nicole Lawrence -#11044
 SF  eMotion                            Rory Abel -#11045
 H   They Pay You                       Brian L. K. Creary -#11046
 H   The Real Reason You Never See Furbys Anymore  Patrick G. Rabe -#11047
 F   Paraworld Zero, Chapter 9          Matthew D. Peterson -#11048
 F   The Form of the Beast              Lauren Hougen -#11049
 F   The Min Min Lights                 Lesleigh Force -#11050
 SF  Murder on Planet Pureland          Paul Bard -#11051
 F   The Dragon's Scale                 S.C. Bryce -#11052
 H   Maxwell Piss's Zombiemania         Ingrid Wilson -#11053
 F   As the Crow Flies                  [@] Dave Hoing -#11054
 SF  Toilet Robot                       Joe Latessa -#11055
 H   Dead Dog Blues                     James Boyle -#11056
 F   Knight in Wrinkle Black Armor      Brendan Murphy -#11057
 F   Waterfolk                          Katarina Johansson -#11058
 F   Wabberjocky (or Wockyjabber)       Lee Beavington -#11059
 F   Why I'm Asking for an Extension on my Paper  Jennifer Scaringe -#11060
 SF  Abduction, Abduction, Whaat's Your Function?  Tom Haynes -#11061
 SF  I Hope The World Can Take It       Artemus Shelton -#11062
 F   The Light of Ilaenum, Chapter 1    Raye Chinda -#11063
 SF  In The Blue Room                   J E Christopher Smith -#11064
 SF  Gethsemane Landing                 Tomas Martin -#11065
 F   The Hunter's Blade                 Justin Roll -#11066

Week of 15-Jun-2005 (Crits due [*] 6-Jul-2005):
 H   Cut                                [mpc] Bill Siderski -#11067
 F   The Phoenix Still Rises            [mpc] Sam Hidaka -#11068
 F   Song of Wisdom's Release, Chapters 1-2  [mpc] Heather Pine -#11069
 SF  Fortune's Son, ACT I excerpt       [mpc] Boris Layupan -#11070
 H   Heaven Was She                     [mpc] Leo Vasilevskiy -#11071
 F   A Nose for Magic                   [@] Eugie Foster -#11072
 F   The Elentyne Princess              Laura Shrake and Shara Vina -#11073
 F   Eternity Interrupted Chapter Two   Ray E. Main -#11074
 SF  Looking Forward                    Alissa Grosso -#11075
 H   Body Hunt                          Chet Gottfried -#11076
 SF  Interregnum Management             Michael Andre-Driussi -#11077
 H   Black Sabbath                      Shelley Lesher -#11078
 F   His Hunter's Spirit                Jakob Drud -#11079
 SF  Third Time                         Mark Barnes -#11080
 F   Under His Spell                    Brit Marschalk -#11081
 H   The Serpent's Son                  Jason T. White -#11082
 F   The Lost Queen                     Rupa Bose -#11083
 SF  Embarrassment of Brains            Jamie McEwan -#11084
 H   The Sacrifice                      Liam Rands -#11085
 SF  David's Adventure                  Leslie Haig -#11086
 F   Thrill Park                        S Fazekas -#11087
 H   Mr. Pencil                         Steve Parker -#11088
 H   Water                              Ashley Bennett -#11089
 SF  Medusa                             Stephen Gaskell -#11090
 F   Something to Do with Kings, Chapters 1-3  Christopher Kastensmidt -#11091
 F   Hindsight                          Anna Schwind -#11092
 H   The Unexpected Visitor             Lee Kuruganti -#11093
 SF  Pleasure Center                    Andrew Dezorzi -#11094
 F   Ravelda                            Karen L. Kincy -#11095
 F   The Battle for Queenswood          Elizabeth Hall -#11096
 F   When the Six Bards Sing, Chapter 1  Josh Vogt -#11097
 F   Vrenna and the Red Stone           Michael E. Shea -#11098
 SF  Who's the Fairest                  Joy Bischoff -#11099
 SF  Methuselah's Daughter              Dean Esmay -#11100
 H   The Killing Clock                  Annette Hamilton -#11101
 SF  The Second Law                     Chris Camp -#11102
 F   Lost Magic, Chapters 3-4           Elizabeth Shack -#11103
 SF  Immortal Suicide Prologue + Chapters 1 & 2  Simon Bown -#11104
 F   As the Crow Flies                  [@] Dave Hoing -#11105
 F   The Wand                           Chad Jones -#11106
 F   The Umbrella Man                   Felix Pierce -#11107
 F   Crossing Realms Chapters 1 & 2     Mark Boone -#11108
 SF  The Way We Weren't                 Jen Huske -#11109
 F   Bright Eyes                        Jenna Tong -#11110
 F   A Change in the Weather            Jean Cline -#11111
 F   Statue, Stature                    Michael Stone -#11112
 SF  Tilt                               Terry Larson -#11113
 SF  Carry On                           Tina Connolly -#11114
 H   The Water Men                      Jude Wright -#11115
 SF  Modern Magic                       Joseph Hedrick -#11116
 H   They'll Be Sorry When I'm Gone     Way Jeng -#11117
 SF  Diving in Yosemite                 Kristian Wedberg -#11118
 SF  Found Moon                         Michael.Barretta -#11119
 F   The Vember Mill, chapters i - ix   Joseph Wise -#11120
 SF  Lonely Ark                         Rishav Sharan -#11121
 SF  Solitary Consignment               Ann Wilkes -#11122

Week of 6-Jul-2005 (Crits due 13-Jul-2005):
 F   Evil in 13 Steps                   [mpc] Colleen Sinclair -#11123
 SF  The Defenestrator                  [mpc] Rahul Kanakia -#11124
 SF  Arn, Part 1b                       Jim Bauer -#11125
 H   Beyond Reach Chapter 1-3           Fran Cobe -#11126
 H   Rogues Gold part 9, critters       Martin H. Slusser -#11127
 SF  Next Step-revised                  Teresa K. Thorne -#11128
 F   Molly, Chapter 1                   Kate Kirk -#11129
 SF  Diaster on Mars                    Cheryl McCreary -#11130
 SF  Saints of Drina (edit)             Khayriyyah Md. Hanafiah -#11131
 SF  Put On This Earth for a Reason     Chris Russo -#11132
 H   Hands Across                       David McGillveray -#11133
 F   Faith                              Arran Caza -#11134
 SF  Prison Bars                        Cath Haftngs -#11135
 SF  Split Reality                      Robert W. Caldwell -#11136
 SF  Combinatorial Explosion            Dayne Kedigh -#11137
 SF  Ted's Bathroom                     Joe Baric -#11138
 SF  Total Existence                    Michael Grace -#11139
 F   Angels Fall                        Robert Palmer -#11140
 F   Inner Switch                       Craig Smith -#11141
 F   The Golden Rose of Love            Jessica Wynn -#11142
 SF  Reaching Haven                     Marion Bernard -#11143
 F   Guardian's Dawn, Chapter 1         Shawn M. Brooks -#11144
 F   Inheritance Part 2                 Martin Donnelly-Heg -#11145
 H   A Watched Pot                      Adam Gifford -#11146
 SF  ...At Least We'll Always Have Utopia...  Ramon Rozas III -#11147
 SF  He'll Be Fine                      Becky Sarah -#11148

Week of 13-Jul-2005 (Crits due 20-Jul-2005):
 SF  Atomic Missions                    [mpc] Michael Andre-Driussi -#11149
 SF  Twist of Face                      [mpc] William Taylor -#11150
 F   The Powers Machine                 Fred Obermeyer -#11151
 F   Gruelto Part 1: Those Who Live by the Knife  Roxi Banks -#11152
 F   Essa Stone Chronicles Chapters 0-2  Dionne Washington -#11153
 F   Corporate Philantropy              [@] Richard K. Lyon -#11154
 F   Daughter of the Wind - Chapter 1-2  Sandra Panicucci -#11155
 SF  Return to Eden                     Mike Wever -#11156
 F   The Dragon's Tail Tale             Sherry Thompson -#11157
 SF  Marshalee's Revenge: Chapters 1-15 dr rfdr yes  Nicole Andrews -#11158
 F   The Stone Warrior                  Anita Spence -#11159
 F   After the Ball                     Helen Underwood -#11160
 F   The Crown of Druthal, Chapter 2    Marshall Ryan Maresca -#11161
 SF  Outcast                            Paulette Robinson -#11162
 H   The Hartford Family Chronicles: The Flesh of Ana Beth Chap. 1-3  Patrika Williamson -#11163
 F   Of Dragons and Dragomans           Sheryl Rowden -#11164
 F   The Battle of the Hypnotists       Ogi Ogas -#11165
 F   Emerald Boa                        Mariyana Georgieva -#11166
 F   The Baron of Briony, Ch.3          Ken Quirici -#11167
 F   Writing Each Other's Lives         Keesa Renee DuPre -#11168
 H   Jenny Haniver                      Marian Kensler -#11169
 SF  The Wurd of the Divine Warrior     Chris Kruckenberg -#11170
 F   The Guiding Darkness, Part one, Chapter One  Christina Gordon -#11171
 F   Weapons Master, pages 1-15         Laura Chromy -#11172
 SF  Detritus of the Gods               Ryan Mcneill -#11173
 SF  Wind, Stone, and Solitude, Chapter 0,1  Ian Morrison -#11174
 F   A Stranger's Tale                  Dennis M. Parker -#11175
 F   Fire Fox                           Amanda Loftin -#11176
 F   With Warmest Regards               Mark Silcox -#11177
 H   Grilled Catfish Cajun Style        Vance Nebling -#11178
 SF  Glass Heaven, Book 1 Chapter 1     Elizabeth M.A. Hirst -#11179

Week of 20-Jul-2005 (Crits due 27-Jul-2005):
 SF  Artistic Expression                [mpc] Bill Siderski -#11180
 SF  The Next Evolution                 [mpc] Shelley Lesher -#11181
 SF  Charge                             [mpc] Laura Clemmons -#11183
 SF  No Man Left Behind                 [mpc] Dale Mettam -#11184
 F   Rogue Crux, chap 1                 [mpc] Katie O'Neill -#11185
 SF  Have Dominion                      [mpc] Benjamin Crowell -#11186
 SF  GS Nosegay                         Hank Quense -#11187
 F   Rikmealle                          Pam Davis -#11188
 F   The Illusionist                    Gary J Beharry -#11189
 SF  Housecleaning                      Carl Frederick -#11190
 F   Closure                            Barbara Bates -#11191
 F   Fairy Gold                         Jan Clark -#11192
 SF  A Violation of the General Safety Rules, Chapters 1&2  [@] Richard K. Lyon -#11193
 F   Pinocchio Cantatas                 Tony Pi -#11194
 SF  After Pranks                       Richard Herr -#11195
 SF  A Different Hell                   Joe Swope -#11196
 F   Shadowed Soul, Prologue and Chapter 1  Lee Collins -#11197
 F   Beyond the Bounds                  Robert C.A. Goff -#11198
 H   Dark Matter                        Brian L. K. Creary -#11199
 H   The Glutinous God                  Jay Stevol -#11200
 F   The Light of Ilaenum, Chapter 1: Rework  Raye Chinda -#11201
 F   SpiderBox                          Jill Elizabeth Boehm -#11202
 SF  The Tower                          Jenny Horne -#11203
 SF  The Dawn Tree                      S.C. Bryce -#11204
 H   Primeval 2.0                       James Boyle -#11205
 F   Nightfall                          Fiona Coward -#11206
 SF  A View From Nowhere                Brenda Peters -#11207
 F   Candy                              Joe Latessa -#11208
 H   Normal                             Eric J. Donelson -#11209
 F   The Black Tear Widow               Sarah Kalin -#11210
 SF  Horizons of Fire, Chapters 1-2     James R. Martin -#11211
 H   One Night In 'A' Control           David F. Gray -#11212

Week of 27-Jul-2005 (Crits due 3-Aug-2005):
 SF  Arn, Part 2a                       [mpc] Jim Bauer -#11213
 SF  Twist of Face                      [mpc] William Taylor -#11214
 SF  The Goodbye Machine                [mpc] Howard Cooper -#11215
 F   The Triangle Is Still Burning      [mpc] Aimee Poynter -#11216
 SF  The Juror                          [mpc] Brent Meranda -#11217
 F   The Thought of Ednu                [mpc] Helen Keeble -#11218
 H   Blood for Oil                      [mpc] Abra Staffin Wiebe -#11219
 SF  Carrots Counting Down the Apocalypse  [@] Joe Murphy -#11220
 F   The Hunnish Princess               Norma Parfitt -#11221
 SF  The King Of The Goat Parade        Chris Owens -#11222
 H   Parasite                           Carl Alves -#11223
 SF  A Violation of the General Safety Rules, Chapters 3&4  [@] Richard K. Lyon [?] -#11224
 F   Sigurd's Bane                      Jeff Stewart -#11225
 SF  Unlicensed Mover                   Derek Robinson -#11226
 F   Tom & the Outstanding Debt         Kimberly Colley -#11227
 SF  Thirty five chapter 1              Cassidy Hobbs -#11228
 F   Unicorn,Purity,Father's revenge    Louis Doggett -#11229
 SF  The Republic, Chapters 21-24       Jon Jacobs -#11230
 F   Shawn's Fancy                      Michael D. Larson -#11231
 H   The Games of Xibalba               Will Briggs -#11232
 F   Spiders In My Mind, Chapter 1      Jen Van Vliet -#11233
 SF  Done Before                        John Derderian -#11234
 F   The Diary of the Book              Jessica Howe -#11235
 F   Selected Clippings from the Arkham Gazette Classified Pages  Kevin N. Haw -#11236
 SF  Play it again Jhv                  Jacob Brauner -#11237
 SF  Humanity's Time Capsule            Matthew D. Peterson -#11238
 SF  Antibiosis                         Robert D. Philbrook -#11239
 SF  Hemingway's Cats                   Ingrid Wilson -#11240
 SF  True Love Always                   Christine Pellar-Kosbar -#11241
 H   The Disinvited                     Andrew J. McIntosh -#11242
 SF  Intelligent Life                   Lee Beavington -#11243
 SF  The Purring of Cats                [@] Dave Hoing -#11244
 F   The Message of Gethsemane          Jordan Tate -#11245
 H   Giraffe Legs                       Tasha McNeil -#11246
 H   Dinner for the Dead                Chris Morrow -#11247

Week of 3-Aug-2005 (Crits due 10-Aug-2005):
 F   King Gling                         [mpc] Jason M Hauser -#11248
 F   Aesop's Last Fable                 [mpc] Tony Pi -#11249
 F   The Road                           [mpc] Frederic Baril -#11250
 SF  Reach Out and Touch Someone        [mpc] Tony Hellmann -#11251
 SF  The H-Factor #01: Silver, Chapters 1-3  Cliff Dunbar -#11252
 F   The Red String                     [@] Eugie Foster -#11253
 F   Song of the Forsaken               David A. Olson -#11254
 SF  Breach of Character                Alissa Grosso -#11255
 SF  RIDING THE RAILS ACROSS THE GALAXY, Chapters5&6  [@] Richard K. Lyon -#11256
 F   Mistaken Identity                  Robert J. Santa -#11257
 SF  The Hive                           Roy McLeod Williamson -#11258
 SF  Museum Piece                       S Fazekas -#11259
 SF  The Vampire                        Rory Abel -#11260
 SF  Uncle Zack and the Day the Bomb Dropped  Stephen Gaskell -#11261
 SF  Rocinante                          Arthur Bangs -#11262
 F   The Collectors                     J.J.S. Boyce -#11263
 SF  Lifepod                            Kristin Satterlee -#11264
 F   A Kiss in the Bottle               Leo Vasilevskiy -#11265
 H   We Have Arrived                    Ashley Bennett -#11266
 SF  The Good Gun                       Andrew Dezorzi -#11267
 F   The Eagle Prophecy, Chapters 1-2   Elizabeth Hall -#11268
 SF  Saban and the Ancient, Chapter 0   Dante A. Amodeo -#11269
 F   Curse and be Cursed, Chapters 1 -- 5  Karl Smith -#11270
 H   Heck Support                       Chad Jones -#11271
 F   Last Days in Eslos                 Jennifer Flippance -#11272
 F   Portal in the Park                 Jonathan Cross -#11273
 F   Rippled Magic                      Nancy Gilbertson -#11274
 F   The Dominions, Chapter 1           Isaac Weiner -#11275
 SF  Ripples                            Candice R. Bundy -#11276

Week of 10-Aug-2005 (Crits due 17-Aug-2005):
 SF  Second Options                     [mpc] Chris Owens -#11277
 F   Res Ipsa Loquitur                  [mpc] Kimberly Colley -#11278
 F   Problem, Child                     [mpc] Lisa Batya Feld -#11279
 F   Brain Worm                         [mpc] Jim Adam -#11280
 F   The Dominions, Chapter 2           [mpc] Isaac Weiner -#11281
 SF  RIDING THE RAILS ACROSS THE GALAXY Chapter 7  [@] Richard K. Lyon -#11282
 F   Omitha and the Blood Rubies        Rupa Bose -#11283
 SF  Humanite                           Boris Layupan -#11284
 H   Dallas vs FrankenRat               John K. Stevens -#11285
 H   The Other Side                     Liam Rands -#11286
 H   A Bad Husband at the Moondance     Norm Gillespie -#11287
 F   Bloodgold and Birthright, Chapter 1  Josh Vogt -#11288
 SF  We are antique soldiers            Marnie Jefferson -#11289
 F   Judge of Heaven                    Steve Parker -#11290
 F   In the Garden                      Stacy Wais Seretto -#11291
 SF  Ad Astra Per Automata              Brent W. York -#11292
 F   And in His Heart                   Tina Connolly -#11293
 H   Pretty Useless Says                Michael Stone -#11294
 SF  Jones versus Jones, a.k.a. her Doppelganger  Chris Camp -#11295
 SF  The Grass Is Always Greener On The Other Side Of The Universe  Jen Huske -#11296
 SF  Madonna and Child                  Michael Barretta -#11297
 F   Last Flight of a Georgia Satyr     Benjamin Buchholz -#11298
 F   Unlocked                           Felix Pierce -#11299
 F   The Written Word (working title)   Kristy Ferrin -#11300
 F   The Invasion, Prologue and Chapter 1  S. Z. Herman -#11301
 SF  Detective Judas                    Andrew Beattie -#11302
 F   ROLO, Prologue and Chapter One     Marta Adint-Weeks -#11303
 H   The Caretaker                      Brian D. Holland -#11304
 H   Down This Road                     Adam Holwerda -#11305

Week of 17-Aug-2005 (Crits due 24-Aug-2005):
 SF  The Quantum Amplifier              [mpc] Ted Grosch and Jim Bauer -#11306
 F   God Touched                        [mpc] Laura Shrake -#11307
 SF  Olives and Ice                     [mpc] Suzanne Church -#11308
 F   Cold in the Earth                  [mpc] Anita Spence [?] -#11309
 H   Tag                                [mpc] David Taub -#11310
 F   A Singebird By Any Other Name      [mpc] Abra Staffin Wiebe -#11311
 H   The Redemption of Henry Jones      [mpc] Patricia Palko -#11312
 F   Six Slightly Twisted Tales         Jeff Cates -#11313
 F   House Hunter                       Ray E. Main -#11314
 SF  Riding the Rails Across the Galaxy Chapters8&9  [@] richard K. Lyon [?] -#11315
 F   Rogues Gold, 10                    Martin -#11316
 SF  Snowdancers                        Teresa K. Thorne -#11317
 F   Irascible                          Barbara Davies -#11318
 SF  Saints of Drina (3-4)              khayriyyah md hanafiah -#11319
 F   Nonsenesce                         Julianne Long -#11320
 SF  Genesis                            Robert Caldwell -#11321
 F   A Wish and a Dream                 R. Jason Benson -#11322
 SF  Flawed Patterns                    Dayne Kedigh -#11323
 SF  High                               Craig Smith -#11324
 F   The Balance                        Lya Laberge -#11325
 SF  Immortal Suicide Chapters 3 & 4    Simon Bown -#11326
 F   The Rainmaker                      Katarina Johansson -#11327
 F   Broken                             Marion Bernard -#11328
 SF  His Name is Carl                   Michael Mathews -#11329
 SF  At the End of Death                Jenna Tong -#11330
 H   Clavo and Martillo                 Mike Morell -#11331
 SF  Allegra                            Laura Jane Swanson -#11332
 F   The Mad Death                      Roman Rozhavsky -#11333
 SF  The One That Almost Got Away       Caron Mason -#11334
 SF  Birthday Boy                       David Blitch -#11335
 SF  Confessions of an Oxymoron         Carolyn Tam -#11336
 H   Flat Rock Island                   Chris MacInnis -#11337
 SF  A Better Gentleman                 Michael Greenhut -#11338
 H   Red Rain                           M. A. Ligocki -#11339
 H   The Third Floor Bathroom           Gregg Winkler -#11340
 SF  Abysm                              Brian Meyer -#11341

Week of 24-Aug-2005 (Crits due 31-Aug-2005):
 H   The Cutters                        [mpc] Gary J Beharry -#11342
 F   Soldier Lost                       [mpc] Neil O'Donnell -#11343
 SF  History's Pawn                     [mpc] Boris Layupan -#11344
 F   Heir of Orcyss                     [mpc] Anita Spence -#11345
 F   Angel Eyes                         [mpc] Jim Adam -#11346
 F   The Invasion, Chapter 2            [mpc] S. Z. Herman -#11347
 F   Everything Your Heart Desires      [mpc] Brent W. York -#11348
 SF  Quassi's Adventure, A quasicomedy  [mpc] I. Ron Steele -#11349
 SF  Riding the Rails Across the Galaxy Chapters 10&11  [@] Richard K. Lyon -#11350
 F   You Are Watching...                [@] Larry Hodges -#11351
 F   Shadow Harper                      Sherry Thompson -#11352
 SF  Among the Shattered and Debris     Michael Andre-Driussi -#11353
 H   Love You                           Jason T. White -#11354
 H   Stalker                            Nicole Andrews -#11355
 SF  The Meeting                        Margaret Graham -#11356
 H   The Hartford Family Chronicles: The Flesh of Ana Beth Chap 4-6  Patrika Williamson -#11357
 F   The Crown of Druthal, Chapter 3    Marshall Ryan Maresca -#11358
 SF  From the Underbubble to the Sky    David McGillveray -#11359
 F   The Moral and Kevin McNally        Sheryl Rowden -#11360
 F   If Only We'd Brought Marshmallows  Robert Palmer -#11361
 F   The Baron of Briony, Ch.4          Ken Quirici -#11362
 H   Dark Pastoral                      Lucy Katzberg -#11363
 SF  Angelfoot                          Chris Drake -#11364
 H   Country air                        Craig Linwood -#11365
 SF  Last Man On Earth                  Ted Davis -#11366
 SF  A Brother's Keeper chapter one     Kit Davis -#11367
 SF  A Fish Out of Water                Brent W. Brown -#11368
 SF  Service Call                       Gwen Perkins -#11369
 F   Menagerie                          Kristin Janz -#11370
 SF  Truth and Lie                      Daniel Arenson -#11371
 F   The Silver Bracelet                Meghan Riley -#11372

Week of 31-Aug-2005 (Crits due 7-Sep-2005):
 F   The Dragon Points North            Doc Finch -#11373
 F   Manhattan Monsters                 Hank Quense -#11374
 F   The Hidden City                    Pam Davis -#11375
 SF  Man, Descendant                    Carl Frederick -#11376
 SF  Riding the Rails Across the Galaxy Chapters10&11  [@] Richard K. Lyon -#11377
 F   The Fiery Bible                    [@] Larry Hodges -#11378
 H   Danny Abbott's Rape                Shelley Lesher -#11379
 SF  Timely Event                       lloyd smith -#11380
 F   The Test                           Michael A. Ouellette -#11381
 F   One More Cup of Coffee for the Road  Brian L. K. Creary -#11382
 SF  Survive, Just Survive              Katie Greenhalgh -#11383
 F   Beyond the Glass Desert            S.C. Bryce -#11384
 H   Hoodwinked                         Raye Chinda -#11385
 H   The Fish                           James Boyle -#11386
 H   Her Nightmare part 1               Gretchen Cranmer -#11387
 F   The Better for It                  K. C. Lundstrom -#11388
 F   No One Can Escape the Process      Lori Emerson -#11389
 SF  The Museum Of Robotica             Brenda Peters -#11390
 SF  Scavenger Hunt                     Chris Boone -#11391
 F   Grief Poetry                       Stephanie Jura -#11392
 F   Doors                              Sarah R. Tuiaana -#11393
 SF  To Close the Circle                John Eddy -#11394
 H   'Til the Heart Betrays             Adam Gifford -#11395
 F   Lost Brother                       [@] Dave Hoing & Roger Hileman -#11396
 F   the Dragon Mosaic                  Nadia Williams -#11397
 F   Fire Fox                           Amanda Loftin -#11398
 H   Death of a gamer                   James Isilay -#11399
 H   Greystone, Chapter 1               Christina Barber -#11400
 F   His Bother's Keeper                Barbara Turner -#11401
 SF  The Abduction of Arnold Beezley    Adam La Rusic -#11402

Week of 7-Sep-2005 (Crits due 14-Sep-2005):
 F   To Err, Divine                     [mpc] John Barefield -#11403
 F   One Wish Only                      [mpc] I. Ron Steele -#11404
 SF  Rivers in Love                     [@] Joe Murphy -#11405
 F   Identity Wash                      Fred Obermeyer -#11406
 SF  Riding the Rails Across the Galaxy, Chapter 12  [@] Richard K. Lyon -#11407
 F   Worlds Apart                       Stephen B. Pearl -#11408
 SF  Expert Adman                       Jakob Drud -#11409
 H   The Bitter Taste of Defeat         Jeff Stewart -#11410
 SF  The Proxy                          Chuck Rothman -#11411
 F   Shawns Fancy                       Michael D. Larson -#11412
 F   Bradley                            Leslie Haig -#11413
 SF  You'll Always Be a Part of Me      Will Briggs -#11414
 F   John Duppy                         Matthew Herreshoff -#11415
 SF  Penfold's Revolutionary Revision Technique  Manda Benson -#11416
 F   Caines-on-the-River                Arran Caza -#11417
 SF  Shifting Time                      Matthew D. Peterson -#11418
 SF  History at the Bus Stop            Jacob Brauner -#11419
 H   A Monster in Process               Ingrid Wilson -#11420
 SF  The Executioner                    Michael E. Shea -#11421
 SF  Purgatoryland                      Andrew J. McIntosh -#11422
 SF  Perception                         Lee Beavington -#11423
 F   City of Stone: The Dark Days of Shilei, Prologue and Chap 1  Dennis M. Parker -#11424
 SF  Patron Saint                       [@] Dave Hoing -#11425
 F   Muffin Madness                     Tasha McNeil -#11426
 SF  Pre-Columbian Art                  Ramon Rozas III -#11427
 H   Emergency Procedures               Dan Hart -#11428
 SF  Bullets & Binoculars               Vance Nebling -#11429
 SF  Flesh of My Flesh                  Tim McWilliams -#11430
 F   The Return of the North Fist, Chapter 1  John Khan -#11431
 H   My Old Gang                        Chris Morrow -#11432
 F   Shadow of the New World, chapters 0  James Kerslake -#11433
 H   Hotchkiss Syndrome                 Chris Stageman -#11434
 SF  T.I.M.E., Chapters 1-2             Jose' M. Ramos -#11435
 F   The Precipice of Life              Jordan Tate -#11436

Week of 14-Sep-2005 (Crits due 21-Sep-2005):
 F   The Gall of Glthulu                [mpc] Jason M Hauser -#11437
 SF  Arn: Part 2b                       [mpc] Jim Bauer -#11438
 SF  Staying There                      [mpc] I. Ron Steele -#11439
 SF  See Raptor Run                     [mpc] R. Jason Benson -#11440
 F   Hultachia                          [mpc] Marshall Ryan Maresca -#11441
 SF  RIDING THE RAILS ACROSS THE GALAXY, The final chapter.  [@] Richard K. Lyon -#11442
 H   A Call For Blood                   Carl Alves -#11443
 SF  Memory Eaters                      Alissa Grosso -#11444
 F   Ded Society                        [@] Larry Hodges -#11445
 F   Homecoming                         Robert J. Santa -#11446
 SF  Under the Surface                  Roy McLeod Williamson -#11447
 H   Not Your Fault                     Christian Roberts -#11448
 H   The Pool, Chapters 0-1             Andrew Richardson -#11449
 H   The Remains of Loss                John Aissis -#11450
 F   Dragonslayer                       S Fazekas -#11451
 SF  Men, Machines and Monsters         Rory Abel -#11452
 SF  Geostationary Man                  Stephen Gaskell -#11453
 H   Ekimmu                             Racheal Stevens -#11454
 F   The Tree                           Arthur Bangs -#11455
 F   Saban and the Ancient - Being an Impact Player  Dante A. Amodeo -#11456
 SF  Incantations                       Andrew Dezorzi -#11457
 F   Chasing Rainbows                   Annette Hamilton -#11458
 SF  Anxious Travels                    P William Teather -#11459
 H   A Night at the Hummingbird         Chad Jones -#11460
 SF  Bingo's Luck                       Clifford W. Dunbar -#11461
 SF  Rippled Magic, Chapter 1           Nancy Gilbertson -#11462
 SF  The Amazon Bird Women of Something Cepheus  Karl Bunker -#11463
 SF  Of Two Minds                       Debra Frazier -#11464
 H   My Annie                           Jarrod Law -#11465
 SF  The Spiral Web Intro & Chapter 1   Alan Bennetts -#11466
 SF  Yggdrasil Falls                    Bob Robertson -#11467
 H   Space Spheres                      John Adams Theibert Jr. -#11468

Week of 21-Sep-2005 (Crits due 28-Sep-2005):
 SF  Parson's Dragon                    [mpc] Bill Siderski -#11469
 SF  Catch 2022                         [mpc] Kate Kirk -#11470
 SF  I'll See You In a Few Thousand Years  [mpc] Christian Roberts -#11471
 SF  The Plains of Fire                 [mpc] Manda Benson -#11472
 F   Quest for the Pipe                 [mpc] Marguerite Lance -#11473
 SF  The Entertainer                    [mpc] Christopher Kastensmidt -#11474
 F   Metamorpheses                      Mary Catelli -#11475
 SF  Mu Iota Beta                       Chris Owens -#11476
 SF  Jackpot Reality                    [@] Larry Hodges -#11477
 SF  The Strange Aftermath of Joey Mycklosvich's Drawing  William Taylor -#11478
 F   The Dickety-Do                     Mick Halpin -#11479
 SF  Processor 518                      Mike Wever -#11480
 F   Cursive Three                      Joe Swope -#11481
 F   When the Tree Splits, Chapter 1    Laura Jones -#11482
 F   Coren of Razi                      Dara Roberts -#11483
 SF  Saints of Drina (2)                khayriyyah md hanafiah -#11484
 SF  Gold Streak                        Craig Smith -#11485
 SF  The Wreck of the 'Aurora Strider'  Jeff Howell -#11486
 SF  Sportsman's Paradise               Alan Carswell -#11487
 F   Out of the Darkness, Chapters 1-2  Glen A. McDonald -#11488
 F   We Don't Do Quests                 Dale Mettam -#11489
 SF  Intelligence Officers Log Ch1-2    Rodney Howard -#11490
 H   The Devil's Fauna                  Michael Stone -#11491
 SF  McTavish Discovers His Charix      Tina Connolly -#11492
 F   Chasmophilia                       Sandra Grauschopf -#11493
 SF  The Recording Artist               Joe Latessa -#11494
 SF  Making Monsters                    Michael Barretta -#11495
 SF  Dig                                John Kratman -#11496
 H   They Come                          Benjamin Poon -#11497
 F   Song of the Soul                   Jay Magill -#11498
 SF  Mistress of Neither                Tiani Otten -#11499
 SF  Trash Hole                         Sean M. Robinson -#11500

Week of 28-Sep-2005 (Crits due 5-Oct-2005):
 SF  Barry Arsegrab                     [mpc] I Ron Steele -#11501
 SF  A Fate Worse Than Death            [mpc] Christian Roberts -#11502
 SF  Stories by the Campfire            [mpc] Michael D. Larson -#11503
 SF  Soul Rites                         [mpc] Stephen Gaskell -#11504
 SF  Predictions                        [mpc] Dan Reade -#11505
 F   The Illustrious Ogilvy             [mpc] Danny Semmel -#11506
 SF  Martian Magic                      Jeff Cates -#11507
 F   Crystalline Prophecy: Book One Chps 1-2  Dionne Washington -#11508
 F   Eye of the Dark Goddess            [@] Richard K. Lyon -#11509
 F   Origins of Hezeron                 Anita Spence -#11510
 F   Satin Sanctuary                    Dal Jeanis -#11511
 F   Immortality Not All the Glam       Cheryl McCreary -#11512
 H   The World of Geraldine             Patrika Williamson -#11513
 F   Dead in Baltimore                  Chris Russo -#11514
 F   The Taking                         Nadia Harmsen -#11515
 SF  Red Loves Blue                     Steve Parker -#11516
 SF  Relic, Synopsis, Chapters 1 & 2    Paulette Robinson -#11517
 SF  Transit Moons                      Jay C. Ceron -#11518
 SF  The Heart of the White Lady        Katarina Johansson -#11519
 H   Mona Lisa                          Mike Morell -#11520
 SF  Immortal Suicide Chapters 5 & 6    Simon Bown -#11521
 H   Mottephobia, A Love Story          Michael Mathews -#11522
 SF  Swatting Mosquitoes                Caron Mason -#11523
 SF  Do You Remember When?              David Blitch -#11524
 F   Miss Understanding, Chapter 1      Lindsey Duncan -#11525
 SF  Pushing on Empty                   Kristopher Horton -#11526
 SF  Not My Home                        Shachar M. Langbeheim -#11527
 SF  The Ultimate Proof                 Matthew Hill -#11528
 F   The Sea's Embrace                  Jasmine Brothers -#11529
 F   The Case of the Geminate Fish: An Adventure of Professor Quay and Savage Morgan  Gregory Adams -#11530
 F   The End of Lady Grey               Daphne Charette -#11531
 F   Kinseeker chptr 1                  Jennifer L Oberlander -#11532
 F   Legacy of a King                   Mark Spezzano -#11533
 SF  Over the Air Waves                 Shawn Turner -#11534

Week of 5-Oct-2005 (Crits due 12-Oct-2005):
 SF  Arn Part 3a                        [mpc] Jim Bauer -#11535
 F   Ye Repo Men                        [mpc] Dale Mettam -#11536
 F   Shim Chung the Lotus Queen         [@] Eugie Foster -#11537
 F   Chaos and Hope                     Gary J Beharry -#11538
 SF  Transitivity                       Carl Frederick -#11539
 F   The River of Time                  Robert Goldstein -#11540
 SF  Quantum Amplifier                  Ted Grosch and Jim Bauer -#11541
 SF  Honor and Justice                  Boris Layupan -#11542
 F   The Soul Shop                      Josh Vogt -#11543
 F   Redwing                            Jim Adam -#11544
 SF  The Gah-Gah Nest                   David McGillveray -#11545
 F   Jimmy Neutron: The Wondreful Wizard of Blarth  Leo Vasilevskiy -#11546
 F   Auguste Dupin's Inbox              Kevin N. Haw -#11547
 SF  EterniVision Chapters 1-3          Veronica Pehrson -#11548
 SF  Human, Version 3.0                 Sheryl Rowden -#11549
 F   The Price of Her Gift              Marion Bernard -#11550
 F   The Invasion, Chapter 4            S.Z. Herman -#11551
 F   A Seller of Dreams                 Shoshana Seid-Green -#11552
 F   The Missing Sock Fairy             Jennifer Scaringe -#11553
 H   Paging Greta                       Chris Drake -#11554
 H   Fear of Writing                    Kevin Atherton -#11555
 SF  Off the Spectrum                   Ted Davis -#11556
 F   Sons of God, Daughters of Men      Kristin Janz -#11557
 H   House Haunting, Chapter 1          Mary Merrell -#11558
 SF  Welcoming the Stranger             Suzanne Gallagher -#11559
 SF  The Hottest Summer                 Michael Greenhut -#11560
 F   A Sacrifice to the Corn-Man        Aliette de Bodard -#11561
 H   The Hanging Tree                   Colm Mc Geever -#11562
 SF  The Blood/Brain Barrier            Damien Boyes -#11563
 H   Slimmer of Hope                    David Charles Flynn -#11564
 F   The Legend of Evantis              Ethan Ray -#11565

Week of 12-Oct-2005 (Crits due 19-Oct-2005):
 SF  Pitcher Plant                      [mpc] Bill Siderski -#11566
 SF  Despatched in Discreet Packaging   [mpc] Ian Creasey -#11567
 F   Divine Inspiration                 Hank Quense -#11568
 F   Music for the Soul                 Pam Davis -#11569
 F   Punish the Pimple-Faced-Four-Eyed Geek  Shelley Lesher -#11570
 SF  Juggernaut of the Forest           Michael Andre-Driussi -#11571
 SF  Natural Weather                    Will Briggs -#11572
 F   Second Chances                     Jeannette Kathleen Cheney -#11573
 SF  DeathBed                           Kurt Hohmann -#11574
 F   Tune It Up Ch. 1-3                 Norm Gillespie -#11575
 SF  Data Whispers                      Dayne Kedigh -#11576
 H   The Third Floor                    Brian L. K. Creary -#11577
 SF  Don't You Know I Know              Brendan Carson   -#11578
 H   Burying the Past                   S.C. Bryce -#11579
 SF  Cold Call                          Daniel Tenner -#11580
 SF  Bad July                           Andrew J. McIntosh -#11581
 F   Little Mac and the Volcano         James Boyle -#11582
 F   Forever, Anna Chapter 1 and 2      Raye Chinda -#11583
 F   The Armies Of The Sun              Brenda Peters -#11584
 F   The Silver Bracelet                Meghan Riley -#11585
 SF  Inheritance                        David Wesley -#11586
 H   Dinner For One                     Tim McWilliams -#11587
 F   Harold's Harvest                   Nadia Williams -#11588
 H   Greystone, Chapters 2 and 3        Christina Barber -#11589
 SF  Where There's Thunder              Casey Fiesler -#11590
 SF  Firewalk                           Helen E. Davis -#11591
 SF  The Caramel Lodge                  Andrew OD Booth -#11592
 F   The Veil & Piator Petrovich        Alesia F. Nickerson -#11593
 SF  An Apology                         Abram B. Olson -#11594

Week of 19-Oct-2005 (Crits due 26-Oct-2005):
 SF  It Lucy's Universe, Chapters 1-2   [mpc] Chris Owens -#11595
 SF  The Cipher of Stone                [mpc] Tony Pi -#11596
 SF  Consequences                       [mpc] Sam Hidaka -#11597
 F   Redemption of the Fallen           [mpc] Anita Spence -#11598
 SF  Planequake                         [mpc] Jonathan Radoff -#11599
 SF  Counting Sheep                     [@] Larry Hodges -#11600
 F   Eye of the Dark Goddess            [@] Richard K. Lyon -#11601
 F   A Mixed Marriage                   Stephen B. Pearl -#11602
 SF  Altered                            Alissa Grosso -#11603
 SF  Little Thoughts Written            Christine L. Golden -#11604
 SF  Farewell Dinner                    Jakob Drud -#11605
 F   The Strangers                      John Barefield -#11606
 H   The Alley of No More Pain          Lee Collins -#11607
 SF  Fight at Garden Theater            Mike Rimar -#11608
 SF  Mars Child                         Ncicole Andrews -#11609
 F   The Crown of Druthal, Chapter 5    Marshall Ryan Maresca -#11610
 SF  Saban and the Ancient - Ch. 3 - Mind Tricks  Dante A. Amodeo -#11611
 SF  A Prayer In The Dark               Rory Douglas Abel -#11612
 F   A New Dawn                         R. John Matthews -#11613
 SF  I Cried to Dream Again             Arthur Bangs -#11614
 F   War in Heaven                      Matthew D. Peterson -#11615
 SF  A Case Of Identity                 Paul Comstock -#11616
 F   Kinodrome                          Ingrid Wilson -#11617
 H   the killing clock                  annette hamilton -#11618
 H   Interview with the Dead            Lee Beavington -#11619
 F   City of Stone: The Dark Days of Shilei, Chap 2-3  Dennis M. Parker -#11620
 F   Widow's Peak                       Chad Jones -#11621
 F   The Keepsake Purse                 Jarrah Moore -#11622
 SF  Why He Walks                       Bob Robertson -#11623
 F   Rippled Magic, Chapter 2           Nancy Gilbertson -#11624
 H   Ripples                            Candice R. Bundy -#11625
 SF  Buyer Beware                       Josh Sager -#11626
 F   Shadow of The New World, Chapter 1  James Kerslake -#11627
 H   The Bleeding Earth                 Adam La Rusic -#11628
 F   Mythica                            Ilya Kipnis -#11629
 F   Regret                             Sonia Lal -#11630
 SF  The Womb of Life                   Jon Ruland -#11631

Week of 26-Oct-2005 (Crits due 2-Nov-2005):
 SF  Original Justice                   [mpc] Brent Meranda -#11632
 SF  The Manchime                       [mpc] Raymond Colerick -#11633
 F   After the Reformation: Interviews with the Grammarians" -- Selected Extracts  [mpc] Helen Keeble -#11634
 F   Ryveen                             [mpc] Nadia Harmsen -#11635
 F   Hunting the Fifth Sister           [mpc] Mark Yohalem -#11636
 SF  The H-Factor #01: Silver, Chapters 4, 5  Clifford W. Dunbar -#11637
 F   The Better To . . .                [@] Eugie Foster -#11638
 SF  Attractive Nuisance                A. Dorrance -#11639
 H   The Long Road                      Jason M Hauser -#11640
 SF  Body Language                      Fred Obermeyer -#11641
 SF  Corpse-walking                     Charlie Allery -#11642
 F   Death Struggle                     [@] Larry Hodges -#11643
 H   Answering Service                  Carl Alves -#11644
 F   Prophecy                           Robert J. Santa -#11645
 H   Vespinian Slaves                   Joe Swope -#11646
 SF  Bride of Con-Maggot                John K. Stevens -#11647
 SF  Harvest                            Jon Jacobs -#11648
 SF  Star Trek - Deep Space Nine, Chapter 1-2  Leslie Haig -#11649
 H   The Pool, Chapters 2-3             Andrew Richardson -#11650
 SF  The Darkness Between               Jeremy Minton -#11651
 SF  Hide and Seek                      Rodney Howard -#11652
 SF  What say you?                      Khayriyyah Md. Hanafiah -#11653
 H   Dark Love                          Lucy Katzberg -#11654
 F   Zoolin Vale and the Chalice of Ringar Chapters 1-2  Craig Smith -#11655
 SF  Nomad                              Karl Bunker -#11656
 F   Badbox                             Karen -#11657
 SF  The Rivers of Time - Chapter 1     Susan Curnow -#11658
 SF  Impossible Loyalties               J. Matthew Saunders -#11659
 F   Lost Souls                         Gretchen Sveda -#11660
 SF  The Drahatzi are Coming!           David Seigler -#11661
 SF  Falling Out                        Manek R. Mistry -#11662
 SF  The ALliance: Awakening, Sections 1 & 2  LJ Hachmeister -#11663
 F   The Soldier's Prayer               Peter McLachlan -#11664
 SF  Not Chicken                        Gene K. Boyd -#11665
 F   The 7th Hero, Chapters 1 and 2     J. Zachary Pike -#11666

Week of 2-Nov-2005 (Crits due 9-Nov-2005):
 F   Down dee Hill                      [mpc] Gary J Beharry -#11667
 SF  too much gas                       [mpc] Christine L Golden [?] -#11668
 SF  Hitler's Hollywood                 [mpc] Michael Andre-Driussi -#11669
 F   To Rage in Horned Toad             [@] Joe Murphy -#11670
 F   Hard Rainbow                       Ray E. Main -#11671
 F   The Watcher                        [@] Larry Hodges -#11672
 SF  Humanity's Rainbow Chapter 1       Roy McLeod Williamson -#11673
 SF  Past Events                        Cheryl McCreary -#11674
 SF  Slaves of our Servants             Manda Benson -#11675
 H   The Flesh of Ana Beth Prologue V2  Patrika Williamson -#11676
 SF  Chasing Galatea                    Christopher Kastensmidt -#11677
 H   Milepost 1380                      Jay C. Ceron -#11678
 SF  The Uinta Incident                 Michael Stone -#11679
 SF  With the Greatest of Ease          Tina Connolly -#11680
 F   A Hordeing We Will Go              Edward Greaves -#11681
 SF  Nephilim                           Mike Barretta -#11682
 F   A Watched Pot                      Adam Gifford -#11683
 F   Fire & Ink                         Jim Dawicki -#11684
 F   The Night of the Black Moon        Swapna Kishore -#11685
 SF  The Spiral Web                     Alan Bennetts -#11686
 SF  Tattered Gods Part I, Chapter 1    Kerry D. Elder -#11687
 F   Churel                             John Kratman -#11688
 SF  The Case of the Geminate Fish: An Adventure of Professor Quay and Savage Morgan Part 2  Gregory Adams -#11689
 SF  Flower in Her Hair                 Jen Oberlander -#11690
 SF  Survival by Design                 Matthew Hill -#11691
 SF  I Swear Upon My Mother's Grave That I Will Kill the Androids  Arman Khodaei -#11692
 F   The Leak                           Allen Mitchell -#11693
 SF  Summer, Part I: Chapters I-IV      L. C. Felske -#11694
 F   Monkeypaw Shampoo                  Andy Jackson -#11695

Week of 9-Nov-2005 (Crits due 16-Nov-2005):
 SF  Things That Go Pumb in the Night   [mpc] Bill Siderski -#11696
 F   The Sorcerers of Orth              [mpc] Jason M Hauser -#11697
 SF  Chasing Destiny                    [mpc] Gary Wilbanks -#11698
 SF  Humanity's Rainbow Chapter 2       [mpc] Roy McLeod Williamson -#11699
 SF  Distant Dreams                     [mpc] Marty Albert -#11700
 F   People of the Sword, Chapters 1-2  [mpc] Neil O'Donnell -#11701
 SF  the boy and the dragons, part one  John Ryan -#11702
 F   This Way To The Egress             Mary Catelli -#11703
 SF  Double Helix, Downward Gyre        Carl Frederick -#11704
 F   They've stolen my porn!            Howard Cooper -#11705
 SF  The Origins of Agnatusky           Mark Barnes -#11706
 SF  Red Onion                          Dan Lei -#11707
 H   Till Death Us Do Part              Christian Roberts -#11708
 F   Don't Pet Mr. Pitts                Josh Vogt -#11709
 SF  Astrogoraphobia                    Margaret Graham -#11710
 F   Cassandra                          Jim Adam -#11711
 SF  How Love Spans Many Voids          Chris Russo -#11712
 F   Jimmy Neutron: The Wonderful Wizard of Blarth  Leo Vasilevskiy -#11713
 SF  Returning to the Flesh             Cath Haftings -#11714
 F   A Flagon of Mead                   Nerine Dorman -#11715
 SF  The Census Taker                   Paddy Howard -#11716
 H   Natasha                            Mike Morell -#11717
 SF  Useful Fictions                    Christine Pellar-Kosbar -#11718
 F   The Legend of the Gods' Heroes, Chapter 1  Atticus Evil -#11719
 F   Burning Blood                      Jerry Miller -#11720
 H   The Cellar                         Chuck Neumann -#11721
 SF  Phone Sex                          Ted Davis -#11722
 F   Think To Slim                      Peter Lewicke -#11723
 SF  A Boy Named Carrie                 Katie O'Neill -#11724
 F   The Creature and the Little Girl   Ramsey Shehadeh -#11725
 F   Judarial Son of Artheth            James Hill -#11726
 F   Nature of the Beast                Jared Evers -#11727

Week of 16-Nov-2005 (Crits due 23-Nov-2005):
 SF  Mavis and the Mandarin Tree        [mpc] Alla Lurie -#11728
 SF  Humanity's Rainbow Chapter 3       [mpc] Roy McLeod Williamson -#11729
 H   Hell Patrol                        [mpc] Christian Roberts -#11730
 SF  Blood war                          [mpc] Khayriyyah Md. Hanafiah -#11731
 F   The Third Wave                     [mpc] William Ward -#11732
 F   The Road to Kathmandu              [mpc] Chris Miller -#11733
 F   Diary of a Dragon                  [@] Larry Hodges -#11734
 SF  Surviving Mars                     Chris Gerrib -#11735
 F   Lesson for the Stage               I Ron Steele -#11736
 SF  Finite Day, You Are the One        William Taylor -#11737
 F   Old Man Wiswell                    Chuck Rothman -#11738
 SF  The Automatic Pen                  Boris Layupan -#11739
 F   When the Tree Splits Short Revision  Laura Jones -#11740
 F   King Lucid                         David McGillveray -#11741
 H   Gravestone                         Carol K. Ervin -#11742
 F   The Final Accounting of Crazy Sven Evilsen  Dale Mettam -#11743
 F   Murder in the House of Gelle       S.C. Bryce -#11744
 H   Third Floor                        Brian L. K. Creary -#11745
 H   The Parting Gift                   Paul Crawford -#11746
 SF  Enduring Childhood                 Marion Bernard -#11747
 SF  Awakener                           Paul Baughman -#11748
 SF  Home Is Where The Alien Is         Ross Hamilton -#11749
 F   The Divine Jury                    Lindsey Duncan -#11750
 SF  Veritas Nos Liberabit              Kristin Janz -#11751
 SF  Turing's Dance                     Suzanne Gallagher -#11752
 H   Between Light and Dark             Chris Stageman -#11753
 F   The Blessed Hand                   Dan Holbrow -#11754
 SF  Tipping the Scales                 David Charles Flynn -#11755
 SF  True History                       N. Frances Moritz -#11756
 SF  The Gahazen Stone Saga, Chapters 1 & 2  Yolanda Best -#11757
 SF  Soul of Paris Chapters 1-3         Cecil Washington -#11758
 F   Lake Soren                         Joseph Hedrick -#11759

Week of 23-Nov-2005 (Crits due [*] 30-Nov-2005):
 SF  The Observation Deck               [mpc] Marty Albert -#11760
 F   Dark Gate                          [mpc] Anita Spence -#11761
 SF  Humanity's Rainbow Chapter 4       [mpc] Roy McLeod Williamson -#11762
 SF  Honor and Justice                  [mpc] Boris Layupan -#11763
 H   A Dirty Joy                        [mpc] Jeff Appleton -#11764
 SF  The Smog God                       [mpc] Ryan Harvey -#11765
 SF  The Big S                          [mpc] Ryan McNeill -#11766
 SF  Viper 3                            [mpc] T.J. Starbuck -#11767
 F   Love Overwhelming                  Pam Davis -#11768
 H   The Omen in the Oven               [@] Larry Hodges -#11769
 SF  Ministry of Karma                  Ian Creasey -#11770
 F   Those Of The Unbreakable Hand: Part 1  Chris Owens -#11771
 F   Crystalline Prophecy chs 3-4       Dionne Washington -#11772
 F   Corporate Philanthropy             Richard K. Lyon -#11773
 F   Immortality                        Edward Moore -#11774
 SF  How to Take Over the World         Shelley Lesher -#11775
 SF  Out of Square                      Jamie McEwan -#11776
 F   An Army of Locusts                 R. Jason Benson -#11777
 F   Ulfr, Chapters 0-2                 Anneke Daems -#11778
 F   The Crown of Druthal, Chapter 6    Marshall Ryan Maresca -#11779
 SF  Dead Berg                          Sheri Fresonke Harper -#11780
 SF  Tachyon Memories, Inc.             Dante A. Amodeo -#11781
 F   Elz's Compass                      Dayne Kedigh -#11782
 SF  Kung Fu Vampire Sex Kittens From Mars  Brendan Carson       -#11783
 H   The Fragrance of Chantilly         Annette Hamilton -#11784
 SF  The Planets I Have Visited         Lee Beavington -#11785
 SF  Terrible Anger                     Dan Reade -#11786
 H   Megasylvipantopus graysoni         Chris Collins -#11787
 H   The Wachman and the Seekers        Chad Jones -#11788
 F   The Fourth Consort                 Jessica Goeller -#11789
 SF  Rough Company                      C. L. Rossman -#11790
 F   Forever, Anna - Chapter 3          Raye Chinda -#11791
 SF  Dream Machine                      Tim McWilliams -#11792
 F   The Castle, Chapter 1              Fiona Wallace -#11793
 F   Servant of the Stone               [@] Dave Hoing -#11794
 H   You Would Rather Die               Clayton J. Koskey -#11795
 H   Wrong Lane                         Colm Mc Geever -#11796
 F   The Sleepwalker                    Michael Greenhut -#11797
 F   Shadow of The New World, Chapter 2  James Kerslake -#11798
 F   Excuse Me                          Scott Baker -#11799
 SF  Treatment                          Katherine Villyard -#11800
 F   Unmarked Road                      Jason Gillespie -#11802
 F   Outcast                            Katie Karian -#11803
 SF  Moonshine                          Erik Peterson -#11804
 SF  The Prisoner Of Brenda             Andrew OD Booth -#11805
 SF  The Mercury Contract               Steve Wylie -#11806
 SF  Red in the Black                   Casey Fiesler -#11807
 SF  The Moment                         Cris Alvarez -#11808
 F   The Drinking of Ales               Paul Abbamondi -#11809
 SF  Pet                                Nicole Taft -#11810
 H   What I've Become                   Ethan Lesher -#11811

Week of 7-Dec-2005 (Crits due 14-Dec-2005):
 F   The Pin is Mightier than the Sword  [mpc] Christine L Golden -#11812
 SF  Big Impression                     [mpc] I Ron Steele -#11813
 SF  A Boy and his Tripod               [mpc] Howard Cooper -#11814
 SF  Putting Crime in Perspective       [mpc] Manda Benson -#11815
 SF  His Plan                           [mpc] Paul Comstock -#11816
 SF  Tark's Revenge                     [mpc] S.Z. Herman -#11817
 SF  Anima                              [mpc] David Jackson -#11818
 F   Magic's Curse                      [mpc] Jason D. Cooper -#11819
 F   Rue and Ruin                       [@] Eugie Foster -#11820
 SF  Quantum Amplifier                  Jim Bauer and Ted Grosch -#11821
 F   Forever Anna, Chapter 1 and 2      Raye Chandler -#11822
 SF  Triangle of Fire                   Stephen B. Pearl -#11823
 SF  Purple                             Alissa Grosso -#11824
 F   What Lies Beyond                   Robert J. Santa -#11825
 SF  Thermo                             Ted Grosch -#11826
 SF  In the Land of Milk and Honey      Matthew Herreshoff -#11827
 F   Rosie's Spellcatcher               Norm Gillespie -#11828
 SF  By the Waters of the Ganga         Stephen Gaskell -#11829
 F   Heron Moon, Ch. 1                  Lauren Hougen -#11830
 SF  Astol and his Pet Human            Matthew D. Peterson -#11831
 SF  A Wink of God's Eye                Ingrid Wilson -#11832
 SF  High                               Craig Smith -#11833
 SF  Horizons                           n harmsen -#11834
 SF  Re-Vision                          Mark Yohalem -#11835
 F   Lhorak and the Golem of Dhent      Steve Michel -#11836
 F   Demon Trial                        Karen -#11837
 SF  The Farmer's Daughter (a Cautionary Tale)  David Seigler -#11838
 F   Rippled Magic, Chapter 3           Nancy Gilbertson -#11839
 H   Dead Man's Hand                    Adam La Rusic -#11840
 F   The Eternal Sorceress, Chapters 1-3  Jessica Judd -#11841
 H   That Which Preys                   Josh Sager -#11842
 H   The Interview Nobody Wants         Scott M. Sandridge -#11843
 SF  The Pearl of Evening               Simon Woodhouse -#11844

Week of 14-Dec-2005 (Crits due 21-Dec-2005):
 F   Dark Gate, Chapter 5               [mpc] Anita Spence -#11845
 F   Arachne's Gift                     [@] Eugie Foster -#11846
 F   The Pascal Payoff                  A. Dorrance -#11847
 F   The Fate of Choices                Gary J Beharry -#11848
 F   Revolution, Chapters 1-2           Carl Alves -#11849
 F   Metamorphoses Caught in Amber      Tony Pi -#11850
 SF  Surfing the Wave                   Richard S. Levine -#11851
 H   The Pool, Chapters 4 and 8         Andrew Richardson -#11852
 F   Might of the Sea                   Christopher Kastensmidt -#11853
 F   Root Causes                        Jay Stevol -#11854
 F   Cinder as Prefix                   Elizabeth Caruthers -#11855
 SF  Pod Traveler                       Gerald W. Kennedy -#11856
 H   Growing Pains                      Lucy Katzberg -#11857
 H   Warmth in the Cold Time            Abra Staffin Wiebe -#11858
 H   The Trolls Among Us                Kevin Atherton -#11859
 SF  The Thirteenth Operation           Swapna Kishore -#11860
 F   MirrororriM                        Michael Stone -#11861
 SF  Stardust                           Edward Greaves -#11862
 H   Killing Time                       Becky Huffman -#11863
 F   The Brides, Chapters 1-4           J. Matthew Saunders -#11864
 SF  Absolute Advantage                 Matthew Hill -#11865
 F   All Hallow's Eve                   Peter McLachlan -#11866
 F   Second Flowering                   John Colvin -#11867
 SF  Blossum the Awesome 'Possum        Kelly Gillette -#11868

Week of 21-Dec-2005 (Crits due [*] 4-Jan-2006):
 SF  The Rest of Forever                [mpc] Tracy Byford and Jeff Cates -#11869
 SF  Easy Pickings                      [mpc] Bill Siderski -#11870
 F   Dark Gate, chapter 9               [mpc] Anita Spence -#11871
 SF  Tractor                            [mpc] Wayne A. Vernon -#11872
 SF  Chasing Rainbows                   [mpc] David Jackson -#11873
 F   the boy and the dragons, part two  John Ryan -#11874
 F   The Sorcerers of Orth              Jason Hauser -#11875
 SF  Quillworld                         Fred Obermeyer -#11876
 SF  Numerical Manipulation             Carl Frederick -#11877
 H   Thin Surfaces                      Arran Caza -#11878
 SF  The Little Dumpling and Daccon V   Wenonah Lyon -#11879
 SF  Ultradrive                         Mark Barnes -#11880
 F   The River of Time Chapters 3 & 4   Robert A. Goldstein -#11881
 SF  Second Savior                      Dan Lei -#11882
 F   The Girl in the Globe              Andrew Moskalik -#11883
 H   The Sun God                        Racheal Stevens -#11884
 SF  Every Time Like the First Time     John Barefield -#11885
 H   Inn of the Four Eagles             Josh Vogt -#11886
 SF  The Republic, Chapters 25-26       Jon Jacobs -#11887
 F   Reluctant Crop                     S. Fazekas -#11888
 SF  The Third Sex                      Cath Haftings -#11889
 SF  Charity Package                    Chris Russo -#11890
 F   Dragonfly                          Karl Smith -#11891
 F   Who is Mr Grunegauergrosz?         Leo Vasilevskiy -#11892
 H   Bobby and Clyde                    Mike Morell -#11893
 F   The Small Picture                  Paddy Howard -#11894
 H   The Real Estate Market             Lara Frater -#11895
 SF  The Bitrunners                     Tina Connolly -#11896
 F   Dead Woods                         atticus evil -#11897
 H   Happy                              Mike Barretta -#11898
 SF  Jailhouse Confession               David Blitch -#11899
 H   Clearing A Nest                    Peter Lewicke -#11900
 SF  One In A Billion                   Ted Davis -#11901
 F   Seeds of Power, Chapter 1          Chris Coleman -#11902
 SF  No Talk                            Terry Larson -#11903
 SF  Barrier                            John Kratman -#11904
 F   The Dragon                         Sonia Lal -#11905
 F   The Silences, chapter 1            Hannah E. Grindrod -#11906
 SF  Mourning Sky, Chapters 1-3         Roanell Hardin -#11907
 SF  Strength                           Manek R. Mistry -#11908
 F   A Birth Into an Uncertain Darkness  Chuck Kienzle -#11909
 F   The Gift                           Dennis R. Upkins -#11910
 SF  The End of Crazy                   Katie Howenstine -#11911
 H   Murder Monkey                      Christopher Hawkins -#11912
 SF  A November Murder                  Simon Bown -#11913
 SF  Elijah                             Nathan Goldman -#11914
 F   The Canoe                          Bill Falo -#11915
 F   The Trickster                      James Roarke -#11916

Week of 4-Jan-2006 (Crits due 11-Jan-2006):
 F   The Tears of the Goddess           [mpc] Pam Davis -#11917
 SF  The Gospel Of Coyote               [mpc] Jesse Emspak -#11918
 SF  Loser's Paradise                   [mpc] R. Scott VanKirk & Randall K. Armour -#11919
 SF  Take Responsibility                John Lars Shoberg -#11920
 SF  The Chestnut Tree                  Lilian Gilmour -#11921
 F   Dragon's Choice                    Joe Swope -#11922
 F   Borrowed Karma                     Christian Roberts -#11923
 H   The Stall                          Lee Collins -#11924
 H   The Right People for the Place     Bob Novack -#11925
 SF  A Step to the Stars                Marion Bernard -#11926
 SF  Arrival                            Katarina Johansson -#11927
 H   Itsy Bitsy Spider                  Carol K. Ervin -#11928
 F   Shadows in My Mind                 S.C. Bryce -#11929
 H   Converting Lisa                    Paul Crawford -#11930
 H   A Man Runs Away                    Brian L. K. Creary -#11931
 SF  Changes                            Paul Baughman -#11932
 F   The Water of Death                 Marian Kensler -#11933
 F   Here it is Beautiful               Kristin Janz -#11934
 H   Ripples                            Candice R. Bundy -#11935
 H   Father's Legacy                    Frederic Baril -#11936
 H   Shadow in the Corner               Dan Holbrow -#11937
 SF  For We Are Many                    S P Wilcock -#11938
 F   Citadel of Cobras                  Aliette de Bodard -#11939
 SF  Antony's Woman                     Ross Hamilton -#11940
 SF  The Secret Recipe, Chapters 3&4 of Gahazen Stone Sage  Yolanda Best -#11941
 SF  Hiro                               John Lawless -#11942
 SF  Onto Flux                          Dahlia Schwartz -#11943
 H   Knocker                            Joseph Mulak -#11944
 SF  World on Fire                      Daniel Arenson -#11945

Week of 11-Jan-2006 (Crits due 18-Jan-2006):
 F   Nobody Loves You                   [mpc] K. C. Lundstrom -#11946
 F   The Grass is Always Greener...     Barbara Bates -#11947
 F   Snow Crystals                      Edward Moore -#11948
 SF  Worldjacked: Part One              Chris Owens -#11949
 SF  Memory Bank                        Shelley Lesher -#11950
 SF  Humanity's Rainbow Chapter 5       Roy McLeod Williamson -#11951
 SF  The Dance                          Boris Layupan -#11952
 H   Ole Hattie's                       Dale E. Edmons -#11953
 F   The Temple Bells                   Hazel Ong -#11954
 F   Redwing                            Jim Adam -#11955
 F   The Crown of Druthal, Chapter 4    Marshall Ryan Maresca -#11956
 SF  Eternal Journeys                   Dayne Kedigh -#11957
 SF  Heartline                          C. L. Rossman -#11958
 H   The Water Glass                    Annette Hamilton -#11959
 SF  A Communications Delay             Lee Beavington -#11960
 F   e-mail                             Arthur Yuwiler -#11961
 F   Posthumanity, Chapters 1-3         Chad Jones -#11962
 SF  Chester                            Karl Bunker -#11963
 SF  Summer Dreams                      Daniel Tenner -#11964
 SF  Homecoming                         Tim McWilliams -#11965
 F   Daughters of Aphilia, Chapters 1 & 2  Wanda Mooney -#11966
 F   Shadow of The New World, Chapters 3-4  James Kerslake -#11967
 SF  Chicken                            Steve Wylie -#11968
 SF  Something Changed                  Andrew OD Booth -#11969
 SF  The Quandary of Special Agent Johnson  Sean J. Pierce -#11970
 H   Skin and Bones                     Tarl Roger Kudrick -#11971
 SF  Intrusion                          Jennifer Graham -#11972

Week of 18-Jan-2006 (Crits due 25-Jan-2006):
 F   Nature's Design                    [mpc] Barbara Bates -#11973
 H   Coming Home                        [mpc] Shelley Lesher -#11974
 F   Dark Gate, chapters 11, 12         [mpc] Anita Spence -#11975
 F   The Unkindness of Ravens           [mpc] Abra Staffin Wiebe -#11976
 F   Redemption Tower                   [mpc] Jeff Watson -#11977
 F   Keen and Rodder, Part 1            [mpc] Cheryl Hotchkiss -#11978
 SF  Living in the Past                 Christine L. Golden -#11979
 SF  Relayer                            Jim Bauer -#11980
 F   Lake Birds in Kelterkwar           Dal Jeanis -#11981
 SF  Monsoon                            Manda Benson -#11982
 F   Ulfr, Chapters 3-4                 Anneke Daems -#11983
 H   Duty of Care                       Chris Collins -#11984
 SF  Micro Expressions                  Stephen Gaskell -#11985
 F   Whale Watchers                     Craig Smith -#11986
 SF  The Salamander                     Steve Michel -#11987
 F   A Matter of Faith                  Sheryl Rowden -#11988
 F   Bringing The Rain Back             n harmsen -#11989
 F   Grun Seggun                        Karen Middleton -#11990
 F   Ran's Lullaby                      Michael Greenhut -#11991
 SF  A Day Without Kings                Adam La Rusic -#11992
 F   For Art's Sake                     David Seigler -#11993
 H   Shadows of Prague                  Chris Stageman -#11994
 SF  The Uncertainty Principle          John Chu -#11995
 F   The Woman of the Woods             Scott M. Sandridge -#11996
 SF  Hypnagogic Torporific Simulacra    Andrew Beatty -#11997
 SF  Testimonial                        V. J. Jorgensen -#11998
 F   Tainted, Chapter 1                 Nadine Kilkenny -#11999
 H   Ghost of a Tricycle                Brenna Kingsbury -#12000
 SF  When It Burns, It Burns Like a Star  Paul Abbamondi -#12001
 SF  The Deserts of Vast Eternity       J.P. Davis -#12002
 F   Hob                                Linda A. B. Davis -#12003
 SF  The Toad King, Prologue - Chapter I  Ward Best -#12004
 F   Dead Silent                        Leah Cypess -#12005

Week of 25-Jan-2006 (Crits due 1-Feb-2006):
 F   Dark Gate, chapters 18-19          [mpc] Anita Spence -#12006
 SF  Guarding the Third Planet          [mpc] Robert C.A. Goff -#12007
 SF  The Price                          [mpc] R. Jason Benson -#12008
 F   Exactly                            [mpc] Sharon Wahl -#12009
 SF  Relation Ship                      Gary J Beharry -#12010
 F   The Jewel of the Tiger             Mary Catelli` -#12011
 H   Ghost Tour                         Carl Alves -#12012
 SF  The Unifying Answer                I Ron Steele -#12013
 F   Jaguar and the Rising Sun          Robert J. Santa -#12014
 SF  Hitler's Hollywood                 Michael Andre-Driussi -#12015
 SF  Monopole                           Ted Grosch -#12016
 H   The Pool, Chapters 9 and 10        Andrew Richardson -#12017
 F   The Edge of Empire                 Douglas Ryan -#12018
 F   How the 6th Ave Gang Got Its Guitar Player  Norm Gillespie -#12019
 SF  Powerless                          Gerald W. Kennedy -#12020
 F   Sent by the Light                  Jonathan Bain -#12021
 F   The Boy Who Hated Water            Matthew D. Peterson -#12022
 F   Split Personality                  Edward Greaves -#12023
 H   The Reconstruction of Kasper Clark  Michael Stone -#12024
 H   Paging Greta                       Chris Drake -#12025
 SF  Alone at AX-1                      Swapna Kishore -#12026
 SF  Divergence                         Vince Bonasso -#12027
 SF  Once Observed, Now the Observer    John Grgurich -#12028
 H   The Curse of the Geong Si          JK Sager -#12029
 SF  Final Phase                        Matthew Hill -#12030
 SF  Rogue Element                      Peter McLachlan -#12031
 SF  Friendly Fire                      Allen Mitchell -#12032
 F   The Girl At The Bottom Of The Sea  Alexandra Lipitakis -#12033
 SF  The Leeching                       John Colvin -#12034
 H   The Bodybuilder                    Dan Malach -#12035
 F   Prophecy Awakened, Prologue        Steve Pearson -#12036
 SF  Primordial DNA-Life code from Brooklyn  Larry Chiaramonte MD -#12037
 SF  From Among the Rushes              Carol Storckman -#12038
 H   The Old One Rises                  Thomas Royle -#12039

Week of 1-Feb-2006 (Crits due 8-Feb-2006):
 F   Beginning of the Ends              [mpc] Bill Siderski -#12040
 F   Ulfr, Chapters 5-6                 [mpc] Anneke Daems -#12041
 F   Keen and Rodder, Part 2            [mpc] Cheryl Hotchkiss -#12042
 F   Fears                              [mpc] Stephen Gaskell -#12043
 F   Boggerts Blue                      Hank Quense -#12044
 H   The Thing On Her Pillow            [@] Joe Murphy -#12045
 H   Freedom Bones                      [@] Larry Hodges -#12046
 SF  The Worlds of Aleph-Two            Carl Frederick -#12047
 SF  The Ghost Station                  Colin Harvey -#12048
 F   The River of Time, Chapters 2 and 3  Robert A. Goldstein -#12049
 SF  Human Dawn                         Dan Lei -#12050
 F   Of Grasshoppers and Giants         Josh Vogt -#12051
 SF  Harvest                            Jon Jacobs -#12052
 F   Firereaper Twilight, chapters 0-1  Abby Rusatd -#12053
 F   A Mention of Death                 Jeannette Kathleen Cheney -#12054
 F   Aspirin Without Cotton             JA Howe -#12055
 SF  Steel Rain                         Mike Barretta -#12056
 SF  Monies Worth                       Robert J Becraft -#12057
 SF  The Clinic                         Ted Davis -#12058
 SF  Old Folks' Home                    John Kratman -#12059
 F   The Last of His Name               Elena Zimmerman -#12060
 F   Comic book Hero                    Jefferson -#12061
 F   Numbers                            Christina Petric -#12062
 SF  An Insatiable Appetite for Speculative Literature  Manek R. Mistry -#12063
 SF  Schindler and the Chariots of Roswell  Robert Qualkinbush -#12064
 SF  FLushing Utopia                    Brian Salyards -#12065
 F   Home For the Holidays              Daphne Charette -#12066
 F   Elk Rider, Chapters 1-2            Ian Kindle -#12067
 SF  Zero Point Chapters 1-2            Timothy Russell -#12068
 F   Hobbes, Chapters 1-2               Mike Nielsen -#12069
 H   A Free Ticket                      Stephen Owen -#12070
 H   Divine Wind                        Bryce Albertson -#12071

Week of 8-Feb-2006 (Crits due 15-Feb-2006):
 F   Dark Gate, chapter 22 and epilogue  [mpc] Anita Spence -#12072
 SF  Eden Metaphor                      [mpc] Robert C.A. Goff -#12073
 SF  Ageless                            [mpc] Aaron Callow -#12074
 SF  Between a Rock and a Fartface      [mpc] Michael Hutton -#12075
 F   Jake & the Dragon                  Doc Finch -#12076
 SF  Exchange Rate                      Fred Obermeyer -#12077
 SF  For Long the Stars Wait, Chapter 1  Ray E. Main -#12078
 H   Ain't Nothin' Got More Juice 'n a Demon  Ross Young -#12079
 H   Angel in Distress                  Christian Roberts -#12080
 F   The Burning River                  SC Bryce -#12081
 F   Sword Dreams                       Paul Baughman -#12082
 H   The Lonely Place                   Brian L. K. Creary -#12083
 SF  Burning Ambition                   Christine Cornell -#12084
 SF  Disconnect                         Paul Crawford -#12085
 F   Variety                            Marian Kensler -#12086
 F   The Year of the Bear               Kristin Janz -#12087
 F   The Wu Sisters                     Chris Azure -#12088
 F   A Pledge of Service                Becky Huffman -#12089
 SF  Backwards Compatible               S P Wilcock -#12090
 F   Death's Door                       Mark Farrugia -#12091
 SF  Sainthood                          Tim Donlan -#12092
 H   Brass Man                          Brent Miller -#12093
 SF  Ranixcalun                         Samuel E Martens -#12094
 SF  The Great Galactic Gross-Out Contest  Peter Huston -#12095
 SF  Experience Outside the Home        Jean Nealon Vargas -#12096
 F   Dragonchilde                       James Roarke -#12097
 F   Phoenix Feathers                   Rhiannon Held -#12098
 SF  Mermaid Eyes                       Helen E. Davis -#12099
 SF  D.N.A., Introduction-Chapter 1     Matthew DeWeese -#12100
 F   Sea Witch                          charityjune -#12101
 SF  Best of Care                       Colin Nielsen -#12102

Week of 15-Feb-2006 (Crits due 22-Feb-2006):
 SF  Not a Good Day                     [mpc] Daryl Gessner -#12103
 SF  Worldjacked                        Chris Owens -#12104
 SF  Amoeba Rules                       Chet Gottfried -#12105
 SF  Humanity's Rainbow Chapters 6&7    Roy McLeod Williamson -#12106
 F   Another Day on the Job             Nerine Dorman -#12107
 SF  Mars Without Swords                Jamie McEwan -#12108
 SF  Giving Up                          S. Fazekas -#12109
 H   I'm a Doctor!                      Mike Morell -#12110
 F   A Gift for Justice                 Dayne Kedigh -#12111
 SF  Reality                            Arthur Yuwiler -#12112
 H   Hide and Seek                      Annette Hamilton -#12113
 SF  One Virtuous Act                   Lee Beavington -#12114
 F   Posthumanity, Chapters 4-6         Chad Jones -#12116
 SF  Tark's Revenge                     S.Z. Herman -#12117
 SF  Oranges for Sale                   Terry Larson -#12118
 SF  The Invisible Hand                 James Swingle -#12119
 F   Daughters of Aphilia, Chapter 3    Wanda Mooney -#12120
 F   Jack, the Unicorn and the Giant Bean  Steve Wylie -#12121
 F   Hot Fudge and Whipped Cream        Tarl Roger Kudrick -#12122
 SF  Di, Robot                          Andrew OD Booth -#12123
 F   Be It Ever So Humid                Boyd Robinson -#12124
 H   A Moonlight Tale                   Jennifer Graham -#12125
 F   The Last Pathfinder, Chapter 1     Dahlia Schwartz -#12126
 F   Blyss, Chapters 1-2                Jay Patel -#12127
 SF  The Achilles Project               Jonathan J. Schlosser -#12128
 F   No Title - Chapter 1               Catrin Pitt -#12129
 F   assassins in the dark              satwik vemulkar -#12130

Week of 22-Feb-2006 (Crits due 1-Mar-2006):
 F   Final Hope                         [mpc] Rhiannon Held -#12131
 SF  The H-Factor #01: Silver, Chapters 6, 7, 8  Clifford W. Dunbar -#12132
 F   A Taste of Fame                    [mpc] Chris Azure -#12133
 F   Honor is a Game Mortals Play       [@] Eugie Foster -#12134
 SF  Second Hand Smoke                  Christine L Golden -#12135
 SF  Dark Dust                          Laura Shrake -#12136
 SF  MentoWarrior: The Fight for Goodness (chps 1-3)  Dionne Washington -#12137
 H   Black Beetles                      Shelley Lesher -#12138
 SF  Prologue, Dark Nights of Unity (Tolgon Chronicles, Book One)  Brian Lee Anderson -#12139
 SF  Communication Breakdown            Manda Benson -#12140
 F   Another Day In The Office          Lauren Hougen -#12141
 F   Knock, Knock                       Chris Collins -#12142
 SF  The Neighbors from Helicon-5       Ingrid Wilson -#12143
 F   Zoolin Vale and the Chalice of Ringtar Chapters Three-Five  Craig Smith -#12144
 F   Following Shadow's Footsteps       Karen Middleton -#12145
 SF  I Hate Mondays                     V. J. Jorgensen -#12146
 F   Streams                            Keesa Renee DuPre -#12147
 SF  The Arcade, Gahazen Stone Chapter 4-5  Yolanda Best -#12148
 SF  The Dark Years                     Gregory Nyberg -#12149
 F   Layni's Ride                       Jodie Wells-Slowgrove -#12150
 F   Talking doesn't break silence, but drown it out  Stefan White -#12151
 F   Kindred Spirits, Chapter One       Leah Cypess -#12152
 F   Prophecies of Peace, Chapters 1-2  Cassie Richoux -#12153
 F   Angel                              Billy Moffitt -#12154
 F   Godslayer, Prologue - Chapter 1    Ico Ahyicodae -#12155
 SF  Eights in a Hole                   Rusty Keele -#12156
 F   Violet's Vegetarian Vampire Restaurant  Jason McKee -#12157
 SF  Fusion                             Adrienne Makita -#12158

Week of 1-Mar-2006 (Crits due 8-Mar-2006):
 SF  Radiosynthesis                     [mpc] Manda Benson -#12159
 SF  Brain Scrapings                    [mpc] Steven Howard Smith -#12160
 SF  The Closet                         [@] Richard K. Lyon -#12161
 F   The Dragon & the Magic Ring        Eleanor S. Tupper -#12162
 SF  Lucinda's Story                    Louis E. Doggett -#12163
 SF  The Desert and the City            Jacob Brauner -#12164
 SF  Memory Stick                       Paul Comstock -#12165
 SF  Seconds                            Dell Herring -#12166
 F   Lessons Learned                    Marion Bernard -#12167
 H   The Changeling                     J.P. Davis -#12168
 SF  The Drahatzi are Coming!           David Seigler -#12169
 F   Gillie's Gift                      Jason Gillespie -#12170
 SF  Super Robo Assistant               David Blitch -#12171
 F   Change Here for the Red Line       Julie Andrews -#12172
 F   Yavar's Destiny                    Scott M. Sandridge -#12173
 F   The Name Game                      Michael Greenhut -#12174
 H   You Are Being Infected             Adam La Rusic -#12175
 SF  When we two parted                 Daniel Tenner -#12176
 F   Tainted, Chapter 2                 Nadine Kilkenny -#12177
 H   Die Junkyard Hunde                 Elliott Snow -#12178
 F   Call of Fate, Chapter 1            Lee Collins -#12179
 SF  All On Black                       Michael Bevilacqua-Linn -#12180
 F   Red Wind                           Ken Rudisill -#12181
 F   Theater Book, Chapter 1            Elizabeth Shack -#12182
 H   We Deliver                         Paul Strain -#12183
 SF  The Sock Drawer                    Sheila Crosby -#12184
 F   Ocean Song - Chapter 1             Josh Hatcher -#12185
 F   Almost Everything                  Elton Gahr -#12186
 F   The Immortal (working title)       J.J.S. Boyce -#12187
 SF  Digital Life                       M L Casey -#12188

Week of 8-Mar-2006 (Crits due [*] 22-Mar-2006):
 SF  En Passant                         [mpc] Bill Siderski -#12189
 H   Lost, then Found                   Gary J Beharry -#12190
 F   Crocodile at My Feet               David A Olson -#12191
 SF  Dreaming of The White Avenger      Carl Frederick -#12192
 SF  Revolution, Chapter 3              Carl Alves -#12193
 F   The Fury                           Robert J. Santa -#12194
 SF  Plotting War                       Chuck Rothman -#12195
 SF  Second Savior                      Dan Lei -#12196
 SF  Worm Sign                          Robert R. Shelsky -#12197
 F   The Pool                           Andrew Richardson -#12198
 SF  Vicesteed, Chapters 1-3            Abra Staffin Wiebe -#12199
 H   Wolves at the Door                 Jeff Stehman -#12200
 F   The Arranged Marriage              Jeannette Kathleen Cheney -#12201
 SF  Facilitator Two                    Carole Ann Moleti -#12202
 F   An End To the Metal Race & Death Makes the 5th  Leo Vasilevskiy -#12203
 F   Rosie's Spellcatcher: A Move to Correander  Norm Gillespie -#12204
 F   The Mother                         Richard J. Moura -#12205
 SF  The Mission                        Arthur Bangs -#12206
 SF  Ten More Feet                      Matthew D. Peterson -#12207
 H   Quiet Places                       Lorna Dickson -#12208
 SF  Reductio ad Absurdum               David Jackson -#12209
 SF  Mnemonics                          Ted Davis -#12210
 SF  Pastime                            Jay C. Ceron -#12211
 SF  Electric Crow                      John Kratman -#12212
 H   Reflection                         JK Sager -#12213
 F   Nom de Plume                       Tim McWilliams -#12214
 SF  Recall This Beast to Mind          Vince Bonasso -#12215
 SF  So An Alien Walks Into a Bar       John Grgurich -#12216
 F   The Last Scion                     Dennis R. Upkins -#12217
 SF  Chicken Soup for the Xenophobe's Soul  Brian Salyards -#12218
 SF  Infinite Web                       Richard Packard -#12219
 F   Walking the Blade Road             M. Frank Darbe -#12220
 H   Universal Donor                    Bryce Albertson -#12221
 F   George and the Dragon              Kim Gonzalez -#12222
 H   Fright Club                        Dan Malach -#12223
 SF  Mute Version 1.01                  Andrew Beatty -#12224
 F   Delinquents                        Sebastian Taylor -#12225
 H   Road Rage                          Gerard Brennan -#12226
 SF  Primordial DNA-summarys and chapter 1  Larry T Chiaramonte MD -#12227
 F   The Marvelous Mint-Green Mercedes  Daphne Charette -#12228
 F   Hobbes, Chapters 3-4               Mike Nielsen -#12229
 F   I Can Fly                          Sherri L. Dykes -#12230
 F   Spiritual Infection                Jen Highkin -#12231
 H   Everything Must Eat                Emily Hofmeister -#12232
 H   The Sweetest Song                  Stephen Owen -#12233
 SF  Three Billi                        Elizabeth Williams -#12234
 H   Exit                               Mark Silcox -#12235

Week of 22-Mar-2006 (Crits due 29-Mar-2006):
 F   High Stakes                        [mpc] Rhiannon Held -#12236
 F   Sorrow's Stand                     [mpc] Craig Roberts -#12237
 SF  Catch of the Day                   [mpc] J.P. Davis -#12238
 H   Breaking The Curse                 [mpc] Robert Haynes -#12239
 F   A Thread of Silk                   [@] Eugie Foster -#12240
 F   Jake & the Dragon Ch 3-4           Doc Finch -#12241
 F   Widow                              Anita Spence -#12242
 F   Memoirs of a Disgruntled Yellow Jacket  Christian Roberts -#12243
 SF  Tribute                            R. Jason Benson -#12244
 SF  Milk-Toothed                       C. L. Rossman -#12245
 SF  The Thousand Eyes of Darkness      Debra Yutko -#12246
 SF  Buildings                          Cath Haftings -#12247
 SF  Prisoner of War                    Ronnie Corporon -#12248
 F   Entanglements                      Stephen Gaskell -#12249
 F   To Find Peace                      SC Bryce -#12250
 SF  Apocrypha Now and Then             Paul Crawford -#12251
 SF  The Human Factor                   Paul Baughman -#12252
 F   The Light Knight Returns           Michael Stone -#12253
 F   The Fourth Consort                 Jessica Goeller -#12254
 SF  The Arrest                         Robert J Becraft -#12255
 H   Midnight Ghosts                    Steve Morse -#12256
 F   A Life for a Life                  Chris Stageman -#12257
 H   The Ghost Who Lied                 Jean Nealon Vargas -#12258
 SF  Stories of the Alien Invasion      Manek R. Mistry -#12259
 SF  New Jerusalem                      Walter Whatley -#12260
 SF  The Cavanaugh Covenant             T.J. Starbuck -#12261
 H   Crossover                          [@] Dave Hoing -#12262
 SF  Cherry-Berry Cola                  Timothy S. Webster -#12263
 F   The King's Soldier Chapter 1       Shawn Malone -#12264
 F   Re-Ascension of Humankind Chapters 1 and 2  April Brown -#12265
 SF  A Life to Remember                 Michael A. Heald -#12266
 SF  Game Interrupted                   William Ledbetter -#12267
 F   The Harrowing                      Eric M. Goepel -#12268
 SF  The Labeling Committee             Amani Zawawi -#12269
 SF  The Last Annual Death of the Earth Telethon  Anthony Gainey -#12270
 SF  Upon a New Road                    Jonathan C. Gillespie -#12271
 H   Dark Cloud                         J. Wyatt Hasson -#12272
 H   Everman                            Michael Scott -#12273
 SF  One Pet Two Pet                    Lanna Crucefix -#12274
 SF  The Tao of the Shapeshifter        George O'Gorman -#12275

Week of 29-Mar-2006 (Crits due 5-Apr-2006):
 F   Elona 1-2                          [mpc] Steve Turnbull -#12276
 H   Champion                           [mpc] Tarl Roger Kudrick -#12277
 F   Messages                           Fred Obermeyer -#12278
 SF  The Skeletons and Other Inhabitants of the Closet  [@] Richard K. Lyon -#12279
 SF  The Loggernaut Incident            Michael Andre-Driussi -#12280
 SF  Humanity's Rainbow Chapter 8       Roy McLeod Williamson -#12281
 F   Evangile                           Jamie McEwan -#12282
 SF  The Republic, Chapters 27-29       Jon Jacobs -#12283
 SF  Food Chain                         Dale E. Edmons -#12284
 SF  Misinterpretation and Misanthropy  Peter Lewicke -#12285
 F   Sacrifice                          Jim Adam -#12286
 F   On Patrol                          Mike Morell -#12287
 SF  Beetles                            Arthur Yuwiler -#12288
 H   One Night in an Alley              Joe Baric -#12289
 SF  Mixed Marriage                     Christine Pellar-Kosbar -#12290
 F   Be It Ever So Humid chapters 14-19  Boyd Robinson -#12291
 F   Posthumanity, Chapters 7-9         Chad Jones -#12292
 SF  Leap Year                          Paddy Howard -#12293
 H   Reclaiming Lucy                    Swapna Kishore -#12294
 F   Daughters of Aphilia, Chapter 4    Wanda Mooney -#12295
 F   Walker                             Adam Bales -#12296
 F   The Gaps in the Storm              [@] Dave Hoing -#12297
 F   The Last Pathfinder, Chapter 2     Dahlia Schwartz -#12298
 SF  Lifeline                           Jonathan J. Schlosser -#12299
 SF  The Yard Sale                      Douglas Pennington -#12300
 SF  Muphrid -- Chapter 1               John Waterman -#12301
 F   Tut's Pen Chapters 1-2             Kiyanosh Kamdar -#12302
 SF  Escalation, Brief Introduction and Chapter 1  Kevin McKee -#12303
 SF  Zombie Nation                      Jerry Gordon -#12304
 SF  Forcing the Continuum              Daniel P. Swenson -#12305
 SF  The Tree of Life                   Craig McColl -#12306

Week of 5-Apr-2006 (Crits due 12-Apr-2006):
 F   Horatio Takes Charge               [mpc] A. Dorrance -#12307
 F   Elona 3-5                          [mpc] Steve Turnbull -#12308
 F   The Dating Service of Unspeakable Evil, Chapters 1-2  [mpc] Jeff Petersen -#12309
 SF  Sleepless Nights                   Christine L. Golden -#12310
 F   Bride in the Breach                Ray E. Main -#12311
 SF  Where Does Oil Come From Daddy     I Ron Steele -#12312
 F   Heartwyrm                          Micheal C. Planck -#12313
 SF  Mars Hermitage                     Robert C.A. Goff -#12314
 SF  Chapter One, Dark Nights of Unity (Tolgon Chronicles, Book One)  Brian Lee Anderson -#12315
 H   A Witch Too Willing                Kenny Soward -#12316
 SF  The Fire in the Gem, Chapters 1-2  Jeff Howell -#12317
 SF  Best Interests                     Michael A. Ouellette -#12318
 H   The Secret Life of Madame Rosamund  Jennifer Scaringe -#12319
 SF  Master                             Craig Smith -#12320
 SF  Awakening                          Lee Beavington -#12321
 F   Demon, One and Same                Karen -#12322
 SF  Quantum Shock                      Clifford W. Dunbar -#12323
 F   Ranixcalun Chapters 1 and 2        Samuel E Martens -#12324
 F   The Sixth Child, Second Son        Paul Abbamondi -#12325
 SF  The Black Lake Way                 Bernice Mills -#12326
 SF  Plus c'est la Meme Chose           Aaron Callow -#12327
 F   The Labyrinth's Reply, Chapter 1   Pattie Lawler -#12328
 F   Sane Things Sundered Chapter 1     Landon Wark -#12329
 H   The Snowman                        Rusty Keele -#12330
 F   Where Talent Lies, Chapters 1-2    Sue Barker -#12331
 F   Grey Dawn Chapter 1                Brian Wolfe -#12332
 SF  Emergence, Chapter 1               Fiona Coward -#12333
 F   Origins of Twilight                Sean Wilt -#12334
 H   Fejogep                            Lucien E. G. Spelman -#12335

Week of 12-Apr-2006 (Crits due 19-Apr-2006):
 F   Elona 6-8                          [mpc] Steve Turnbull -#12336
 SF  Nuclear Nacho Dip                  [mpc] Robert C.A. Goff -#12337
 F   The Kings Daughter, Pro & Ch 1     [mpc] Jeannette Kathleen Cheney -#12338
 H   Death Makes the 5th                [mpc] Leo Vasilevskiy -#12339
 SF  Farewell Earth                     [mpc] Amino Zawawi -#12340
 SF  Mesingwe                           Alissa Grosso -#12341
 SF  The Time of Your Life              Richard S. Levine -#12342
 SF  Lucinda's Story                    Louis Doggett -#12343
 SF  Playing a Different Game           Manda Benson -#12344
 F   The Unforeseen Jewel               Erin Woods -#12345
 SF  Scylla and Charybdis               Lindsey Duncan -#12346
 SF  Emancipation                       David Blitch -#12347
 F   Ariel                              Margaret Graham -#12348
 H   Words                              Colm Mc Geever -#12349
 F   The Brides, Chapters 5-6           J. Matthew Saunders -#12350
 F   In the Wake of the Quetzal Bird    Aliette de Bodard -#12351
 SF  Redshift                           AK Roman -#12352
 H   Death By Baptism                   Bill Hopkins -#12353
 SF  Rippers                            James Swingle -#12354
 SF  Lucy in Space With Diamondiod Insects  Graham Clements -#12355
 SF  A Light Malfunction                Jennifer Graham -#12356
 F   Grounded                           Carine Engelbrecht -#12357
 F   The Rebirth                        Glenn R. M. Bautista Jr. -#12358
 F   Khagan's Lady                      Cindy Hung -#12359
 F   Theater Book, Chapters 2-3         Elizabeth Shack -#12360
 F   Meltdown                           Josh English -#12361
 SF  Turtles and the Old Man            J. P. Magalhaes -#12362
 F   The Hatpin of Immortality          Cassie Richoux -#12363
 H   Black Mirage-- Chapter One.        Francis A. -#12364
 H   World Made Flesh, Chapters 0-3     Cheryl Lynn -#12365
 SF  Angel in the Window                Matt Brennan -#12366
 F   Wizard's Breath                    Susan Costanza -#12367

Week of 19-Apr-2006 (Crits due 26-Apr-2006):
 F   True Slime Tales #37               Jan Clark -#12368
 F   Elona 9-11                         [mpc] Steve Turnbull -#12369
 F   No Doctors                         [mpc] Tarl Kudrick -#12370
 F   Et in Arcadia Ego                  [mpc] Donald Jacob Uitvlugt -#12371
 SF  Concentration of Dogs              Carl Frederick -#12372
 SF  Skeletons and Other Inhabintants of the Closet  [@] Richard K. Lyon -#12373
 F   Worlds Apart                       Stephen B. Pearl -#12374
 F   Daddy's Little Girl                Robert J. Santa -#12375
 F   Fairyflies                         Carole Ann Moleti -#12376
 SF  Sailing Lessons                    V. J. Jorgensen -#12377
 F   Syllen                             Nadia Williams -#12378
 F   The Meeting                        Ted Davis -#12379
 SF  Mission Complete                   Michael Greenhut -#12380
 H   Will To Life                       Dan Malach -#12381
 H   A Cold Dark Undead Night           Chuck Kienzle -#12382
 SF  Primordial DNA Life Code From Brooklyn Chpt 3  Larry Chiaramonte MD -#12383
 H   Under the Big Texas Sky            Bryce Albertson -#12384
 F   Stolen Magic                       Sherri L. Dykes -#12385
 F   Sentence: Tomorrow, Chapters 1-3   Julia Ker -#12386
 F   A Lesson in Magic                  Michelle Kopra -#12387
 SF  Winter                             Nye Joell Hardy -#12388
 SF  Marissa's Legacy                   Kevin Whitlock -#12389
 F   Blu--Prologue                      Vida Christy -#12390
 SF  The Way Things Are                 John Beleskas -#12391
 SF  Slogans                            Chris Camp -#12392
 SF  The Octavian Errand                Robert Frazor -#12393

Week of 26-Apr-2006 (Crits due 3-May-2006):
 F   Elona 12-14                        [mpc] Steve Turnbull -#12394
 SF  Playing a Different Game (b)       [mpc] Manda Benson -#12395
 F   Dragonfly Heights                  [mpc] Chris Azure -#12396
 H   Angels in the Clouds               [mpc] Joe Baric -#12397
 F   The Columbian Society              Hank Quense -#12398
 SF  Relayer                            Jim Bauer -#12399
 SF  Biohazard                          Laura Shrake -#12400
 SF  The Dancing Penguin                David Miles -#12401
 H   Just One of Those Days             Carl Alves -#12402
 SF  Facing The Grandfather Clock       Chris Owens -#12403
 SF  A Friendly Gesture                 Chet Gottfried -#12404
 H   Torturer's Moon                    Colin Harvey -#12405
 H   Borrowed Karma                     Christian Roberts -#12406
 SF  Sacrifice Fly                      Dan Lei -#12407
 F   The Trap Room                      Jeff Stehman -#12408
 SF  Virtual Affair Prologue            Zvi Zaks -#12409
 F   Lessons in Necromancy              SC Bryce -#12410
 F   Weave a Pretty Net                 Tina Connolly -#12411
 F   A Touch to Remember                David Seigler -#12412
 F   Last Fare                          Adam La Rusic -#12413
 F   The Bronze Key Chapters 1-3        Laura K. D. Jennings -#12414
 H   Irish Souldier (Working Title)     Gerard Brennan -#12415
 H   Silence                            Jean-Philippe Drecourt -#12416
 F   The Alchemist's Daughter           Kari Naso -#12417
 SF  Man of Fire                        Jonathan C. Gillespie -#12418
 H   So Much For The Happy Ending       John Michael Poling -#12419
 H   Veronica's Sweetest Gift           S. G. Childress -#12420
 SF  Impact, Chapter 1                  Mark Warner -#12421

Week of 3-May-2006 (Crits due 10-May-2006):
 SF  Come-From-Aways                    [mpc] Tony Pi -#12422
 SF  Frog in Hot Water                  Chris Gerrib -#12423
 SF  Humanity's Rainbow Chapter 9       Roy McLeod Williamson -#12424
 SF  Mars Without Swords                Jamie McEwan -#12425
 F   Stealing Scars                     R. Jason Benson -#12426
 F   Farmhouse                          Arthur Yuwiler -#12427
 F   The Heart of the Inferno           Peter J. Mitchell -#12428
 SF  Arcturus V                         Stephen Gaskell -#12429
 F   The Man in the Mirror              Annette Hamilton -#12430
 SF  Obsolescence                       Paul Crawford -#12431
 SF  Neblina                            Julia Rose -#12432
 F   The Lord of Frake's Peak           Jack Slyde -#12433
 F   Daughters of Aphilia, Chapter 5    Wanda Mooney -#12434
 F   Sago, Coffee, Cinnamon, Pepper, Salt, Sugar  Marian Kensler -#12435
 H   Shadow of a man                    Craig Linwood -#12436
 SF  A Dog's Worst Enemy                Terry Larson -#12437
 SF  Mere Statistics                    Swapna Kishore -#12438
 SF  Pigrimage                          Karl Bunker -#12439
 H   Tik-Tik                            JK Sager -#12440
 SF  A Life to Remember                 Michael A. Heald -#12441
 F   Slugs                              Sheila Crosby -#12442
 F   Winds of Promise, Winds of Change  Linda A. B. Davis -#12443
 F   Double Love                        Andrew Beatty -#12444
 SF  For Now, The War Ends              April Brown -#12445
 F   The Worm at the Center of the World  Walter Whaltey -#12446
 H   The Thousandth Day                 David Coffey -#12447
 SF  The Tao of the Shapeshifter (ch 2)  George O'Gorman -#12448
 SF  Fresh Meat                         Nick J. Taylor -#12449

Week of 10-May-2006 (Crits due 17-May-2006):
 SF  The Gray-haired Girl               [mpc] Michael Andre-Driussi -#12450
 SF  Neblina's Fugitive                 [mpc] Julia Rose [?] -#12451
 H   Mokochan                           [mpc] Mark Nutter -#12452
 F   Izzy, The CB's, and The Ubiquity   Gary J Beharry -#12453
 SF  Infinite Ham as a Terrorist Statement  [@] Joe Murphy -#12454
 H   A dealer's Paradise                Racheal Stevens -#12455
 SF  First Contact with the Griiph      William Berry -#12456
 SF  Being Lem                          Jim Adam -#12457
 F   From One Beast to Another          Cath Haftings -#12458
 F   Sgt. Reyna                         Mike Morell -#12459
 F   Silver Blood                       Rhiannon Held -#12460
 SF  The Candidates                     Dayne Kedigh -#12461
 F   Rosewilde                          Tom Williams -#12462
 F   Posthumanity, Chapters 10-12       Chad Jones -#12463
 SF  Conflict's Reason                  Jason Gillespie -#12464
 SF  Amazon                             Katherine Villyard -#12465
 SF  Time Healer                        Patrick L Dey -#12466
 F   Dancer's Dawn                      Adam Bales -#12467
 SF  Sports                             Jason L. Corner -#12468
 H   Nightmare                          Kloude -#12469
 F   The Legend of Lyric, Unfolding Destinies, Chapter 1  C.A. Lassiter -#12470
 SF  HindSight                          William Ledbetter -#12471
 H   Hiway 59                           Elliott Snow -#12472
 F   Through Steve's Eyes               Stephen Owen -#12473
 SF  The R-WORD                         Arlene Webb -#12474
 H   9th Ward                           Jerry Gordon -#12475
 H   Vocation                           Amy Ables -#12476
 F   Playing on a Summer's Evening      Christopher M Dittrick -#12477
 SF  In Imril's City                    Jarrah Moore -#12478
 F   Scapegoat                          J.J.S. Boyce -#12479
 H   Revelation                         D. Allan Jones -#12480
 F   Tracking Tristan, Chapter 1        Toni Kerr -#12481

Week of 17-May-2006 (Crits due 24-May-2006):
 SF  Frank Sinatra is Singing Between the Stars  [mpc] Stephen Gaskell -#12482
 F   extra pickles, hold the mayo       Christine L Golden -#12483
 F   Heartwyrm                          Micheal C. Planck -#12484
 F   Calling the Lightning              Dal M Jeanis -#12485
 H   Shotgun                            Kenny Soward -#12486
 F   Burning Blood                      Jerry Miller -#12487
 F   Porridge and Uppers                Michael Stone -#12488
 F   Zoolin Vale and the Chalice of Ringtar Chapter 6  Craig Smith -#12489
 H   Aunt Matha's Pies. Chapers 1 & 3   Sreve Byrne -#12490
 F   The Trickle                        Katie Karian -#12491
 H   On the Toilet                      Karen -#12492
 SF  The Anniversary                    Aaron Franklin -#12493
 SF  Backwards Compatible               S P Wilcock -#12494
 F   Ranixcalun Chapters 3 and 4        Samuel E Martens -#12495
 H   Prey for Evil                      B.D. Wolfe -#12496
 F   The Labryinth's Reply, Chapter 2   Pattie Lawler -#12497
 SF  The German Cultural Society        John Lawless -#12498
 F   A Passage In Time                  Katie Sloman -#12499
 SF  Twenty-First, Dawn Sets in Hell, Chapters 1-3  Martin E. Wille'n -#12500
 SF  Finding Tomorrow                   Sue Barker -#12501
 H   Caramel Corn, Chocolate, and Pineapple  Jenny Brundage -#12502
 SF  That Which Is Different, Chaps 1-3  Cathy A. Chance -#12503
 H   Wrong Turn                         Ryan C. Finley -#12504
 F   Jonas Ring and the Shadow Lands    Michael Cain -#12505
 H   Sigil                              Mark Owens -#12506
 SF  Devotion of Erebus                 Cheryl McCreary -#12507
 F   Draigen                            Kate T -#12508

Week of 24-May-2006 (Crits due 31-May-2006):
 F   A Patterner's Path                 [mpc] Steve Turnbull -#12509
 SF  Agents of Metahistory              [mpc] Michael Andre-Driussi -#12510
 SF  Neblina's Explorer                 [mpc] Julia Rose -#12511
 SF  Pawns                              Fred Obermeyer -#12512
 SF  Synthetic Sentience                Carl Frederick -#12513
 F   The Fraternity Party               [@] Richard K. Lyon -#12514
 F   Royal Spy, Chapters 1-2            Marjorie M. Watkins -#12515
 SF  Jetsam                             Robert J. Santa -#12516
 F   Magician at the Court              Jakob Drud -#12517
 F   Fair Leandra of the Black Heart    Christine Lawrie -#12518
 SF  Enlightened                        Jon Jacobs -#12519
 F   Dee's Unicorn                      Barbara Davies -#12520
 F   What I Saw in 97                   Christopher Kastensmidt -#12521
 SF  Remembering, Inc.                  James Swingle -#12522
 H   A Good Father                      Dan Malach -#12523
 F   The Man Who Burned in the Fire     Jason Kuznicki -#12524
 SF  Farewell Earth                     Amino Zawawi -#12525
 F   Nikara                             L S Bannister -#12526
 F   Dead Pickings                      Paul Abbamondi -#12527
 SF  Rocket Man                         AK Roman -#12528
 H   Elspeth                            Bryce Albertson -#12529
 SF  Tzen chu                           Barbara Galvin -#12530
 F   Essence of Sacrifice               Mik Wilkens -#12531
 F   The Voice - The Beginning          Oliver Waite -#12532
 F   Winds' Wrath                       Glenn R M Bautista Jr. -#12533
 H   Kitty Kitty                        Cheryl Lynn -#12534
 H   Child Harvest, Chapters 1 - 2      Natasha Hanova -#12535
 SF  The Pirate Prince                  Claire Merle -#12536
 H   These Flies!                       Paul Sheringham -#12537
 SF  Space Race, Chapters 1 - 6         Justin Amler -#12538

Week of 31-May-2006 (Crits due 7-Jun-2006):
 F   Forever Lost                       [mpc] Debra Yutko -#12539
 F   Ghost Quest                        Ray E. Main -#12540
 F   Journey to the Kingdom of Cats Return of the Cat Queen Chaps 1-4  Dionne Washington -#12541
 F   Confessions of a Closet Witch      Carole Ann Moleti -#12542
 SF  Vicesteed, Chapter 4               Abra Staffin Wiebe -#12543
 F   A Penny's Worth                    Paul Comstock -#12544
 F   The Shores of Limbo                SC Bryce -#12545
 SF  Elemental                          Rhonda Wright -#12546
 F   The Song of Victor Spelling        Michael Greenhut -#12547
 F   Moment of Impact                   Ben Nance -#12548
 SF  The Train, Chapter One             Peter Carolan -#12549
 SF  A Promise From Hathor              James S. Lawrence -#12550
 H   The Woods of Eisaborn              M. A. Ligocki -#12551
 F   Shifter, Prologue & Chapter 1      Leah Cypess -#12552
 F   Serious Side Effects May Occur     Jeff Petersen -#12553
 F   Phoenix Rising                     Kristy Ferrin -#12554
 H   Bluebells                          Chris Camp -#12555
 SF  Stormwind                          Nye Joell Hardy -#12556
 SF  Ta-Ta For Now                      Douglas Pennington -#12557
 H   The Drive                          Donald Willard -#12558
 SF  Future Reach                       Tony Roach -#12559
 SF  Just Cause                         Jason Burdell Clark -#12560
 F   The Miraculous Tale of the Ugliest Girl in the World  Kathryn Gossow -#12561
 H   A Lesson In Yellow                 Pam McInnes -#12562
 SF  The Air Between Your Fingers       Jacob A. Boyd -#12563
 SF  A Shimmer of Pink                  Daphne Olivier -#12564
 H   Leftovers                          Anthea Strezze -#12565

Week of 7-Jun-2006 (Crits due 14-Jun-2006):
 F   The War of House Ishyara           [mpc] Robert J. Santa -#12566
 F   Kevin's Quest                      [mpc] Nadia Williams -#12567
 F   The Desert and the Darkness, Chapter 1  [mpc] Aaron Franklin -#12568
 F   Revolution, Chapter 4 & 5          Carl Alves -#12569
 SF  Spirk Station                      Chuck Rothman -#12570
 H   Out of Body, Out of Mind           Christian Roberts -#12571
 H   The Japanese Alarm Clock           Manda Benson -#12572
 SF  FROM: Farmer Zed                   Dan Lei -#12573
 F   Daughters of Aphilia, Chapter 6    Wanda Mooney -#12574
 H   The Umbrella Murder                Dale E. Edmons -#12575
 F   Old Ace                            R. Jason Benson -#12576
 F   Sherg and the Vargor               Margaret Graham -#12577
 SF  The Tele-Holog Corporation         Jacob Brauner -#12578
 F   The Doll House                     Annette Hamilton -#12579
 SF  Jump                               Paul Crawford -#12580
 SF  Selected                           Kari Naso -#12581
 SF  The Last Illustrator               Scott M. Sandridge -#12582
 SF  Tank 16                            Colm Mc Geever -#12583
 F   Elohim                             J.P. Davis -#12584
 F   Cry of the Sandcat                 Laura K. D. Jennings -#12585
 F   The Golden Bridle, Chapters 1-2    Nicole J. LeBoeuf-Little -#12586
 SF  Zero Point Chapters 1-5            Timothy Russell -#12587
 SF  Mosaic, Chapter 1                  Eileen Martin -#12588
 H   Marks                              Sean Kimmel -#12589
 SF  Iteration                          David Nangle -#12590
 F   Purpose in Line                    David R. Lambert -#12591

Week of 14-Jun-2006 (Crits due 21-Jun-2006):
 F   Dragonfly                          [mpc] Pam Davis -#12592
 F   Ruling Corruption                  [mpc] Abra Staffin Wiebe -#12593
 SF  Memoirs of Tomorrow                [mpc] John Corwin -#12594
 SF  A Pocketful of Silence             [mpc] Tarl Kudrick -#12595
 F   Forget Me Not: A Tilted Star Chronicle  [mpc] Michael Greenhut -#12596
 SF  Eyewitness account of the Assassination Attempt on Garaman  [mpc] Swapna Kishore -#12597
 F   For Higher                         Gary J Beharry -#12598
 H   The Exhibit of Corpse-like Objects  [@] Joe Murphy -#12599
 H   Pickey Anne Suede                  I Ron Steele -#12600
 H   Welcome To The Jungle              Mik Bennett -#12601
 SF  Alien Ambassador wants to Learns of Gambits  William Berry -#12602
 SF  Humanity's Rainbow Chapter 10      Roy McLeod Williamson -#12603
 H   The Chalice of the Plumed Wurm     John K. Stevens -#12604
 F   Taking Her Literally               Tom Williams -#12605
 F   Memories Polished                  Rhiannon Held -#12606
 SF  Shedding Skin                      David Seigler -#12607
 SF  Tark's Revenge                     S.Z. Herman -#12608
 SF  Teen Success                       Jason L. Corner -#12609
 SF  Compassion Cycle                   Patrick L Dey -#12610
 F   Never Goodbye                      Dennis R. Upkins -#12611
 SF  Feed - A Cautionary Tale           Carine Engelbrecht -#12612
 SF  A Work in Progress                 Shawn Jackson -#12613
 SF  A Life to Remember                 Michael A. Heald -#12614
 H   Rat Race                           Gerard Brennan -#12615
 SF  Dark Desire: Poem,Prologue, & Chap.1-3  Kloude -#12616
 SF  Ferris Wheel at Dusk               Mike Byrne -#12617
 F   Masks                              Vanessa Wesley -#12618
 F   The Legend of Lyric: Unfolding Destinies Chapter 2  C.A. Lassiter -#12619
 H   The House                          Shirley M. Tourtillott -#12620
 SF  The Soldiers                       Gregory Adams -#12621
 SF  The Lady with Green Eyes           Pritam Barhate -#12622
 F   Keepers of the Earth, chapters 1-3  Maria Rieske -#12623
 SF  Assimilation                       Manek R. Mistry -#12624
 H   Easter Weekend                     G. W. Harris -#12625
 F   The Key to Andorra                 Shanna C. Larsen -#12626
 F   Elya                               Gerald Brandt -#12627

Week of 21-Jun-2006 (Crits due 28-Jun-2006):
 SF  Ghost River                        [mpc] Tom Williams [?] -#12628
 SF  Blood and Honor                    [mpc] Dan Lei -#12629
 F   Guiding Andy                       [mpc] Nadia Williams -#12630
 SF  Neblina's Game                     [mpc] Julia Rose -#12631
 SF  Spotter                            [mpc] Alex Holden -#12632
 SF  Day After Day                      [mpc] B.D. Wolfe -#12633
 F   potion from the ocean              christine l golden -#12634
 SF  Enigma                             Paul Baughman -#12635
 SF  A Necessary Death                  Micheal C. Planck -#12636
 H   The Wood, Chapters 1-2             Andrew Richardson -#12637
 F   The White Queen, CH 1-2            J. Kathleen Cheney -#12638
 F   Dragon's Tongue                    Norm Gillespie -#12639
 H   Marshallee's Revenge: Chapters 0-8  Nicole Andrews -#12640
 SF  Evolutionary Perfection            Terry Larson -#12641
 SF  The Trickle, Chs 9-15              Katie Karian -#12642
 F   Double Feature                     Katherine Villyard -#12643
 SF  For We Are Many                    S P Wilcock -#12644
 F   Ranixcalun Chapters 5 and 6        Samuel E Martens -#12645
 H   The Competition                    Allen Mitchell -#12646
 SF  FYI                                Jim Sisseck -#12647
 SF  Twenty-First, Dawn Sets In Hell, Part One  Martin E. Willen -#12648
 F   Marked for Eradication             Jen Highkin -#12649
 SF  Avagddu                            Daniel P. Swenson -#12650
 SF  Speak Loudly For Him               Sharon Trimmer -#12651
 F   Night Vision                       Katie Sloman -#12652
 H   The Haunting Lullabye              Jennifer Gross -#12653
 H   El Pescador                        John Beleskas -#12654
 F   The Axe, The Maze and The Bar-Maiden  Michael Cain -#12655
 F   The Elf Messiah, Chapter 1         Kenneth Wells -#12656
 SF  The Buck Swain Management Bible    Robert Leishman -#12657
 F   To Rule In Hell                    Greg Kovas -#12658
 H   Sides                              Monica Valentinelli -#12659
 F   Her Smoky Interior                 Travis Duffy -#12660

Week of 28-Jun-2006 (Crits due [*] 12-Jul-2006):
 F   Unfinished Business                [mpc] Carole Ann Moleti -#12661
 F   Grayfall, prologue, chaps 1-2      [mpc] Tom Williams -#12662
 F   ANGEL                              Jo Jaquinta
 F   Black Swan, White Swan             [@] Eugie Foster -#12664
 SF  The Engulfed Cathedral             Carl Frederick -#12665
 SF  Answering Fermi's Question         [@] Richard K. Lyon -#12666
 SF  Blue Woman                         Rhonda Wright -#12667
 SF  Mentally Gifted Mutants            Michael Andre-Driussi -#12668
 SF  A Perfect Blue Sky                 Lilian Gilmour -#12669
 F   Dance On Her Grave                 Josh Vogt -#12670
 SF  Gridhuggers                        Jakob Drud -#12671
 SF  Redwing                            Jim Adam -#12672
 SF  Archeology                         Arthur Yuwiler -#12673
 H   Careful What You Wish For          Valerie A. Lindsey -#12674
 F   Mighty Like a Mountain             Jason Kuznicki -#12675
 F   The Lady Vanishes                  Fiona Coward -#12676
 F   Border Chaos, Ch. 4-5              Mike Morell -#12677
 SF  Every Third Horse is Aflame        Suzanne Gallagher -#12678
 F   The Peacekeeper of Bullfrog        SC Bryce -#12679
 F   Even Dragons Dance                 Christopher Kastensmidt -#12680
 SF  Mina's Kiss                        Bruce Horner -#12681
 H   Hedonist's Paradise                Dan Malach -#12682
 SF  The Cataloger                      G.R. Williams -#12683
 H   Tommy                              Stephen Owen -#12684
 SF  I Want My Blankie                  James S. Lawrence -#12685
 F   Twilight of the Broken Empire, Chapters 1-2  J. M. Lohse -#12686
 SF  The Curious Case of Mrs. Jones     Chris Camp -#12687
 SF  The Choice                         Oliver Waite -#12688
 SF  Children of Dawn                   Michael Zuniga -#12689
 SF  The Tropical Dream Resort          Nicholas Hopkins -#12690
 F   The Oath of Yoren                  Mark Spezzano -#12691
 H   Web of Lies                        Karen Beck -#12692
 F   Kali                               Jane Bowman -#12693
 F   Gretel                             Luciana Lopez -#12694
 SF  Button White: Doorway to Eternity  Michael Van Ornum -#12695
 H   Evil Eye                           Pam McInnes -#12696
 SF  The Monkey's Fist                  Jacob A. Boyd -#12697
 F   Child Harvest, Prologue            Natasha Hanova -#12698
 SF  The Day the Clouds Fell            Jake Freivald -#12699
 F   Draigen, Chapter 2                 Kate T -#12700
 F   Shree Salvanti and the Numinous Lake  George Brehm -#12701
 H   Voodoo Snakedance                  Lee Ann Kuruganti -#12702
 SF  Action Stations                    Cody Walker -#12703
 SF  At the Rally                       Eder DeLaCruz -#12704
 SF  Extraction                         Alexandra Capell -#12705
 H   Circe's Music Shop                 A. Craig Newman -#12706
 F   Pact (Problem section of larger manuscript)  Stuart Marshall -#12707
 SF  Face the Music                     Jason Schifano -#12708

Week of 12-Jul-2006 (Crits due 19-Jul-2006):
 F   The Boy Who Cried Snizzerwit       [mpc] Jason Hauser -#12709
 F   Stilts and Straw                   [mpc] Tony Pi -#12710
 SF  Glynis                             [mpc] Jim Adam -#12711
 SF  Smoked LIke Muir                   [mpc] Jayne Morgan -#12713
 F   Pig at a Fraternity Party          [@] Richard K. Lyon -#12714
 SF  All Babies Look Like Aliens        Carl Alves -#12715
 F   The Silk Palace                    Colin Harvey -#12716
 F   The Prophecy                       Chuck Rothman -#12717
 F   Yasuo and the Land of the Dead     Robert J. Santa -#12718
 F   Ride of the Penguins               Christian Roberts -#12719
 F   Daughters of Aphilia, Chapter 7    Wanda Mooney -#12720
 SF  Wastelander                        Manda Benson -#12721
 F   Lovers' Quarrel                    Brynn Wright -#12722
 H   The Lemon Man                      Michael Stone -#12723
 SF  What Makes An Elvat Glide?         Kari Naso -#12724
 H   The Promise                        Annette Hamilton -#12725
 F   The Labyrinth's Reply: Summer Maze  Pattie Lawler -#12726
 F   Daemonfire, Chapters 1-3           Laura K. D. Jennings -#12727
 SF  They All Fall Down                 John Lawless -#12728
 H   Miracle Man                        M. A. Ligocki -#12729
 F   What Chains Bound Me               Cameron Beman -#12730
 SF  Night's Embrace                    Devon Silverfox -#12731
 F   The Jersey Devil, Chapter 0        Lawrence Vernon -#12732
 H   The Return of the Lord in Near     Kathryn Gossow -#12733
 H   Nicor                              Matthew Wallace Quinn -#12734
 SF  Timeshare Incorporated             Daphne Olivier -#12735
 SF  Mosaic chapter 2                   Eileen Martin -#12736
 F   Private Hell                       Sandra Stixrude -#12737
 H   THE MEADOW                         Greg Ellis -#12738
 F   Judgment Days                      Stewart Moore -#12739
 H   The Inamorata                      Scott Bloemendaal -#12740
 SF  Double Tap                         Marnie Jefferson -#12741
 F   A Transitional Death               [@] Dave Hoing -#12742

Week of 19-Jul-2006 (Crits due 26-Jul-2006):
 F   Willful Steel                      [mpc] Pam Davis -#12743
 SF  Cassandra                          [mpc] Jim Adam -#12744
 F   The Ebon Bones, Terror of the Caribbean Drink  [mpc] Nicole (Nic) Scofield -#12745
 F   Curse of the Thunder Jewel         [mpc] Becky Huffman -#12746
 F   The Return of Zarro                Hank Quense -#12747
 F   The Man with the Staircase Sticking Out of His Head  Fred Obermeyer -#12748
 SF  The Deadman                        [@] Richard K. Lyon -#12749
 F   Beneath                            David Miles -#12750
 F   False Guardian                     Anita Spence -#12751
 H   SG3: Return to the Desert Tower 1&2  Jeff Howell -#12752
 SF  Fred of Barius 4                   William Berry -#12753
 SF  Humanity's Rainbow Chapter 11      Roy McLeod Williamson -#12754
 F   Sleeping Buds                      Hazel Ong -#12755
 F   The Unauthorized Biography of Turrosh Mak  Daniel Latham -#12756
 H   Ghostwriter                        Chris Collins -#12757
 SF  Stealing Time                      Jefferson Smith -#12758
 F   Sane Things Sundered Chapter 2 Rite of Passage  Landon Wark -#12759
 F   Tracking Tristan, Chapter 2-4      Toni Kerr -#12760
 F   Seraphs: The Genesis (Prequel)     Dennis R. Upkins -#12761
 SF  Carbon Fuel                        Jason L. Corner -#12762
 F   Dark Desire: Chapters 4-7          Kloude -#12763
 H   An Evening With the Last Real Gypsy in America  Josh English -#12764
 H   sick mystic                        Vanessa Wesley -#12765
 F   Chapter 3, The Legend of Lyric, Unfolding Destinies  C.A. Lassiter -#12766
 F   Legends & Heroes, Chapter 1        ChristaCarol Jones -#12767
 F   The Merchants Daughter             Rita Fae Harris -#12768
 SF  How I Finally Came to Feel Guilty  Manek R. Mistry -#12769
 SF  The Guardian, Prologue, Chapters 1 and 2  Janice Heffernan -#12770
 F   Omn's Tears                        Kyle R. Stewart -#12771
 F   The Respen Rebel                   Michelle Davis -#12772
 SF  Fifteen Minutes                    Alexis Sachin -#12773
 SF  History's Pawn                     [mpc] Boris Layupan -#12774

Week of 26-Jul-2006 (Crits due [*] 9-Aug-2006):
 F   Drink Your Fill                    [mpc] Tom Williams -#12775
 SF  I, Assassin                        [mpc] Jeff Stehman -#12776
 SF  Aleena, Of TiNarus                 [mpc] Robert David Philbrook -#12777
 H   To #822                            Scott Bloemendaal -#12778
 SF  The Red Planet's Green Walls       Barbara Bates -#12779
 SF  The Deadman (Part 2)               [@] Richard K. Lyon -#12780
 F   Journey to the Kingdom of Cats Chapters 5-6  Dionne Washington -#12781
 F   The Children of the Halfplane      Chris Owens -#12782
 SF  Book Burner                        Paul Baughman -#12783
 F   Midnight Blue 1: Mummy Mia         Mik Bennett -#12784
 H   The Wood, Chapters 3-4             Andrew Richardson -#12785
 F   Middle Air 1-4                     Norm Gillespie -#12786
 H   The Call of the Whitehouse         Douglas Ryan -#12787
 F   A Haunted Kiss                     Abra Staffin Wiebe -#12788
 F   The Luminisc Stone, Chapters 0-1   Julia Rose -#12789
 F   The Vampire's Wish                 [@] Susan Hanniford Crowley -#12790
 F   To Feed the Soul                   H. Colleen Sinclair -#12791
 H   Marshallee's Revenge: Chapters 9-11  Nicole Andrews -#12792
 H   Julia                              Gayle Anne Redfield -#12793
 F   The Deceitful Spirit               Neil M. Sheldon -#12794
 H   Sandar City                        David Seigler -#12795
 SF  Pearlescent Blue                   Craig Smith -#12796
 H   Old raven house                    Craig Linwood -#12797
 F   Nikara                             L. S. Bannister -#12798
 SF  Ranixcalun Chapters 7, 8 and 9     Samuel E Martens -#12799
 H   The Trashman                       Colm Mc Geever -#12800
 SF  The Point                          Gerard Brennan -#12801
 F   The Weasel's Gambit                Jack Slyde -#12802
 SF  Twenty-First, part of chapter 1    Martin E. Willen -#12803
 F   Lonely Nights                      Kimberley King -#12804
 SF  Intelligence Wanted                Daniel P. Swenson -#12805
 SF  The Lifeboat                       Jonathan C. Gillespie -#12806
 F   Shadow Lands                       Michael Cain -#12807
 F   Tuatha De Danan                    Brian Burt -#12808
 F   The Savage O                       Bob Nadal -#12809
 SF  Prime Inhabitants                  J. L. Stratton -#12810
 SF  Hidden No More, Ch. 1-3            David Nangle -#12811
 SF  Soul Mate(s)                       Paul D. Bevins -#12812
 H   Two Sisters story                  Jennifer Gross -#12813
 SF  Lost in Translation                Matt Osborne -#12814
 F   Sirenn Call                        Crystal Forkan -#12815
 F   Altruism                           Kathleen McCarthy -#12816
 F   Purge of Everturn                  Sarah Wilson -#12817
 SF  Escape Velocity                    Mark McLaren -#12818
 SF  Alien Broadcasts                   Dan Hart -#12819
 F   The Turn of History                Harrison Kell -#12820
 SF  Flight of the Falcon               Tim Plumlee -#12821
 SF  Junkman                            Jim Walke -#12822
 SF  Downers                            Jacinta Thomler -#12823
 F   A Transitional Death               [@] Dave Hoing -#12824

Week of 9-Aug-2006 (Crits due 16-Aug-2006):
 H   A Thorn in Nevelshell's Side       [mpc] Jason Hauser -#12825
 H   The Children Of Old Man John       [mpc] Kenny Soward -#12826
 F   Asunder                            [mpc] Kit Retterson -#12827
 SF  Niche                              [mpc] Benjamin Crowell -#12828
 SF  Doomed                             [mpc] Swapna Kishore -#12829
 H   Samantha the Beautiful             [@] Joe Murphy -#12830
 SF  A Zoo in the Jungle                Carl Frederick -#12831
 SF  The Deadman (Conclusion)           [@] Richard K. Lyon -#12832
 F   Dreamwalker                        Rhonda Wright -#12833
 SF  The Gray-Haired Girl               Michael Andre-Driussi -#12834
 F   Every Time a Bell Rings            Josh Vogt -#12835
 F   Mentored                           Derek Robinson -#12836
 F   The Nature of Demons               J. Kathleen Cheney -#12837
 SF  Kami no Itte                       Jason Kuznicki -#12838
 SF  A Matter of Some Gravity           Arthur Yuwiler -#12839
 H   Undying Obsession                  R. Jason Benson -#12840
 F   The Copper Knight, Prologue and Chapter 1  Fiona Coward -#12841
 F   Atlantic City Samurai              Chris Kruckenberg -#12842
 SF  All In A Day's Work                Paul Comstock -#12843
 F   The Diary of Hillary Petersen-French  SC Bryce -#12844
 SF  Bully Boy                          Dan Malach -#12845
 SF  FALCHION                           Jo Jaquinta -#12846
 H   The Gravedigger                    Stephen Owen -#12847
 H   By the Light of the Moon           Larry C. Kerr -#12848
 SF  The Piano                          Oliver Waite -#12849
 SF  The Golden Age Revisited           Bob Robertson -#12850
 F   The Devil's Tale                   Michael Zuniga -#12851
 H   The Burden of Zombification and Other Such Post Apocalyptic Inconveniences, Chapter 1  Chad Henry -#12852
 SF  Green Ink                          Chris Camp -#12853
 F   The Little Birds                   Luciana Lopez -#12854
 H   Blood Debt                         Brendan Carson -#12855
 H   Hallows                            Karen Beck -#12856
 SF  Faith Awakened, chapters 1 and 2   Grace Francis -#12857
 F   Penny Demons Prologue and Chapter 1  K. Dean Webb -#12858
 SF  Valence: Chapter 1                 Alexandra Capell -#12859
 SF  How Baseball Saved the World       Lee Ann Kuruganti -#12860

Week of 16-Aug-2006 (Crits due 23-Aug-2006):
 F   Torque                             [mpc] Jason Hauser -#12861
 SF  From the Foothills of Nix Olympica  [mpc] Jason Kuznicki -#12862
 SF  The Circuit-Riders                 [mpc] Matthew Carey -#12863
 H   The Burden of Zombification and Other Such Post Apocalyptic Inconveniences, Chapter 2  [mpc] Chad Henry -#12864
 SF  Ban Rocketships                    Mick Halpin -#12865
 H   The Buzzard                        Christian Roberts -#12866
 F   Daughters of Aphilia, Chapter 8    Wanda Mooney -#12867
 SF  Witness                            Kari Naso -#12868
 SF  Boy Meets Gwen                     Marta Ferguson -#12869
 F   The Stranger in the Tavern         Christine Cornell -#12870
 SF  Second-rate Citizens               Terry Larson -#12871
 F   In Stone                           Helen Keeble -#12872
 F   The Cribwalker's Gift              Michael Greenhut -#12873
 F   Sister Moon                        Sheila Crosby -#12874
 SF  The Babies at Nae-Long             J.P. Davis -#12875
 SF  So Glistered the Dire Snake        J. M. Lohse -#12876
 SF  Butterfly Caught                   John Lawless -#12877
 F   Slade's Tale                       Margaret Baird -#12878
 F   The Angel in My Life               Robert Frazor -#12879
 H   Clocks Don't Care                  Pam McInnes -#12880
 F   Xiao Yu refuses to marry, Chapter 1  Cindy Pon -#12881
 F   The Jersey Devil, Chapter 1        Lawrence Vernon -#12882
 SF  Aftersight                         Michael Van Ornum -#12883
 H   But Does He Have to Die?           Shirley Tourtillott -#12884
 SF  Cry Baby                           Daphne Olivier -#12885
 H   I Am the Wendigo                   Matthew Wallace Quinn -#12886
 SF  It Doesn't Take a Rocket Scientist  Rick Allen -#12887
 F   The Apostle to the Sea             Stewart Moore -#12888
 F   Pins & Needles                     James R. Burke -#12889
 F   The Escape Artist                  [@] Leah R Cutter -#12890
 H   THE GREATEST HYPNOTIST IN THE WORLD  Kevin Anderson -#12891

Week of 23-Aug-2006 (Crits due 30-Aug-2006):
 SF  Millenium Morning                  [mpc] John Corwin -#12892
 F   Bound by Power, Chapter 1          [mpc] E.A. Weippert -#12893
 H   Little White Bottles               [mpc] Tarl Roger Kudrick -#12894
 F   A Faithful Wife                    [mpc] Barbara Wright -#12895
 SF  The Great Firewall of China        A. Dorrance -#12896
 SF  all the right numbers              Chris Golden -#12897
 F   The Queen's Hero                   Hank Quense -#12898
 SF  Freedom's Law chapters 1 and 2     Stephen B. Pearl -#12899
 F   Blood of the Fallen, prologue and chapter 1  Anita Spence -#12900
 F   Lucky Streak                       Chuck Rothman -#12901
 F   Delta Jewel                        Ross Young -#12902
 F   The Missing Girl                   Jim Adam -#12903
 H   Moonchild                          Chris Collins -#12904
 SF  Alien Ambassador wants to Learns of Gambits  William Berry -#12905
 SF  Humanity's Rainbow Chapter 12      Roy McLeod Williamson -#12906
 SF  Love as a Poison                   John Aissis -#12907
 SF  Median Effective Dose              Katherine Villyard -#12908
 F   Super Pig Twirls the Spinning Plates  Nate Jarvis -#12909
 SF  All the World Watching             Sara Creasy -#12910
 F   Sane Things Sundered Chapter 3 Soldiers of Bastion  Landon Wark -#12911
 SF  The Great Escape                   Jason L. Corner -#12912
 H   Deidre's Folly                     Scott M. Sandridge -#12913
 SF  Treatment Protocol                 Michael A. Heald -#12914
 F   Graduation Day                     Melissa Hollingsworth -#12915
 H   Cupid's Corpse                     Josh English -#12916
 F   The Diary                          Marty Koppert -#12917
 F   Legends & Heroes, Chapter 2        ChristaCarol Jones -#12918
 F   The Eldest Daughter of God         Dawn Albright -#12919
 H   Where Never Storms Arise           Sandra Grauschopf -#12920
 SF  Trial by Fire and Mis-Q's          Boris Layupan -#12921
 H   When Jeb Killed a Man              Jeff Moore -#12922
 SF  Mercy's Home: Chapter 1            Kathleen McConnell -#12923

Week of 30-Aug-2006 (Crits due 6-Sep-2006):
 F   Divertissements                    [mpc] Heather Pine -#12924
 SF  Stepping Down                      [mpc] Jefferson Smith -#12925
 SF  The Hangborn                       Fred Obermeyer -#12926
 F   Pigs at the Fraternity Party       [@] Richard K. Lyon -#12927
 F   Revolution, Chapter 6              Carl Alves -#12928
 F   The Alchemist's Dream, Chapter 1   Nerine Dorman -#12929
 F   Dragon's Choice                    Joe Swope -#12930
 SF  Splintered                         Arlene Webb -#12931
 F   The Vendetta                       Michael Stone -#12932
 F   Dark Angel                         Adam Bales -#12933
 SF  The Customer                       Patricia Loofbourrow -#12934
 F   Border Chaos, 7 & 8                Mike Morell -#12935
 F   Quest School, Chapters 1-2         Julia Ker -#12936
 H   Unholy Ground                      Natasha Hanova -#12937
 SF  What is Ginger?                    David Blitch -#12938
 SF  Replicant Dawn                     M. A. Ligocki -#12939
 SF  Good Morning Sunshine              Becky Huffman -#12940
 SF  End of the Line                    James S. Lawrence -#12941
 SF  Yoyako's Passion                   Michael R. Anderson -#12942
 SF  Generation Ship                    Michael Anthony -#12943
 H   Soul Mates                         Kathryn Gossow -#12944
 SF  The Priceless Future               Mark Silcox -#12945
 SF  Energy Conversion                  Tim Jordan -#12946
 SF  The Daily Grind                    Linda Talisman -#12947
 F   Myrddin                            Mark Suplinskas -#12948
 F   The Mithril Scale                  Darrin Coe -#12949
 F   The Requiem of Richard Nixon       Brandon Butler -#12950
 SF  Foreign Eyes: Chapter One          Colin Nielsen -#12951
 F   ANGLO                              Cary A. Conder -#12952
 SF  The Poppyseed War                  Louise O'Neal -#12953

Week of 6-Sep-2006 (Crits due 13-Sep-2006):
 H   Bag Lady                           [mpc] Jason Hauser [?] -#12954
 SF  Thief of Shapes                    [mpc] Tony Pi -#12955
 F   The Luminisc Stone, Chapter 1      [mpc] Julia Rose -#12956
 F   Blood Rocks, Chapter 1             [mpc] Anna Prince -#12957
 F   The Program                        [mpc] Sean Kelly -#12958
 SF  The Ghost Stalker                  Jeff Cates -#12959
 F   The Rope-Maker                     Mary Catelli -#12960
 F   Midnight Blue 1.02: The Fire Within  Mik Bennett -#12961
 F   Apprentice                         Tom Williams -#12962
 H   The Wood, Chapters 5-6             Andrew Richardson -#12963
 F   The Oath                           Timothy S. Webster -#12964
 SF  Transfusion                        Vanessa Dyer -#12965
 SF  Earth to Earth                     Arthur Yuwler -#12966
 F   Writ in Snowflakes and Sunshine    Abra Staffin Wiebe -#12967
 F   Ten Cities Down                    Lindsey Duncan -#12968
 F   The Kiss of the Pomegranate        Kristin Janz -#12969
 H   Look Away, Chapters 1-2            Gayle Anne Redfield -#12970
 SF  Ranixcalun Chapters 10,11,12 and 13  Samuel E Martens -#12971
 SF  To The Stars                       Logan Bingle -#12972
 F   The Third Essence, Chapters 1 and 2  L. S. Bannister -#12973
 F   The Man at the Shwe Dagon Pagoda   Keyan Bowes -#12974
 SF  Heartbreaker: Flight of the Pegasus  AK Roman -#12975
 SF  The Trouble with Paradise          Nick J. Taylor -#12976
 H   White Stars and Gemstones          Justin J. Sherman -#12977
 SF  Father Michael's Last Prayer       Scott Daniel -#12978
 H   The Joyous Event                   Gregory Long -#12979
 F   Revenant                           Diane Harris -#12980
 H   A Perfect Life                     Stacey Schebel -#12981
 SF  The Dark Net, Prologue             James Riordon -#12982
 F   A Face in the Wing, Prologue & Chapters 1-2  Ryan Dunn -#12983

Week of 13-Sep-2006 (Crits due 20-Sep-2006):
 SF  The Education of Prosperity, Prologue and Ch. 1  [mpc] Matthew Carey -#12984
 F   The Wish, Prologue and Chapter 1   [mpc] Jessica Pitcairn -#12985
 SF  On Tuesday It Rained Horned Toads  [@] Joe Murphy -#12986
 SF  Leonid Skies                       Carl Frederick -#12987
 SF  Mentally Gifted Mutants            Michael Andre-Driussi -#12988
 SF  Stairway To the Moon               Christian Roberts -#12989
 SF  The Hallelujah Procedure           Jason Kuznicki -#12990
 F   Daughters of Aphilia, Chapter 9    Wanda Mooney -#12991
 F   A Hunter's Death                   R. Jason Benson -#12992
 F   Kiss of the Lothair                Kari Naso -#12993
 H   The Fragrance of Chantilly         Annette Hamilton -#12994
 F   Queen Street Line                  Robert Leishman -#12995
 F   Storm Dancer                       Christine Rayne Hall -#12996
 H   An Eye For An Eye                  Dan Malach -#12997
 F   Luminous                           Luciana Lopez -#12998
 SF  The Aurochs                        Benjamin Crowell -#12999
 H   The Burden of Zombification and Other Such Post Apocalyptic Inconveniences, chapter 3  Chad Henry -#13000
 SF  The Choice version 2               Oliver Waite -#13001
 SF  The Sojourner's Voice              Bob Robertson -#13002
 F   The Jersey Devil, Chapter 2        Lawrence Vernon -#13003
 F   Xiao Yu searches for answers, Chapter 2  Cindy Pon -#13004
 SF  One More Mulligan                  Jason Schifano -#13005
 SF  Homecoming                         Brendan Carson -#13006
 SF  Customer Service                   Rick Allen -#13007
 SF  Makers on Earth                    Ed Miracle -#13008
 SF  Paragon -- Prologue-Chapter 3      Shannon Celebi -#13009
 F   All is Fair                        Marion Bernard -#13010
 F   Prisms                             Tim Warrick -#13011
 F   Nightmarescape                     Clayton L Johnson -#13012
 F   The Totem                          Lital Talmor -#13013
 SF  Coming Through                     Robert Agamedi -#13014

Week of 20-Sep-2006 (Crits due 27-Sep-2006):
 SF  Torque                             [mpc] Jason Hauser -#13015
 F   Bound by Power, Ch.2               [mpc] E.A.Weippert -#13016
 F   Blood rocks, Chapter 2             [mpc] Anna Prince -#13017
 SF  on the lighter side                Chris Golden -#13018
 SF  Leftovers                          Ray E. Main -#13019
 SF  Operation Deadman, Chapters1,2&3   [@] Richard K. Lyon -#13020
 SF  End of Service                     Jim Adam -#13021
 SF  Humanity's Rainbow Chapter 13      Roy McLeod Williamson -#13022
 SF  The Lifeboat                       Jonathan C. Gillespie -#13023
 F   Berry the Shade" (working title)   J.A.Howe -#13024
 SF  Change Your Biometric Identity Now, While It's Still Legal!  S P Wilcock -#13025
 SF  Twenty-First, part of chapter 1    Martin E. Willen -#13026
 F   Father of Urchins                  J.P. Davis -#13027
 SF  Dreaming at the Frozen Edge of Nothing  Daniel P. Swenson -#13028
 F   Death Walking                      [@] Leah Cypess -#13029
 F   Unwold the Unlucky                 Mark Spezzano -#13030
 SF  A Twisted Fate                     Michael Van Ornum -#13031
 F   Past Glory                         Peter Charron -#13032
 SF  Path Home                          Cheryl McCreary -#13033
 F   Madness at the Ghost Festival, Chapter 1  Jason Keyes -#13034
 SF  Seeing Things                      Jake Freivald -#13035
 F   Legends & Heroes, Ch. 3-4          ChristaCarol Jones -#13036
 SF  MOMENTUM                           Kevin Anderson -#13037
 SF  Hero of the Empire                 Boris Layupan -#13038
 SF  Life Dealers                       Michael Jacobs -#13039
 H   Dark Power proluge and Chapter 1   Samuel Carey -#13040
 H   The Fisherman's Pipe               C. Deanna Verhoff -#13041
 SF  The Gainon Conspiracies, Chapter 1 - Nearax  Joe DeChynne -#13042
 F   A New Washing Machine for Vinny's Mom.  Patrick W. Wilson -#13043
 F   Chronicle of Black Eyes            Trevor Quigley -#13044
 H   The Dead Place                     Bryan Ringer -#13045
 SF  The Gate at Paldar, Prologue, Chapters 1-2  Isaac coverstone -#13046
 SF  The Light                          Alexi Smith -#13047
 SF  The Sleepers                       Tim Donlan -#13048

Week of 27-Sep-2006 (Crits due 4-Oct-2006):
 SF  It's Not Just a Job                [mpc] Keith Watt -#13049
 F   The Desert and the Darkness, Chapter 1  [mpc] Aaron Franklin -#13050
 SF  Operation Deadman,part 2           [@] Richard K. Lyon -#13051
 H   Alone Again                        Carl Alves -#13052
 H   The Deeds of the Dastardly Possessed Teddy Bear  Nerine Dorman -#13053
 F   Tales of the Black Dragon, Book 1, Chapter 1-2  Charles Leighton -#13054
 F   Echoes of a Future Past            Chris Collins -#13055
 SF  Splintered-Chapters 05-09          Arlene Webb -#13056
 SF  The Case of the Flaming Chef       Jefferson Smith -#13057
 F   The Labyrinth's Reply: Autumn Maze  Pattie Lawler -#13058
 F   Demon Community                    Karen -#13059
 H   The Prisoner                       Stephen Owen -#13060
 SF  A Heart Full of Summers            Sharon Trimmer -#13061
 SF  In the Tears of God                Brian Burt -#13062
 F   Catalyst                           Cary A. Conder -#13063
 SF  The Blind Sholen, Chapters 0-3     Nell Clowder -#13064
 F   Geas                               Kathleen McCarthy -#13065
 F   Light and Dark                     Matthew Wallace Quinn -#13066
 H   A Portent of Winter (Chapter I of an untitled horror novel)  Jeff Moore -#13067
 SF  On Three Legs in the Evening       Brandon Butler -#13068
 H   Ashes to Ashes                     Claire Nixon -#13069
 F   Empire of Gold, Chapters 1-2       Damien D. Crooks -#13070
 SF  These accountant's hands           Jean-Pierre van Heerden -#13071
 F   White Water                        Crystal Warren -#13072
 H   Evangeline, Chapter 1              Betty Bivins -#13073
 H   Go With God resub: Y               Jonathan Daniel resub: Y -#13074
 H   The Torture Artist                 Michael Thomas Miller -#13075
 SF  Saved by a Snake                   John Harper -#13076
 F   Mandala's Catalyst, Chapter 1      Warren Henke -#13077

Week of 4-Oct-2006 (Crits due 11-Oct-2006):
 SF  The Medusa Effect                  Jeff Cates -#13078
 SF  Operation Deadman, part 2          [@] Richard K. Lyon -#13079
 F   Nick Briarwood                     Mary Catelli -#13080
 F   Possession                         Anita Spence -#13081
 SF  Blue Woman                         Rhonda Wright -#13082
 F   The Crack in the Stairs            Barbara Wright -#13083
 H   The Wood, Chapters 7-8             Andrew Richardson -#13084
 F   Lavendar Bob and Angry Sue in Double Trouble  Tom Williams -#13085
 H   Movement and Repose                Jim Bauer and Ted Grosch -#13086
 F   Time our of Joint                  Arthur Yuwiler -#13087
 H   Keepers of the Board               Vanessa Dyer -#13088
 H   The Terracotta Warrior             Michael Stone -#13089
 F   The Fairy's Lesson                 Melissa Hollingsworth -#13090
 F   Ranixcalun Chapters 14 and 15      Samuel E Martens -#13091
 H   They Can't Get Us All              Adam La Rusic -#13092
 F   The Third Essence, Chapters 3 and 4  L. S. Bannister -#13093
 F   Fables and Foibles                 Michael R. Anderson -#13094
 SF  Four Days and Four Seconds         Michael Anthony -#13095
 F   The Devil Inside                   Erin M. Underwood -#13096
 H   The House on the Lake, or Stannard Rock  Donald Jacob Uitvlugt -#13097
 H   Gift of the Bouda                  Rick Farnsworth -#13098
 F   Falling From Hell to a Darker Place  Jamaal Pemberton -#13099
 SF  The Dark Net, Chapters 1-2         James Riordon -#13100
 SF  Packages                           Lucas Johnson -#13101
 F   Ghostblade                         David J. Boseke -#13103
 SF  Prolouge and Chapter One, Dark Nights of Unity (Tolgon Chronicles,  Brian Lee Anderson -#13104
 F   Keeper of the Sacred Box           Donna Shuman -#13105
 SF  Plumber's Helper                   Charles Sanft -#13106
 SF  Toward Heaven                      David Kogan -#13107

Week of 11-Oct-2006 (Crits due 18-Oct-2006):
 F   The Desert and the Darkness, Chapters 2 & 3  [mpc] Aaron Franklin -#13108
 SF  Balance                            [mpc] Keith Watt -#13109
 F   Those Tiny, Little Voices          [mpc] Robert J. Grieve -#13110
 SF  This Moment, and the Times Before  [mpc] Jeff Soesbe -#13111
 SF  The Seduction of 478.5             [@] Joe Murphy -#13112
 SF  The Pad                            Fred Obermeyer -#13113
 SF  The Eddington Institution          Carl Frederick -#13114
 SF  Operation Deadman Conclusion       [@] Richard K. Lyon -#13115
 SF  Future Course                      Peter Lewicke -#13116
 SF  A Can of Soup                      Glenn Rowsam -#13117
 F   Daughters of Aphilia, Chapter 10   Wanda Mooney -#13118
 F   Be Wicked; Save the World Ch 1     Norm Gillespie -#13119
 F   The Bear Girl                      J. Kathleen Cheney -#13120
 F   The Windseller's Gift              Barbara Davies -#13121
 F   Jacky's Valentine                  R. Jason Benson -#13122
 SF  How I Lost the Intergalactic Little League World Series  Ellie Tupper -#13123
 F   Zrenithor                          Julia Rose -#13124
 F   Kevin's Quest                      Nadia Williams -#13125
 H   The Killing Clock                  Annette Hamilton -#13126
 SF  Stakes                             Karson Retterson -#13127
 SF  Eat. Be Happy.                     Dan Malach -#13128
 SF  Timelegger                         Benjamin Crowell -#13129
 H   The Big Bad Wolf                   Lawrence Vernon -#13130
 F   Storm Dancer, Chapter 2            Christine Rayne Hall -#13131
 SF  Of Ignorance, Of Efficiency        Jonathan C. Gillespie -#13132
 SF  The Mind's Eye, Chapter 1          Ron Love -#13133
 F   Loyalty                            Michael Cain -#13134
 SF  Labour Shortage                    Kathryn Gossow -#13135
 SF  Harvesting the Weed                Adam Miller -#13136
 H   Working Girl                       Stacey Schebel -#13137
 F   Sweet Poison                       Melanie Schwear -#13138
 F   Out of Desperation                 Robert Agamedi -#13139
 SF  Sacred Space                       Michelle Norton -#13140
 F   Cornelius Grunch Joins the Dragons  Alan Oak -#13141

Week of 18-Oct-2006 (Crits due 25-Oct-2006):
 SF  Lethe for Mnemosyne                [mpc] Melissa Hollingsworth -#13142
 F   Hannya-Shin-Kyo: The Stillness Between Thoughts  [@] Eugie Foster -#13143
 SF  Porcelin Surprises                 Chris Golden -#13144
 H   A Thorn in Nevelshelle's Side      Jason Hauser -#13145
 SF  Operation Deadman Conclusion       [@] Richard K. Lyon -#13146
 SF  Re-division of Labor               Marilyn LT Klimcho -#13147
 SF  The Cloud Witch                    Jeff Howell -#13148
 F   Midnight Blue 1.03: Richard Moon   Mik Bennett -#13149
 SF  Aliens with Candy                  Michael Andre-Driussi -#13150
 SF  Molly B. Denum                     Jim Adam -#13151
 SF  A Hero's Luck                      Charles Hotchkiss -#13152
 SF  Humanity's Rainbow Chapter 14      Roy McLeod Williamson -#13153
 F   Red Rose                           Hazel Ong -#13154
 F   Border Chaos                       Mike Morell -#13155
 SF  Missing Dream Seeker               Bob Leishman -#13156
 SF  Death and a Light                  John Lawless -#13157
 F   The Illuminar Messiah, Chapters 1-2  Kenneth Wells -#13158
 SF  The Organ Donor                    Oliver Waite -#13159
 H   Fireproof                          Gerard Brennan -#13160
 SF  Out of the Shelter                 Bob Robertson -#13161
 H   The Mask of the Lurghen            Michael Van Ornum -#13162
 SF  Clone Alone                        Richard Zwicker -#13163
 SF  Between Two Worlds: Prologue to Faith Awakened, plus outline  Grace Francis -#13164
 SF  Remember Mars                      Michael Jacobs -#13165
 SF  Blue                               John Moran -#13166
 H   Liberation                         Kevin Anderson -#13167
 F   The Guardians of Anthica           C. Deanna Verhoff -#13168
 SF  Headlong He Rushed                 John Van Pelt -#13169
 H   Harvey Holdem                      John Cole -#13170

Week of 24-Oct-2006 (Crits due [*] 8-Nov-2006):
 F   Summer-sky-at-dawn                 [mpc] Pam Davis -#13171
 F   Schrödinger's Pirate              Arthur Dorrance -#13172
 F   The Turnaround                     Barbara Bates -#13173
 SF  In the Twilight of the Cold War    [@] Richard K. Lyon -#13174
 F   Revolution, Chapter 7              Carl Alves -#13175
 F   Everturn Eve                       Sarah Wilson -#13176
 F   Tales of the Black Dragon, Book 1, chap 3-4  Charles Leighton -#13177
 H   The Wood, Chapters 9-10            Andrew Richardson -#13178
 SF  Texting for Love                   Richard S. Levine -#13179
 H   Trolley                            Arthur Yuwiler -#13180
 H   The Thrall                         Chris Collins -#13181
 F   The Middle Aged Detective          Cath Haftings -#13182
 SF  Splintered Energy 1-4-revised      Arlene Webb -#13183
 F   Dragon                             Kari Naso -#13184
 H   Eating Up the Joneses              Michael Stone -#13185
 SF  Counting Coup                      Jefferson Smith -#13186
 SF  The Third Eye Schizo               Sheri Fresonke Harper -#13187
 F   A Study In Lavender                Jessica Goeller Williams -#13188
 SF  Stepback                           Jason Gillespie -#13189
 SF  Across the River                   Christopher Kastensmidt -#13190
 H   The Real Estate Market             Lara Frater -#13191
 SF  Graveyard of the Cloud Gods        David Seigler -#13192
 SF  Ranixcalun Chapters 16 and 17      Samuel E Martens -#13193
 H   Remember My Birthday               Stephen Owen -#13194
 F   Tales of the Emerald Flame, Chapters 0-2  Marc Yates -#13195
 SF  Bleeding Canvas and the Buffalo's Death  Michael Anthony -#13196
 SF  The Last Ship                      Rachelle Loyear-Williams -#13197
 SF  Dreams of Cold Stone, chapters 0-1  Anneke Daems -#13198
 H   The Pit and The Peduncle           Ronald Garver -#13199
 F   The Hunter and The Sun, Ch. 1      Mark Silcox -#13200
 F   The Raven - Raising the Fire, chapter 0  Jill H. De Schrijver -#13201
 F   Panithon's Pass                    Jonathan J. Schlosser -#13202
 SF  Clearwater Nights - Chapter 1      John Harper -#13203
 F   Because She Danced                 Wendy Palmer -#13204
 SF  The Creep                          Joe DeChynne -#13205
 F   Empire of Gold Chapters 3-4        Damien D. Crooks -#13206
 H   Forgotten Steps                    Ryan Dunn -#13207
 SF  Hell of A Woman                    Keith Taylor -#13208
 H   They Change                        David Kogan -#13209
 F   Amethyst, Chapters 1-2             Katie Lovett -#13210
 SF  The Karmatic Balancing Act         Erik Peterson -#13211
 H   Placebocenta                       Michael Bechard -#13212
 H   Reflections                        Brett Clarin -#13213
 F   The Enchanted Sword, Chapter 1     Mason Merker -#13214
 F   To Fly                             Richard Windle -#13215
 F   Their Carved World                 N. R. B. Rhein -#13216

Week of 9-Nov-2006 (Crits due 15-Nov-2006):
 F   The Thousandfold Magic             [mpc] Tom Williams -#13217
 SF  Spin Control in the War on Terror  [@] Richard K. Lyon -#13218
 SF  Guns are Not Funny                 Carl Frederick -#13219
 SF  Do Monotremes Have a Belly Button?  [@] Chet Gottfried -#13220
 F   Lore of Aphilia, Chapter 1         Wanda Mooney -#13221
 SF  Under an Artificial Sky            Barbara Wright -#13222
 H   The Gift                           Valerie A. Lindsey -#13223
 H   I, Leviathan                       Douglas Ryan -#13224
 SF  The Beijing Olympics               Jacob Brauner -#13225
 F   Leaving the Nest                   Tom McCluskey -#13226
 F   Lounge Lizard                      Angela Perry -#13227
 H   Give Me Your Heart                 Adam La Rusic -#13228
 H   A Touch of Warmth                  Dan Malach -#13229
 F   Demon Community                    Karen -#13230
 SF  Gamer                              Cathy A. Chance -#13231
 SF  Brandon Magi                       Jeff Soesbe -#13232
 F   Catalyst, Chapters 5-9             Cary A. Conder -#13233
 H   The House On Lily Lane             Lawrence Vernon -#13234
 F   Malrats                            Cheryl Lynn -#13235
 F   The Ghost at the Western Wall, Chapter 1  Leah Cypess -#13236
 SF  A Taste of Earth                   Dan Damouth -#13237
 F   A Dragon's Palate                  Robert J. Grieve -#13238
 SF  The Mind's Eye, Chapter 2          Ron Love -#13239
 H   Borrowed Time                      Chad Clark -#13240
 H   Succubus                           Michelle D. Smith -#13241
 F   Nightwidow, Chapter 1-3            Scott Marlow -#13242
 F   Blind Spot                         Jamie Killen Stoops -#13243

Week of 15-Nov-2006 (Crits due 22-Nov-2006):
 SF  Lola                               [mpc] Bill Siderski -#13244
 H   Fishing Hole                       [mpc] Jason Hauser -#13245
 F   Shouting at the Stone              [mpc] Tom Williams -#13246
 H   The Necromancers of Parnassus IV   [mpc] Donald Jacob Uitvlugt -#13247
 SF  Rusted Nuts #1 - Keel Hauled       D. D. Tannenbaum -#13248
 SF  Limited Quantities Available       C L Golden -#13249
 F   Incubus Dreams                     Anita Spence -#13250
 F   Journey to the Kingdom of Cats: Book 1  Dionne Washington -#13251
 SF  A Breen Carnation                  Michael Andre-Driussi -#13252
 SF  Single Man's Guide to Time Travel  Jim Adam -#13253
 SF  Humanity's Rainbow Final Chapter and Epilogue  Roy McLeod Williamson -#13254
 F   Dead Lords, Chapter 1              Anna Prince -#13255
 SF  Tales of Old Hollywood             Bob Leishman -#13256
 F   Border Chaos, Ch 24&25             Mike Morell -#13257
 SF  Running and Falling                John Chu -#13258
 F   Witch Cake                         Marian Kensler -#13259
 F   Orcs Are People Too                Chris Kruckenberg -#13260
 F   Guarding Lothlorien                Alan Oak -#13261
 H   Outsourcing Blues                  Rick Farnsworth -#13262
 F   Synopsis: A Rumor of Dragons       Michael A. Heald -#13263
 F   The Silverblade Heritage           Scott M. Sandridge -#13264
 SF  Manifest Hegemony                  Jonathan C. Gillespie -#13265
 SF  The Betrothed                      Mark Suplinskas -#13266
 SF  Death and the Maiden               Matt Osborne -#13267
 H   Butterfly                          Kathryn Gossow -#13268
 F   Grunnen's Saga, Part 1             Chad Weiss -#13269
 H   House Share                        Emma Cullshaw -#13270
 H   Adrift with a Bone Die             Michael Jacobs -#13271
 H   Fatal Vision                       Mark R. Masters -#13272
 SF  World on the Edge of Time, Prelude and Chapter 1  Benjamin Shank -#13273
 SF  Fred's Head                        Teresa Juranovich -#13274
 SF  A Scream Of Brass                  David McGuire -#13275

Week of 22-Nov-2006 (Crits due 29-Nov-2006):
 H   Swamp Water Stew                   [mpc] Jason Hauser -#13276
 H   Don't Slay the Messenger           [mpc] Emily Hofmeister -#13277
 F   Schr[Ã][¶]dinger's Pirate          Arthur Dorrance -#13278
 F   LeBlue's Black Heart               [@] Joe Murphy -#13279
 H   The Secret Artist                  Fred Obermeyer -#13280
 F   Red Chrysanthemum                  Chuck Rothman -#13281
 F   Saucer                             Arthur Yuwiler -#13282
 SF  Cataclysm                          John Corwin -#13283
 F   Oriko's Choice                     Nadia Williams -#13284
 SF  Body of Evidence                   Jefferson Smith -#13285
 SF  Which Way Is Right?                Terry Larson -#13286
 H   The Fragrance of Chantilly         Annette Hamilton -#13287
 F   Briar Wolf                         Jennifer Scaringe -#13288
 F   City of the Dying Sun              Kristin Janz -#13289
 H   Fugue                              Laura Fraser -#13290
 H   A Midnight Feast                   Stephen Owen -#13291
 SF  Sandy's War                        Jim Walke -#13292
 F   The Torches of Dawn                Jonathan J. Schlosser -#13293
 H   The Silent Nightingale             Ryan Dunn -#13294
 SF  Trust Your Fellow Man              David Kogan -#13295
 F   Isis' Aid                          Jennifer Graham -#13296
 F   The Purification                   Richard Windle -#13297
 H   Open Eyes (Just a Crack)           Michael Bechard -#13298
 SF  Changing the Future                Greg Nyberg -#13299
 F   Twilight of Fire, Prologue         Ronald J. Craft -#13300

Week of 29-Nov-2006 (Crits due 6-Dec-2006):
 F   Unfinished Business                [mpc] Carole Ann Moleti -#13301
 SF  Searching for Sugar Bear           [mpc] Barbara Wright -#13302
 F   A Preposterous Tale                [@] Chet Gottfried -#13303
 F   Somniis Perditus Caveat, Chapters 1 and 2  Mary Catelli -#13304
 SF  Complete Psychotic Break In        Marilyn LT Klimcho -#13305
 H   The Last Man Standing              Carl Alves -#13306
 H   The Wood, Chapters 11-12           Andrew Richardson -#13307
 F   The Labyrinth's Reply: Winter Maze  Pattie Lawler -#13308
 SF  The Sighting                       Chris Collins -#13309
 H   Just Dessert                       Margaret Graham -#13310
 F   Sorcerers in the City              Melissa Hollingsworth -#13311
 F   Heather Berry                      Michael Stone -#13312
 H   Lost in the City                   Joseph Baric -#13313
 F   Cinderella Story                   Katarina Johansson -#13314
 SF  Non-contagious                     Simon Cooper -#13315
 SF  Searching for Sara                 Michael Anthony -#13316
 F   One Day in Hell                    Gregory Adams -#13317
 F   Drake Chapter One                  Kimberley King -#13318
 SF  A Teachable Moment                 Josh English -#13319
 H   Sleepwalker                        Rachelle Loyear-Williams -#13320
 SF  Soontill                           John Harper -#13321
 SF  The Outpost                        Owen Nelson -#13322
 H   The immune, Chapter 1              Gregory N. Mirsky -#13323
 SF  A Million Miles From Anywhere, Chapters 0-2  Ian Bott -#13324
 SF  Bum F*** Egypt, Chapter 1          Constance Miller -#13325
 SF  Festival of the Three Moons        L. L. Breaux -#13326
 SF  Youthful Retreat, Chapter 1        Paul Cogan -#13327
 F   A Tale of Krith: Meeting On The Moor  David Rodoy -#13328
 F   Keepers of the Earth, Chapters 1-2  Maria Rieske -#13329
 SF  Between the Now and the Then       Michael Savastano -#13330
 SF  The Search Engines                 Kia K. Matthews -#13331

Week of 6-Dec-2006 (Crits due 13-Dec-2006):
 H   Incident at Northpark Mall         [mpc] Jason Hauser -#13332
 F   Unfinished Business-Part II        [mpc] Carole Ann Moleti -#13333
 H   Memories of Dinner                 [mpc] B.D. Wolfe -#13334
 SF  Sinner, Baker, Fabulist, Priest; Red Mask, Black Mask, Gentleman, Beast  [@] Eugie Foster -#13335
 SF  Time-Flopping                      Hank Quense -#13336
 F   Lore of Aphilia, Chapter 2         Wanda Mooney -#13337
 H   shon:gili moon                     Martin Slusser -#13338
 SF  The Damnation of an Inquisitor     Douglas Ryan -#13339
 F   Chrissie Alice                     R. Jason Benson -#13340
 SF  The Third Sex                      Cath Haftings -#13341
 SF  March of the Anunaki               Kari Naso -#13342
 SF  Robin's Gang                       Suzanne Gallagher -#13343
 F   St. Dymphna's Day                  Dawn Albright -#13344
 SF  Something to Die For               Tom McCluskey -#13345
 H   Nobody Wants Dead Flowers          Dan Malach -#13346
 SF  The Pearl of Great Worth           David Smullen -#13347
 SF  The Big Bad Wolf                   Lawrence Vernon -#13348
 SF  A Singular Being                   Linda Talisman -#13349
 SF  Illegal Alien                      Matthew W. Quinn -#13350
 SF  Legion                             Pauline mattiaccio -#13351
 SF  Body Language                      Brett Cryer -#13352
 SF  Question, Answer                   A.J Blake -#13353
 F   The Fat Man                        John Moran -#13354
 F   Glimmer                            Robin Rhoads -#13355
 SF  Conscientious Objectors            Jay Werkheiser -#13356
 F   Mapmaker                           Joseph Noonan -#13357
 H   Tasting Life Twice                 Mary J Daley -#13358
 F   The Separation                     Justin O'Leary -#13359
 SF  The Way of the Peacemaker          Boris Layupan -#13360
 F   As Promised                        Dennis R. Upkins -#13361
 H   Minstrel                           C.J. Rosenberry -#13362
 SF  The Superhero's Girlfriend, or Mary Jane's Point of View  Jennifer Sabatier -#13363

Week of 13-Dec-2006 (Crits due 20-Dec-2006):
 SF  What A Waste                       [mpc] Paul Comstock -#13364
 SF  It Could Have Been Love, but the Turtle Broke the Harmonica  Tom Williams -#13365
 H   Aliens with Candy                  Michael Andre-Driussi -#13366
 SF  Award Day                          Josh Vogt -#13367
 F   Rainbow at Midnight Chapter 1      Jerry Miller -#13368
 SF  Placebo                            Derek Robinson -#13369
 F   Trail of the Virgin Sacrifice      Jim Adam -#13370
 SF  Verne Station                      Bob Leishman -#13371
 H   succumbing to gravity              Rick Farnsworth -#13372
 F   Happy Memories                     Marian Kensler -#13373
 F   Ranixcalun Chapters 18 and 19      Samuel E Martens -#13374
 SF  A Sense of Time and Place          Michael A. Heald -#13375
 SF  The Case of the Killer Dog         Jeff Soesbe -#13376
 F   Whispers of the Future             Jonathan C. Gillespie -#13377
 SF  Overwrite My Love                  Daniel P. Swenson -#13378
 F   Grunnen's Saga, Part 2             Chad Weiss -#13379
 SF  The Last Circle                    Dan Damouth -#13380
 H   The Canni-Ball                     Donald Jacob Uitvlugt -#13381
 H   Pigboy and the Demon               Stacey Schebel -#13382
 F   Tired of Death Chapter 1           Neil Hartley -#13383
 SF  Road Boss, The turning point       John R Andrews -#13384
 SF  Plum Island                        D. D. Tannenbaum -#13385
 F   The Golems of the Tall Wood        David McGuire -#13386
 SF  Herman                             Chuck Messer -#13387
 SF  They Hunt Us                       George O'Gorman -#13388
 SF  Cagan's Lens                       Devin Moberg -#13389

Week of 20-Dec-2006 (Crits due [*] 10-Jan-2007):
 SF  Edge of Time                       [mpc] David Smullen -#13390
 SF  A Voice on the Speaker             Bill Siderski -#13391
 SF  Crossworld                         Fred Obermeyer -#13392
 SF  Mathematical Certainty             Carl Frederick -#13393
 H   The Choking Game                   Nerine Dorman -#13394
 H   Mr. Franks and the Spinning Wheel  Carl Alves -#13395
 F   The Jian                           Chuck Rothman -#13396
 F   Tales of the Black Dragon, Chapters 5-6  Charles Leighton -#13397
 H   The Wood                           Andrew Richardson -#13398
 F   Dreams                             Arthur Yuwiler -#13399
 F   Tongue                             Norm Gillespie -#13400
 SF  Jibak                              Vanessa Dyer -#13401
 F   Heather Berry                      Michael Stone -#13402
 H   Clavo & Martillo                   Mike Morell -#13403
 F   Catalyst - Chapters 9-15           Cary A. Conder -#13404
 F   Promenade                          Jefferson Smith -#13405
 SF  Till The Cows Come Home            Adam La Rusic -#13406
 F   Stone                              William Shockley -#13407
 H   Satan's Solution                   Stephen Owen -#13408
 SF  That Which Is Different, Chaps 1-3, Revised  Cathy A. Chance -#13409
 F   Billy the Wiz                      Gerard Brennan -#13410
 F   Drake Chapter Two-Three            Kimberley King -#13411
 F   The Shadow Lands : Part 2 of 3     Michael Cain -#13412
 F   Storm Dancer, Chapters 1-6         Christine Rayne Hall -#13413
 H   Adrift with a bone die             Michael Jacobs -#13414
 F   Of Snow and Steel                  Jonathan J. Schlosser -#13415
 F   Tattoo Visionary                   Sarah Wright -#13416
 SF  Forget That                        L.L. Breaux -#13417
 SF  Death of a Dwarf Planet            Ryan Dunn -#13418
 SF  Reclamation                        Emma Cullshaw -#13419
 F   Shadow Walker                      David J. Boseke -#13420
 SF  Feeble Iceman, Brave and True      David Kogan -#13421
 F   Daemon Tongue, Prologue, Chapters 1-2  Emily Hofmeister -#13422
 F   The Sun's Daughter                 Ricard Bare -#13423
 H   Tabernacle of the Worm, pt. 1      Michael Bechard -#13424
 SF  Keepers of the Earth, Chapter 3-4  Maria Rieske -#13425
 F   The Summoner                       Richard Windle -#13426
 SF  World on the Edge of Time, Ch. 2   Benjamin Shank -#13427
 F   Flight                             Jamie Killen Stoops -#13428
 F   The Great Kithanu                  David Rodoy -#13429
 SF  Nuggets in the Hands of a Hungry God  Daniel Barrett -#13430
 SF  The Jaberwocky Singularity         M. Frank Darbe -#13431
 H   The Winemaker                      Andrew Y. Mobley -#13432
 F   Happenstance                       Dawn Marie Smith -#13433
 H   Darkest Before Dawn                Chuck Frenz -#13434
 F   Quest for the God Jewel            Jared C. Wells -#13435
 F   The Reluctant Keeper Chapter 1-2   Gemma E. Renshaw -#13436
 F   Relations                          Rachel Sampsel -#13437
 H   Lexi                               Maria Rachel Hooley -#13438
 SF  Prisoner of War                    Floris M. Kleijne -#13439

Week of 10-Jan-2007 (Crits due 17-Jan-2007):
 SF  Something to Die For               [mpc] Tom McCluskey -#13440
 SF  Wonders of the Universe: #11 Intro-Chpt 1  Todd Yunker -#13441
 H   Convoluted Cliches 1               Barbara Bates -#13442
 H   A Modest Proposal for Iraq         [@] Richard K. Lyon -#13443
 F   The Lowell Infirmary for Transmigration  [@] Chet Gottfried -#13444
 F   Lore of Aphilia, Chapter 3         Wanda Mooney -#13445
 F   LR: Prologue...ish                 Pattie Lawler -#13446
 H   The Specter Played Seven Card Stud  Suzanne Gallagher -#13447
 H   Persephone in the Land of the Dead  Dawn Albright -#13448
 SF  Earth Mother chapters 1-3 and synopsis  Patty Jansen -#13449
 SF  My Arms, Keeping Her               Dan Malach -#13450
 F   Choice Nonexistent                 Nicole (Nic) Scofield -#13451
 F   Chapter 1 - The Voice              Oliver Waite -#13452
 SF  One From Column A                  Sharon Trimmer -#13453
 F   Spiritual Infection                Jen Highkin -#13454
 H   Addicted to Life                   Brett Cryer -#13455
 F   The Beast of the Bosporus          Matthew Wallace Quinn -#13456
 SF  Legion, Chapters 2-3               Pauline Mattiaccio -#13457
 SF  The Day The Children Disappeared   Beth Martin Quittman -#13458
 SF  Christmas Orb                      Jim Moss -#13459
 SF  Thanksgiving Day                   Jay Werkheiser -#13460
 SF  Or be alone                        John Moran -#13461
 SF  Arestech                           Paul Bard -#13462
 F   The Sword of Credence              Mary J Daley -#13463
 H   The Lingering Shadow               Matt Hults -#13464
 F   Destined                           Dennis R. Upkins -#13465
 SF  The way of the Peacemaker          Boris Layupan -#13466
 F   Seabird, Pt. 1 Prologue            Sherry Thompson -#13467
 SF  The Doctors                        Seth Z. Herman -#13468

Week of 17-Jan-2007 (Crits due 24-Jan-2007):
 H   One                                [mpc] Jason Hauser -#13469
 H   The Ultimate Test                  Carole Ann Moleti -#13470
 SF  Grandfather's Paradox              Chris Owens -#13471
 H   My Other Self                      Charles Daniel -#13472
 F   Two Swans a-Dueling                Tony Pi -#13473
 H   Redemption                         Christian Roberts -#13474
 H   Beks and the war on drugs          Rick Farnsworth -#13475
 F   Hide And Seek                      Marian Kensler -#13476
 F   Ranixcalun Chapters 20 and 21      Samuel E Martens -#13477
 F   Twinklers                          Swapna Kishore -#13478
 F   A Rumor of Dragons                 Michael A. Heald -#13479
 F   Hunters                            Jeff Soesbe -#13480
 H   The Big Bad Wolf                   Lawrence Vernon -#13481
 SF  The Waterwheel                     Simon Cooper -#13482
 SF  Twilight on Phobos                 Michael Anthony -#13483
 F   Grunnen's Saga, Part 3             Chad Weiss -#13484
 H   Daughter of Darkness               Jamaal A.S. Pemberton -#13485
 SF  Datasecret                         Dan Damouth -#13486
 F   Mikah and the Wemon                Jan Stephanie Lewis -#13487
 H   Crapgod                            Donald Jacob Uitvlugt -#13488
 F   Mnemosyne's Death, Chs 1-2         Euan Harvey -#13489
 H   Jacob's Rising                     Bret Jordan -#13490
 SF  The Man Who Would Be King of Time  George O'Gorman -#13491
 SF  Two Short Humor Pieces             Kevin N. Haw -#13492
 SF  The Blue Machine                   Joe Feehan -#13493
 SF  the ryme of the necromancer        Josh A Carpenter -#13494

Week of 24-Jan-2007 (Crits due 31-Jan-2007):
 F   Intersections                      [mpc] William Shockley -#13495
 SF  The Three of them, At the End      A. Dorrance -#13496
 F   To Lose the Song                   Pam Davis -#13497
 F   Maestro Andante                    Hank Quense -#13498
 SF  Movement and Repose                Jim Bauer and Ted Grosch -#13499
 F   Plan B for Iraq                    Richard K. Lyon -#13500
 SF  This Is How It Feels               Ian Creasey -#13501
 F   Matryoshki                         Hazel Ong -#13502
 F   Foreverhouse                       R. Jason Benson -#13503
 F   The Last Wasicu                    Katherine Villyard -#13504
 F   Safest Bank in the West            Nadia Williams -#13505
 F   Shady Grove Chp. 1                 Judy Shaw -#13506
 SF  Crash Course                       Richard Zwicker -#13507
 SF  Founder Effect                     Benjamin Crowell -#13508
 F   Shadow Lands : Part 3              Michael Cain -#13509
 F   Princess of the Unicorns, Chapters 1-2  Cheryl L. O'Keefe -#13510
 SF  The Bonemaker's Apprentice, Chapter 1  Dave Whittier -#13511
 F   Let the Circle Be Unbroken         Nicole M. McClain -#13512
 F   Return to Altarra, chapters 1-3    Roger Thibault -#13513
 H   Tabernacle of the Worm, pt. 2      Michael Bechard -#13514
 SF  GroupThink                         Bill Patterson -#13515
 SF  Down The Plughole                  Curtis Jewell -#13516
 SF  The Clew Chapters 1 to 5           Phyllis Jacques -#13517
 F   The Justification                  Justin O'Leary -#13518
 SF  Spirit Kindreds                    Mike Duffy -#13519
 SF  Pandemic                           Maggie Jamison -#13520
 SF  Trafficker Violation               Jon Kohl -#13521
 F   The Black Rose, Chapter 1          Manuela Ruzicka -#13522
 SF  Rhapsody In Black                  Eric Polk -#13523
 H   Spinning Janice                    Steven Ginty -#13524
 F   Day Sleeper                        Creppy -#13525
 F   Little Bit of Luck                 Vicki McElfresh -#13526
 SF  Ex Nihilo High                     Kris Schnee -#13527
 F   Cabbie                             David L. Day -#13528

Week of 31-Jan-2007 (Crits due 7-Feb-2007):
 F   Deep Green                         [mpc] Barbara Wright -#13529
 SF  The Stilled Heart, Beating         [mpc] Keith "Kilo" Watt -#13530
 F   Finding Vasja                      Nerine Dorman -#13531
 F   The Emperor's Wish                 Chuck Rothman -#13532
 F   Tales of the Black Dragon, Chapters 7-8  Charles Leighton -#13533
 F   The Richly Witchly Gothic Romance:  Norm Gillespie -#13534
 F   A Dark and Stormy Night            Jeff Stehman -#13535
 F   Heather Berry                      Michael Stone -#13536
 H   Ambrosia Rising                    J.A.Howe -#13537
 SF  That Which Is Different, Chaps 4-6, Revised  Cathy A. Chance -#13538
 F   Catalyst - Part Four               Cary A. Conder -#13539
 SF  Teaching the Horse to Sing         David Smullen -#13540
 SF  Scales                             Frank Dutkiewicz -#13541
 F   Drake Chapter Four-Five            Kimberley King -#13542
 F   Child of Mazoran                   Mark Spezzano -#13543
 SF  My Home in the Stars               L.L. Breaux -#13544
 SF  The Nitrogen Seas of Earth         David Kogan -#13545
 F   Blue Ribbon                        Richard Windle -#13546
 F   Keepers of the Earth, Chapters 5-6  Maria Rieske -#13547
 F   At the River                       Jamie Killen Stoops -#13548
 SF  Tramp Truckies                     Ronald Hurst -#13549
 F   Undercurrents Chapter one          David Rodoy -#13550
 F   The Reluctant Keeper Chapter 3     Gemma Renshaw -#13551
 F   Redd and the Wyld, prologue and Chapter 1  John Meyer -#13552
 SF  The Last Mask of God               Robert Smullen -#13553
 SF  Ubiquitination                     Lanna Crucefix -#13554
 F   Ann's Ghost Story                  Jarrah Moore -#13555

Week of 7-Feb-2007 (Crits due 14-Feb-2007):
 SF  Wonders of the Universe: #11 Chapter 2  Todd Yunker -#13556
 F   The Man with Other Memories        Fred Obermeyer -#13557
 F   The Pool                           Andrew Richardson -#13558
 F   Meet Milo                          Kemper Green -#13559
 SF  The Meeting                        Margaret Graham -#13560
 F   Labyrinth's Reply: China           Pattie Lawler -#13561
 F   'Ware The Wolf                     Lee Carlon -#13562
 H   The Final Message                  Dan Malach -#13563
 H   A Lesson Learned                   Stephen Owen -#13564
 SF  Inimicus                           Mark Suplinskas -#13565
 SF  Where Other People Say Problem, We Say Opportunity  S P Wilcock -#13566
 H   Monsters Among Us                  Dennis R. Upkins -#13567
 H   Deep Dark Night                    Brett Cryer -#13568
 SF  Call of the Torrans                Cheryl McCreary -#13569
 SF  Legion, Chapter One                Pauline Mattiaccio -#13570
 H   Melon Heads                        Matthew Wallace Quinn -#13571
 H   Eye for an Eye                     S.Z. Herman -#13572
 SF  Soontill                           John Harper -#13573
 SF  Big A, Little a                    Sean Kelly -#13574
 SF  Prologue, Chapters 1-2 of DARK NIGHTS OF UNITY (Tolgon Chronicles  Brian Lee Anderson -#13575
 SF  Transmission Day                   Paul Bard -#13576
 SF  Mistaken Identity                  Spencer Mabry -#13577
 SF  Fossils and Fools                  John C. Waugh -#13578
 SF  Westcamp Motors                    Stephen Campbell -#13579
 SF  The Little People                  Joel A. Davis -#13580
 F   Tough Luck, Fat Man                Chris Kerr -#13581
 SF  Spindle's End                      Amy Treadwell -#13582
 H   The Souls of the Black Leaf Forest, Chapters 1 - 6  A. Craig Newman -#13583

Week of 14-Feb-2007 (Crits due 21-Feb-2007):
 SF  Silence                            [mpc] Jim Bauer -#13584
 SF  Cyborg Vedohtsee and Slick Nabo    [mpc] Michael Andre-Driussi -#13585
 SF  Life from a Dead World             [mpc] Judy Shaw -#13586
 SF  Wonders of the Universe: #11 Chapter 3  Todd Yunker -#13587
 H   The High Holy Chorus               [@] Joe Murphy -#13588
 F   Touched by the Gods                Laura Shrake -#13589
 SF  Mapping the Invisible Territory    Carl Frederick -#13590
 F   Lore of Aphilia, Chapter 4         Wanda Mooney -#13591
 F   What to Do about Bento             Dal M Jeanis -#13592
 F   Antlion's Labyrinth                Tony Pi -#13593
 H   The Thing In the Cradle            Christian Roberts -#13594
 SF  Omnium-Gatherum                    Jacob Brauner -#13595
 F   Heart of Fire                      Kurt Hohmann -#13596
 SF  Hold to Live                       Rick Farnsworth -#13597
 H   The Killing Clock                  Annette Hamilton -#13598
 F   Witch Cake                         Marian Kensler -#13599
 SF  Ranixcalun Chapters 22 and 23      Samuel E Martens -#13600
 H   In Her Dreamscape                  Swapna Kishore -#13601
 SF  First Contact with the Griiph or a series of random co-incidences with repercussions.  Bill Berry -#13602
 SF  Last Contact                       Bill Berry -#13603
 H   Shadows                            Lawrence Vernon -#13604
 SF  Mecha-Stasis                       Peter Carolan -#13605
 F   Document of Destiny                Chad Weiss -#13606
 F   Whalerider                         Donald Jacob Uitvlugt -#13607
 F   Plague, Prologue - Chapter 1       Bret Jordan -#13608
 SF  Time Warped Ch 1 & 42              Richard Pinkerton -#13609
 F   Font of Wisdom                     Joe Feehan -#13610
 H   a vampires tale                    joch carpenter -#13611
 SF  The Derby                          Regina Patton -#13612
 SF  Winter of Humanity intro thru ch3  Jesse Walter -#13613
 F   Manling                            Tere E. Kirkland -#13614
 SF  Far Future chap 1-3                John Rose -#13615
 F   The Weaver's Design, Chapters 0-2  Amber Creasey -#13616
 H   Funhouse Mirror                    Adam Gifford -#13617
 SF  Precursor                          Michael S. Smith -#13618
 H   Zombies on a Plane                 Travis Heermann -#13619
 SF  A Time for Renaissance             Benjamin Shank -#13620

Week of 21-Feb-2007 (Crits due 28-Feb-2007):
 H   Alien Plant Dreams                 [mpc] Simon Cooper -#13621
 H   Fishing Hole                       Jason Hauser -#13622
 F   Marion and Robbin' Hood            Hank Quense -#13623
 SF  Hallucinations                     Terry Larson -#13624
 SF  Connected                          P William Teather -#13625
 F   The Fortuitous Meeting of Gerard van Oost and Oludara  Christopher Kastensmidt -#13626
 SF  Philosophers' Manifesto            Adam Bales -#13627
 SF  Looking-Glass Milk                 Kristin Janz -#13628
 H   Rebecca's Last Stand               Nicole M. McClain -#13629
 SF  Tourist Trap                       Jay Werkheiser -#13630
 SF  Roland and Amigo                   Michael Anthony -#13631
 F   Shadow Lands : Part 4              Michael Cain -#13632
 SF  Atrocity's Echo                    Daniel Barrett -#13633
 SF  Inverted Horizons : Home, Chapters 1-3  Roger Thibault -#13634
 H   Beneath His Rubber Boots           Ryan Dunn -#13635
 F   Mirra Discovered, Chapters 1-2     Scott MacHaffie -#13636
 H   Blood 2: The Unforgiven            Eric J. Juneau -#13637
 SF  Everybody Can Use Another Friend   Dave Whittier -#13638
 H   Tacy's Escape                      Shirley Tourtillott -#13639
 SF  A Million Miles From Anywhere, Chapters 0-2 revised  Ian Bott -#13640
 SF  When Regnants Dance, Prologue      E. Nwokeji -#13641
 SF  Being Boiled                       Curtis Jewell -#13642
 F   Seabird Chapter 1                  Sherry Thompson -#13643
 H   They Aren't Frogs                  Steven Ginty -#13644
 F   Don't Kill Yourself                Anna Berlin -#13645
 F   Object of Affection                Brianna Kelly -#13646
 H   High Definition                    David L. Day -#13647
 F   Double Act                         Justine Jones -#13648
 SF  Blackmouth                         Lizzie Newell -#13649
 SF  Emerald Shadows                    John Sellards -#13650
 H   The Taste of Envy                  Amanda Kirby -#13651

Week of 28-Feb-2007 (Crits due 7-Mar-2007):
 SF  Great Power                        [mpc] Tarl Roger Kudrick -#13652
 H   Vampire City: Population One       [mpc] Ray Colerick -#13653
 F   The Ebon Bones, Terror of the Cerulean Drink  [mpc] Nicole (Nic) Scofield -#13654
 H   Cold Hands                         [mpc] Dawn Walls Thumma -#13655
 F   Twelfth Scion                      Anita Spence -#13656
 F   A Night of Emerald Eyes            Tom Williams -#13657
 F   Tracking Tristan - Synopsis        Toni Kerr -#13658
 SF  Cosmic Consequences                Richard S. Levine -#13659
 F   Heather Berry                      Michael Stone -#13660
 F   Catalyst, Chapters 21 - 29         Cary A. Conder -#13661
 SF  The Pearl of Great Price           David Smullen -#13662
 SF  That Which Is Different" Chapters 7-9, revised  Cathy A. Chance -#13663
 SF  Coca Leaf and Hydrocarbons         Michael A. Heald -#13664
 H   Piranhas, Chapter 1                Gerard Brennan -#13665
 F   Drake Chapter Two - Redo           Kimberley King -#13666
 F   The Girl and the Thief             L.L. Breaux -#13667
 SF  Body of Flowers                    Sarah E. Wright -#13668
 SF  Seeing Stars                       Shanna Germain -#13669
 F   Keepers of the Earth, Chapters 7-9  Maria Rieske -#13670
 SF  A Stretch in Time; Part 1 of 2     Ronald Hurst -#13671
 H   The Siege of Stancliffe Manor      Jamie Killen Stoops -#13672
 F   Twin Moons, Book One               David Rodoy -#13673
 F   The Logic Bomb                     Bob Smullen -#13674
 SF  The Simulacrum's Children          Sarah L. Edwards -#13675
 SF  Nautilus 154                       Charles B. Adams -#13676
 H   Barbie Girls                       Juliet Ruiz -#13677
 SF  Controlled Life                    Christopher Pfister -#13678
 F   The Hunt, Chapter 1                William R. Stott -#13679
 F   The Shepherd of Dreams, Ch 1-4     Lori Phillips -#13680
 F   Gods Who Die                       Kami Savage -#13681
 F   The Shining Road, Prologue         Van Middleton -#13682

Week of 7-Mar-2007 (Crits due [*] 21-Mar-2007):
 SF  Impact Mitigation                  [mpc] Robert C.A. Goff -#13683
 F   In the Hall of the Mountain King   Pam Davis -#13684
 SF  Winter                             Rhonda Wright -#13685
 F   Through no accident of birth       Nerine Dorman -#13686
 F   Milo...a night at the opera        Kemper Green -#13687
 SF  The Buntings                       Alissa Grosso -#13688
 F   Labyrinth's Reply: China... Arrival  Pattie Lawler -#13689
 F   Tales of the Black Dragon, chap 9-10  Charles Leighton -#13690
 SF  Fashion Sense                      Norm Gillespie -#13691
 F   Daughter Of The Wind               Sandra Panicucci -#13692
 H   Mordant Schism                     Vicki Lockwood -#13693
 SF  Prudence Falling                   Micheal C. Planck -#13694
 F   The Historian                      Jeff Stehman -#13695
 F   The Tower                          Tony Williams -#13696
 H   The Storyteller is Africa          Sheri Fresonke Harper -#13697
 SF  Vicesteed, Chapters 1-2            Abra Staffin Wiebe -#13698
 F   Dim Jim                            Nadia Williams -#13699
 F   Barry Docus and his Minions of Heck  David Seigler -#13700
 H   An Unconscious Act                 Dan Malach -#13701
 F   Scales                             Frank Dutkiewicz -#13702
 SF  The Identity Theft Rescue          Bruce Horner -#13703
 SF  This Moment, and the Times Before  Jeff Soesbe -#13704
 F   Realigned                          Dennis R. Upkins -#13705
 H   Dearly Departed                    Brett Cryer -#13706
 SF  Founder Effect                     Benjamin Crowell -#13707
 SF  Illegal Alien                      Matthew Wallace Quinn -#13708
 SF  Legion, Chapters 4-5               Pauline Mattiaccio -#13709
 F   Death Walking                      Leah Cypess -#13710
 SF  A Breath of Molten Steel           David Kogan -#13711
 F   The Last Confession of a Nameless Lieutenant  Richard Windle -#13712
 SF  RoadBoss                           John R Andrews -#13713
 F   How to Impress a Princess          Darrin Adams -#13714
 SF  Destiny Discovered                 H. Nathan Wilcox -#13715
 F   The Reluctant Keeper Chapter 4     Gemma Renshaw -#13716
 SF  Doors                              David Owen -#13717
 SF  The Diagnosis                      Kevin N. Haw -#13718
 SF  The Evolvers                       John C. Waugh -#13719
 F   Peddler's Trials, Chapters Prologue-Chapter 2  Merry Muhsman -#13720
 SF  Soulscape, Chapers 1-3             Karen Rei Pease -#13721
 F   Schadowlost, Chapters 1-2          Jeremy I. Fagergren -#13722
 F   Familiar                           Jon Tyson -#13723
 F   Dawnsrise (working title) Chapters 0-1  Mike Bologna -#13724
 H   It Don't Hurt 'em None             Ian Arroway -#13725
 F   The Path of Reason, Prologue & Chapters 1-3  David Pontier -#13726
 H   The Witch (working title)          Larisa Barham -#13727
 SF  The Inventor                       Shawn Turner -#13728
 F   The Bay of Lilies                  Sanna Henke -#13729
 SF  Beneath Frozen Tundra (part one)   Nicky Geist -#13730

Week of 21-Mar-2007 (Crits due 28-Mar-2007):
 F   The Final Wave                     [mpc] Tom Williams -#13731
 SF  The Destroyers                     Arthur Dorrance -#13732
 SF  Culture Shock                      Fred Obermeyer -#13733
 SF  Guess We're Coming to Dinner       [@] Richard K. Lyon -#13734
 SF  Ars Longa, Vita Brevis             Carl Frederick -#13735
 SF  Stealing Time                      [@] Larry Hodges -#13736
 F   Thief of Shapes: The Paragon Lure, Chapters 1-4  Tony Pi -#13737
 H   Abandoned                          Vanessa Dyer -#13738
 H   Redemption                         Christian Roberts -#13739
 F   Dead End High - 3 Sample chapters  Richard Pinkerton -#13740
 H   succumbing to gravity too          Rick Farnsworth -#13741
 H   The Fragrance of Chantilly and A Rose  Annette Hamilton -#13742
 SF  The Salvage of Nola City           Katherine Villyard -#13743
 H   Ranixcalun Chapters 24 and 25      Samuel E Martens -#13744
 F   The Basement                       Mark Suplinskas -#13745
 H   Sheriff Buford T. Mephistopheles   Bill Berry -#13746
 F   Devil in the Deep Dark Hole        William Shockley -#13747
 F   Grunnen's Saga, Part 4             Chad Weiss -#13748
 SF  Remember Mars                      Michael Jacobs -#13749
 H   Pack and Prey                      Blakely Lord -#13750
 SF  Dreamer                            Steve Szalai -#13751
 SF  Travelogue - Journey               Edwin Tam -#13752
 H   Penetration                        Maggie Jamison -#13753
 SF  the nomad begginings chapters 1-12  Josh carpenter -#13754
 F   Looking For Something              Joe Feehan -#13755
 H   Three Minute Story                 Adam Gifford -#13756
 F   Fragile                            Travis Heermann -#13757
 H   Dartmoor Blood                     Duncan McNair -#13758
 F   Singer of a Strange Song           Fraser Ronald -#13759
 F   High Moon                          Bo N. Balder -#13760

Week of 28-Mar-2007 (Crits due 4-Apr-2007):
 H   A Tale of Terror                   Jason Hauser -#13762
 F   The Lone Stranger                  Hank Quense -#13763
 SF  Political Machine                  Laura Shrake -#13764
 F   Lore of Aphilia, Chapter 5         Wanda Mooney -#13765
 SF  We Are Your Oyster                 [@] Larry Hodges -#13766
 F   Firebug                            Kurt Hohmann -#13767
 SF  The Hidden Heart                   S P Wilcock -#13768
 SF  Inverted Horizons :Home, chapters 4-6  Roger Thibault -#13769
 SF  The Buckybeam Incident             Jay Werkheiser -#13770
 SF  These Eyes                         Sheila Crosby -#13771
 SF  She Thrives in Shadows She Hides in Light  Nicole M. McClain -#13772
 SF  Serve Vie Fur                      Kyle Kirkland -#13773
 F   Of Isobel and the Elf Knight       Robert J. Grieve -#13774
 F   The Horn of a Dilemma              Adam Schwartz -#13775
 H   Blood 2: The Unforgiven, Unit 2    Eric J. Juneau -#13776
 H   Corrupt Programming                S. Tourtillott -#13777
 SF  The Mist                           Justin O'Leary -#13778
 F   Above the Dark Wood                William David Ward -#13779
 SF  A Million Miles From Anywhere, Chapters 3-5  Ian Bott -#13780
 SF  When Regnants Dance, Chapter1      E. Nwokeji -#13781
 H   Descent                            David Seiter -#13782
 F   A Brief History of Time            Paddy Howard -#13783
 H   Jenny's Nightmare                  Shawnda Salazar -#13784
 SF  The Last Prisoner                  Anna Berlin -#13785
 H   Manhunt                            Christopher Summers -#13786
 SF  Beaufort,Texas Canada 2056         Naya Blue -#13787
 F   The Dance                          Rachel Platt -#13788
 SF  The Bright Life, Prologue          Elizabeth Fernandez -#13789
 F   Dreadneck                          Jeff Parish -#13790
 SF  Intimate War (1,4,11)              Karl Dammer -#13791
 H   City Spirit                        A. S. Smith -#13792

Week of 4-Apr-2007 (Crits due 11-Apr-2007):
 SF  Cyborg Vedohtsee and the Outlaw Slick Polla  [mpc] Michael Andre-Driussi -#13793
 F   True Loves of the Inimitably Wicked Ch 1  [mpc] Norm Gillespie -#13794
 F   Damage Control                     [mpc] Tarl Roger Kudrick -#13795
 F   Apologia for a Dying God           [mpc] Tom McCluskey -#13796
 F   The Holy Dragon Part Two           [mpc] Kimberley King [?] -#13797
 F   Manticore Lace                     [@] Joe Murphy -#13798
 SF  Street Trash                       Carl Alves -#13799
 F   Shadow                             Anita Spence -#13800
 F   Heather Berry                      Michael Stone -#13801
 SF  Building                           Cath Haftings -#13802
 SF  The Last Mask of God               David Smullen -#13803
 SF  That Which Is Different, Chaps 10-12, Revised  Cathy A. Chance -#13804
 H   Table Thirteen                     Stephen Owen -#13805
 F   Last Fare                          Adam La Rusic -#13806
 F   The Holy Dragon Part One           Kimberley King -#13807
 SF  Just Ask Joan                      Joe Heckman -#13808
 SF  Night of the Cheese Moon           Michael Anthony -#13809
 SF  Mokker                             Martin Belderson -#13810
 H   Calories                           Cory N. Calo -#13811
 F   Keepers of the Earth. Chapters 10-12  Maria Rieske -#13812
 F   The Invasion                       Seth Z. Herman -#13813
 F   Regret                             Jonathan Thompson -#13814
 SF  Transhuman                         Curtis Jewell -#13815
 F   An Airship Out Of Time - Part One  Steven Ginty -#13816
 F   Queen's Justice, Chapters 0-1      Deborah K. White -#13817
 SF  The Inside Advantage               Tamsyn Campbell Blanchard -#13818
 SF  The Eyes of Infistar, Chapter One  Michelle Bottorff -#13819
 SF  Planet's End                       Lanna Crucefix -#13820
 H   Letter to a Mentor                 Joseph Lewis Szabo III -#13821
 H   The Damned and Damnation           Toni Stauffer -#13822
 F   THE SHINING ROAD PART 1            Van Middleton -#13823
 F   Paragon -- P-2                     Shannon Celebi -#13824
 F   Blue                               Stuart Wakefield -#13825

Week of 11-Apr-2007 (Crits due 18-Apr-2007):
 F   Slugfest                           [mpc] Martin Belderson -#13826
 F   Egyptian Air                       [mpc] Juliet Ruiz -#13827
 SF  Cabin Fever                        Doc Finch -#13828
 SF  The Placebo Effect                 [@] Richard K. Lyon -#13829
 F   Digging for Paradise               Ian Creasey -#13830
 F   The Hollow Curse                   Stephen B. Pearl -#13831
 F   Here Be Dragons                    Michael Bennett -#13832
 F   Panic                              Douglas Ryan -#13833
 F   The Crimson Claw                   Barbara Davies -#13834
 H   In a Fall of Sunset Light          Hazel Ong -#13835
 F   SHATTERED - Chapters 1 to 4        Cary A. Conder -#13836
 SF  The Two Moons over Terra           Marty Koppert -#13837
 SF  Rip Cord                           Terry Larson -#13838
 F   Swordsman of the Guard             Kristin Janz -#13839
 H   Hold Me                            Brett Cryer -#13840
 SF  Eee                                Jonathan C. Gillespie -#13841
 F   Stranger Than Fiction              Dennis R. Upkins -#13842
 H   Piranhas - Chapter 2               Gerard Brennan -#13843
 F   The Queen of the Tor Shee          Sherry Thompson -#13844
 SF  A Short Future History             L. L. Breaux -#13845
 F   Bonds of Blood and Iron            Mark Spezzano -#13846
 F   Amethyst, Chapters 1-4             Katie Lovett -#13847
 SF  A Photograph on a Bridge           Jonathan J. Schlosser -#13848
 H   Thank the Sea                      Dawn Walls Thumma -#13849
 SF  A Wager in Time                    Dominic J. Spinella -#13850
 F   Darissa, Chapter 1                 Eve Nielsen -#13851
 F   The Hunt, Ch 1-2                   William R. Stott -#13852
 SF  Kissing Cousins                    Mark P Knowles -#13853
 F   RPGs: Chapter 1                    H. Earl Wilkinson -#13854
 F   The Blood of Es, Chapters 1-2      Richard Brenton -#13855
 H   The Unearthly Delta Flight         Mike Hughes -#13856
 F   Lost and Found                     Alicia Ryan -#13857

Week of 18-Apr-2007 (Crits due 25-Apr-2007):
 SF  Conversations                      [mpc] Steven Davidian -#13858
 F   The Goblin Hunter and the Apprentice  [mpc] Jeff Stehman -#13859
 F   Dead May                           [mpc] Christopher Kastensmidt -#13860
 F   Traitor's Blade: A Fell Tale, Chapter 1  [mpc] James McTeer -#13861
 F   Mud is Thicker than Water          [mpc] Adam Schwartz -#13862
 SF  Greenwich Nasty Time               Carl Frederick -#13863
 H   King Neptune                       Nerine Dorman -#13864
 F   The Nigerian Princess and the Nerd  [@] Larry Hodges -#13865
 F   Milo...necklace episode 4          Kemper Green -#13866
 F   LR: China Jia Day 1                Pattie Lawler -#13867
 SF  The Beta Model                     Christian Roberts -#13868
 SF  A Taste of Enceladus               Robert C.A. Goff -#13869
 H   Mordant Schism part two            Vicki Lockwood -#13870
 SF  The Betrothed                      Mark Suplinskas -#13871
 F   Accidental Hero                    Tony Williams -#13872
 SF  Fred at Barius 4                   Bill Berry -#13873
 SF  Simeio                             Jess Harris -#13874
 SF  The Deep End                       Benjamin Crowell -#13875
 H   The Trip of Disaster               Nicole Andrews -#13876
 H   Nicor                              Matthew Wallace Quinn -#13877
 F   Children of Angels, Chapter 1      Richard Windle -#13878
 F   Savant                             David Owen -#13879
 F   What the Wind Knew                 Leah Cypess -#13880
 SF  Blind Pigs                         John C. Waugh -#13881
 F   Elspeth and Earthcoin              Regina R. Patton -#13882
 F   Flyboy                             Paige Roberts -#13883
 H   The Dagger                         Joe Feehan -#13884
 SF  Schadowlost, Chapters 1-2 ReWrite  Jeremy I. Fagergren -#13885
 F   Rainfall Chapter 1                 Amy Treadwell -#13886
 SF  The Geiger Conspiracy              J.M. McKeel -#13887
 SF  Lust for Learning                  Wendy Waring -#13888
 F   The Boy Who Cried Wolf             Sherri Jordan-Asble -#13889
 H   Patty Cramer                       Chris Poore -#13890
 SF  The Final Test                     David Pontier -#13891
 F   Fox Song                           Elen Sentier -#13892
 F   Tomorrow Bygone, Chapter 1         Omer Roney -#13893

Week of 25-Apr-2007 (Crits due 2-May-2007):
 SF  Heavens Sword                      [mpc] Adam Colston -#13894
 SF  Indestructible, chapters 1 & 2     Fred Obermeyer -#13895
 F   Dragonfire and Time                Mary Catelli -#13896
 F   Fire Burning Brightly              Chuck Rothman -#13897
 H   Where Blind Men See                Vanessa Dyer -#13898
 SF  A Floccinaucinhilipilificatious Life  Richard S. Levine -#13899
 H   Werewolf Hunter, part 1            tsi -#13900
 F   40 Years                           Joseph Swope -#13901
 H   StG3                               Rick Farnsworth -#13902
 SF  Vicesteed, Chapters 3-4            Abra Staffin Wiebe -#13903
 H   Night Walker                       Annette Hamilton -#13904
 F   Ranixcalun Chapters 26, 27 and 28  Samuel E Martens -#13905
 F   The Valise                         Jennifer Scaringe -#13906
 SF  Time Warped Ch 1 & 11              Richard Pinkerton -#13907
 SF  The Education of Prosperity, Prologue and Ch. 1  Matthew Carey -#13908
 F   Searching for Simple               Chad Weiss -#13909
 SF  Silicon Tarot                      Charles Diaz -#13910
 SF  Aquarium World                     Michael Jacobs -#13911
 SF  Chapter Three of Dark Nights of Unity (Tolgon Chronicles, Book One)  Brian Lee Anderson -#13912
 SF  Don Rockwell, Space Adenturer      Duncan McNair -#13913
 F   After the War                      H. Nathan Wilcox -#13914
 F   A Wizard's Fate                    Christopher E Stockdale -#13915
 F   Rogues of the Black Fury, Chapters 1-3  Travis Heermann -#13916
 F   Snakehead                          Creppy -#13917
 SF  The Corrupting Influence of Power  Simon Frayne -#13918
 H   Bring Out Your Dead                Chris Aylett -#13919
 SF  Legacy                             D.H.Duigou -#13920
 F   Tut's Pen                          KK -#13921
 H   Touchy Timmy                       Kody Boye -#13922

Week of 2-May-2007 (Crits due 9-May-2007):
 H   STG5 The fight at Maria's          [mpc] Rick Farnsworth [?] -#13923
 H   Do You Love Me?                    [mpc] Jess Harris -#13924
 SF  Story Package                      [@] Richard K. Lyon -#13925
 SF  Blood Street, Chapter 1            Carl Alves -#13926
 SF  Promo Video                        Derek Robinson -#13927
 SF  That Which Is Different, Chaps 13-15, Revised  Cathy A. Chance -#13928
 F   Betrayal of the Majestic           Kimberley King -#13929
 SF  The Sober Pill                     Jay Werkheiser -#13930
 F   Return to Altarra, Chapter 4       Roger Thibault -#13931
 SF  Genotypes                          Daniel P. Swenson -#13932
 SF  The Altar                          Sarah E. Wright -#13933
 H   Unfair Judgment                    Cheryl McCreary -#13934
 F   Curiosity Killed the Fairy         Michael Cain -#13935
 H   Blood 2: The Unforgiven, Unit 3    Eric J. Juneau -#13936
 SF  A Leap Of Faith                    Ian Bott -#13937
 F   The Flutter of Gossamer Wings      Robert J. Grieve -#13938
 F   Concerning the Reynards            Jonathan Thompson -#13939
 F   A Grasshopper's Honor              Sarah L. Edwards -#13940
 SF  Javier's Favorite Ride             Lanna Crucefix -#13941
 SF  The Day the Martians Died          Anna Berlin -#13942
 H   Safe House                         Justine Jones -#13943
 SF  Named in Blood                     William David Ward -#13944
 H   The Blog                           Howard Baird -#13945
 SF  The Inventor                       Shawn Turner -#13946
 F   High Moon chapters 1-3             Bo Balder -#13947
 F   Villenspell: City of Wizards, Chapter 2  Kelly Christiansen -#13948
 SF  Sowing the Seeds                   Elizabeth Fernandez -#13949
 F   Where the Sun Don't Shine          Jeff Parish -#13950
 H   Papa was a Gypsy                   Shannon Celebi -#13951
 F   Mad Mab                            Amy R. Case -#13952

Week of 9-May-2007 (Crits due 16-May-2007):
 SF  Single Family Residence            [mpc] Benjamin Crowell -#13953
 SF  The Prodigal's Return              Laura Shrake -#13954
 F   For the Love of Baseball           [@] Larry Hodges -#13955
 SF  A Weatherman's Best Friend         Chris Owens -#13956
 SF  A Trip to Lagasy                   Barbara Davies -#13957
 SF  Implac Chapter one                 Zvi Zaks -#13958
 F   Heather Berry                      Michael Stone -#13959
 SF  Edge of Time - Chapter 1           David Smullen -#13960
 H   Pity for Lena                      Frank Dutkiewicz -#13961
 H   Honour Bound                       Brett Cryer -#13962
 F   Hook Evaluations for A Rumor of Dragons  Michael A. Heald -#13963
 SF  In the Beginning                   Seanna Catron -#13964
 F   The Goblin Astronomer              Julia Rose -#13965
 SF  The Impostor. Chapter 1            Georgia Rosamunde March -#13966
 H   Piranhas Chapters 3 & 4            Gerard Brennan -#13967
 SF  Dearly Departed                    Dennis R. Upkins -#13968
 SF  Seibel's Discovery                 Dominic J. Spinella III -#13969
 SF  The Sojourner's Voice              Bob Robertson -#13970
 SF  Hot Chocolate Rocket               Martin Belderson -#13971
 SF  Reign                              Justin O'Leary -#13972
 SF  Peace Legs                         Todd Wheeler -#13973
 SF  I Want a Mechanical Echidna        meika loofs samorzewski -#13974
 SF  Like Ghosts Through Time           Stephen L. Moody -#13975
 SF  Salmon Bait                        Lizzie Newell -#13976
 F   Thank You for Shopping at Woolworth's - Chapter 1  Amy Carlisle -#13977
 F   Once in a Blue Moon                Lynda Shoemaker -#13978
 SF  the road to hell                   Mark P Knowles -#13979
 F   Cross Archipelago                  Michael Greenlese -#13980
 F   Demons' Night Off                  Shiloh Carroll -#13981
 SF  Under the Ice: Part I              Tim Donlan -#13982
 F   The Soul List                      Mike Rimar -#13983

Week of 16-May-2007 (Crits due 23-May-2007):
 F   Three Flashes                      [mpc] Bill Siderski -#13984
 H   Being Sullivan Brown               [mpc] Rick Farnsworth -#13985
 SF  The Jippawa Solution               [mpc] Sean Davis -#13986
 F   Lake of Bones                      Rhonda Wright -#13987
 SF  What Drives Cars                   Carl Frederick -#13988
 F   Cat's Paw                          Nerine Dorman -#13989
 F   LR: China Yi Day 2                 Pattie Lawler -#13990
 SF  Odd Jobs                           Josh Vogt -#13991
 SF  I'll See You In a Few Thousand Years  Christian Roberts -#13992
 SF  Endurnace                          Mark Suplinskas -#13993
 F   Dead Hour Deliverance              R. Jason Benson -#13994
 F   Visiting Mermaids                  Nicole Andrews -#13995
 F   A Disruption of Time               Christopher Kastensmidt -#13996
 F   Sir Lamorack and Jane the Dragon   Bill Berry -#13997
 SF  Days in the Shade                  Bill Patterson -#13998
 H   Blood on the Moon Chapter 1 & 2    Stephen Smith -#13999
 F   Release                            Tony Williams -#14000
 SF  Expiration Date                    Michelle I. Mitchell -#14001
 H   The Reals                          Jonathan J. Schlosser -#14002
 SF  Rodent in the Sun                  Michael Savastano -#14003
 F   A Sacrifice of Love                Richard Windle -#14004
 F   Savante                            David Owen -#14005
 H   Out of His Mind                    Kami Savage -#14006
 F   Cursed?                            Elen Sentier -#14007
 H   Till Death Do Us Part              David Seiter -#14008
 SF  Phases of the Moon                 J. M. McKeel -#14009
 F   Manda Lynn                         Amy Treadwell -#14010
 F   The Shepherd of Dream, Chapters 5-8  Lori Phillips -#14011
 SF  Emergence, Book 1: Paths of Fate   G. W. Ellis -#14012
 SF  Green Glass                        Sandra E. Lefteruk Watson -#14013
 F   muse                               Wendy Waring -#14014
 SF  The Checkup                        Paul Thompson -#14015

Week of 23-May-2007 (Crits due 30-May-2007):
 H   One                                [mpc] Jason Hauser -#14016
 F   Song of Wisdom's Release, Chapters 1-2  [mpc] Heather Pine -#14017
 SF  Woomonster                         [mpc] Jess Harris -#14018
 F   The Test                           [mpc] Adam Colston -#14019
 F   Kingdom Under Stone                Wanda Mooney -#14020
 SF  Raiders of the Ballot Box          [@] Larry Hodges -#14021
 SF  Time Warped Ch 3,7,9               Richard Pinkerton -#14022
 H   First Light, Chapters 1-3          Mik Bennett -#14023
 SF  Mayday                             Vanessa Dyer -#14024
 H   Werewolf Hunters part 2            tsi -#14025
 F   SHATTERED Ch 5-8                   Cary A. Conder -#14026
 H   Butchered for Love                 Mike Morell -#14027
 SF  Vicesteed, Chapters 5-6            Abra Staffin Wiebe -#14028
 F   Ranixcalun Chapters 29, 30 and 31  Samuel E Martens -#14029
 H   Hide and Seek                      Annette Hamilton -#14030
 F   Grayrider                          Connor Moran -#14031
 H   Drifter                            Adam Colston -#14032
 F   Destiny's Heir                     Chad Weiss -#14033
 F   A Murder of Wizards                Brad Lange -#14034
 F   People of the Sea                  H. Nathan Wilcox -#14035
 H   Magic Carpet Ride                  Duncan McNair -#14036
 F   Simply Mr. Amazing                 Thomas McElwee -#14037
 F   RPGs: Chapter 2 "And What Happened After  H. Earl Wilkinson -#14038
 SF  The Cleaner                        Chris Aylett -#14039
 F   The Sorcerer's Hex                 Eric L. Johnson -#14040
 F   Sixty-One Nails, Chapter 1         Mike Rumfitt -#14041
 SF  Heart of Chaos, Chapter 1          Veronica Pehrson -#14042
 SF  Red and Green                      Xao Thao -#14043
 H   An Eye for an Eye                  Sarah J. Hashmi -#14044
 F   Death On The Doorstep              Charity VanDeberg -#14045
 F   The Singing Trees Grow Silent, Prelude & Chapter 1  Brad White -#14046
 F   The Wave                           Laura Hawbaker -#14047
 H   We. They.                          [@] Dave Hoing -#14048

Week of 30-May-2007 (Crits due [*] 27-Jun-2007):
 H   Feeding Women                      [mpc] Tarl Roger Kudrick -#14049
 SF  Heaven's Gate                      [mpc] Sean Davis -#14050
 SF  Astra                              [mpc] Connor Moran -#14051
 F   Black Hole Witch                   [mpc] Paul Comstock -#14052
 SF  Gendered Time                      Fred Obermeyer -#14053
 SF  The Placebo Effect                 [@] Richard K. Lyon -#14054
 H   My Kingdom                         Carl Alves -#14055
 SF  Singularity                        [@] Larry Hodges -#14056
 F   Milo Scarlet...epsiode 5           Kemper Green -#14057
 F   After the Wedding                  Melissa Hollingsworth -#14058
 F   Spirit of the Glade                Barbara Davies -#14059
 F   Heather Berry                      Michael Stone -#14060
 F   From One Beast To Another          Cath Haftings -#14061
 SF  Beyond Dreaming                    Terry Larson -#14062
 F   The Hungry Ghosts                  Kristin Janz -#14063
 F   Just My Imagination                Stephen Owen -#14064
 SF  The Snows of Earth                 Michael A. Heald -#14065
 SF  Conversation With A Therapist      S P Wilcock -#14066
 SF  Reproducibility                    Benjamin Crowell -#14067
 SF  The Museum Gate                    Bruce Horner -#14068
 SF  The Plum Pudding Paradox           Jay Werkheiser -#14069
 SF  Survival of the Species            Mic Vening -#14070
 F   Return to Altarra, Chapter 5       Roger Thibault -#14071
 F   Vision from the Planes of Hotness  Seanna Catron -#14072
 F   Marked for Eradication             J Highkin -#14073
 F   The Predator Trap                  Simon Cooper -#14074
 SF  Hit                                Michael Cain -#14075
 F   Spears and Sand                    Katie Lovett -#14076
 SF  The Ghost of Goodman Hall          Mike O'Connell -#14077
 H   The Unforgiven (unit 4)            Eric J. Juneau -#14078
 F   The Legend of Wolfscar             Jonathan Thompson -#14079
 SF  Abductee Insurrection Chapters 1 & 2  Stephen L. Moody -#14080
 SF  An Eye For An Eye, chapters 1-2    Ian Bott -#14081
 F   The Map in the Attic               Jamie Killen Stoops -#14082
 SF  The World According to Shirley     John C. Waugh -#14083
 SF  The Duality                        E. K. Hill -#14084
 F   Schade's Betrayel, Chapter 1       Jeremy I. Fagergren -#14085
 SF  That Long Black Train              Travis Heermann -#14086
 H   Stones                             Justine Jones -#14087
 F   Once in a Blue Moon, Chapter 3     Lynda Shoemaker -#14088
 F   Of Bones and Blades                Jeff Parish -#14089
 F   Thank You For Shopping at Woolworth's - Chapter 2  Amy Carlisle and Lynda Shoemaker -#14090
 SF  B-Flat                             Elizabeth Fernandez -#14091
 H   Isolation                          Howard Baird -#14092
 F   Stone Mountain                     Shiloh Carroll -#14093
 SF  A Ghost Among the Machines         Ben Sandler -#14094
 H   The Birthday Girl, Chapter 1       James R. Kristofic -#14095
 F   Another Revolution                 Chris Pipkin -#14096
 F   Alive in Dreams                    Amanda Joseph -#14097
 SF  Vigilant                           Mike Rimar -#14098
 SF  Salt Swimming                      Sonia Helbig -#14099
 F   The Dragon, the Princess, the Thief & the Wizard  [@] Steven Swiniarski -#14100
 F   Daisho                             Daniel Howard -#14101
 F   Ikarias Half-Dragon, Book 2, Soul Teind  Pamela A. Lord -#14102
 H   Untitled Vampire Story             Craig Alan Roberts -#14103
 SF  Apogees                            Benjamin Shank -#14104
 F   On the Bus                         Tim Ramey -#14105
 SF  Cajun Juice                        Alan Oak -#14106
 H   Loser                              L. Johnson -#14107
 SF  Control                            James King -#14108
 H   The Walk Home                      Andrew Warren -#14109
 SF  Twenty-First, Dawn Sets In Hell    Martin Willén -#14110

Week of 27-Jun-2007 (Crits due 4-Jul-2007):
 SF  Alienated                          [mpc] Melissa Hollingsworth -#14111
 F   Almost Infamous                    [mpc] Colleen Sinclair -#14112
 F   Tigers Eye Chapter 1               [mpc] Brenton Tomlinson -#14113
 SF  Finalizing History                 [@] Richard K. Lyon -#14114
 SF  The Exoanthropic Principle         Carl Frederick -#14115
 F   Ghosts of Cretaceous Park          [@] Larry Hodges -#14116
 F   The Deadliest Wizard, Chapters 1-2  [@] Chuck Rothman -#14117
 H   STG5 The fight at Maria's II       Rick Farnsworth -#14118
 F   Panic                              Douglas Ryan -#14119
 H   Gina's Hammer                      Christian Roberts -#14120
 F   The Alchemist's Daughter           Kari Naso -#14121
 F   The Call                           David Smullen -#14122
 SF  Listening to the Past              Christopher Kastensmidt -#14123
 SF  First Contact with the Griiph or a series of random co-incidences with repurcussions. just like regular history working title suggestions welcome  Bill Berry -#14124
 H   Meet Narvu                         Nicole Andrews -#14125
 H   The Price of Knowledge             Brett Cryer -#14126
 SF  Antibiosis, Part I (of two)        Robert Philbrook -#14127
 F   Drake Chapter Twenty One           Kimberley King -#14128
 H   Piranhas Chapter 5                 Gerard Brennan -#14129
 H   Happy Heads Incorporated           Michael Anthony -#14130
 F   Trees in the Forest                J.M. McKeel -#14131
 F   Blood on the Moon resubmission     Stephen Smith -#14132
 SF  Mars' Gift                         Jonathan J. Schlosser -#14133
 SF  Requiem for a Thief                David Owen -#14134
 H   Downtown                           Elen Sentier -#14135
 F   Rainfall                           Amy Treadwell -#14136
 SF  Emergence, Chapters 4-6            G W Ellis -#14137
 F   Dragon Lore chapter 1-2            Shelly Roberts -#14138
 F   Child of Darkness: Slaughterhouse  David Dawkins -#14139
 F   Two Rituals                        Chris Keating -#14140

Week of 4-Jul-2007 (Crits due 11-Jul-2007):
 F   Conquistador                       [mpc] Jesse Emspak -#14141
 H   Succumbing to gravity six          [mpc] Rick Farnsworth -#14142
 F   Winter Dreams, Chapters 1-2        [mpc] Dora McNew-Clarke -#14143
 F   Raven's Gift, Chapter 3            [mpc] Tobias D. Robison -#14144
 F   The Will of Taurus                 [mpc] Greg McNutt -#14145
 H   An Intimate Connection             [mpc] Adam Colston [?] -#14146
 H   Burgeoning Trust                   [mpc] Craig Davis -#14147
 SF  The Way of the Peacemaker          [mpc] Boris Layupan -#14148
 SF  Project Wolfbane                   Rhonda Wright -#14149
 SF  Sir John                           [@] Richard K. Lyon -#14150
 SF  Beltway                            [@] Larry Hodges -#14151
 SF  Uninhabitable                      Vanessa Dyer -#14152
 SF  Implac chapter 2                   Zvi Zaks -#14153
 F   Protector of the Realm             Frank Dutkiewicz -#14154
 H   The Exhibit                        Annette Hamilton -#14155
 SF  Repent                             Brent W. York -#14156
 SF  An Empty Kind Of Love              Adam Colston -#14157
 SF  Resurrection Trust                 Brian Burt -#14158
 F   Mirra Discovered, Chapters 3-4     Scott MacHaffie -#14159
 F   The Pugilist                       Chad Weiss -#14160
 SF  Body Hoppers                       Justin O'Leary -#14161
 SF  Descent into Darkness              David Seiter -#14162
 F   A Real Bummer                      Robert Fenhagen -#14163
 F   Wards of the Troll Tree            John Olsen -#14164
 H   The Evil in the Swamp              Brian Norquist -#14165
 H   Underground                        Duncan McNair -#14166
 F   The Singing Trees Fall Silent, Chapters 2-3  Brad White -#14167
 H   Water Bleeds - Chapters 1 and 2    Brian Freyermuth -#14168
 SF  Rygar's Hope, Prologue & Ch1       Gabriel Conlon -#14169
 SF  Kinetic                            Eric Polk -#14170
 SF  Heart of Chaos, Chapter 2-3        Veronica Pehrson -#14171
 SF  The Inheritors                     J.R.Willard -#14172
 F   The Marbles                        Nandini Bapat -#14173
 H   Legion of the Dead                 Jason Shayer -#14174
 SF  The Boy with Green Eyes, Chapters 1-2  Thomas Bolme -#14175
 SF  A Head Like a Hole                 Joshua Allen -#14176

Week of 11-Jul-2007 (Crits due 18-Jul-2007):
 H   Dougie's Hand                      [mpc] Rick Farnsworth -#14177
 F   Raven's Gift -- RFDR (RDR)         [mpc] Tobias D. Robison -#14178
 SF  Calagonia: Servant to an Empire, Chapters 1-2  [mpc] Lindy Winter -#14179
 F   The Horned Toad in the Hubcap      [@] Joe Murphy -#14180
 SF  Finalizing History                 [@] Richard K. Lyon -#14181
 F   Over the Sea to Me                 Mary Catelli -#14182
 F   Jerra's Revenge                    Nerine Dorman -#14183
 SF  Nurturing Nature                   David Miles -#14184
 F   Seven Free To Roam                 Wanda Mooney -#14185
 F   The Hollow Curse                   Stephen B. Pearl -#14186
 F   Warrior's Duty                     Jeanne Tomlin -#14187
 SF  Father Of Many                     Chris Owens -#14188
 SF  Werewolf Hunters part 3            tsi -#14189
 F   Shattered, Chapters 9 - 12         Cary A. Conder -#14190
 F   Perched                            Erin Woods -#14191
 F   Ranixcalun Chapters 32, 33 and 34  Samuel E Martens -#14192
 SF  How Many Humans Does It Take       Adam La Rusic -#14193
 H   Sandar City                        David Seigler -#14194
 SF  Woomonster                         Jess Harris -#14195
 F   The Great Game Chs 1,2,3           Michelle I. Mitchell -#14196
 H   Swan                               Paddy Howard -#14197
 F   Idyll, Chapter1                    Ronald Hurst -#14198
 F   Darissa, Chapter 1                 Eve Nielsen -#14199
 F   Athens Holds My Heart and Soul     Alexandra Ceely -#14200
 SF  Draft Notice                       Don Oestreicher -#14201
 SF  Chapter One, Take Two              Jacob Burt -#14202
 SF  The Hunting Trip                   Simon Frayne -#14203
 F   Wyrd, Chapters 1-2                 Julianne Foster -#14204
 H   The Lighted Window                 Mark Silcox -#14205
 SF  The Immortal Cartographer, Chapter 1  Andrew Fickert -#14206
 SF  The Adventure                      Douglas A. Schwan -#14207

Week of 18-Jul-2007 (Crits due 25-Jul-2007):
 F   Stealing Thunder                   [mpc] Colleen Sinclair -#14208
 F   Regnants Prologue & Chapter One    E N Nwokeji
 F   The Aellytes                       [mpc] Veronica Pehrson -#14210
 F   Flannery's cab - Running Home      Barbara Bates -#14211
 SF  A Past Best Forgotten              Richard Pinkerton -#14212
 H   By Death's Early Light, Chapters 1-3  Mik Bennett -#14213
 SF  Smart Women & the Neanderthal Blues  Norm Gillespie -#14214
 F   On the Map                         Adam Bales -#14215
 SF  The Grand Conversation was Under the Rose  Sheri Fresonke Harper -#14216
 SF  Vicesteed, Chapters 7-8            Abra Staffin Wiebe -#14217
 H   The Thing In The House             Lawrence Vernon -#14218
 F   A Tale of Krith: A Chill in the Air  David Rodoy -#14219
 SF  Gabriel's Hounds                   Sharon Trimmer -#14220
 F   My Demon Lover, chs 1-2            Christine Rayne Hall -#14221
 H   The Run                            H. Nathan Wilcox -#14222
 SF  Spurling's Virus                   Michael Savastano -#14223
 H   Possession                         Richard Windle -#14224
 F   Looking For Something              Joe Feehan -#14225
 F   The Ghost at the Western Wall Chapter 1  Leah Cypess -#14226
 SF  Incorruptible                      Rhonda Porrett -#14227
 SF  Superhero Nation: Foreword and Chapter 1  Brian McKenzie -#14228
 F   Through the Forge's Fire (prolo and ch-1)  Dustin A. Barnett -#14229
 F   Summer Vacation                    Ron Erkert -#14230
 SF  The Interstellar Mushroom Salesman  Rob Halverson -#14231
 SF  Fire Drill                         David Hamilton -#14232
 SF  The Colonization of Day            Nancy Fulda -#14233
 SF  Dystopia                           nadin abbott -#14234
 SF  Communique 132                     Rupert Merkin -#14235

Week of 25-Jul-2007 (Crits due 1-Aug-2007):
 H   Dance with Evil                    [mpc] Vanessa Dyer -#14236
 F   Heirs of Winter                    [mpc] Katie Lovett -#14237
 H   Blood Street, Chapter 2            Carl Alves -#14238
 F   Milo Scarlet...Hostage             Kemper Green -#14239
 F   A Mention of Death                 J. Kathleen Cheney -#14240
 SF  Phadder's Sins                     Sean Davis -#14241
 SF  Testimony Expunged                 Michael A. Heald -#14242
 SF  The Feather                        S P Wilcock -#14243
 F   The Politics of Those Who Tame Demons  Karen -#14244
 SF  Spoils of a Distant War            Roger Thibault -#14245
 F   Protection                         Simon Cooper -#14246
 H   The Unforgiven (unit 5)            Eric J. Juneau -#14247
 SF  Interruption                       Steve Donnelly -#14248
 SF  Abductee Insurrection Chapters 3 & 4  Stephen L. Moody -#14249
 SF  Needle's Eye, Chapter 1            Jim Stewart -#14250
 H   The Shooting Way                   James R. Kristofic -#14251
 F   Rogues of the Black Fury, Chapters 4-6  Travis Heermann -#14252
 H   From the Closet                    Linda Lindsey -#14253
 SF  Sowing the Seeds (Version 2.0)     Elizabeth Fernandez -#14254
 F   Small Thinking                     Jeff Parish -#14255
 F   Demons' Night Off                  Shiloh Carroll -#14256
 H   Thirteen Tales of Twenty Seven Americans  Chris Aylett -#14257
 SF  Twenty First                       Martin Willen -#14258
 H   The Gleniffer Vampires             Chris Collins -#14259
 H   When Ragen Comes                   L. Johnson -#14260
 F   Untitled, Preface and Chapter 1    Darren Bellisle -#14261
 SF  A Light in the Sky, Prologue-Chapter 3  Russ Colson -#14262

Week of 1-Aug-2007 (Crits due 8-Aug-2007):
 F   Spirit of Springtime               [mpc] Dal Jeanis -#14263
 SF  Ferrule                            [mpc] Steven Davidian -#14264
 SF  Calagonia: Servant to an Empire Rev (Prologue-Ch2)  [mpc] Lindy Winter -#14265
 F   Regnants Chapter 1                 [mpc] E Nwokeji -#14266
 SF  Covering All the Bases             Arthur Dorrance
 SF  The Heights of Memory              Fred Obermeyer -#14268
 H   The People Across the Street       Gary J Beharry -#14269
 SF  Ga-Ga for Dog-Face                 Christian Roberts -#14270
 SF  EULA                               Brenton Tomlinson -#14271
 SF  Lunar Sales Pitch                  Bil Berry -#14272
 F   Doors                              David Smullen -#14273
 H   Hungry Streets                     Brett Cryer -#14274
 H   The Bristle Worm                   Stephen Owen -#14275
 SF  The Food Police                    Lara Frater -#14276
 SF  Antibiosis, Part 2(of two)         Robert D Philbrook -#14277
 SF  Ghost of my Past                   Tabatha Schroeder -#14278
 SF  The Stone must be Stained          meika loofs samorzewski -#14279
 H   Failing St. George                 J.M. McKeel -#14280
 F   Credit Card Debit/Raven            Seanna Catron -#14281
 F   First Casualty of the Fairy Wars   David Owen -#14282
 H   Big Wheel Keep on Turning          Elen Sentier -#14283
 SF  The Last Atheist                   Daniel Howard -#14284
 F   The Tree of Life and Death         Jonathan Hudson -#14285
 F   Hardcore                           Mike Rimar -#14286
 F   The Chaser, Chapter 1              Christina Marshall -#14287
 SF  Crown of Thorns                    Sonia Helbig -#14288
 SF  World of the White Wind            Benjamin Shank -#14289
 H   A Change of Profession             Michael Haynes -#14290
 F   Redeem the Fallen, Chapters 1 - 3  Jackie White -#14291
 SF  Graffito                           Michael Savisky -#14292
 F   Better Living through Checmicals   Bryce Albertson -#14293

Week of 8-Aug-2007 (Crits due 15-Aug-2007):
 SF  Wroids                             [mpc] Frank Dutkiewicz -#14294
 F   Hush Money                         [mpc] Colleen Sinclair -#14295
 H   Too Late The Rain                  [mpc] Brenton Tomlinson -#14296
 SF  Severed Dreams                     [mpc] [mpc] Jerry Gordon -#14297
 F   Barbara Bloodbath                  [@] Chet Gottfried -#14298
 F   The Labyrinth's Reply: China Day 2  Pattie Lawler -#14299
 F   Tales from Altarra: Eviction Notice  Frank Dutkiewicz -#14300
 H   The Killing Clock                  Annette Hamilton -#14301
 SF  God's RAM                          Brent W. York -#14302
 SF  A Lost Mind                        Adam Colston -#14303
 F   The Story of Nive                  Kimberley King -#14304
 F   Peddler's Ballad, Prologue         Merry Muhsman -#14305
 SF  Emergence, Chapter 1               Fiona Coward -#14306
 H   PIRANHAS Chapter 6                 Gerard Brennan -#14307
 F   Grunnen's Innocence                Chad Weiss -#14308
 F   All The Answers                    Jonathan Thompson -#14309
 SF  Sacrifice                          Jamie Killen Stoops -#14310
 F   Her Story                          Christopher Pfister -#14311
 SF  Einstein's Secret Dilemma          Mike O'Connell -#14312
 H   Refrigerator Blues                 Duncan McNair -#14313
 H   The Closer                         Jim Rion -#14314
 SF  Kayfabe                            Eric Polk -#14315
 H   Water Bleeds - Chapters 3 and 4    Brian Freyermuth -#14316
 SF  Fly                                Jenny Adams -#14317
 F   A Trip to the Theatre              Clive Catterall -#14318
 F   Howie and the Fireflies            Kieran Morgan -#14319
 F   Lord Giovanni's Daughter           Matthew W. Quinn -#14320
 F   A Council Of Angels                Jo Thomas -#14321
 SF  The Phaze Chronicles : Chapter 0,1  Stacey L Beach -#14322

Week of 15-Aug-2007 (Crits due 22-Aug-2007):
 SF  Coeur de Lion                      [mpc] Dora McNew-Clarke -#14323
 SF  Help                               [mpc] Tabatha Schroeder -#14324
 F   Undead Social Services             Hank Quense -#14325
 F   Hot Chocolate Kiss                 Carole Ann Moleti -#14326
 H   Medusa, An Ancient Tale of Murder  Rhonda Wright -#14327
 SF  Island in the Sky, Part 1          [@] Richard K. Lyon -#14328
 SF  The Dragon's Cottage               Mary Catelli -#14329
 F   Parasomnia, Chapter 1              Josh Vogt -#14330
 H   STG7                               Rick Farnsworth -#14331
 F   Panic                              Douglas Ryan -#14332
 H   Werewolf Hunter part 4             tsi -#14333
 F   Whims Of A Goddess                 Sandra Panicucci -#14334
 F   Raven's Gift, the beginning -- RFDR  Tobias D. Robison -#14335
 F   Ranixcalun Chapters 7and 8         Samuel E Martens -#14336
 SF  Thanksgiving Day                   Jay Werkheiser -#14337
 SF  Shipping the Ghosts                Regina Patton -#14338
 F   The Witch's Cage                   Adam Schwartz -#14339
 SF  Market Forces                      Kevin N. Haw -#14340
 F   Darissa, Chapter 2                 Eve Nielsen -#14341
 F   Blue Forests                       Chrissa Sandlin -#14342
 F   Athens Holds My Heart and Soul, Ch. 2  Alexandra Ceely -#14343
 F   Don't Trust the Trees, Part One    Chris Pipkin -#14344
 SF  Crital Mass                        John Andrews -#14345
 H   The Dunkirk Horror, Prologue and Chapters 1-3  Rudy Krall -#14346
 F   Wyrd -- Chapters 1-2               Julianne Foster -#14347
 SF  Twist, Chapters 1-2                Nicholas Ambrose -#14348
 H   The Rope                           Laurie Colson -#14349
 SF  Shredder                           Devin Moberg -#14350
 SF  Miles From Nowhere                 Madge E. Miller -#14351
 SF  The Collective                     Ashley Waldron -#14352

Week of 22-Aug-2007 (Crits due 29-Aug-2007):
 H   Saving Dad                         [mpc] Jason Hauser -#14353
 SF  Superhero Nation, Chapter 2: Only Human  [mpc] Brian McKenzie -#14354
 F   Regnants Chapter 2                 [mpc] E Nwokeji -#14355
 SF  Island in the Sky, Part 2          [@] Richard K. Lyon -#14356
 F   Trip to the City                   Richard J. Moura -#14357
 F   Dead-End High Ch 1                 Richard Pinkerton -#14358
 SF  Light Echo                         Richard S. Levine -#14359
 F   Heather Berry: a novel             Michael Stone -#14360
 SF  The Ystrelan Ambassador            Barbara Davies -#14361
 F   The Anonymous, Prologue and Chapters 1-2, RFDR  Lassiter Williams -#14362
 SF  Essin and the Gecko Shoes          Sheri Fresonke Harper -#14363
 F   The Jumpers of Red Hill Grange     Richard Windle -#14364
 SF  Heart of Chaos Chapters 4-5        Veronica Pehrson -#14365
 SF  Enmity                             Amanda Forrest -#14366
 SF  Thanks for the Memories            Don Oestreicher -#14367
 SF  Space Hiccups                      Allen Typhair -#14368
 F   Crushed                            Rhonda Porrett -#14370
 F   A Man, The Sea, Forever            Rupert Merkin -#14371
 SF  Backlash                           Nancy Fulda -#14372
 SF  Muphrid, Chapter 1, Owl            John Waterman -#14373
 F   Trip Hop                           David Taylor -#14374
 SF  Evolutus Libri, Chapter 1, The First Dream  William Edward Woodward III -#14375
 F   In the trees                       M. Kirk Rodgers -#14376
 F   Losing Control                     Robert A. Howard -#14377
 SF  The Blair Special                  Nancy G. Wahler -#14378
 SF  Paladin Conscript Chapters 1-2     Aundre Thompson -#14379

Week of 29-Aug-2007 (Crits due 5-Sep-2007):
 F   Graduation Day (Modern Magic #1)   [mpc] Melissa Hollingsworth -#14380
 F   Thug Life                          [mpc] Brian McKenzie -#14381
 F   Crown of Druthal, Chapter One      [mpc] Marshall Ryan Maresca -#14382
 SF  A Dog as Green as the Sky          [@] Joe Murphy -#14383
 SF  GALAXIES CONTROLLING FATE from THOUSANDS OF LIGHT-YEARS AHEAD  James H. Bauer -#14384
 F   Cold Fury                          Carl Alves -#14385
 SF  Island in the Sky, Part 3 of 3     [@] Richard K. Lyon -#14386
 H   Abandoned                          Vanessa Dyer -#14387
 F   Draco Infinitum                    Tom Williams -#14388
 H   Killings in Real Estate            Mike Morell -#14389
 F   Resub Yes Visiting Mermaids        Nicole Andrews -#14390
 SF  Hologram(s)                        S P Wilcock -#14391
 F   To Fail... Demon Master            Karen -#14392
 SF  Lost Dreams                        Roger Thibault -#14393
 F   The Cradel                         Brad Lange -#14394
 SF  TomPepsi Remains                   John O'Brien -#14395
 F   Avatar                             Eric J. Juneau -#14396
 SF  Signs of God                       James R. Kristofic -#14397
 H   Sandstorm                          Linda Lindsey -#14398
 F   A House Made of Diamonds           L. Johnson -#14399
 F   The Final Quarter, Prologue        Jeff Parish -#14400
 H   The Shepherdess                    Mark Rich Drost -#14401
 F   Rift Walker                        Claudia Korndoerfer -#14402
 F   Veritium                           Joshua Hugo -#14403
 SF  Swarm Mentality                    Russ Colson -#14404
 H   The Monk                           Chris Collins -#14405
 F   Strange Paths Chapter 1            Dan Mercer -#14406
 SF  Warriors heart                     Milly Decon -#14407
 H   The Last Haircut                   Jim Forrest -#14408
 F   Vampire Life                       Kristy Herron -#14409
 SF  A Distant Star                     Michael Webb -#14410

Week of 5-Sep-2007 (Crits due 12-Sep-2007):
 SF  The Dragon                         [mpc] Peter Lewicke -#14411
 H   Treasure on Treasure               Doc Finch -#14412
 F   The Man Who Spoke with Snow        Fred Obermeyer -#14413
 F   Judge Not                          [@] Richard K. Lyon -#14414
 H   Andraste's Blade                   Andrew Richardson -#14415
 F   Lost Chord, Secret Band            Norm Gillespie -#14416
 SF  Maiden Voyage of the S.S. _Heavenly Dreams_  Christian Roberts -#14417
 H   Honour Bound                       Brett Cryer -#14418
 SF  Last Contact                       Bill Berry -#14419
 F   The Rune Priest                    Paul Comstock -#14420
 F   Paper, Scissors, Stone             Robin Matheson -#14421
 F   Temple of Elatia                   Michael Anthony -#14422
 SF  Mind Creep                         Karl Hasselstrom -#14423
 H   The Ugly Vampire                   Seanna Catron -#14424
 SF  Sally Forth                        J.M. McKeel -#14425
 SF  The Weld                           Paddy Howard -#14426
 H   Jack's Jog                         Anne-Marie Haws -#14427
 SF  Violet                             Jim Stewart -#14428
 SF  Who is the Prisoner?               Elizabeth Fernandez -#14429
 F   Passing Thus Alone                 Shiloh Carroll -#14430
 SF  Blood Wives                        Elen Sentier -#14431
 F   Return of the Wolf                 Kendra Lusty -#14432
 SF  Graves                             Mike Rimar -#14433
 SF  The Council of Shadows             Craig Davis -#14434
 H   In Season                          Michael Haynes -#14435
 F   Fate's Choice                      Owen Nelson -#14436
 H   Universal Donor                    Bryce Albertson -#14437
 F   Faith and Paradise                 Sam Collins -#14438
 F   The Collected Memoirs of Leopold Basque: Chapters 1-2.  Mark Freeman -#14439
 F   The Scourging of Tanas Leen        Lane Haygood -#14440

Week of 12-Sep-2007 (Crits due 19-Sep-2007):
 SF  Broken Reality                     [mpc] Tabatha Schroeder -#14441
 F   The Gilded Platypus, Chapters 1-2  [mpc] Tracy Canfield -#14442
 H   Lead                               [mpc] Howard Baird -#14443
 SF  Saving Happily Ever After          [mpc] Annaliese Lemmon -#14444
 SF  Reinstituting Slavery              [@] Richard K. Lyon -#14445
 F   Barbara Bloodbath V2               [@] Chet Gottfried -#14446
 H   Publish and/or Perish              Roselyn Sulverman -#14447
 F   Shattered - Chapters 13-16         Cary A. Conder -#14448
 F   The Desert and the Darkness, Chapter 1  Aaron Franklin -#14449
 H   Sanitarium, Chapter 2              Lawrence Vernon -#14450
 SF  Still Life with Grave Juice        Jim Moss -#14451
 SF  Calagonia: Servant to an Empire Ch 3  Lindy Winter -#14452
 H   The Last Victim's Revenge          Simon Cooper -#14453
 H   Skinwalker, Prologue-Chapter 2     Matt Hults -#14454
 SF  First Head                         Steve Donnelly -#14455
 F   The Legendary Orb, chapter 0       Jetaun Frazier -#14456
 F   A Bright Lad                       Ronald Hurst -#14457
 SF  Stolen Prince: Chapter 1           Lucas Bowser -#14458
 F   Mrs Colhoun's Ant Problem          Chris Kerr -#14459
 SF  Selections                         Daniel Howard -#14460
 F   Fear Factor                        Kevin Anderson -#14461
 F   The Gallery                        John Alita -#14462
 SF  A Pinch of Salt                    Dave Frase -#14463
 F   A Shade Darker                     Adam Klugiewicz -#14464
 SF  Making the Leap                    Matthew Ruehlen -#14465
 H   Bad Dreams                         R. Scott McCoy -#14466
 SF  Corporate Play                     Christine Tursky -#14467
 F   Memories Of Ashes                  Martin Turton -#14468
 H   Muddy Water                        Adam R. Wilson -#14469
 SF  Hand of Redemption, Chapter 1      James B. Poindexter -#14470
 F   Return of the Shadow Lion, Chapters 0-3  Laurel Strong -#14471
 SF  Fire Roots                         Bob Robertson -#14472

Week of 19-Sep-2007 (Crits due [*] 3-Oct-2007):
 SF  The Tenses of the Day              [mpc] Fred Obermeyer -#14473
 H   Gina's Hammer (V.2)                [mpc] Christian Roberts -#14474
 SF  On Target                          [mpc] John Olsen -#14476
 F   Morality and Legality              [@] Richard K. Lyon -#14477
 F   The Princess Goes Into the Forest  Mary Catelli -#14478
 F   Kingdom Under Stone                Wanda Mooney -#14479
 F   LR China Day 2 Part 3              Pattie Lawler -#14480
 F   Burning Blood                      Jerry Miller -#14481
 F   Translator                         Kemper Green -#14482
 H   STG8                               Rick Farnsworth -#14483
 SF  Werewolf Hunters 5                 tsi -#14484
 SF  Hero of Venus - Ch 1               Zvi Zaks -#14485
 SF  Aircars                            Cathy A. Chance -#14486
 SF  Lost Potential                     Frank Dutkiewicz -#14487
 F   Orange Blossoms in Afternoon Light  Hazel Ong -#14488
 F   What Price Salvation               Brenton Tomlinson -#14489
 SF  Vicesteed, Chapters 9-10           Abra Staffin Wiebe -#14490
 H   PIRANHAS Chapter 7                 Gerard Brennan -#14491
 H   The Tattoo                         Stephen Owen -#14492
 SF  Mist                               Robert D. Philbrook -#14493
 SF  Metal People, Chapters 1-4         Ed Morawski -#14494
 F   Peddler's Ballad, Chapter 1        Merry Muhsman -#14495
 SF  Rising Waters                      Benjamin Crowell -#14496
 F   Knight of the North                Chad Weiss -#14497
 F   Between Spirit and Dust            Angela Perry -#14498
 F   The Wolves at Death's Door         H. Nathan Wilcox -#14499
 F   Three and a Half Minutes           Jamie Killen Stoops -#14500
 SF  The Other Side of the Wall         Stephen L. Moody -#14501
 F   Athena's Gift                      Audrey Duran -#14502
 F   Through The Gates                  Sherri Jordan-Asble -#14503
 SF  The Farraday Cage                  John Andrews -#14504
 H   The Door in the Sky                Sonia Helbig -#14505
 H   Water Bleeds - Chapters 5 and 6    Brian Freyermuth -#14506
 SF  ElectricFiligree                   Jenny Adams -#14507
 F   Blame it on the Oracle             Marie Ratliff -#14508
 F   The Light Bearer                   Jo Thomas -#14509
 F   After the Apocalypse               Matthew W. Quinn -#14510
 SF  Stepping Stones                    Kieran Morgan -#14511
 SF  Kerr's Hold                        Wade Peterson -#14512
 SF  Perfect Shot                       Jason Schifano -#14513
 SF  Uber Em: chap 1                    Charles Steevens -#14514
 SF  The Compliance Department, Ch1.    Euan Harvey -#14515
 SF  The Oldest Profession              Mark Silcox -#14516
 H   Truth of the Vampire               Erika A. Pratt -#14517

Week of 3-Oct-2007 (Crits due 10-Oct-2007):
 F   Cada Aranya                        [mpc] Dal M Jeanis -#14518
 F   Pale Moon Rising                   [mpc] Tabatha Schroeder -#14519
 H   Is this the Face?                  [mpc] D.L.M. Clarke -#14520
 F   The Colour of Repentance           [mpc] Kylie Bullivant -#14521
 SF  Torturous Decisions                Hank Quense -#14522
 SF  Last Woman Standing                Nerine Dorman -#14523
 F   Better Living                      Mark Suplinskas -#14524
 F   The Twin's Door - Prologue, Chapters 1 & 2  Jason Gillespie -#14525
 H   Like Romeo and Juliet              Adam La Rusic -#14526
 SF  Till the End of Time               Justin O'Leary -#14527
 H   First Person Shooter               Robert Palmer -#14528
 F   The Fall of the Sun                Dawn Walls Thumma -#14529
 SF  Ra-Gho-Zu                          Boris Layupan -#14530
 SF  Empty Spaces                       Rupert Merkin -#14531
 SF  Muphrid, Ch 14, Cocoon             John Waterman -#14532
 F   The Dragon's Treasure              Jeff Narucki -#14533
 F   Lord of the Abandoned              Madge E. Miller -#14534
 F   Mentapha, Chapter 1                Regina Agboola -#14535
 H   Soggy Bit of Hell                  Philomena Hill -#14536
 H   The Bound Mouths of the Kine       Tom Cutter -#14537
 SF  Padre                              Jeff Soesbe -#14538
 SF  Under the Dog-star                 Peter Huston -#14539
 F   Zephyr, Ch. 1                      Courtney Tobin -#14540
 H   The Core's Power, Prolouge, Chapter 0  Michael Thies -#14541
 H   A Grave Pact                       John Sulyok -#14542
 F   Out of the Darkness, Chapter 1     Glen McDonald -#14543
 SF  The Engines Of Peace, Intro to Chapter 4  Douglas Kolacki -#14544

Week of 10-Oct-2007 (Crits due 17-Oct-2007):
 F   Covering All the Bases             Arthur Dorrance -#14545
 F   Q & A                              Gary J Beharry -#14546
 SF  Judge Not                          [@] Richard K. Lyon -#14547
 SF  The day a customer Service Representative Quit  Douglas Ryan -#14548
 F   Encountering the Merpeople         Nicole Andrews -#14549
 SF  Science Fiction Review             Nicole Andrews -#14550
 F   Doors                              David Smullen -#14551
 SF  Perfect Union                      Sean Davis -#14552
 F   An unnamed demon story             Karen -#14553
 SF  Dark                               Logan Bingle -#14554
 SF  Black Hole Son                     Eric J. Juneau -#14555
 SF  The Moid                           Roger Thibault -#14556
 F   The Looking Men                    James R. Kristofic -#14557
 F   Look Away, Darling                 Stuart Marshall -#14558
 SF  Nickelarcade                       Mark Rich Drost -#14559
 SF  Big Iron Lawman at Large           John F. Loonam, Jr. -#14560
 SF  The Calling                        Russ Colson -#14561
 H   Boxes                              Jent Lynne -#14562
 H   Cold Silicon                       Steve Slack -#14563
 F   Blood Knell, Chapter 1             Tim Boylen -#14564
 F   The troubadour                     Alex Moisi -#14565
 F   Blood Bond Prologue Ch. 1 - 7      Liane Manso -#14566
 F   Abigail's Dragon, Chapters 1       Jason Andrew -#14567
 F   Murders by Midnight, Chapter 0a    Tina H. -#14568
 F   In the Garden of Gethsemane: An Epic in Four Suits  Adam Lowe -#14569
 F   Letheian Waters                    M. R. Solomon -#14570
 F   Fairy Story                        Catherine Haight -#14571
 F   The Waiting Room                   Kimberly Feltkamp -#14572
Week of 17-Oct-2007 (Crits due 24-Oct-2007):
 SF  Jerry                              [mpc] Karl Bunker -#14573
 H   Blood Street, Chapter 3 & 4        Carl Alves -#14574
 SF  A Quick, Victorious War            Paul Francis Hanley -#14575
 H   Singer's War                       Brett Cryer -#14576
 F   The Family Tree                    Robin Matheson -#14577
 F   Castle on the Road to Tryermayne   Seanna Catron -#14578
 F   Pneumatophobia                     William Shockley -#14579
 SF  Aquarium World                     Michael Anthony -#14580
 H   Loser                              L. Johnson -#14581
 SF  What's on Your Mind?               J.M. McKeel -#14582
 F   Blood Junkie                       Maggie Jamison -#14583
 F   Welcome Invasion                   Chrissa Sandlin -#14584
 F   Winter's Lessons                   Anne Pinckard -#14585
 SF  With a Whimper                     Elizabeth Fernandez -#14586
 SF  The Invisible Woman                Robert Halverson -#14587
 F   Flash Fiction X 4                  Rhonda Porrett -#14588
 SF  Ultima Ratio, Prologue             Chris Petell -#14589
 F   The Direction of Last Things       Michael Haynes -#14590
 H   Last Waltz in Texas                Bryce Albertson -#14591
 F   The Myth of the Human              Jon Hooper -#14592
 H   The Face in the Mirror             Jennifer Thibodeaux -#14593
 SF  Perfect Isolation                  Michael Money -#14594
 H   Code                               Judith Arnold -#14595
 F   Outlaw                             Stephen Crookes -#14596
 F   A Taste for Blood                  Regine Becher -#14597
 SF  The Hole that Max Found            D. D. Tannenbaum -#14598
 SF  Urashima's Orphan                  Bryan Golar -#14599
 H   One Hell of a Ride                 Kristopher Ludka -#14600
 SF  By the Numbers                     Michael W. Wilson -#14601
 SF  Rocket                             Paul Malone -#14602

Week of 24-Oct-2007 (Crits due 31-Oct-2007):
 SF  Help                               [mpc] Tabatha Schroeder -#14603
 SF  Sands                              [mpc] Guy Anthony De Marco -#14604
 F   The Wild of Her Eyes               [mpc] Swapna Kishore -#14605
 SF  Lifespeed                          Carl Frederick -#14606
 F   Flight                             Roselyn Silverman -#14607
 SF  Junkboy and Debutante              Michael Andre-Driussi -#14608
 SF  That Was So Funny I Forgot to Laugh  Richard Zwicker -#14609
 F   The Sword                          Lars Seme -#14610
 H   Sanitarium, Chapter 3              Lawrence Vernon -#14611
 F   Monster Man                        Simon Cooper -#14612
 SF  Legends of Connacht                Jonathan Thompson -#14613
 SF  First Impressions                  Paul Thompson -#14614
 SF  The Triplet paradox                Ronald Hurst -#14615
 SF  Thanks for the Memories v.2        Don Oestreicher -#14616
 F   Rogues of the Black Fury, Chapters 1-16  Travis Heermann -#14617
 SF  Lonely Are the Strong              Carl Slaughter -#14618
 F   History Lesson                     Mike Rumfitt -#14619
 F   Gravid                             S. Fazekas -#14620
 SF  The Light Of Day 2                 Curt Rabideau -#14621
 SF  The Gig                            John Alita -#14622
 H   Stage Crew                         R. Scott McCoy -#14623
 F   Mondays                            Adam Klugiewicz -#14624
 F   A Fragile Circle                   Michael Hund -#14625
 SF  Two Seconds Late                   Christine Tursky -#14626
 SF  The Darkened Sun                   Sam Collins -#14627
 F   Warrior's Heart Chapter 2          Milly Decon -#14628
 F   The Brief Age of Ghosts            Bob Robertson -#14629
 SF  The Forgotten                      Martin Turton -#14630
 F   Absent that Day                    Darrin Koltow -#14631
 SF  Nascent                            Veronica Henry -#14632

Week of 31-Oct-2007 (Crits due 7-Nov-2007):
 F   Where the clouds are far behind....  [mpc] Kylie Bullivant -#14633
 SF  The Prize Fighter                  [mpc] Ryan Maceil Smith -#14634
 F   The Mirrors Surface, Chapter 1     [mpc] [mpc] Sarah Tytler -#14635
 F   The Sorrowless Thief               [mpc] Ryan Harvey -#14636
 SF  The Floating City                  [mpc] Stefan White -#14637
 F   To Watch the Night Long            Mary Catelli -#14638
 F   Subconscious Entertainment         Benjamin Hall -#14639
 SF  Mrs. Greenfield and the Wandering Sheep  Christian Roberts -#14640
 F   A Better Life                      Frank Dutkiewicz -#14641
 SF  Blood Trade                        Mic Vening -#14642
 F   Fey Island Contract                Brenton Tomlinson -#14643
 SF  A Knight to Remember Chapters 1-2  Kimberley King -#14644
 F   Peddler's Ballad, Chapters 2-3     Merry Muhsman -#14645
 F   Duplicity                          Chad Weiss -#14646
 F   Brushes With Magic                 [@] Leah Cypess -#14647
 F   Corrigan's Exchange                Regina Patton -#14648
 F   A Society of Jackals               H. Nathan Wilcox -#14649
 SF  Debugger                           Kevin N. Haw -#14650
 F   Another Spell; Another Dollar      Marie Ratliff -#14651
 SF  7x10 to the 18 joules              John Andrews -#14652
 F   The Gospel                         Jo Thomas -#14653
 F   The Further Memoirs of Sir Leopld Basque  Mark Freeman -#14654
 H   Remnants                           Carrie Hall -#14655
 F   Harry and the Monkey               Euan Harvey -#14656
 SF  The Silver Sand Portal             Larry Schliessmann -#14657
 H   A Personal and Private Gravity     Patrick G. Rabe -#14658
 SF  Moons of Qual, Chapter One         Morgan Z. Sowell -#14659
 F   Nothing Lost that Can't be Found   Leigh Galbreath -#14660
 F   Confessions of a Snarky God        Greg Tito -#14661
 F   Luminari                           Kim McDougall -#14662
 F   Divine Fire                        Juliet Carnell -#14663

Week of 7-Nov-2007 (Crits due 14-Nov-2007):
 F   The other                          [mpc] Tabatha Schroeder -#14664
 SF  I Know Not My Mask, Nor Disguise   Glenn Rowsam -#14665
 SF  Cut Loose the Bonds of Flesh and Bone  Ian Creasey -#14666
 H   STG9                               Rick Farnsworth -#14667
 F   Shattered, Chapters 17-20          Cary A. Conder -#14668
 F   A Pearl of Great Price             Mark Suplinskas -#14669
 SF  Black Clouds and Storms            tsi -#14670
 F   Lord Fear                          Carine Engelbrecht -#14671
 F   Hunting for Goblins                Jeff Stehman -#14672
 H   PIRANHAS Chapter 8                 Gerard Brennan -#14673
 F   Inheritance                        Lassiter Williams -#14674
 H   Summer                             Stephen Owen -#14675
 SF  Rituals Of Change                  Paul Comstock -#14676
 SF  Calagonia: Ch 4                    Lindy Winter -#14677
 F   Epilogue                           Dennis R. Upkins -#14678
 SF  Pathogen                           Stephen L. Moody -#14679
 SF  Into the Black                     Shiloh Carroll -#14680
 H   Shallow Grave, Chapter 1           Latoya French -#14681
 SF  The Girl from the Future           Joyce I Devenish -#14682
 F   The Bones of the Matter            Mark Taverna -#14683
 H   The Curse                          Susan Ward -#14684
 SF  Kamuy                              Zachary D. Carter -#14685
 F   Love's Last Scream is Silent       Chris Hillman -#14686
 F   Prince Charming                    Erin Newman -#14687

Week of 14-Nov-2007 (Crits due [*] 28-Nov-2007):
 SF  The Hopeful Romantic               Jeff Cates -#14688
 SF  In the Country of the Blind        Arthur Dorrance -#14689
 F   The Three Goblets                  Fred Obermeyer -#14690
 F   Guarding the F Line: A Tale of the Manhattan Knights  Gary J Beharry -#14691
 F   The Price of A Death               Dal Jeanis -#14692
 SF  Thriving                           Derek Robinson -#14693
 F   Amia's Other, Chapter 1, The Wizards' Queue  Tobias D. Robison -#14694
 H   Do No Harm                         Nicole Andrews -#14695
 SF  The Beijing Olympics               Jacob Brauner -#14696
 F   First Casualty of the Faery War    David Smullen -#14697
 SF  Battle for Home                    Roger Thibault -#14698
 F   The Protector, Chapter 1           Cath Morris -#14699
 F   A God Among Demons                 Karen -#14700
 SF  Touch of Blue                      Sean Davis -#14701
 F   Fairy Boy                          Sarah E. Wright -#14702
 F   Infinite, within limits            Paddy Howard -#14703
 SF  Absolute                           J.M. McKeel -#14704
 H   The Road to Ki'o Ahi               Maggie Jamison -#14705
 SF  A Beautiful Lie                    Craig Davis -#14706
 H   The Diener's Medallion             Sonia Helbig -#14707
 SF  Heart of Chaos                     Veronica Pehrson -#14708
 SF  Shaka                              Ingrid Skard -#14709
 F   Fear Factor                        Kevin Anderson -#14710
 SF  i_AM                               Rupert Merkin -#14711
 SF  But I had no Body                  Russ Colson -#14712
 F   Kellum Kids                        Trudy Myers -#14713
 F   Operetta for the Garbage Dump Dragon  JA Howe -#14714
 SF  Earth Tribe                        John Dinkeloo -#14715
 SF  Breeding Pair                      Matthew W. Quinn -#14716
 F   Patronage                          Jon Hooper -#14717
 SF  Going Home                         Aaron Bossig -#14718
 F   Blood Bond                         Liane -#14719
 F   The Guardian of the Core, Chapters 1 - 3  Mike Thies -#14720
 SF  Last Stop                          Kevin M. Folliard -#14721
 F   fox moon                           julie bockes -#14722
 SF  The Sword                          Eric Liszewski -#14723
 SF  The Capsule                        Paul Malone -#14724
 F   Murders by Midnight, Chapters 0a   C. Hackney -#14725
 F   The Storming Party                 Colin MacDougall -#14726
 H   Swamp Gas                          Randy Foster -#14727
 SF  Dawn's Rise, Intros, Chaps 1,2     Andrew Rosenberg -#14728
 H   Psy-Vamp: based on a true story. Chapter 1  Neil Fontaine -#14729
 H   Voices of Babel                    Jessica Nicholls -#14730
 SF  Bubble                             Garth Upshaw -#14731
 SF  Procyon Rising                     Joel A. Davis -#14732
 F   A Twist of the Knife               Jeff Parish -#14733

Week of 28-Nov-2007 (Crits due 5-Dec-2007):
 H   Metastasis                         [mpc] Nick Tchan -#14734
 F   Ride On                            Carl Alves -#14735
 SF  201                                Carl Frederick -#14736
 F   Conquistador                       Jesse Emspak -#14737
 SF  The Time Phone                     Richard Zwicker -#14738
 SF  Sanitarium, Chapter 1              Lawrence Vernon -#14739
 F   The Miller's Daughter              Kimberly C. Lundstrom -#14740
 F   Engaging Fate                      Robin Matheson -#14741
 H   Streetwalker                       Guy Anthony De Marco -#14742
 F   Buried in the Bog                  Simon Cooper -#14743
 SF  The Ugly Vampire-rewrite           Seanna Catron -#14744
 SF  Smosaytia                          Ed Morawski -#14745
 SF  Remember Mars                      Michael Anthony -#14746
 F   Playdate                           Jamie Killen Stoops -#14747
 SF  The Triplet Paradx Part 2          Ronald Hurst -#14748
 F   Lucky Clover                       K. Harmon -#14749
 SF  First Among Mindys                 Samer Rabadi -#14750
 H   Frostbite                          R. Scott McCoy -#14751
 F   Heart of the Berserker             Adam Klugiewicz -#14752
 F   The Horse                          Chris Elliott -#14753
 F   Look at the Shadows                Bob Robertson -#14754
 F   Paladin Conscript, Chapters 1-5    Aundre Thompson -#14755
 H   Hotel Old Court                    John Michaelson -#14756
 H   One More Tarantella                Philomena Hill -#14757
 SF  Wraith                             Heather D. Andricevic -#14758
 SF  Don't Leave, She Said              Michael J. -#14759
 SF  The Ship                           Jon Ayre -#14760
 SF  Field Study                        charles mirho -#14761
 SF  Out Of The Rain                    Ronald Robert Moore -#14762

Week of 5-Dec-2007 (Crits due 12-Dec-2007):
 SF  Erasure                            [mpc] Steve Donnelly -#14763
 SF  Colony Gates                       [mpc] Stan Spielbusch -#14764
 F   Crossing Over                      [mpc] Nick Tchan [?] -#14765
 SF  Sunset                             Bill Siderski -#14766
 SF  Space Scrap                        Christine L Golden -#14767
 SF  The President's Navel Is Missing   [@] Richard K. Lyon -#14768
 H   Chasing Moon Dogs                  Nerine Dorman -#14769
 H   Incommunicado                      Christian Roberts -#14770
 SF  Intergalatic Nuisance              Frank Dutkiewicz -#14771
 H   Black Valley Chapter One           Brett Cryer -#14772
 F   The Mirrors Surface, Chapter 2     Sarah Tytler -#14773
 SF  Murder                             Karl Bunker -#14774
 F   The Descendant-Chpt. 1             Chad Weiss -#14775
 F   Shifter, Chapters 1 & 2            Leah Cypess -#14776
 F   The Prevailing Wind                Regina Patton -#14777
 SF  Hey Big Guy                        Carl Slaughter -#14778
 H   Brushback                          H. Nathan Wilcox -#14779
 SF  The Child                          Samantha Johnson -#14780
 H   The Witch Hunter, Chapter One      Ryan Maceil Smith -#14781
 F   Diverge from Madness               Hannah Dahl -#14782
 F   Hybrid                             Jo Thomas -#14783
 F   Message Drop                       Terry S. Kidd -#14784
 SF  Discovery                          Scott Fazekas -#14785
 SF  The Lottery                        David Cushing -#14787
 H   The Perfection of Us               Patrick G. Rabe -#14788
 F   Before the Sun's Rising            Ben Cairns -#14789
 SF  These Eyes                         Sheila Crosby -#14790
 F   The System of Reprisals            Keith Peck -#14791
 SF  Diplomacy                          Justin Maelzer -#14792
 SF  Rebirth                            Stuart Allison -#14793
 F   The Devil's Gauntlet: Destiny's Call, Chapters 0-1  David DeGregorio -#14794
 F   Changeling                         Nivair H. Gabriel -#14795

Week of 12-Dec-2007 (Crits due 19-Dec-2007):
 SF  Sweet Seconds                      [mpc] Sean Davis -#14796
 SF  The President's Navel Is Missing (2)  [@] Richard K. Lyon -#14797
 F   Schizoid Japan                     Michael Andre-Driussi -#14798
 H   STG10                              Rick Farnsworth -#14799
 SF  The Last Stand                     Mark Suplinskas -#14800
 SF  Black Clouds and Storms part 2     tsi -#14801
 F   Twitch                             Tabatha Schroeder -#14802
 F   To My Daughter's Son               Tarl Kudrick -#14803
 F   Poor Owen                          Lassiter Williams -#14804
 H   PIRANHAS, Chapter 9                Gerard Brennan -#14805
 SF  Vicesteed, Ch. 11                  Abra Staffin Wiebe -#14806
 H   THE REST STOP SHOOTINGS            Mike Morell -#14807
 SF  Within a Budding Grove             Joe Heckman -#14808
 SF  Time and Motion                    Adam Colston -#14809
 SF  Hades Sojourn                      Sharon Trimmer -#14810
 SF  Once when the wrold was fuzzy      Michelle I Mitchell -#14811
 F   The Wish                           Mike Rumfitt -#14812
 F   The Mediana Estate                 Joyce.I.Devenish -#14813
 F   Guardians of Willovia, Chap.1 & 2  Rhonda Porrett -#14814
 H   Here be Dragons                    Euan Harvey -#14815
 F   Mirror Mirror                      N Qureshi -#14816
 F   Black Genesis                      Mark Taverna -#14817
 H   It Awaits Me                       Chris Hillman -#14818
 F   Dragonsaint                        Douglas Davidson -#14819
 F   An Unexpected Love                 Heather Kuehl -#14820
 F   Food Talking Human                 Evan Sharenow -#14821
 F   What You Can Live With             Michael Cain -#14822

Week of 19-Dec-2007 (Crits due [*] 2-Jan-2008):
 F   Wordbridge                         [mpc] Fred Obermeyer -#14823
 F   Devil of a Stain                   [mpc] Sean Davis -#14824
 F   A Poisonous Encounter              [mpc] Adam Colston -#14826
 F   Journey to the West, part 1 of 2   [mpc] Anemone Cerridwen -#14827
 F   Genetics Jackpot                   [mpc] Hannah Dahl -#14828
 H   Blood Kin                          [mpc] Tiffany Egan -#14829
 SF  Spelunkers' Rendezvous             Jeff Cates -#14830
 F   The Gotterdammerung File           [@] Richard K. Lyon -#14831
 F   Throwing Darts                     Gary J Beharry -#14832
 F   The Well in the Woods              Mary Catelli -#14833
 F   The Liberty Head Quarter Eagles    Christopher Kastensmidt -#14834
 F   First Casualty of the Faery Wars   David Smullen -#14835
 F   Stories from Altarra               Roger Thibault -#14836
 F   The Demons' True Master            Karen Middleton -#14837
 F   Trees in the Forest v.2            J.M. McKeel -#14838
 H   Love Letters                       Rupert Merkin -#14839
 SF  And the Rocks Cried Out            Russ Colson -#14840
 SF  The Moon, the Morning Star and the Great Western Plains  John Dinkeloo -#14841
 F   The Giving                         Leslie Lee -#14842
 SF  The Tunnel                         Jim Gearhart -#14843
 F   The Guardian of the Core, Chapter 4, Eska's Estate  Mike Thies -#14844
 F   Finding Millinocket                Rebecca Nazar -#14845
 SF  Legacy                             Bradley Nagy -#14846
 F   Crank Case                         Jeff Parish -#14847
 F   Magpie Delight                     Ramon Rozas III -#14848
 SF  Soutie                             Nick Wood -#14849
 H   Remission                          Bret Lynn -#14850
 F   An Extraordinarily Ordinary Life Part 1  Alex Fayle -#14851
 H   A True History of the Dutch Plague in London  Brendan Carson -#14852
 SF  Logo Project - Chapter 1           James MacGregor -#14853
 SF  Rapture of the Deep                Chantal Perez -#14854
 H   You Missed a Spot                  Adam J. Whitlatch -#14855
 SF  Swimming Pool of the Universe      Nick Cole -#14856
 SF  Lmansat Wedding                    Jessie L. Kwak -#14857

Week of 2-Jan-2008 (Crits due 9-Jan-2008):
 F   A Fighter's Heart                  [mpc] Pam Davis -#14858
 SF  Slavyl the Taker                   [mpc] Gary J Beharry -#14859
 F   Journey to the West, part 2 of 2   [mpc] Anemone Cerridwen -#14860
 SF  The Application                    [mpc] Kylie Bullivant -#14861
 SF  The President's Navel is Missing(3)  [@] Richard K. Lyon -#14862
 F   Kingdom Under Stone                Wanda Mooney -#14863
 F   The Labyrinth's Reply: China       Pattie Lawler -#14864
 SF  Lou at the Zoo                     Steven Davidian -#14865
 SF  Amia's Other (a Novel) section 2   Tobias D. Robison -#14866
 F   The Darkening Days                 Swapna Kishore -#14867
 F   People of the Sword Chapter 1      Neil O'Donnell -#14868
 SF  How Many Humans                    Adam La Rusic -#14869
 SF  Titanium                           Vincent Jorgensen -#14870
 F   The Tinyman and Caroline           Sarah L. Edwards -#14871
 F   The Truthsayer                     Shiloh Carroll -#14872
 F   The Ties that Bind                 Ben Greene -#14873
 SF  The Door                           Jodi MacArthur -#14874
 SF  A Slight Faux Pas                  Joe DiRienzo -#14875
 H   Nick Styles's Off Day              Neil Fontaine -#14876
 SF  Oldish Woman Leaves Earth: A Play  Marcy Arlin -#14877
 SF  The Package                        Peter Penton -#14878
 SF  In the Flesh                       Nicole Banks -#14879
 H   The Zoo of Hell                    Randy Foster -#14880
 SF  Name Day                           Garth Upshaw -#14881
 F   Violations                         Justin R. Lawfer -#14882
 SF  The Shepherds                      Alan Ashworth -#14883
 SF  Water Wars                         Peggy Nuckles -#14884
 H   The Scratching                     B. C. Tucker -#14885
 F   Rose Sense                         Evelyn Rainey -#14886
 H   Voyeur                             Joe Samwell -#14887
 F   Of Demons and Prophecies, Part 0   Stephanie Morehead -#14888
 H   My Friend                          Dalton Silvernail -#14889

Week of 9-Jan-2008 (Crits due 16-Jan-2008):
 F   Fried Eggs                         [mpc] Gary J Beharry -#14890
 H   The Cure                           [mpc] Sean Davis -#14891
 F   The Camps                          [mpc] L. Johnson -#14892
 F   Wish for Me                        [mpc] Hannah Dahl -#14893
 SF  To Be An Emulator                  Lucy Cohen Schmeidler -#14894
 SF  Marriage of Inconvenience          Arthur Dorrance -#14895
 H   Monsterous                         Carl Alves -#14896
 SF  Narrow World                       Carl Frederick -#14897
 H   Canyon, Chapters 1-2               Andrew Richardson -#14898
 SF  The Crime                          Richard Zwicker -#14899
 H   Stalk and Kill                     Derek Robinson -#14900
 H   Scare                              Lawrence Vernon -#14901
 F   The Persistent Widow               Kimberly C. Lundstrom -#14902
 F   Drake Chapter One                  Kimberley King -#14903
 F   Anubis                             Robin Matheson -#14904
 H   Revenge is Sick                    Simon Cooper -#14905
 H   Those Who Fail                     Jamie Killen Stoops -#14906
 SF  The Triplet Paradox Part 2         Ronald Hurst -#14907
 F   Tinker's Damn                      Robert Palmer -#14908
 SF  Sonclune                           Sonia Helbig -#14909
 SF  The Hole                           Craig Davis -#14910
 F   On the Path                        K. Harmon -#14911
 H   Good Dog                           R. Scott McCoy -#14912
 F   Dolii Story                        Richard Burwell -#14913
 F   Now and Forever                    Adam Klugiewicz -#14914
 H   What Truly Matters                 James B. Poindexter -#14915
 F   Grill-Master Hank                  Bob Robertson -#14916
 SF  Not Lost                           Alexandra Marshall -#14917
 H   Wolf Trap, ch 1 & 2                Hugh Beyer -#14918
 SF  The Happiest Place on Earth        Rebecca Ogrodowski -#14919
 SF  Unbeliever                         Jon Ayre -#14920

Week of 16-Jan-2008 (Crits due 23-Jan-2008):
 F   Surrender Hope                     [mpc] Tabatha Schroeder -#14921
 SF  Lost Souls                         [mpc] Nick Tchan [?] -#14922
 H   Educating Billy                    [mpc] Kylie Bullivant -#14923
 F   Drake Chapters 3-5                 [mpc] Kimberley King -#14924
 H   I Was a Typewriter                 James H. Bauer -#14925
 SF  Visions                            David Miles -#14926
 F   Shattered, Chapters 21-24          Cary A. Conder -#14927
 H   Jonathan Livingston Zombie         Christian Roberts -#14928
 H   Mind Scream                        Brett Cryer -#14929
 F   Heirs of Winter                    Katie Lovett -#14930
 F   City of the Dying Sun              Kristin Janz -#14931
 SF  The Rock Star, the Janitor, and the Moon Garden  Tim Slusser -#14932
 SF  Formal Charges                     Jay Werkheiser -#14933
 F   If You Can't Trust a Rhyming Demon, Can You Trust a Demon Not to Rhyme?  David Seigler -#14934
 F   The Mirrors Surface, Chapter 3     Sarah Tytler -#14935
 H   Collision                          Ryan Maceil Smith -#14936
 SF  Trauma Bomb                        Terry S Kidd -#14937
 SF  The Longest Night                  Jo Thomas -#14938
 H   Hotel Old Court                    John Michaelson -#14939
 H   Deep Scars Like Kaleidoscopes      Patrick G. Rabe -#14940
 SF  The Ship and the Sinkerman         Alex Beaudoin -#14941
 SF  Intentions                         Joe Swope -#14942
 F   Breaking the Fear, Chapters 1-2    Jennifer Dawson -#14943
 SF  Cards and Gladiators chap 1-3      Chester Song -#14944
 H   Ashes of Atlantis                  David R. Matteri -#14945
 SF  Goya's Gift                        Amy Stapleton -#14946
 F   Uncertain Harvest                  J. R. Tomlin -#14947
 F   Vikram and Elinor Ch1              Manjaree Sowani -#14948
 F   Rosewood: Memories of the Fallen Angel.  Cindy Therenciel -#14949
 F   Some Sorta Fairytale, Chapters 10-12  Jonathan Fredrick -#14950
 F   Indoliet, Chapter 1                Deborah Copeland -#14951

Week of 23-Jan-2008 (Crits due 30-Jan-2008):
 F   Hero                               [mpc] Nick Tchan -#14952
 SF  Assemble an Alien                  [mpc] Antha Ann Adkins -#14953
 F   Out Came Death in an Explosion of Saliva and Curses  [@] Larry Hodges -#14954
 F   Athenae                            Mark Suplinskas -#14955
 SF  Generation Cleansing               Michael Andre-Driussi -#14956
 SF  Black Clouds and Storms, part 3    tsi -#14957
 H   PIRANHAS                           Gerard Brennan -#14958
 H   Bump the Bastard!                  Mike Morell -#14959
 SF  Heal Thyself                       Brian Burt -#14960
 F   Emotion Feathers                   Justin O'Leary -#14961
 F   Regnants Prologue & Chapter One    E N Nwokeji -#14962
 SF  A Better Teleportation Theory      Michael Anthony -#14963
 F   Mirra Discovered, Chapters 5-6     Scott MacHaffie -#14964
 SF  Spaceship Tempo                    J.I. Devenish -#14965
 SF  Fly                                Jenny Adams -#14966
 F   Possible Worlds                    Adam Bales -#14967
 H   Haunted Memories                   Lilly Nichole -#14968
 H   Tales of the Unnatural             David Hamilton -#14969
 F   Only Iron Remains                  Euan Harvey -#14970
 SF  The Butcher's Cloth-knife          Chris Hillman -#14971
 H   The Ugliest Tortoise               Mark Rich Drost -#14972
 F   Redeption                          Heather Kuehl -#14973
 F   The Dreamer Chronicles (Part 1)    Katrina Grimm -#14974
 F   Rag 'n' Muffin: "Tea Party Battle  Douglas Davidson -#14975
 SF  Just a Boy                         Daniel P. Swenson -#14976
 H   Hell to Pay, Chapters 1-3          Brian Johnson -#14977
 SF  The Remote Control                 Peter Snede -#14978
 F   Rosewood: Memories of the Fallen Angel  Cindy Therenciel -#14979

Week of 30-Jan-2008 (Crits due 6-Feb-2008):
 F   Phoenix Enthralled                 [mpc] James H. Bauer -#14980
 F   Pale Moon Rising                   [mpc] Tabatha Schroeder -#14981
 F   An Overgrown Clump of Narcissists  [mpc] Thane R. Thompson -#14982
 SF  Cada Aranya V3.4                   Dal Jeanis -#14983
 H   The Long Road to Sanctum           Rick Farnsworth -#14984
 H   Pure White Light & GSR             Norm Gillespie -#14985
 SF  The Mixed Sex                      Cath Haftings -#14986
 SF  Hot Flash, Chapter 1               Sheri Fresonke Harper -#14987
 SF  The Mist                           Robert D. Philbrook -#14988
 F   Demon Masters' Challenge           Karen -#14989
 F   Stories from Altarra 2             Roger Thibault -#14990
 SF  Banner Of The Caliphs              Douglas Kolacki -#14991
 H   Foggy Night in the Middle of Nowhere  Yvonne Eriksen -#14992
 SF  A Passing Phase                    Adam Schwartz -#14993
 F   Adam Mallow and the Weird Transsexual Demon  Rupert Merkin -#14994
 SF  Getting Sloppy                     Thane R. Thompson -#14995
 F   The Guardian of the Core, Chapter 0, The prolouge  Mike thies -#14996
 F   The Noble Hand                     Jim Gearhart -#14997
 H   Stains                             Kevin McClintock -#14998
 SF  Wave                               Bradley Nagy -#14999
 SF  Identity                           Zoe Blade -#15000
 F   The Far Watch (Part 1)             Evan Sharenow -#15001
 SF  Dace, Chapters 1-3                 Aleta Clegg -#15002
 F   Goose Feathers, Chapters 1-2       Danyelle Leafty -#15003
 SF  The Food Police                    Lara Frater -#15004
 SF  The Distilling War                 E. A. Wicklund -#15005
 SF  Shaving                            Peter Michael Gray -#15006

Week of 6-Feb-2008 (Crits due 13-Feb-2008):
 SF  Sweet Chariot                      [mpc] Peter Lewicke -#15007
 F   The Other Fish in the Sea          [mpc] Tabatha Schroeder -#15008
 F   Journey to Atlantis                [mpc] Hannah Dahl -#15009
 F   Whispers for Middi                 [mpc] Jenny Adams -#15010
 SF  Madonna And Child                  [mpc] Ryan McNeill -#15011
 SF  Aqua Nova                          Fred Obermeyer -#15012
 F   Kingdom Under Stone                Wanda Mooney -#15013
 SF  Yitzi                              Zvi Zaks -#15014
 F   City of a Thousand Golden Flecks   Hazel Ong -#15015
 F   Amia's Other, chapter 3, MyrnVisit  Tobias D. Robison -#15016
 SF  Calagonia                          Lindy Winter -#15017
 H   The Immaculate Void                Adam La Rusic -#15018
 SF  Time Walking                       David Smullen -#15019
 SF  The Covergance Chronicles, Chapter 1  Judy Shaw -#15020
 SF  Violet                             Jim Stewart -#15021
 F   Mrs. Wendell's Cat                 Evelyn Rainey -#15022
 SF  Trash Eaters                       Rhonda Porrett -#15023
 H   Joanne Justice                     John Waterman -#15024
 F   All For A Jar of Pickles           Jodi MacArthur -#15025
 F   Baby Heatheren's Unlikely Heroes   J. L. Judd -#15026
 SF  Mercy                              Bret Lynn -#15027
 F   Just a little creating             Robyn L. Wescombe -#15028
 SF  Birdsong                           Garth Upshaw -#15029
 F   Old Gandersocks                    Peggy Nuckles -#15030
 F   The Princess and the Frog          Justin R. Lawfer -#15031
 H   The Disposal                       Douglas Lucas -#15032
 F   Sasquatch Summer                   Jessie L. Kwak -#15033
 F   Green Dreams                       B.C. Tucker -#15034
 F   Henry Potty and the Deathly Paper Shortage: An Unauthorized Parody  Valerie Frankel -#15035
 F   Anela and the Pearl, Prologue/Chapter 1  Sam Supowit -#15036
 F   Demon Born (working title)         Shawn M. Ross -#15037

Week of 13-Feb-2008 (Crits due 20-Feb-2008):
 H   Abraham's Son                      [mpc] [mpc] Nick Tchan -#15038
 F   Schizoid Japan                     [mpc] Michael Andre-Driussi -#15039
 SF  Dagian                             [mpc] Swapna Kishore -#15040
 F   The Emerald Guardian, Chapter 1 (portion)  [mpc] Steven M. Booth -#15041
 H   Alone in the Dark                  Carl Alves -#15042
 SF  Teddy Bear Toys                    Carl Frederick -#15043
 F   Heather Berry 2                    Michael Stone -#15044
 F   Thinking of Ewe                    Tarl Kudrick -#15045
 H   Daffodils                          Racheal Stevens -#15046
 F   Overtime at the Arch               Robin Matheson -#15047
 H   One By One                         Lawrence Vernon -#15048
 H   We                                 Simon Cooper -#15049
 F   Breaking and Entering              Jamie Killen Stoops -#15050
 SF  Trapdoor                           Chris Collins -#15051
 H   Those are Bug Eggs                 Robert Sullivan -#15052
 F   The Song of Gron                   Jared Gullage -#15053
 F   One Shot                           Ben Greene -#15054
 F   Dreams Die                         Adam Klugiewicz -#15055
 SF  Prince Maayou and the Gift of Fire  Amy Blankenship -#15056
 F   The Horse Cusser                   R. Scott McCoy -#15057
 SF  Markhal Memoir                     Dan Damouth -#15058
 F   Confessions of a Snarky God        Greg Tito -#15059
 H   Wolf Trap Ch 3-4                   Hugh Beyer -#15060
 F   Taking the Ungiven                 Heidi Iwashita -#15061
 SF  Fly, Boy                           Jeff Soesbe -#15062
 F   Songs of Silk                      Dorine Ratulangie -#15063
 F   Split Second.                      Abigail Carter -#15064
 SF  Greetings from the Milky Way       Scott Bastedo -#15065
 H   A Path to Hell                     David Beers -#15066

Week of 20-Feb-2008 (Crits due 27-Feb-2008):
 SF  Lost Souls_version 2               [mpc] Nick Tchan -#15067
 F   Shadowlands                        [mpc] L. Johnson -#15068
 H   The Merewolves of London           Jeff Cates -#15069
 F   The Gotterdammerung File           [@] Richard K. Lyon -#15070
 F   The Gilded Basilisk                [@] Chet Gottfried -#15071
 F   The Kitchen Debate                 [@] Larry Hodges -#15072
 SF  Rock Star Game King                Christian Roberts -#15073
 H   Laird of Kildrummond               Brett Cryer -#15074
 F   The Mirrors Surface, Chapter 4     Sarah Tytler -#15075
 H   Choices in the Night               Jonathan Thompson -#15076
 SF  When It Mattered                   Jess Harris -#15077
 SF  The Broca Guitar                   Terry S Kidd -#15078
 F   Rogues of the Black Fury, Chapters 1-28  Travis Heermann -#15079
 SF  The Birthday Room                  Michael Hund -#15080
 H   Crackers                           Zach Lee -#15081
 SF  Why Stand Ye Gazing Up?            Patrick G. Rabe -#15082
 H   Folly                              Stuart Allison -#15083
 H   Bullets and Blood in the City of the Dead  David R. Matteri -#15084
 SF  Ancestral Steps                    Nick Wood -#15085
 SF  Satan's Curse                      Paul Swan -#15086
 SF  Memories                           Norman Wheatley -#15087
 SF  The Impostor Chapter 2             Georgia March -#15088
 H   Self-Preservation                  Karen Crumley -#15089
 H   Cell                               Chris Rodgers -#15090
 H   Strawberries in Winter             Caitlin Cooper -#15091
 H   The Workshop                       Ruairi MacInnes -#15092
 H   When Thoughts Come Alive           Juliette Crane -#15093
 SF  Hit Man Green                      Alan Belanger -#15094
 F   Oberon's Paradise                  Sean Hannifin -#15095
 F   Special Agent Vampire (aka Fallen Angels), Chapter 1  Ally Bishop -#15096
 SF  Interference                       Rudis Muiznieks -#15097
 SF  See Me After Class                 Darien Hallado -#15098
 SF  Internal Assault                   S.Z. Herman -#15099

Week of 27-Feb-2008 (Crits due 5-Mar-2008):
 SF  Twitch                             [mpc] Tabatha Schroeder -#15100
 SF  The Beta Model (V2)                [mpc] Christian Roberts -#15101
 F   Flower                             [mpc] Jonathan Perry -#15102
 F   The Marsh's Morning                Mary Catelli -#15103
 F   The Tooth Monster                  Chuck Rothman -#15104
 SF  Black Clouds and Storms, part 4    tsi -#15105
 F   Breaking the Fear, Chapters 2-3    Jennifer Dawson -#15106
 F   Ragnarok Rising                    Chad Weiss -#15107
 SF  Regnants Chapter One               E N Nwokeji -#15108
 SF  If There Were Water, Chapter 1     Antha Ann Adkins -#15109
 SF  Firedrill                          David Hamilton -#15110
 H   Diner                              John Michaelson -#15111
 F   The Truth                          Kendra Lusty -#15112
 F   Don't Cross the Creeks             Mark R Drost -#15113
 H   Blackhollow                        Brendan Kelleher -#15114
 F   Portacura, Chapters 1-4            Katrina Grimm -#15115
 F   Cupid's Dream                      John Whyte -#15116
 H   Fade to Black Part 1 of 2          Heather Kuehl -#15117
 F   Gray Journeys                      Mimi Honeycutt -#15118
 F   The Vampire's Wish, Chapter 1      [@] Susan Hanniford Crowley -#15119
 F   The Four Forces, Opening Chapter   Leodora Lane -#15120
 H   Dan's Dream                        Kenneth Temple -#15121
 SF  Indiana Jones and the Secrets From Beyond, Chapter One  Matthew Willis -#15122
 F   Vinshiloh Chapter 1                R.E. Fink Jr. -#15123
 H   The Boy Who Sang For Others        Joseph Feehan -#15124
 F   Arith Aywn, Chapter 0              Harrison Bonvissuto -#15125
 SF  The Moon That Dreamed of Earth     Frederic Himebaugh -#15126
 SF  Emperor Mike                       Matthew Wimmer -#15127
 SF  GORMENGASP! A Satirical Romp Across the Cosmos  Adam Lowe -#15128
 SF  Visit Last                         John Walsh -#15129
 SF  Jane of the Spiders                [@] Edward Muller -#15130

Week of 5-Mar-2008 (Crits due 12-Mar-2008):
 SF  Generation Cleansing               [mpc] Michael Andre-Driussi -#15131
 SF  Mama Said ...                      [mpc] Kylie Bullivant -#15132
 H   I Liked The Returning Dead Better When....  [mpc] Douglas Kolacki -#15133
 F   Rag 'n' Muffin #1: Little Killers  Douglas Davidson -#15134
 F   The Tenth Child                    Pam Davis -#15135
 H   On the Red Snow                    [@] Joe Murphy -#15136
 SF  The Tree                           B. J. Clarke -#15137
 H   Frank's Clothes                    [@] Chet Gottfried -#15138
 SF  Shattered, Chapters 25 - Epilogue  Cary A. Conder -#15139
 SF  Virtual Huntress                   Rick Farnsworth -#15140
 SF  Hot Flash Chapter 2                Sheri Fresonke Harper -#15141
 F   The Demons' True Master            Karen -#15142
 SF  Another Day                        Roger Thibault -#15143
 H   An Ending of Sorts                 Adam Colston -#15144
 SF  Twilight on Nectaris               Michael Anthony -#15145
 H   I Want Out                         James R. Kristofic -#15146
 SF  i_AM                               Rupert Merkin -#15147
 SF  Eco-Man Cometh: A Documentary Day in an Old Man's Life  John Loonam -#15148
 H   Angela                             Kevin McClintock -#15149
 H   Inevitable Shades of Darkness      Chris Hillman -#15150
 F   No Strings Attached                Thane R. Thompson -#15151
 H   Miles Segev's Perfect Gift         Neil Fontaine -#15152
 H   Minor Details                      Aleta Clegg -#15153
 SF  Matrimony                          Douglas Davidson -#15154
 F   The Mirror of Forever, Prologue and Chapter 1  David T. McKee -#15155
 H   Behind Silvery Walls               Stuart Gibbon -#15156
 SF  Angel Race, Chapter 0              James S. Ragan -#15157
 SF  Buddy's Trophy                     Marc-Andre R. Chimonas -#15158
 SF  The Keeper Of The Lakes            Mike Huck -#15159
 SF  In the Graves of Stars             Amanda Spikol -#15160
 F   In a Beggar's Pocket, Chapter 1    Mary J Daley -#15161
 SF  Project Golem                      Trina Allen -#15162

Week of 12-Mar-2008 (Crits due 19-Mar-2008):
 SF  Anamnesis                          [mpc] Nick Tchan -#15163
 H   Yurei Ningyo/Ghost Doll            [mpc] L. Johnson -#15164
 H   Forever Chaste                     [mpc] Howard Baird -#15165
 SF  Leach Run                          [mpc] Scott W. Baker -#15166
 H   The right to Live                  Barbara Bates -#15167
 F   Kingdom Under Stone                Wanda Mooney -#15168
 F   Leashing the Muse                  [@] Larry Hodges -#15169
 SF  Kolchuk's Copy                     Adam La Rusic -#15170
 SF  The Meeting                        Margaret Graham -#15171
 F   Nymph                              Brent Meranda -#15172
 F   Faith                              Dora McNew-Clarke -#15173
 H   Legacy                             Sean Davis -#15174
 SF  Bloody Sunday                      Lindy Winter -#15175
 SF  Silence on the Dial                Scott Davis -#15176
 SF  Requiem for a Thief                David Smullen -#15177
 SF  Life From a Dead World             Judy Shaw -#15178
 SF  Caleb's Crop                       Evelyn Rainey -#15179
 H   The Algae Eater                    Margaret Ernsberger -#15180
 SF  Thiotimoline and the Irrefutable Law Of Natural Time Travel  Peggy Nuckles -#15181
 H   Hopscotch                          Jodi MacArthur -#15182
 F   The One Big Catch                  Rebecca Nazar -#15183
 H   Merrie's Last Christmas            Rebecca Ogrodowski -#15184
 F   Preservation                       Justin R. Lawfer -#15185
 F   Sword of All Knowledge             Brendan D Carson -#15186
 SF  Intentions                         Joseph Swope -#15187
 F   The Cost of Opals                  Philip Driver -#15188
 SF  Lonely, lonely                     Daniel P. Swenson -#15189
 H   Fun and Games With Santa           Lee Rogers -#15190
 F   The Dragon Crystal Prologue        Timothy Whitt -#15191
 F   Onefist Jel and the Boxer          Jacob Ulasich -#15192
 F   Trials of the Shard                J. Thaddeus Drew -#15193
 F   Thalia                             Melissa Kerr -#15194
 SF  Avatar, Prologue and Chapter One   Lisa Paitz Spindler -#15195
 SF  Harper: Fire & Ice Introduction    David K Davey -#15196

Week of 19-Mar-2008 (Crits due 26-Mar-2008):
 F   Rag 'n' Muffin #2: Darcangelo's Lair  Douglas Davidson -#15197
 SF  Murder by Metaphor                 Fred Obermeyer -#15198
 F   The Gotterdamerung File            [@] Richard K. Lyon -#15199
 SF  The Universe Beneath our Feet      Carl Frederick -#15200
 H   Follow the Broken Cat              [@] Larry Hodges -#15201
 SF  Late Programming                   Richard Zwicker -#15202
 SF  Returning to the Flesh             Cath Haftings -#15203
 F   Yo Moms a Dragon / Deep Rapture    Ellie Tupper -#15204
 SF  The Indrocus Saga                  Swapna Kishore -#15205
 F   Pookie Must Die                    Robin Matheson -#15206
 H   Too Late the Rain                  Brenton Tomlinson -#15207
 H   The Morgan Lake Monster            Lawrence Vernon -#15208
 F   A Soldier for The Sorceress        J. L. Judd -#15209
 F   Somdeyer 863, Chapter 4            Jared Gullage -#15210
 H   The Grotesque                      Adam Klugiewicz -#15211
 H   Personal Touch                     Robert Sullivan -#15212
 H   Deer Season                        R. Scott McCoy -#15213
 F   Henry Potty and the Deathly Paper Shortage Excerpt: Fired from on High  Valerie Frankel -#15214
 SF  Fix You, Chapter 1                 Carrie Schilling -#15215
 SF  First Contact                      Stuart Widdows -#15216
 F   The War of Abida, 0                Rachael E. Durbin -#15217
 H   Granny's Rage                      Damien Navillus -#15218
 H   New Rules                          Cheryl Gilbert -#15219
 SF  Eternity's Scream                  Norman C. Stoker -#15220
 SF  Right and Wrong                    David Neuburger -#15221
 SF  Traitor Defiant                    Valerie Mechling -#15222

Week of 26-Mar-2008 (Crits due 2-Apr-2008):
 F   Billy Steadman, The Dragon, and the Virgin Bride  [mpc] Dal Jeanis -#15223
 F   The Underground                    [mpc] Brenton Haerr -#15224
 F   Sangalia                           Carl Alves -#15225
 F   A taste of goat                    Nerine Dorman -#15226
 SF  Car Drive                          [@] Larry Hodges -#15227
 F   Heather Berry 2                    Michael Stone -#15228
 F   Midnight Blue, Chapter 1           Mik Bennett -#15229
 F   Potionmaster's Kiss Ch 1           Norm Gillespie -#15230
 SF  Vicesteed, Ch. 12                  Abra Staffin Wiebe -#15231
 F   After Image                        Mike Rumfitt -#15232
 F   The Path of the Righteous          Chris Barnes -#15233
 F   Faith                              Jo Thomas -#15234
 SF  Inkling                            John Waterman -#15235
 F   Mother's Instinct is Blind         Annaliese Lemmon -#15236
 F   The Guardian of the Core, Chapter 1, Acceptance  Mike Thies -#15237
 SF  Contrary to Accepted Science       Russ Colson -#15238
 F   The Hollow Temple                  M. A. Ligocki -#15239
 H   Whispers of Collin James           Steven (Steve) Gregg -#15240
 SF  Bank Robber                        Garth Upshaw -#15241
 F   Expansion                          Alex F. Fayle -#15242
 F   Judas                              Jeff Chapman -#15243
 SF  An Eye For An Eye, Chapters 1-3    Ian Bott -#15244
 SF  Venting on Europa                  John W. S. Marvin -#15245
 SF  Living in the Past                 Tim Ross Piper -#15246
 SF  The Thirty-two Jakes               Chuck Glenn -#15247
 SF  Chapters 1 - 2, Dark Nights of Unity (Tolgon Chronicles, Book One)  Brian Lee Anderson -#15248
 H   The Body Visible                   Scott Morgan -#15249
 H   Existence of the Unforgotten       Alicia J. Bruning -#15250
 F   The Dragon at Davina's             Rebecca Carter -#15251
 SF  Reasons                            John E. Andrews -#15252
 F   The Oniondee, Chapters 1-5         Jodie Wells-Slowgrove -#15253
 SF  Infinite Probability Drive         Ed Koffeman -#15254
 SF  Scorcher: RFDR                     Kelly Guentner -#15255

Week of 2-Apr-2008 (Crits due 9-Apr-2008):
 SF  The Cult of Greg                   [mpc] Bill Siderski -#15256
 SF  Mr. and Mrs.                       [mpc] Scott Davis -#15257
 H   Ashes to Ashes                     [mpc] Don Oestreicher -#15258
 SF  The People of Two Lands            [mpc] Kelly D. Tolman -#15259
 H   Blackhollow                        [mpc] Brendan Kelleher -#15260
 F   Rag 'n' Muffin #3: Best Friends and Bullies  Douglas Davidson -#15261
 F   The Door in the Sky                Janice Clark -#15262
 SF  Future Perfect ch1-2               Jeff Howell -#15263
 F   Willy and the Ten Trillion Chimpanzees  [@] Larry Hodges -#15264
 F   The Old Town Clock                 Brett Cryer -#15265
 H   Honey of the Gods                  Mari Mitchell -#15266
 SF  Ambidextrose                       Jay Werkheiser -#15267
 SF  Tear-Down                          Benjamin Crowell -#15268
 H   Clothes                            Simon Cooper -#15269
 F   Note to myself                     Terry S. Kidd -#15270
 SF  hello                              Zach Lee -#15271
 SF  The Immortals                      Norman Wheatley -#15272
 F   The Last Kahn, Chapters 1-2        Alan Ashworth -#15273
 F   In the Shadows                     Tracey Bjorksten -#15274
 SF  The Impostor Chapter 3             Georgia March -#15275
 F   Zygodactyl                         Alan Belanger -#15276
 F   How the Sala Sen Learned to Speak  Sarah Henderson-Sharon -#15277
 H   Sector Twelve                      S.Z. Herman -#15278
 F   The Madness of Geeb, Episodes 5-6  Adam Burton -#15279
 SF  Multiuniversal Truths              Brady Allen -#15280
 SF  Go For The Simulator               Darien Hallado -#15281
 SF  Strobe Effect                      Alastair Mayer -#15282
 F   The Severed Earth, Chapter 1       Chris Presta-Valachovic -#15283
 SF  Death and Taxes, Chapters 1-3      Galen Surlak -#15284
 F   Safe as Houses                     Wendy Waring -#15285

Week of 9-Apr-2008 (Crits due 16-Apr-2008):
 H   The Japanese Doll v.2              [mpc] L. Johnson -#15286
 F   The Gotterdammerung File(4)        [@] Richard K. Lyon -#15287
 SF  Tatters                            Mary Catelli -#15288
 F   Nukekubi                           Stephen B.Pearl -#15289
 F   What a Waste                       Tabatha Schroeder -#15290
 SF  Worry (or The Dybbuk)              Zvi Zaks -#15291
 SF  Black Clouds and Storms part 5     Martin H. Slusser -#15292
 SF  Orders, Chaps P,1,2                Cathy A. Chance -#15293
 H   Remembering Mallory                Christian Roberts -#15294
 SF  The Dangers of Parallelism         Jennifer Dawson -#15295
 H   Hard Rock                          Gerard Brennan -#15296
 SF  Saving Nether Space                Cheryl McCreary -#15297
 F   Regnants Chapter Two               E N Nwokeji -#15298
 F   The Job Offer                      Sarah Tytler -#15299
 SF  A Kind Face                        Jess Harris -#15300
 SF  Panacea                            Marcy Arlin -#15301
 F   Pearls of the Sea                  Mimi Honeycutt -#15302
 H   Innocence Fueled                   John Michaelson -#15303
 F   Salary Ninja                       Aidan Doyle -#15304
 F   Forever Mine, Chapters 0-1         Denna Holm -#15305
 SF  Knothole                           Jonathan Perry -#15306
 SF  Terrible Things                    Joe Feehan -#15307
 F   Mary's Song                        Kenneth Temple -#15308
 SF  The Ungiving                       Connie Popovits -#15309
 F   The Birth of Ilya [intro]          Kieyanna Lynn Morgan R. -#15310
 H   Adam's Homecoming                  Carol Gold-Boyd -#15311

Week of 16-Apr-2008 (Crits due 23-Apr-2008):
 F   A Safe Place                       [mpc] Pam Davis -#15312
 SF  The Fine Art of Surfacing          [mpc] Dwayne Minton -#15313
 SF  The Iron Gods of Time              Chuck Rothman -#15314
 SF  The Galaxy Girdling Grid           [mpc@] Larry Hodges -#15315
 F   Schizoid Japan                     Michael Andre-Driussi -#15316
 SF  Hot Flash Chapter 3                Sheri Fresonke Harper -#15317
 F   Night Riders, Prologue & Chapter 1  Leah Cypess -#15318
 SF  Under the Shouting Sky             Karl Bunker -#15319
 SF  Omega Force                        Roger Thibault -#15320
 F   Puppy Dogs, Damn Them              Evelyn Rainey -#15321
 H   The Dreaming Way                   James R. Kristofic -#15322
 SF  Hamster World                      Michael Anthony -#15323
 F   One Simple Act, Chapters 1-3       Sharon Betts -#15324
 SF  Test Twenty                        Ike Quigley -#15325
 SF  Fall, Fall, Forever                Rupert Merkin -#15326
 H   Wyrm Season in the Devil's Acre    David R. Matteri -#15327
 F   A Vanishing Maze                   Mark R Drost -#15328
 F   Cycles                             Gaea Dill-D'Ascoli -#15329
 H   Road Rage                          Kevin McClintock -#15330
 F   The Tzitz                          Sara Fishman -#15331
 F   The Lost Temple of Achmineedees    J Aleta Clegg -#15332
 H   The Halo                           Paul Swan -#15333
 F   Songs of Silk                      Dorine Ratulangie -#15334
 F   The Muses' Revenge, Episode 1      China Duncan -#15335
 F   In a Beggar's Pocket, Chapter 2 and 3  Mary J. Daley -#15336
 F   Broken, Chapter 1                  Harrison Bonvissuto -#15337
 SF  Zero Point Chapter 5               Timothy Rusell -#15338
 SF  Shelly Opened Her Eyes             Kristopher Kubicki -#15339
 F   A Dream Gone Bad                   Rebecca A. Smith -#15340
 F   Death by Feng Shui                 Holly Messinger -#15341
 SF  Wink                               Clare Frederick -#15342

Week of 23-Apr-2008 (Crits due 30-Apr-2008):
 SF  Our Children will be Lighter Still  [mpc] Scott Davis [?] -#15343
 SF  The Sixth of May                   [mpc] Kelly D. Tolman -#15344
 F   The Truthsayer                     [mpc] Shiloh Carroll -#15345
 F   No More Magic                      [mpc] Brady Allen -#15346
 SF  A Thousand Worlds                  [@] Chet Gottfried -#15347
 F   Kingdom Under Stone                Wanda Mooney -#15348
 SF  Tristram Shandy & the Cursed Addition Engine  Steve Donnelly -#15349
 F   The Dragon Bet                     Wendy Palmer -#15350
 F   Dispel                             [@] Susan Hanniford Crowley -#15351
 SF  The Convergance Chronicles, Chapter 1  Judy Shaw -#15352
 F   Birthright, Chapter 1              Cheryl L. O'Keefe -#15353
 F   Testing Day                        Connor Moran -#15354
 SF  Remi's War                         Andy Stephenson -#15355
 F   Shells                             Adam Lowe -#15356
 SF  Eradication Squad                  Chris Collins -#15357
 F   Extinction                         Peggy Nuckles -#15358
 SF  A Swarm of Locusts                 Hilary Sklar -#15359
 F   How Jacob Saved the Farm           Justin R. Lawfer -#15360
 SF  Ghosts of the Void                 Danielle Dabbs -#15361
 SF  Just a Boy                         Daniel P. Swenson -#15362
 F   The Death Dealer                   David Gilbert -#15363
 SF  Different                          Julio F. M. Marchini -#15364
 H   Unexpected Detour                  Trina Allen -#15365
 SF  Just a Placebo?                    John Moore -#15366
 H   Standby                            Philip Driver -#15367
 SF  Last Breath                        Michael Singho -#15368
 F   The Light                          Zain Shah -#15369
 SF  Puppet with a Gun                  Nick Cole -#15370
 F   Between the Shadow and the Soul    John Ploskina -#15371
 F   Twitch                             MingChee Ng -#15372
 SF  Last of the Baxters                Tim McWilliams -#15373
 SF  The Ballad of Llewellynn chapter0  Bob Rowen -#15374
 SF  A Time and a Place                 Joe Mahoney -#15375
 SF  Memories End With A Beep           Alexander Moore -#15376

Week of 30-Apr-2008 (Crits due 7-May-2008):
 F   The Octopus Garden                 [mpc] Dwayne Minton -#15377
 SF  Dead End Job                       [mpc] Chris Jones -#15378
 SF  Flesh                              [mpc] Jennifer Thibodeaux -#15379
 F   The Skull Moths of the Elder Barrows  [@] Joe Murphy -#15380
 SF  The Long Way Around                Carl Frederick -#15381
 SF  The White Knight Is Talking Backwards  Richard Zwicker -#15382
 SF  Building                           Cath Haftings -#15383
 F   The Shoemaker's Daughter           Kristin Janz -#15384
 H   Killing Angels                     Jodi MacArthur -#15385
 SF  The Prize                          Guy Anthony De Marco -#15386
 F   Women Cry                          Robert Sullivan -#15387
 SF  The Mystery Of The Missing Professor  Stuart Widdows -#15388
 SF  Foresight                          John Derderian -#15389
 SF  2 Perfect                          Norman C. Stoker -#15390
 SF  Green Eyes                         Lee Rogers -#15391
 SF  A Past Full of Holes               John W. S. Marvin -#15392
 SF  Snakes on a Plane                  David Neuburger -#15393
 F   The Dance                          Boris Layupan -#15394
 F   Bella Cigno                        Trisha Shufelt -#15395
 SF  The Book of New Life, Chapters 1,2  Diane McDaniel -#15396
 SF  When the Rain Set In               Rc Higgins -#15397
 F   Terminal Reckoning, Chapter 1      Martin Donnelly-Heg -#15398
 F   Wolvesplain                        Creppy -#15399
 F   Screamcatcher                      Sheila Crosby -#15400
 F   Fairy Dust                         M L Casey -#15401
 F   Follies of the Gods                Alex Clymo -#15402
Week of 7-May-2008 (Crits due 14-May-2008):
 SF  Under the Apple Tree               [mpc] Sean Davis -#15403
 SF  Dangerous Translations             [mpc] Colum Paget -#15404
 H   Ulupoka                            Carl Alves -#15405
 F   Arthurian Fantasy (untitled)       Andrew Richardson -#15406
 SF  A Dead Profession                  Frank Dutkiewicz -#15407
 H   She of the Night                   Brett Cryer -#15408
 SF  Vicesteed, Chapter 13              Abra Staffin Wiebe -#15409
 F   Grandmother's Lullaby              J. L. Judd -#15410
 H   Bus tour                           Sharon Close -#15411
 SF  What's Left Behind?                Craig Davis -#15412
 H   Libby's World                      Robert Palmer -#15413
 SF  Fit For Freedom                    Joe Latessa -#15414
 F   Return of the Shadow Lion, Chapters 0-1  Laurel Strong -#15415
 F   The Computer's Song                Brendan Kelleher -#15416
 SF  Beyond Your Wildest Dreams         Garthn Upshaw -#15417
 F   The Rise of the Pathman            Nick Larkins -#15418
 F   Rag 'n' Muffin One-Shot: Like Muffin for Chocolate  Douglas Davidson -#15419
 SF  The Impostor, Chapter 4            Georgia March -#15420
 SF  Spiderman, Doc Ock, & Wolverine    Joseph Swope -#15421
 SF  Honor By Proxy - Chapters 1-5      Scott Baker -#15422
 H   Mama's Here                        Kelli D. Meyer -#15423
 SF  In the Dark                        Christopher Graves -#15424
 F   Grimwar: Winter Storm, Chapters 1-4  R.R. Fitzgerald -#15425
 SF  Destinations                       Jenn Brissett -#15426
 SF  Elegant Deep                       Marsha Haverty -#15427
 SF  No Thank You, Dionysus             Gwen Williams -#15428
 SF  The Fenrir Cannon                  Edward Muller -#15429
 F   Breakfast in the Garden            Katherine Nabity -#15430
 SF  Rage in Wolf, Chapter 6 excerpt    James Houston -#15431

Week of 14-May-2008 (Crits due 21-May-2008):
 H   Bitter Sweet Darkness              [mpc] Tabatha Schroeder -#15432
 SF  Memories of Childhood              [mpc] Dwayne Minton -#15433
 SF  Bummers                            [mpc] Tom Huber -#15434
 F   Lera Longine                       [mpc] Eric Ellert -#15435
 SF  The Nth Estate: Syrens             [mpc] Shelley DeLange -#15436
 F   Dwarfen Vigilantes                 Hank Quense -#15437
 SF  The Words that Made the City       Fred Obermeyer -#15438
 H   Khepera Rising                     Nerine Dorman -#15439
 F   Heather Berry 2                    Michael Stone -#15440
 F   Witch Dick's Trackdown             Norm Gillespie -#15441
 H   You can't Keep everything          Nicole Andrews -#15442
 SF  Amia's Other, chapter 8, Change    Tobias D. Robison -#15443
 SF  Dog Dreams                         Mary Mitchell -#15444
 SF  Cohort                             Benjamin Crowell -#15445
 F   Storm Dancer, Chapter 1            Christine Rayne Hall -#15446
 F   The Corpse Herald                  Simon Cooper -#15447
 F   Behind Every Great Mage            Regina Patton -#15448
 SF  Union Man                          Nathan Wilcox -#15449
 F   Exit Interview                     Terry S. Kidd -#15450
 SF  The Nesting Instinct               Jo Thomas -#15451
 SF  The Curse (working title)          Karen Crumley -#15452
 F   The Wormstalls of Glahynne         Stuart Allison -#15453
 F   Thin Air                           Euan Harvey -#15454
 SF  Emotion Inhibiting Wristband       Alan -#15455
 SF  The Messenger                      Tim Ross Piper -#15456
 SF  Alien Cafe, The Disconti Incident  Russell J. Fellows -#15457
 SF  An Eye For An Eye, Chapters 4-6    Ian Bott -#15458
 SF  Death & Taxes RFDR                 Galen Surlak-Ramsey -#15459
 SF  The Call of the Frontier           Brett Byers -#15460
 F   Guardian of the Small, Chapter 1   Jodie Wells-Slowgrove -#15461
 SF  Iv1.07                             Tyler Trawick -#15462
 SF  Dark Wishes                        Alexis R. Kaylor -#15463
 F   Faolin's Fiddle - Book 1: The Demon, Chapters 1-5  Ronnie "Gus" Gustaveson -#15464
 SF  The Heretic Tree                   Ward Crockett -#15465

Week of 21-May-2008 (Crits due [*] 4-Jun-2008):
 SF  Among the Shattered and Debris     [mpc] Michael Andre-Driussi -#15466
 H   A Man Called Yeti                  [mpc] Eric Ellert -#15468
 F   Ramah's Story (working title)      [mpc] Joanne Saxton -#15469
 H   Double Flash                       Barbara Bates -#15470
 SF  Severed Dreams                     Jerry Gordon -#15471
 F   Ginevra                            Mary Catelli -#15472
 SF  A Monument for ME                  [@] Larry Hodges -#15473
 SF  Taxbell                            Zvi Zaks -#15474
 H   Warabe                             Rick Farnsworth -#15475
 F   Our Lady of Perpetual Spring       Christian Roberts -#15476
 SF  Vendel Rising 2                    Lindy Winter -#15477
 SF  The Interpreter                    Roger Thibault -#15478
 H   Love Burial                        James R. Kristofic -#15479
 SF  Jovian Beauty Lost                 Cheryl McCreary -#15480
 H   a strange journey                  Evelyn Rainey -#15481
 SF  A Desolate Orbit                   Michael Anthony -#15482
 H   Innocence Fueled                   John Michaelson -#15483
 SF  Time Traveler's Anonymous          Sarah Tytler -#15484
 SF  So Much Joy I'll Run Screaming to Join Them  Rupert Merkin -#15485
 SF  Wouldn't It Be Nice?               David R. Matteri -#15486
 SF  The Perfect Crime                  Emma Spencer -#15487
 SF  Gard Dog                           Ike Quigley -#15488
 SF  Chewing Barbed Wire                Kevin McClintock -#15489
 SF  Copperton                          Zach Lee -#15490
 SF  Obsolete                           Dorine Ratulangie -#15491
 SF  Lost in Transition                 Aidan Doyle -#15492
 SF  Progen.                            Dempsey Wilson -#15493
 SF  Good Water                         Tracey Bjorksten -#15494
 F   The Severed Earth: RDR request     Chris Presta-Valachovic -#15495
 H   The Vagabond                       Douglas Ryan -#15496
 SF  Infomercial                        Darien Hallado -#15497
 SF  Yellow Bellow                      Jakob Drud -#15498
 SF  A Safe Place                       Rebecca Carter -#15499
 F   A Fairy Tale                       Janice Tiburcio -#15500
 SF  Pawns, Chapters 1,2                Douglas J. Rhodes -#15501
 F   Falstaff, Vampire, Chapters 1-7    Lynne Murray -#15502
 F   Penalty Rates                      Lee Aaronssen -#15503
 F   Rapture                            Jim Leach -#15504
 F   Waking Lazarus                     Michael Teasdale -#15505
 H   Demon Psychology                   P.J. Payne -#15506
 SF  The Magapetra Thieves              Adam Miller -#15507
 F   Firez Standing                     Enoch Kuo -#15508
 SF  The Last, Prologue                 Scott Williams -#15509

Week of 4-Jun-2008 (Crits due 11-Jun-2008):
 H   Let it Burn                        [mpc] Tabatha Schroeder -#15510
 H   Disturbed                          [mpc] Sharon Close -#15511
 SF  Asylum                             [mpc] Jo Thomas -#15512
 SF  An Eye For An Eye, Chapter 7       [mpc] Ian Bott -#15513
 F   La Gazza Ladra                     Chuck Rothman -#15514
 F   Kingdom Under Stone ch6            Wanda Mooney -#15515
 F   My Enemy My Love                   Hazel Ong -#15516
 F   A Cart of Antiques                 Scott Davis -#15517
 SF  The Cursed Addition Engine         Steve Donnelly -#15518
 SF  The Rocks                          John Lawless -#15519
 F   Festiz Playground                  Kelly D. Tolman -#15520
 SF  The Shortest Straw                 Jason Halstead -#15521
 F   Healing the Elder, Chapter 1       Shiloh Carroll -#15522
 SF  The ROE: Rules of Orbital Engagement  John Loonam -#15523
 H   Almost Home                        Peggy Nuckles -#15524
 SF  Remi's war part 2                  Andy stephenson -#15525
 SF  Make us Dark as Night, Dark as Death  Adam Klugiewicz -#15526
 H   Zombie Love Song                   Adam Lowe -#15527
 F   Credit Due                         Justin R. Lawfer -#15528
 F   Avatar                             Linda Rooks -#15529
 F   The Beast                          Alan Delaney -#15530
 H   The Portraitist                    Tim McWilliams -#15531
 SF  Stardust                           Robert Graf -#15532
 SF  The Corpse Slitter                 [@] Edward Muller -#15533
 SF  Echo Transfer                      Alexander Moore -#15534
 F   Just my Luck                       Graham Fielding -#15535
 H   Lazybones                          Cristian Townsend -#15536
 SF  Old Town, Old Man, New Man, New Town  Jeff Soesbe -#15537
 H   Drinking at the Whitebear          Charles Jones -#15538
 SF  The Siren Hunters Chs. 1&2         Amy Randolph -#15539

Week of 11-Jun-2008 (Crits due 18-Jun-2008):
 SF  Avenger of Baghdad (A.D. 1258)     [mpc] Michael Andre-Driussi -#15540
 SF  SM                                 [mpc] Antha Ann Adkins -#15541
 F   The Price of Paradise              [mpc] Brent W. York -#15542
 F   Painting of a Monster              [@] Richard K. Lyon -#15543
 SF  Mind Forms                         Dal Jeanis -#15544
 F   Night Warrior                      Mik Bennett -#15545
 SF  Stutter Stepping Through Time      David Smullen -#15546
 F   Golem Games (formerly Ashes to Ashes)  Don Oestreicher -#15547
 H   Lisa Got Squashed                  Jodi MacArthur -#15548
 SF  Goat Sucker                        Robert Sullivan -#15549
 F   The Trouble with Trapping Demons   Mary J. Daley -#15551
 SF  Terrible Things Will Happen        Joe Feehan -#15552
 H   The Gloaming                       Jennifer Thibodeaux -#15553
 F   Mr. Amazing Goes to Therapy        Tracy Morris -#15554
 F   Malkus                             John E. Andrews -#15555
 F   Fact or Fable                      Trisha Shufelt -#15556
 SF  Out of the Picture                 Linda Lindsey -#15557
 SF  Martians Love Cranberries          Zain Shah -#15558
 SF  Demon in the Den (chapter 2 of A Time and a Place)  Joe Mahoney -#15559
 SF  The Ballad of Llewellynn           Bob Rowen -#15560
 SF  BUTTERFLY GRAVES                   Leona Wisoker -#15561
 F   Winter's Discord, Chapters 1-5     John Zeleznik -#15562
 SF  Gossamer                           Veronica Kosyakov -#15563
 SF  Licensed to Kibble                 Sheila Crosby -#15564
 F   ANGEL                              Jo Jaquinta -#15565
 F   Phantom Limbs Embrace              Simon Johansson -#15566
 F   Lacerations, chapters 1-2          Bryce Grantham -#15567
 SF  Big Game Hunting                   Christian Bech Astrup -#15568
 F   Conjurations                       James Hart -#15569
 F   In the Name of Duty                Donna Dickens -#15570

Week of 18-Jun-2008 (Crits due 25-Jun-2008):
 H   Inheritance (formerly Let It Burn)  [mpc] Tabatha Schroeder -#15571
 SF  The Paulinias Infestation          [mpc] Robert D Philbrook -#15572
 F   John                               [mpc] Tom Huber -#15573
 SF  But is it Halaal                   Nerine Dorman -#15574
 H   Night Night                        Brett Cryer -#15575
 F   From One Beast To Another          Cath Haftings -#15576
 SF  The Greater Threat                 Jay Werkheiser -#15577
 F   A Song for Aika                    [@] Leah Cypess -#15578
 F   Storm Dancer, Chapter 2            Christine Rayne Hall -#15579
 H   A Witch's Heart                    Mari Mitchell -#15580
 F   Sidra's Folly                      Jonathan Thompson -#15581
 SF  Stock Market Tips                  Terry S. Kidd -#15582
 SF  Seahorse RFDR                      Jamie Killen Stoops -#15583
 H   Fully Automatic Weapon             Joe Latessa -#15584
 SF  Houndsditch and the Age of Meat    Chris Boardman -#15585
 SF  Prelude to Battle                  Gwen Williams -#15586
 F   The Oak Trees                      Mark McLaren -#15587
 F   Thrulls                            Adam Burton -#15588
 SF  The Imposter, Chapter 5            Georgia March -#15589
 SF  Self Love                          John W. S. Marvin -#15590
 SF  Fingerprints                       Brett Byers -#15591
 SF  Europa Song                        Jenn Brissett -#15592
 SF  First Time Out                     Larry Jorgensen -#15593
 F   Faolin's Fiddle - Book 1: The Demon Chp. 6 - 12  Ronnie W. Gustaveson -#15594
 SF  State Override                     Jacob Zimmerman -#15595
 F   The Reversal Part 1                Chrystalla Thoma -#15596
 H   Reprehension                       Xenophon Zales -#15597
 F   Shutar Book 1: The Dragons Eye     Shemaine Gonzales -#15598
 SF  Breeding Pair                      Matthew W. Quinn -#15599
 SF  Finally Alone                      Lara Frater -#15600
 F   The Book of Grimoire, Prologue and Chapter 1  Erin Elizabeth Long -#15601

Week of 25-Jun-2008 (Crits due [*] 9-Jul-2008):
 H   Dirty Money                        [mpc] Tabatha Schroeder -#15602
 SF  Insufficient Memory                [mpc] Colum Paget -#15603
 SF  Stupid Manuscripts                 [mpc] Antha Ann Adkins -#15604
 SF  The Truthsayer's Companion         [mpc] Shiloh Carroll -#15605
 F   Fortune's Favor                    [mpc] Matt Larkin -#15606
 F   The Merchant of Venison            Hank Quense -#15607
 H   Creeping Death                     Carl Alves -#15608
 SF  Elemental                          Rhonda Wright -#15609
 F   Fruit of the Word                  Fred Obermeyer -#15610
 F   Felix                              Gary J Beharry -#15611
 F   Milo Scarlet                       K Green -#15612
 F   The Golden Key                     Nicole Andrews -#15613
 F   The Old Lady and the Demon         Shelley DeLange -#15614
 SF  Vicesteed, Chapter 14              Abra Staffin Wiebe -#15615
 F   Out Of This World                  Robin Matheson -#15616
 F   The Plight of the Domesticated Troll  Regina Patton -#15617
 F   the wisdom of merthyr tydfil       Evelyn Rainey -#15618
 SF  Blood on the Ice                   Norm Stoker -#15619
 F   The Very Definition of a Scandal   Mark Freeman -#15620
 H   Der Fuhrer's Bunker                Kevin McClintock -#15621
 F   Urban Growth                       Euan Harvey -#15622
 SF  Dogs in Clogs                      Alan -#15623
 SF  Dwight                             Garth Upshaw -#15624
 F   Final Battle                       Jacelya A Jones -#15625
 SF  Angel Race, Chapter 1              James S. Ragan -#15626
 SF  I See Her Face                     Matthew Wimmer -#15627
 SF  Done Before                        John Derderian -#15628
 SF  Memento Nora (Chapters 1-7)        Angie Smibert -#15629
 F   Dinner with Lord Ku                Kevin N. Haw -#15630
 SF  Lee Marvin, Dupree's Girl and Excalibur  Nick Cole -#15631
 F   Second Coming, Prologue            Omer Anwar -#15632
 SF  Regeneration, and Other Ghosts     Dylan Fox -#15633
 F   Sol Brier, Chapter 3               Dean Pearson -#15634
 F   The Heart of a Woman               Rhonda Porrett -#15635
 SF  Dogged Resolution                  S. R. Dantzler -#15636
 SF  Cycle of Revenge                   Nigel G Mitchell -#15637
 H   The Red House                      Colm Mc Geever -#15638
 F   RFDR: The Stone Maker              Nicholas Moore -#15639
 F   Wednesday's Child                  Alyssa Aikman -#15640
 F   Credit Card Debt                   Seanna Catron -#15641
 SF  Fathers                            Scott Heyden -#15642
 H   Casith's Call