Blog
Critter Notices
Network speeding up
I'm switching the connection over to a new, shiny 10X faster network because of all the load. There might be bits of downtime as your boxes learn new addresses and things. Should be brief. Let me know of any prolonged outages you see.
Preditors & Editors Changeover
With the very sad passing of Dave Kuzminski, who ran P&E, I've taken over the P&E duties. Lots of what I hope are improvements; check it out at pred-ed.com.
Critters Server is Dying has been Replaced
See important details here in my blog. Let me know if you find anything that isn't working right. (Manuscripts are now available for this week, FYI.)
Book Recommendation
THE SIGIL TRILOGY: The universe is dying from within... "Great stuff... Really enjoyed it." — SFWA Grandmaster Michael Moorcock
Announcing ReAnimus Press
If you need help making ebooks from manuscripts or print copies—or finding great stuff to read—look no further! An ebook publisher started by your very own Critter Captain. (And with a 12% Affiliate program.) [More]
~~~
FEATURED BOOK
~~~
News
Critters is 20!
Yes, 20 years ago Critters was born. Wow! Thanks so much to all of you, who've made it such a resounding success!
I'm being interviewed live on public radio for Critters 20th birthday. For those who want to listen, it's on the 10am (Mountain time) show on Thursday, 11/19, on Colorado Public Radio - www.cpr.org has streaming on the site or it's 90.1 FM in the Denver area.
ReAnimus Acquires Advent!
ReAnimus Press is pleased to announce the acquisition of the legendary Advent Publishers! Advent is now a subsidiary of ReAnimus Press, and we will continue to publish Advent's titles under the Advent name. Advent was founded in 1956 by Earl Kemp and others, and has published the likes of James Blish, Hal Clement, Robert Heinlein, Damon Knight, E.E. "Doc" Smith, and many others. Advent's high quality titles have won and been finalists for several Hugo Awards, such as The Encyclopedia of Science Fiction and Fantasy and Heinlein's Children. Watch this space for ebook and print editions of all of Advent's current titles!
Free Web Sites
Free web sites for authors (and others) are available at www.nyx.net.
A Guide to Barsoom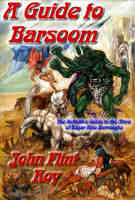 The ultimate, definitive
GUIDE TO BARSOOM from ReAnimus Press.
NOW IN PRINT EDITION TOO. The best guide to Edgar Rice Burroughs' Mars series.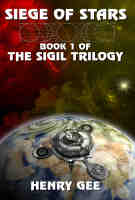 The Sigil Trilogy
If you're looking for an amazing, WOW! science fiction story, check out
THE SIGIL TRILOGY
. This is — literally —
one of the best science fiction novels I've ever read.
Free Ad for a Fellow Workshop Member:

The Critters Queue
Manuscripts themselves are here.

Queue of manuscripts out or to be sent (dates are estimated,
depending on number of mss. sent out, which depends on number of
members; probabalistically, the end of the queue is usually about
a month away):


     Title                      	Author
---------------------------------------------------------------------
Week of 26-Oct-2016 (Crits due 2-Nov-2016):
 SF  Infinit I                          Joel E. Roosa -#26296
 F   The Gold Ball                      [@] Chet Gottfried -#26297
 F   The Rise of the Cryptbringer, Chapters 20-21  Keir Puplett -#26298
 F   Volkrag: The Stone Destroyer, Ch 1-3  Martin Van Nostrand -#26299
 SF  Navigating the Stars               Ryan Anderson -#26300
 SF  Ascendancy - Chapters 3 - 5        Troy McLaughlan -#26301
 SF  The Vampire Hunter part 4          Kim Smeltzer -#26302
 F   The Sand Gnome                     Jeff Sullins -#26303
 SF  Crossed Paws                       Marc A Criley -#26304
 F   Shades of Guile: Denial, Chapters 1-5  Kathleen and Adam Martin -#26305
 SF  The Soft Clock                     Joel Schroeder -#26306
 H   The Middendorf: Part Three         Don Sabo -#26307
 SF  Forever Grey Chapter 11            Greg Tracii -#26308
 SF  Brood Mother Murphy                Brayden Roberts -#26309
 H   Donut: A Love Story                Avan Stallard -#26310
 F   The Soul Key                       Hailey Maurer -#26311
 F   The Prism System, Chapter 1        Emma Markle -#26312

Week of 2-Nov-2016 (Crits due 9-Nov-2016):
 SF  To Be a Mountain                   Madison Culler
 F   The Pen Is Mightier Than the Sword  Billy Vincent
 F   Army of gods, part 1, chapters 1 and 2  Sam Cassidy
 H   Jacob Mosley's Raw Deal            Matthew Weber
 F   The Young God                      Vanessa Fogg
 H   The Hospice Worker                 Julie Reeser
 SF  Ephemeris: Chapter 1, Section 3    Mike Baltar
 F   Holly the Great: The Iron Maiden Chapters 13-16  Andy Lee
 F   The Ertensea Chronicles, Ch 8      Magnus D. Jorgensen
 SF  Kitty and the Green Hand , SF,S = Chapters 3-4  Priscilla Soares-wilson
 SF  Astera Vol1 - Episode 1 REVISED: Part 2  Joy Landa
 SF  Second Blossoming, Forward and Chapter 1  Matt Peller
 F   The Wizards of Llandwellyn, Chapter 1  Eric Wilson
 SF  Koabas                             Kevin P. Hallett
 SF  Auraligh's Hope                    Kristy Spencer
 F   Throwing the Switch                Evelyn Aschenbrenner
 F   Engines of Sephione, Chapter 4     Joseph Anthony
 SF  Opiate of the People               Keith Peck
 SF  The Spanish Game, Chapters 0-1     Thomas Krug

Week of 9-Nov-2016 (Crits due 16-Nov-2016):
 SF  In Silico                          Dan Reade
 F   The Rising Dying Sun: Origin of Fire _Prologue-Ch.2_  Anthony White
 SF  Again                              Ray N. Franklin
 F   Encounter                          Darla Jackson
 F   Games of the Grey Gods, Draft 3, Chapters 32-35  Russell Adams
 F   Tales of Maple Threestep: Spirits and Cinnamon Trees  Jeremiah Goodreau
======================================================================
      (Note, if the last week above looks abnormally large, it probably
      needs me to add a new week, a task I do manually when I get around
      to it.  Future critique dates are approximate and subject to change.)

Symbols:

[@] - Pro [SFWA/HWA] author
[*] - Extra week(s) for holidays/aburt-out-of-town.
[mpc] - Most Product Critter Award winner
[!] - Special non-Wednesday dates because Critter Captain will be out of town
[ERROR!] - This means there is a problem and your manuscript will NOT be
     sent out - Contact the Critter Captain ASAP if you see this by your name.

Waiting to enter Queue (Will enter at end of queue on "[date]"):
 F   Holly the Great: The Iron Maiden Chapters 17-19  Andy Lee [9-Nov-2016]
 F   Holly the Great: The Iron Maiden Chapter 20  Andy Lee [?]
 F   The Vampire Hunter part 5          Kim Smeltzer [2-Nov-2016]
 SF  Bright Light - Flash Short story   Priscilla Soares-wilson [9-Nov-2016]
 H   The Middendorf: Part Four          Don Sabo [2-Nov-2016]
 F   Rise of the Cryptbringer Chapter 22-24  Keir Puplett [2-Nov-2016]
 F   Rise of the Cryptbringer Chapter 25-27  Keir Puplett [?]
 F   Rise of the Cryptbringer Chapter 28 & 29  Keir Puplett [?]
 F   Rise of the Cryptbringer Chapter 30 - 32  Keir Puplett [?]
 F   Rise of the Cryptbringer Chapter 33 - 35  Keir Puplett [?]
 SF  Astera Vol1 - Episode 1 REVISED: Part 3  Joy Landa [9-Nov-2016]
 SF  Astera Vol1 - Episode 1 REVISED: Part 4  Joy Landa [?]
 SF  Star Nation ~ Flash SCI-FI Story REVISED  Priscilla Soares-Wilson [?]
 H   The Middendorf: Part Five          Don Sabo [?]
 SF  Astera Vol1 - Ep 2: Love Me Do - Part 1  Joy Landa [?]
 F   The Prism System, Chapter 2        Emma Markle [2-Nov-2016]
 F   The Prism System, Chapter 3        Emma Markle [?]
 F   The Vampire Hunter part 6          Kim Smeltzer [?]
 F   The Vampire Hunter, conclusion     Kim Smeltzer [?]
 F   The Rising Dying Sun: Origin of Fire, Chapters 0-4 resub: Y  Anthony White resub:Y [16-Nov-2016]
 SF  The Triumvirate, Chapter 1         Brayden D. Roberts [2-Nov-2016]
				-+-

Held until participation ratio improves (then out that week):
 F   Unknown title Chapters 0 - 4       Tarvo Langeberg [17-Aug-2016]
 SF  Territory: Part One _Working Title_ _Prologue Only_  Justin Petermann [17-Aug-2016]
 H   The Fragrance of Chantilly         Annette Hamilton [31-Aug-2016]
 SF  Skin Chapters 1 - 2                Kate Krake [07-Sep-2016]
 SF  No Matter the Cost                 Alex Robinson [07-Sep-2016]
 SF  Allegra Complex Chapters 1-2       Michael Winer [07-Sep-2016]
 F   Adventures of Althalos             Connor Harris [07-Sep-2016]
 SF  A Lover's Look                     Roderick D. Mitchell Jr [14-Sep-2016]
 F   What The Wind Whispered            Ramyani Gayen [28-Sep-2016]
 SF  Bringing Down The House            A P Thompson [28-Sep-2016]
 SF  Eden, Prologue and Chapter 1       Yamilex Bustamante [28-Sep-2016]
 F   Little Queen                       [mpc] Alexander Leger-Small [19-Oct-2016]
 SF  A Friend's Test Flight             Ralph Fung [19-Oct-2016]
!!No_entry!!  Cursed Stars, Chapters 1-2         Alexandra Overy
                                :::


>> Note 1:  Held manuscripts are removed after four weeks on hold and
>> must be resubmitted.

>> Note 2:  It is the *author's* responsibility to notify Aburt when
>> they have brought up their critique count and want their ms. sent out.







[Click here to see the queue including archival data from 1995.]